Learn how to make your outdoor living area more enjoyable and fun & enter this patio heater giveaway! See my patio mood board with an amazing outdoor patio heater that's cost effective, fueled by wood & Made In America! Giveaway details are at the end of the post.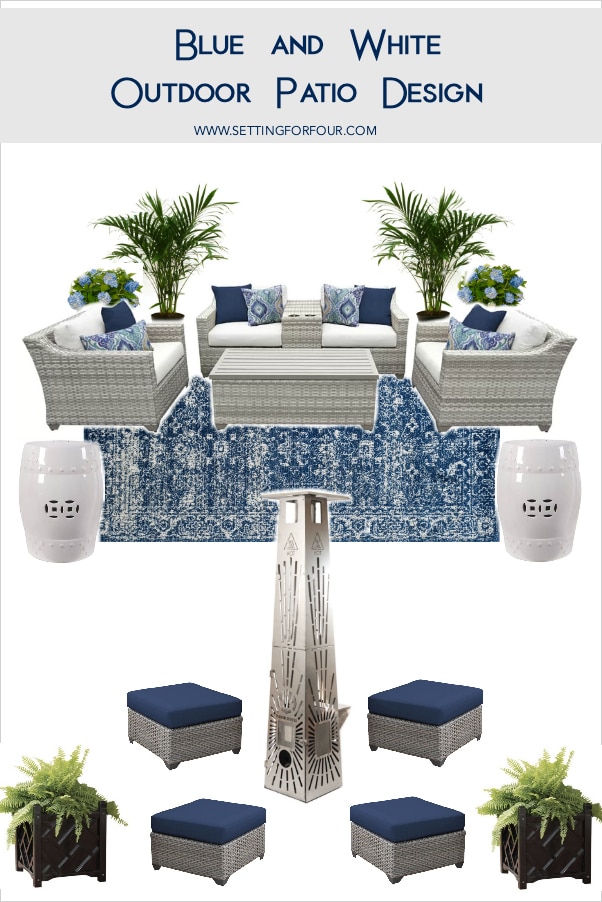 Shop the look! Click on the pictures below to see more about each item in this patio!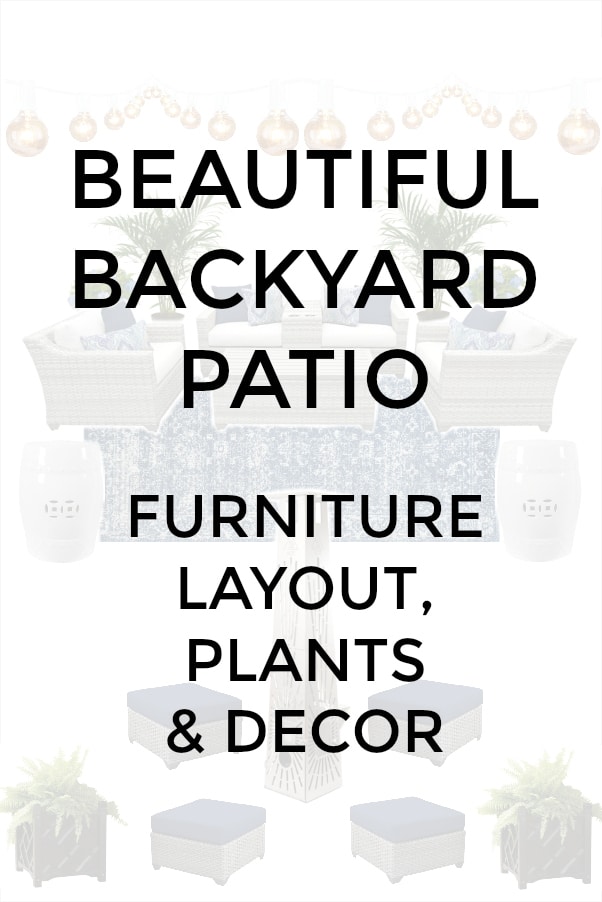 One of the greatest joys in life is to enjoy outdoor living at home. Spending time outdoors on the patio is so much fun!
We absolutely love spending as much time as we can on our patio!
A patio heater ups the fun factor and amount of time you can use in your precious outdoor space!
The joy of a patio heater:
In case you've never seen one, a patio heater is an outdoor appliance that's designed to be kept outdoors in both rain and shine!
It's durable and can withstand the elements.
A patio heater gives off radiant heat to warm a patio so it can be used well into the night and on chilly days.
Why use one?:
Relaxing with family outdoors, entertaining outside and dining al fresco is such a great way to destress and bond with family and friends.
Want to enjoy your patio even when it's cold outside? Extend your outdoor living on the patio to all four seasons with a patio heater!
My friends at Wood Pellet Products partnered with me to share with you their family owned business based on tradition and commitment to making amazing wood fired patio heaters and outdoor pizza ovens!
Their head to toe warming patio heaters provide the can't-be-beat warmth of wood heat and real flames, which are so relaxing to watch. Propane patio heaters just can't compare!
Being able to see the flames adds such a beautiful ambiance to your patio and really creates a more cozy, inviting atmosphere.
These timber stove's ability to ward off chilly air will allow you to spend more time outside when you are hosting parties and family get togethers or just relaxing with family.
And they are fabulous if you are hosting an outdoor wedding!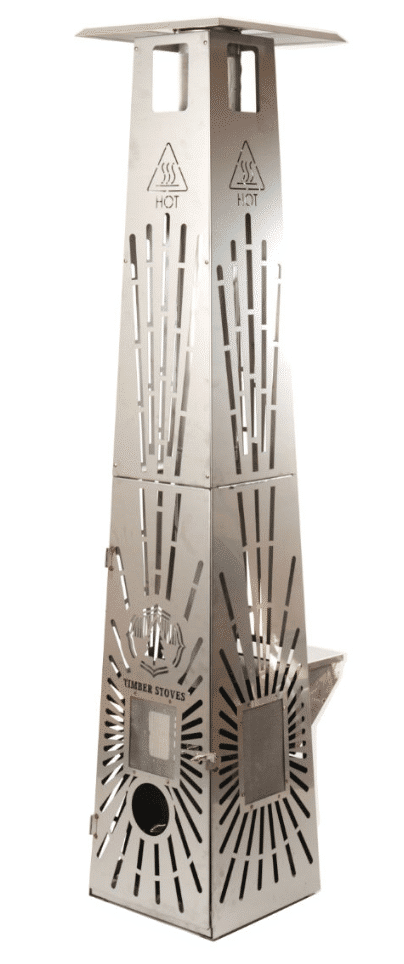 What to look for in a good outdoor patio heater:
Look for a Made in America patio heater for quality and to support American jobs!
Wood Pellet Products is a family owned business where innovative pellet fired patio heaters and outdoor ovens are built with pride in the Pacific Northwest.
3 benefits of their products:
Eco-Friendly – Wood Pellets are an industrial by-product of the saw mill industry and have a small carbon footprint.
Economical – $5 dollars of fuels equals 4 hours of burn time – about 1/2 the operating cost vs propane.
Efficient – Pellets can pack up to 9,000 BTU's per lb. Timber Heaters generate 2X the heat vs propane.
The mission of Wood Pellet Products has always been to create an effective and efficient outdoor heating system.
How to add a patio heater to your patio design:
Adding a wood pellet patio heater to your patio design is easy and fun! The elegant stainless steel design goes with every color scheme and decor style!
I designed this blue and white outdoor patio and mood board to show you how to arrange patio furniture around the Lil Timber Elite Patio Heater .
Add some beautiful patio furniture, an outdoor rug, garden stools, ottomans, gorgeous plants and some refreshing drinks and you are patio ready!
You can also add this heater to a corner of your patio too!
Isn't this patio heater a stylish addition that adds inviting ambiance and coziness to a patio?
navy/ivory rug is from here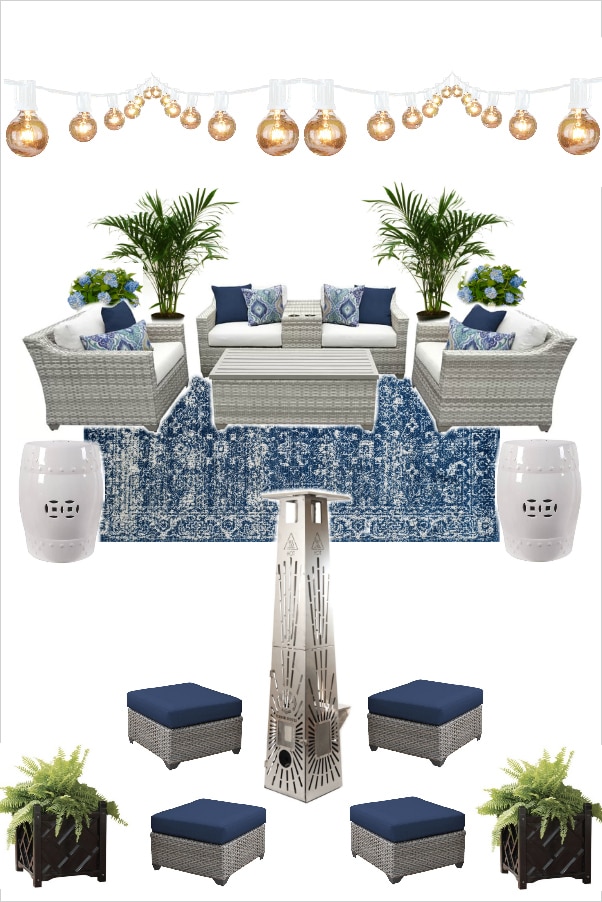 Shop the look! Click on the pictures below to shop this patio design!


Gift Ideas!
Wood Pellet Products pizza ovens and patio heaters make fabulous gift ideas!
Father's Day is coming up! Why not gift one to the Dad in your life?! They come with a FREE gift box too!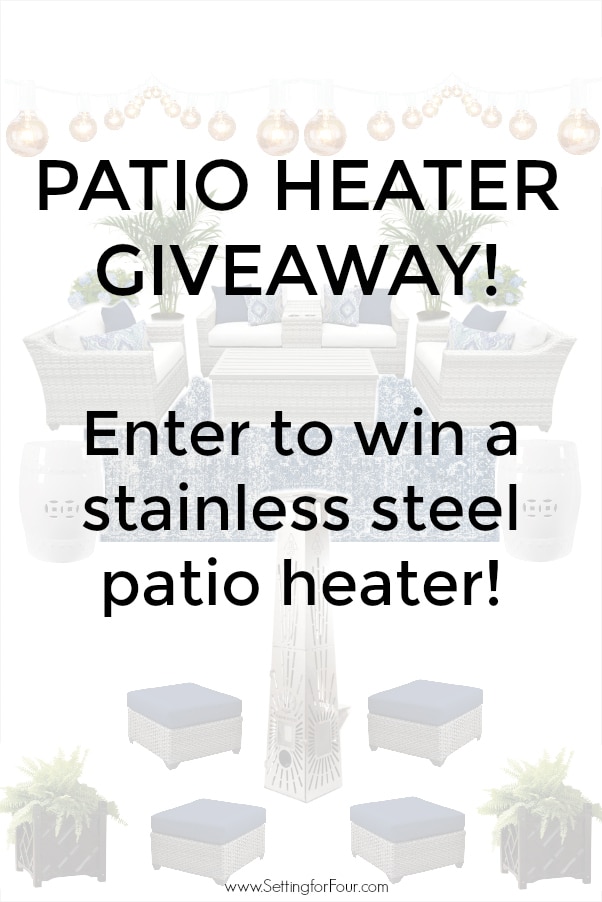 Giveaway Info:
UPDATE – Giveaway is now over. Thank you everyone for entering! The winner of the giveaway is Kesha – congratulations!
Enter this exciting Giveaway for a chance to win one Lil Timber Elite Patio Heater. Open to the USA.
Go to Wood Pellet Products and tell me what's your favorite feature about this patio heater!
Subscribe to my blog at the end of this post (where it says 'Get FREE Decor Tips & DIY Home Inspiration!' Enter your name and email address)
Giveaway ends May 17, 2019. Winner will be emailed by May 20th.
You may also like:
Fun Outdoor Furniture Ideas – hammocks, hanging chairs and more!
Elegant Front Porch Design Ideas