Learn how to create a relaxing oasis with these 8 inspirational outdoor patio ideas, patio furniture and backyard decor! Including a fire table, armchairs & outdoor bar cart!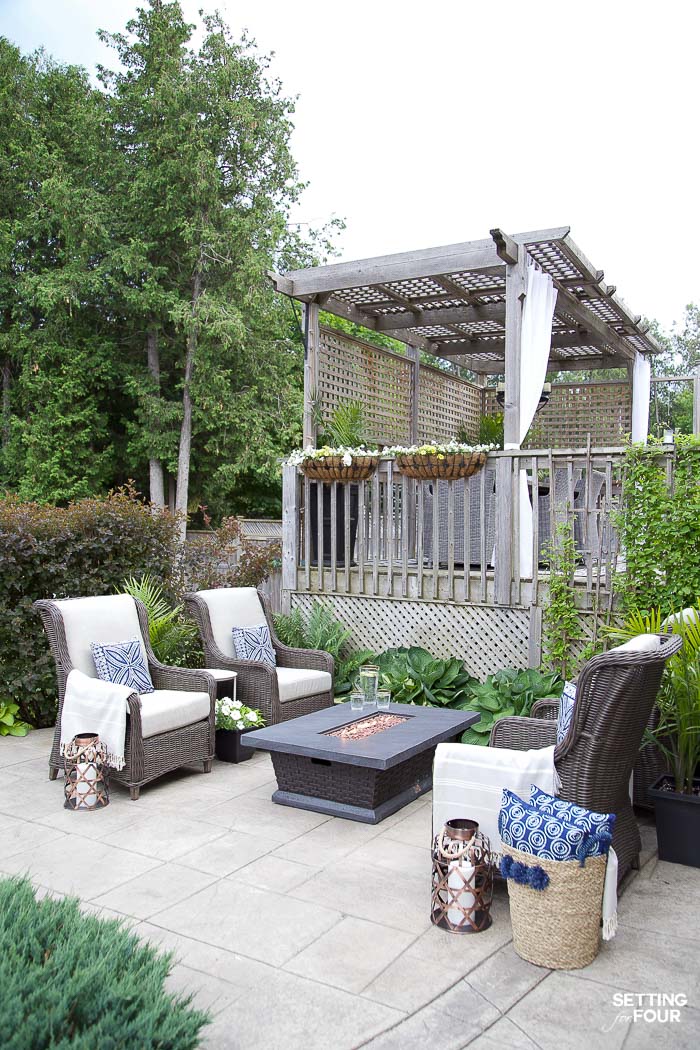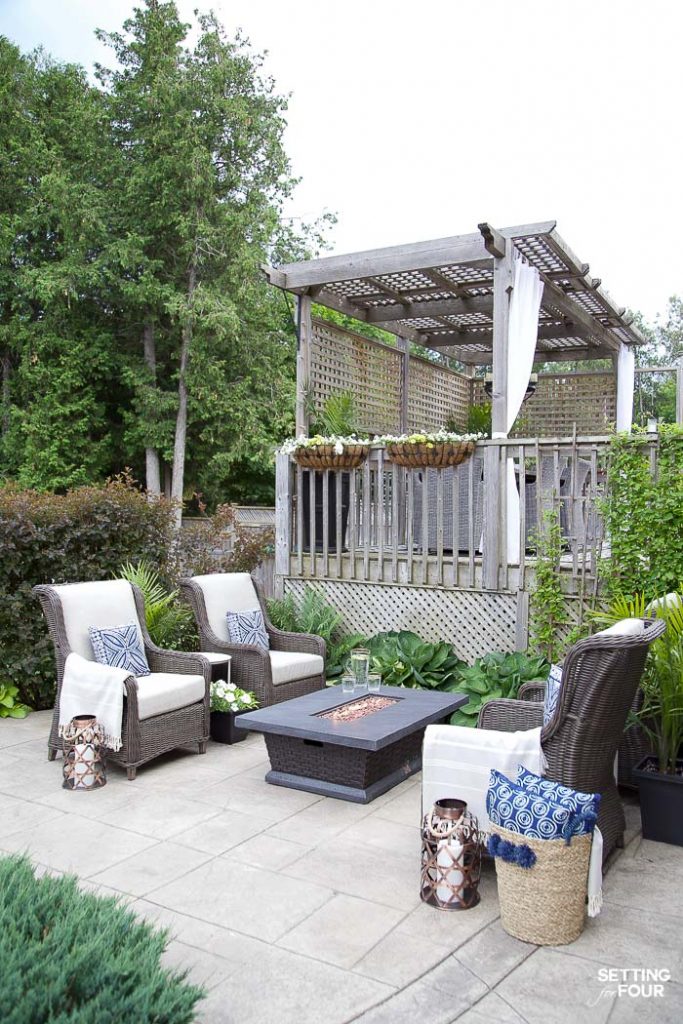 Outdoor Patio Ideas, Patio Furniture and Backyard Decor
If you've been following me on Instagram you know that we've been planning and making some changes to our backyard and patio area! We're in the process of redoing some landscaping and replacing some shrubs, that post will be coming soon!
Today I'm so excited to share with you our Outdoor Patio Makeover, Furniture and Backyard Decor Ideas! I can't wait to show you the updates we've done!
If you remember from last year's Simple Summer Fire Pit Seating Area post  – this is what our patio looked like before. We had a beautiful fire pit conversation area here with 4 of our gorgeous white DIY Adirondack chairs that my hubby and I made and we've really loved it.
I've wanted a fire table for a long time so we decided to move the fire pit zone to the back of our property and replace it with a beautiful fire table conversation area!
I'm seriously IN LOVE!
Isn't it beautiful?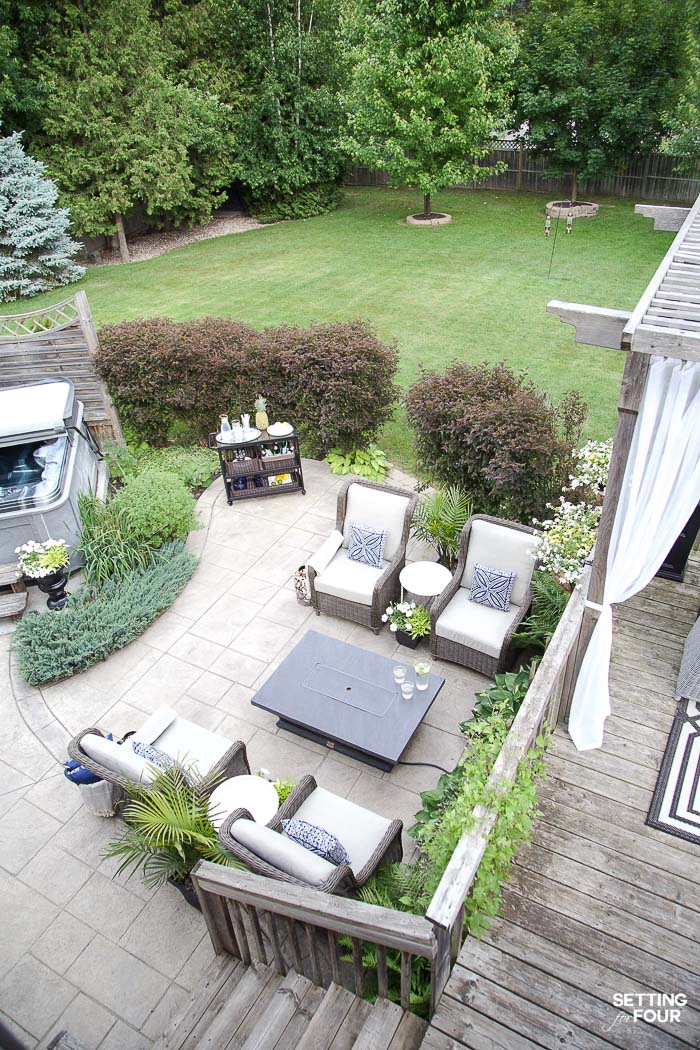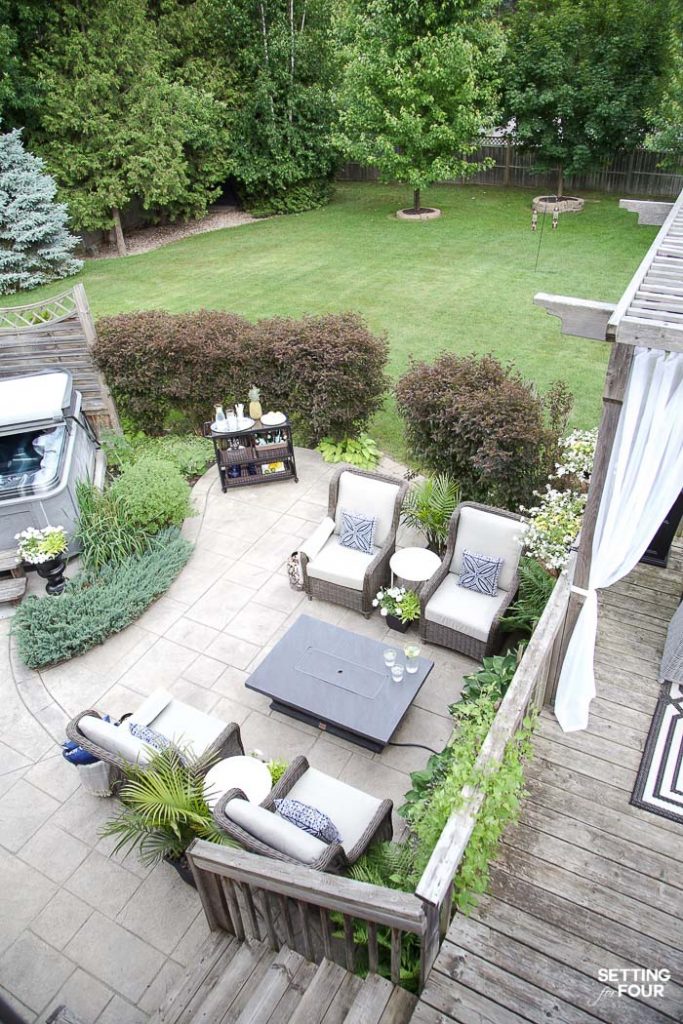 Let me show you how I designed this seating area!
Today I'm sharing lots of photos with you to show you the furniture I chose and the other design elements I added to this spot.
We are very fortunate to have 4 entertaining zones on our backyard deck and patio: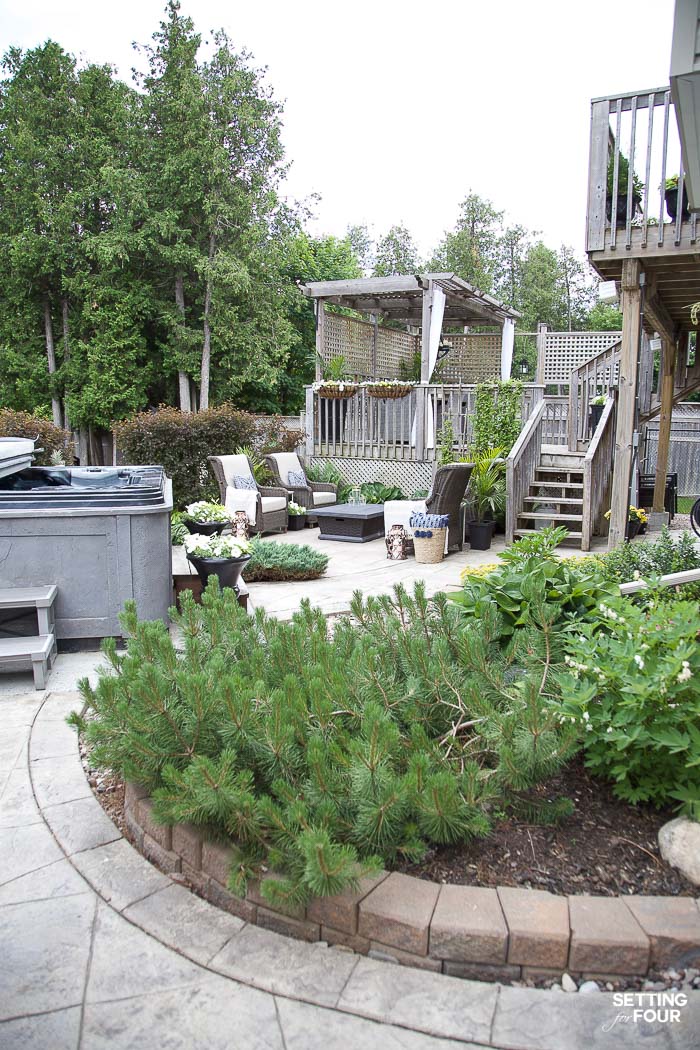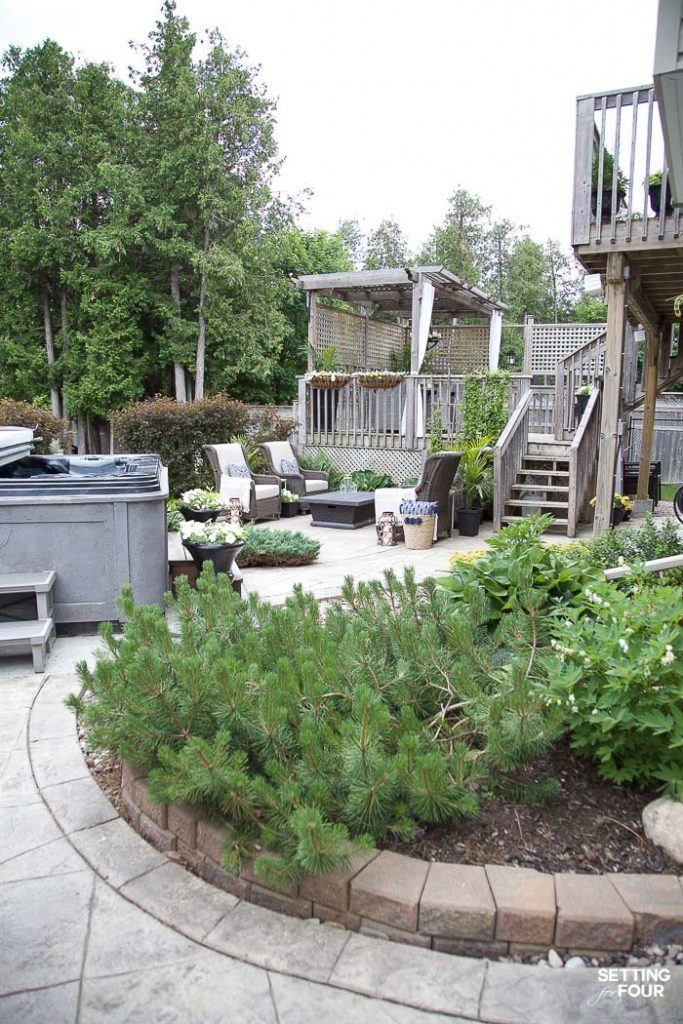 The upper deck lounge zone that's right off our kitchen, our gazebo dining area in the middle part of our tiered deck, our hot tub area on the lower patio and our new fire table conversation zone!
When designing this conversation zone I had to take into consideration square footage and traffic paths. This guided me to the furniture I selected!
Because this conversation zone has to incorporate space for us to walk by to get to the backyard, the square footage in this space perfectly suits 4 chairs surrounding the fire table.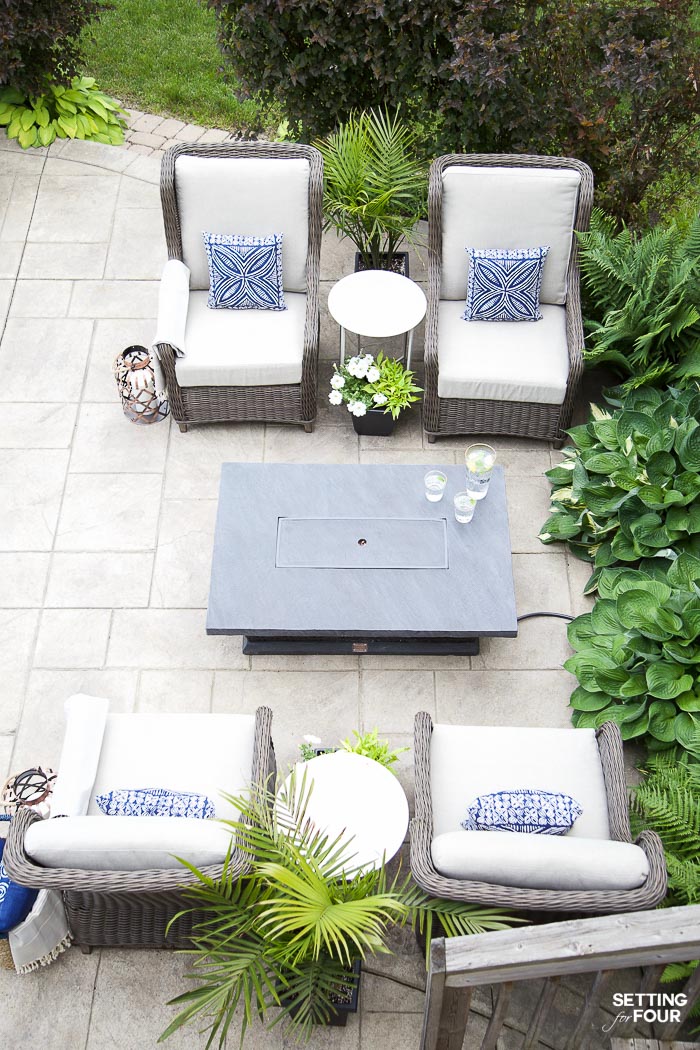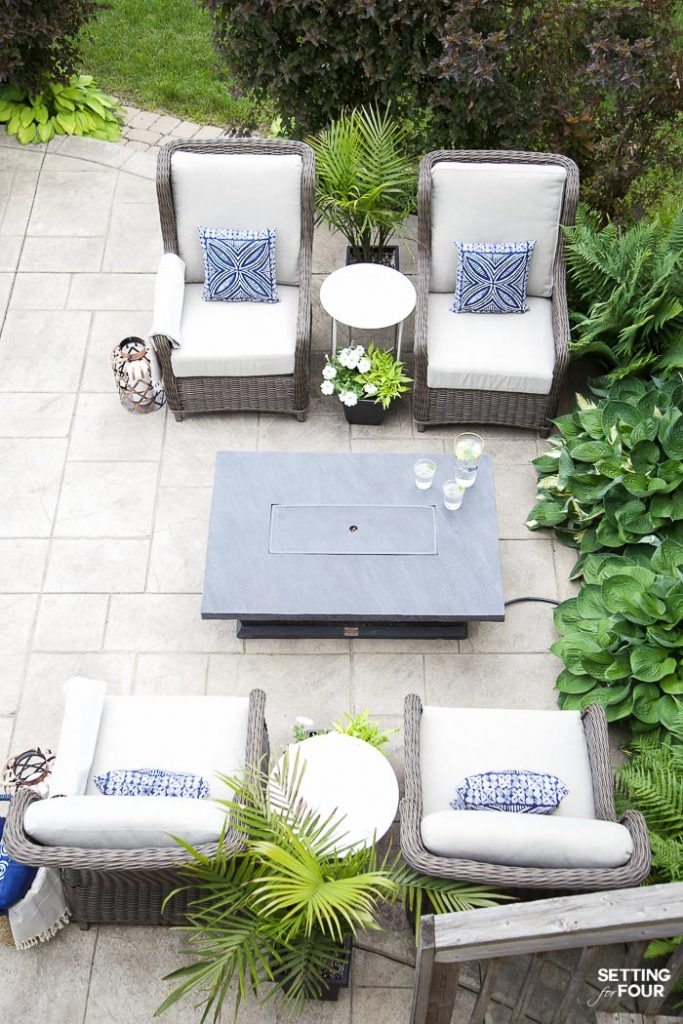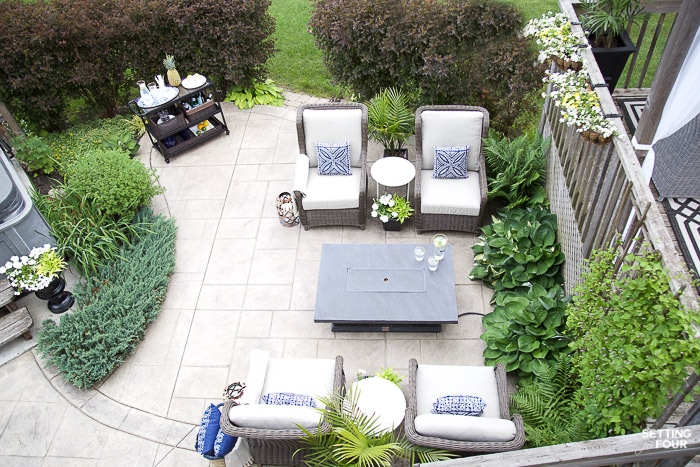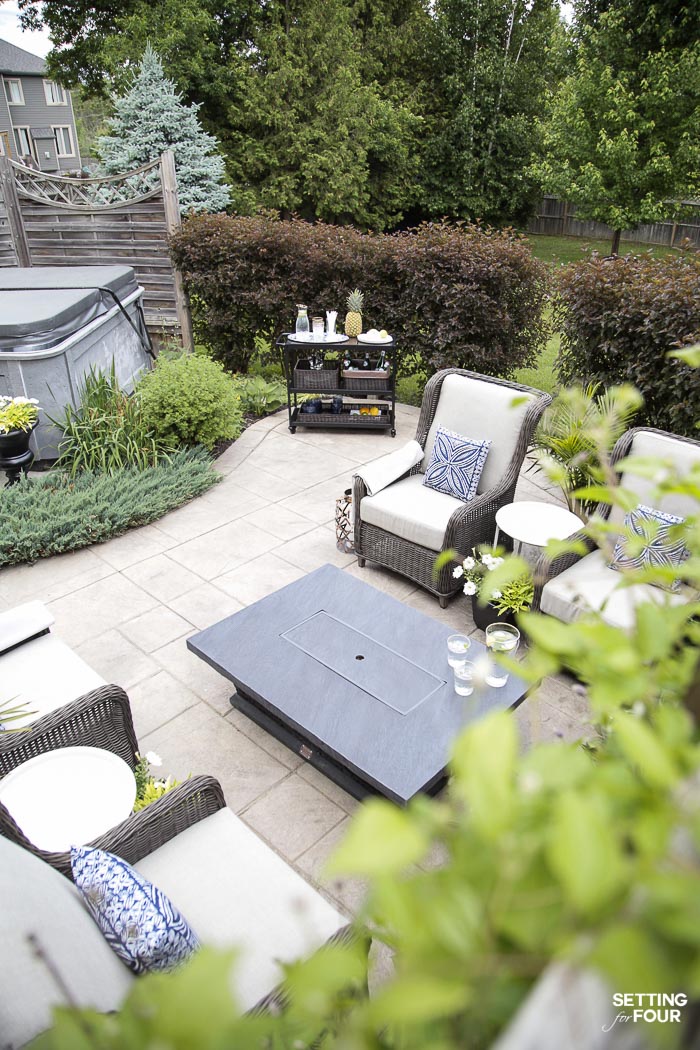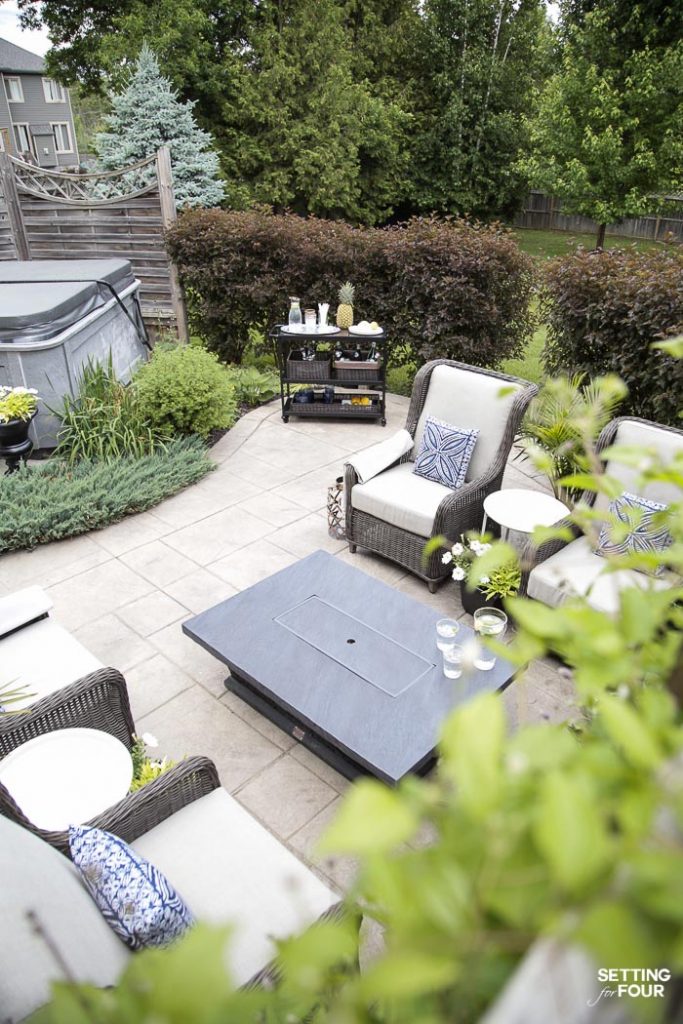 These are the design elements I chose for our conversation zone:
1. The Fire Table
This is the piece that I started with in my patio design – I love the rectangular shape of it and it's gorgeous charcoal gray color.
With it's elegant faux stone top, woven base and large table top it's a beautiful jumping off point for any outdoor makeover!
And isn't a fire element just the BEST for enjoying the outdoors in the summertime?!
We tucked the propane tank out of site by placing it under the deck stairs and behind a big fern.
It's accessible to turn the valve on and off but out of sight! Let's face it – propane tanks aren't pretty so disguising it behind a planter, step or shrub is a great idea!
We absolutely love this fire table!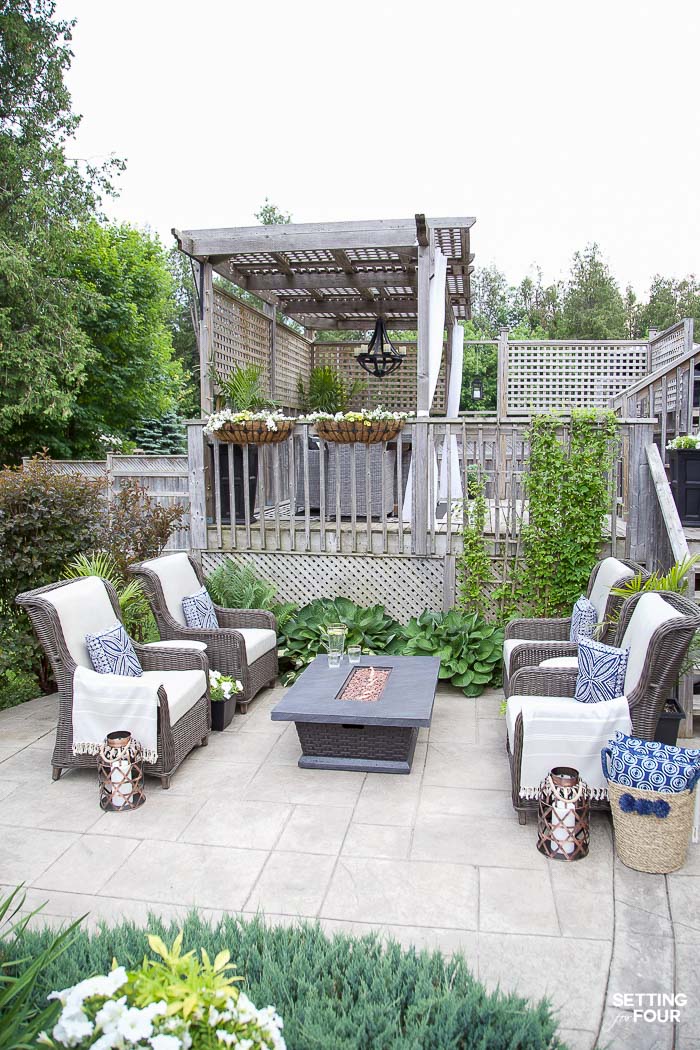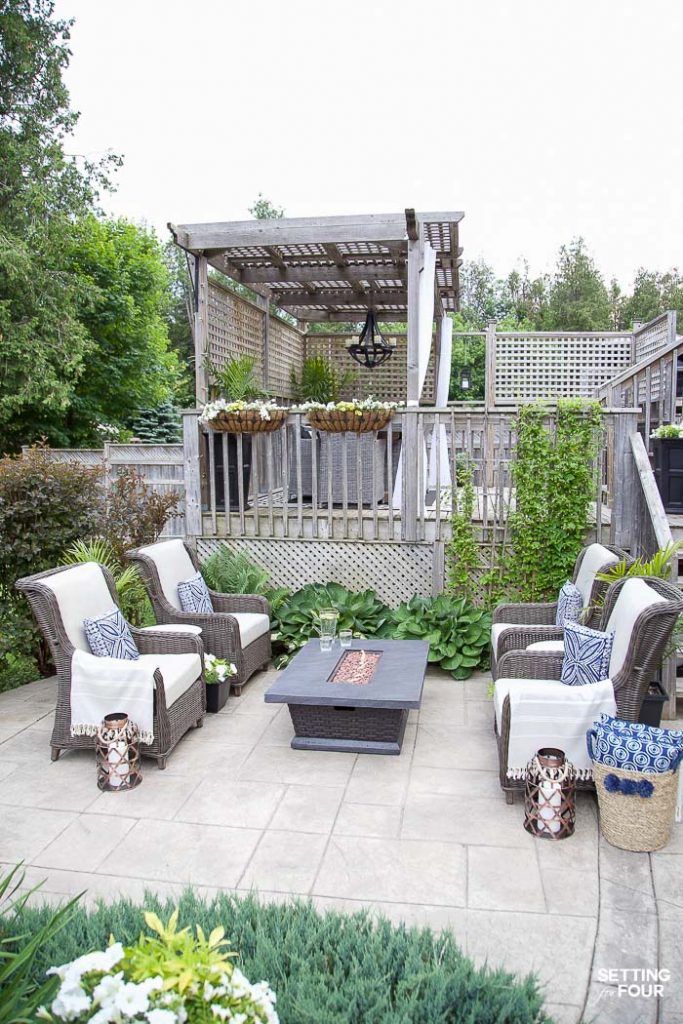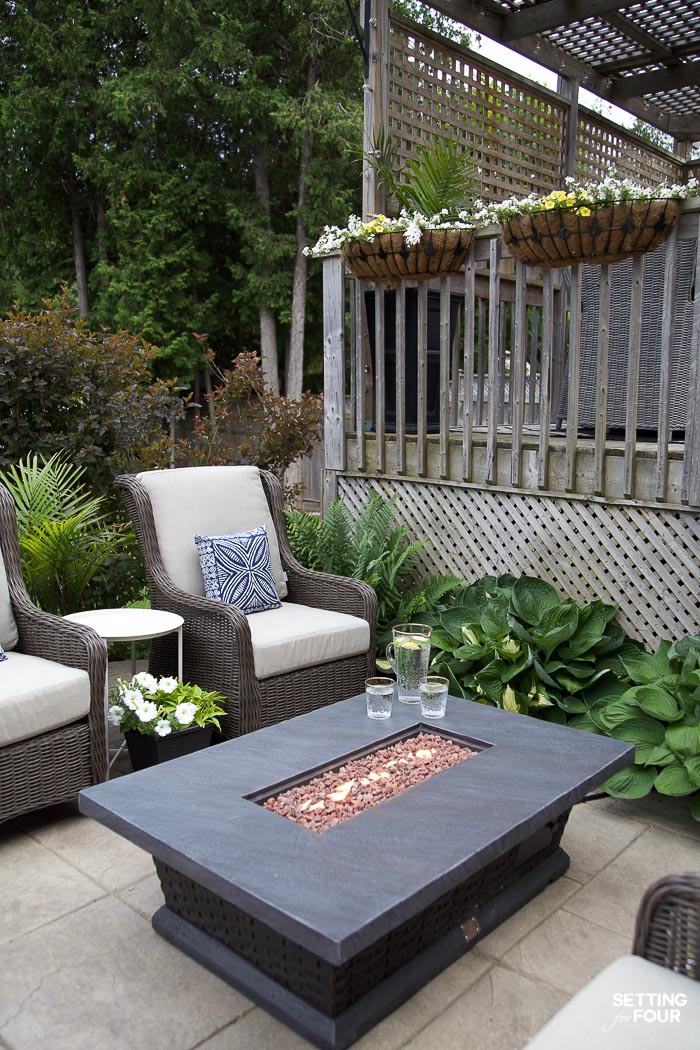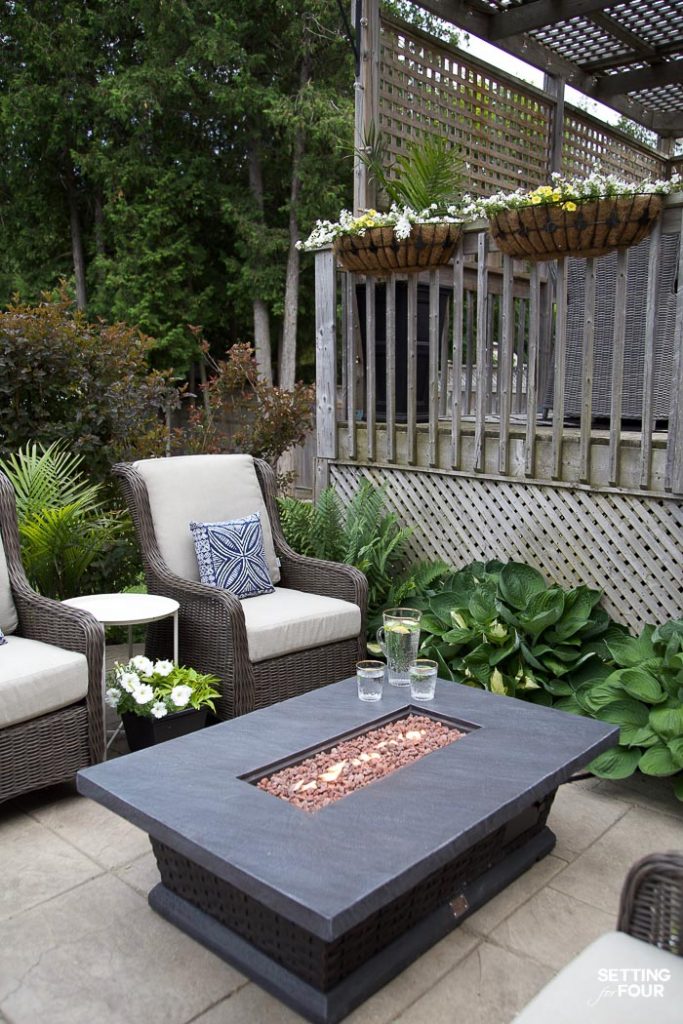 2. Seating
The rectangular shape of the fire table perfectly suits 4 cozy chairs .
These armchairs are so elegant yet relaxed. Let me assure you – they are so incredibly comfortable too!
We sink into the lofty cushions and the high back allows us to lean back relax and unwind!
The rolled arms are beautiful. Plus the cushions are made with outdoor weatherproof material so it's easy care!
The gorgeous weathered gray of the wicker is a color I just love and goes perfectly with the fire-table, our patio stone and deck!
Grays are a perfect neutral to decorate with and add pops of accent color to – and allow me to change my accent colors from season to season!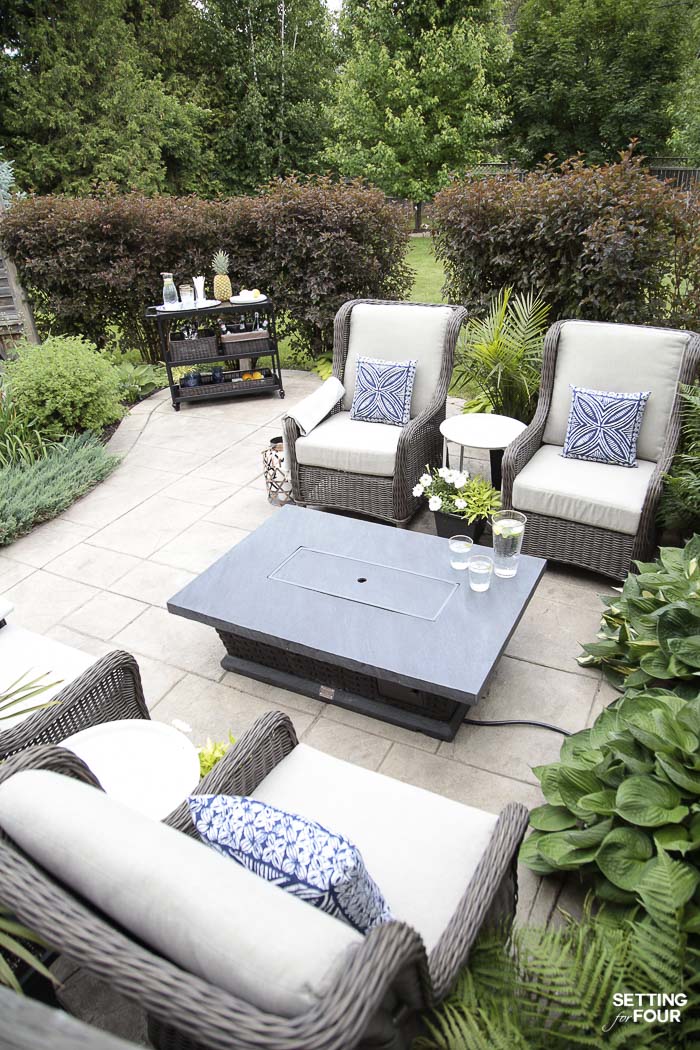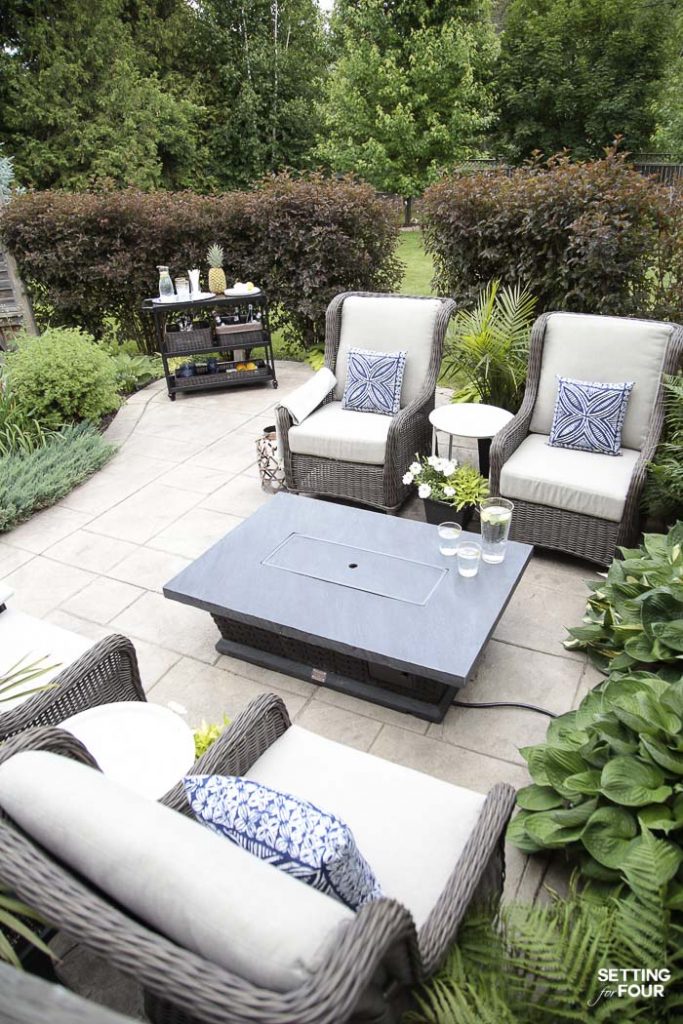 3. Seat Cushions
These seat cushions are so comfortable and the neutral beige color gives these chairs perfect bones for decorating with!
Any accent color will look stunning with it and the best part about these cushions is that they are stain proof, fade proof, spill proof and waterproof!
This is a critical requirement for outdoor seating because the cushions need to dry out fast with all the summer rain we get and need to be easy maintenance with food or drink spills!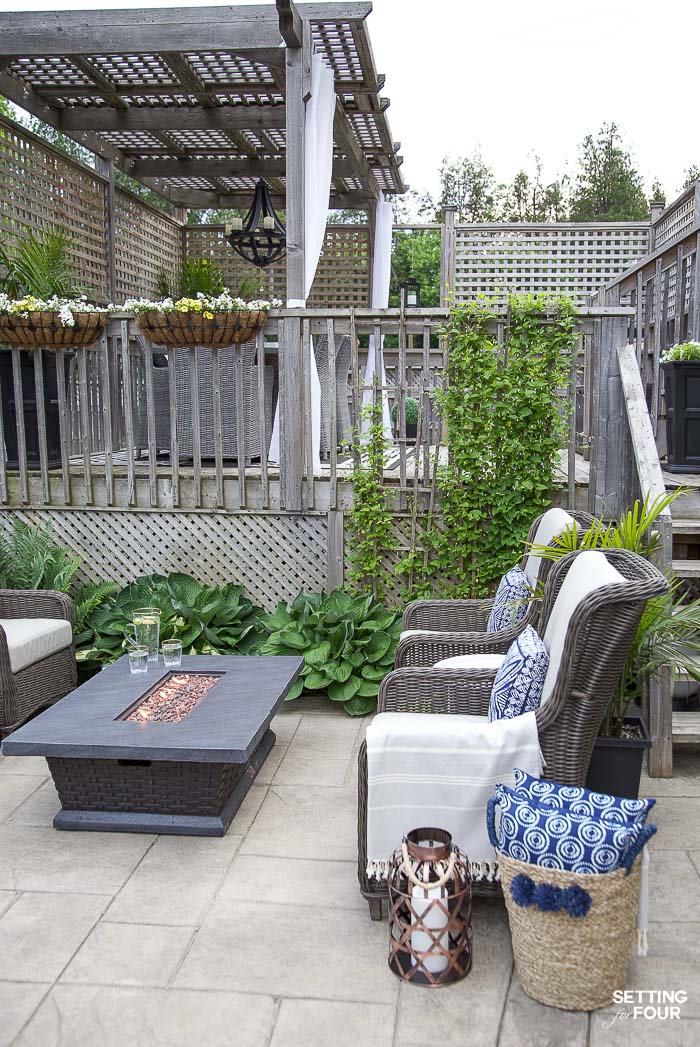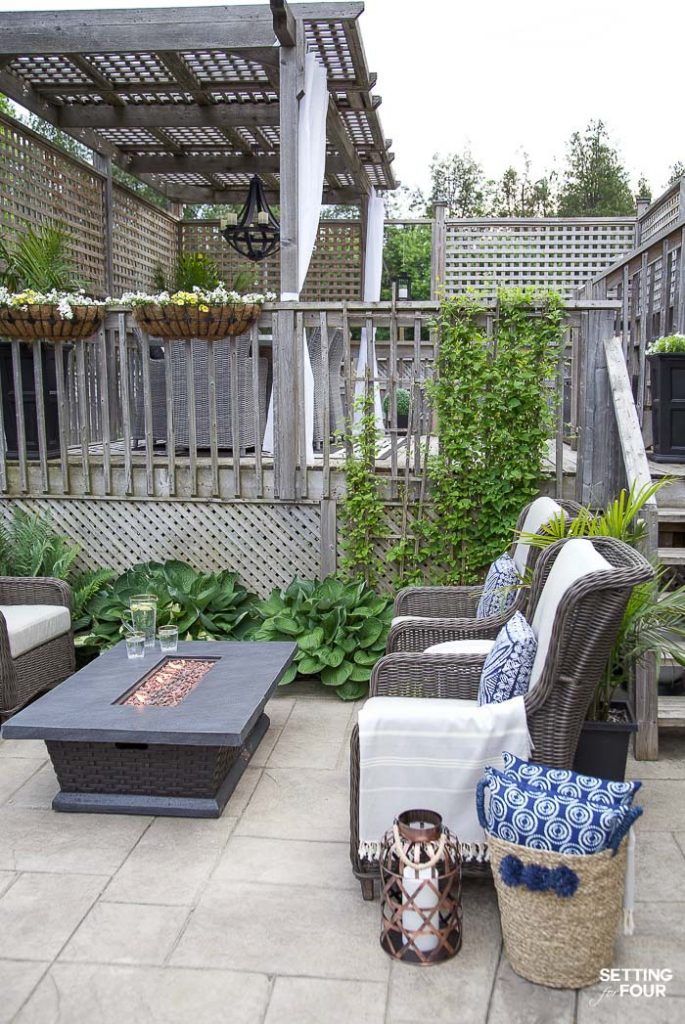 4. Throw Pillows and Throw Blankets
Throw pillows are important for adding an extra layer of comfort and for adding color and pattern to a space.
I chose to add my go-to summer accent color that I'm obsessed with – blue! These indigo and white accent pillows are so gorgeous and remind me of gorgeous Portuguese Azulego tile patterns!
A few extra accent pillows in a pretty straw basket are available when we pull up extra seating for guests!
Adding a throw blanket or two for chilly summer nights is a great thing to have on hand in an outdoor conversation space.
I love to wrap up in these turkish throws with tassels! The gray and white stripe design fits in perfectly with the color palette and pattern mix I have going on.
We keep our throw blankets in an outdoor storage box when we aren't using them.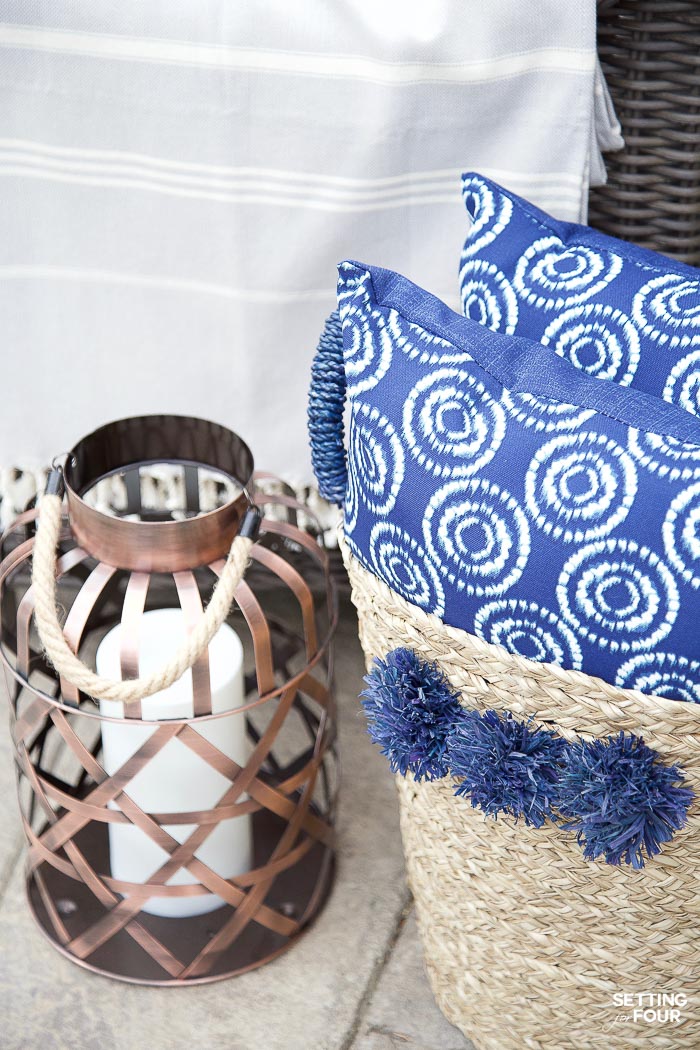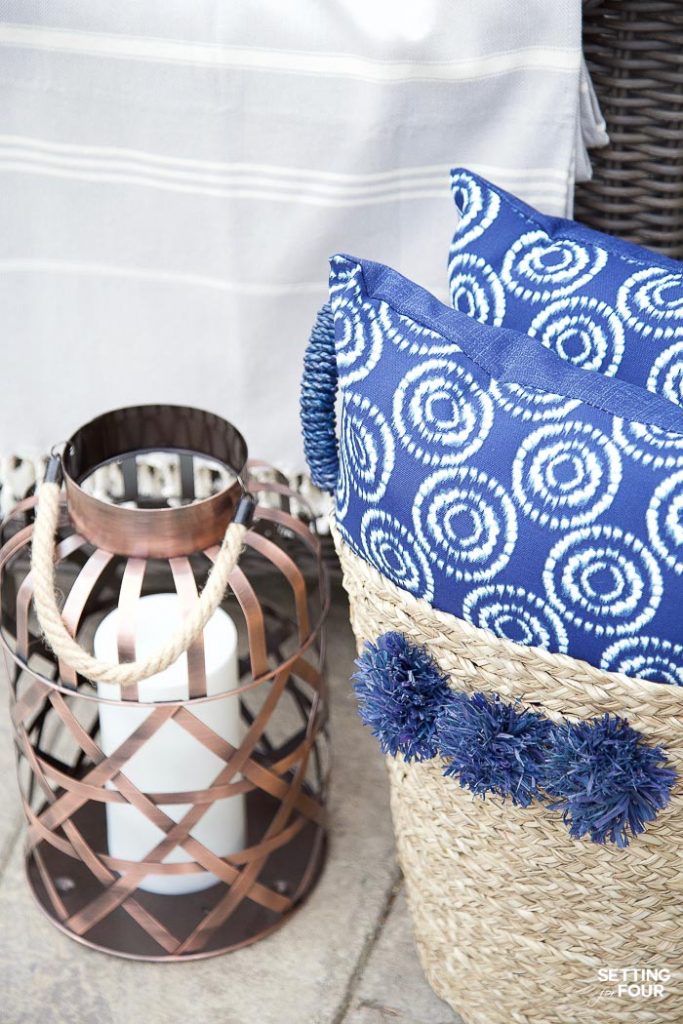 5. Lanterns
Lanterns are another of my decor obsessions! I have them inside and especially love to use them outdoors too!
They add beautiful shape and texture…. and add a pretty shimmer at night.
I love to buy lanterns that have 5 hour timers so that they automatically come on every night and automatically turn off!
These bronze beauties add a touch of metallic glam that I love to decorate with!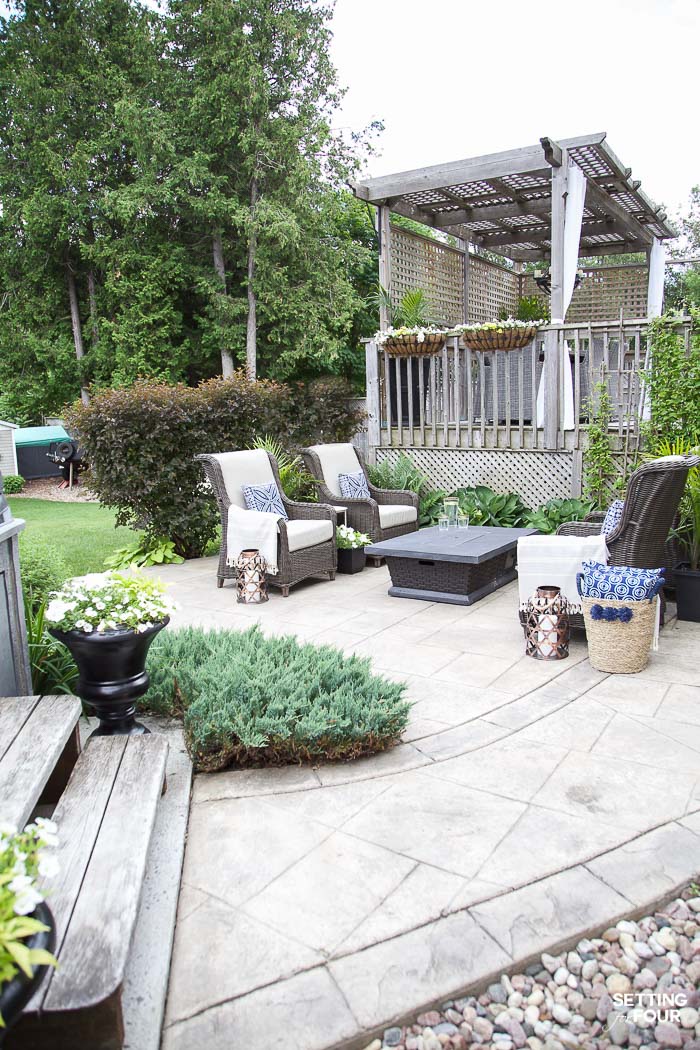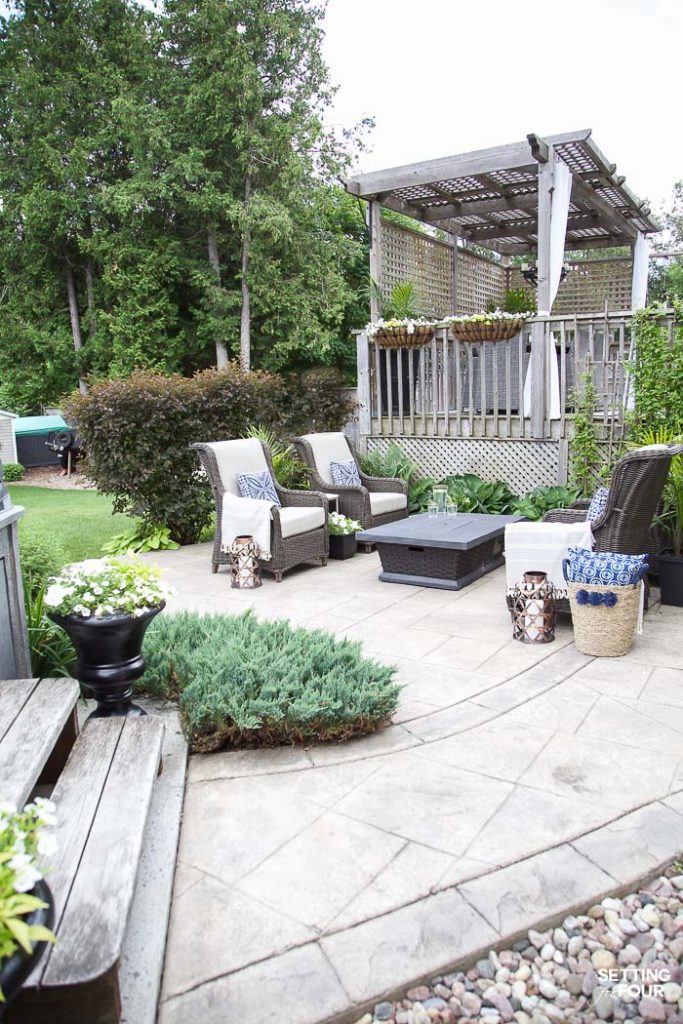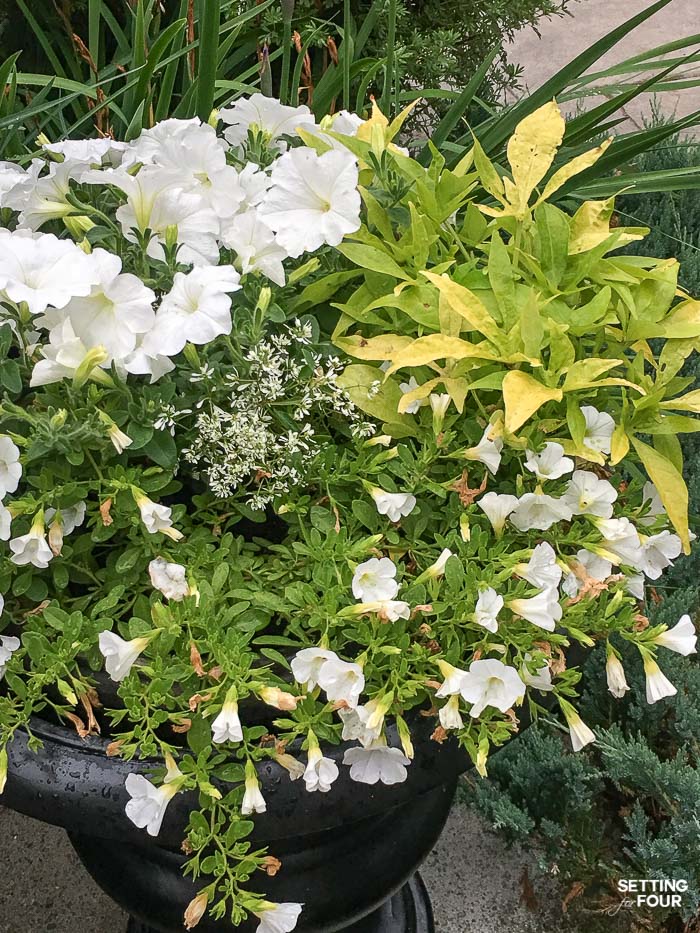 6. Flowers and Plants
A huge passion of mine is gardening – I just find it so relaxing to garden and sit amongst our perennial plants, flowerbeds and annual flowers in planters!
I love to select a color palette for my potted plants and switch it up from year to year.
This year I chose a white and chartreuse green color palette – using a variety of white annual flowers (Easy Wave White Pentunia, Star Dust Euphorbia and White Calibrachoa) and this gorgeous chartreuse green plant called Limon Ipomoea.
I also added some potted palm trees for a tropical vibe. I love the sway of the palm fronds in the summer breeze!
I used a variety of black containers: urns, rectangular pots and my favorite tall black planters (they have a tray insert so you don't have to fill them completely with soil!).
I love adding hits of black to my outdoor spaces – black looks so amazing with the white flowers and the greenery of our huge hostas!
I just love the giant hostas, ferns and all the other landscaping plants we have surrounding our patio! To me one of the best things about summer is enjoying the flowers and greenery around our patio!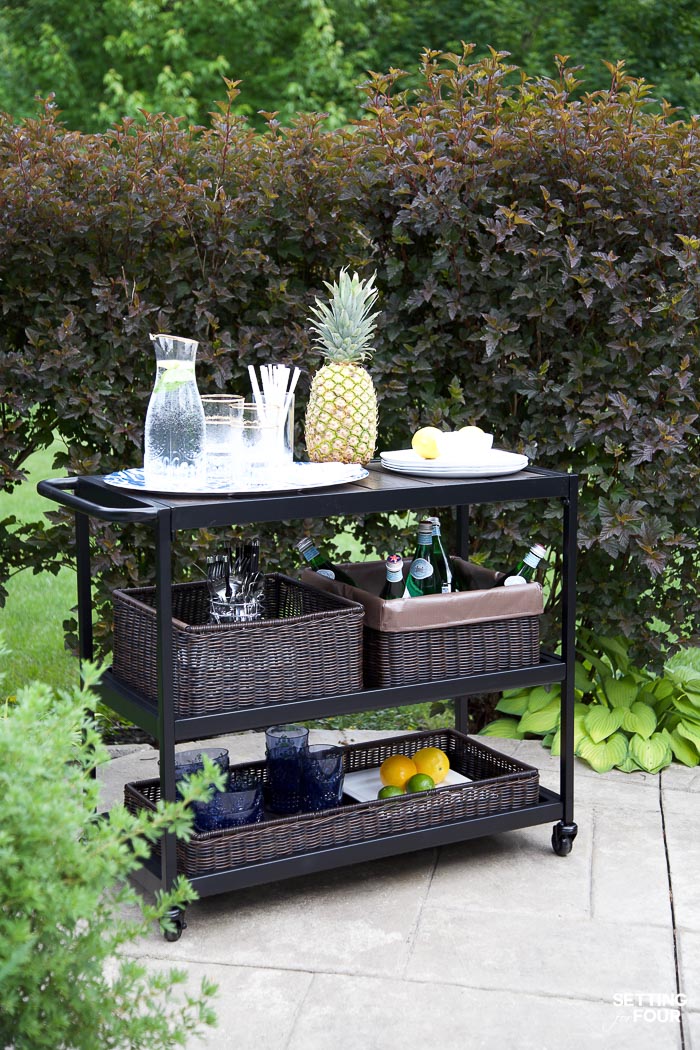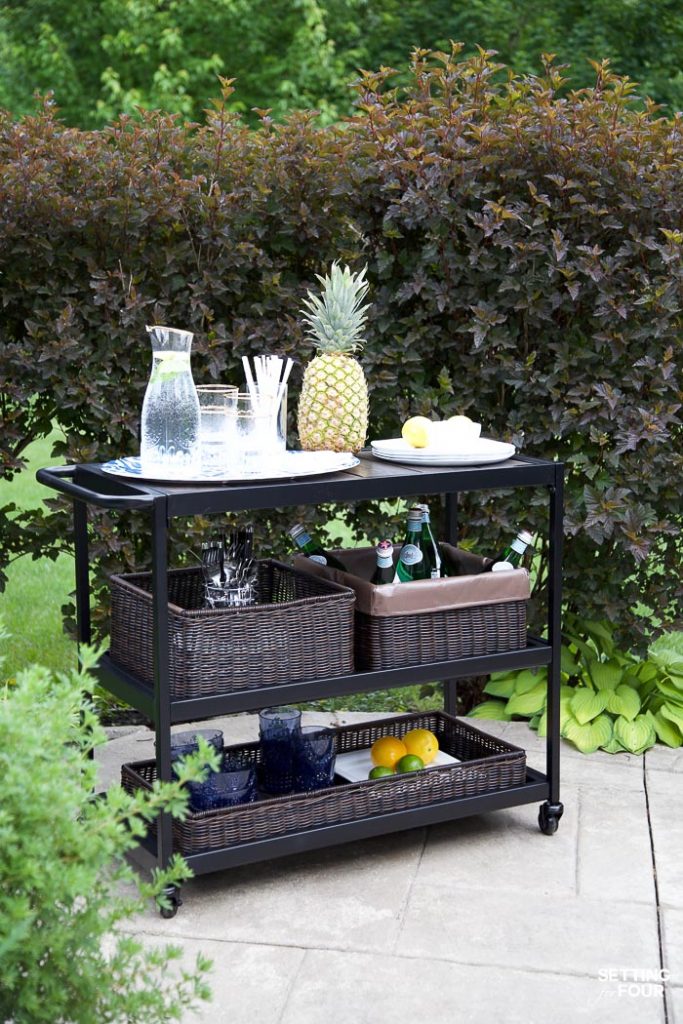 7. Bar Cart
In my opinion no outdoor oasis is complete unless it has a bar cart! You know how much I love my indoor bar cart – bar carts are perfect for entertaining (and decorating!)
See 15 Creative Ways To Use and Style A Bar Cart!, How to Style a Bar Cart For The Holidays  and How To Create A Fabulous New Year's Eve Bar Cart 
Our patio has a zone to the one side that's perfect for situating our outdoor bar cart! The bar cart is handy for anyone using the hot tub as well as the fire table conversation area and it's just a few steps away from the dining zone!
(When the bar cart is not in use we wheel it over to the covered area of our deck).
Having the bar cart to store cold drinks, snacks, glasses, plates and cutlery saves us from running up and down to the kitchen constantly!
This outdoor  bar cart is stunning and is cleverly designed with 3 baskets to make setting it up so much easier! Plus one of the baskets has a plastic liner so it can be filled with ice and keep drinks cold! I love that feature!
These baskets are constructed from a durable outdoor wicker material and I love the espresso brown color.
The locking wheels are another design element I love so that the cart doesn't roll around.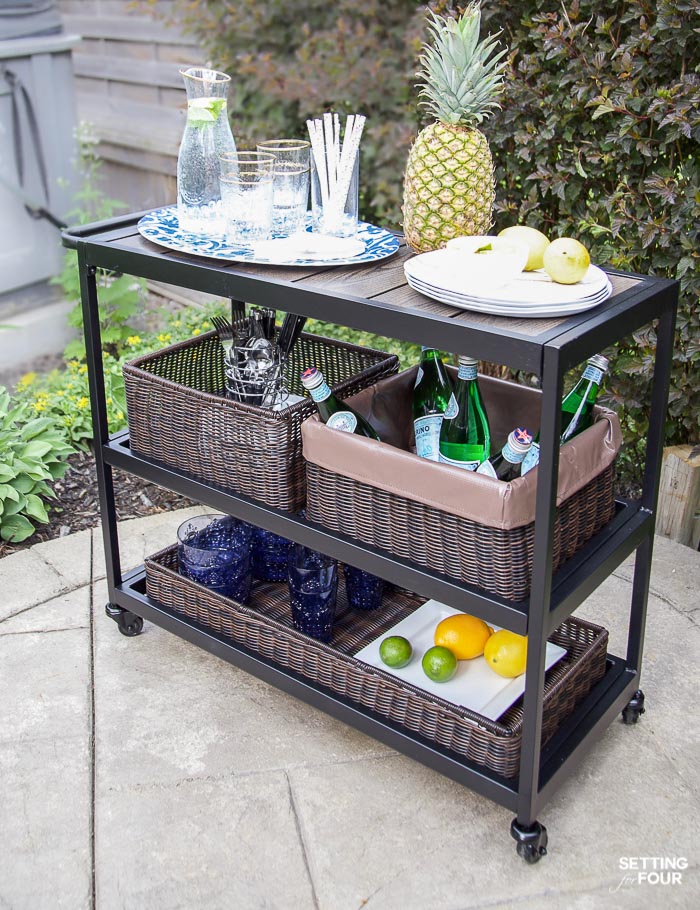 8. Entertaining Items
Pitchers for serving drinks, cold beverages, glasses, straws, plates, napkins, bowls of fresh fruit and snacks is all you need for the perfect outdoor bar cart!
See 10 Summer Sippers – Drink Recipes ,  12 Delicious Summer Drinks for Kids and Adults,  Mocha Iced Coffee Float with Snickers Crunch Topping,  Almond Banana Smoothie Recipe with Shaved Coconut Topping and 5 Delicious Thirst-Quenching Flavored Water Ideas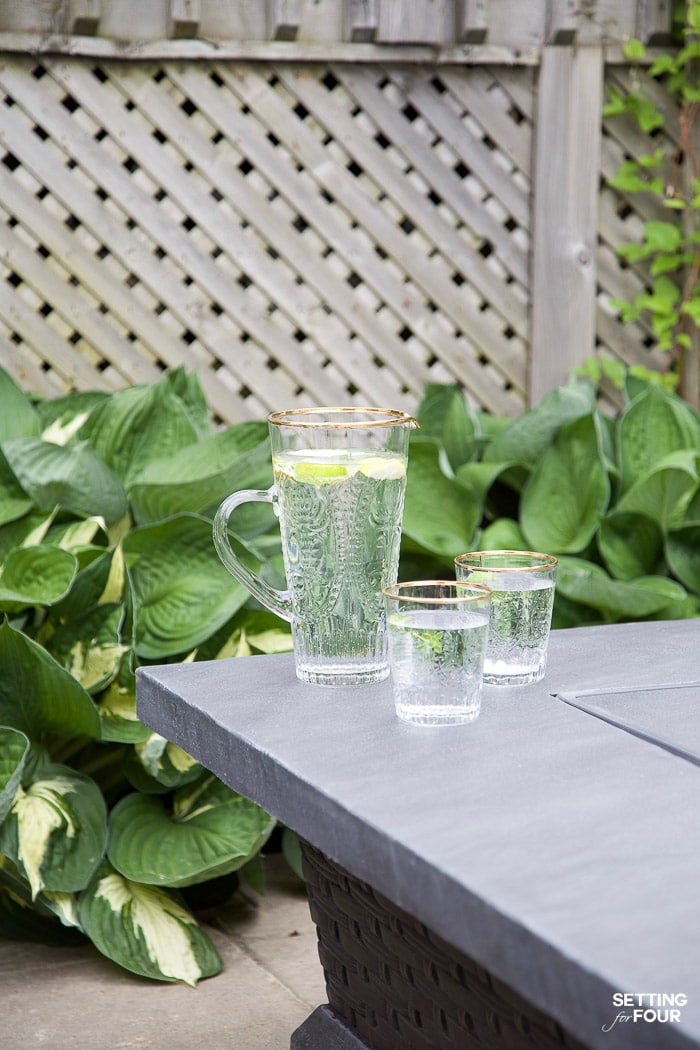 We just love our new patio makeover! I know we'll use it a lot this summer  – our sons and my hubby are so thrilled with it too!
I'm so excited to relax and unwind here with my beautiful family and entertain with our friends this summer!
I hope you enjoyed my outdoor patio ideas, furniture picks and backyard decorating tips!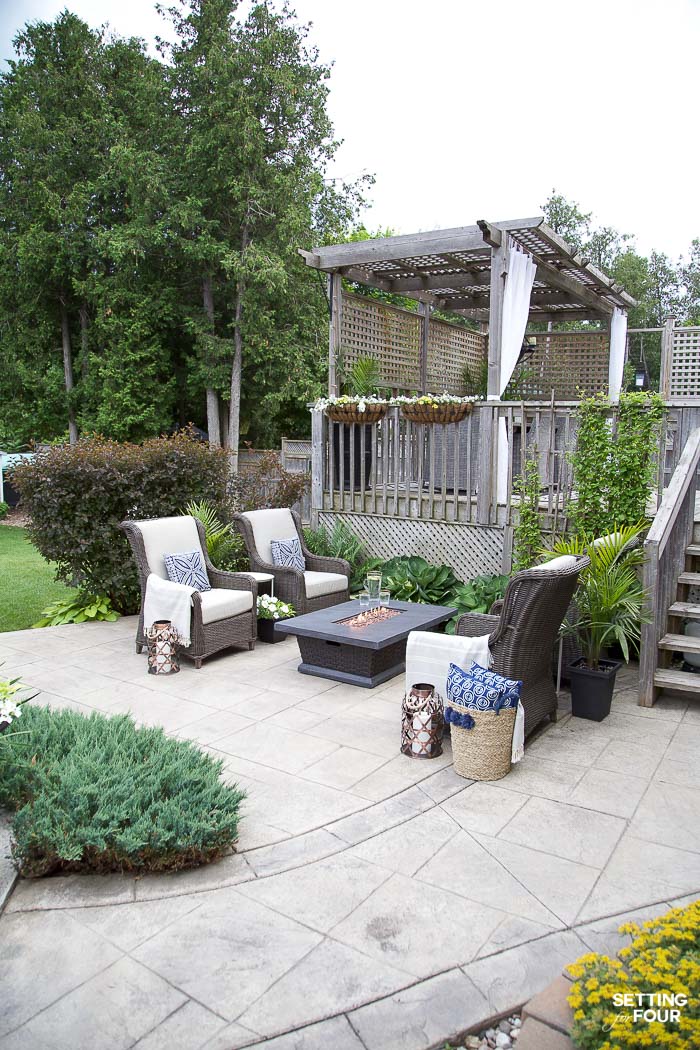 PLEASE PIN THIS AND SHARE IT WITH YOUR FRIENDS!!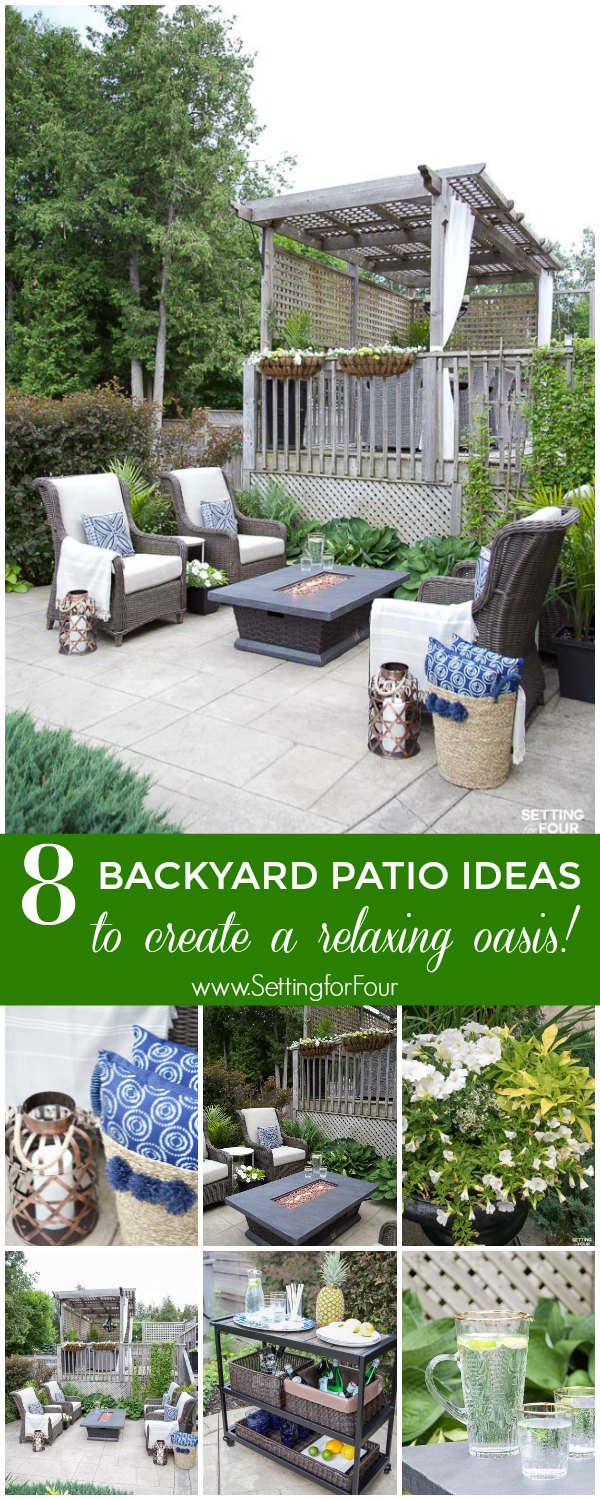 *** I'd like to extend a huge thank you to Canadian Tire for partnering with me! While I received free product in exchange for writing this, I truly love their CANVAS collection and have purchased many items on my own in the past.  All of the opinions expressed and the patio design are 100% my own. ***
You may also like:
How to Make Your Small Outdoor Space Look Bigger
6 Small Space Landscaping Plants
How to Make Outdoor Waterproof Cushions – DIY Hack
Easy DIY Outdoor Curtain Rods In 10 Minutes