See my blush pink and neutral decor Spring home tour and discover lots of new Spring interior decor ideas for your home! After a very long winter it's so refreshing to add lighter colors and flowers to our home to celebrate the season. I've added lots of blush pink colors, floral arrangements to my neutral decor – see them all! You'll also be able to peak into 30 talented design blogger's Spring home tours too – decor inspiration for every room in your house!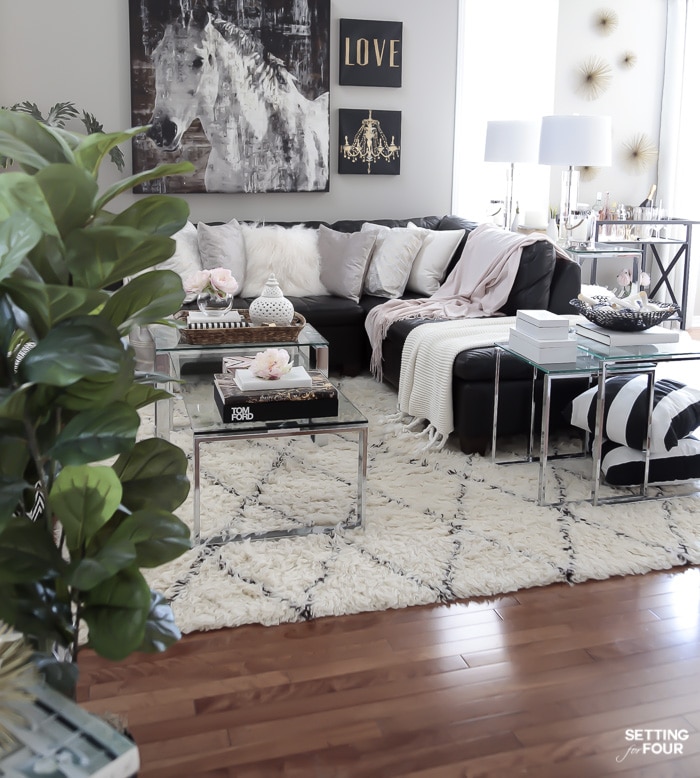 Blush Pink and Neutral Decor Spring Home Tour
My friend Marty from Marty's Musings organized this amazing Spring Home Tour! There are 30 homes in all to see – I'll update the home tour links at the end of the week so they'll all be here!
If you're coming from my talented friend Sarah at Life On Virginia Street – welcome! Isn't Sarah's home gorgeous?
If you're new to my blog you can get to know all about me and my background as a military wife, Mom of 2 boys and how I started blogging here!
And you can see all of my Spring Posts here- including all of my Spring DIY projects, entertaining ideas and decor tips!
For the first time ever I've been playing with a new accent color – blush pink! And I just LOVE how it looks with the neutrals in our home!
I've been seeing it all over Instagram – this color is so liveable and pairs well with blue and all neutral colors including white, gray, black, ivory….. and of course it's perfect for Spring decorating!
For today's Spring home tour I layered this gorgeous light pink color along with lots of florals to add a lighter airier feel to our home for Spring.
We still have tons of snow here and it's really really cold outside but Spring has arrived inside our home – take a look at my Blush Pink and Neutral Decor Spring Home Tour!
Starting in my entryway I added 2 new blush pink lumbar pillows in this gorgeous feathery faux fur! I'm in love with them – I think they go so well with our ivory high backed upholstered bench! I bought two more of these pillows for our living room.
Speaking of which – can I just tell you one more time how much I'm obsessed with this bench? It's so comfortable – I'm thinking of getting another one for our dining table.
You can see all of my paint colors here.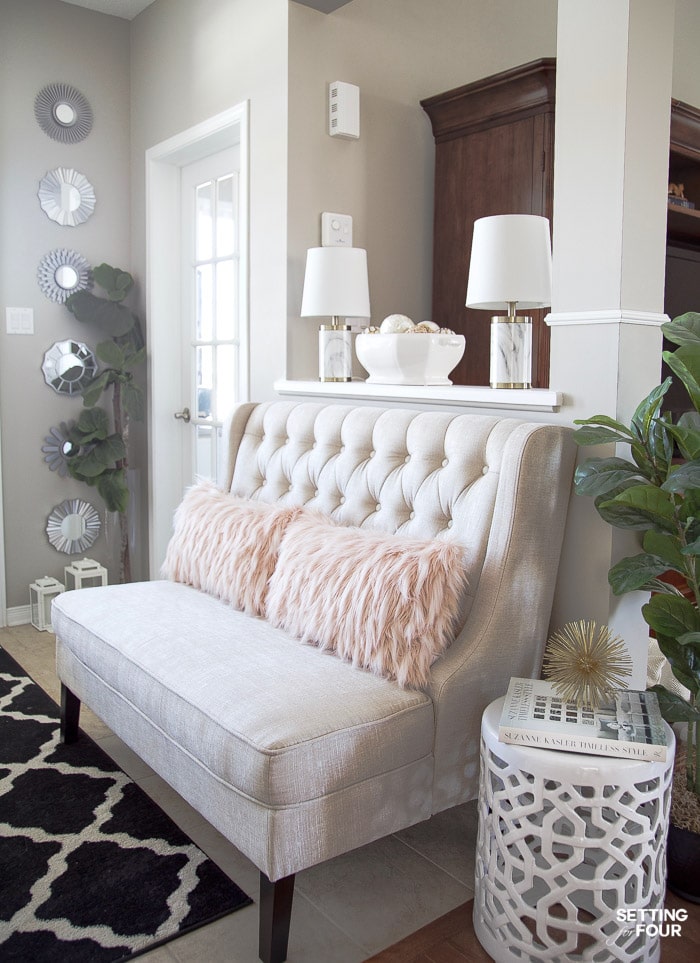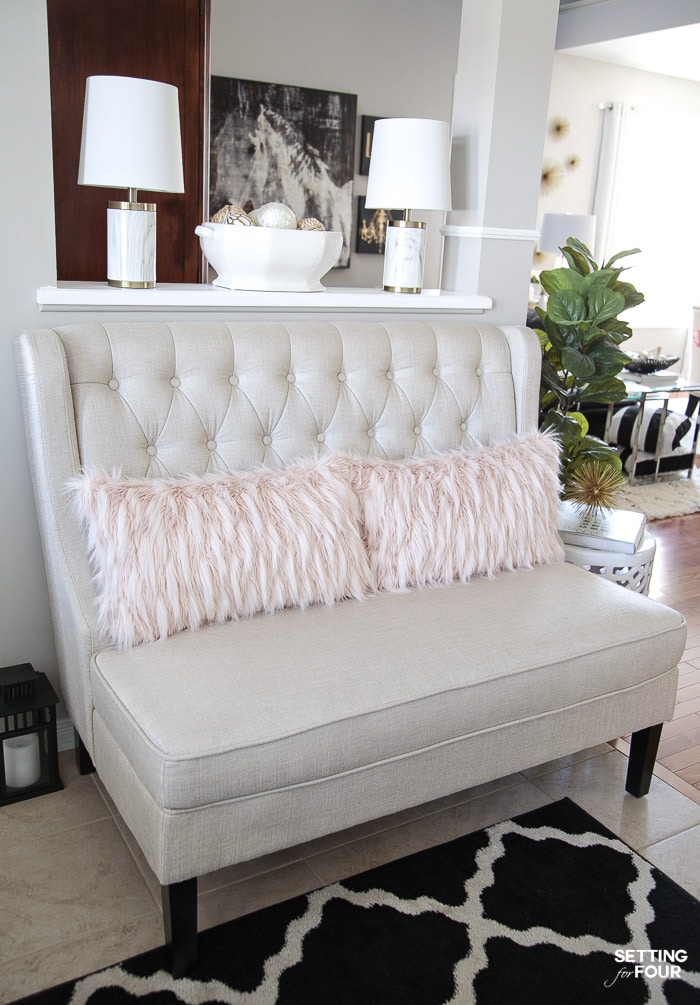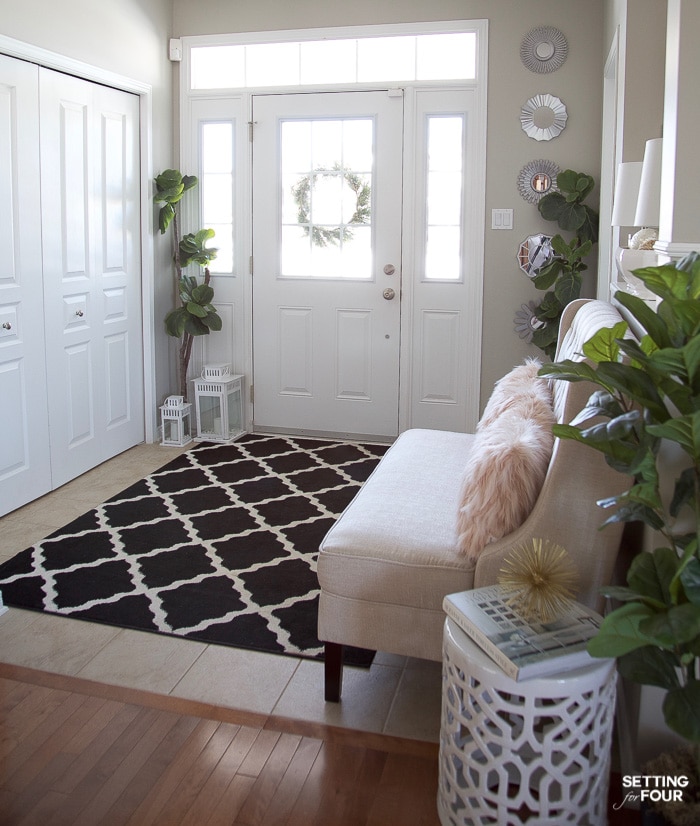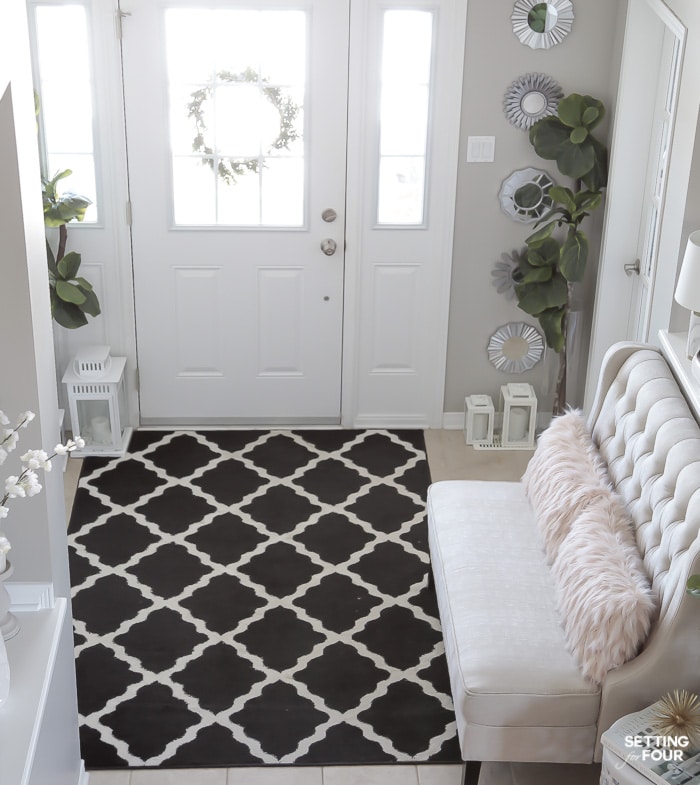 I love having flowers in my home so I added some white flowery branches to this niche. They are faux flowers but look so real!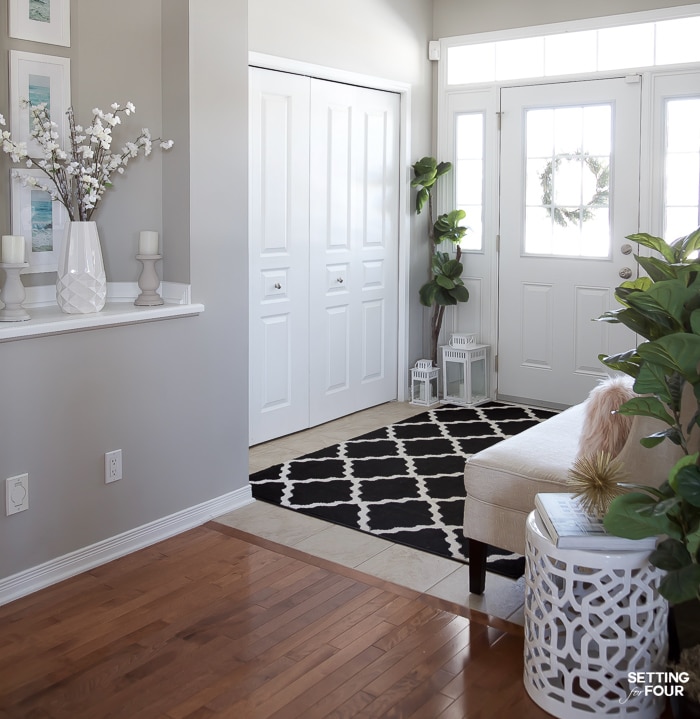 Let's move on to our family room.
Our home is partially open concept and has tons of light – which I love! Our entryway opens directly onto our family room and dining room area.
For my Spring decor I didn't add as much as I have in previous years – I'm all about simplifying these days!
I added some pink peonies to my coffee table, blush pillows on our sofa and a pink throw – everything else is the same! These are simple easy touches which give our family room a dose of Spring freshness!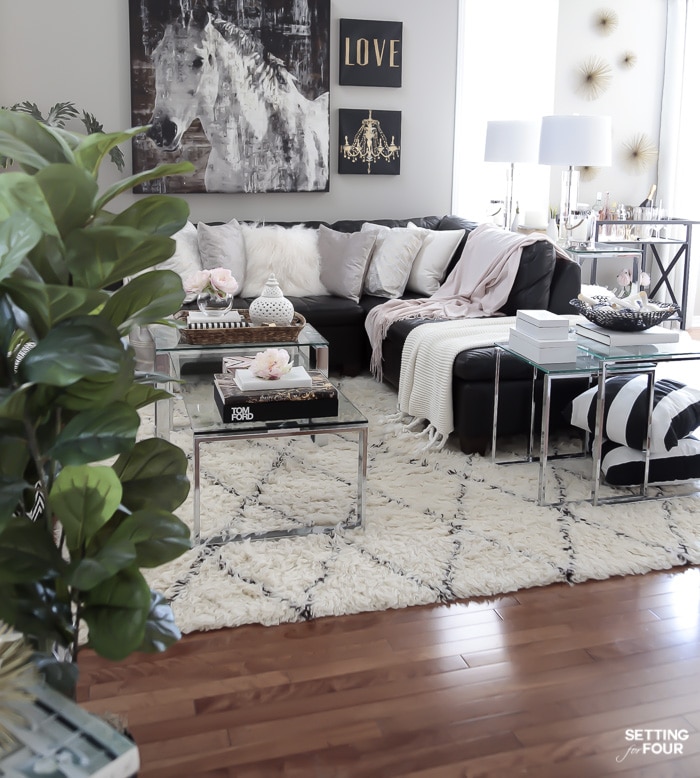 This is where my fam and I cuddle up for movie marathon nights!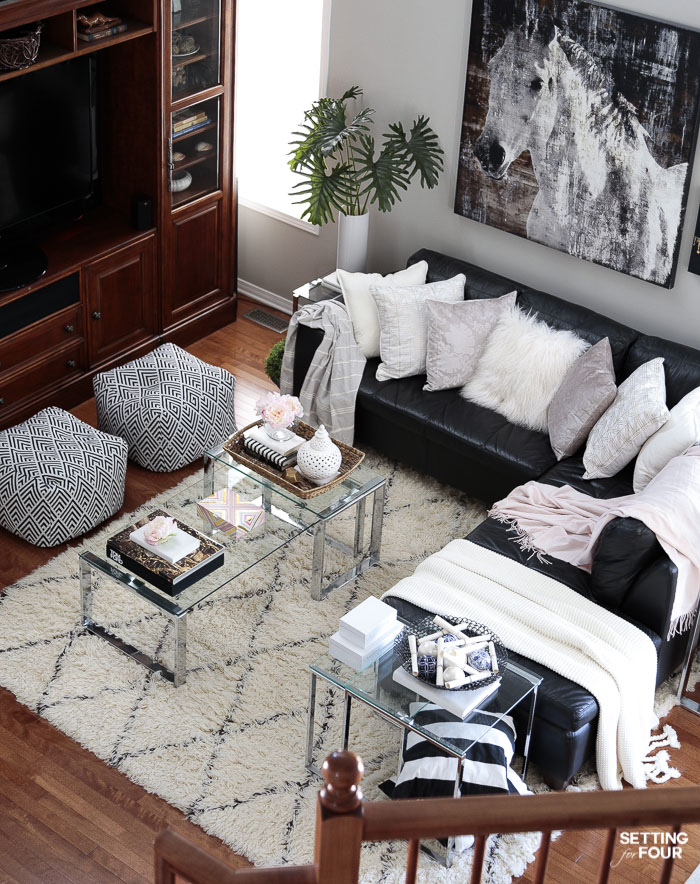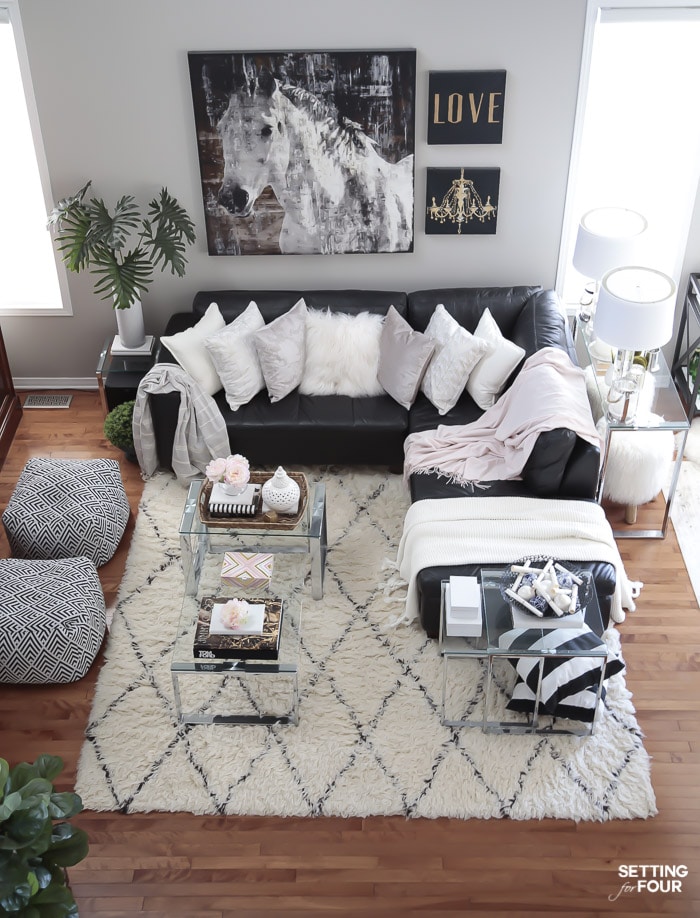 Here's a look at our open concept family room/dining room. You can see my full Spring dining room decor here and these quick and easy pretty DIY floral chair wreaths here!
I took this shot with my full frame camera so you can get a better idea of how our home is laid out!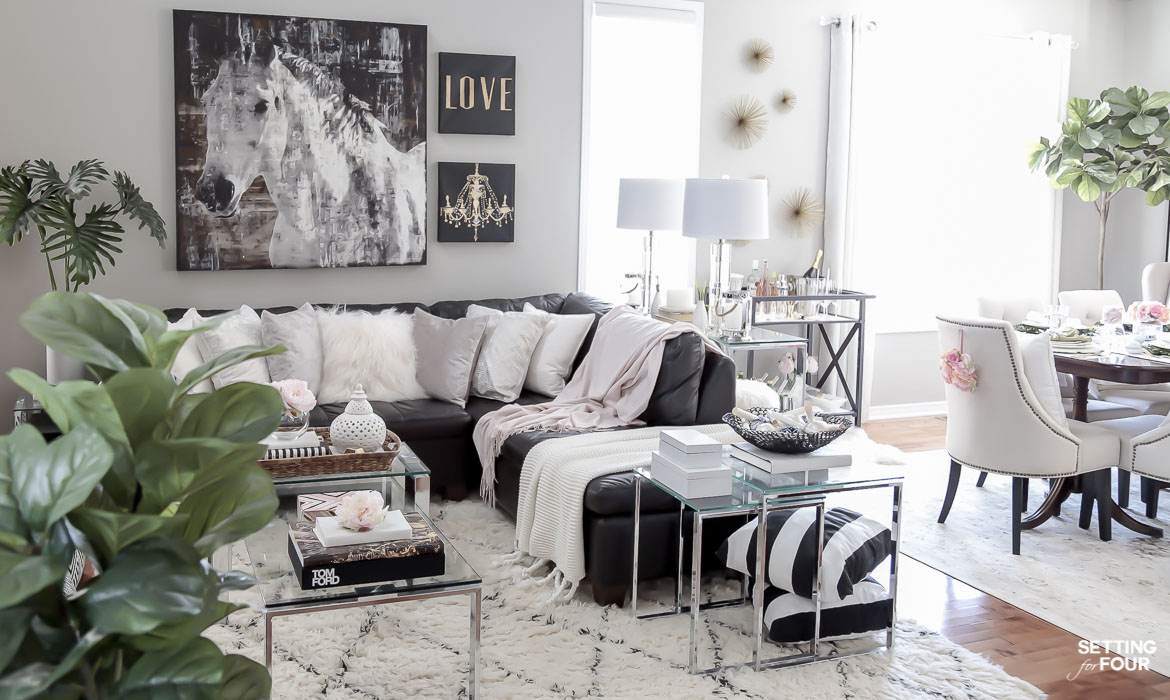 I still have a few Mongolian fur pillows out – to add some coziness to our home with the weather being so cold still!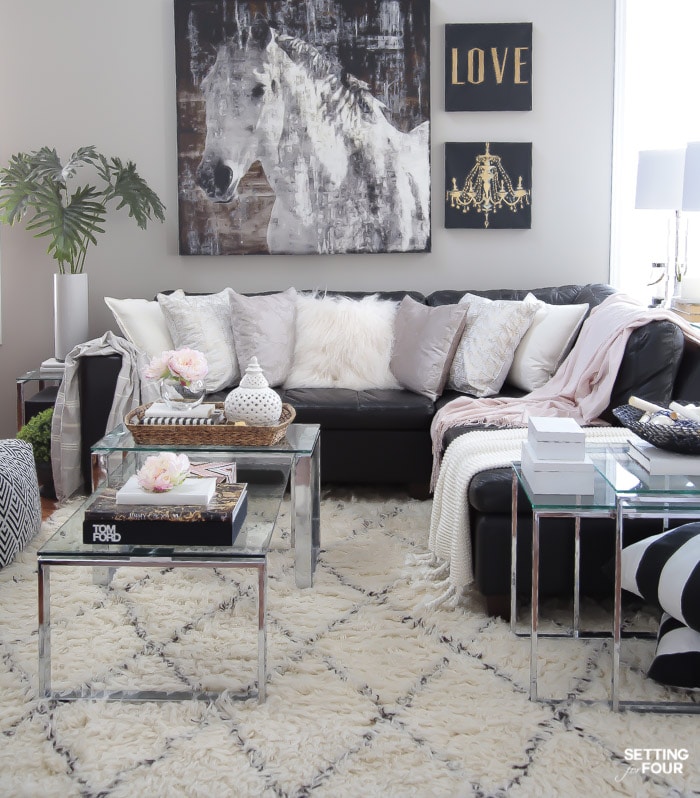 I added some moss spheres to our sofa table for a touch of Spring greenery. The blush pink and greenery look so pretty together!
Our Mongolian fur stools are one of the best things I've ever bought! I use them for extra seating, side table with a tray on top, foot stools and they are just so so pretty to look at!
As a blogger they are fun to style my rooms with and for photo shoots – I used them for my Christmas home tour photos.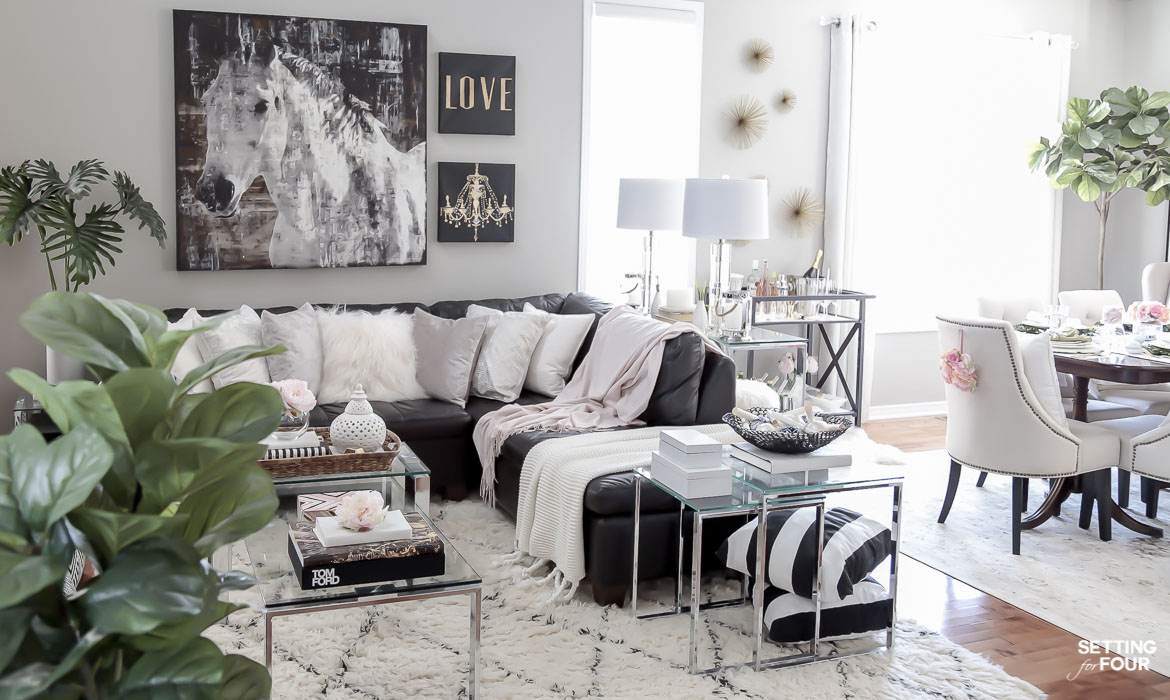 And here's our Spring dining room – you can see it here.
By the way – I've gotten sooooo many questions about this area rug which many of you have asked about! I know it's hard to believe its the same rug that's on the website – the website pictures are awful! This is what it looks like in real life- it is the same rug! It's gorgeous and we've been thrilled with it!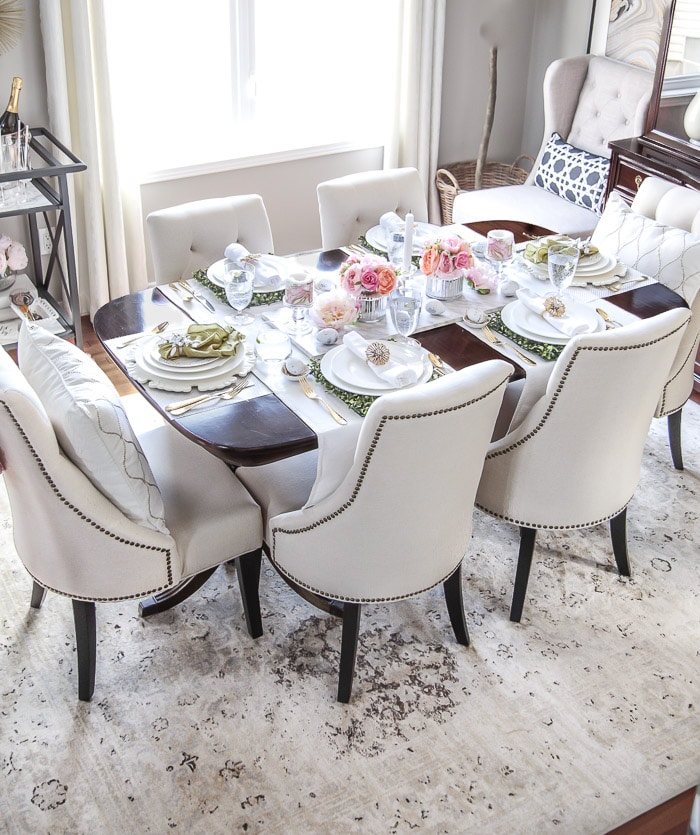 I hope you enjoyed my blush pink and neutral Spring Home Tour! I'd love to hear what you think about it!
PLEASE PIN THIS AND SHARE IT WITH YOUR FRIENDS!

Now pop on over to my beautiful and talented friend Cristina at Remodelando La Casa to see her beautiful Spring home tour!
Related ideas:
7 Ways To Make A Small Room Feel Larger Instantly!
How to Make Your Small Outdoor Space Look Bigger