Learn the easiest way to divide hostas  & transplanting tips to improve your landscaping, your yard and gardens!
DIY gardening tips.
Learn when is the best time of year to separate hostas.
How to transplant these gorgeous perennials so they thrive and multiply!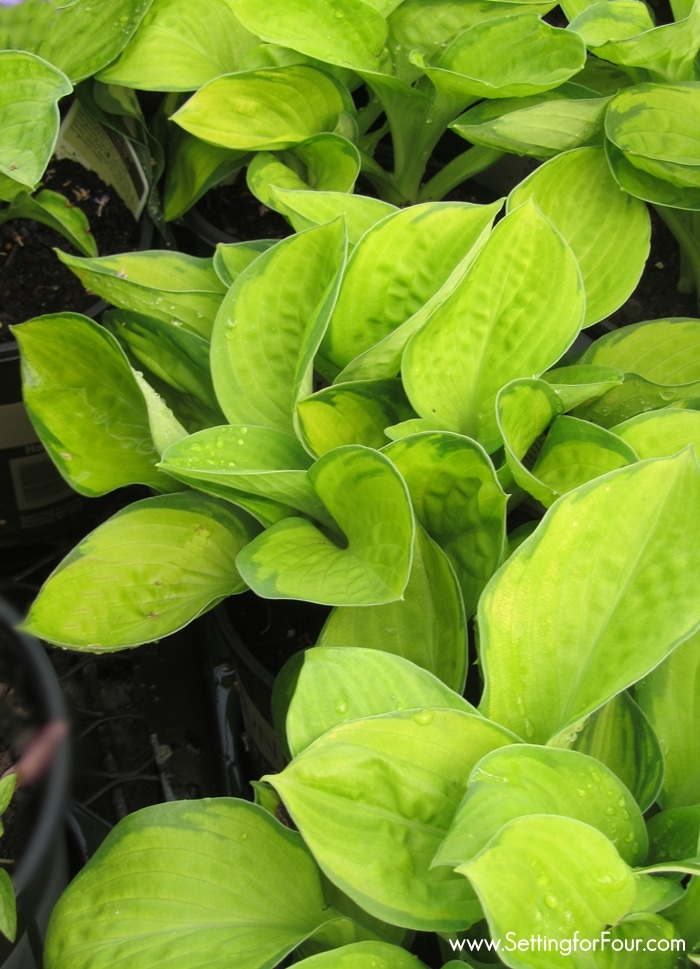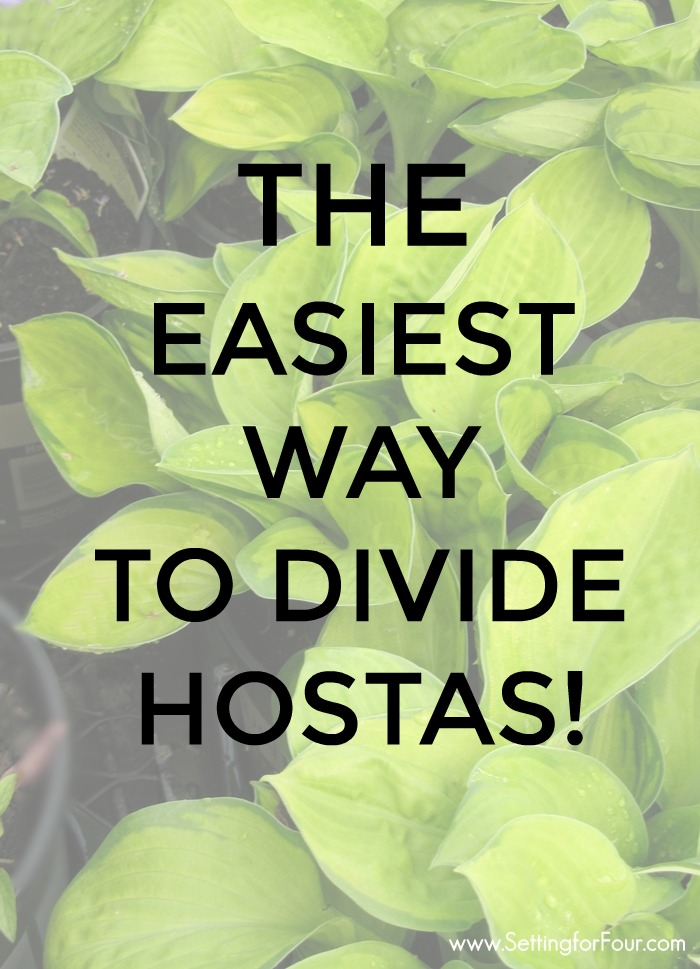 Shop these gardening items!

See our backyard patio seating area
and our backyard pergola dining area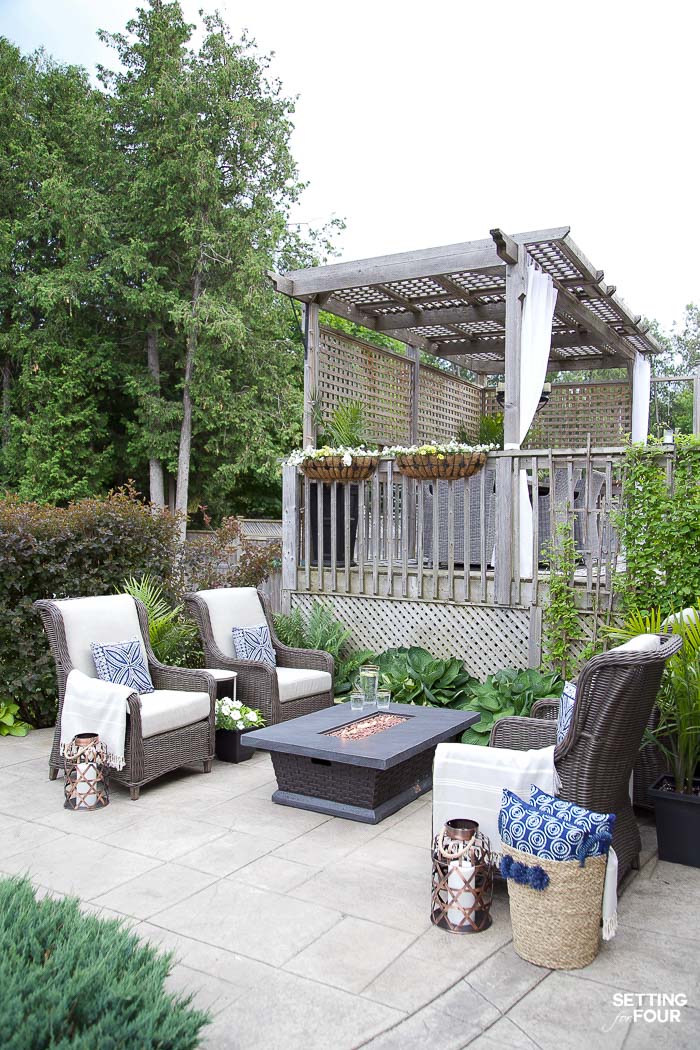 Shop this look! Click on the pictures below to see more about each item. Scroll using the arrows to see all the sources!


Landscaping with Hostas
I LOVE hostas! I have them all over our property, in the front of our home and the backyard!
Hostas are such a workhorse for the landscaped garden! They are so easy to grow and come in a variety of colors from lime green to deep blue-green!
They also come in a variety of stripes and solids.
Hostas are a favorite for the shade garden – they love shady spots where many plants can't grow.
There are also varieties that love sun.
As a perennial plant they come up every year so they are very fuss free and low maintenance.
When planning your garden and landscape design, add a few hostas…. you won't be disappointed!
Location – where to plant your Hosta transplants
In a front yard  – they add such a huge amount of curb appeal! They beautify and soften the hard edges of front steps, walkways and the foundation at the front of your home.
They are perfect in side yards since they are so low maintenance.
In back yards to add greenery to your patio and deck area!
In small gardens because the smaller hosta varieties are very compact plants.
Some are perfect for shade gardens while other hostas can tolerate sun. Be sure to read the planting instructions to plant in the right light environment.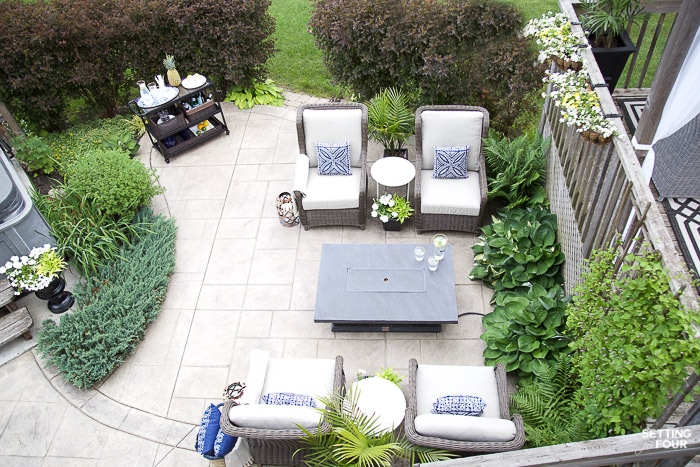 Shop this look! Click on the pictures below to see more about each item. Scroll using the arrows to see all the sources!

---
Do you need help with your backyard patio, furniture layout, room design or choosing paint colors?
See my online design & paint color services info – and client reviews! 
Email me at [email protected] for more info!

---
Hostas solve many gardening problems:
Hostas have so much gorgeous texture and can grow quite large so they are the perfect solution for a lot of gardening problems and landscaping dilemmas!
Plant hostas in front of wood lattice on a deck to hide it and add interest.
Plant hostas along a fence to add color and interest.
They can help you save money when planting a large garden bed because they grow so large and when divided you get free plants to fill in other bare areas!
Soften the hard edges of concrete/stone pool decks, hot tub enclosures, down spouts, concrete and stone patios.
Hostas in bloom also attract hummingbirds, bees and butterflies which are fun to watch and help pollinate your gardens!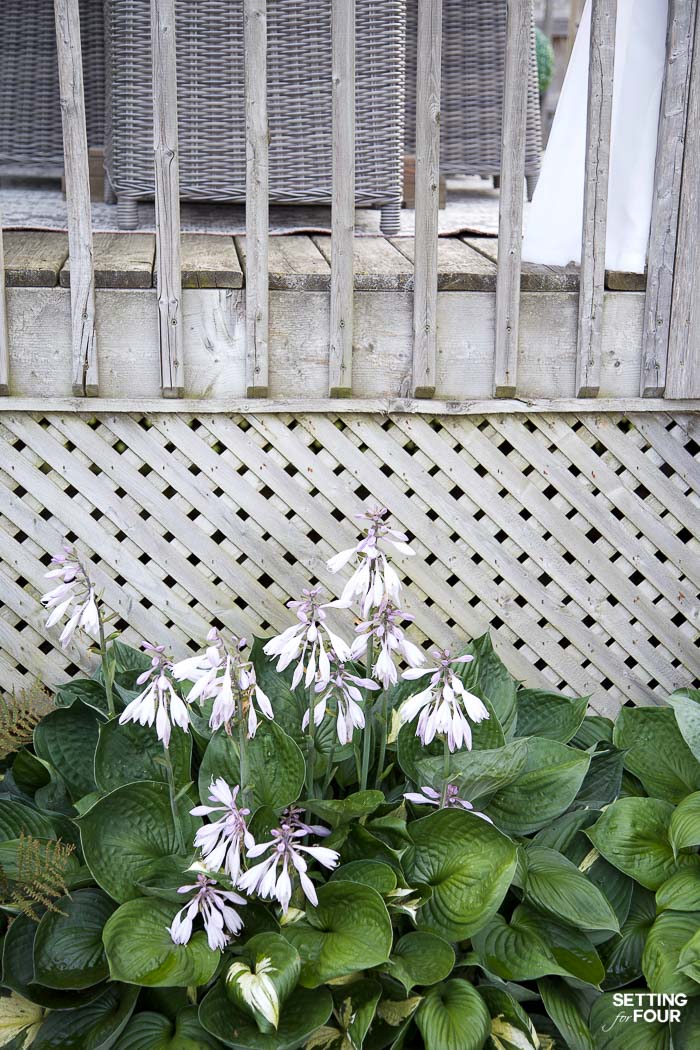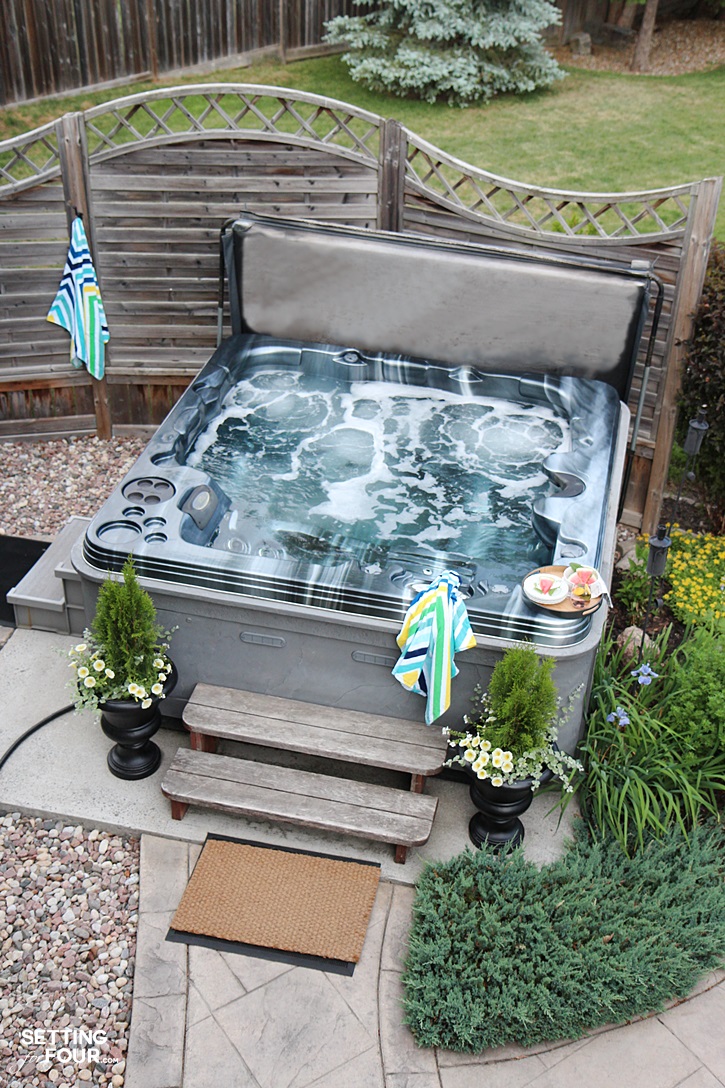 Shop these hot tubs and more!

Hostas look best:
planted around the bottom of a tree
in a border
filling a large garden bed
in containers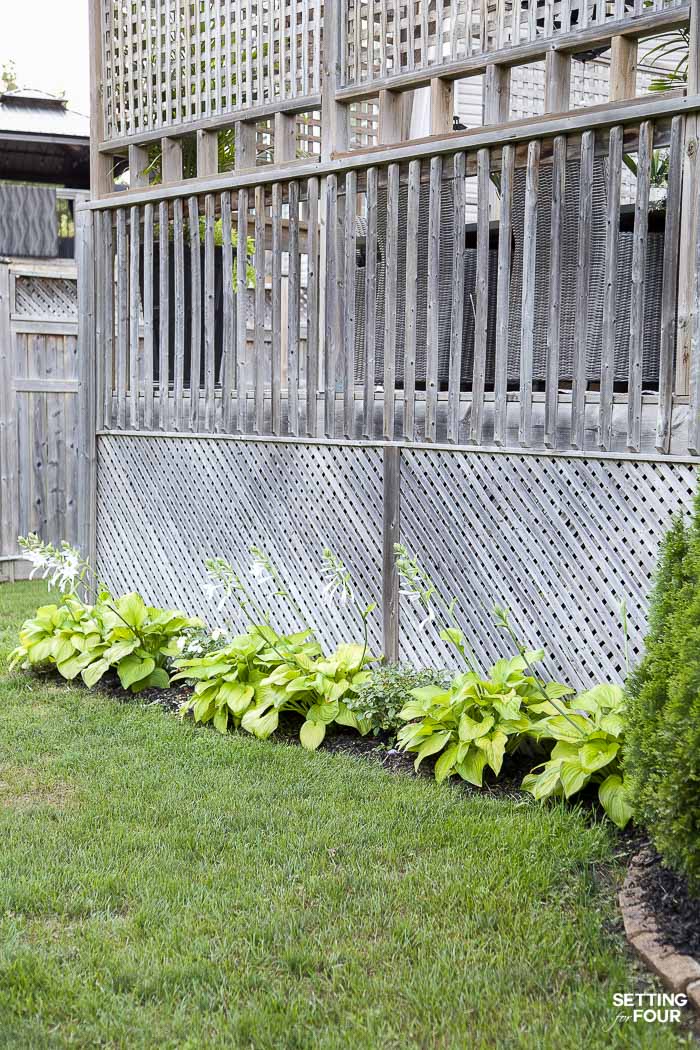 When to divide hosta plants:
The best time to divide hostas is early spring, shortly after you see the new shoots poking up out of the earth.
They're easier to manipulate and divide since they haven't matured into full leafy plants. Plus the rainy weather  in springtime helps the new transplants take root.
You can also divide them in the fall, but be careful to not damage the mature leaves.
Hosta sprouting in the spring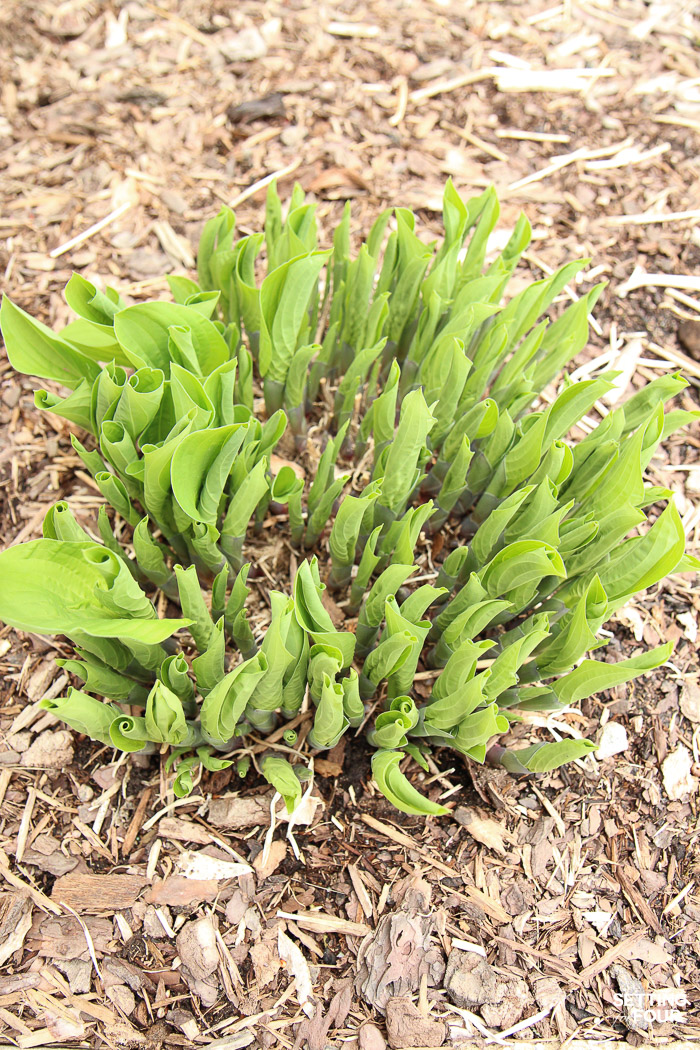 Shop these gardening items!

Gardening DIY – How to divide hostas:
I used to divide hostas with a sharp trowel and I found it to be really hard to cut through the dense roots so now I use a butcher knife!
Yes a knife! I keep one with my gardening supplies that I use just for gardening. I find a knife to be so handy to divide other plants too!
Take the knife and push it into the middle of the hosta mound and down into the soil as far as it can go. Continue cutting through the hosta mound with the knife until you have divided the amount you want.
Remove as much of the root ball as possible since hosta transplants may die if they lose too many roots.
I like to divide the mound in half and then segment that into smaller pieces if I want to create 3 or more transplants.
If you just want to remove one small piece, use the knife to cut out one piece from the edge of the mound.
After you've cut through the hosta mound you can use a trowel and the knife to separate the piece and remove it from the soil.
Remove it gently so the shoots stay intact. Try not to damage the roots.
After you've removed the divided amount, push back the soil around the 'mother' plant to cover the hole that you've created and water it.
Take the divided part of the hosta, and using the knife, cut it into more pieces if desired.
Plant them where you'd like and water immediately.
It won't take much time for the original hosta mound to fill in – so don't worry that it will look sparse!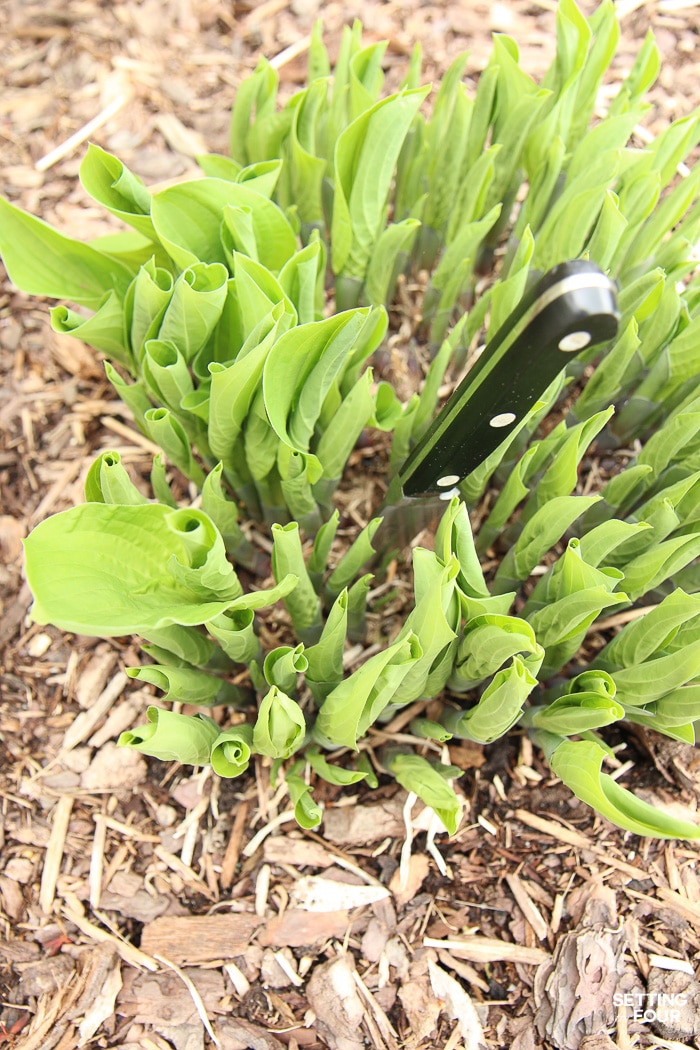 Shop these gardening items!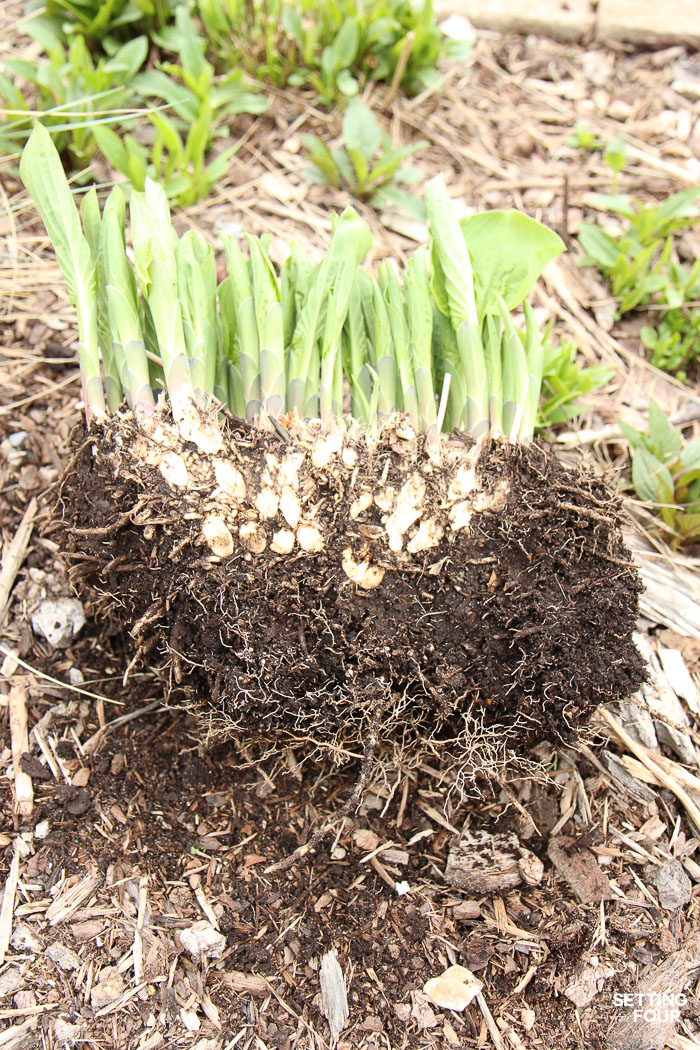 Care after transplanting divided hostas:
Transplant the separated hosta plants deep enough into the soil that the roots are covered.
Adding mulch around the transplants will help the roots retain water.
Immediately after transplanting into the soil give the young hosta plants a thorough soaking.
Water every day for 3 or 4 days then they will be fine with regular watering.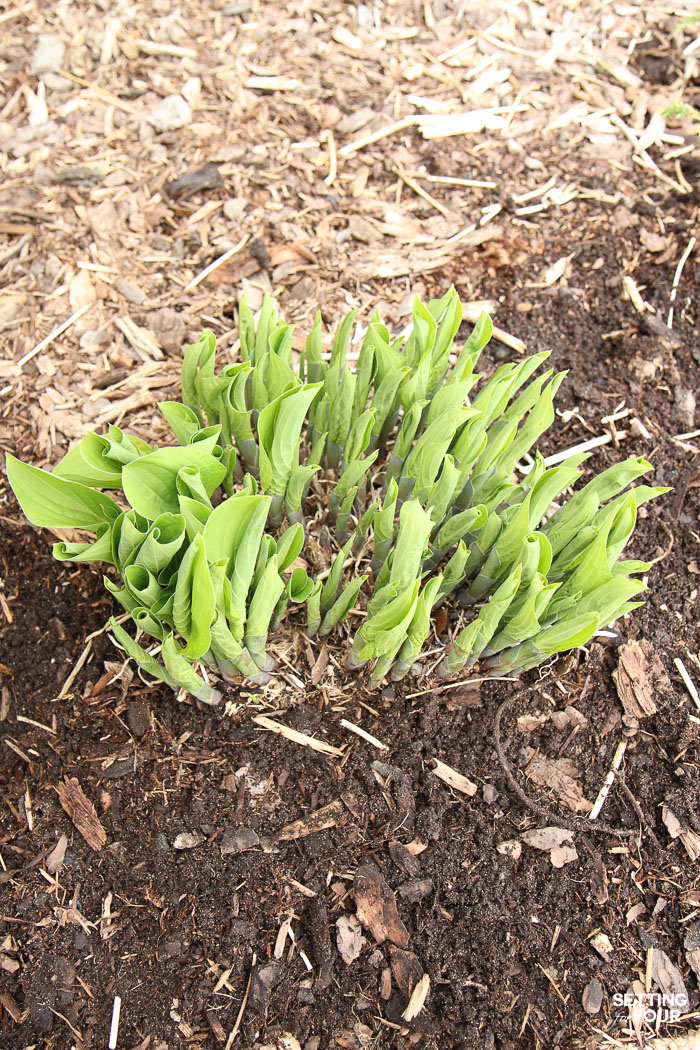 Flower arranging tips with Hostas
Hosta leaves and flowers make beautiful flower arrangements! I love to add a few hosta leaves to my bouquets to give them texture and a pop of green color!
Cut a few leaves from the hosta plants in your garden and add them to roses, tulips, hydrangeas or peony flower arrangments. Space them out throughout the arrangement so the tips of the leaves poke out here and there.
Hosta leaves are fabulous to use in floral bouquets because they last a long, long time!
Hosta leaf and hydrangea flower arrangement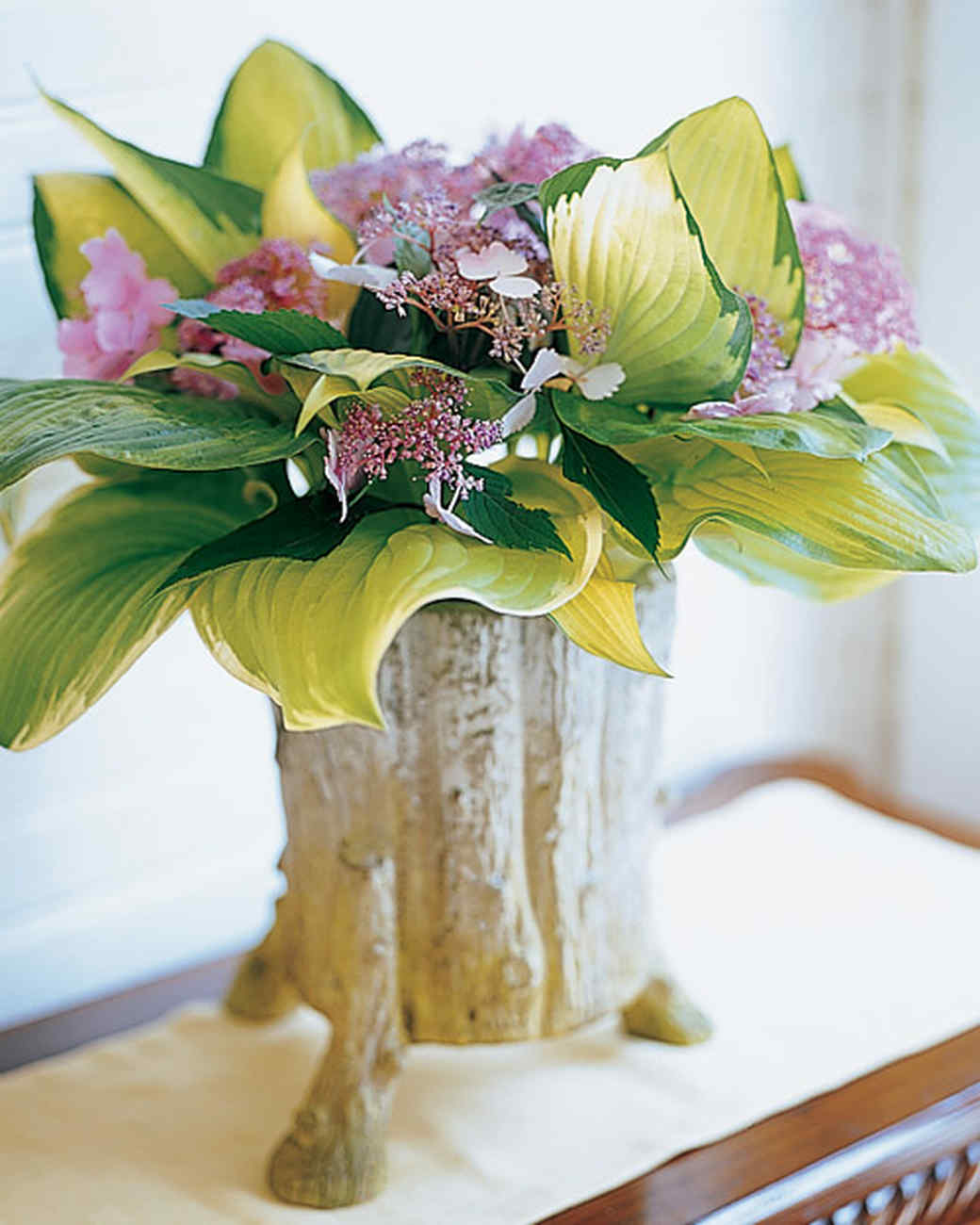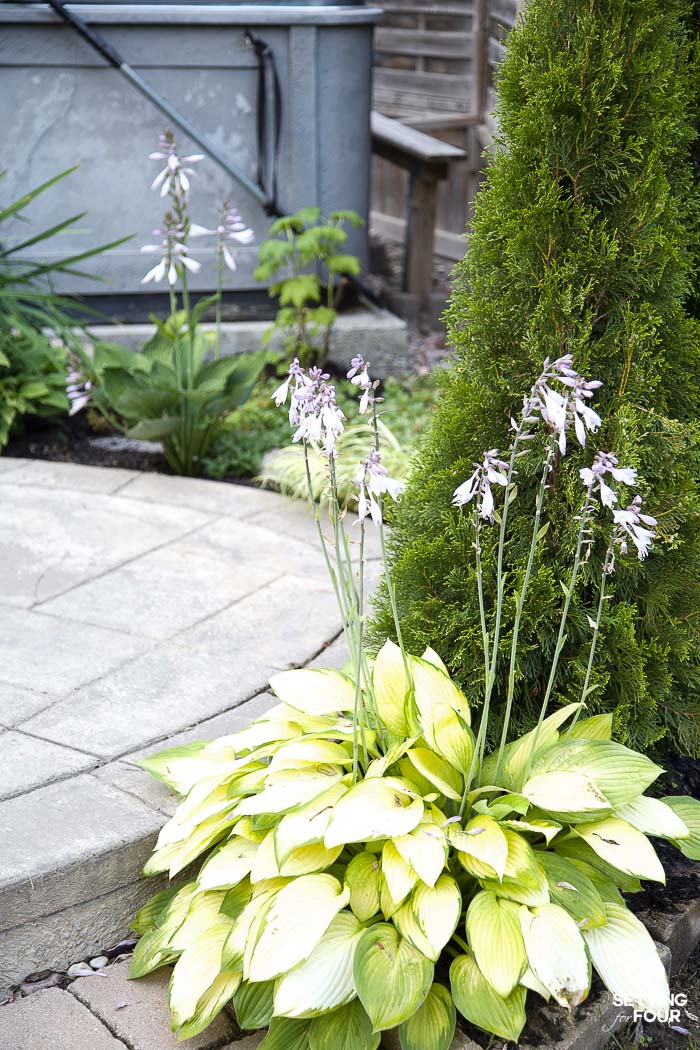 I hope you enjoyed this post on how to divide Hostas!
Do you love these plants as much as me?
More Gardening and Design Ideas: