Learn how to make this beautiful tray with this easy DIY tray tutorial using tile and cabinet handles – what a great way to use leftover tile from a kitchen or bath renovation – or create a tray using pretty Carrara marble tile! This is a quick and easy, inexpensive tray to make that's perfect to organize your perfume and jewelry in your bedroom/bathroom, display books and decor on a coffee table, centerpiece idea for your dining table or as a food and drink serving tray when you're entertaining. Such a gorgeous wedding, anniversary, hostess or holiday gift idea too!
Don't forget to enter my $100 Amazon Gift Card Reader Appreciation Giveaway (information is at the bottom of the post!)
This is a throwback Monday post – a great DIY tray to make for the upcoming holidays as handmade gifts! Of course make one or two up for yourself as well!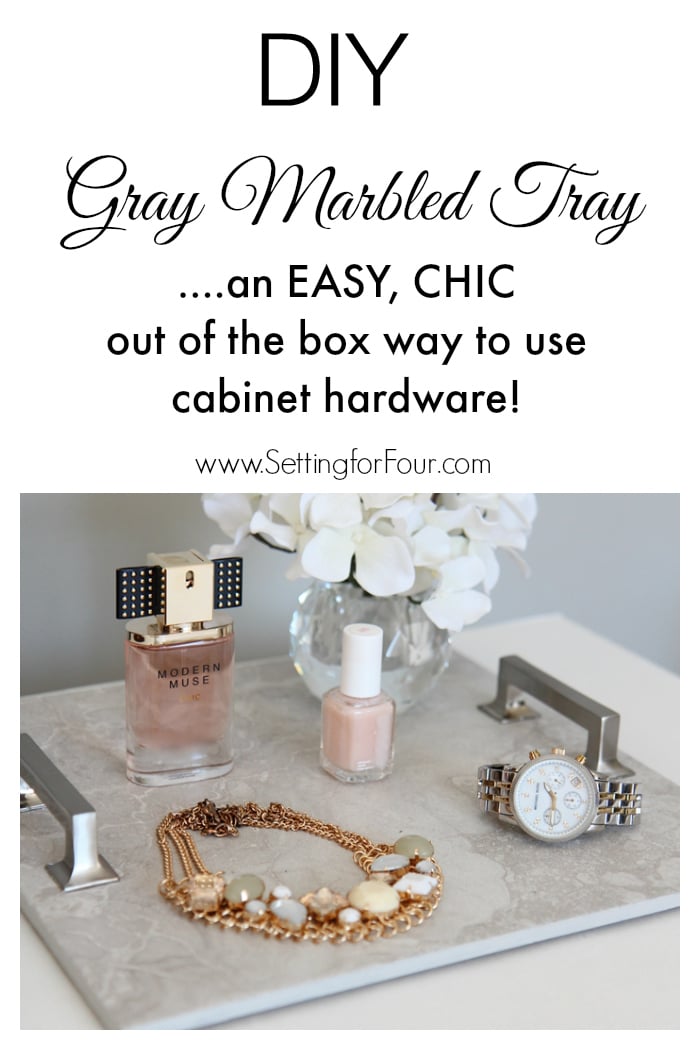 This post contains some affiliate links for your convenience. Click here to read my full disclosure policy.
DIY Tray Tutorial Using Tile and Cabinet Handles
Decorating my home on a budget, repurposing items and creating my own home decor are some of my big passions… I love to create one of a kind items for my home; the kinds of things that give my home personality and unique style.
Most of all I love sharing my DIY adventures with all of you! Today I'm sharing my step-by-step DIY tutorial for this gorgeous marbled gray tray so you can make one too.
Here are 5 creative ways you can use this DIY tray:
You can use this DIY tray to store and display your jewelry, nai lpolish and perfume on your bathroom vanity or on your bedroom dresser: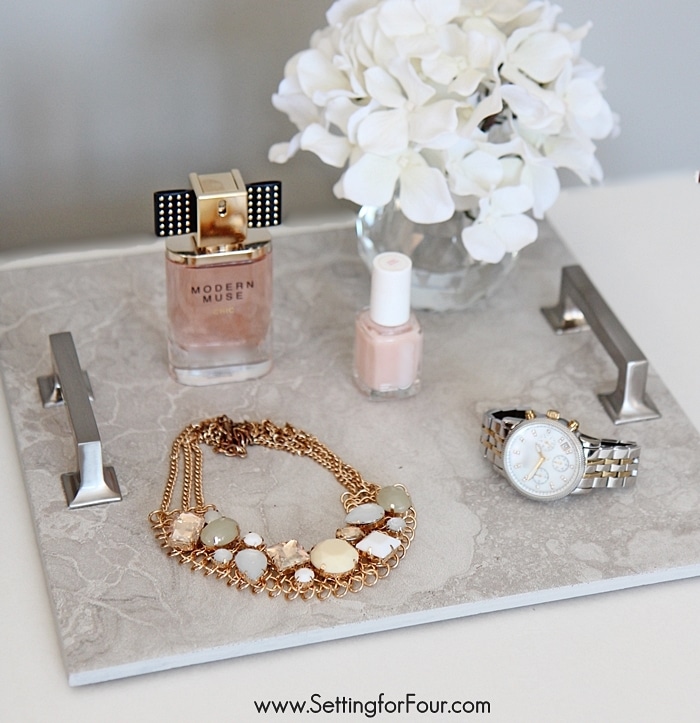 In your foyer as a place to stash your cellphone, keys and sunglasses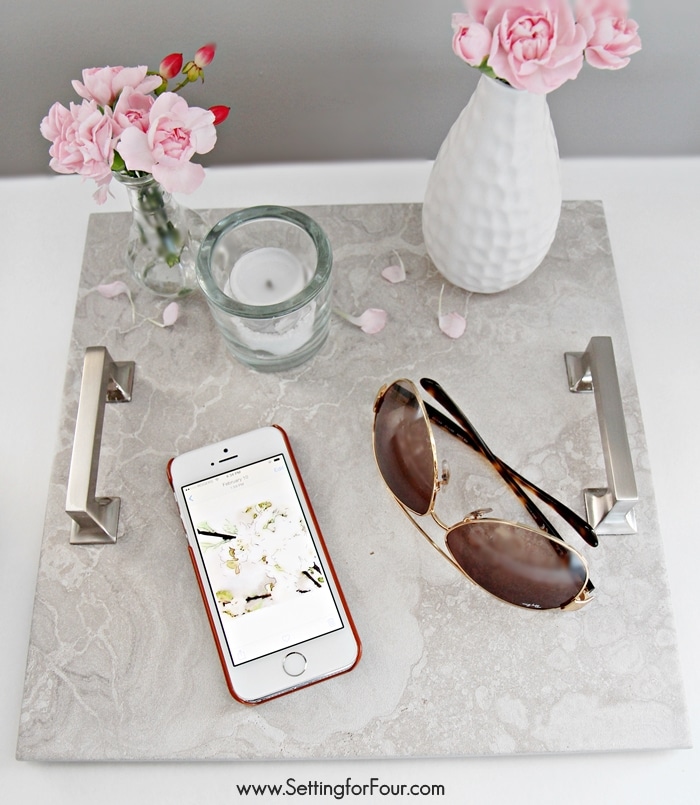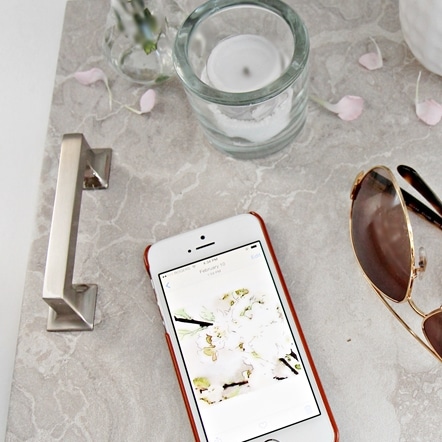 Use it to display books, candles and decor on a coffee table
Centerpiece idea for your dining table – add a vase of flowers to it, a bowl of fruit, or a few candlesticks….you name it!
As a food and drink serving tray when you're entertaining.
Make a few of these trays up for these 7 thoughtful DIY gift ideas:
Wedding gift
Anniversary gift
Hostess gift
Teacher gift
Housewarming gift
Christmas or Birthday gift
Us it in a DIY gift basket – place it under a wicker basket filled with goodies and wrap it all in cellophane gift wrap, ribbon and a tag!
DIY Tray Tutorial Using Tile and Cabinet Handles
Supplies: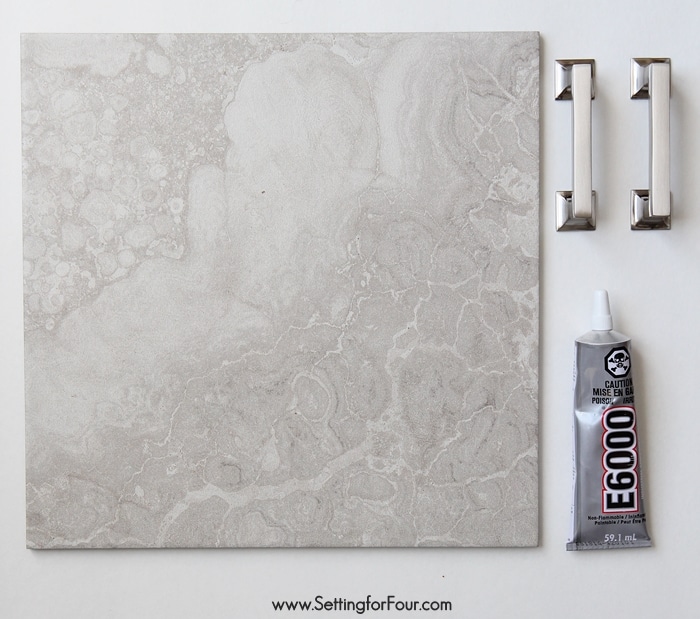 Total cost = $20.00! So inexpensive!
This is how I made my DIY tray – it's super quick and easy!
1.First use the painter's tape to mark where you'd like the cabinet handles to sit on the tile in a centered position. These tape lines will act as a guide.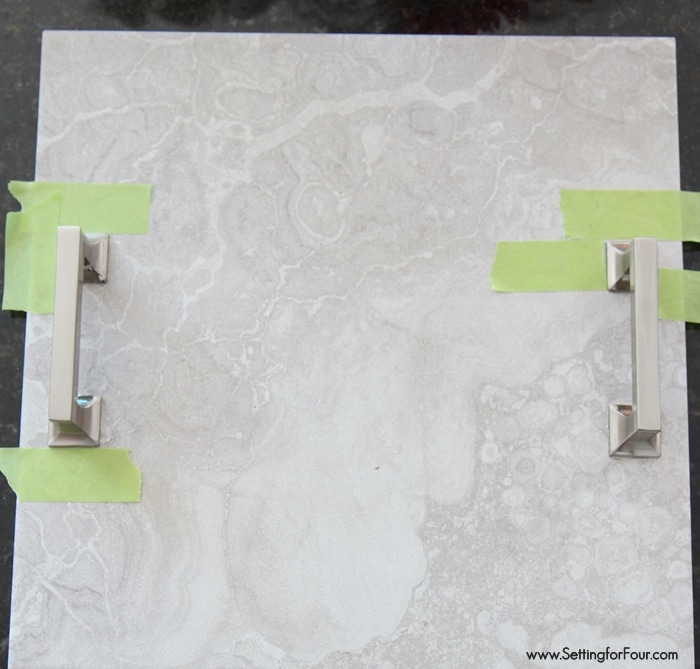 2. Attach each cabinet handle to the tile with E6000 adhesive following the adhesive instructions. Let adhesive dry.
3. Attach a felt pad to each bottom corner of the tile.
4. Paint the edge of the tile with a coat of gray paint to cover up the bare edge.
Note: Make sure you test that the handles are attached strongly because you won't want them to pull off your tray and damage your floor or hurt your feet, if you will be carrying it around!
That's it! Now enjoy your gorgeous new tray!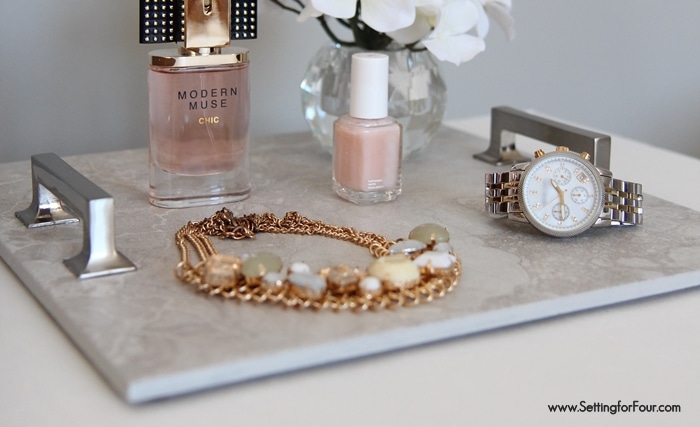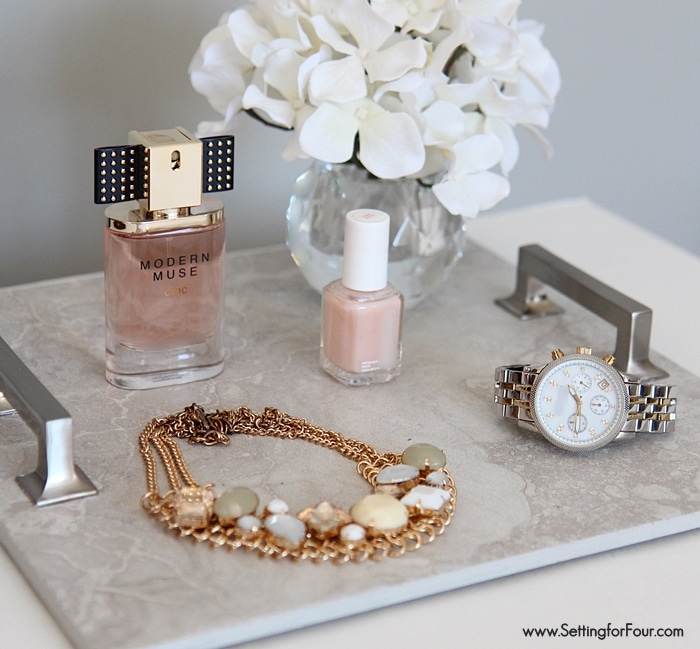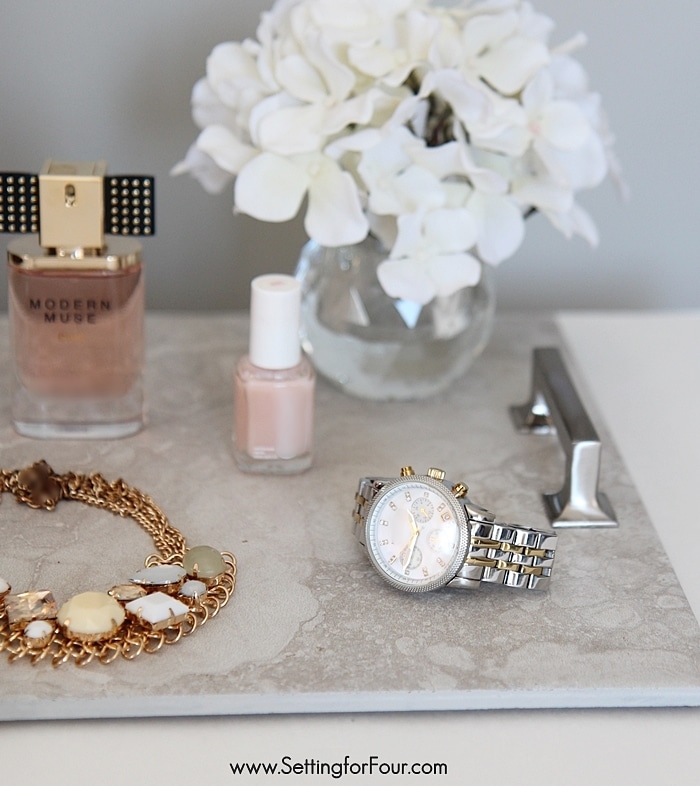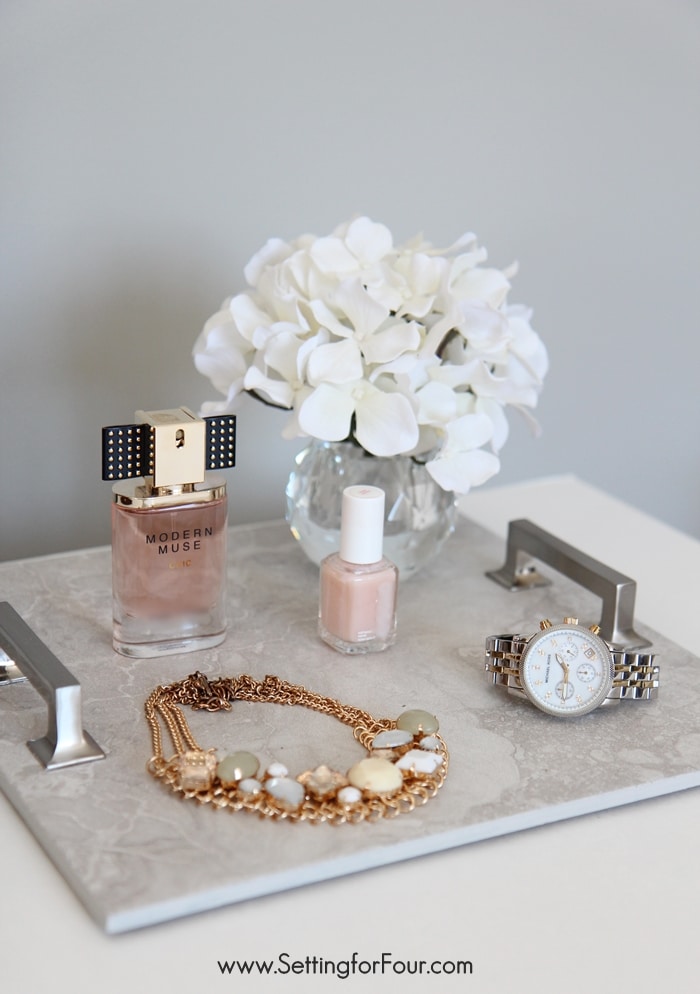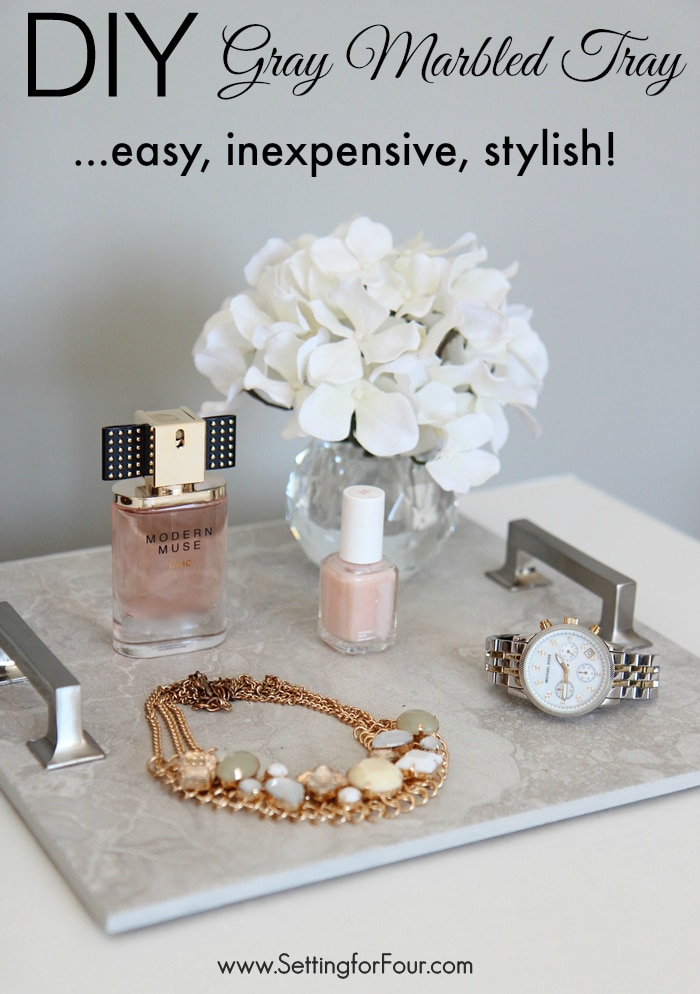 I love the gray and beige swirls and the marbled style of this tile. It looks and feels like real crosscut limestone! I'm a big gray lover so this really fits into my decor.
The satin nickel finish and shape of these cabinet handles are stunning too!
I'm using my tray on my vanity for storage and display – to hold my jewelry, perfume and a small crystal votive of flowers.
I think I'll make one up using Carrara tile too!
I love this tray so much I'm going to make a bigger version for our outdoor DIY Restoration Hardware Knock Off Farmhouse table… for summer dining and entertaining!
I hope you like my DIY Tray Tutorial Using Tile and Cabinet Handles and make one or two up for yourself and your friends!
Don't forget to enter my Reader Appreciation Giveaway!
Leave a comment on any of my blog posts for a chance to win a $100 Amazon gift card. Open to USA and Canada.
The more comments you leave the more entries you have!