Well this year has certainly been an incredible year of happy surprises and amazing opportunities for my blog Setting for Four! Complete pinch-me moments and dreams-come-true moments.
If you pick up the November issue of Better Home's and Gardens magazine you'll see someone familiar on page 8 – yep it's me! Wow I'm so thrilled and excited to see myself in this amazing national magazine- in BHG!!- which I have read since I was a teen!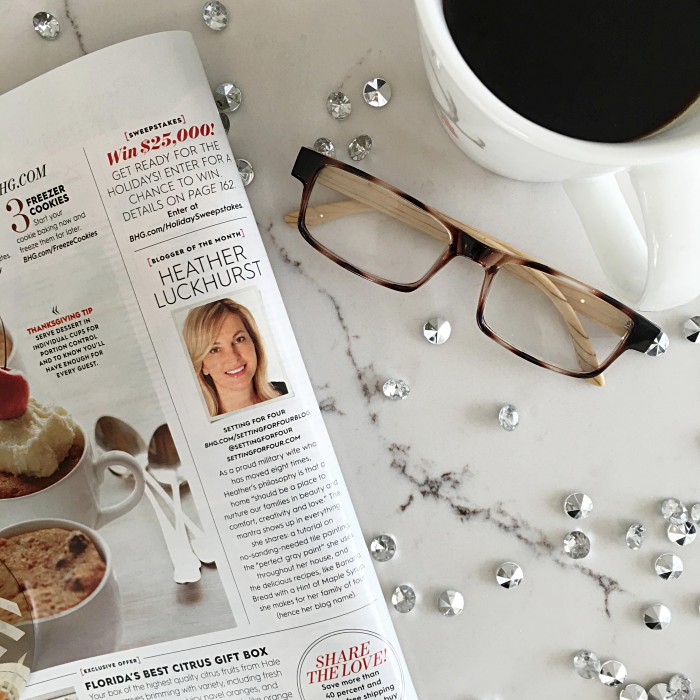 My feature talks about my background and experiences military wife- you can read all about that there if you click
here
– and yes I am an incredibly proud army wife and feel so blessed to be married to my incredible infantry husband Shawn. He is my best friend, my biggest supporter and I truly M in awe of the sacrifices he has made for country, for our family and for peace and security for all of us. You'll also learn about my past career as an Research and Development Scientist too!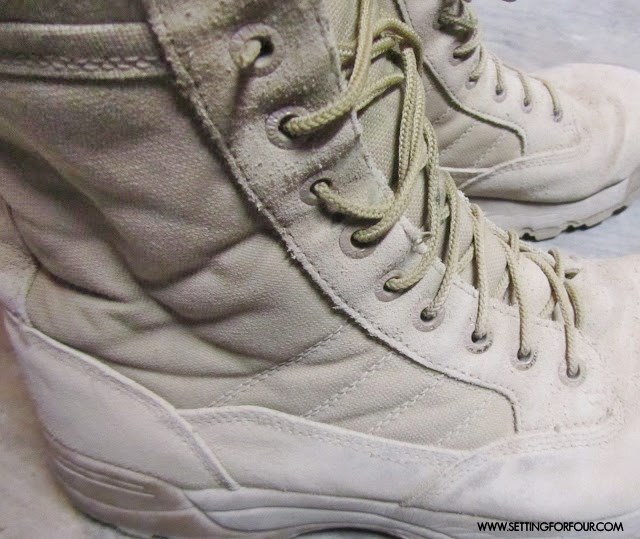 I also
share the challenging moment in my life
where I faced incredible adversity and sorrow as to what was happening in my life- how I overcame it and how I began the second chapter of my life! If you are facing challenge and adversity I hope my story will help you overcome your situation too and at least let you know that you can overcome and turn lemons into lemon aid.
There's also mention in my BHG feature of my FAVORITE gray paint color. You can see it and all of the paint colors I use in our home
here
. This gray paint color has so much rich depth- it's a warm gray , goes incredibly well with any accent color, looks fab in bright rooms, dark rooms and goes perfectly with any wood trim, flooring too. It's a hero color- check it out here!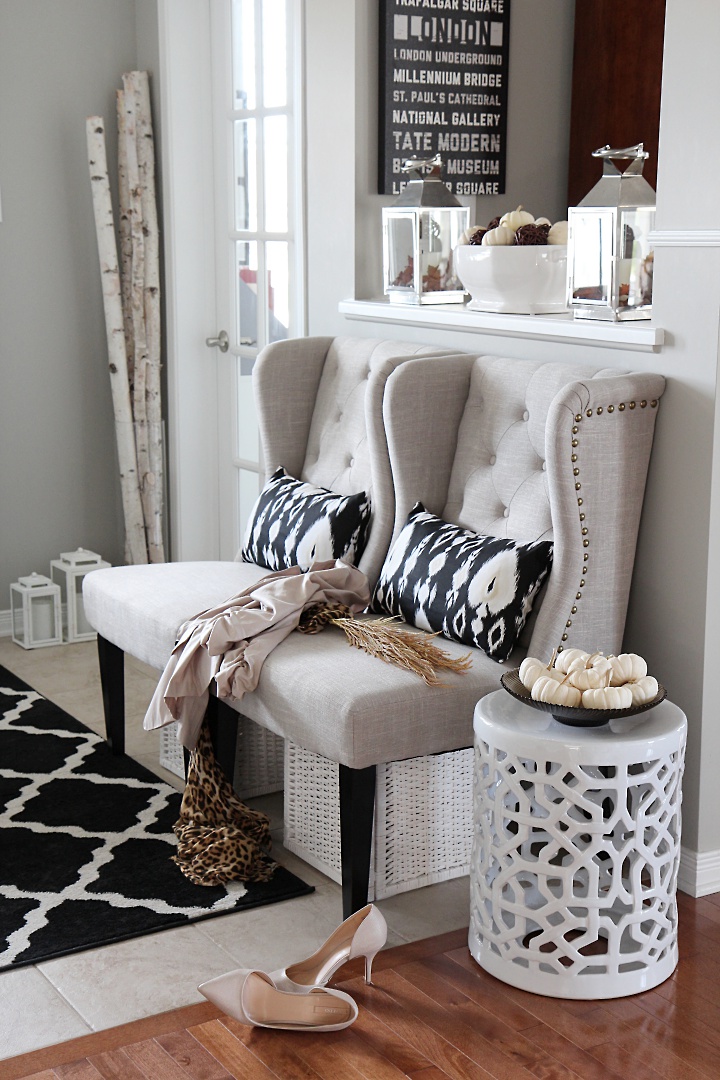 This post contains some affiliate links for your convenience. Click here to read my full disclosure policy.
As an interior decorator and DIY'er I am passionate about teaching you guys decorating tips, tricks and how to problem solve those decorating problems that we all have.
You can see
how I painted
our blah beige fireplace tile and mantel here- what a difference it made to give it a fresh bright makeover.

See my favorite painting supplies, DIY supplies and see the full resource list of my home decor and furniture
here
– I get questions all the time " where did you get that" so here's all the info in one place!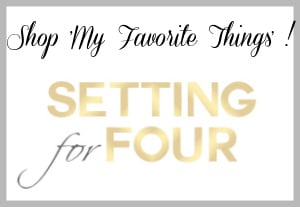 I also offer online decorating services- so even if you don't live near me I can help you solve that decorating problem that has you stumped…and is driving you crazy!
When it comes to decorating I'm very practical, have a great eye for color and fabric selection.
Since I've moved 8 times -with the same furniture – into different homes with different room shapes and sizes, I have developed a knack for furniture placement and layout too!
My decor advice keeps lifestyle, comfort and budget in mind.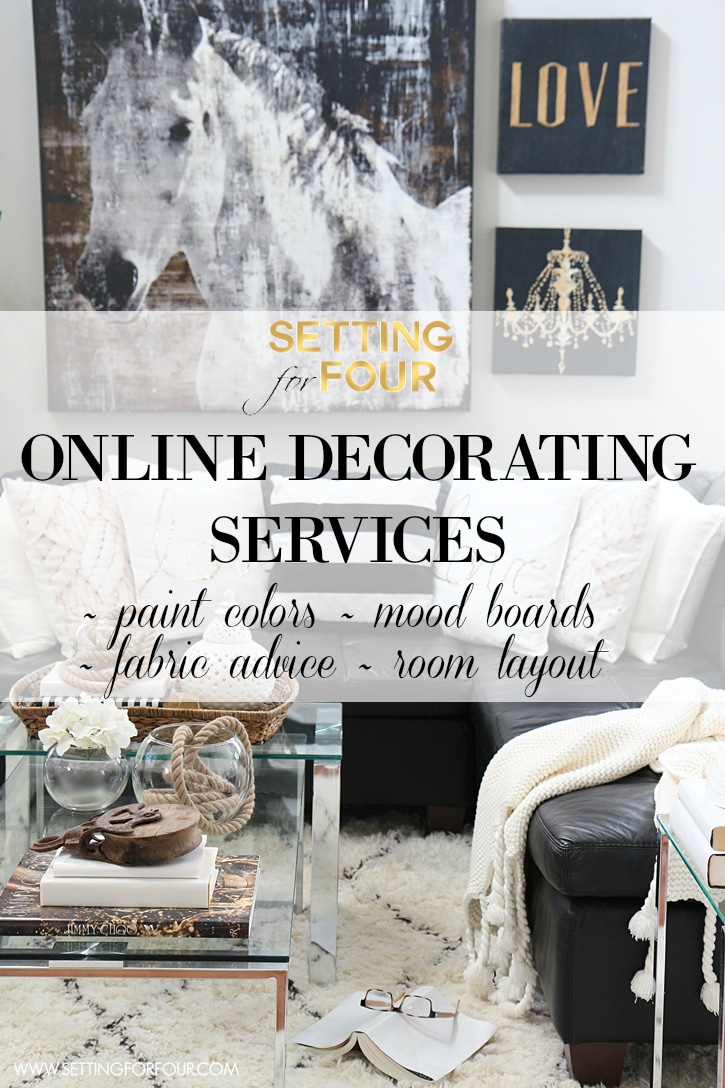 I also love to bake- my feature mentions my
Banana Bread with a Hint of Maple Syrup
recipe – it's so yummy and smells amazing. Use up those leftover bananas and make a batch or two- these mini loaves make a great food gift idea too for the upcoming holidays!
Thank you for all of your support! Without you guys reading and sharing my blog posts on social media and sharing with your friends and family my blog certainly would not be where it is- so Thank You from the bottom of my heart!
Let me know what types of posts you'd like to see more of – I'd love to hear your feedback!
I have lots of holiday entertaining decor and easy DIY projects coming up so stay tuned! See all of my Holiday Decor and DIY ideas
here
!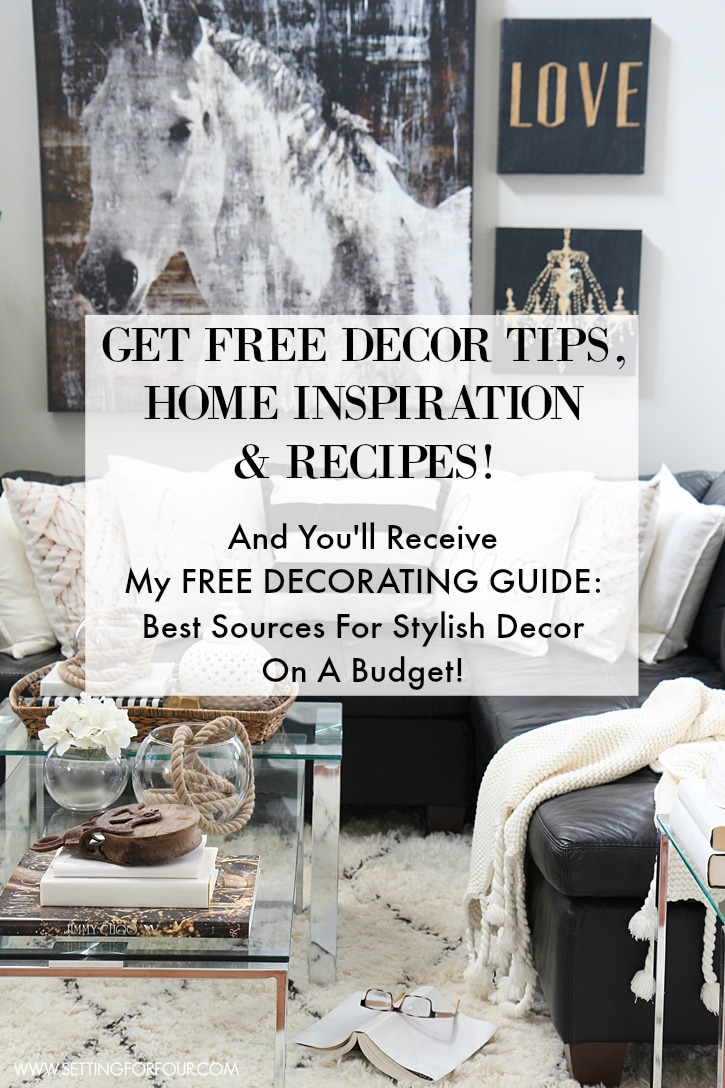 Thank you Better Home's and Gardens magazine for featuring me, your support and your belief in my blog as one you recommend to your amazing readers!
This magazine feature has certainly made my year!
Please pick up the November issue and tell your friends and family about my feature on page 8….. and please tell them to come visit my blog – I'd really appreciate that!
Have a beautiful week everyone and again stay tuned for more decorating and DIY fun here at Setting for Four!