Today I'm talking about gorgeous accent mirrors – the most beautiful styles, where to buy & how to hang them! Inspiring accent mirrors make a stylish design statement in the home and can really make it look pulled together!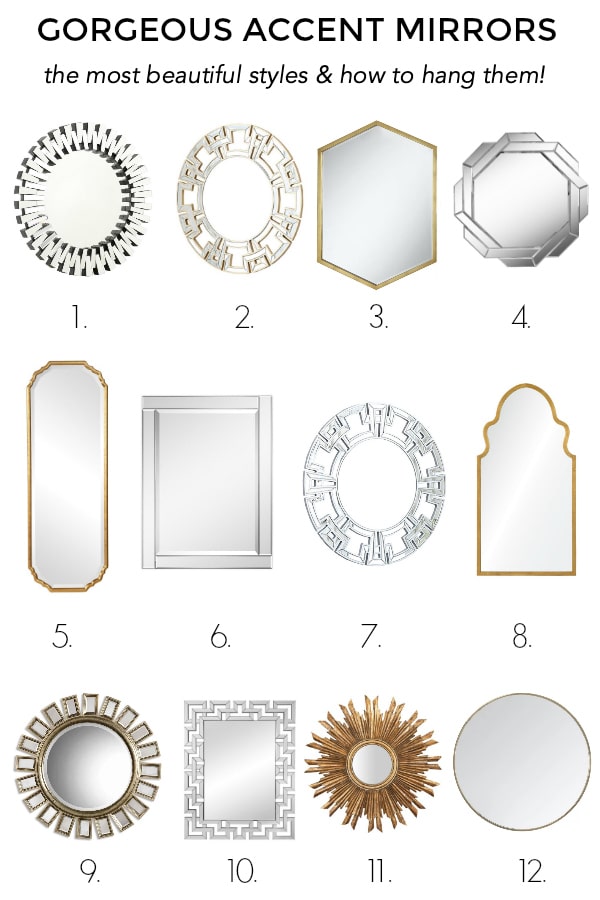 Let's chat about accent mirrors and why they are such an essential decorating piece to have in a room! I'm also going to give you ideas on where to add them, how high to hang them and my favorite styles of accent mirrors!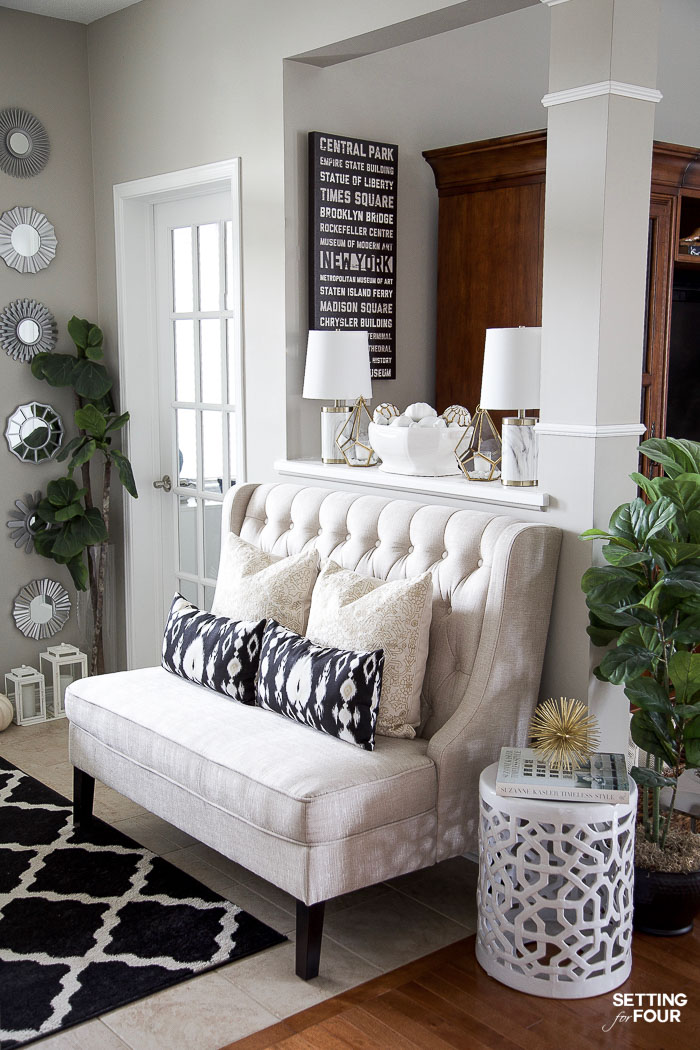 Gorgeous Accent Mirrors – The Most Beautiful Styles & How To Hang Them
I LOVE accent mirrors! They are like exquisite jewelry for a room in my opinion! Like beautiful rugs and lighting, they make such a huge impact in a room.
If you're wondering how to bring life to a boring room – add an accent mirror. I have lots of gorgeous styles below to choose from!
Mirrors are a key decorating piece and are so incredibly functional!
They can turn a room from frumpy to fabulous in an instant. There are so many statement mirror frames, from geometric, starburst, greek key and curved!
Accent mirrors offer useful reflection to check out your clothes, hair or makeup as you get ready for the day or head out the door!
They will make space feel larger and look brighter while adding a decorative touch to complement your room's style.
Their third function is that they are used by designers and decorators to create a beautiful focal point in a room that doesn't have one!
Click on the images below and scroll using the arrows to shop these gorgeous accent mirrors!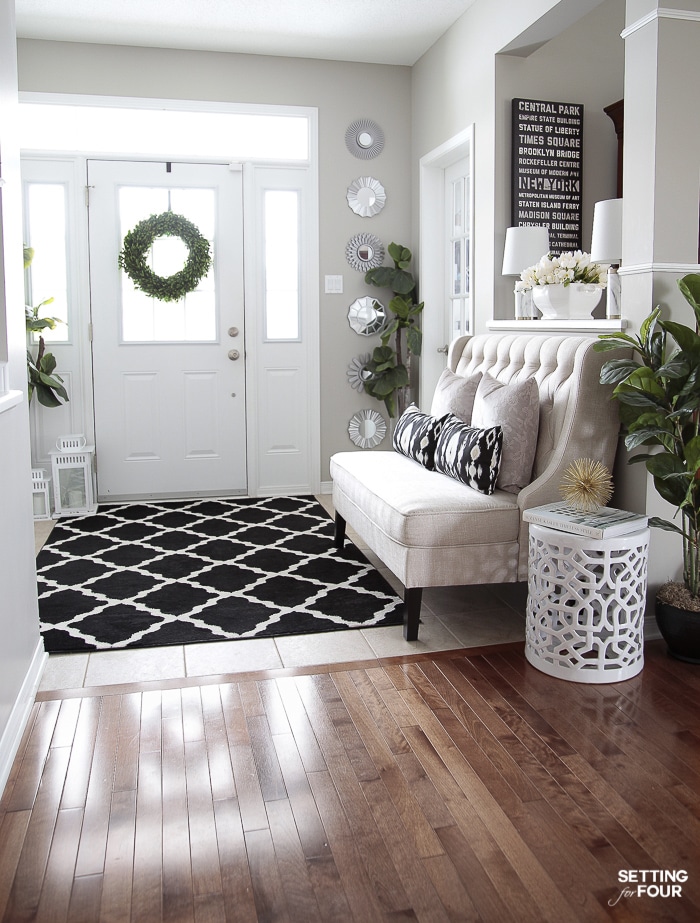 WHERE TO HANG ACCENT MIRRORS
Don't hang or lean a mirror where it will get knocked over by kids or pets
If you are hanging them along a staircase wall make sure they are completely secure on the wall and won't fall down if they are accidentally hit by someone walking by them.
above a console table in a foyer
above a living room fireplace
above a dresser
hang one above each nightstand beside a bed
above a headboard
above a sink
leaned up on a bare wall
hung on a narrow wall in between two windows
above a dressing table
on a laundry room wall
HOW HIGH TO HANG ACCENT MIRRORS
An accent mirror should be hung so the bottom is 8-10 inches above a mantel, sofa, headboard or table. If you're hanging a full length one on a wall make sure it's in the middle of two windows or door frames and hung so the top is 55-65 inches from the floor.
How to Paint Tile – Easy Fireplace Paint Makeover
My Fireplace Mantel Reveal -A Makeover with Paint!
I bought this mirror at HomeGoods a number of years ago.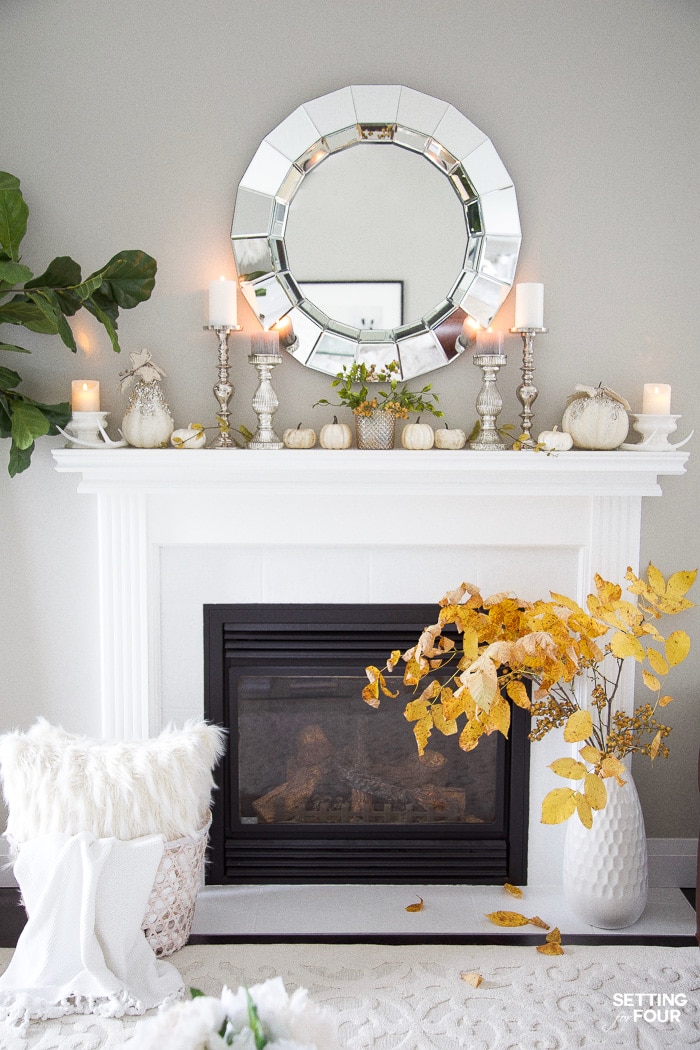 HOW TO HANG ACCENT MIRRORS
I hang a lot of my accent mirrors with Command hooks. I use this velcro style.
For heavy mirrors I use these mounting hooks to ensure they stay put.
WHAT SIZE TO CHOOSE
My rule of thumb is to go big and make sure the size relates to the room and gives balance.
Here's how to choose the right size:
Tape out the dimensions of a mirror you're interested in, on the wall with painter's tape. Step back and look at it. Does it look too big? Too small? Just right?
WONDERING WHERE TO BUY ACCENT MIRRORS?
My favorite places to buy mirrors are here and here. I also love to buy accent mirrors at my local HomeGoods! This retailer has the most exquisite mirrors and when you buy them on sale you can really snap one up at a bargain!
I share all my favorite decor finds and sale alerts here!
My gallery wall of mirrors that I have in my entryway was so inexpensive to put together – I purchased them at HomeGoods!
I have all my favorite mirrors rounded up for you below so you can shop for the perfect mirror for your space!
Check out these beautiful accent mirrors including wall mirrors and standing mirrors, single mirrors and mirror sets that will brighten up any room in the home!
Click on the pictures below to shop and see more details about each one!

You may also like:
How to Pick Paint Colors With Confidence!
5 Ways To Create A Whole Home Paint Color Scheme