Today I'm sharing the stunning new wall art I added to our family room and the decision process behind selecting these beautiful framed abstract art canvases!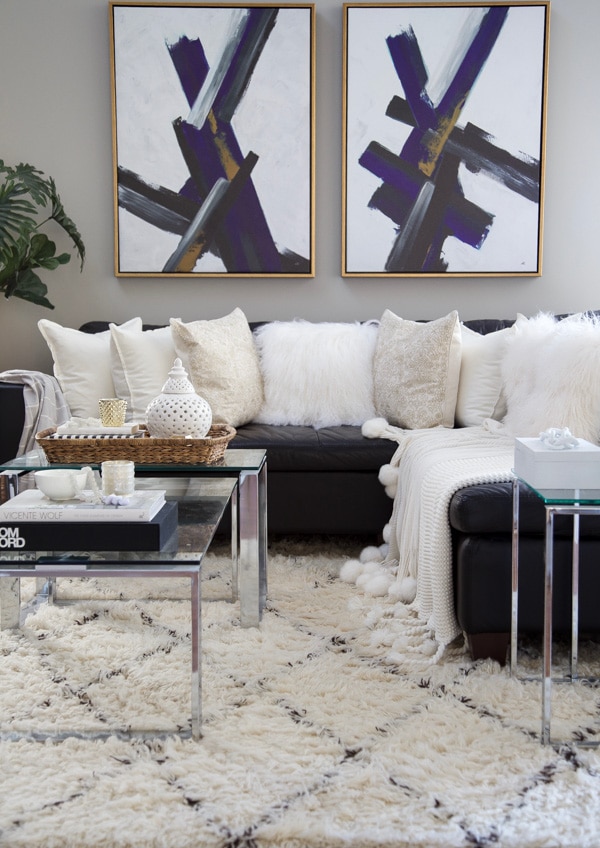 This post was done in partnership with artist Christie Adelle . As always, all thoughts and opinions are my own. Click here to read my full disclosure policy.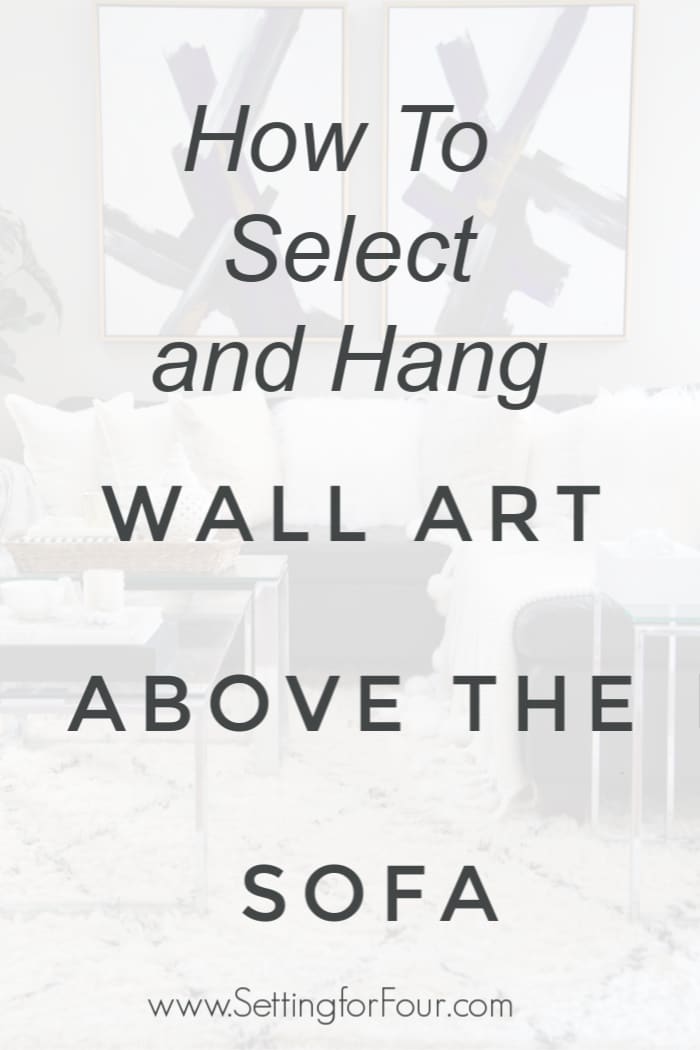 If you follow me here on the blog or on Instagram, then you know how much I love changing up my spaces to keep them updated and fresh looking!
Decorating With Wall Art
Adding new wall art is one of the easiest and powerful ways to make over a room!
Beautiful art is like the jewelry of a room and I always recommend it for my design clients' spaces.
It gives a room a pulled together look and is the decorative layer that makes a space look polished and inviting.
Art also adds essential elements of designing a room: color, pattern and a focal point. Plus it's a beautiful way to express your personality and style!
---
Do you need help decorating your home or picking paint colors?
See my online decorating & paint color services plus client reviews! Email me at [email protected] for more info!

---
New Wall Art In The Family Room
I've been searching for new wall art for our family room for a few months, sourcing high and low for the perfect pieces to hang above our sectional.
In my search for new art I discovered talented artist Christie Adelle and was immediately drawn to her fresh style and elegant art.
I selected these two gorgeous pieces Luke I Navy and Luke II Navy from Christie Adelle to hang over our sectional.
Trust me it's hard to pick from her amazing pieces – she has such a wide selection!
These two framed canvases are absolutely stunning and make such a sophisticated style statement!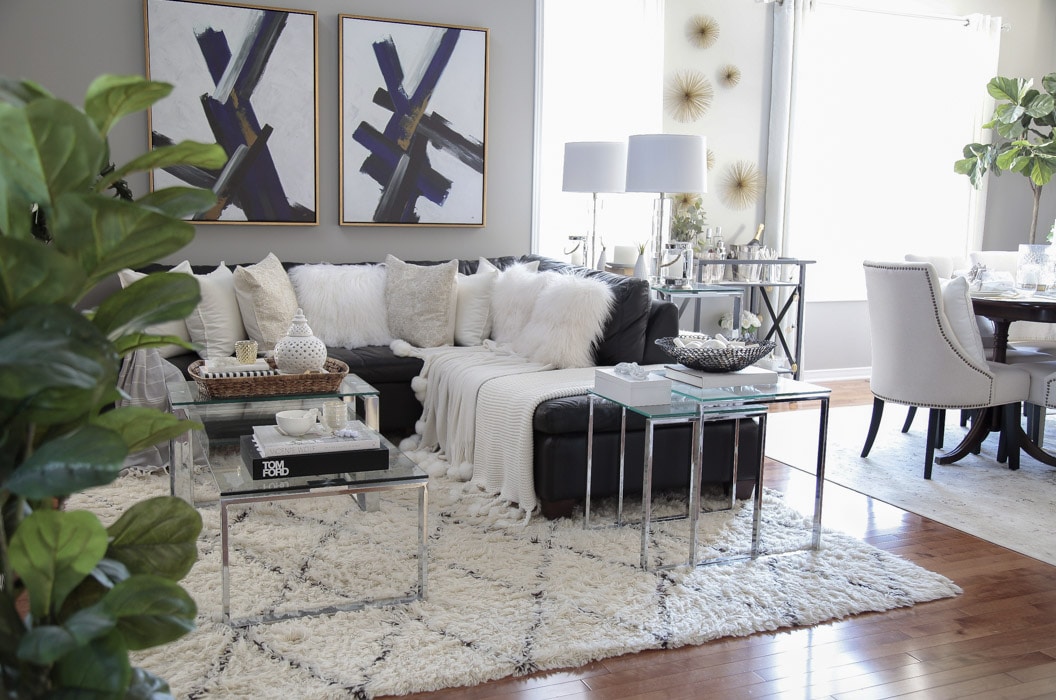 Shop the look! Click on the pictures below to see the sources!


I love how these modern abstract designs add a gorgeous, contemporary touch to our family room and go so well with our other transitional and traditional pieces.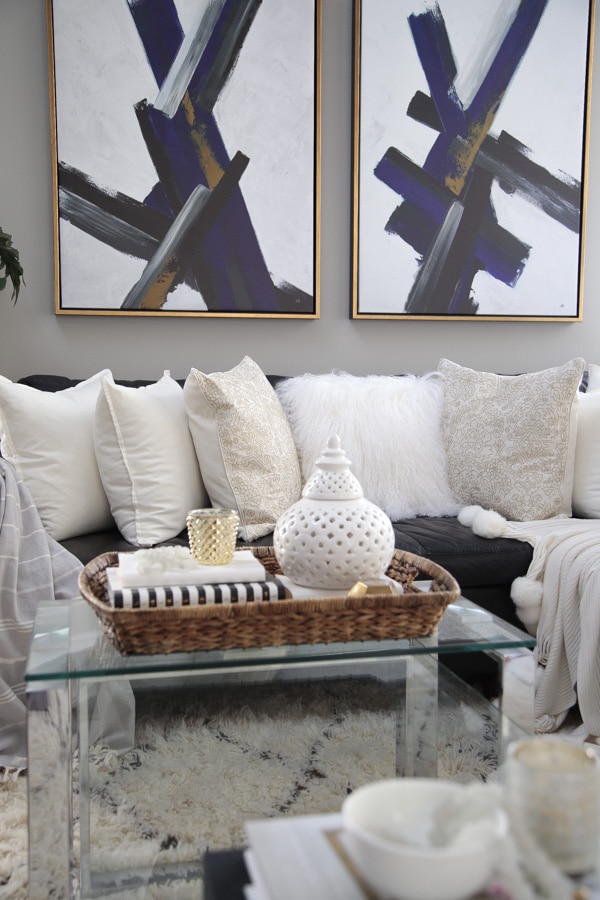 Abstract Wall Art
Abstract art is my favorite art style! I really love the modern brushstroke design of these two Luke pieces. The bold strokes and layers of color make these pieces truly stunning.
The navy blue, gold, gray and black color palette flow perfectly with the black and white colors of my furniture, decor and gray wall color. The navy is a gorgeous jewel colored blue and the hint of gold is so pretty.
My birthstone is sapphire so this color always speaks to me!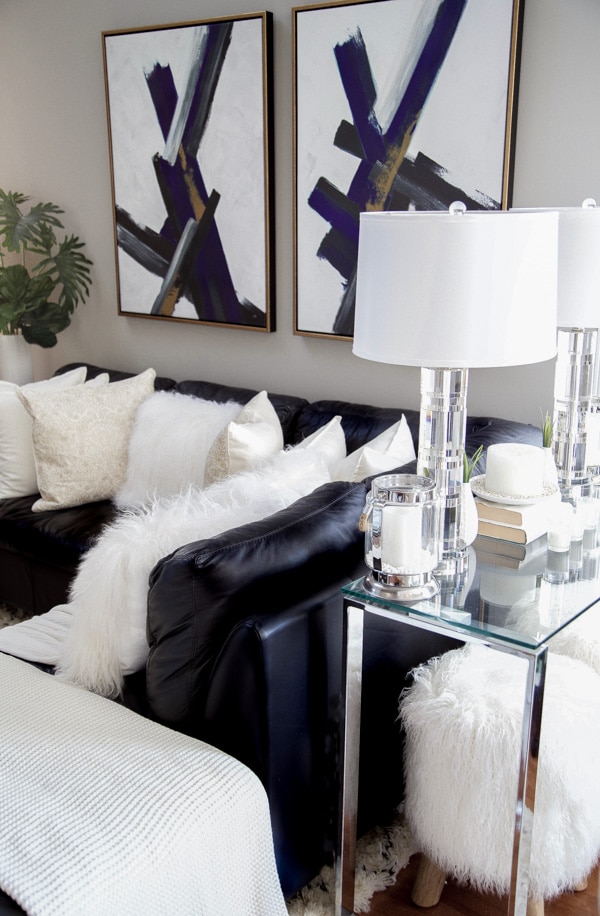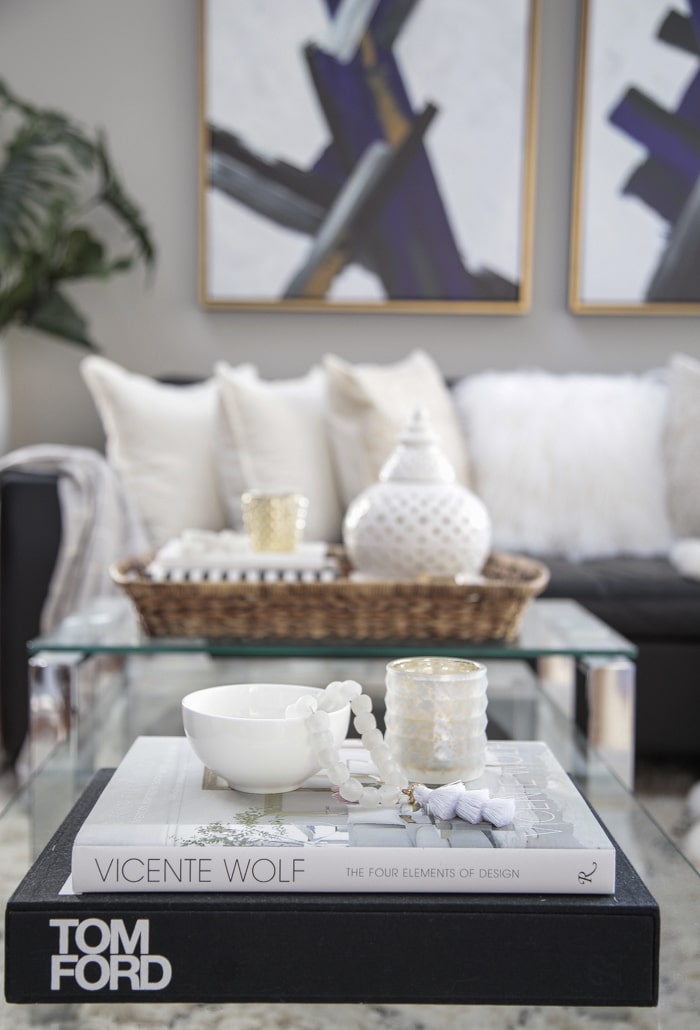 This is the space where we snuggle and binge watch Netflix series and movies! These framed canvases really make our family room so beautiful with their minimalist, chic aesthetic!
Choosing The Size Of Art
I love large scale art hung above a sofa- like the two pieces I have in my living room as well!
So I chose the 30″ x 40″ size, the largest size offered.
Two large scale art pieces balance the size of our sectional sofa and fill in all that wall space above.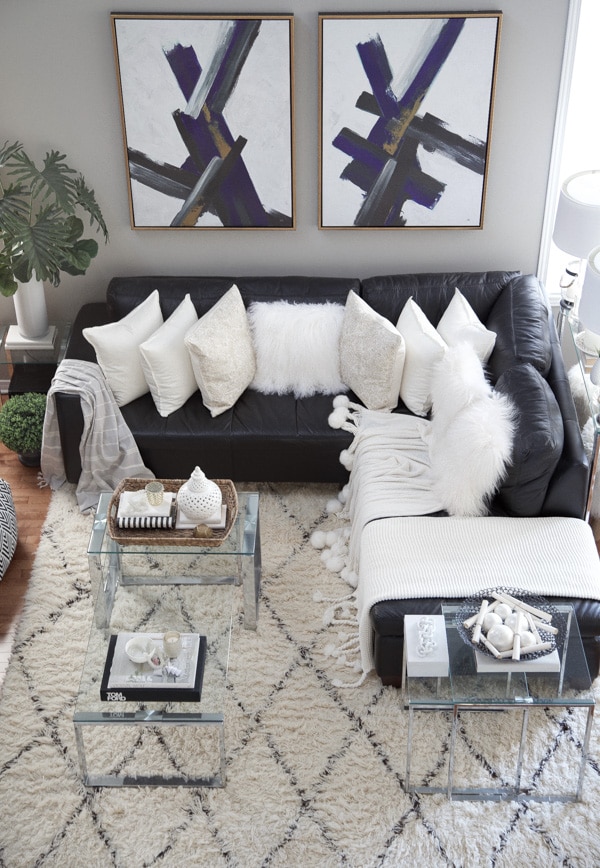 Using these coordinating pieces from the same series, Luke 1 Navy and Luke 2 Navy, are an easy way to ensure the art harmonizes with each other!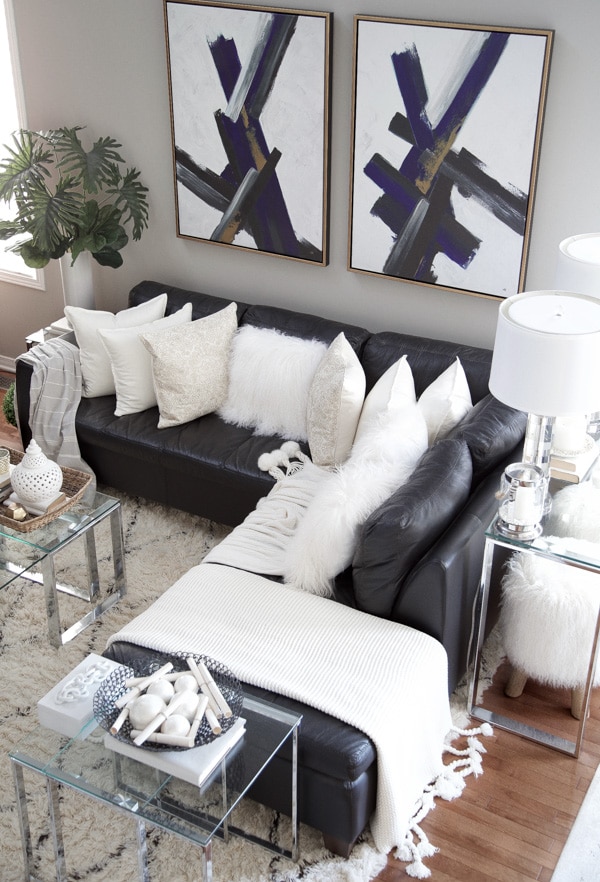 Choosing The Frame Color
Christie offers several frame colors to choose from. The frame I selected is a gorgeous metallic gold and black. The gold actually shimmers at night – it's an incredibly stunning touch! As you know I love gold accents and mixing metallics!
I so love that Christie offers framing – it's one less thing to worry about once you get the artwork home. She adds the picture hanging wire and pads on the back of the art so my framed canvases were completely ready to hang upon arrival.
How High and Wide To Hang Art Above A Sofa
In case you are wondering, I hung these 2 pieces 9 inches above our sofa.
You can hang art a bit closer to your sofa but we have tall walls and a cathedral ceiling in our family room so I hung it a tad higher. And I hung the pieces 3 inches apart.
I made paper templates to measure the placement on the wall. This is a helpful method to make sure art is hung at the right spot. And if you move homes or want to move your art to another spot you can reuse the paper templates over again and again!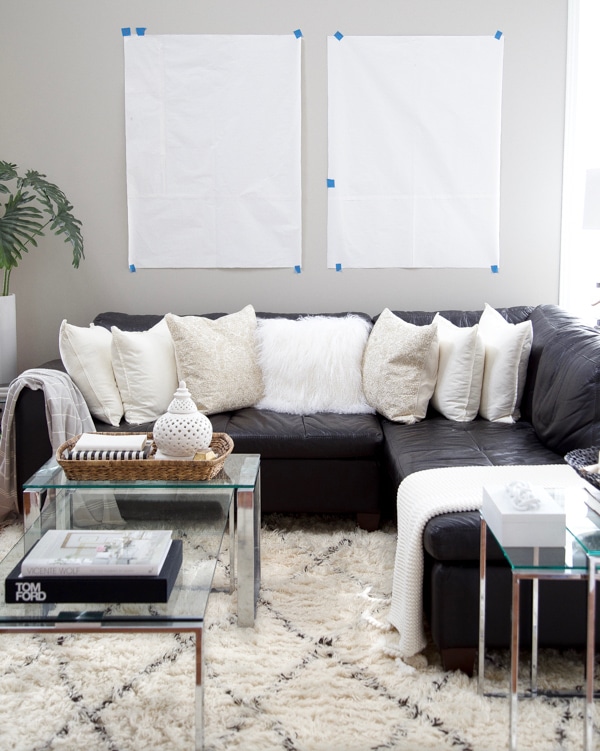 I am swooning over my new art and how they've updated the look of the room! Aren't they stunning?
What's your favorite style of art?
See all my furniture and home decor!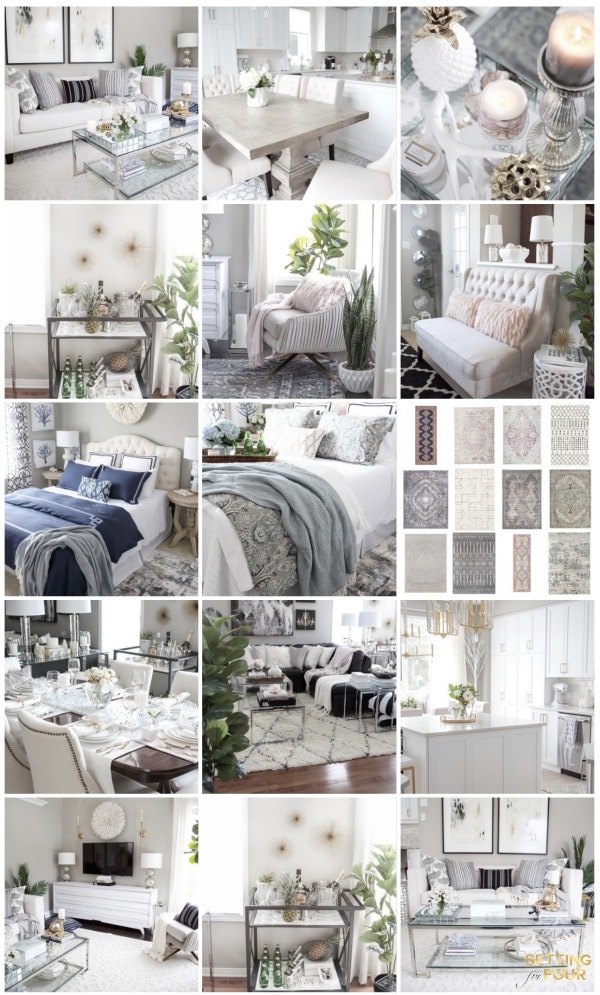 You may also like these decorating ideas!