See this handy April Home Checklist and home improvement tips to plan for Spring and Summer. Includes a FREE To-Do checklist that you can print off. Helpful tips on how to enjoy the beginning of Spring, home maintenance checks to do, Spring organization & cleaning tips and more!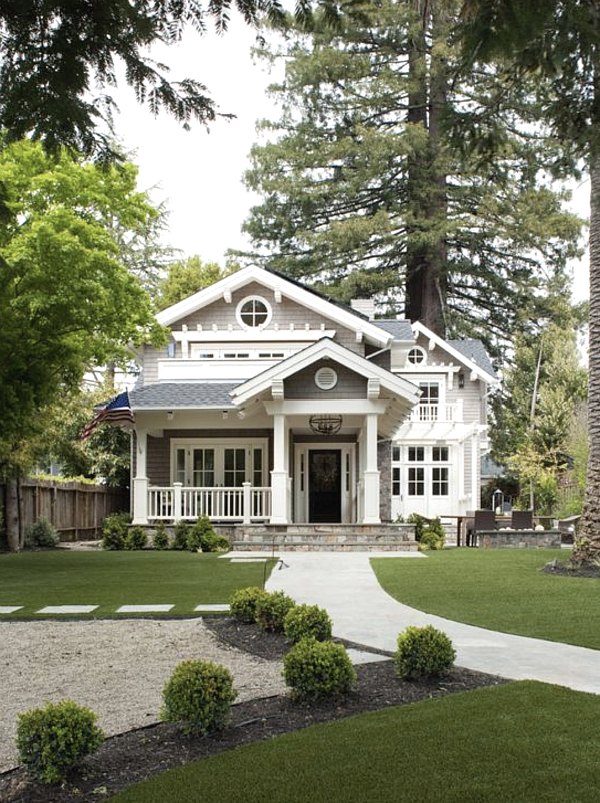 This post contains some affiliate links for your convenience (which means if you make a purchase after clicking a link I will earn a small commission which helps keep my blog up and running but it won't cost you a penny more)! Click here to read my full disclosure policy.
April Home Checklist – Home Improvement Tips
Things you can do in 1 hour or less:
1. Check safety devices:
Check that your carbon monoxide detectors and smoke detectors are functioning and add new batteries to them. Check for recalls of your home safety products as well –  you can find up-to-date listings at Recalls.gov.
2. Inspect driveway, paths and walkways
Check your driveway and paths for cracks and damage from winter freezing and thawing.  Schedule repairs as needed.
Landscaping Around A Lamp Post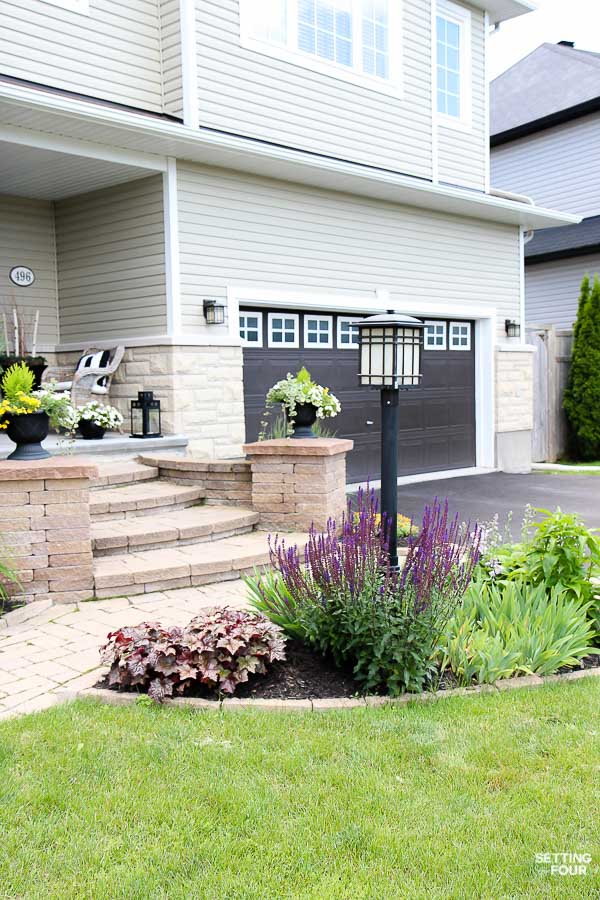 3. Inspect property for standing water
Eliminate mosquito and inspect breeding grounds by inspecting your property for standing water. Also inspect any flower pots that have been left out since they can fill with water too. Eliminate any puddles you may find in your yard and gardens.
4. Clean garbage cans and recycling bins
Take all garbage cans and recycling bins outside and give them a thorough cleaning with a brush and detergent. Let dry and bring back indoors.
5. Organize your junk drawer
We all have one! Remove everything from your junk drawer and discard everything that is broken. Donate or toss things you no longer need.Purchase organizers that you need to maximize your junk drawer's storage potential. Clean out drawer and drawer organizers with mild soap and let dry before adding everything back.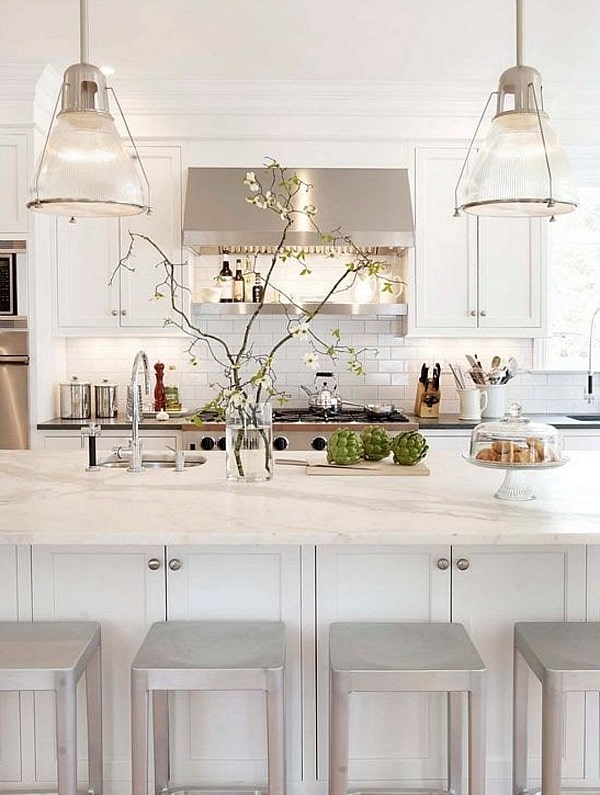 ---
Do you need help staging, picking paint colors or decorating your home?
See my online decorating & paint color services – plus client reviews!  Email me at [email protected] for more info!

---
First Impressions
Home Improvement Tips To do over a weekend:
6. Wash windows.
Let in the light and make your home look brighter by cleaning your windows! Clean inside and outside of glass, sills and frames.
Updating the windows- Faux Wood Blinds Installation
7. Wash siding
Use a pressure washer to wash the siding of your home. Mold and dirt can build up with time. Remove it to keep your siding in tip top shape and maintain your home's curb appeal!
Gorgeous siding for your home!
12 Curb Appeal Design Elements & Porch Decor Tips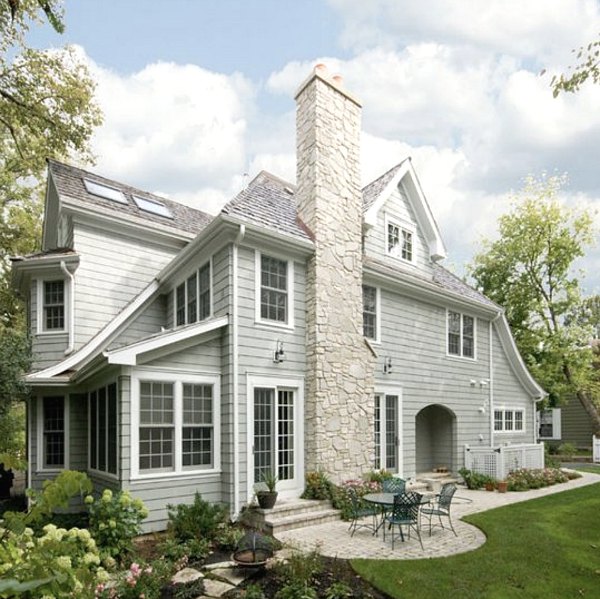 8. Declutter and schedule yard sale/donate items
Make your rooms feel larger by decluttering and removing unneeded items. Donate them or schedule a yard sale! I donate my magazines that I am no longer reading to a local senior living residence for the staff and residents to read!
7 Ways To Make A Small Room Feel Larger Instantly!
How to Make Your Small Outdoor Space Look Bigger
9. Clean screens on windows/doors
Remove and inspect all window and door screens. Replace any damage screens. Clean screens with a soft brush and mild detergent. Hose off and let dry before adding back in place.
Make Gorgeous DIY Window Blinds!
Updating the windows- White Faux Wood Blind Installation
10. Dress up front porch
Now's the time to decorate your front porch! Add a chair or two if you have space to sit with a morning coffee and add spring planters. A gorgeous Spring wreath on your front door is a great way to greet guests. Add a new door mat for a quick refresh!
Curb Appeal Ideas and Porch Decor Tips
10 Front Porch Decor Ideas To Add Beauty To Your Home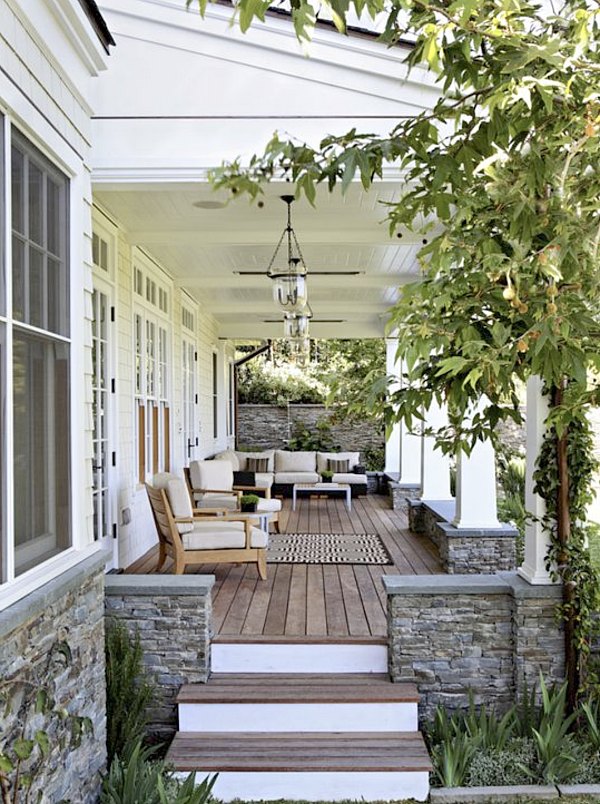 11. Test sprinklers, hoses, hose reels and irrigation system
Test all of your water sprinklers, hoses and irrigation system if you have one to make sure they are ready to go once the weather warms up enough to water your gardens. Replace any damaged water sprinklers, hoses and hose reels.
How To Grow A Cut Flower Garden
No Fail Plants: Landscape Gardens & Flower Containers
12. Schedule air conditioning inspection
Now is the time to make sure your air conducting system is functioning! Schedule and inspection and order any parts required.
13. Clean garage
The garage tends to fill up with stuff over the winter and by April it can be pretty hard to find anything! Organize kids bikes, skateboards, pet supplies, yard and garden equipment with shelves, hooks and cabinets. Sweep the floor or use a shop vacuum. Toss out broken items and donate anything that isn't used anymore.
Storage and Organization Ideas for Yard & Garden Supplies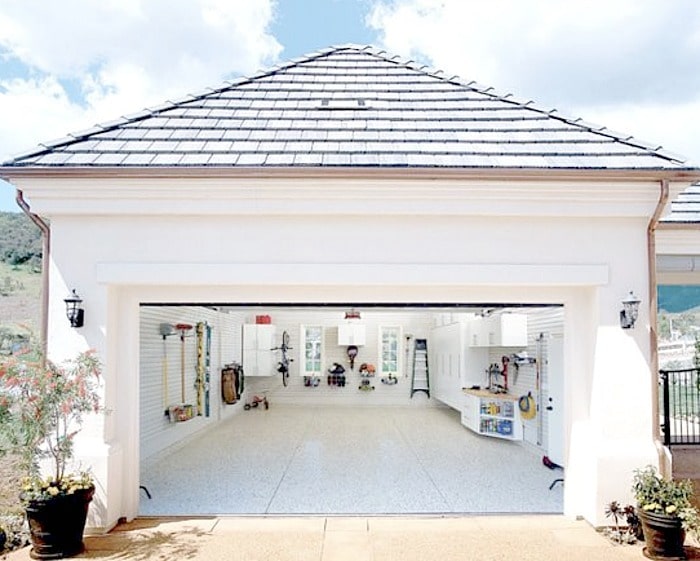 Home improvement tips for maintenance and projects:
14. Boost curb appeal with plants/trees/flowers
Inspect your flowerbed plants and trees in your yard for damage and disease. Replace them and fill in bare spots with a few new plants, flowers and trees! This will boost your curb appeal and you'll love seeing the gorgeous greenery and flowers every time you drive up to your home!
5 Tips on Adding Curb Appeal with Plants
15. Inspect and maintain lattice, fences, deck and outdoor stairs.
Next up on the April Home Checklist is: Lattice, fences, decks and outdoor stairs can be damaged from winter temperatures, snow and ice. Inspect them and schedule any damages to be fixed.
Simple Summer Fire Pit Seating Area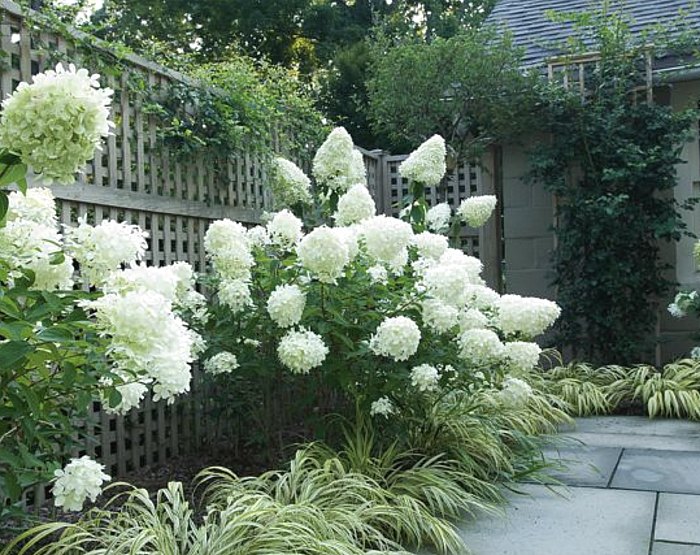 16. Clean gutters/downspouts
April brings a lot of rain! Make sure your gutters and downspouts are working properly by cleaning them and removing debris and leaves.
Clever Wood Storage Idea! How to Keep Firewood Dry
17. Watch for termites
Termites are beginning to move and swarm starting this month so keep your eye out for them. If you see them treat them yourself with this termite detection and killing stakes that have great reviews or schedule a visit with a licensed pest control company to remove them as soon as possible to prevent damage to the structure of your home.
18. Make a potting bench!
Make a wood potting bench using my DIY Potting Bench tutorial here! We ABSOLUTELY love our potting bench – it has running water, a sink and faucet and lots of shelves and pegboard for storage and organization!
My Top 3 Purple Flowering Plants for a Butterfly Garden
6 Small Space Landscaping Plants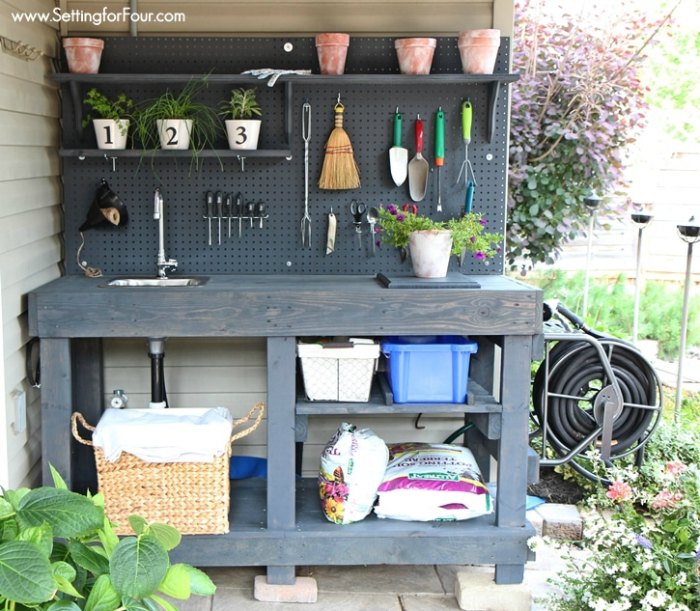 19. Make Some Outdoor Adirondack Chairs:
These Adirondack chairs are very comfy and generous in size! We love them and so do our guests! We made 4 to place around our Simple Summer Fire Pit Seating Area!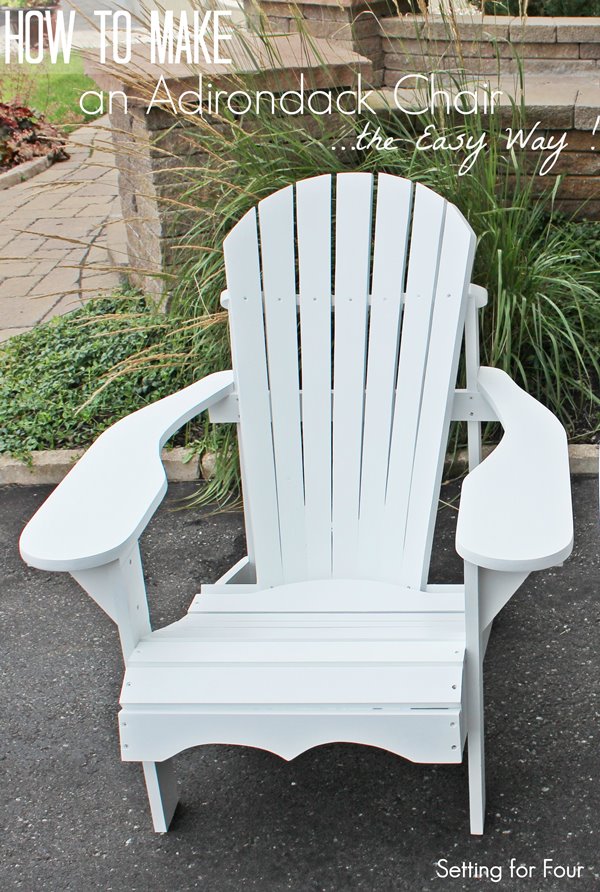 I hope you enjoyed this to-do list and home improvement tips for April! Don't forget to get your FREE Printable April Home Checklist here!
PLEASE PIN THIS AND SHARE IT WITH YOUR FRIENDS!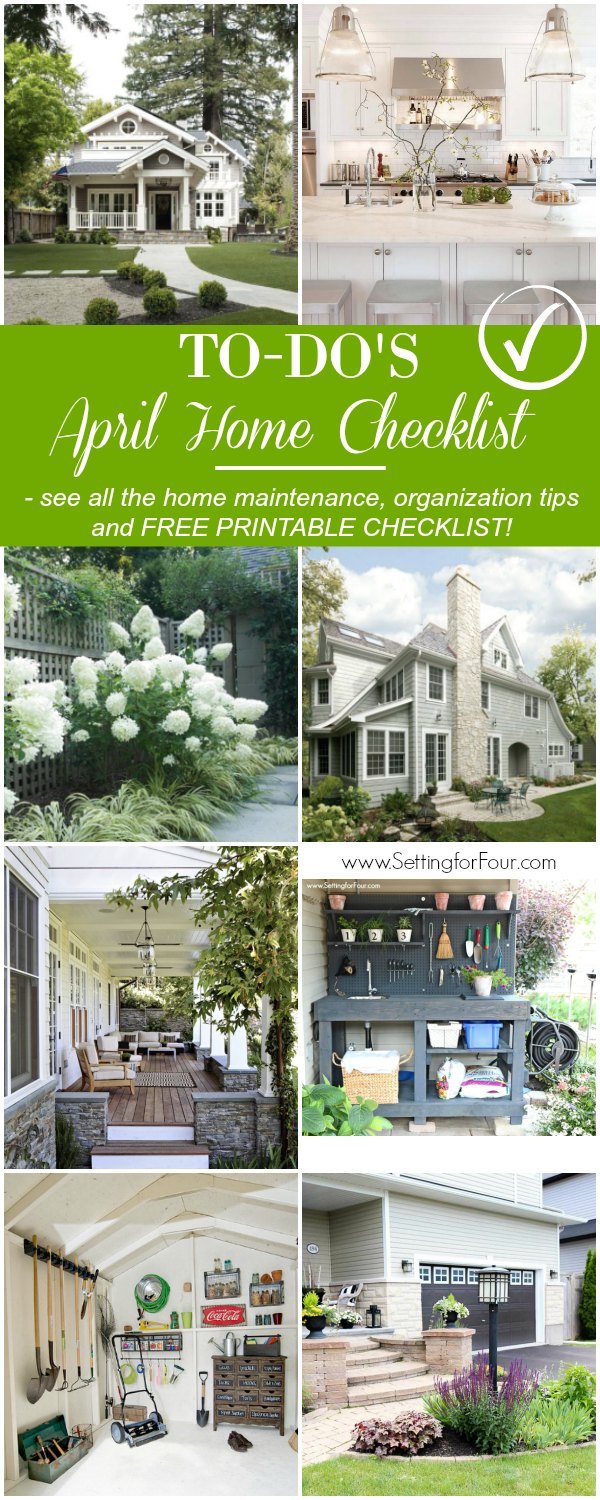 You may also like: