Updating your window coverings will not only update the look and style of your room but will also increase the energy efficiency of your home too!
See the source list at the bottom of the post.
I'm so excited to share with you guys my latest update in our family room! When we moved into our home we inherited woven wood window shades that aren't a color (golden yellow-brown) we love and aren't working properly anymore. Slowly but surely we are replacing them one by one to refresh and update our home!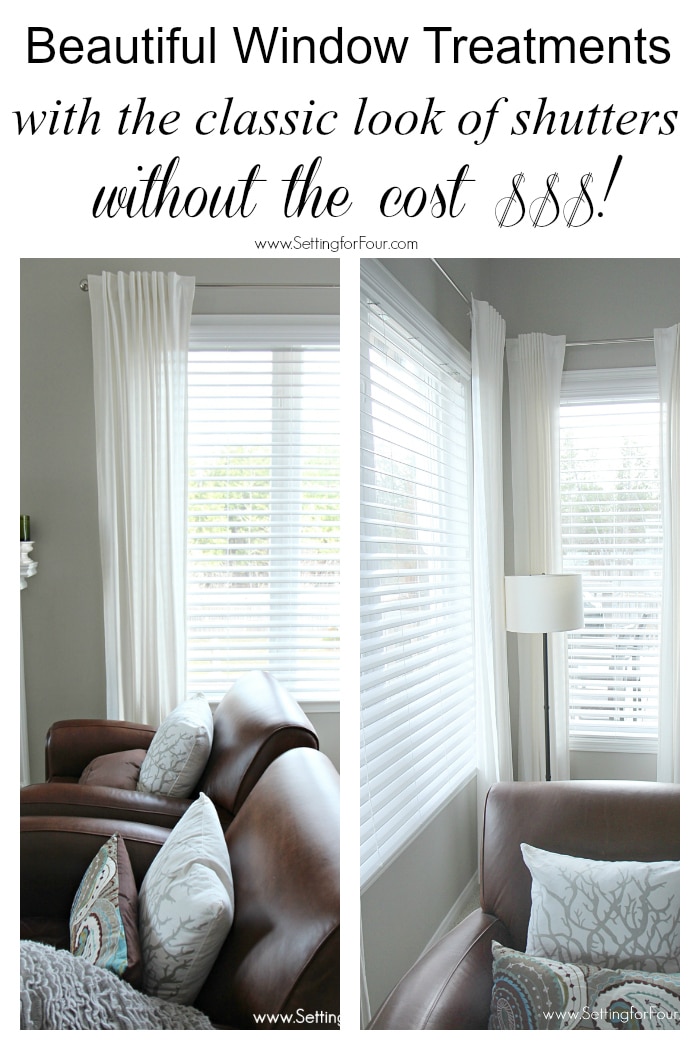 Drapery Source:
Our white curtains are from here
Our latest update was replacing our family room woven wood roman blinds. This honey color just doesn't fit with our love of neutrals, our gray wall paint or our furniture color.
The worst thing about them is that they are huge dust magnets, hard to clean, the lift mechanisms are worn out and they are next to impossible to raise and lower.
Let me show you our family room before: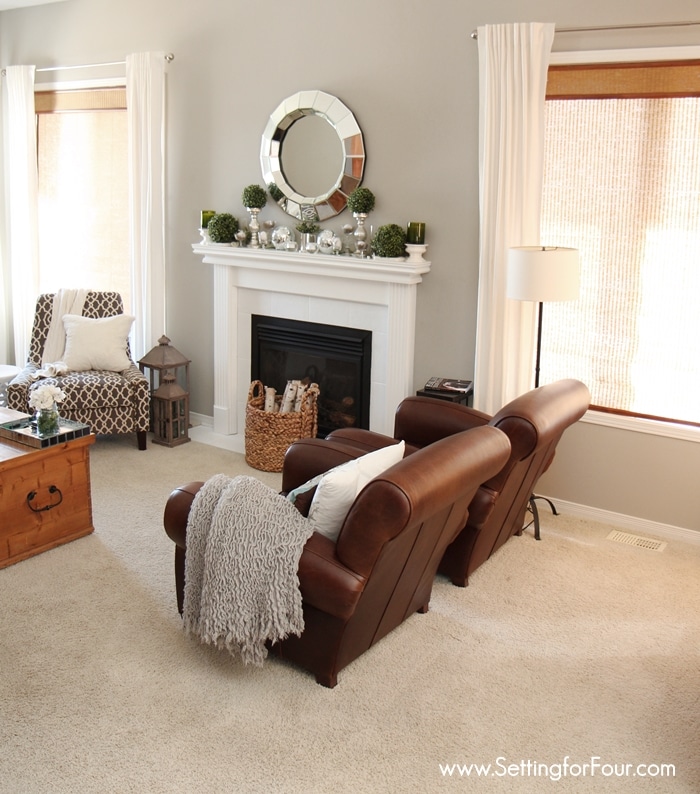 This post contains some affiliate links for your convenience. Click here to read my full disclosure policy.
Here you can see the yellow color of the roman blinds …and as I mentioned, the are really difficult to raise and lower.
Since we get several hours of direct afternoon sun coming into this room through our 4 large windows I knew I wanted shades that offered excellent light control. I also knew I wanted window shades that were easy to clean and a fresh white color to make the room bright and light feeling! I also wanted the new window coverings to blend into the white window trim and our beautiful white drapes.
I'm a firm believer in keeping all the 'bones' of a room neutral and adding color with decor accents like pillows, vases and art that can be changed out whenever you like!
Because I wanted light control and blinds that wouldn't peel, crack or fade when exposed to direct sunlight I purchased composite faux wood blinds, not real wood.
Real wood window blinds can potentially fade over time, but durable composite won't! (Composite is also an excellent choice in rooms with high humidity like bathrooms!)
These are not your average slatted faux wood blinds!! I chose a gorgeous double beveled edge style that is so stylish!
These 2 and 1/2 inch Double Beveled Composite Faux Wood Blinds
have the classic look of shutters (without the big price tag of shutters)!
The slightly larger slat gives a clearer view outside too!
This is the style of blinds and options that I ordered:
– Inside mount 2 and 1/2 inch Double Beveled Composite Faux Wood Blinds in Snowstorm 9318
– Corded
– NoHoles Privacy: NoHoles is a patented design that eliminates route holes in slats to protect your privacy and block light for light control. Eliminating route holes also reduces visual distraction for a cleaner look.
– Eloquence Valance
After measuring our 4 windows I simply added the measurements online here and they were shipped right to me!
They were delivered really quickly and I love how well they were wrapped and securely packaged with lots of protective foam wrapping in a thick cardboard box.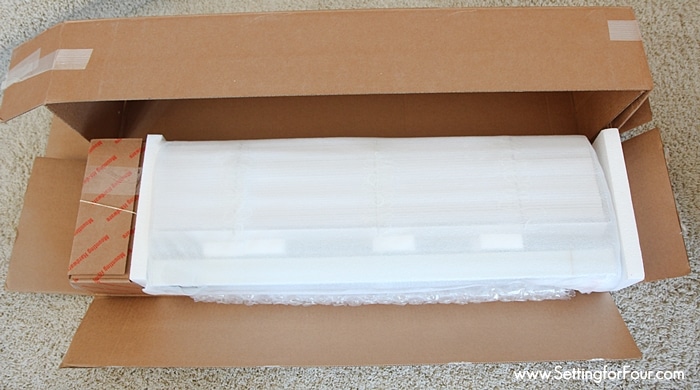 They came with instructions that were super easy to follow and all the parts and screws.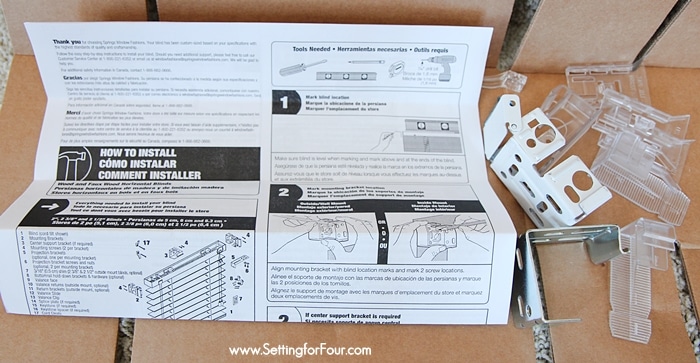 We just followed the steps given in the instruction sheets to install them and they fit our windows perfectly!
Let me show you how easy they were to install!
These are the tools we used to install our blinds: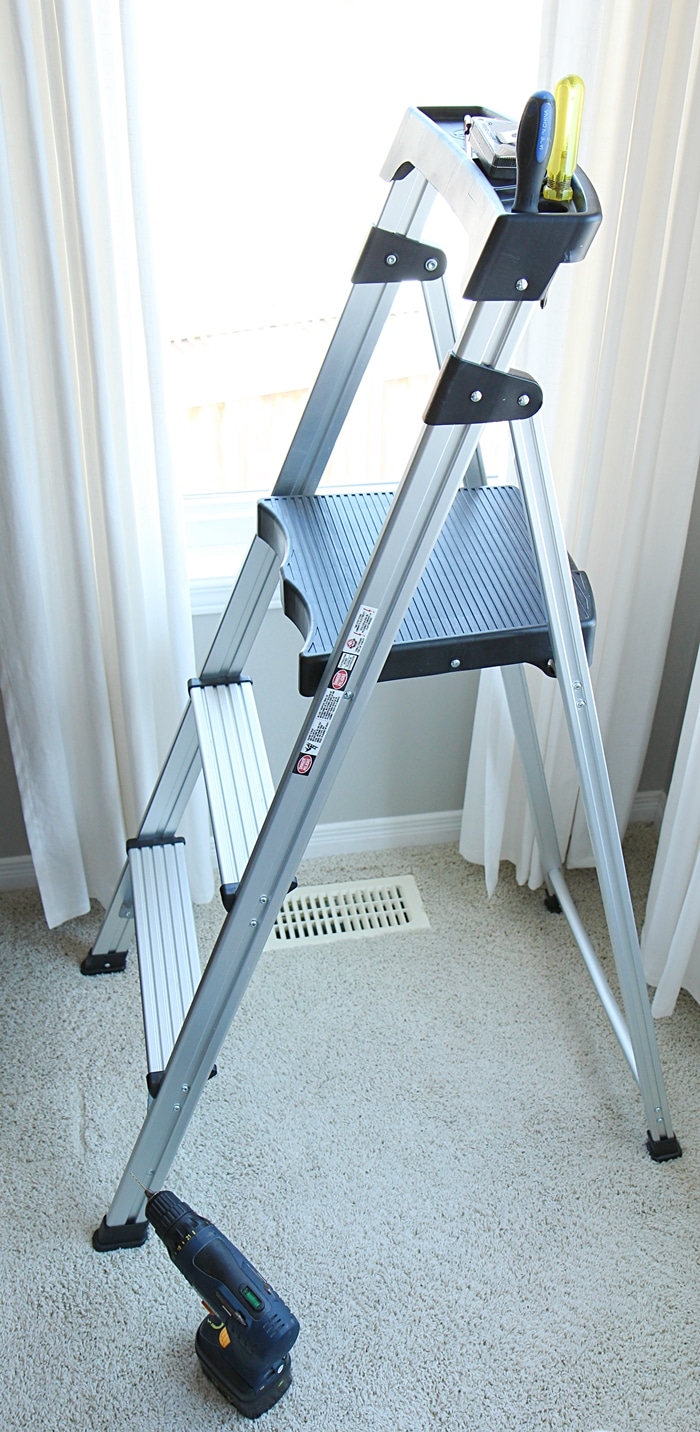 The battery on our battery powered drill wasn't charged so we used our plug in drill: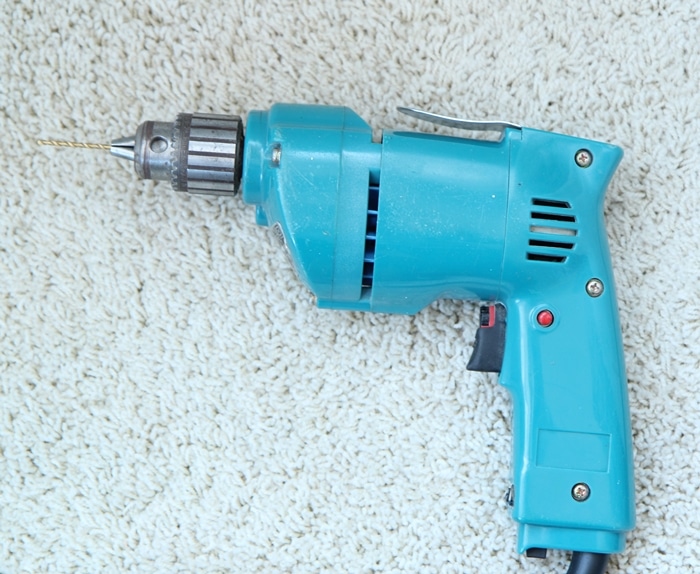 Using the metal bracket as a guide we marked the drill holes with pencil onto the window frame: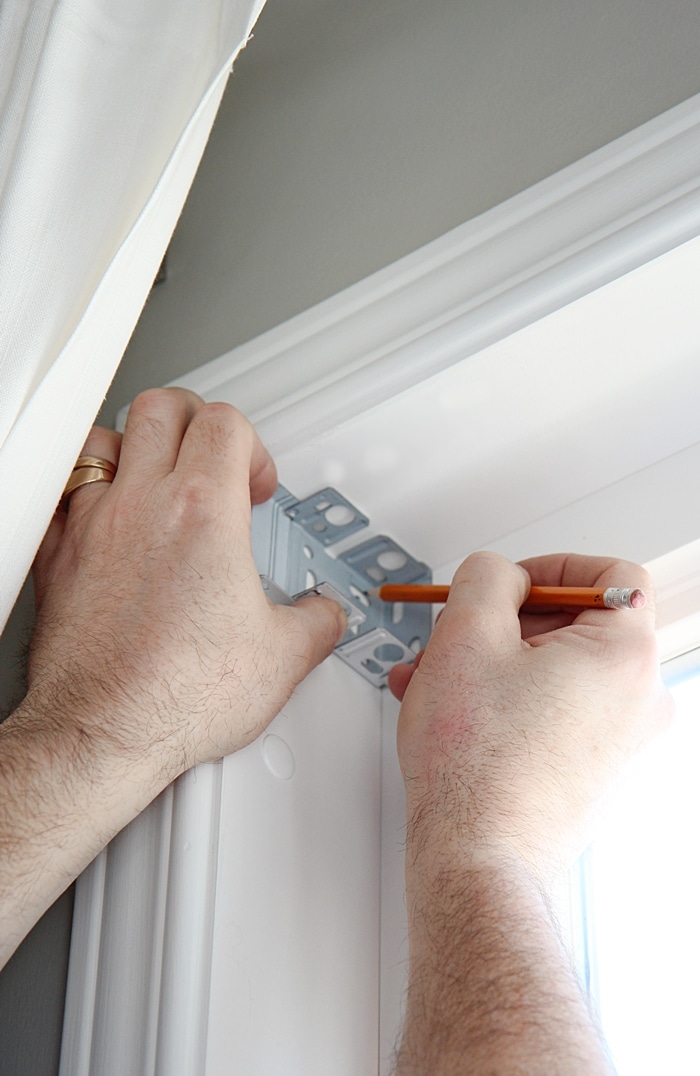 Drill a pilot hole for the blind bracket: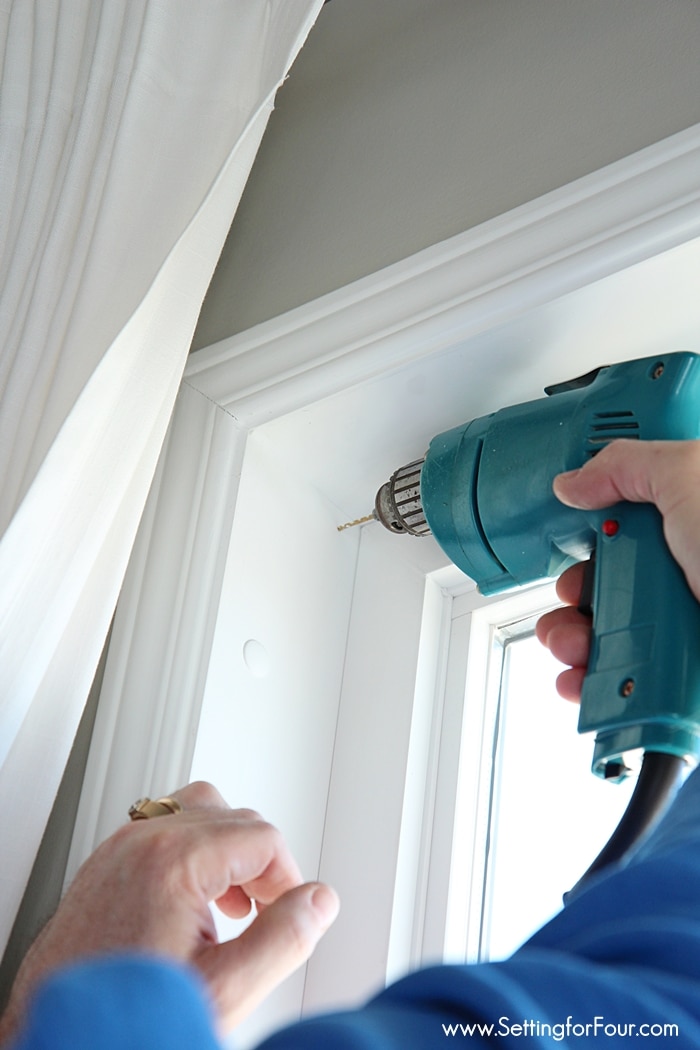 Attach the blind brackets with the screws provided and a screwdriver: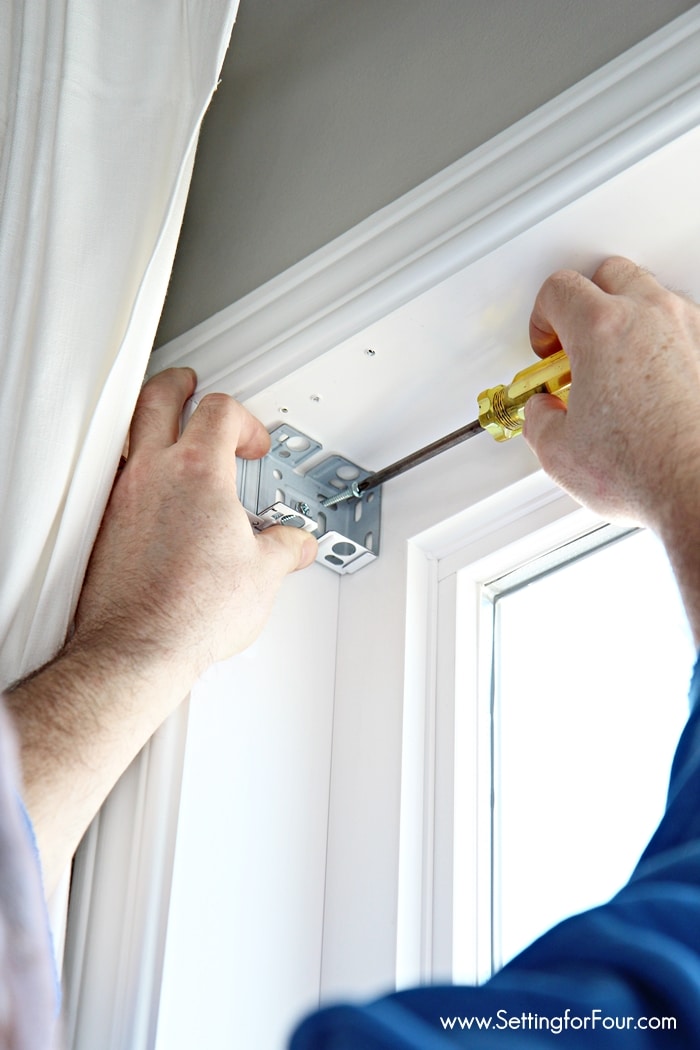 Next step: Attach the valance clips to the blinds:
Place the blind in brackets and close the door on brackets to secure: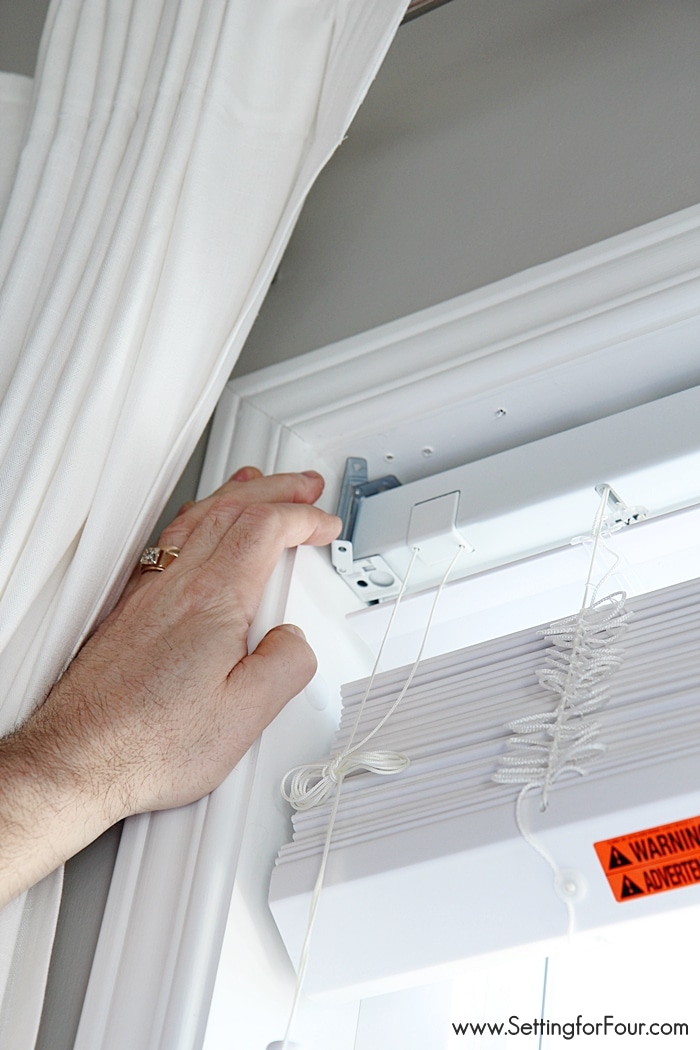 Then we positioned the valance slides on the back of the valance: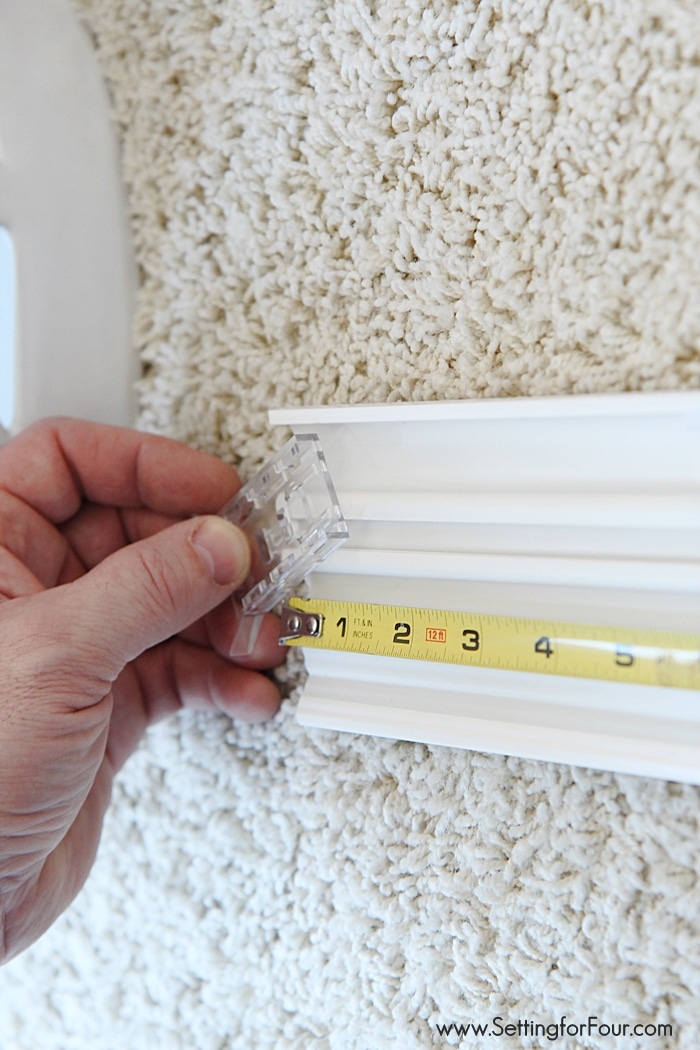 …and attached the valance to the blind: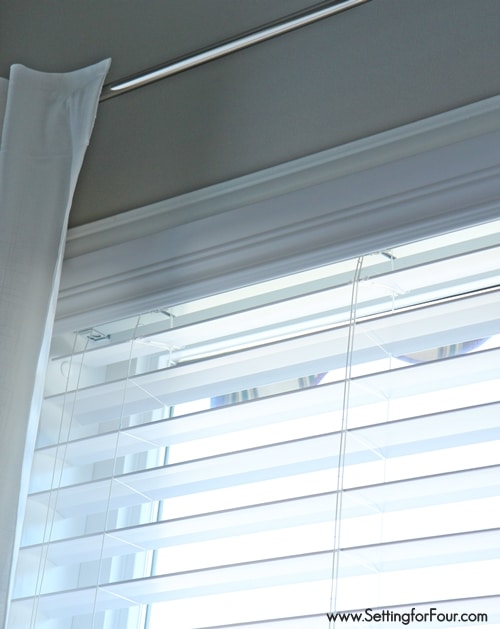 See the gorgeous double bevel edge on the front and back of each slat? This style detail as well as the 2 1/2 inch slat size gives the look of REAL shutters (without the high price tag!)
Get these 2 and 1/2 inch Double Beveled Composite Faux Wood Blinds here!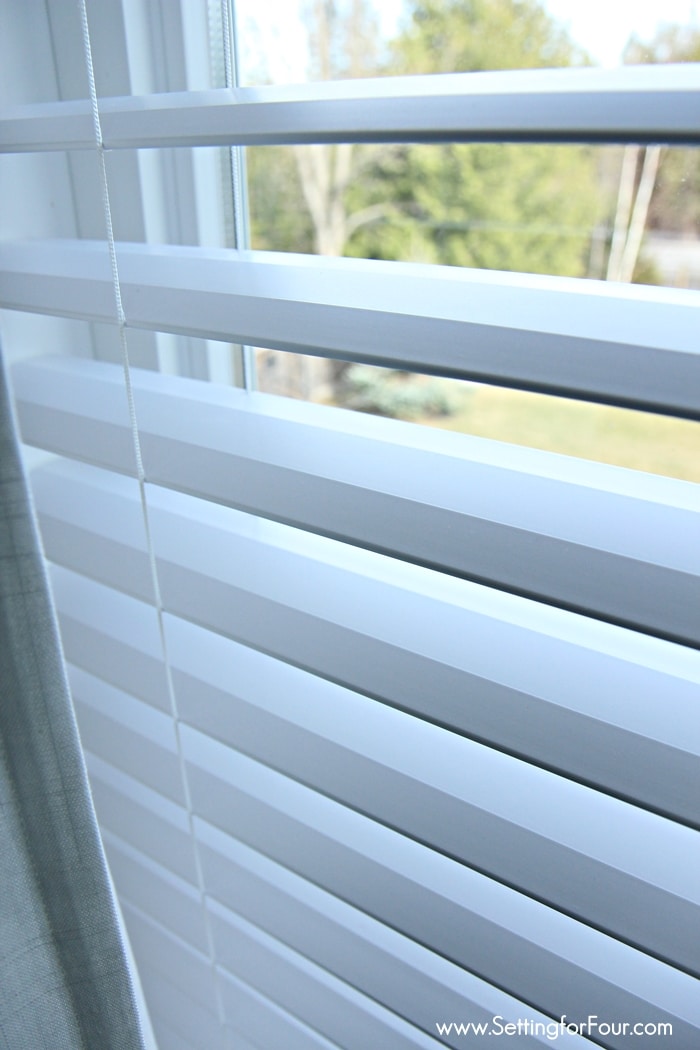 I big fat puffy heart LOVE how big and bright they make our family room – what a huge difference updating your window coverings is to updating the style and feel of a room! They open and close like a dream too!
….and they are a custom fit for our windows!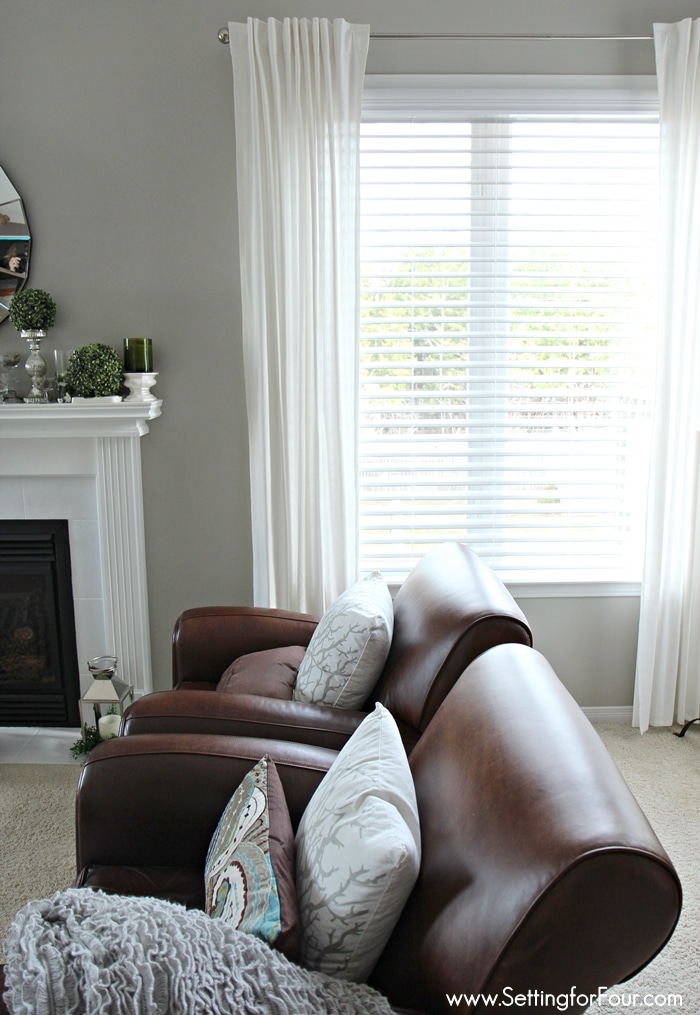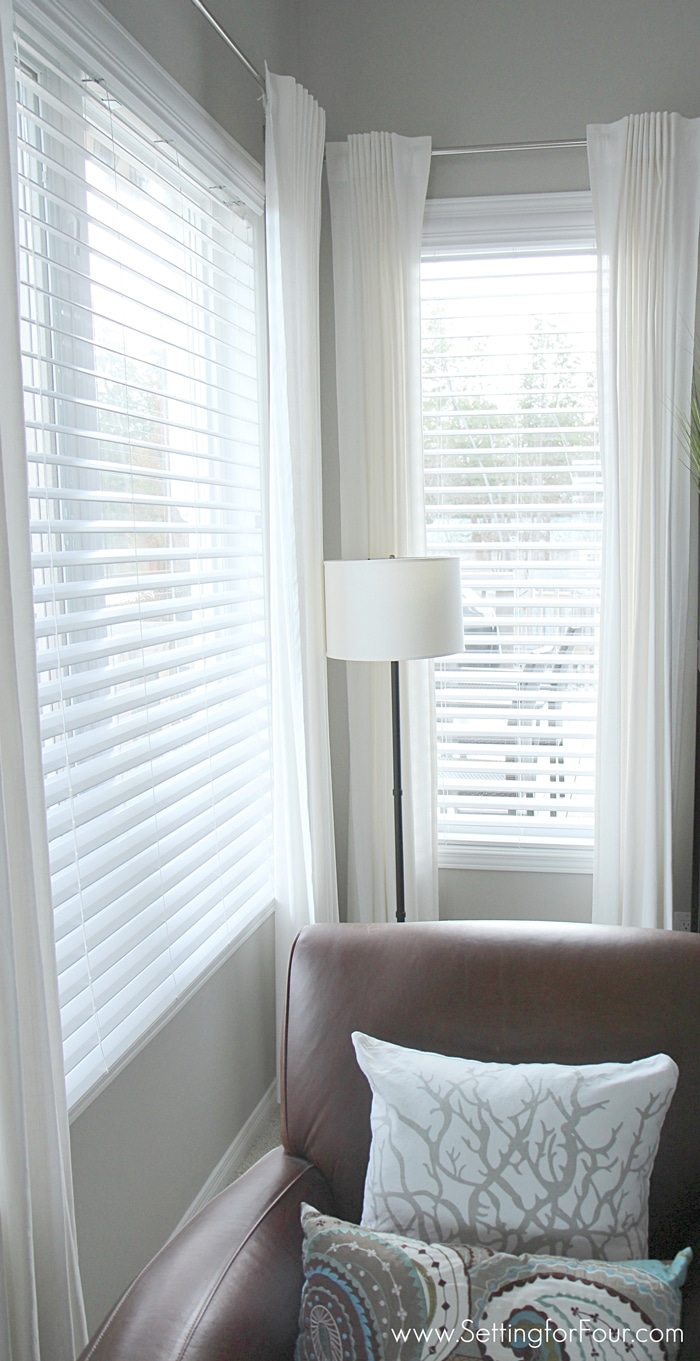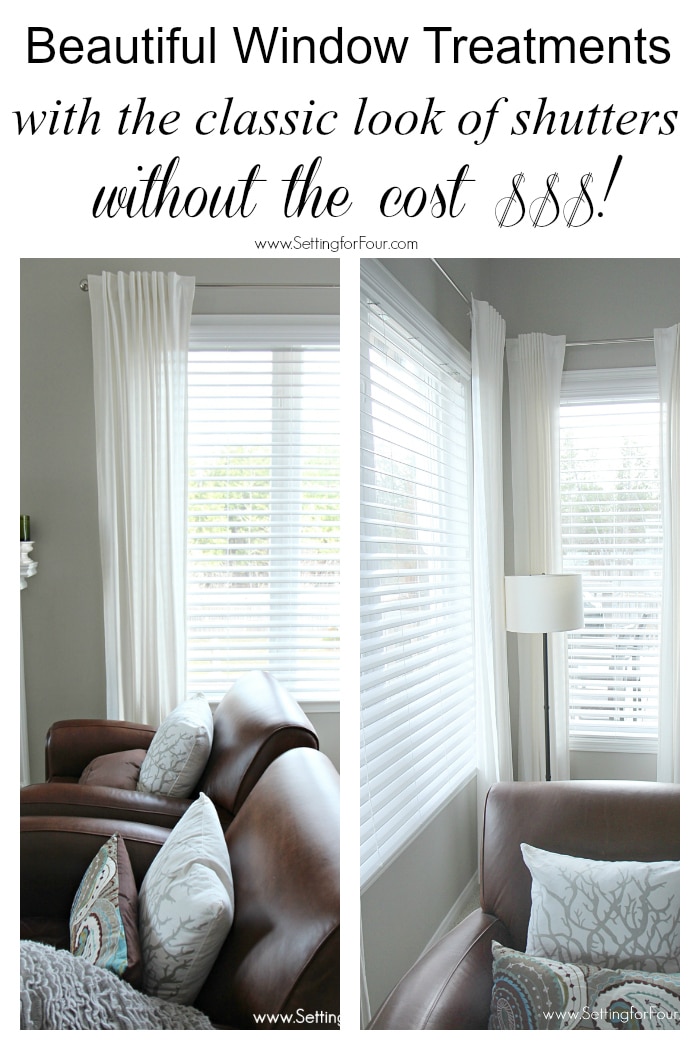 I've got more plans for our family room so stay tuned!
Window Coverings Source list
2 and 1/2 in. Double Beveled Composite Faux Wood Blinds
SHOP THE LOOK OF THIS ROOM: Click on each picture below to see more about the item!

For more decor ideas in my family room see my:
How to Paint Tile and Fireplace Makeover