See these helpful storage and organization ideas for yard & garden supplies!
If you
follow me on Instagram
you know how much we love our beautiful yard, flower gardens and vegetable garden!
Which means we have a lot of tools and equipment to maintain and take care of our outdoor oasis!
And that means good storage and organization is a must!
We are lucky enough to have a large landscaped front and back lawn with beautiful flower gardens and shrubs, decorative stone landscaping and a large yard area.
We get lots of enjoyment from our grassy yard and flower gardens… and it adds a lot of curb appeal to our home! It's important for us to maintain the value of our home with well cared for yards as well as keeping them looking their best as any proud home owner would.
Storage and Organization Ideas for Yard & Garden Supplies
To keep our lawn and flower beds looking beautiful, over the years we've invested in a lot of garden supplies and equipment ranging from lawn mowers, fertilizer, hedge clippers, insect and weed control, gardening tools and plant pots!
…and it could all become chaotic and disorganized very easily if we didn't have the proper storage for it all!
In the spring, summer and fall we want to spend less time working on maintaining our lawn and more time enjoying it – so we've come up with some excellent storage and organization ideas for yard and garden supplies.
1. Add an outdoor storage shed
We have the cutest garden shed at the back of our yard….this is where we store the majority of our lawn and garden supplies. It has tons of wall shelves, hooks and shelving units to organize everything.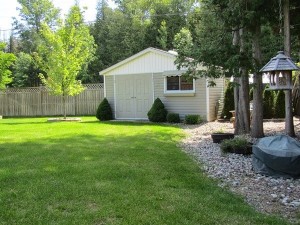 2. Organization Ideas for Yard – Add Storage to your Garage:
I'll show you the other space we use to organize our yard and garden supplies.
For the front lawn and garden we store the yard equipment in our garage.
Here are the ways we find are really helpful for storing and organizing our lawn and garden supplies:
1. Wall shelving: Using the vertical space in your storage area adds a lot of room for jugs, bottles, yard tools, yard gloves, you name it! These shelves were super easy to hang. Just attach the metal brackets to the wall and lay a shelf on it! Here we stacked 3 in a row.
2. Freestanding shelves: These require a bit more square footage than wall shelves because they are deeper but they are an excellent way to store gardening boots, watering cans, pails and larger pieces of equipment. This freestanding plastic shelving unit is made from a lightweight yet sturdy plastic material which won't rust and is easy to hose off.
3. Wall Hooks: We use a lot of these! We store ladders and hoses on these handy wall hooks. The rubberized tips won't gouge or rip whatever you hang on them too!
I hope you like these Organization Ideas for Yard & Garden Supplies!
More organization tips you'll love: