Do you like bargains and deals? Yes? Me too!! I love saving our hard earned money and living with fun and style without breaking the bank! The Dollar Tree Summer Fun is a new collection of colourful summer party supplies, tableware, flip-flops, toys and more to launch you into a fun filled summer!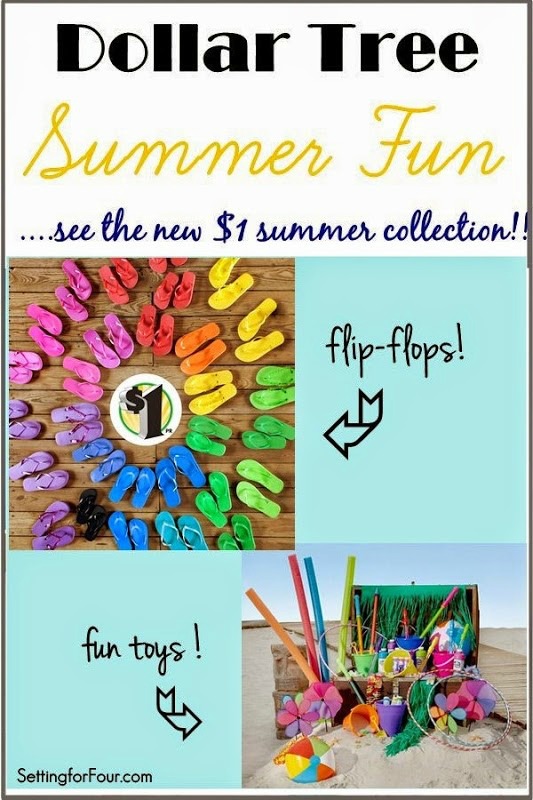 This fun collection kicks off with a Flip Flop Frenzy on April 21st, 2014 at Dollar Tree stores and DollarTree.com!
All Summer Fun items cost only $1.00 each!!! (Select items will vary from store to store).
Dollar Tree stores will be open at 8 am your time and Dollar Tree mall stores will follow their mall's standard opening hours.
**Be sure to be at the stores when they open – these are BRAND NEW products, only available while supplies last!
When they're gone, they're gone so don't miss out! **
…and this is so exciting! To celebrate, Dollar Tree is hosting a 'Summer Fun Flip-Flop Craft Contest', which is going on now!. Submit a photo of an original Summer Flip Flop Craft at DollarTree.com and enter to win a $500 Dollar Tree Gift Card!
Wow!!!
Check out all the Summer Fun items:
Love the Hula Hoops, Hawaiian skirts and bubble makers! Perfect for lots of backyard fun with the kiddos!
Flip flops – every color in the rainbow! I'll be buying the hot pink and aqua blue ones!
You may also like:
5 Delicious Flavored Water Ideas