We love using our outdoor fire pit – it's such a cozy spot to relax and unwind with a beverage and s'mores! We used to have a problem keeping our fire wood dry during rainy weather until we came up with this clever wood storage idea! I'm so excited to share this with you..because it's such a helpful wood storage tip if you have a wood burning fireplace or wood stove too!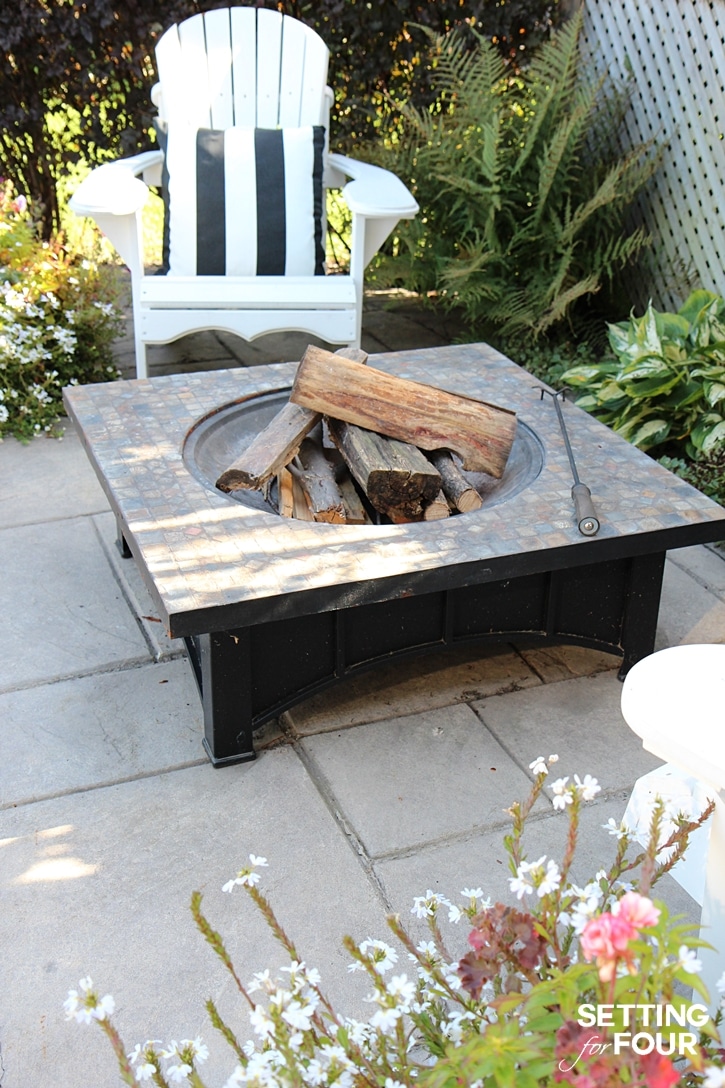 This post contains some affiliate links for your convenience (which means if you make a purchase after clicking a link I will earn a small commission which helps keep my blog up and running but it won't cost you a penny more)! Click here to read my full disclosure policy.
Clever Outdoor Storage Idea! How to Keep Firewood Dry
We keep stacks of firewood outdoors on our patio near our fire pit seating area. Our wood pile is handy and close to the fire pit but when it rains our fire wood gets completely soaked! We have to wait for it to dry out before we can enjoy our fire pit….and that can take a long time. My husband and I and our boys get so disappointed when we can't light a fire because the wood is wet!
But now our fire wood stays nice and dry – since we came up with the clever idea to store it in this durable trash can with lid!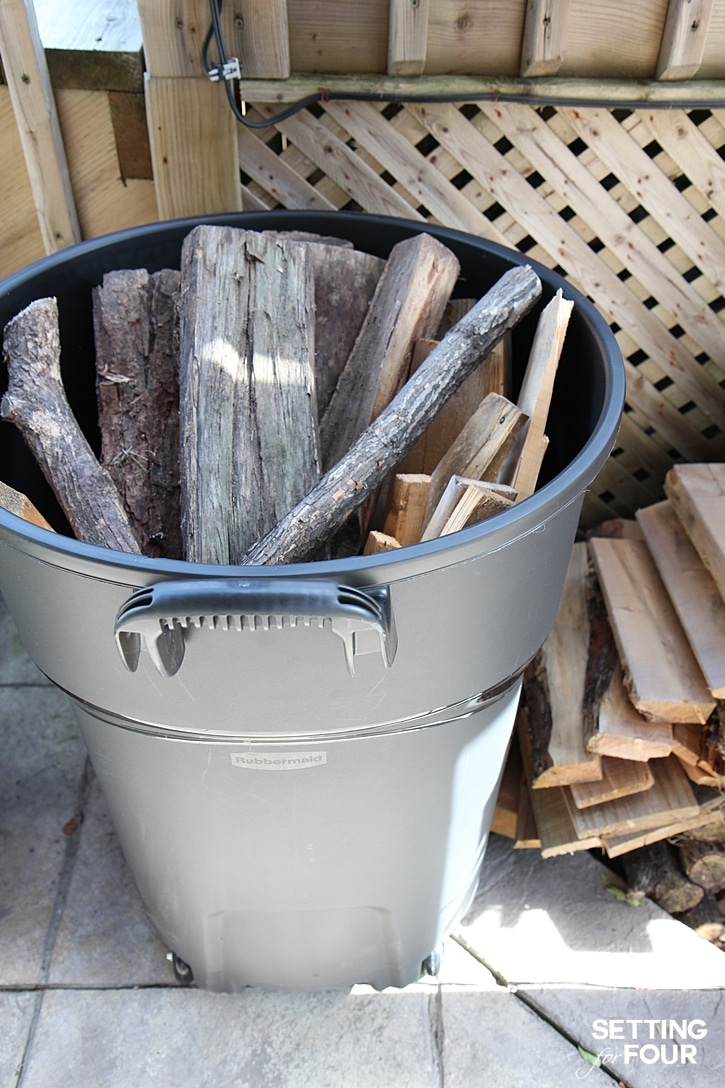 The detachable lid keeps our wood super dry inside, even when it's pouring outside! This trash can is a whopping 32 gallon size so it holds a lot of wood. We love the over-sized handle and two wheels which make it easy for us and our boys to roll the wood filled trash can from the stacked wood area right to our fire pit and back again! The wide wheel base makes it so stable when moving it around too.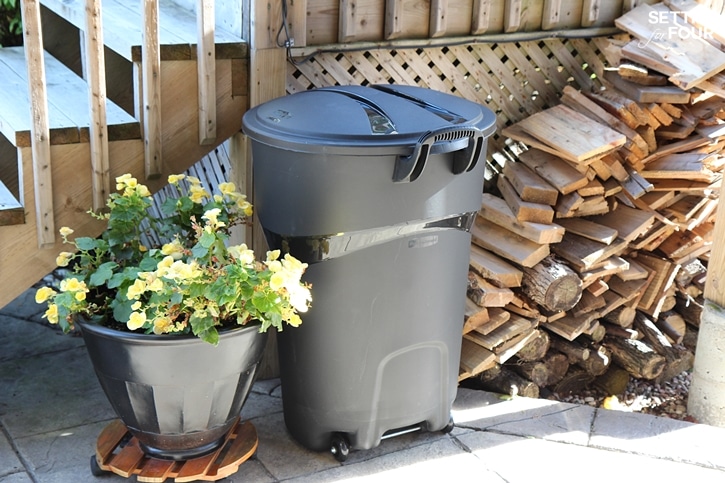 This trash can is such a convenient way to move your fire wood to your outdoor fire pit or fireplace and keep it dry! It's so durable and versatile!
This wheeled trash can will tackle ALL the organizational and cleanup tasks you have!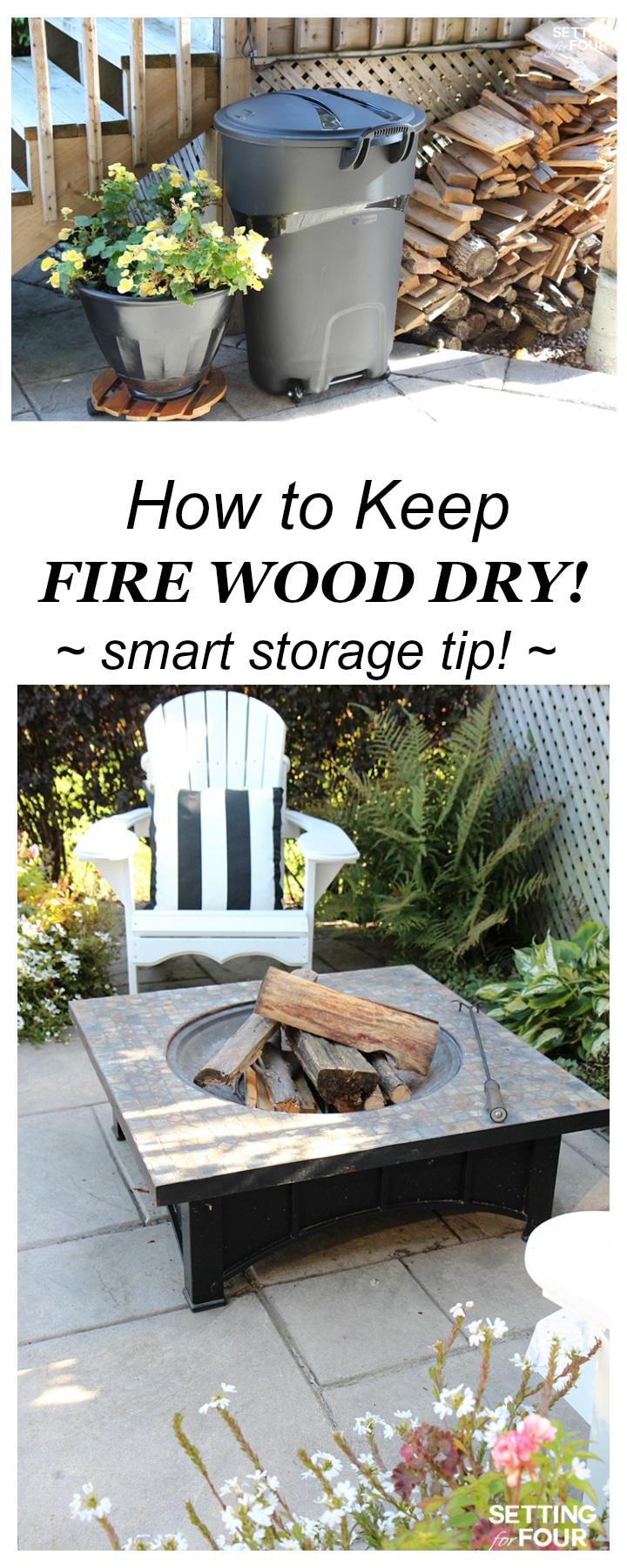 Resources:
cabana black and white striped outdoor pillows
I hope you enjoyed learning about our clever fire wood storage idea! As always, I love passing on our helpful DIY tips to you to make your life easier and more convenient too! 🙂
You may also like:
6 Handy and Clever Outdoor Storage Solutions
Outdoor Summer Deck Decor Ideas
Storage and Organization Ideas for Yard & Garden Supplies