In this post you'll find helpful and inexpensive ways to stage your home to sell quickly, for top dollar!
Selling your home? Know someone who is? Check out these amazing staging tips and tricks that include staging do's and don'ts plus what will turn off home buyers instantly!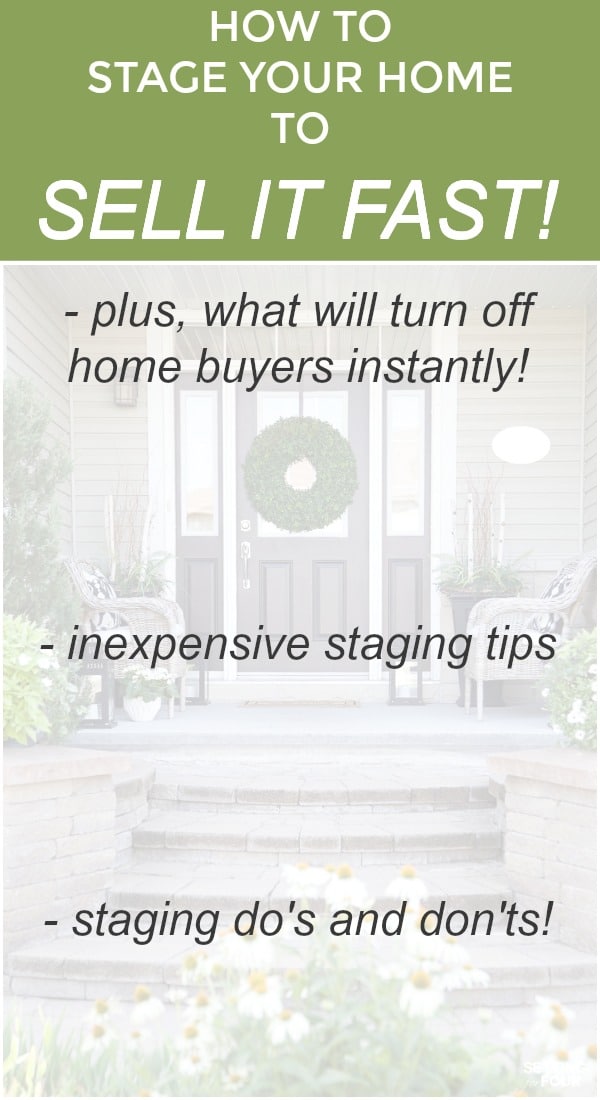 Inexpensive Ways To Stage Your Home To Sell Quickly!
As many of you know, we are a military family and w've moved many times to different military postings!
So, we have bought and sold many homes.
I always stage our homes to sell quickly and for top dollar, because we always have a concrete date to move!
We don't have time to have our home sit on the market for months…we always have to sell quickly!
Also, I always stage our homes to sell for top dollar because we need that money to buy the next home we move into.
Lately, I've gotten a lot of requests from clients to help them stage their homes!
I'm currently working with a client to stage a duplex and a cottage. It will be so fun!
So here are my tips on inexpensive ways to stage your home to sell quickly.
The Goal of Good Staging – Do's and Don'ts:
When staging your home the overall goal is to sell your home in the quickest amount of time and for the best market value.
Do: To do this you need to highlight your homes best features and downplay any shortcomings.
Do: A clean, uncluttered look and a well maintained home is key to attracting buyers.
Do: Make your home sparkle and shine!
Do: Buy a few new affordable furniture pieces to make each room sing if your furniture is dated and worn! You can sell them later or keep them for your next home.
Do: Steam clean carpeting and area rugs if they need a deep cleaning.
Don't: Think that home buyers can 'see past' the clutter. They can't!
Don't: Think that home buyers can't smell your pets…they can! One of quickest ways to scare off a home buyer is pet urine odor in your home.
Don't: Think that home buyers can 'see past' a dated wall color. Believe me a lot of people can't and paint is inexpensive…so paint your rooms a neutral color to sell your home quickly for top dollar!
Don't: Don't blow off making the front of your home and yard clean and tidy.
---
Do you need help staging, picking paint colors or decorating your home?
See my online decorating & paint color services – plus client reviews! Email me at [email protected] for more info!

---
First Impressions
If you do only one thing to stage your home make sure that the front of your home gives the best first impression possible!
Did you know that within 15 seconds a buyer has already developed an opinion of your property and home?
That's not long!
As soon as a potential buyer drives up to the curb, in just 15 seconds they are either interested in buying your home or not.
So make those 15 seconds count!
A small investment in money and time will give you a big advantage when your home is being shown to potential buyers.
It will also give you a leg up over the competition and other homes on the market!
5 Things That Will Turn Off Homebuyers Instantly
Unkempt yard and exterior – (yard, lawn and flower beds are overgrown, full of weeds and overgrown shrubs)
Chipped paint on front door, wood railings and interior walls.
Dark, dingy rooms
Dirty floors, dirty carpets and untidy rooms
Pet urine odor and pet stains
Maximize Your Home's Curb Appeal
The first step in staging is to maximize your home's curb appeal!
Making a 'WOW!' first impression is your goal.
Here's a list of what to check, repair and some inexpensive decor tips to stage the front of your home right!
---
Redecorating or renovating a room in your home?
Plan your project and keep the details organized with this helpful Printable Home Renovation, Redecorating and Remodel PLANNER!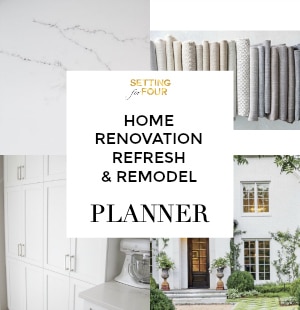 ---
1. Exterior Staging Tips
Home Exterior Overall
Overall home exterior is in good repair.
Door locks, handles, doorbell are clean, free from rust and in good condition.
Replace scratched, weathered door handles with a new inexpensive set like this one.
Make sure house numbers are easy to read. If they aren't, purchase a new set in a timeless style.
Check that your wall lights by the front door and garage are in good working condition and are untarnished.
Repaint your wall sconces with outdoor flat paint if the finish is weathered or replace with a new set. I love these sconces and they are so inexpensive.
Eavestroughs, soffits, downspouts are in good repair and there is no flaking paint. Repaint and repair if required.
Driveway, garage /carport is in good repair. Consider sealing your driveway to freshen it up and repair any major cracks.
Clean up any litter.
Cracked or broken window panes are replaced.
Windows are washed inside and outside.
Window and door caulking is in good shape. Caulk if required.
Summer Staging Tips for the Exterior:
Lawn is cut. An overgrown lawn will have potential buyers turned off in a heartbeat!
Add grass seed to any bald spots.
Flower gardens are weeded.
Hedges / shrubs are trimmed.
Pathways, deck, patio, porch, pool is clean.
A general sweeping will do a world of good.
Power wash the siding if possible.
Winter Staging Tips for the Exterior:
Remove snow from walkways, driveway, front door area.
Add de-icer or sand on pathways, front steps to prevent falls.
Add a boot tray to the foyer of your home so potential buyers can remove their shoes and boots to keep your home clean.
Front Door and Porch Staging
Door and sidelights are clean. Wash with a soft cloth and mild detergent and rinse with water.
Doorbell works.
Door hardware is clean and in good repair. Replace with a new set if the finish is flaking or scratched.
Clean front door wall lights and make sure bulbs are not burned out.
Add a couple of flower planters to the front door area.
If you have front porch seating make sure it is cleaned and add beautiful pillows!
Hang a cheery wreath to your front door.
Add a beautiful welcome mat.
Inexpensive Ways To Add Wow To The Inside Of Your Home
The second step in good staging is to stage the inside of your home!
This involves: cleaning, decluttering, fluffing and what I call 'Zhooshing' (adding decor and accessories to dress your home up and make it look pretty and appealing)
Here's how!
2. Interior Staging Tips To Sell Your Home Quickly
Touch up any chipped paint and plaster.
Oil squeaky doors with WD-40.
All window latches and door handles are working properly.
If door handles are scratched, replace them with new ones.
Hot water tank and furnace area is cleared from clutter and boxes, is clean.
Declutter your rooms! Go through every room: declutter and tidy. This is a good opportunity to purge for your upcoming move once your home sells!
Pick up and put away: clothes and toys strewn on the floor, furniture and beds will detract buyers.
Finish any projects you are working on to present a well maintained home.
Fix leaky taps and toilets.
Wash sinks, toilets and cabinet handles and cabinet fronts.
Replace any burned out ceiling and lamp lightbulbs.
Open drapes and blinds in the day
Open your windows and air out your home each day. Do not use air scents because some people are allergic to scents and they may not like the particular scent you do. Fresh air is the best!
5 Design Tricks To Brighten A Dark Room
Updating the windows- Faux Wood Blinds Installation
Paint Colors
If there is one thing, other than cleaning and tidying your home, that I feel is a MUST for staging your home to sell is to assess your wall paint colors and repaint your rooms a beautiful neutral color.
This is the time to be 'rea'l about the paint colors in your home.
Are they neutral and buyer friendly? Or are they dated colors?
If they are dated, then repaint your home with a neutral buyer friendly paint color. Check this list of Top 50 Bestselling Paint Colors At Sherwin Williams for ideas.
If you need help picking a new wall color to stage your home check out my online paint color consult services!
Foyer
Clean and dust the foyer.
Make sure all boots, hats, coats are put away.
Clean out your front closet and purge! A decluttered closet is your goal.
If you have a bench add beautiful pillows.
If you have a foyer table, make sure it is decluttered and clean.
Wash any mirrors in your foyer.
Add a beautiful area rug / runner to your foyer to welcome potential buyers!
Vacuum wall vents
Quick & Easy Bifold Doors Makeover On A Budget!
How to Create a Mirror Gallery Wall
Kitchen
Appliances are clean on the inside and outside.
Put away any small appliances and kitchen tools that you can.
Make sure utensil crocks and canisters are clean and tidy.
Clean and declutter countertops.
Clean kitchen sink and faucet.
Make sure kitchen faucet is working properly and replace if it's broken. If the pullout feature is broken or the faucet is scratched or tarnished, replace the faucet.
Clean cabinet doors – front and back
Clean cabinet bases where food sometimes spills.
Replace cabinet hardware if scratched, tarnished or damaged.
Make sure all cabinet hardware is clean and tightly hung on doors.
Inside of cupboards are clean and decluttered.
Wash kitchen windows / sliding glass doors.
Clean sliding glass doors track from dirt and debris.
Make sure sliding glass door opens and slides properly and fix if required.
Check tile grout and re-grout if necessary.
Add a kitchen mat
Dust kitchen island pendants and table chandeliers.
Replace burned out bulbs in kitchen lighting, range hood
Clean microwave inside and out and get rid of any food odors.
Vacuum and mop floors.
Add a simple place setting to your kitchen island bar stool area. Place a white dinner plate with a pretty napkin at each barstool with show buyers the room available in the kitchen for the kids and family to eat at!
Also add simple place settings to an eat in kitchen dining table. Place a white dinner plate with a beautiful napkin at each place setting. This will give buyers visions of family dinners and entertaining!
Vacuum wall vents
Light and Bright Spring Kitchen Decor Ideas
Our Dark to White Kitchen Remodel Before and After
Bathrooms
Make sure caulking around shower and tub is in good condition.
Declutter shower shelves.
Clean shower and shower drain!
Check toilet, sink faucet, tub faucet are in working condition.
Clean toilet, sinks, tub, countertop.
Mirrors, fixtures and faucets are clean and polished.
Mop and vacuum floors.
Declutter vanity countertop and put away makeup ect.
Vacuum wall vents.
Clean and declutter inside of medicine cabinet, vanity cupboards.
Garbage can is empty and cleaned.
Buy some plastic storage containers to help make your drawers and cupboards look tidy.
Add a pretty hand soap dispenser set to the sink area.
Hang a pretty matching hand towel set on the towel rack.
Add an orchid or small potted plant to the vanity.
Windex and dust any art you have in the bathroom.
Bedroom
Declutter, dust and vacuum.
Make sure night tables are clutter free.
Make the bed.
If your bedding is lackluster adding a new quilt set will freshen the room.
Kids Bedrooms / Playroom
Declutter, dust and vacuum.
Tidy bookshelves.
Tidy desk area.
Put away toys in baskets and bins.
Make sure bed is made.
Garage / Basement / Closets
Declutter, tidy and clean.
3. Valuables
Money, jewelry, cameras and valuables should be locked up when you have open houses and showings.
If your kids have wallets where they keep money they've gotten for Christmas/birthdays ect, lock them up! Our youngest son had his wallet stolen once when we had a home showing…..I forgot all about it and it was sitting on his nightstand. We discovered it was missing a few days later!
4. Pets
Pets should be absent from the home or contained. You don't want your pet stressed from showings and you don't want buyers detracted by any barking ect.
Ensure litter box is clean.
Put away pet toys.
Ensure pet food bowls are clean and put away if possible so they aren't knocked over.
Make sure pet hair is vacuumed up from floors, stairs, furniture.
5. Other Staging Tips To Sell Your Home Quick
Decorate each room to create a welcoming, inviting feeling.
Create an attractive visual impression of your home.
Make sure table surfaces, bookshelves and glass front doors are staged to sell.
Edit, edit, edit.
For glass front doors edit the contents and arrange plates, dishes and decor to look tidy and neat.
Arrange and edit your furniture to showcase each room, make it look as spacious as possible and allow for proper traffic flow.
Make each room look as comfortable, bright and airy as possible.
Present a lifestyle that's appealing.
Steam clean your area rugs and wall to wall carpeting. We have a hoover steam cleaner that we use and it's amazing!
Get your furniture professionally cleaned if there are stains. There are residential carpet and upholstery cleaners in every city. Most will give you a free estimate!
Fresh or faux flowers added to the kitchen and bathroom.
Focus on freshening your textiles: pillows, throw blankets, plump towels and beautiful bedding will create an inviting home that buyers will want to buy!
If your area rugs and mats are permanently stained, replace with new rugs. Rugs are very affordable today! There is nothing worse than seeing a stained rug when viewing a home as a potential buyer. Such a big turn off!
Make sure your wall art is appealing and current.
Proper staging will ensure a quick sale for the best sale price!
It will also make your home stand out compared to other homes on the market!
It doesn't require a ton of time or expense, just some sweat equity, some fluffing and a bit of 'zhooshing up'!