In this post I'm sharing helpful design rules on how to arrange furniture in a long living room.
These design tips will show you how to arrange your furniture – the right way  – to create a cohesive layout that feels stylish, cozy and looks pulled together!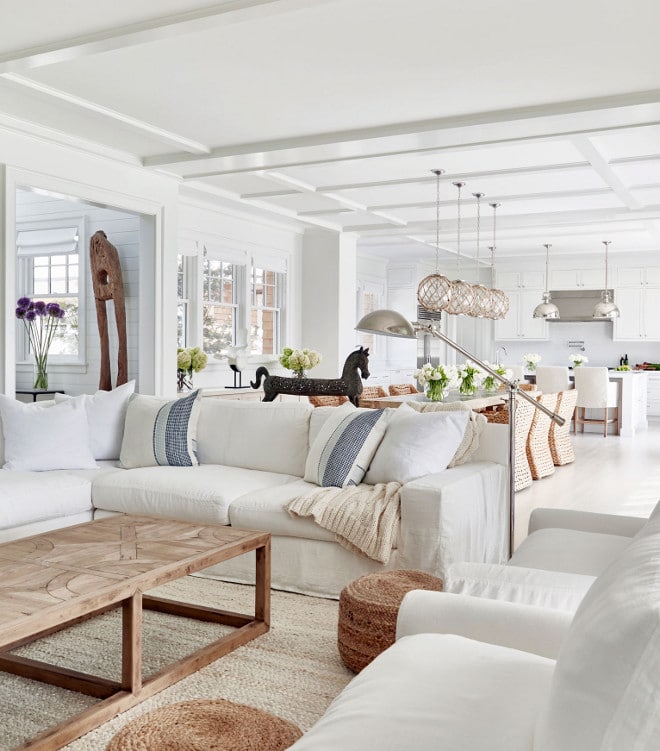 Is your living room long? Arranging furniture in a long living room can be very challenging!
If your living room resembles a bowling alley, use these clever design tricks to open up the space and arrange your furniture the right way!
PLEASE PIN THIS AND SAVE IT FOR LATER!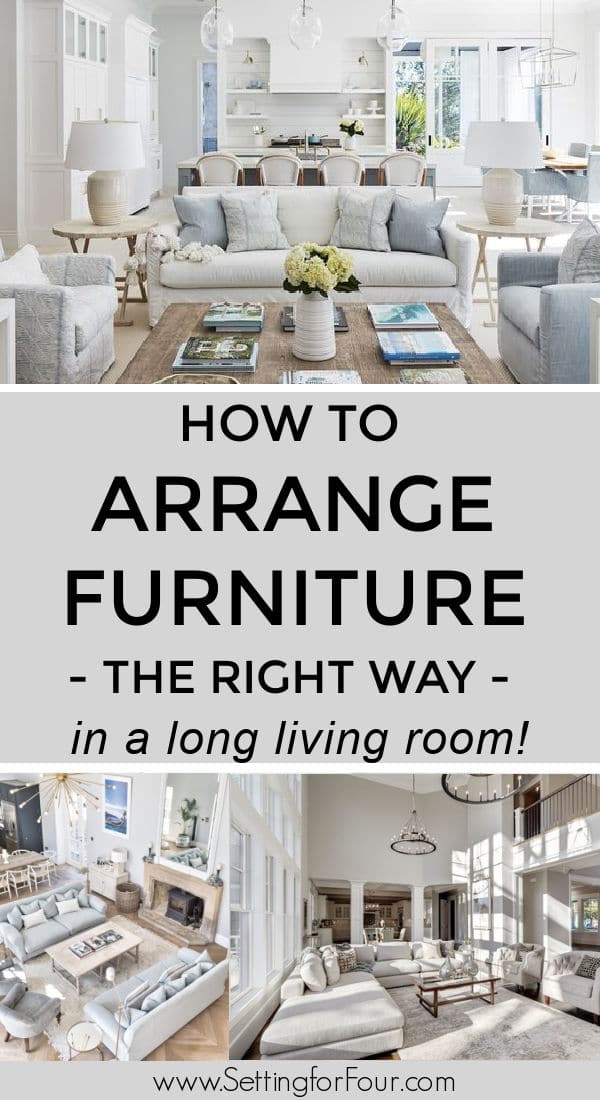 1. Create Zones
Don't clump all your furniture in one grouping because this will emphasize the long look of your living room.
The goal is to make a long living room look cohesive and pulled together.
Treat your long living room like an open concept space and create separate furniture groupings into separate zones.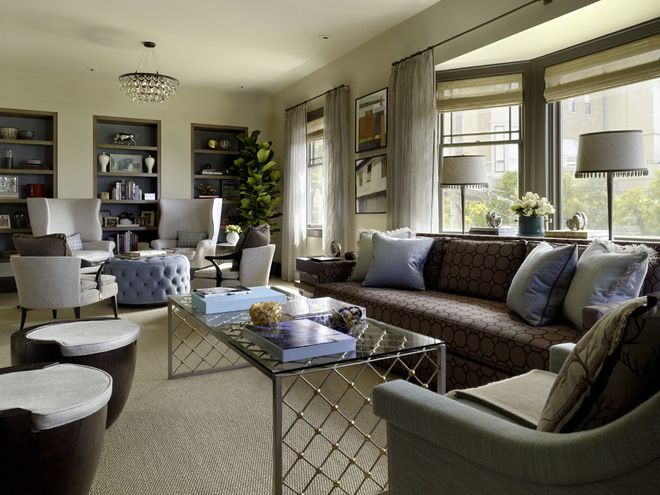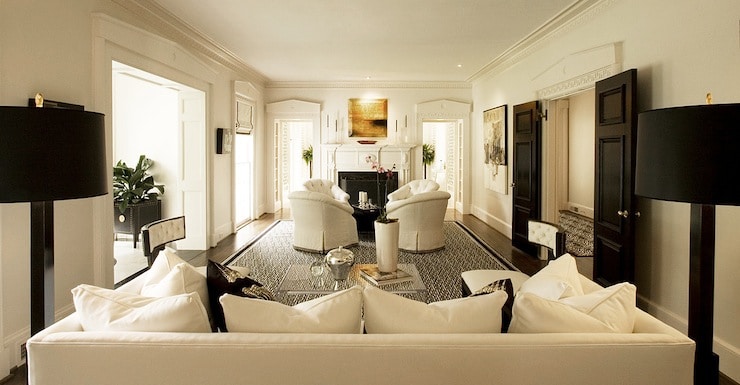 ---
Do you need help with furniture layout, room design or choosing paint colors?
See my online design & paint color services info – and client reviews! 
Email me at [email protected] for more info!

---

How Do You Divide A Long Living Room?
Divide and separate your living room furniture into two or 3 separate zones or groupings.
This will help spread furniture throughout the length and eliminate any bare spots.
You can create a tv watching zone, a zone to play board games or read.
Or you can create a small dining zone, or small office zone.
See: Inexpensive Ways to Make Your Home Look Expensive!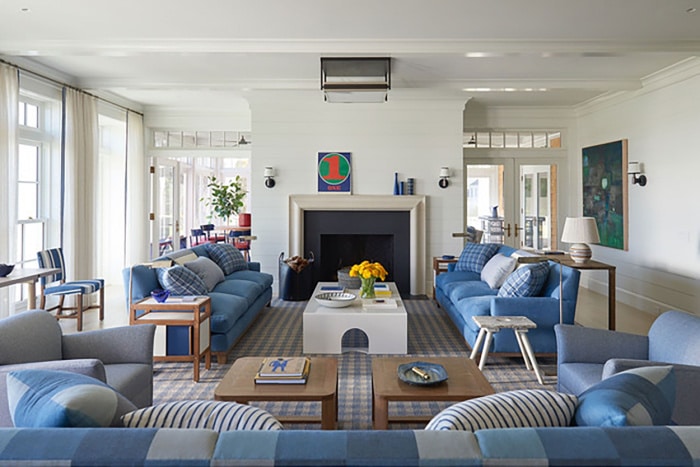 2. Furniture That Fits
A long living room can be impossible to arrange if your furniture is bulky and large.
So it pays to invest in the right pieces that are more compact and streamlined – like apartment sofas that are smaller scale than regular sized sofas.
Click on the images below to shop beautiful apartment size sofas:

Also avoid too many furniture pieces which will make the long living room look cluttered and can hinder walkways.
If you need extra chairs for the occasional big family get together (Christmas, Thanksgiving), buy some stacking chairs like these and store them in another room. Pull them out when you need them!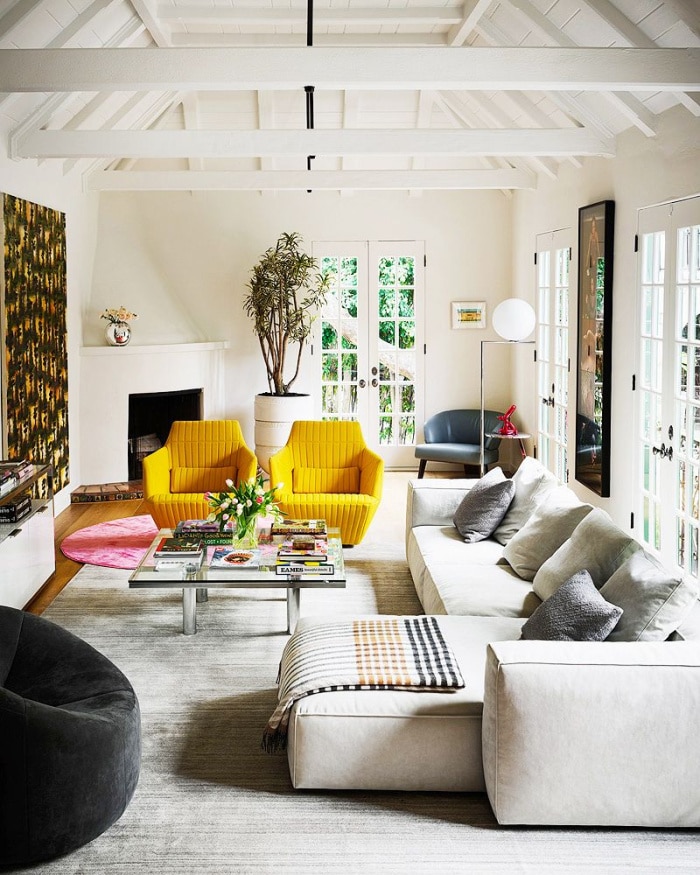 3. Pull Furniture Away From Walls
Placing furniture up against the walls will emphasize the length of the living room.
Pull the pieces out from the walls a bit so the focus is on the furniture and decor – not the long length of the room.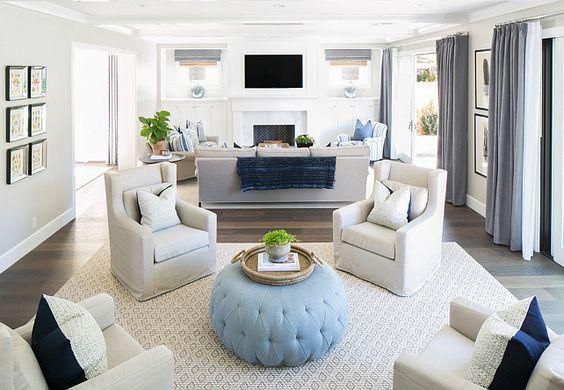 4. Focus On The Middle
Another strategy is to focus on the middle of the space and leave each end open.
Open doesn't mean empty.
Arrange your furniture in the middle of the  space.
Add a bookcase to one end, a console table with art or a mirror above it or a large faux plant to add interest to the ends of the room.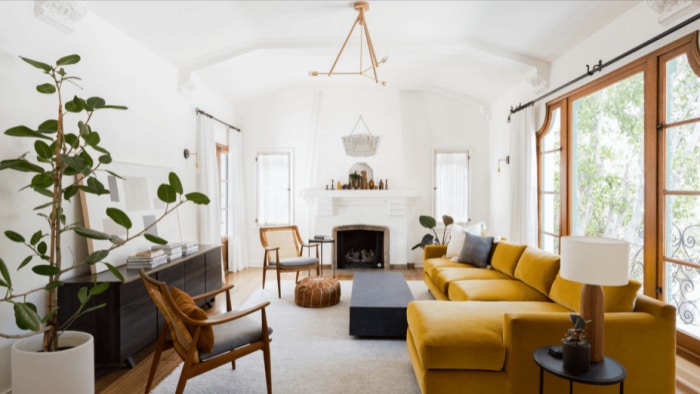 5. L Shaped Sectional Sofa
Adding an L shaped sectional to one end of the living room not only offers lots of seating but it also utilizes a long space well.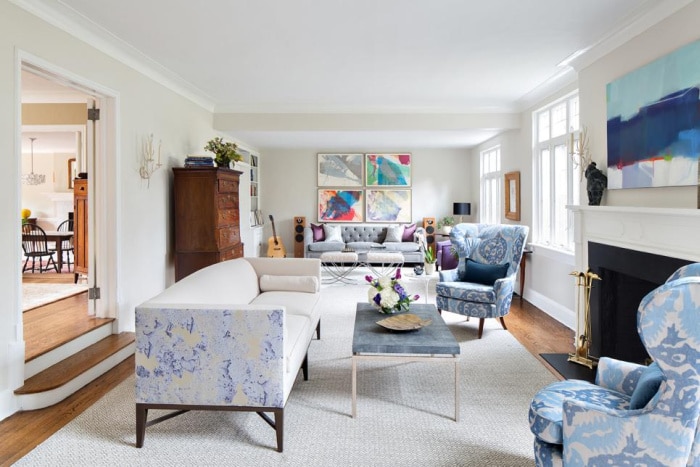 6. Incorporate Walkways
Instead of arranging your furniture so you walk down the middle of it, arrange your furniture together and create a walkway around it.
This is especially important around the TV because you don't want anyone to walk in front of the tv while someone is watching it.
This can be done by placing a sofa along a wall and placing two chairs across from it. Leave the walkway behind the chairs and the opposite wall.
Passageways should be at least 3' wide to allow appropriate space to walk by furniture.
This is especially important if one or both sides of the passageway is a wall or tall cabinet
If the passageway is between lower pieces, like a sofa, chair or console table,  slightly less floor space is required because the space above the furniture is open.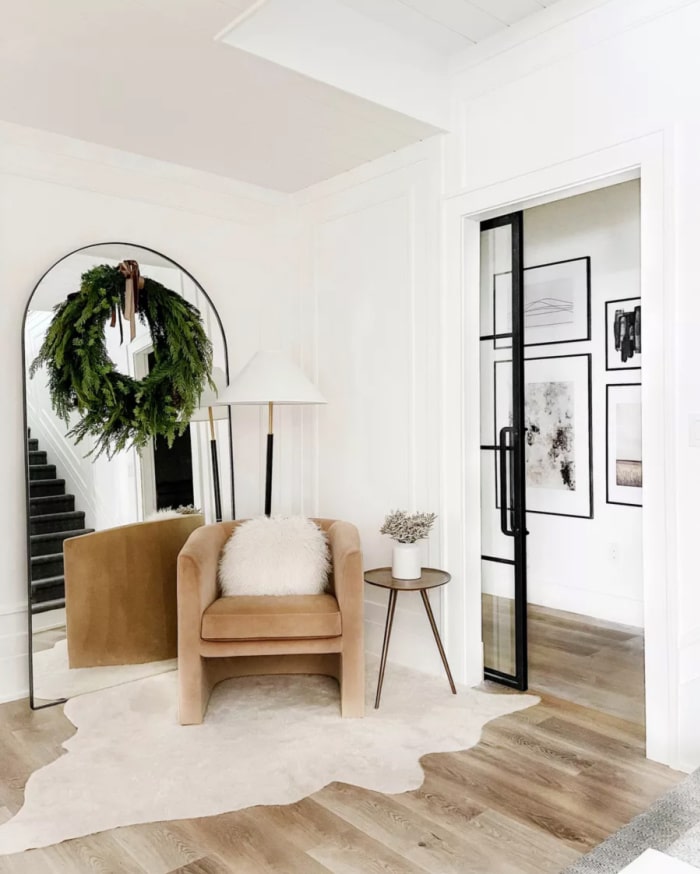 7. Measurement Rules
Keep these measurement rules in mind while arranging your furniture.
Allow 36″ for pathways and for traffic flow to stairs and doorways.
12-16″ is needed between a sofa and coffee table.
Sofa and chair pieces can be 2-10″ apart from each other.
The amount of space between a sofa and TV is 1.5 – 2 times the measurement of the diagonal width of the TV.
A comfortable conversation distance is no more than 8' so make sure your sofa/chair arrangement is no more than that.
Any seating farther than 8' apart is in a separate conversation zone.
End tables should be +/- 3″ relative to the sofa /chair arm height.
The coffee table should 2/3 to 3/4 length of the sofa.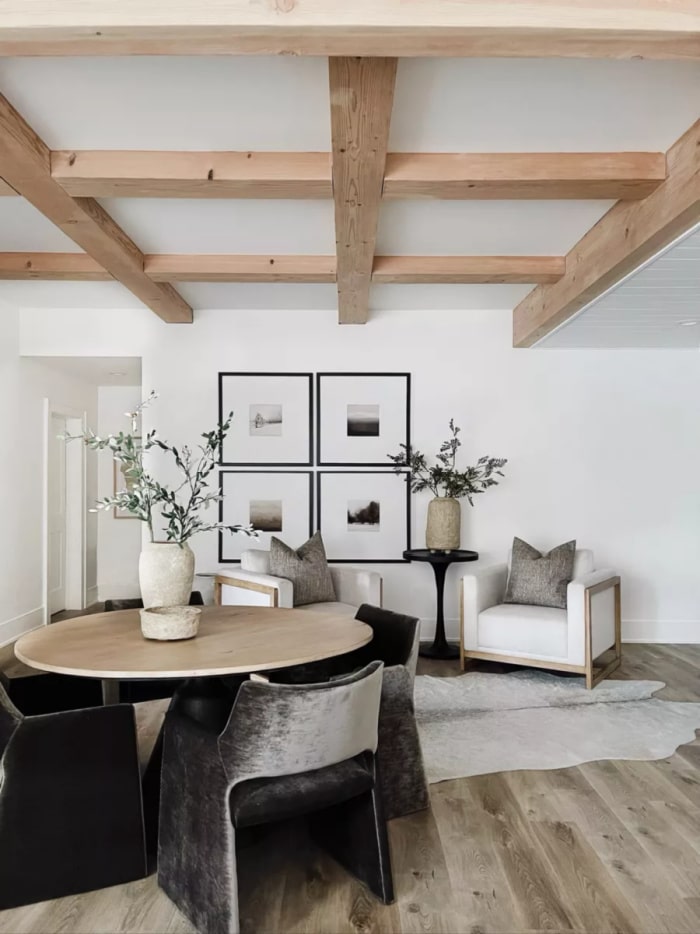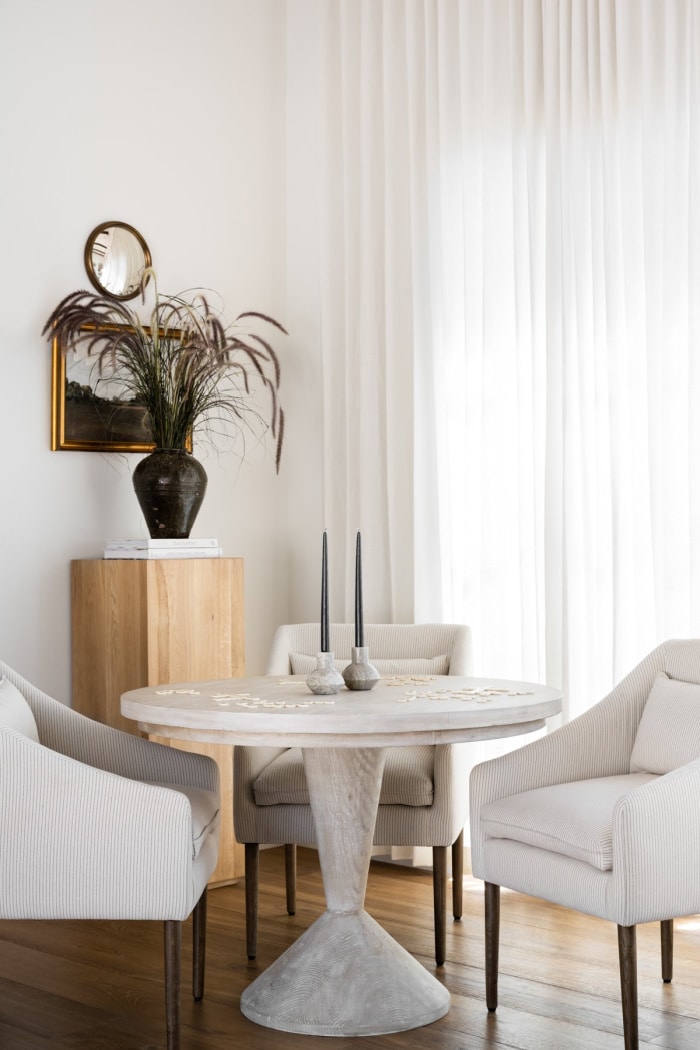 8. Use Circular/Curved Furniture
Circular, curved furniture will help break up the long lines of a long living room.
Add a small circular table and 4 chairs as a board game table.
Use rounded tub chairs instead of angular chairs.
Use an oval or round coffee table instead of a rectangular one.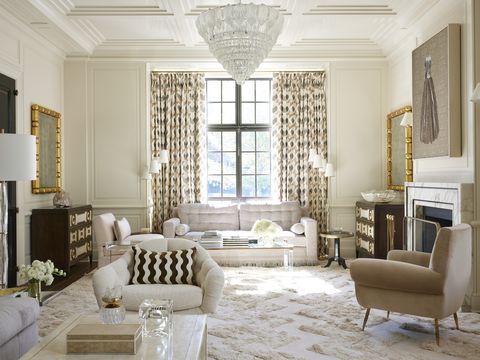 9. Paint Color
Paint a long living room one light neutral color to open the space and make your furniture arrangement easier.
White, cream, light beige and gray are the best color choices.
Agreeable Gray & Undertones & Coordinating Colors
The advantage to using a light neutral paint color is that it will allow you to change and mix your accent colors!
You don't want to complicate things even more by selecting a bold paint color or dark paint color that is going to emphasize a dark tunnel effect.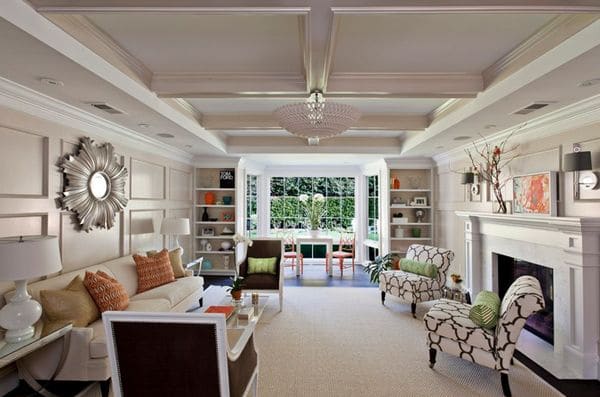 10. Maximize Vertical Space
Drawing the up will help minimize the length of the living room.
Add a tall cabinet, tall bookcase or etagere, floor to ceiling drapery (hang the rods as high as possible!)  or hang a photo gallery wall that goes close to the ceiling.
11. Area Rugs
Add an area rug for each of the zones to separate them and add texture and pattern!
12. Console Table
Add a console table to the back of a sectional, sofa or 2 chairs that are open to the room, to separate that conversation zone and create a cohesive look.
They also provide a surface for table lamps, display space and can replace an end table.
Tucking two ottomans under the console table is also a perfect way to incorporate extra seating into the space.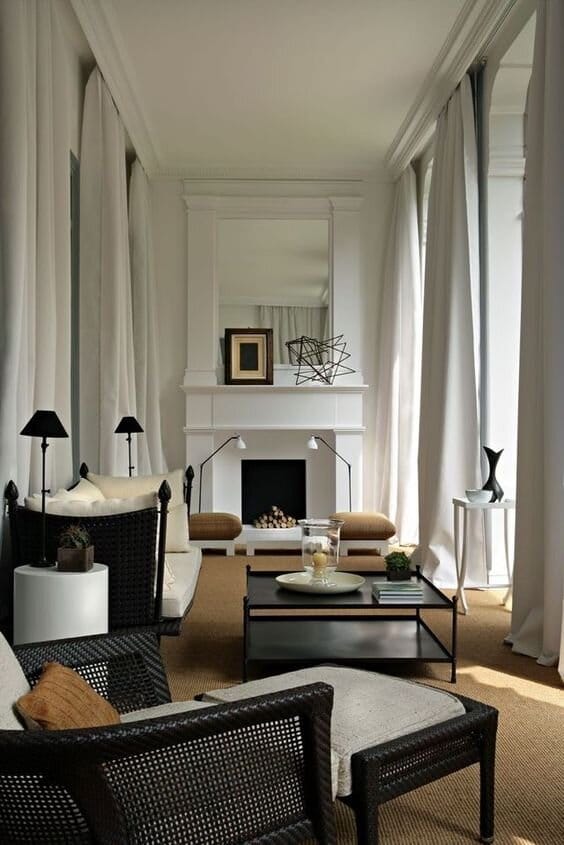 13. Curtains
Add curtains to all of the windows in a long living room to soften the walls.
Make sure the rod is hung as high as possible to draw the eye upward.
14. Sight Lines
Sight lines are extremely important in design, especially for long living rooms.
A sightline is what the eye sees from one end of the room to the other end of the room and into adjoining spaces if there are any.
You don't want the sightline to look cluttered or choppy.
You do want the sightline to flow and be pulled together and cohesive.
Do this by repeating accent colors and metallic finishes throughout the entire living room.
Keep all of your lighting the same metallic finish.
If green is your accent color, repeat it in the different zones of the long living room.
15. Plants
Add plants and tropical trees (real or faux) like this gorgeous faux olive tree or fiddle leaf fig tree will help to soften the look of the furniture.
They will add interest, create focal points and help the long living room look less stark and sterile.
16. Declutter
Create the illusion of more space in a long living room by decluttering. It will actually make a space feel wider and more cohesive.
Use clever living room storage ideas to remove toys, knickknacks and other unnecessary items, your space will instantly feel bigger and more beautiful to be in.
Make sure your furniture has storage capabilities as well. Tuck remotes and books into end tables with drawers, a console table with drawers or a coffee table with drawers.
Here are some other questions that get asked when arranging furniture in a long living room:
How do you rearrange a long living room?
Edit your current furniture to eliminate pieces you don't use.
Purchase furniture that fits your living room if your pieces are too bulky.
Create 2-3 separate zones with each having a different purpose.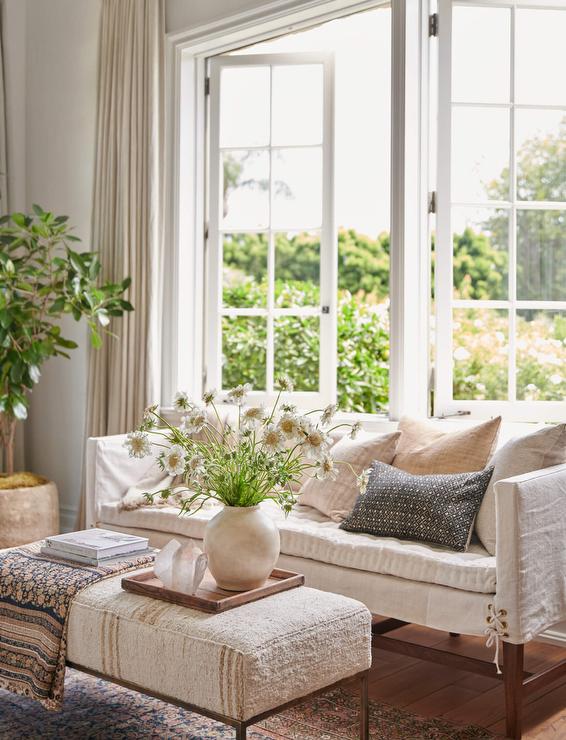 Can you put a couch in front of a window?
In a long living room it may be necessary to place a sofa in front of a window.
Yes you can place it in front of a window- IF the sofa back is not too tall and doesn't block the window.
Also you'll need to place the sofa out a bit from the window so that drapes aren't pressed into the wall.
With these design tips your furniture will be arranged the right way to fit your long living room space!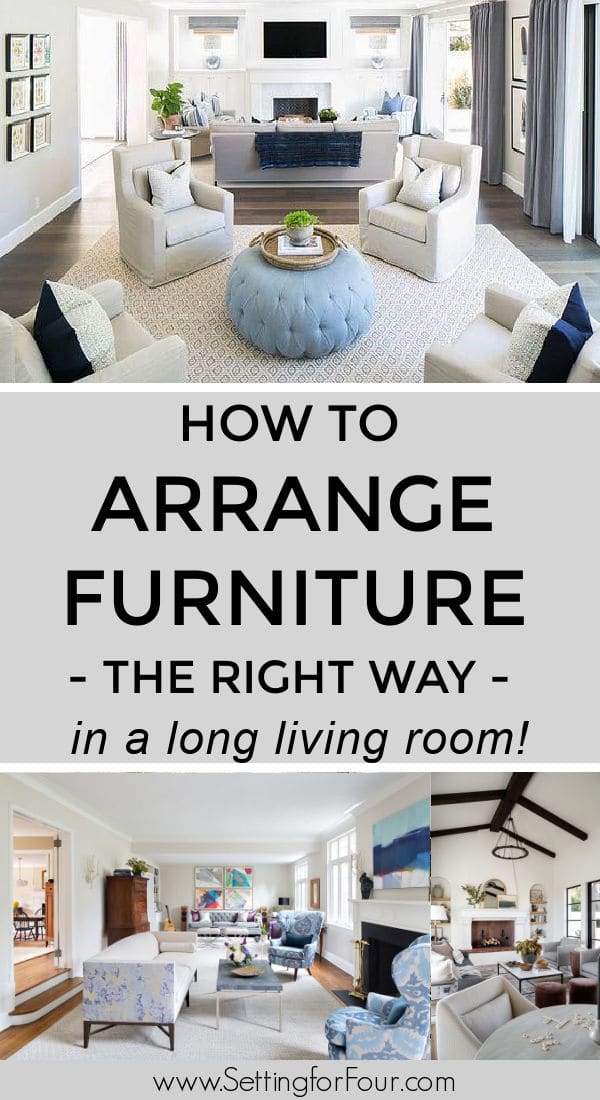 Follow me on Instagram and TikTok for more Design ideas and inspiration!
This post may contain affiliate links.
More Design and Decor Ideas: