See these 6 Fall porch decorating ideas to celebrate autumn and add plenty of curb appeal! Anyone can decorate their porch for Fall with these simple decorating tips and tricks!
Plus, see the video I made of my front porch decor! Scroll down below!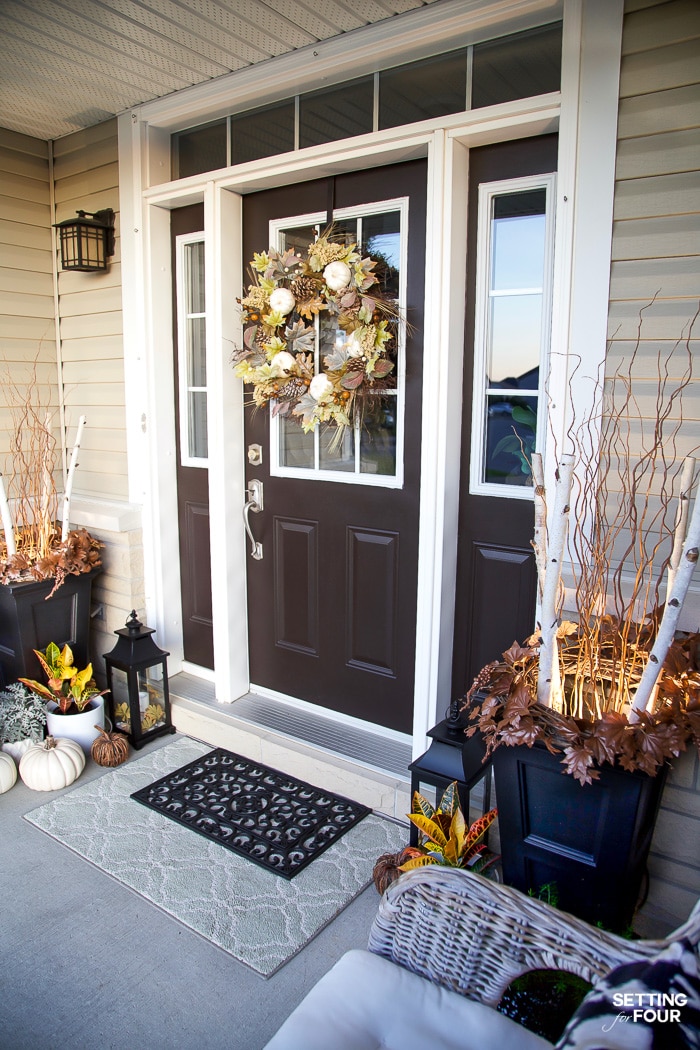 These porch decor ideas will make your home the best looking on the block.
This post contains some affiliate links for your shopping convenience. Click here to read my full disclosure policy.
 Today I'm sharing how I decorated our fall porch and how you can decorate yours even if you have a small porch!
Here are the sources to my fall porch! Click on the images below and scroll using the arrows to see all the items!





Here's a video I made of my Fall Porch Tour! I hope you enjoy it!
Fall Porch Decor Decorating Ideas To Celebrate Autumn!
These pretty fall decorating ideas will make you look forward to cooler temps!
PIN THIS AND SHARE IT WITH YOUR FRIENDS!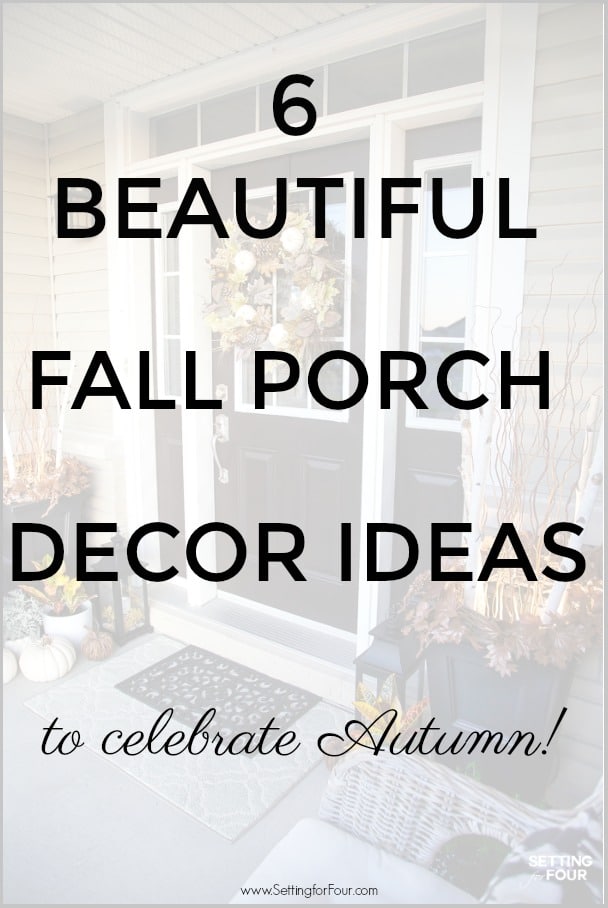 See my front door color here.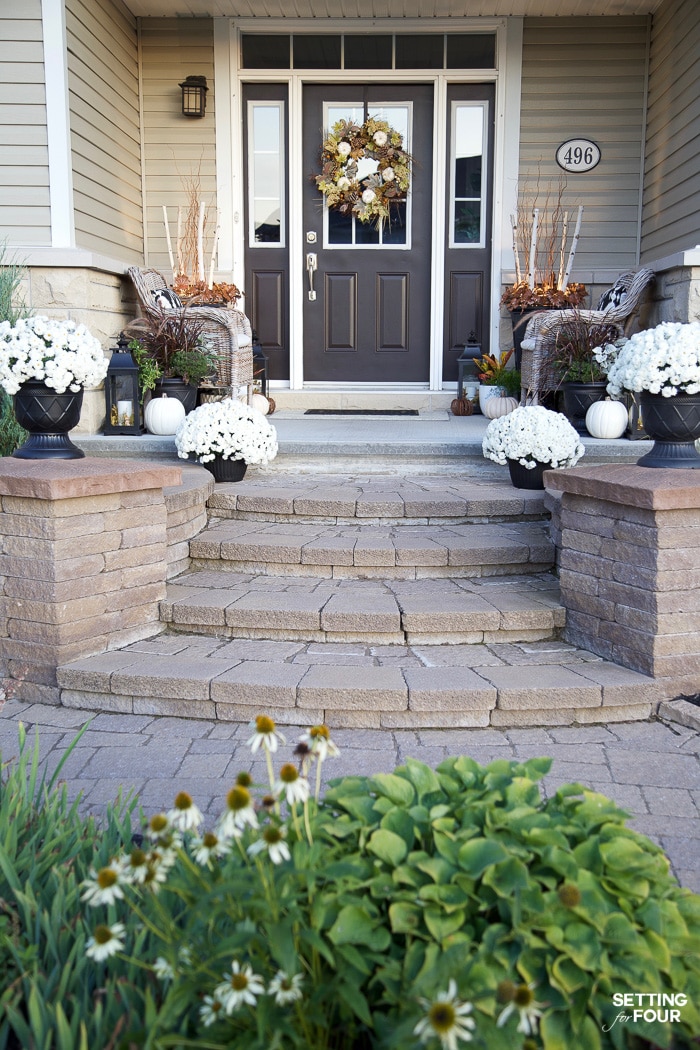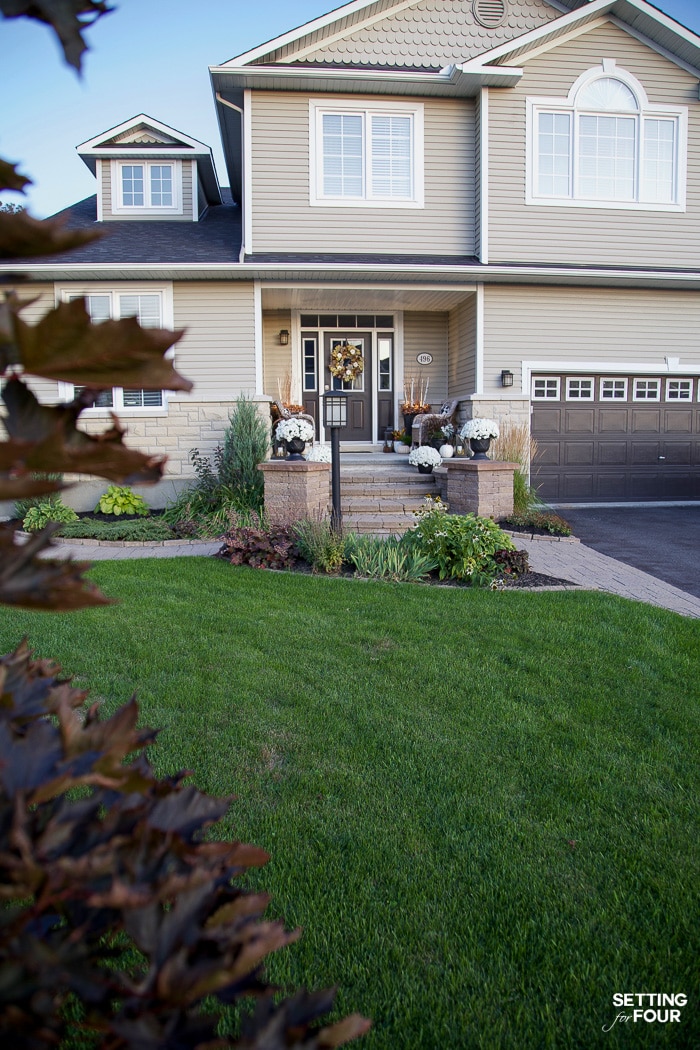 1. Add Impact To Your Front Door With A Fall Wreath
This year I bought a new wreath for our front door – this beauty is from HomeSense! There are so many affordable wreaths in stores and it's easy to customize them too. This one had sunflowers on it….which I snipped off with wire cutters and replaced them with these gorgeous sparkly pumpkins I bought at Walmart.
I love how elegant this wreath is, with the berries and fall leaves!
Even if you have a small porch you can add a beautiful fall wreath for wow factor!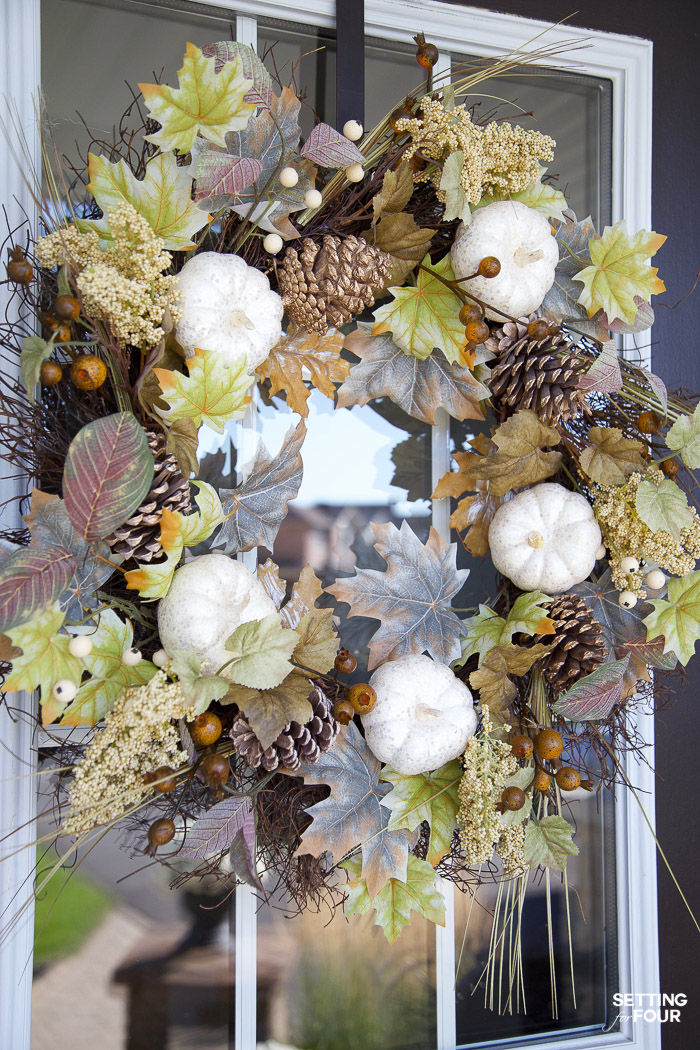 2. Layered Door Mats
I love this layered door mat look! They look cozy and welcoming! Layering mats is a great way to add texture and pattern to a fall porch!
I layered this gorgeous rubber door mat with this beautiful gray and white area rug that is perfect for outdoors!
Such a beautiful combination of door mats!
Small porch tip: Buy two small door mats to layer, making sure the bottom one is a bit bigger than the top one.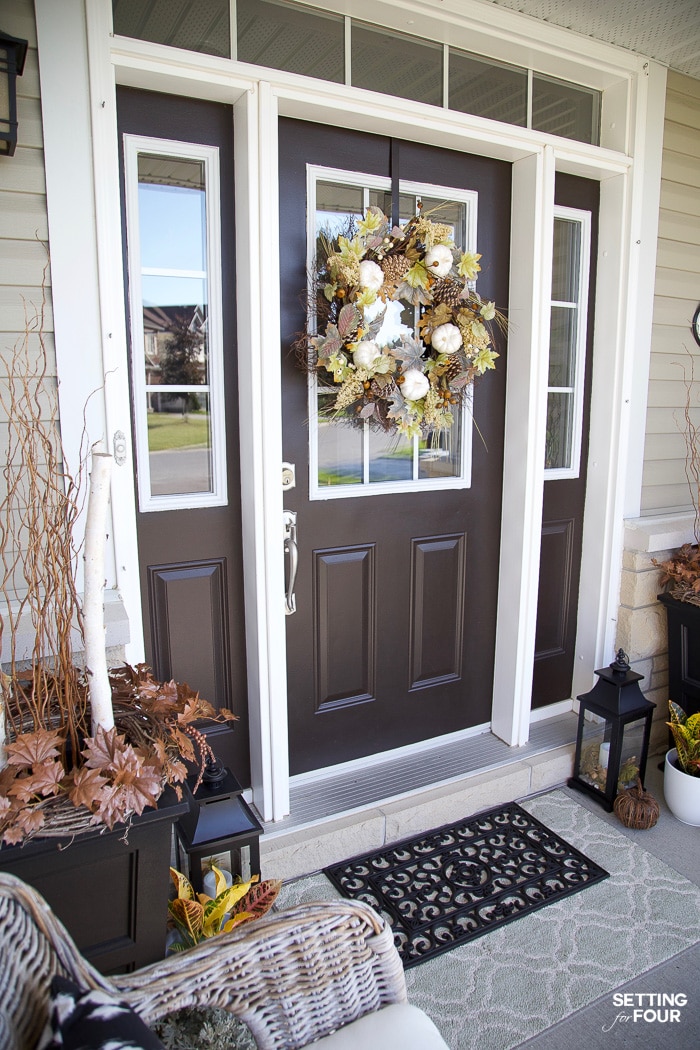 ---
Need help with furniture layout, decorating or help picking paint colors? I offer online design services and paint color advice!
See the info on my services & client reviews here!

---
3. Give your Porch Some Impact and Celebrate Autumn with Tall Planters
Tall planters give a porch impact, color, height and a wow factor! If you have a small porch you may not be able to fit two big planters on it, but you can add a small pot or two of mums!
These composite planters are my favorite planters and they come in white and clay beige too! They have an insert in them so they don't get super heavy.
For fall you can fill your planters with artificial fall leaf branches, a faux olive tree or live plants!
I kept my fall planters clean lined and simple looking this year because of all the potted plants and flowers I added to our porch.
The spot lights in the middle of the planter are on timers so they automatically turn on at dusk and give the most gorgeous inviting glow to our home!
I removed the artificial fern picks that I had in my planters for summer.
Then I added some copper colored curly willow and white birch branches into the middle of the planters, then added a fall leaf garland to the top of the planter.
These are quick changes to give your porch an inviting autumn feel.
If you have a small porch you may not have room for planters so consider adding a couple of small or medium planters at the bottom of the steps that lead up to your porch, or add a couple of fall hanging baskets!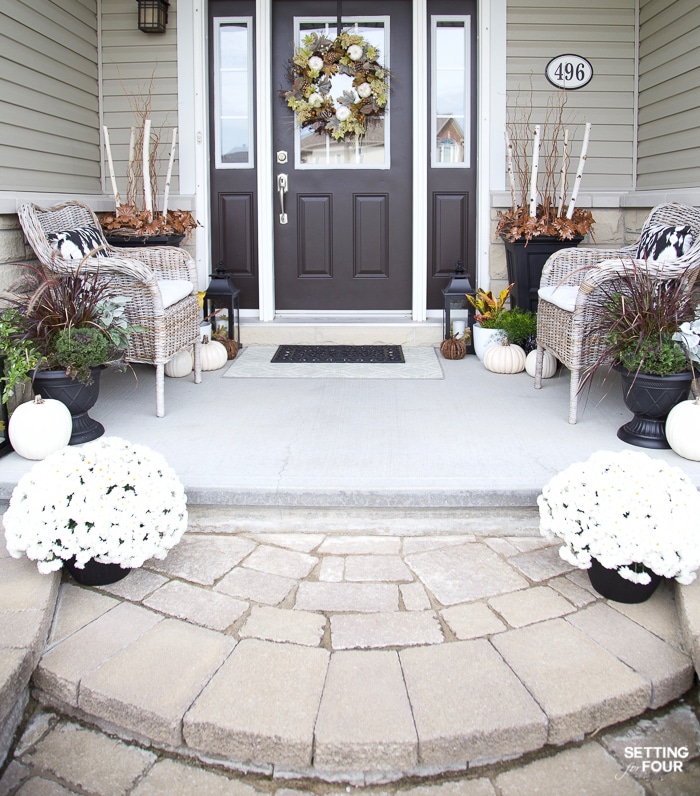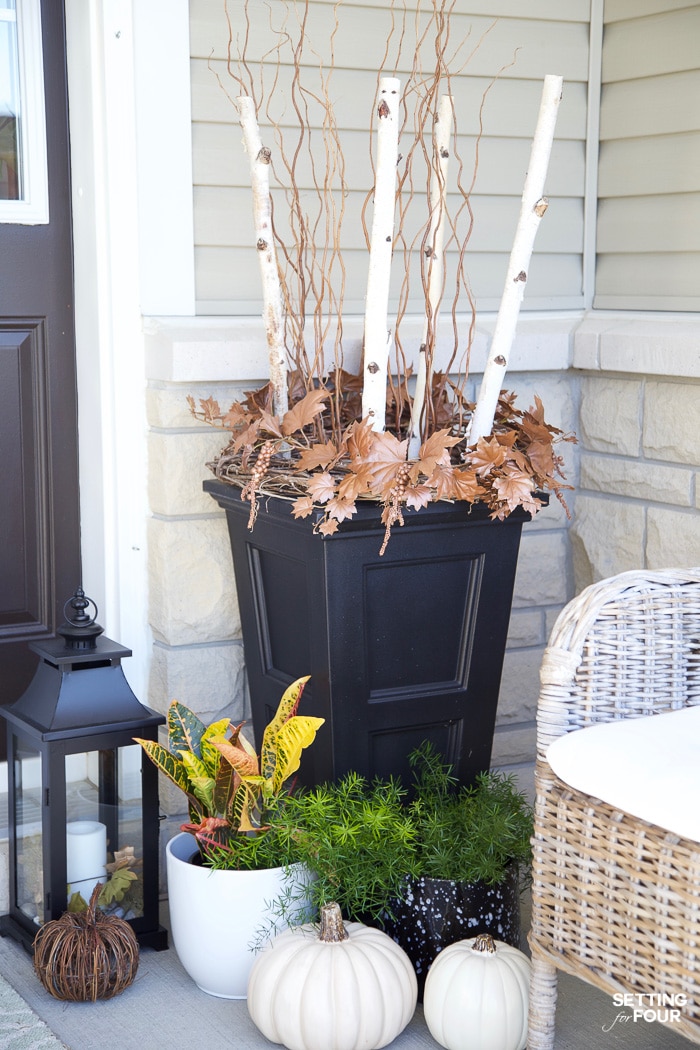 My Heuchera, Coral Bells, plants are so pretty right now! I just love their deep plum colored leaves!
They are a fabulous fall perennial plant to add to your front flowerbeds!
Landscaping Around A Lamp Post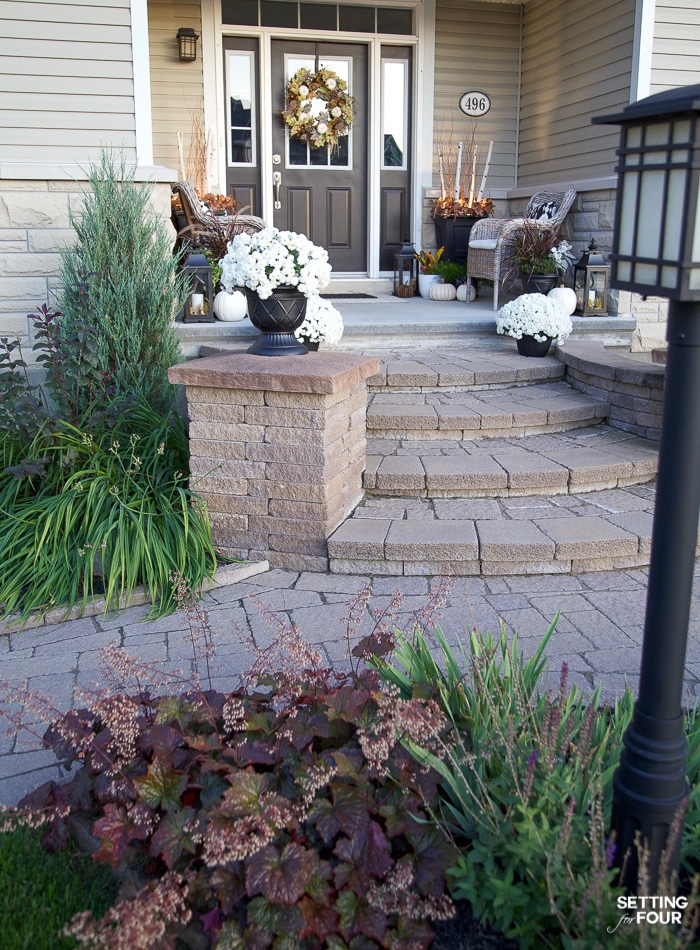 4. Outdoor Lighting
Battery operated outdoor candles in lanterns are the easiest way to add inviting light to a porch. Also as I mentioned above, adding landscaping flood lights to tall planters will really add impact too! https://amzn.to/39eJqql
I have our outdoor planter flood lights on timers so they automatically turn on at dusk….the effect of the light spilling up into the curly willow is so stunning!
Every time I drive up to our home at night, it's such a great feeling to see our porch lit with the soft glow of the lights!
If your porch is small add the lanterns at the bottom of the steps to create a pretty shimmer.
I used these lights inside the planters: https://amzn.to/3CjLARQ and https://amzn.to/3ClZ3Zq
You could also try these lights – they should work beautifully too!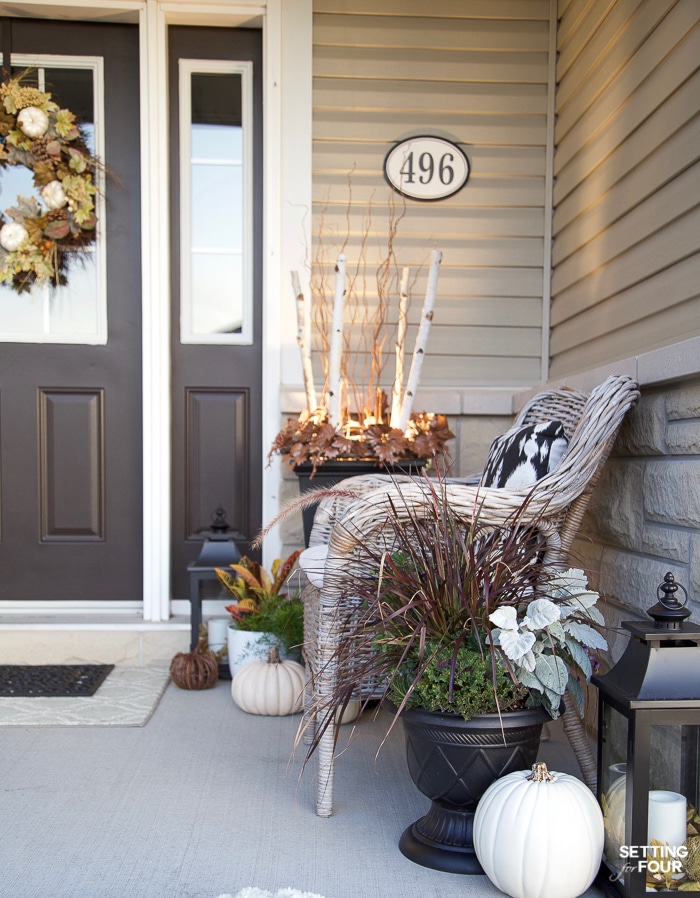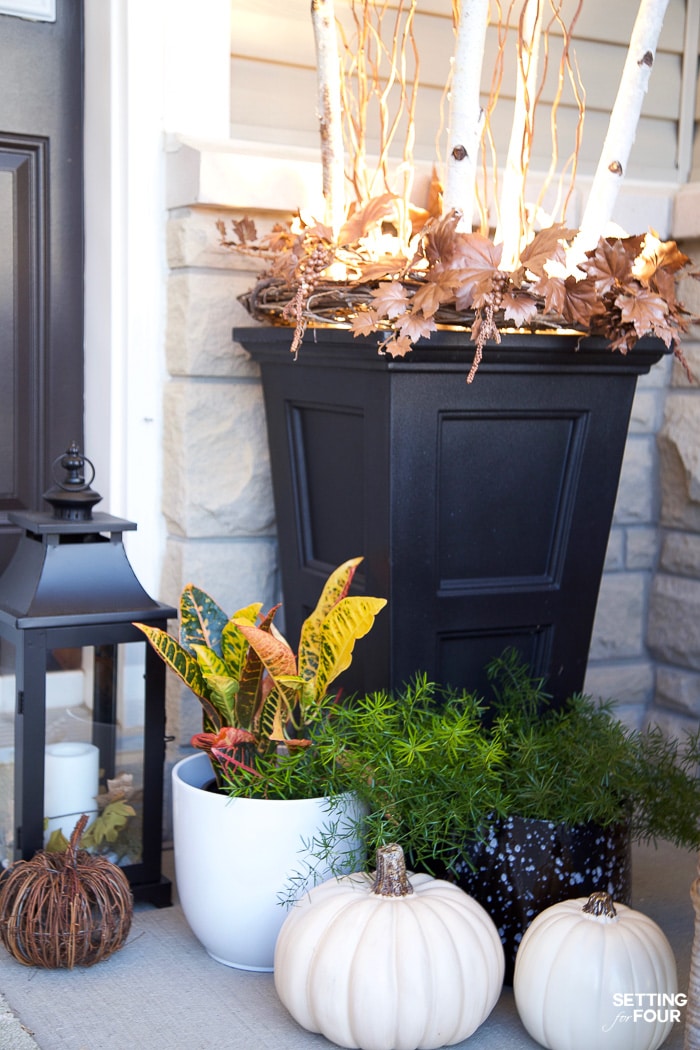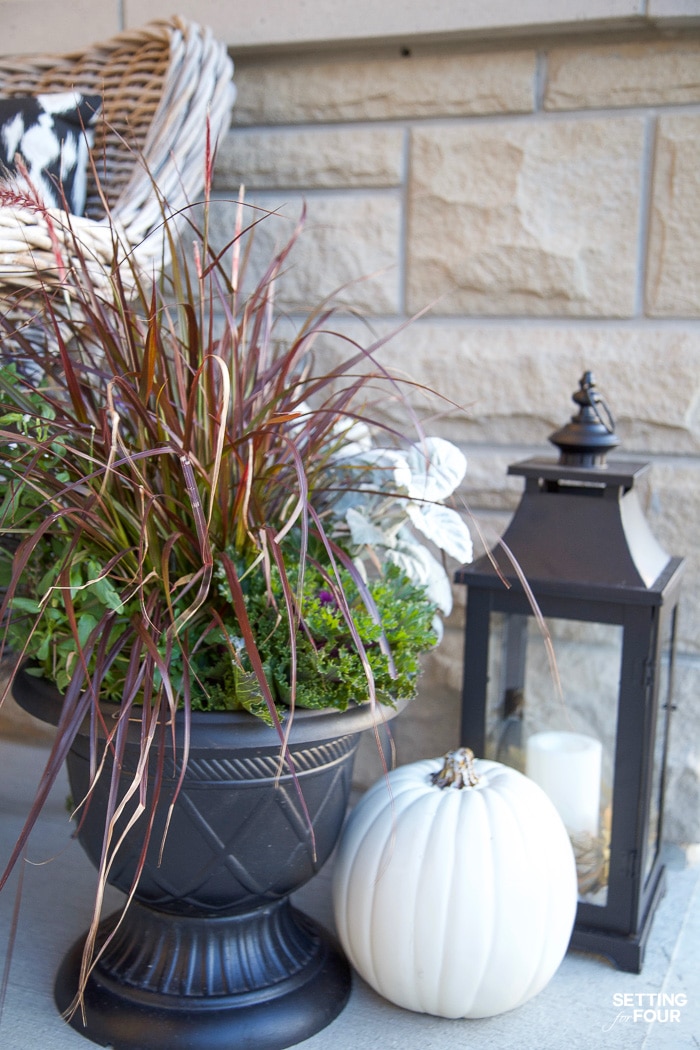 5. Fall Porch Decorating Ideas With Potted Plants
There are so many gorgeous flowers and plants to decorate with in the fall! Dahlias, dusty miller, ornamental cabbages, purple fountain grass & mums! So many plants to celebrate autumn and create that harvest look!
If your porch is small add fall plants with small railing planters that can clip onto your porch railing.
Crotons are my new favorite fall plant!
They add a lot of flair to a fall porch with their stunning kaleidoscope of orange, yellow and burnt red colors!
I added two crotons in white pots by the black planters to make their colors pop!
I also added a pot of dusty miller and I kept this asparagus fern out since it's still doing so well. I love these green colors for fall!
I found these planters of fountain grass, ornamental cabbage and white petunias and HAD to buy them to add a pop of plum color to our porch!
I tucked them by our rattan arm chairs.
My go to fall flower are white mums! They are just so cheery and give a porch a bright, welcoming feel.
Two potted mums in urn planters on our porch steps and two on the front columns give our porch such a cozy feeling.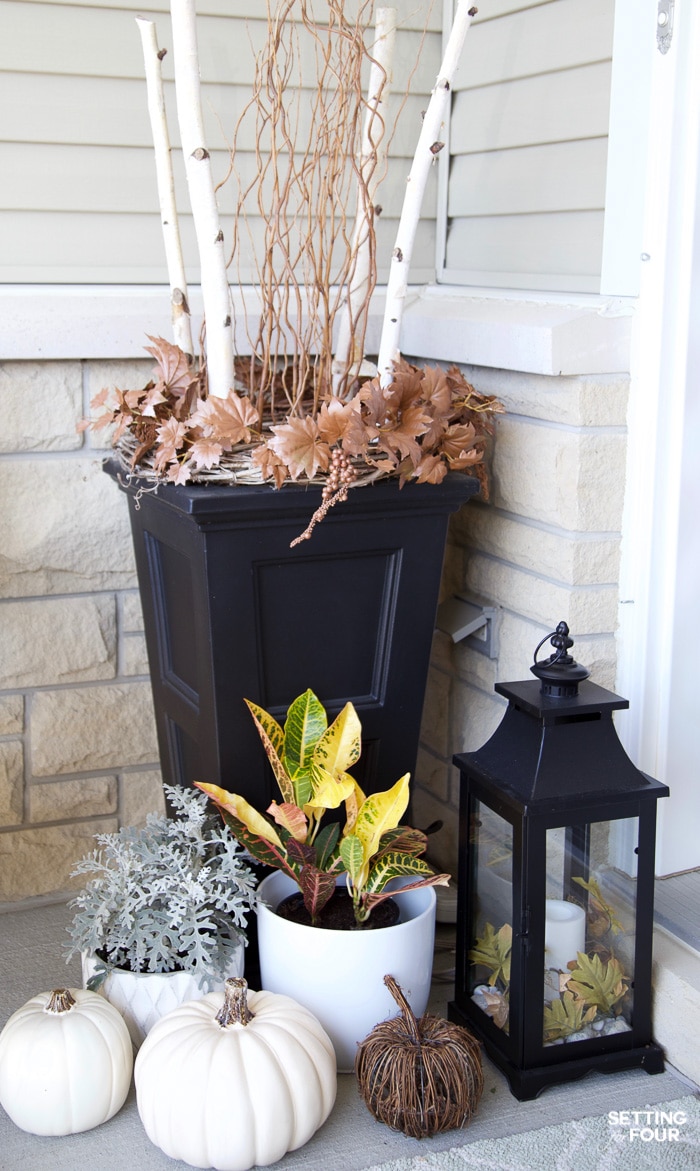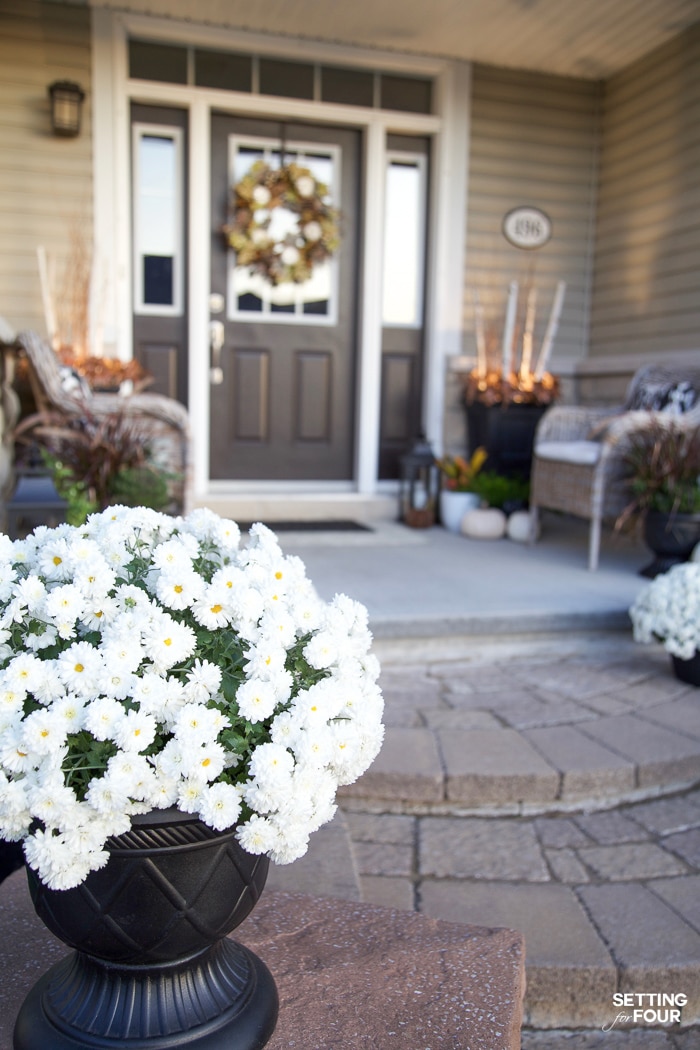 6. Pumpkins and Gourds
I couldn't find any real pumpkins so I displayed these no-fail artificial white pumpkins and a few twig pumpkins that match the color of my front door!
I love these gorgeous artificial hand lettered white pumpkins that you can get personalized with your name or your house number!
Pumpkins and gourds are a great way to decorate a small porch! You can buy mini baby boo pumpkins that will fit even the tiniest front porch!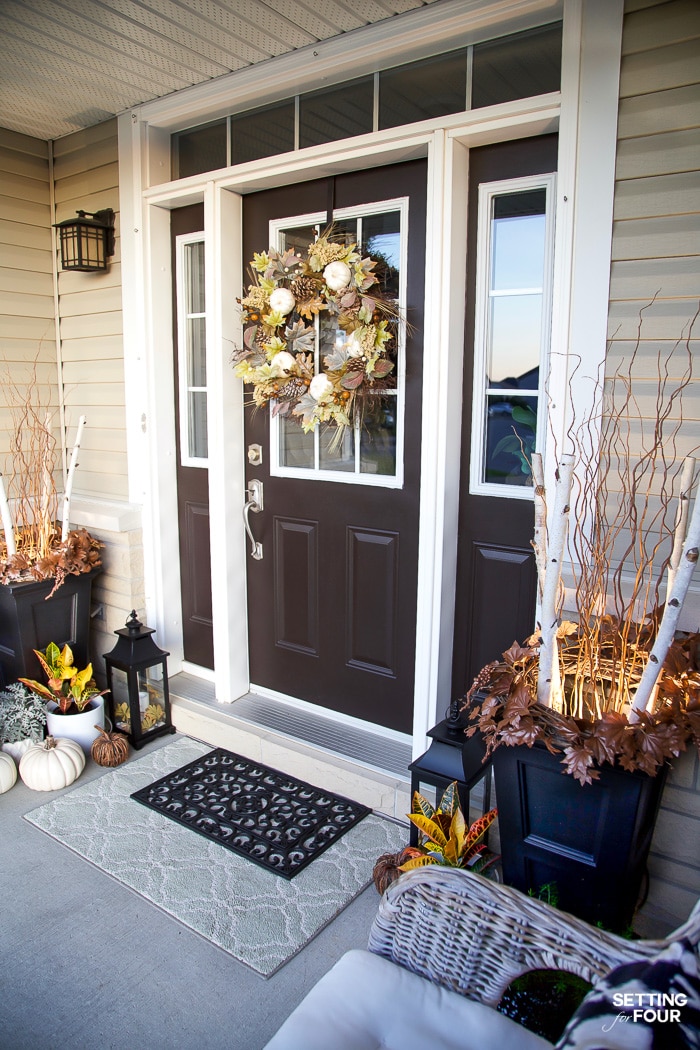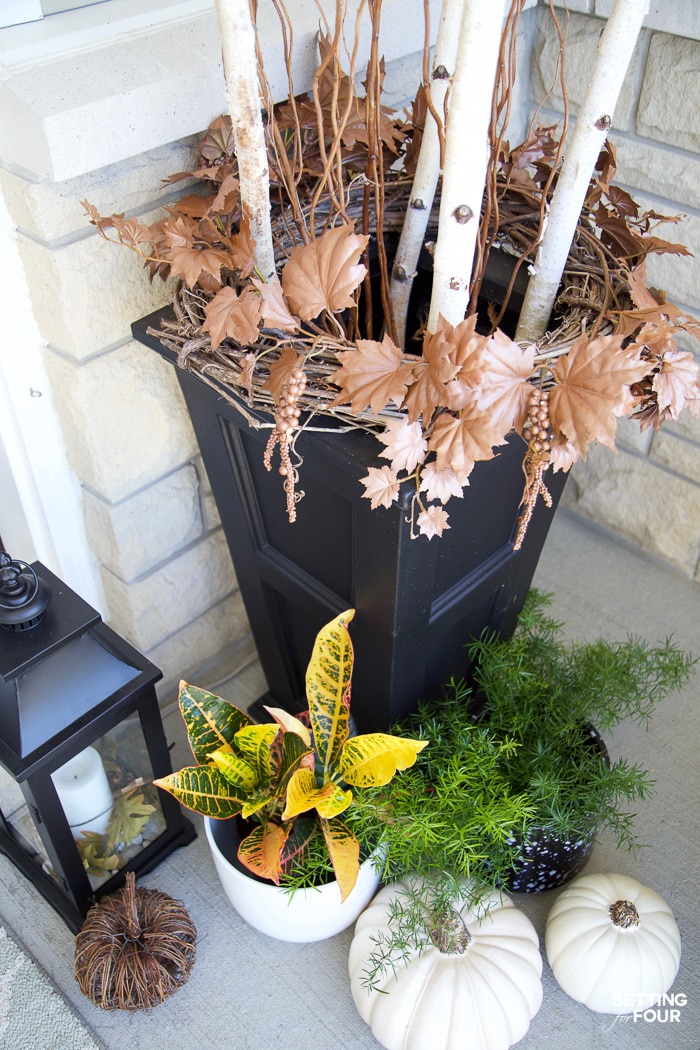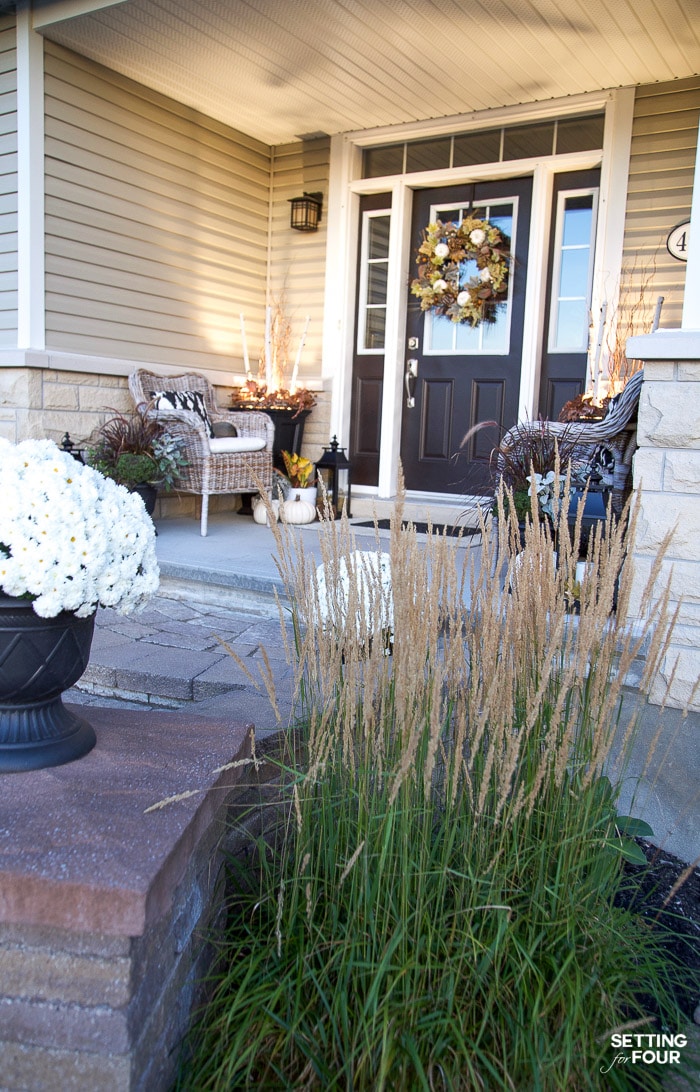 I hope you enjoyed seeing my fall porch! 
If you have any questions about it please leave a comment below!
Here are the sources to my fall porch! Click on the images below and scroll using the arrows to see all the items!