See these 4 beautiful Fall entryway decor ideas! Simple ways to welcome autumn into your home with pumpkins, faux flowers and stylish fall decor! Show your family and guest you really care with these cozy, inviting fall decorating ideas.
Plus see my new area rug! I'm obsessed with it, it's so beautiful!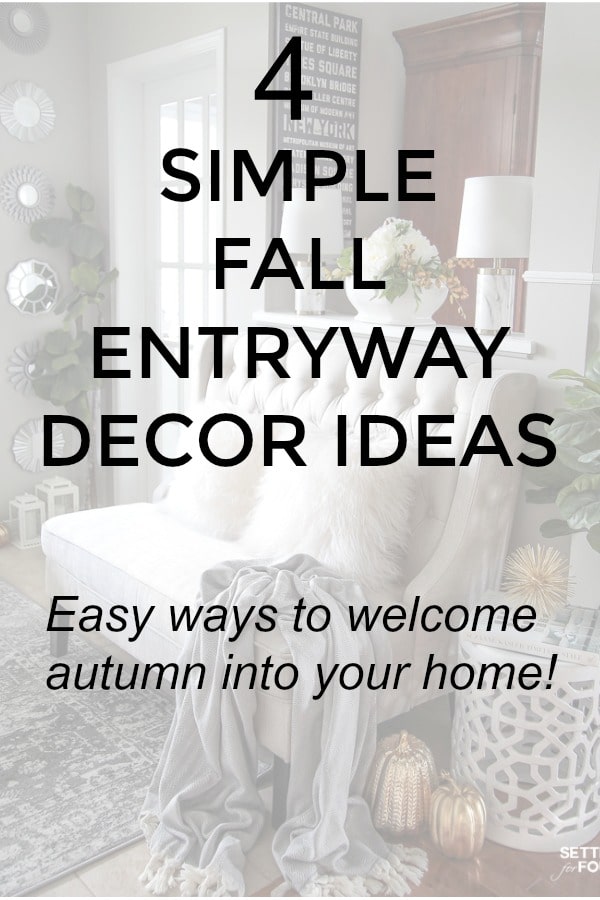 Here are all the decor sources for my entryway! Click on the images below and scroll using the arrows to see more information on each item!



This post contains some affiliate links for your shopping convenience. Click here to read my full disclosure policy.
The first space your guests see when they enter your home is your entry way, so why not make an amazing first impression and decorate it with fall style, love and thoughtfulness for everyone to enjoy?
Have you seen my latest fall porch tour YouTube video where I share a live tour of my porch at dusk with pretty lighting and decor ideas? I hope you'll like it! 🙂
Fall Entryway Decor Ideas: Simple Ways To Welcome Autumn Into Your Home
1. Fall Flowers
Whether real or artificial, adding an arrangement of fall flowers will add instant beauty and color to a foyer! I love to buy fresh fall flowers and mix in some fall leaves from plants in my garden like I did here.
This year I used the same faux flower arrangement in my white tureen that I used for my summer entryway, and simply tucked in 3 faux leaf stems and some faux caramel colored berry stems like these!
I bought a faux berry stem and using wire cutters I cut it up into 6 pieces and tucked them in randomly here and there, letting some trail down and some pointing up and sideways.
It only took me a few minutes to transition my summer floral arrangement to fall!
I love this mix of white, green and caramel for autumn!
Wondering where to buy fall decor? This is one of my favorite places to shop for inexpensive fall decor and this is another place to get fall decor that's truly stunning!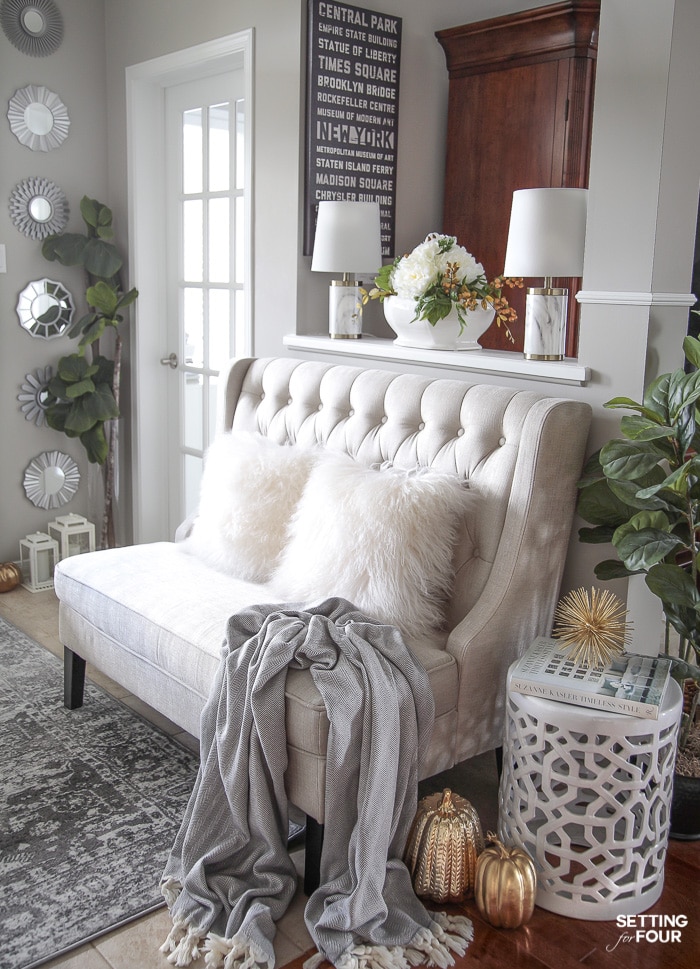 Shop this look! Click on the images below and scroll using the arrows to see more information on each item!

---
Need help decorating or help picking paint colors? I offer online design services and paint color advice!
See the info on my services & client reviews here!

---
2. Pumpkin Decorations Are Essential Fall Entryway Decor Ideas!
What would fall be without pumpkins?!!
Check out these 32 Beautiful Fall Pumpkin Decorating Ideas  for new ways to sprinkle pumpkins into your decor!
I bought a couple of these STUNNING gold ceramic pumpkins (they are a really  nice size and a gorgeous gold color!) and I mixed in a few of my DIY spray painted pumpkins that I painted with my favorite gold paint!
I just quickly tucked them around my entryway for a pop of shine and another layer of gorgeous fall color!
I love how elegant and simple these pumpkins look! Such an easy way to welcome autumn into your home.
They tie in with the gold in my gold and marble lamps and my gold sea urchin sphere too.
See my DIY white painted pumpkins with rhinestone accents – they are one of my most popular fall posts!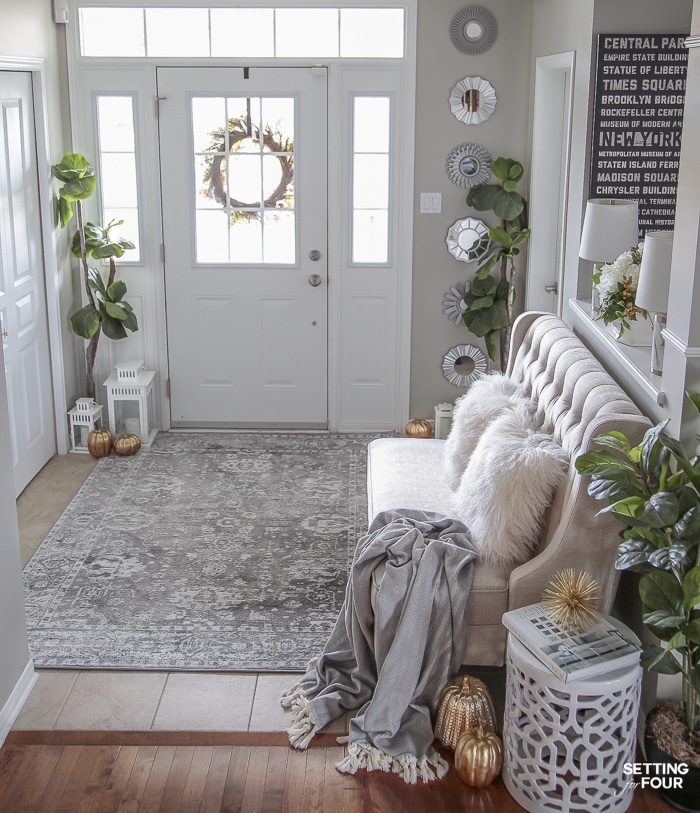 3. A Bench For Seating
Okay this isn't just a fall entryway decor idea, it's an everyday decor idea! But a bench is perfect for fall when you are wearing your cute boots and need a spot to sit down to put them on!
I am obsessed with this settee bench! The tufting and piping is so gorgeous! It's so comfortable and we use it all the time to sit and put our shoes on, put our things on like mail and keys when we enter the door!
Our guests love using it when the come into our home – it's such a welcoming piece of furniture. And so versatile too! Add it to your dining table for banquette style seating or in the bedroom.
Settees really don't take up a lot of room – I highly suggest you add one to your entryway if you have the wall space for one!
They make a marvelous focal point and add that always needed layer of texture that fabric gives!
If your entryway is too small for a settee or bench, add an ottoman pouf or two! Ottomans are AMAZING decor pieces and come in so many shapes and colors!
Ottoman poufs like these or these will look beautiful in an entryway.
These 8 Ways To Use A Pouf In Your Home will give you ideas on how they will look!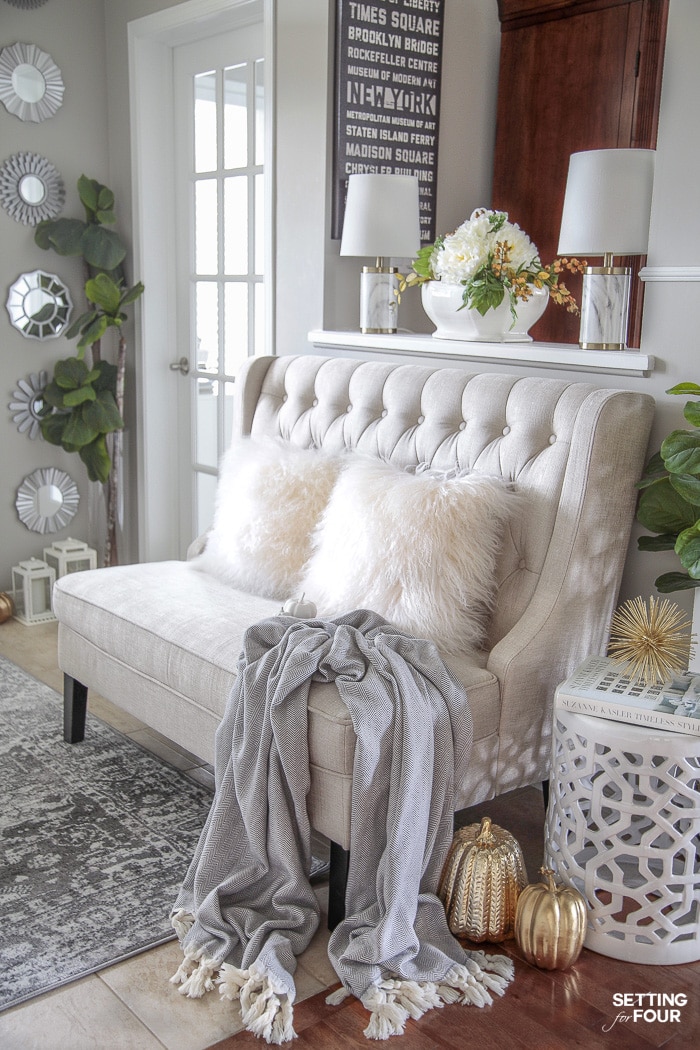 4. Fall Color and Texture with Throws, Pillows and an Area Rug
This year my fall color palette in my entrance is white, gray and gold.
This article on how to Understand The Color Wheel & Color Schemes To Become A Better Decorator will help you pick a color palette that's perfect for your space.
Gray has always been one of my favorite colors. I'm not talking about cold, sterile gray…..I love greiges with a warm undertone that has depth and character.
I love layering different shades of warm neutral grays both as a neutral backdrop, like my wall color here, and as an accent color to my home for a cozy feeling.
I recently bought this gorgeous gray and ivory area rug and I absolutely love the vintage distressed pattern it has that's so popular right now! It's a traditional pattern with a contemporary edge.
Make sure you buy the biggest size area rug that will fit your entrance…one of the biggest mistakes my design clients make is buying a rug that's too small for the room!
See these Tips for Decorating with Area Rugs for more help on how to choose the best rug for your room.
This is a 5'3″ x 7'3″ size.
I love it's low pile too, which makes it perfect for an entryway that gets a lot of traffic and it's so easy to clean.
It really brightens up our foyer too compared to the black and ivory trellis rug I had in here. (I truly still love it too so I've moved it into another room!)
Next up add this cozy throw with tassels to the bench for texture and pattern. I'm obsessed with tasseled throws – this gray and white throw is so incredibly soft and the fringe is elegant and beautiful!
Add a couple of fall pillows to your bench or tucked in a basket in your foyer for some instant fall style!
My Mongolian fur pillows add AMAZING texture and a cozy, modern fall look. I always have these pillows in one of my rooms at all times of the year, I really love them that much!
Some of my other pillows I put in storage depending on the season but these always stay out!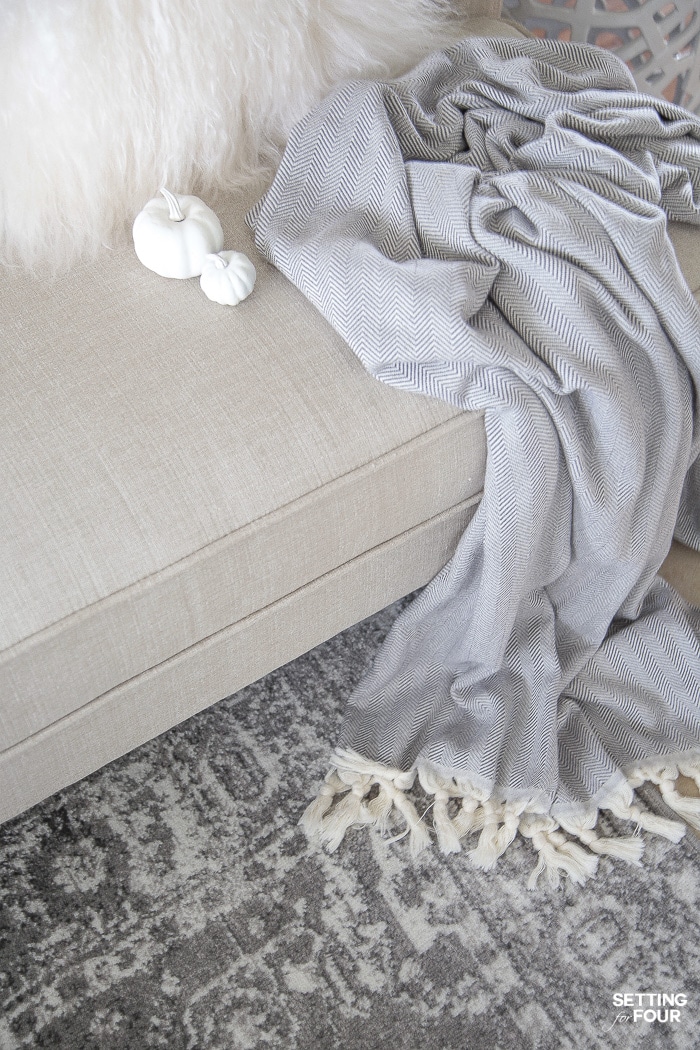 Here's another view of my fall entryway with my gold spray painted pumpkins and fall faux florals! I really love how relaxing this color palette is and the shimmer of the gold and brass gives our foyer so much warmth!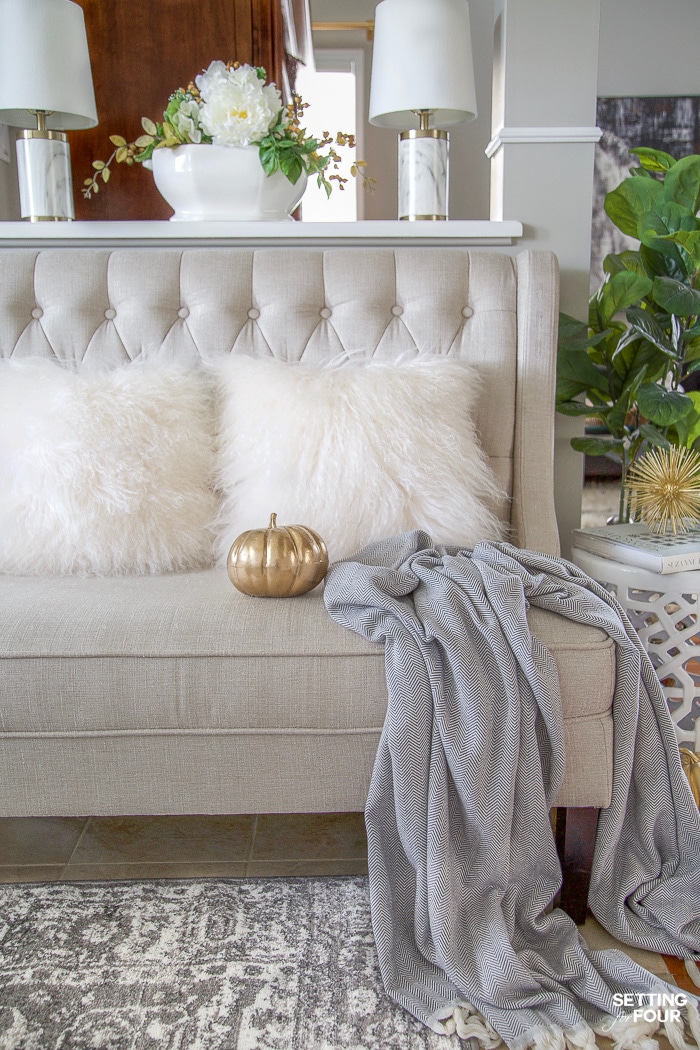 I hope you enjoyed seeing my fall entryway decor ideas and tips to welcome autumn into your home! How have you decorated your entryway this year? Let me know in the comments below!
You may also like: