Fall kitchen decor ideas for the kitchen island, countertops and more! Quick and easy styling tips and decor tricks to bring the beauty of autumn into the kitchen! How to create a fall decorated kitchen that's cohesive, not cluttered.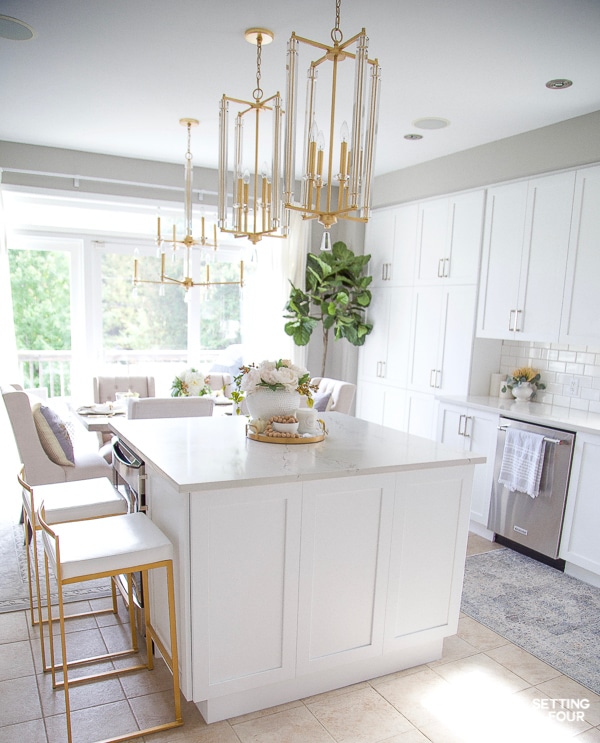 This post contains some affiliate links for your shopping convenience. Click here to read my full disclosure policy.
Shop the look of my fall family room! Click on the product images below and scroll using the arrows to see more about each item!



Fall Kitchen Decor Ideas – Kitchen Island, Countertops and More!
The kitchen is the heart of the home, where everyone congregates! Make it festive for fall with these easy decorating ideas! I think a beautifully decorated kitchen makes cooking more enjoyable too!
This is one of my favorite stores to shop for inexpensive fall decor and this is my go to for shopping great sales!
1. Fall Kitchen Island Decorating With A Tray
Add a tray to your kitchen island and fill it with a fall scented candle and a vase of fall flowers! Add a decorative fall pumpkin to complete the look!
2. Kitchen Countertop Decor Ideas
Add a set of matching kitchen canisters that will play up your kitchen color palette. I prefer canisters that aren't clear to prevent your kitchen from looking cluttered.
Add a vase of fall blooms, glass pumpkins tucked here and there and a couple of pillar candle holders with battery operated candles will complete the look!
3. Kitchen Sink Area Decor Tips for Fall
Decorate your kitchen sink space with a pretty hand wash and lotion caddy set, and if you have a window by your sink add a few vases filled with fall florals!
4. Kitchen Towels
Add a set of autumn kitchen towels to perk up your kitchen! I love to layer two on dishwasher door handle and one or two on my oven door handle! I also have a set of finger tip towels on a countertop towel stand for quick hand drying!
5. Kitchen Eating Area Decor Ideas
Layer fall placemats with napkins and napkin rings on your dining table. Add a simple fall flower and berry centerpiece to the middle of the table.
If you need design help to update or declutter your kitchen, pick kitchen paint colors, or you want to remodel your kitchen, email me to discuss my online decor services!
Here are lots of pictures of my fall kitchen – I hope you enjoy seeing my neutral, shimmery look for fall!