Learn how to decorate a cozy family room for fall – 5 ways! See these easy sofa and coffee styling ideas, decorative lighting tips & a simple, breathtaking fall centerpiece idea.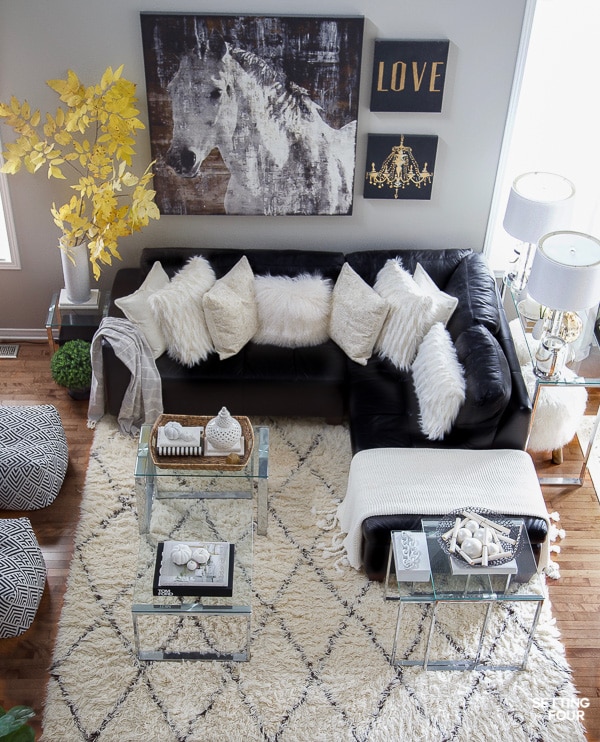 This post contains some affiliate links for your shopping convenience. Click here to read my full disclosure policy.
Shop the look of my fall family room! Click on the product images below and scroll using the arrows to see more about each item!




PLEASE PIN THIS TO SAVE FOR LATER!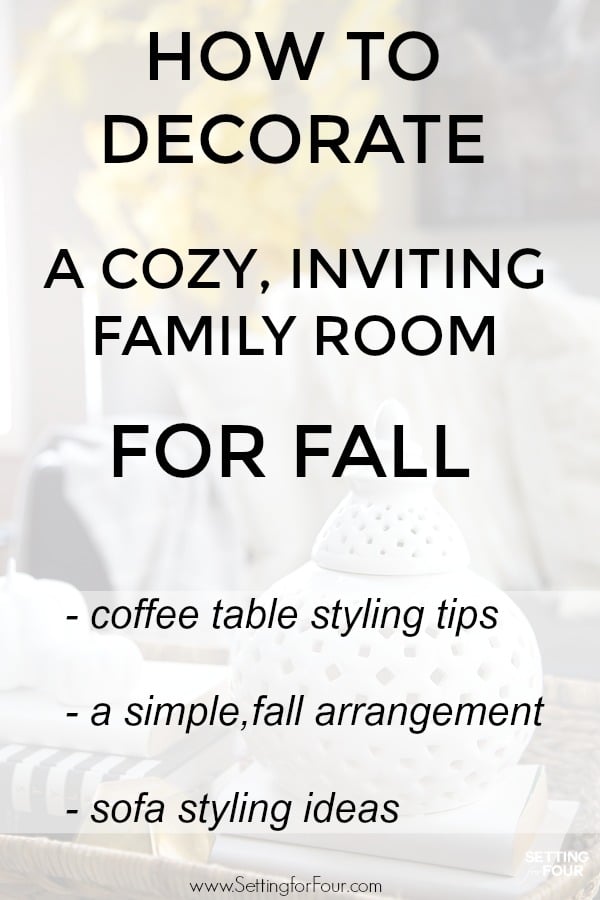 How To Decorate a Cozy Family Room For Fall
1. How to Style Your Sofa or Sectional for Fall:
Swapping out summer pillows and throw blankets s with cozy fall versions creates a soft, "sink-in and relax" feeling to your sofa or sectional!
Pillows and throw blankets add such a huge amount of visual warm and appeal, creating an inviting, welcoming look for you, family and guests!
Here I added gold embroidered pillows, ivory faux fur pillows, Mongolian fur pillows and chunky knit throw blankets to our sectional sofa for Netflix cuddling sessions!
You can store extra extra throw blankets in baskets when not in use. Or fold them and lay them on the sofa arm or chaise of a sectional.
Make sure you ground your sofa with a cozy rug that's the right size! A rug like this Moroccan shag rug is so soft on the tootsies and is drop dead gorgeous!
If you're looking for help sourcing a rug or decor help with your family room check out this printable Design Project Planner that helps you plan room makeovers and remodels or check out my online Design services!
But then they are unhappy with how it makes the room look smaller and not pulled together, and they're unhappy that they wasted money on a too small area rug!
See this Design Tip: How to Choose the Perfect Area Rug to make sure you pick the right area rug size!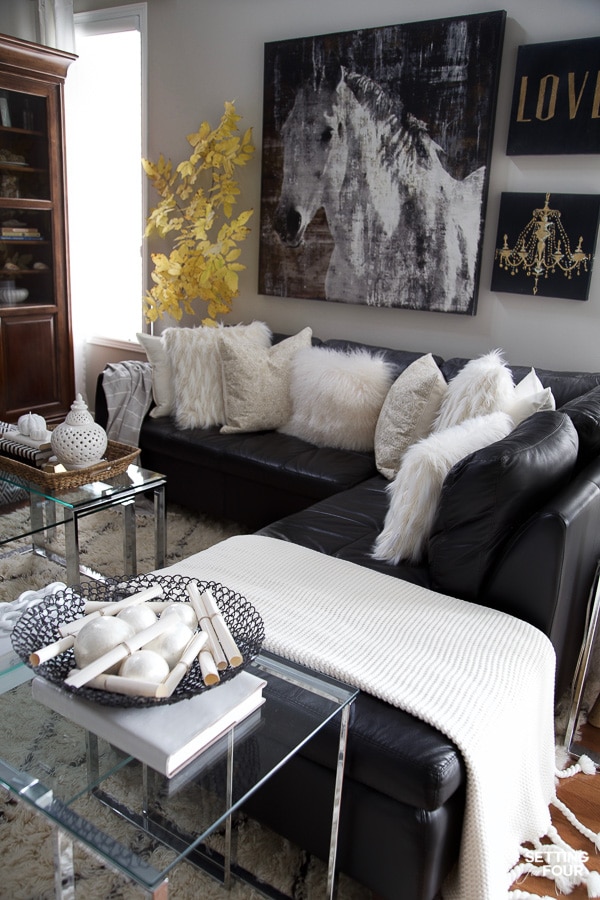 2. A Simple, Standout Fall Centerpiece
Fall arrangements don't have to be time consuming or a lot of work! Enjoy the simplicity and beauty of nature with a stunning colorful fall tree branch clipping from your backyard or forest!
I snipped this stunning, golden yellow branch from our backyard, placed it in a tall vase with some water and set it on an end table beside the sofa. Instant cozy family room!
I love the glorious fall color and leafy texture!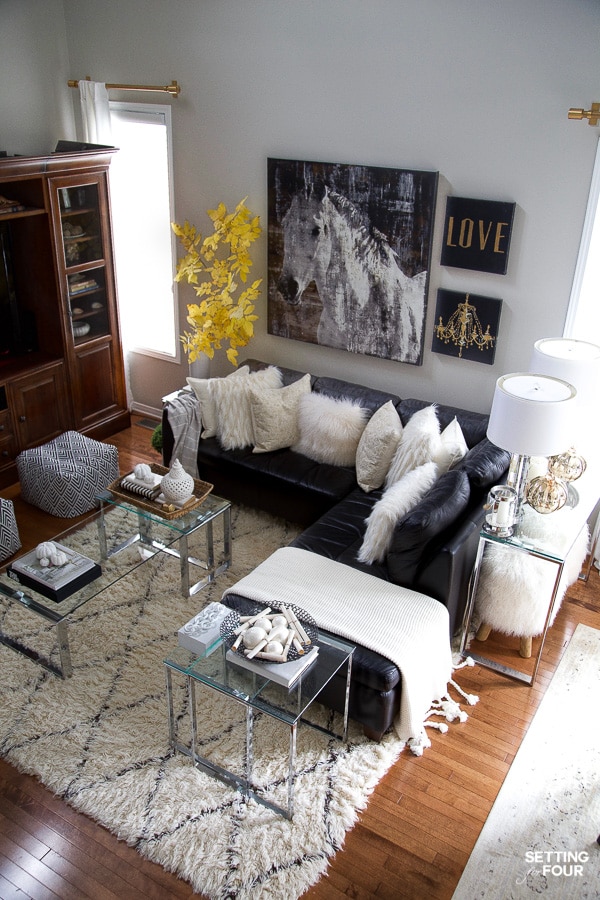 3. Coffee table styling tips
Again keep it simple! Place a few decorative pumpkins on a tray and on a stack of coffee table books for a quick and easy touch of fall!
This is where you can have so much fun decorating with gorgeous glass and velvet pumpkins. If you don't like pumpkins a bowl of orchard pears will work too!
I always have a stack of coffee table books and a tray on my coffee tables. I just switch out the seasonal decor that goes on them…..it makes it so simple and quick to decorate for the changing seasons and holidays!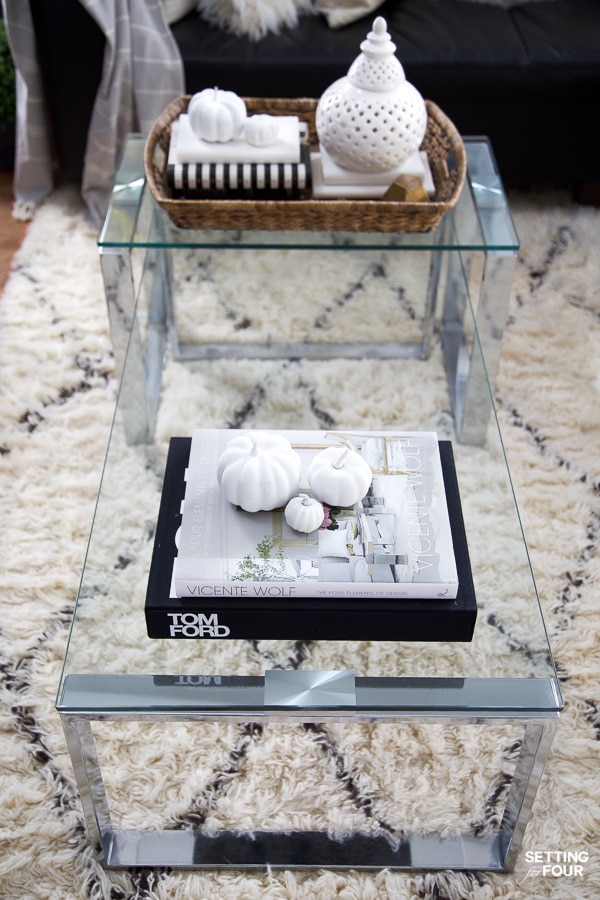 4. Console Table Styling Ideas:
I love adding the glow of twinkle lights to my fall decor to create a cozy family room feeling! They especially look nice on those drizzly fall days that can roll around at the end of the season!
I added two glass pumpkins that are filled with tiny twinkle lights to my console table for some shimmer and shine.
Adding a console table to the back of a sofa or sectional will create a separate zone in open concept room layouts! And it's the perfect place to add table lamps!
Everything else on my console table always stays the same throughout the year, which again, makes it quick and easy to decorate a space for each season and holiday!
That's the beauty of creating layers in your home decor. You can add in a seasonal layer of one or two items right on top of your 'everyday' layer in a jiffy without a lot of expense or time!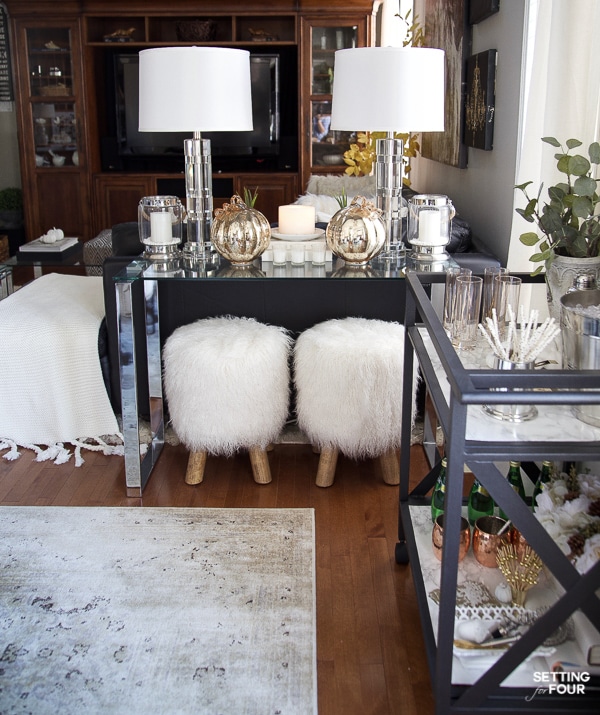 5. Texture and Metallics
Beautiful fall decor is all about cozy, inviting textures and metallics! For texture: use faux fur, velvet, pompoms and tassels on throw pillows and throw blankets.
Add metallic finishes with decorative accents like orbs, spheres and small sculptures. Brass and copper are two metallic finishes that perfectly create a warm autumn look.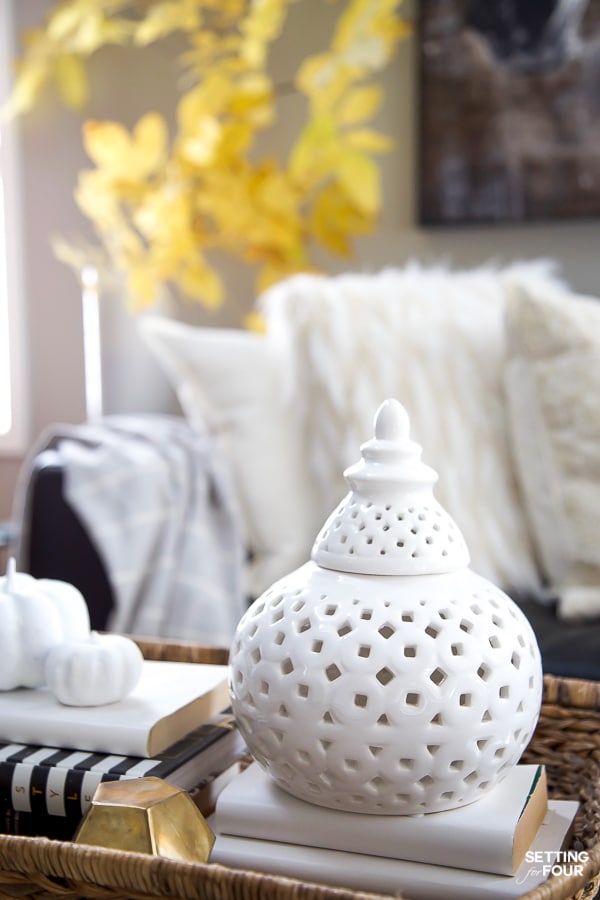 I hope you like my tips on how to decorate a cozy family room for Fall – 5 ways!
You may also like:
The DIY Home Project Planner & Workbook Organizer – 19 Pages!
5 Ways To Create A Whole Home Paint Color Scheme
Tips for Decorating with Area Rugs