Learn how to set an elegant table for the holidays for less! See these budget friendly Thanksgiving dinner tablescape ideas for a memorable family get together or holiday dinner party.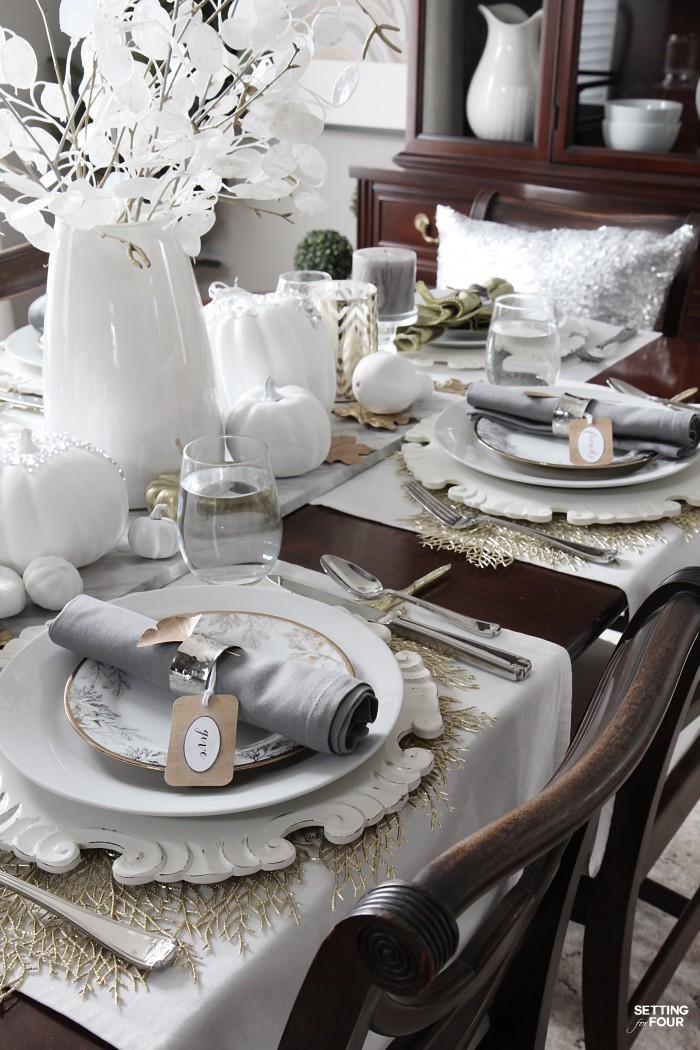 This post has been updated with new information.
I LOVE to entertain – especially for the holidays!! Having our family and loved ones around, music, holiday decor….there is nothing better!
Although I love to add metallics and texture to my everyday decor, the holidays give me a great reason to add a bit more drama and sparkle!
Today I want to pass on some budget friendly holiday table decorating ideas to show you that you don't have to break the bank to create an elegant holiday table like this.
How To Make This Marble Table Runner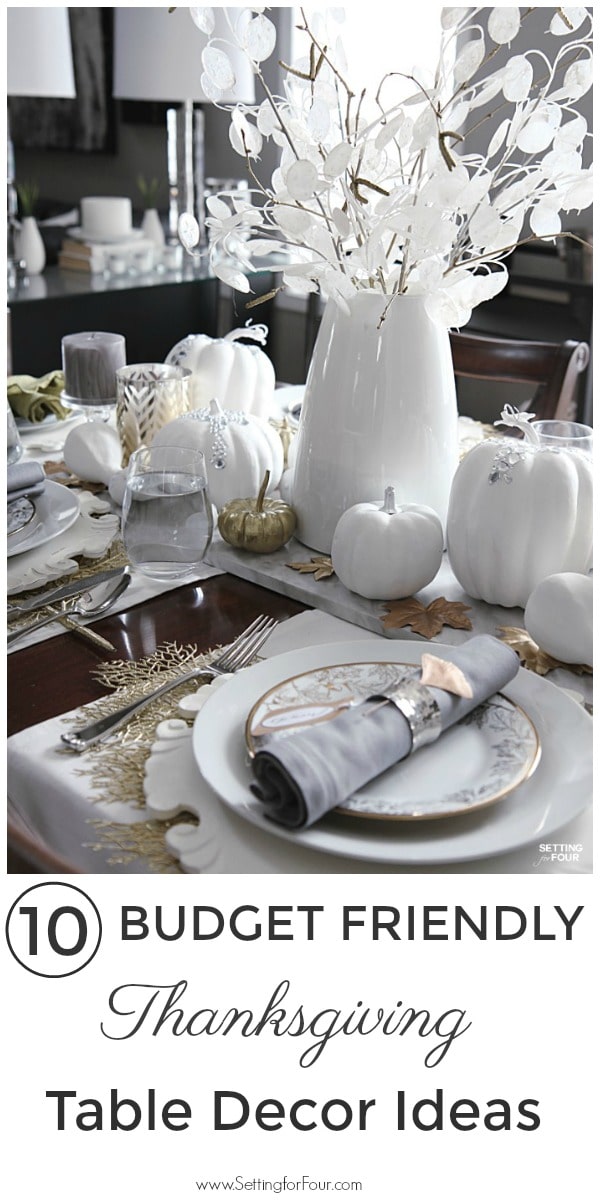 This post contains affiliate links
 How to Set an Elegant Table For The Holidays – For Less!
1. New Art
While your friends and family are gathered around your table for the holidays – wouldn't it be fun for them to admire something new on your walls and create a cozy, stylish ambiance?
Make some new art to hang in your home! These EASY DIY agate wall art pieces are a great way to add instant impact to the spaces you entertain in.
I hung two of these inexpensive DIY pictures on either side of our buffet in our dining room.
These agate look-alike pieces are colored with metallic silver and metallic gold (plus cream, gray and black!) so they actually shimmer in the candlelight.
They add a stylish contemporary twist to our traditional dining room furniture pieces.
See my paint colors here.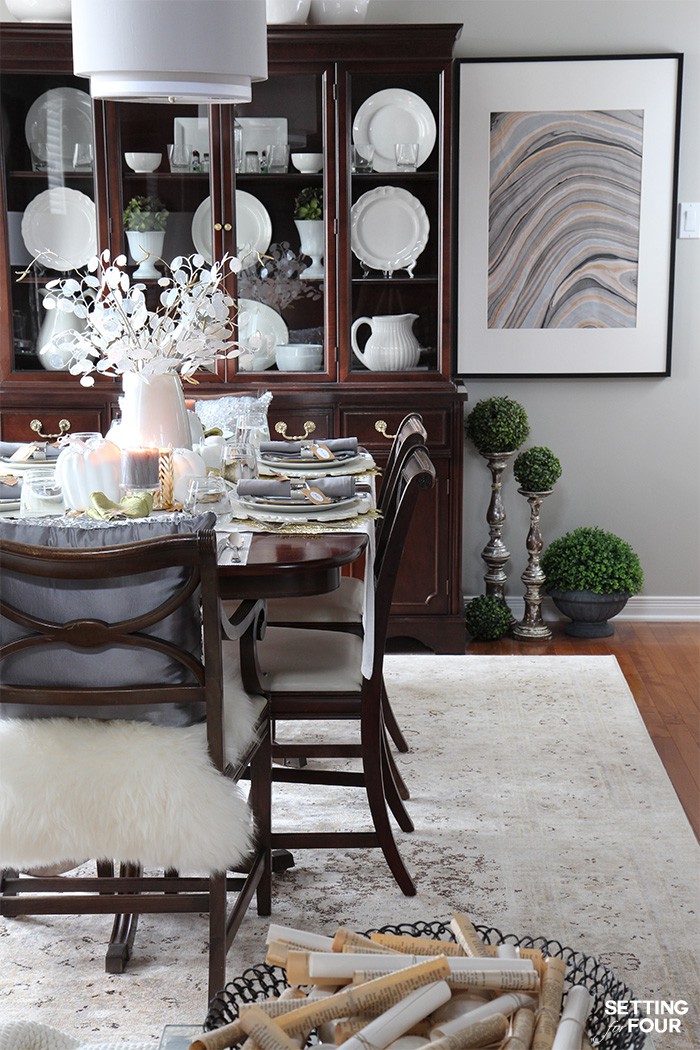 2. Dishes
Don't buy a whole new set of dishes – save money and use your everyday white dishes!
Layer them with a dressy set you may have inherited or received as a wedding gift or pick up just a set of patterned dessert plates to add color and pattern to your white dinnerware.
I picked up these gold metallic oak leaf dessert plates here and I LOVE how they instantly give my table a 'holiday look' to enjoy!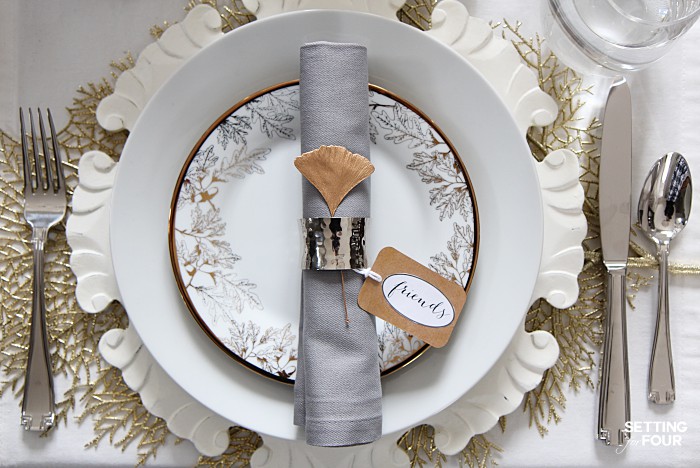 3. Placemats
Add a few nature inspired placemats to give your table a touch of elegance, ready-for-entertaining style!
You can save money by skipping the head table place settings, or just buy two for the head table settings. You don't have to add one to each spot.
I picked up 4 of these GORGEOUS metallic gold branch placemats (they are easy to clean and I've used them a lot!!).
I added one to each of the side table place settings and just used a set of placemats I already owned for the ends.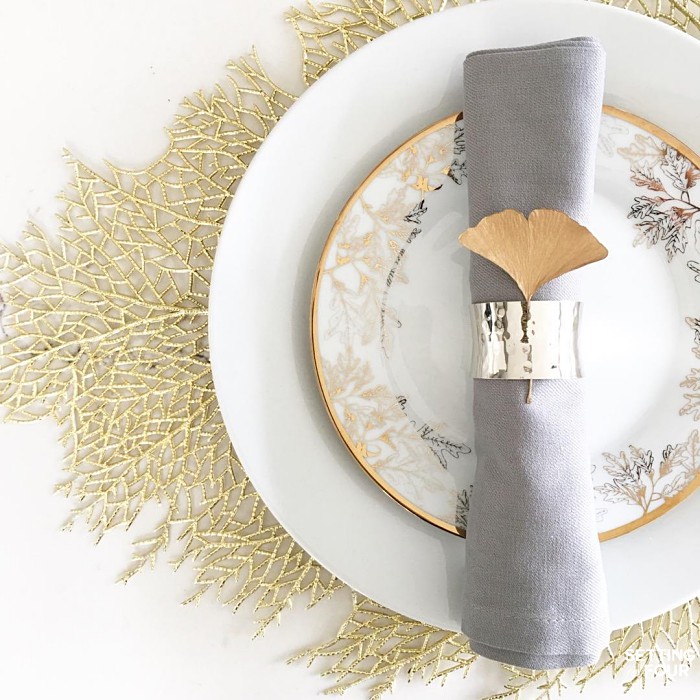 4. Runners
Instead of using one long table runner down the middle of the table try this updated look:
Add two runners placed across the table so they run under two opposite place settings.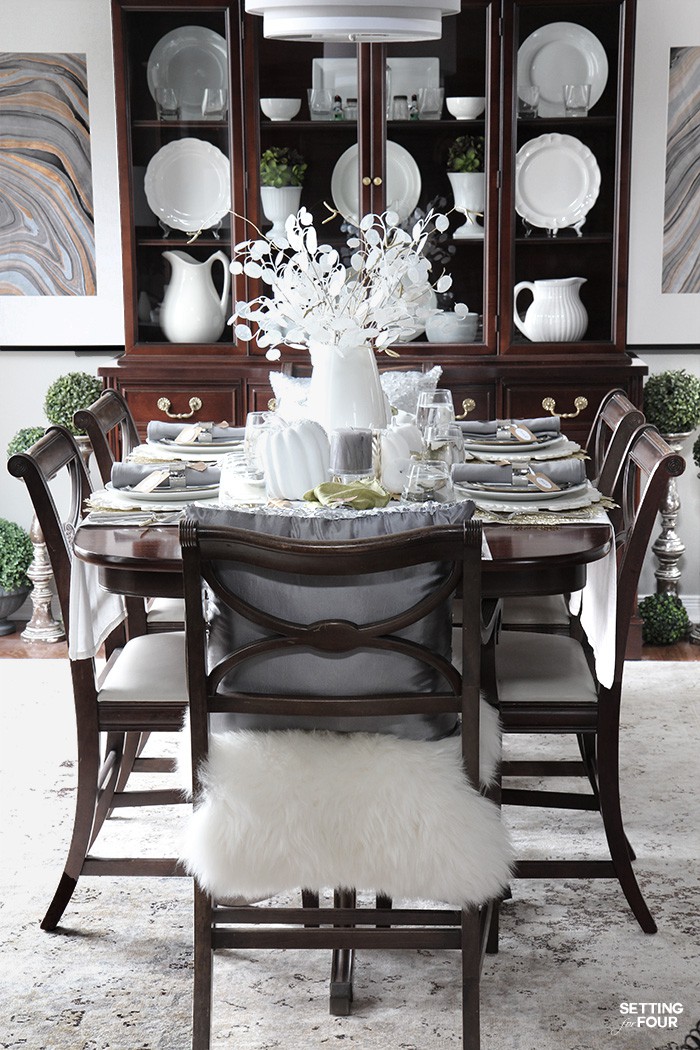 5. Centerpiece
Create a statement centerpiece without dropping serious money at the florist (although florist blooms are so gorgeous – they can be really expensive!)
I made this simple yet chic centerpiece using faux silver dollar branches (they look real not cheap!) and I added some gold twiggy poplar branches from our backyard that I gave a quick spray with my favorite metallic gold spray paint.
You can keep the twigs after Thanksgiving to reuse for Christmas and beyond since they are dried and won't disintegrate.
These silver dollar branches look amazing mixed with pheasant feathers as I did here or mix them with pussy willows for spring.
The point is that you can save a lot of money by reusing faux fabulous blooms/branches and dried botanicals like I do…. instead of buying fresh flowers everytime you entertain.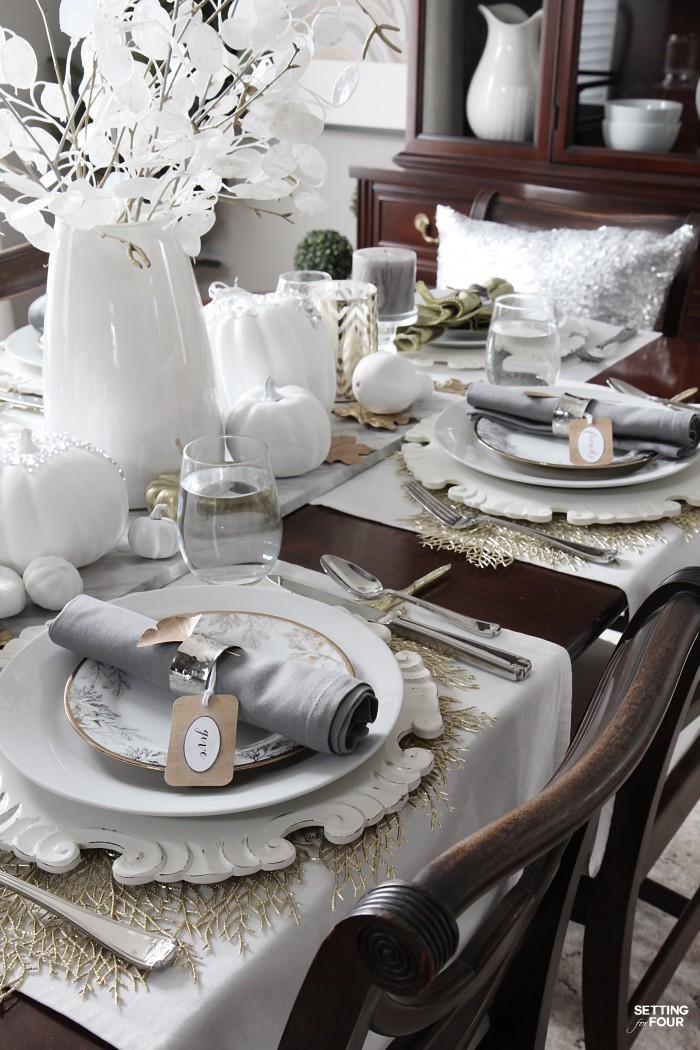 6. Flatware
Skip the fancy silverware if you don't own any. Your everyday flatware will look just great when you have your table set with other elegant decor.
To give your everyday flatware a festive look: clean them well to give them a sparkle then bundle together and tie fork, knife and spoon with a bit of baker's twine or ribbon and add a sprig of rosemary!
I used the stunning silver Greek Key design flatware that I got a few years ago  – but I could have used my everyday flatware.
7.  Napkins
Cloth napkins add elegance and don't have to be expensive! There is just something extra special about adding cloth napkins to a table! I love my paper napkins for everyday but when I'm entertaining I love to add a cloth napkin to each place setting!
I mixed up these gorgeous gray napkins (in an easy roll fold) with ta few green napkins and added hammered silver napkin rings for more sparkle.
See 20 plus napkin fold styles for lots of napkin folding ideas!
And YES – you can mix your metallics! I decorated my holiday table with silver and 2 shades of gold – it just all works!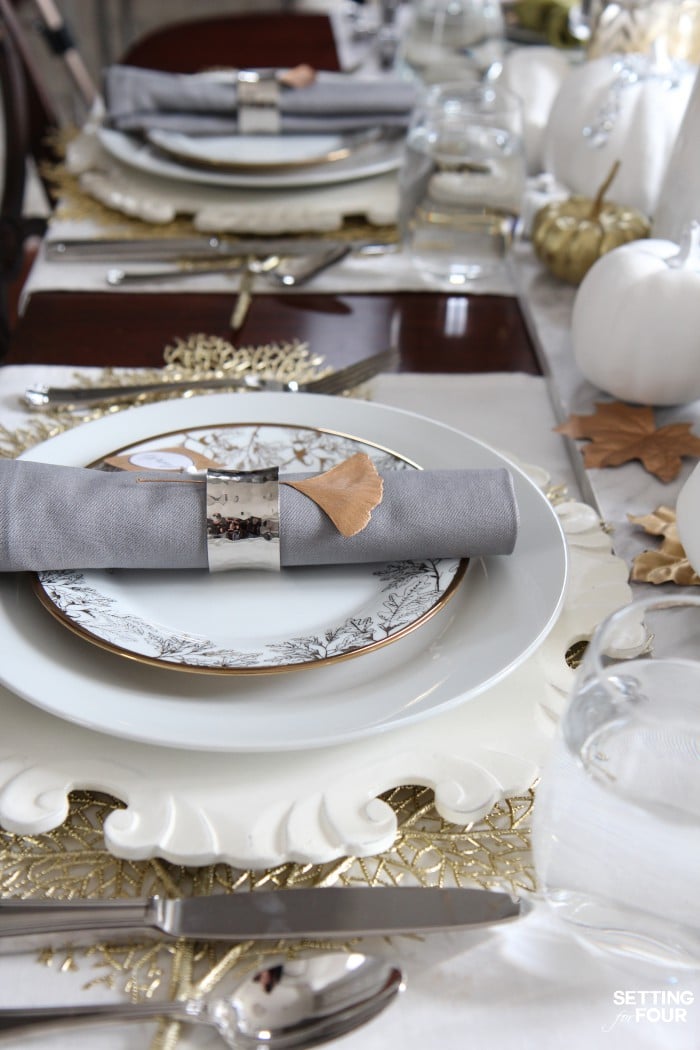 8. Place Cards
Add place cards to each place setting. Print off these DIY Thankful printable tags with quotes perfect for the holiday with words like 'family', 'friends', 'give' and 'thankful'.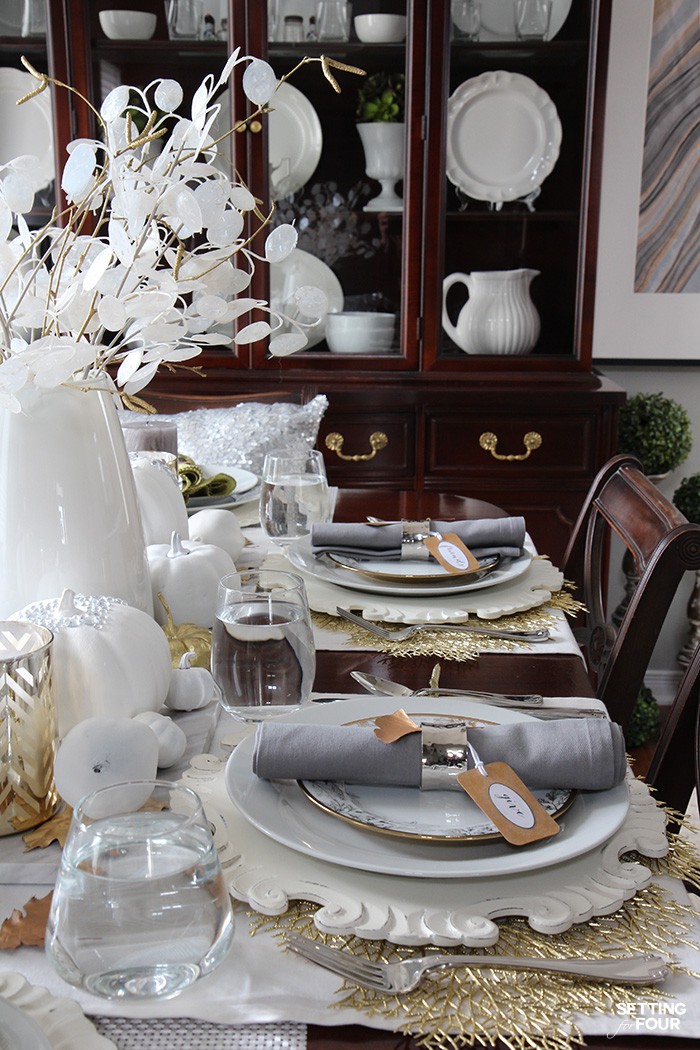 9. Gourds and Botanicals
Add a few metallic painted pumpkins, metallic painted ginkgo leaves and metallic fall leaves.
I spray painted a few baby boo pumpkins, real ginkgo leaves (I press them under stacks of books to flatten them out) and dollar store faux fall leaves with my favorite gold metallic spray paint.
Scatter the leaves down the middle of the table, tuck a gold ginkgo leaf into the napkin rings and perch a gold pumpkin around your centerpiece for some holiday glimmer and glow!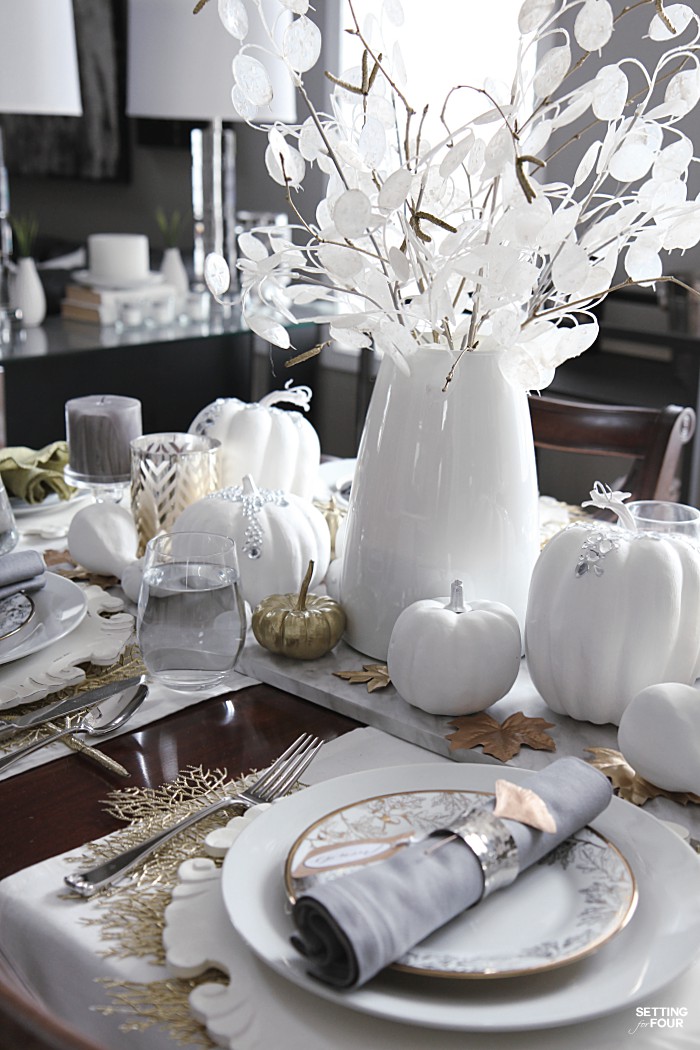 10. Candlelight
Add some candlelight. I love adding candles to our holiday table – this year I used low pillar candles instead of my tall taper candlesticks.
Gray marbled candles pick up the gray cloth napkin color and white pillar candles get dressed up in gold chevron votive cups!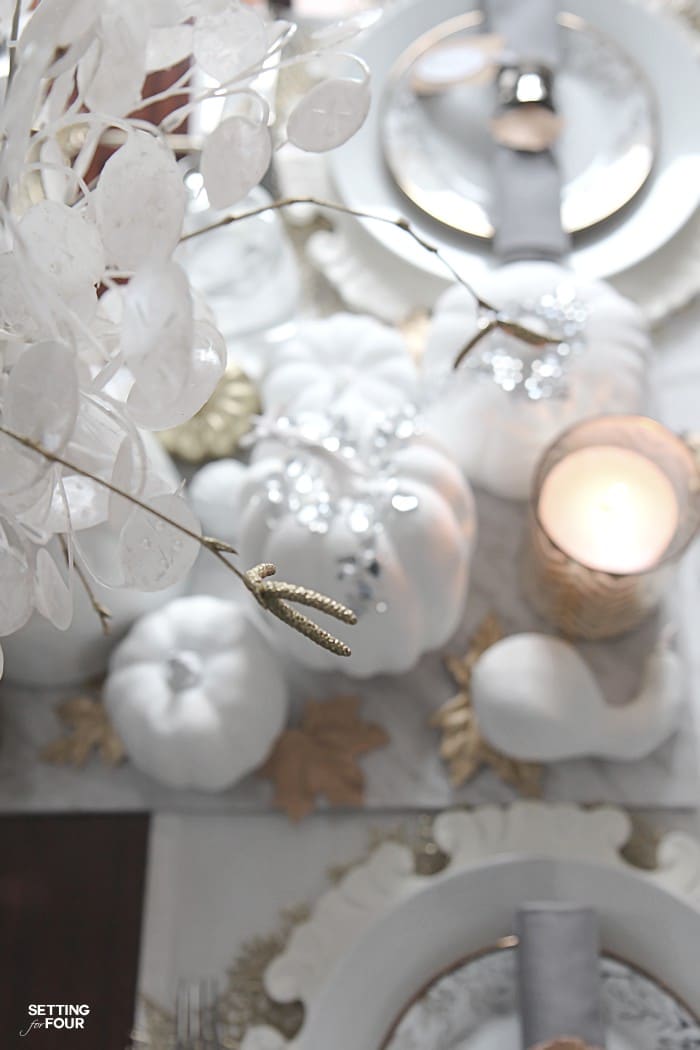 I hope you all enjoyed my post on 'How to Set an Elegant Table for the Holidays – For Less!'
Resource list:
White table runners (similar)
Silver Greek Key design flatware
Faux silver dollar branches (similar)
White vase (similar)
My favorite gold metallic spray paint
Make it! Easy DIY Projects:
EASY DIY agate wall art pieces

More Design and Decor Ideas: