Today I'm sharing some of my newest Fall Decor! A rustic glam Fall Dining Room Tablescape and easy Fall Table Centerpiece! Make this elegant centerpiece with rustic pheasant feathers and shimmery glam silver dollar sprays for your Fall and Thanksgiving table.
This Fall I decorated my dining room and set our table with hits of rustic glam style! I love to combine natural elements like oak leaves, snips of berry branches and fall wildflowers with vintage ironstone, glossy white ceramic, vintage green glass and grey linen. It's all about the contrast of simple rustic accents and luxe shine!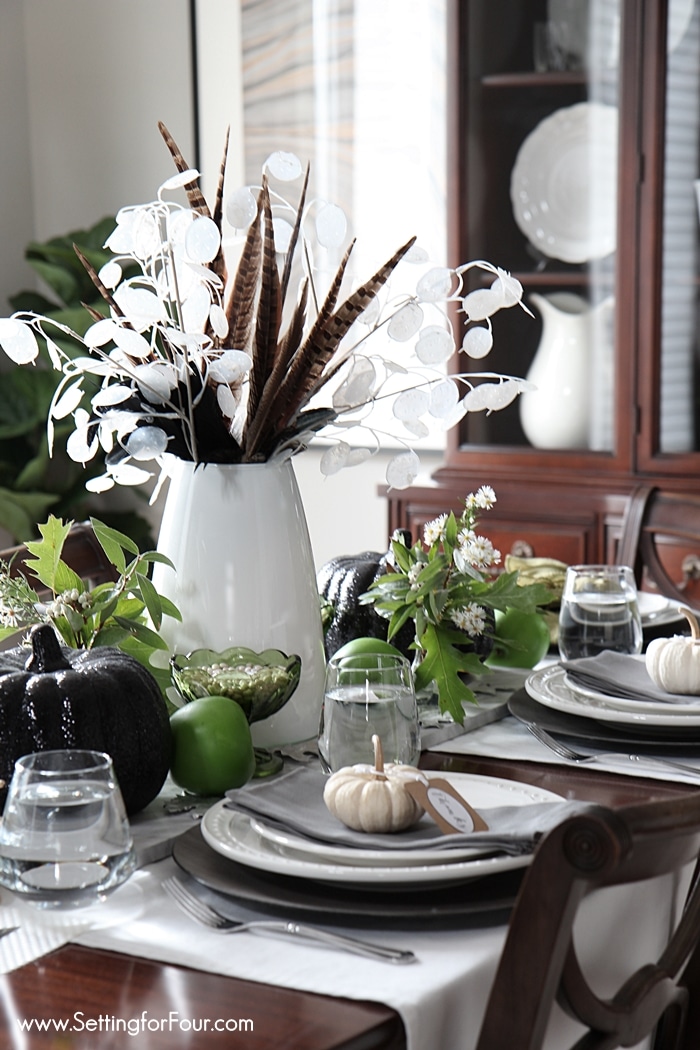 There are some DIY projects here too – I'll list those below!
The centerpiece is a super easy one to make – I just added 2 pheasant feather clusters into a white vase (I love the modern shape of this vase!) and then I added 3 everlasting silver dollar sprays ….honestly that's it! It's quick, easy and I'm smitten with the textures and neutral colors!
L-O-V-E my black glitter pumpkins! SWOON!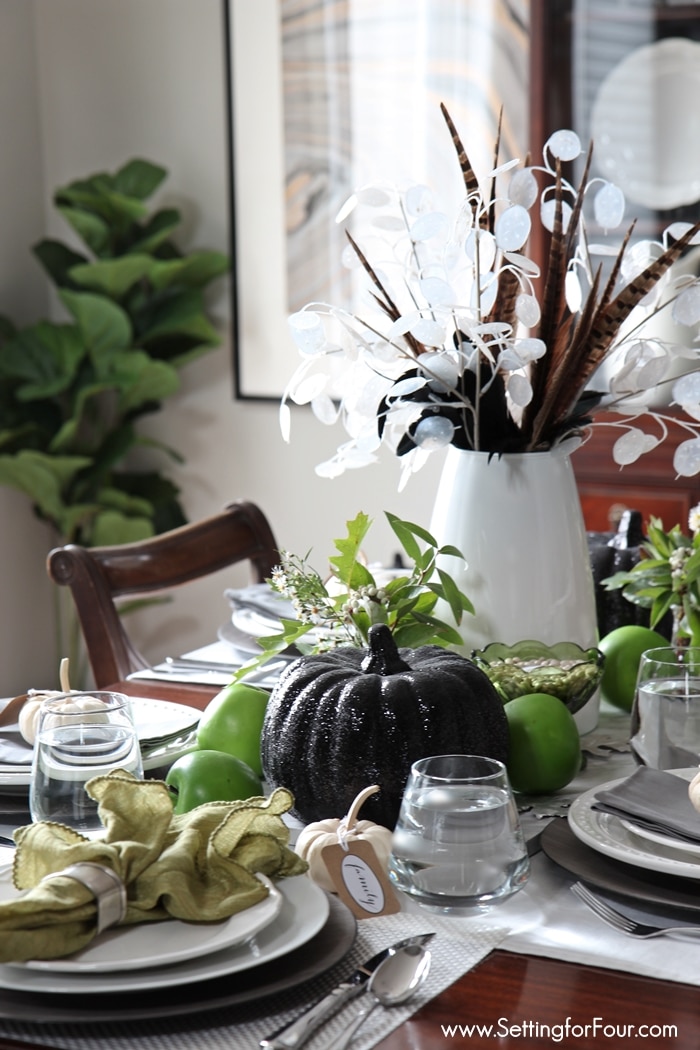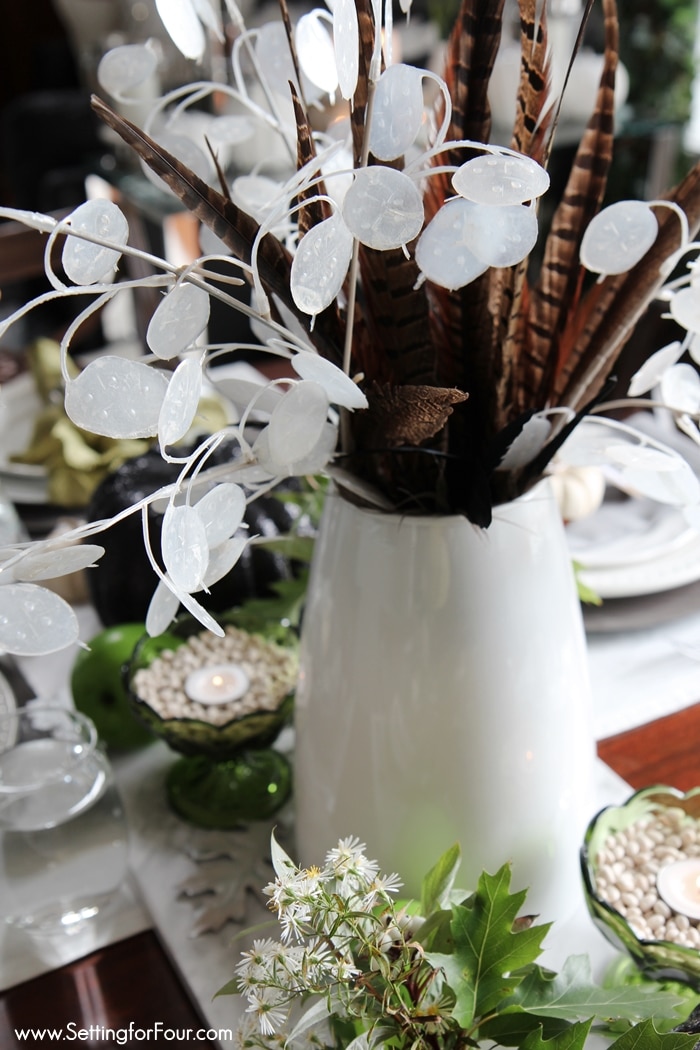 I went for a walk the other day and gathered these gorgeous oak leaves, berry bush stems and wild aster wildflowers…..so pretty!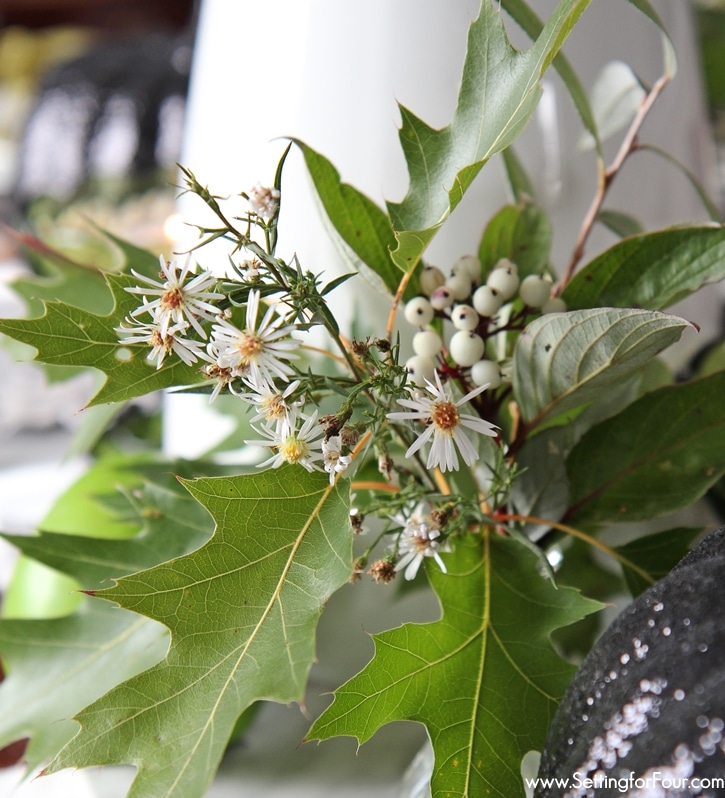 Mini white baby boo pumpkins tied with a fall tag (Free Printable to come! Stay tuned!)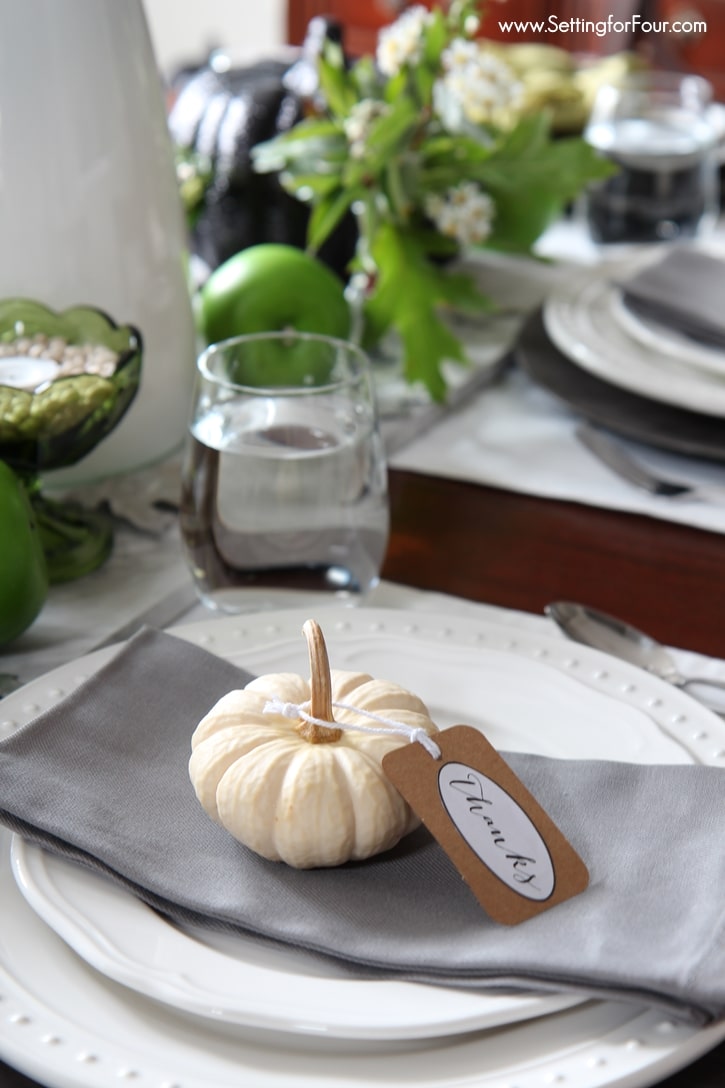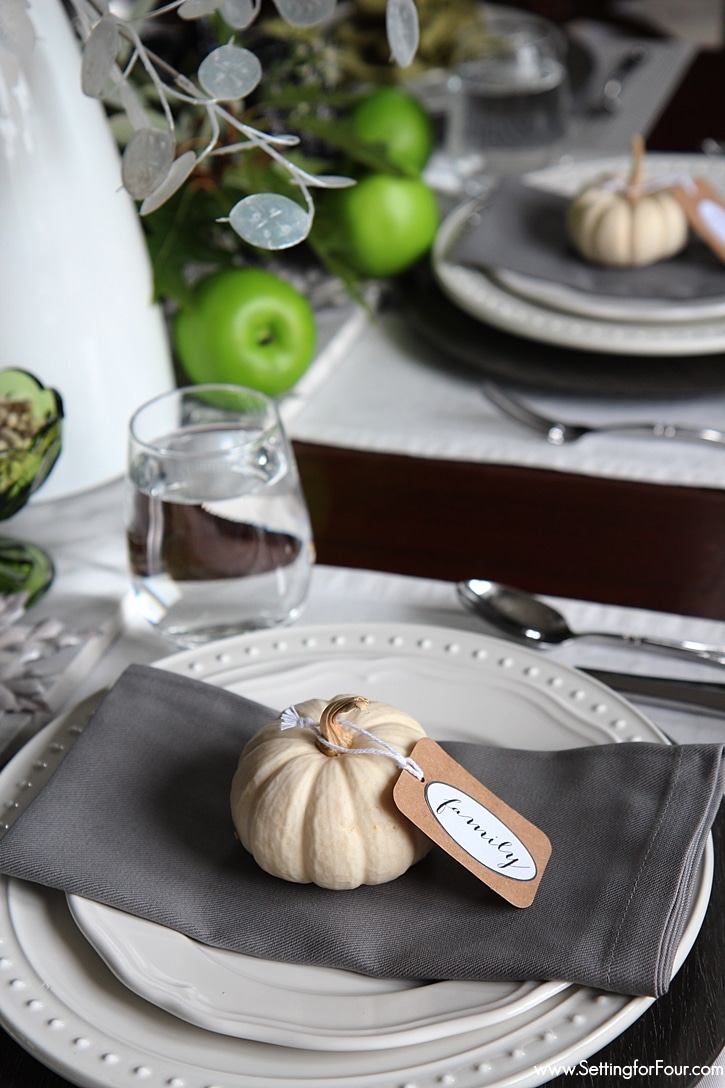 These gray napkins look so gorgeous against my white dishes… they also pop off of the green foliage, green napkins at the table ends and green granny smith apples running down the table.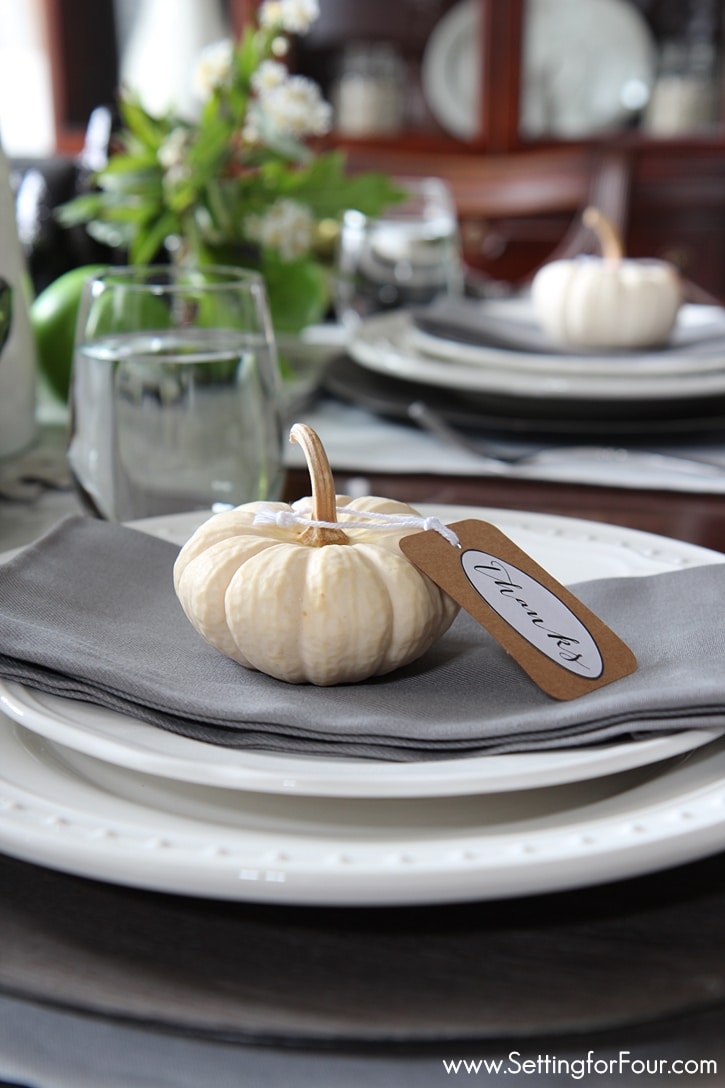 These vintage green glass dessert cups are a thrift store find from years ago….I added dried white navy beans and a votive to each….love the shimmery candlelight!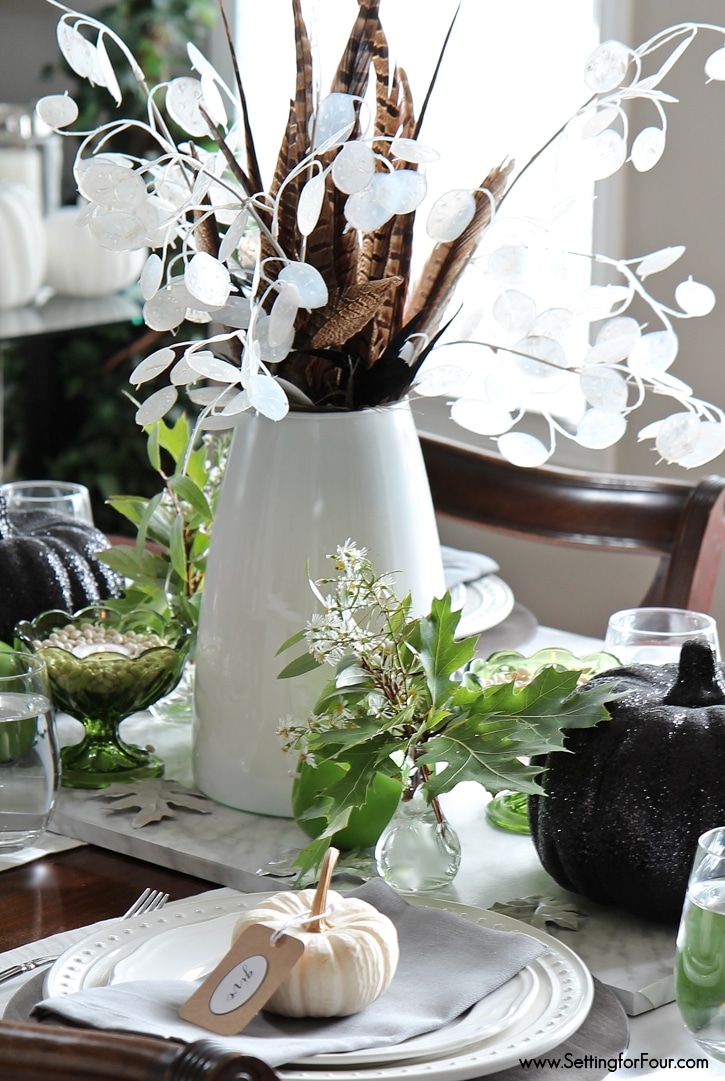 Table Decor Sources:
pheasant feather clusters
3 everlasting silver dollar sprays
green napkins with ruffled edge
Salad plates – IKEA
French countryside flatware
DIY Projects
Pumpkin Place Cards with Printable 'Give Thanks' Tags

Pin this to your Fall or Thanksgiving Board…or Decor Board!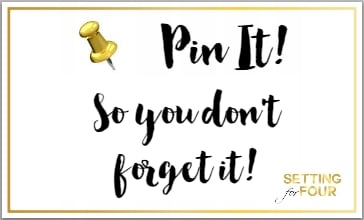 This post contains some affiliate links for your convenience. Click here to read my full disclosure policy.
~ ~ ~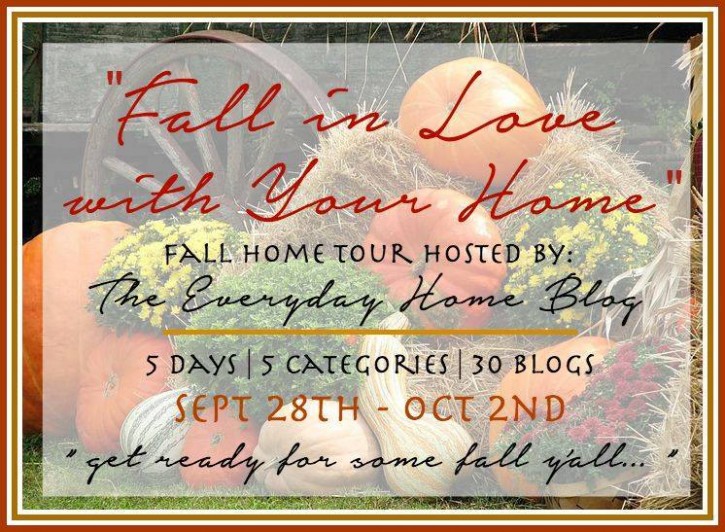 …and to celebrate Fall I am joining the
"Fall In Love With Your Home" Blog Hop:
30 AMAZING Fall Decor, Craft and Recipe ideas to add some autumn coziness to your day!
Thank you Barb of The Everyday Home for organizing it!
Please check out these fabulous Fall Projects – 30 blogger are sharing their
amazing Fall Inspiration ideas to help
you "Fall In Love With Your Home."

{Monday, Sept 28th}

{Tuesday, Sept 29th}
The Kim Six Fix

{Wednesday, Sept 30th}

{Thursday, Oct 1}
*links will not be available until 6am EST

{Friday, Oct 2}
*links will not be available until 6amEST
You may also like:
Fall Mantel Decor using fall flowers and foliage