Poufs are timeless, multipurpose must-have furniture pieces to add function, personality, color and pattern to any room! See 8 ways to use a pouf ottoman in your home, many you wouldn't even think of! Poufs are so versatile!

This post contains affiliate links. Funds from affiliates help pay for web hosting, domain registration, email delivery, and other fees to keep settingforfour.com up and running. Thanks for your support! Click here to read my full disclosure policy.
8 Ways To Use A Pouf In Your Home
1. As a foot rest:
This is the most obvious way to use a pouf! Poufs are the perfect height and shape to rest your feet on while you are lounging in a chair or on the sofa.
2. As extra seating:
Pull a pouf up to a conversation area in a living room or family room for extra seating when you have company over. This works especially well for kids! Add a pouf to a kids bedroom or playroom as a comfy spot to read kids books!
Blush Pink and Neutral Decor Home Tour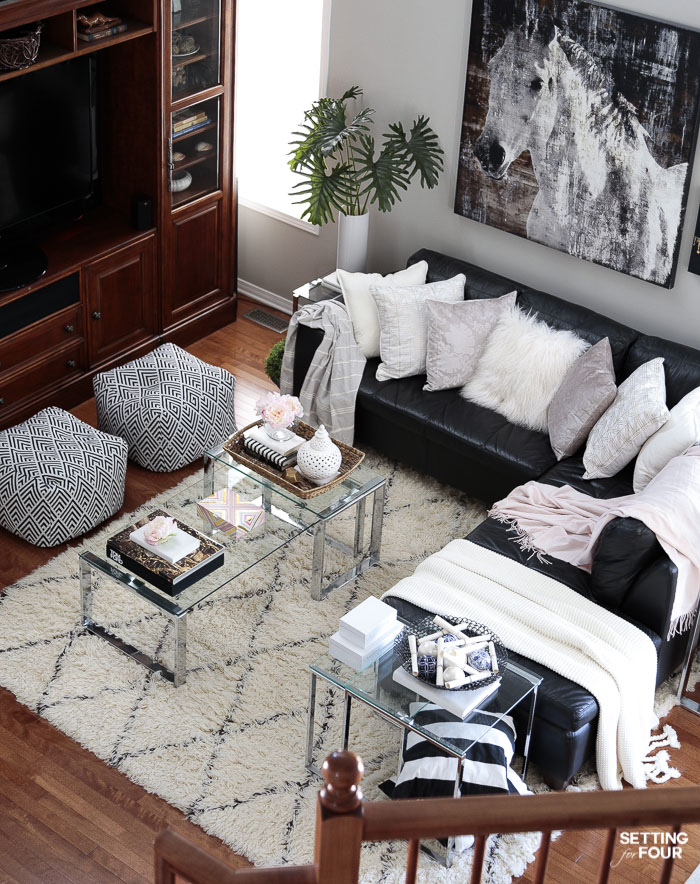 3. As a coffee table:
Use one, two or three poufs in a grouping as a coffee table! With their soft edges they make a perfect pet and kid friendly coffee table too. Add a tray on top to sit drinks on.
4. As an end table:
A pouf with a tray on top makes a great end table for a chair or sofa.
5. As a night stand:
Place a pouf by a bed as a nightstand. Add a tray to sit an alarm clock and water glass on.
6. As a pet bed:
Use a pouf as pet's bed (for cats and smaller dogs) – it will give your pet a cozy soft spot to perch and sleep!
7. Outdoors:
Did you know that there are outdoor poufs that are waterproof, fade proof and can be left outside? Use them outside on the porch, deck or patio for extra seating or as a table!
8. As a decorative accent to create a mood in your room:
Choose a pouf in a color and pattern that you love to display your personality and your style! How about a jute pouf if you love all things coastal? A global inspired pouf if you love the Boho look? Or a button tufted pouf like mine below if you love classic tailored looks!
Blush Pink and Blue House Tour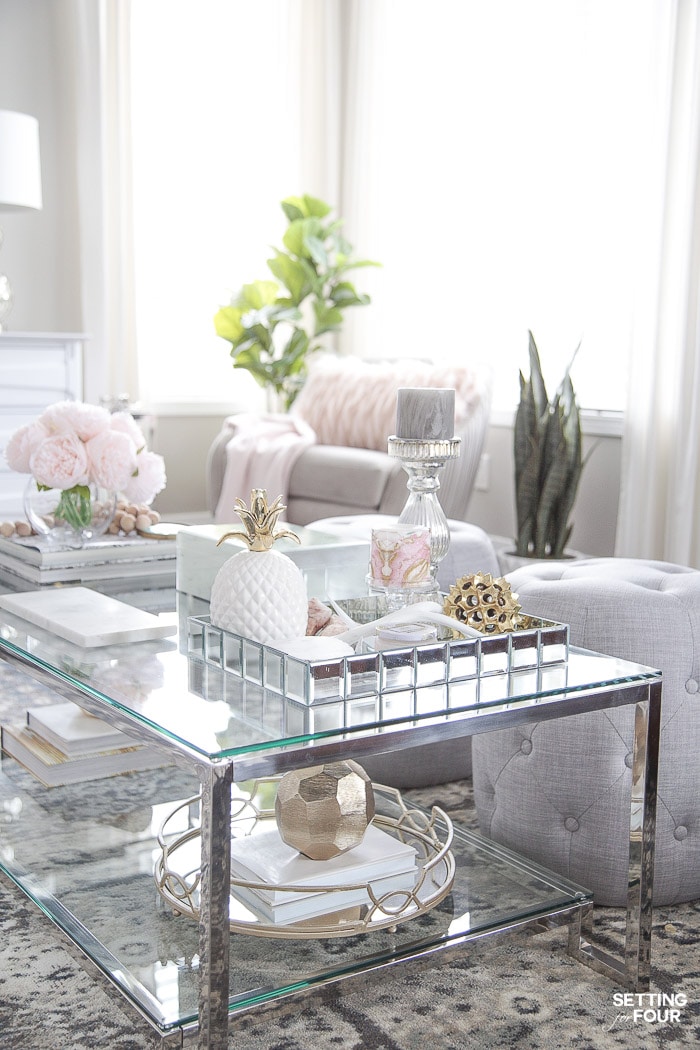 Shop these gorgeous poufs! Click on each image below to see more about each item!

PLEASE PIN THIS AND SHARE IT WITH YOUR FRIENDS!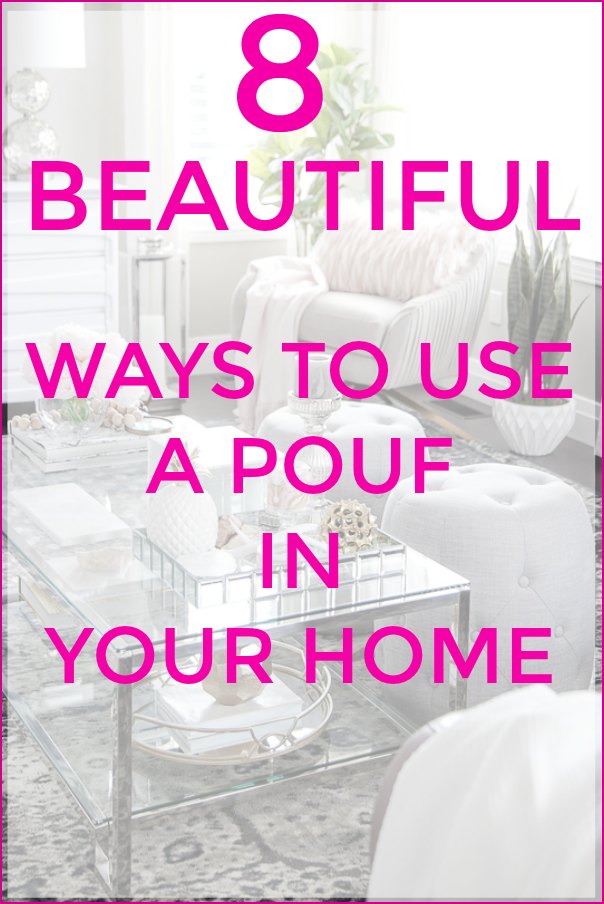 Do you have any other uses for them?
You may also like:
15 Creative Ways To Use and Style A Bar Cart!
Easy Tabletop Decorations You Can Do In Five Minutes
An Indigo Blue Color Scheme For Our Living Room