See this fun childrens art activity: How To Turn Childrens Art Into Tea Towels! A kids craft idea that's fun to make with the kids and give to grandparents and family!
Do you have piles of artwork that your kids have brought home from school, daycare or made at home?
Want another way to display their artwork other than hanging it on the fridge or framing it?
Here's a fantastic way to display your kid's art in a space we spend a lot of the time in – the kitchen! Turn your kid's art into DIY tea towels: your kiddos will feel so special and proud to see their drawings on display.
This would also be an excellent gift idea for grandparents, aunts, uncles and teachers! Birthdays, Christmas or 'just because'!
Fun Home Decor Idea and Childrens Craft- Turn Kids Art into Tea Towels:
I'm sharing with you how to make it! See more of this DIY project by using the arrows below.
Turn childrens art into tea towels:
This is a great way to repurpose a regular white tea towel.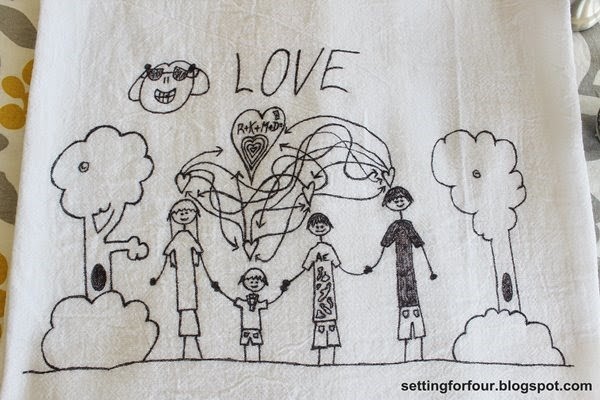 It's also a fun home decor idea to decorate the kitchen!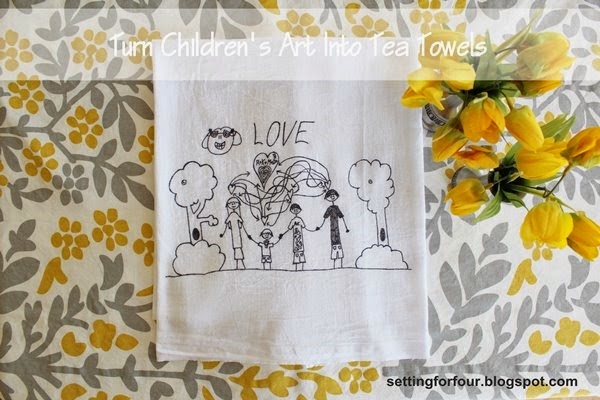 Can you imagine your child's surprise and delight when they see this hanging on the oven door?
They will absolutely be thrilled that you gave their artwork a permanent place in the kitchen for everyone to see everyday!
My son was so flattered and thought it was a very 'cool' idea!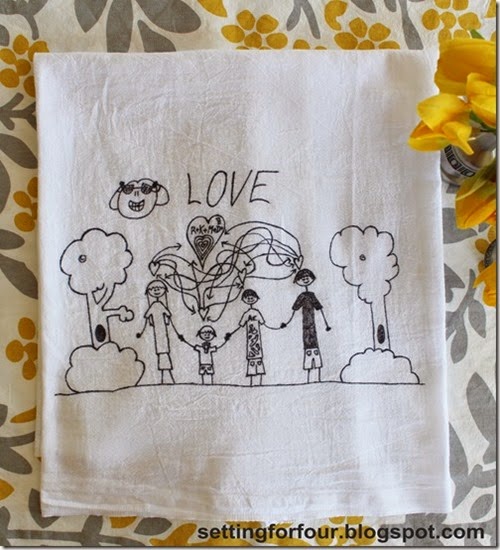 Choose a picture your child has drawn – this is the perfect kids art activity to do together!
Below is the picture I used for my tea towel project.
Our youngest son Rowan drew this picture of our family when he was 9 years old…
This picture just makes me smile every time I look at it and now I can have it in my kitchen to admire too!
Isn't he a terrific artist?
( He's really been enjoying reading the comments on this post so say Hello to Rowan if you can!)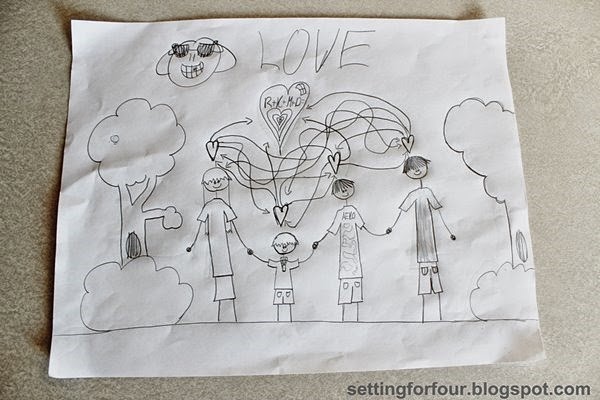 Look at all the love arrows we have going on here, and the cheery sun with sunglasses! So adorable!
(apparently I have a verrry long torso and tiny short legs!! Even that makes me smile!)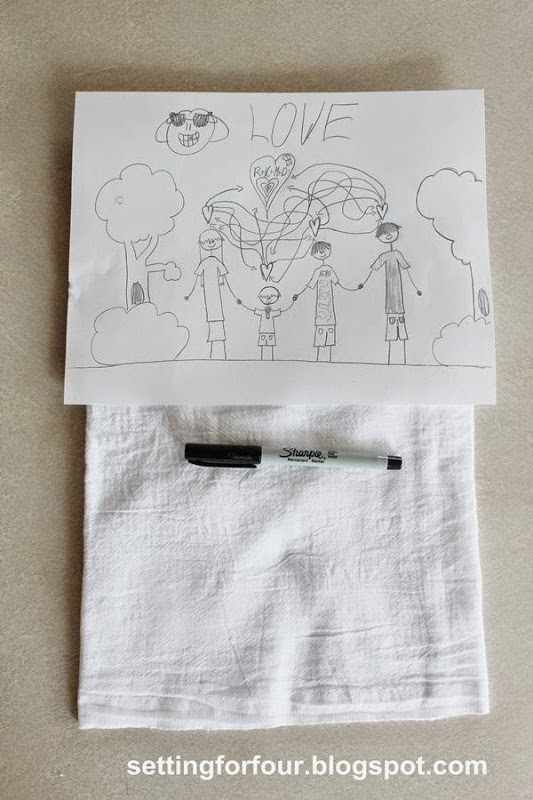 Supply list – Turn Childrens Art Into Tea Towels
– White flour sack towels.
– Childrens artwork
Use the arrows below to see the instructions!