Do you have an obsession with a decor item? Something you can't help buying multiples of? For me it's lanterns!! I LOVE love love lanterns! There are so many ways you can use them, places you can put them and they always add a special touch to every room. Today I want to share with you some Outdoor and Indoor Ideas for Decorating with Lanterns and why I'm obsessed with them!

PLEASE PIN THIS AND SHARE WITH YOUR FRIENDS!
Decorating with Lanterns – Outdoor and Indoor Ideas
Here are some beautiful ideas on how to decorate with lanterns and why I believe they are so important to have in our home:
Lanterns add beauty and coziness to a room. They are a fabulous way to add ambient light to a space.
The flickering candlelight reflecting off of the glass is so relaxing to see after a busy day of work! Talk about instant ambiance!
They can make a blah room feel homier and a large room feel less stark.
They are great for parties and great gift ideas. For baby showers and wedding showers…you name it! Use a lantern instead of a gift basket. Fill the lantern with small gifts, skip the cellophane, add a bow and card onto the lantern handle and you have just created a wow worthy gift!
Lanterns filled with candles, flowers and seasonal fillers will add a layer of texture, color and warmth to a drab corner, mantel or bookshelf.
They are a huge bang for your decorating dollar because they are so multitasking!
Use them indoors and outdoors. Make sure outdoor lanterns are weatherproof so they don't decay or rust.
They add amazing curb appeal to the front of your home (they are a great idea for staging your home if you are selling it!).
Lanterns can be hung from hooks, ball chain or rope. They can be placed on a table, in a tray, on a mantel, a book shelf or on stairs or the floor – they look amazing displayed anywhere! Because there are so many places they can be added, I move mine around all the time!
This post contains some affiliate links for your convenience. Click here to read my full disclosure policy.
Here are some outdoor decor ideas:
1. I love to hang them outside in our gazebo on our deck from a hook and ball chain.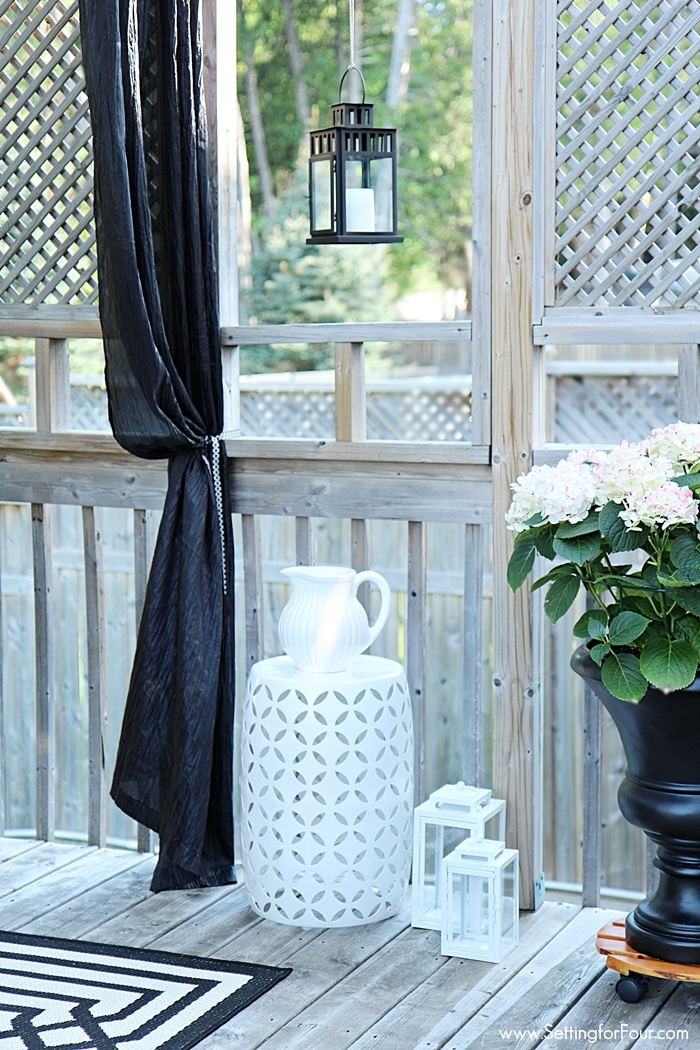 Sources: black lantern (similar), ball chain, black curtains, garden stool, white lanterns, black urn, wheeled planter stands
2. I use lanterns as table centerpieces: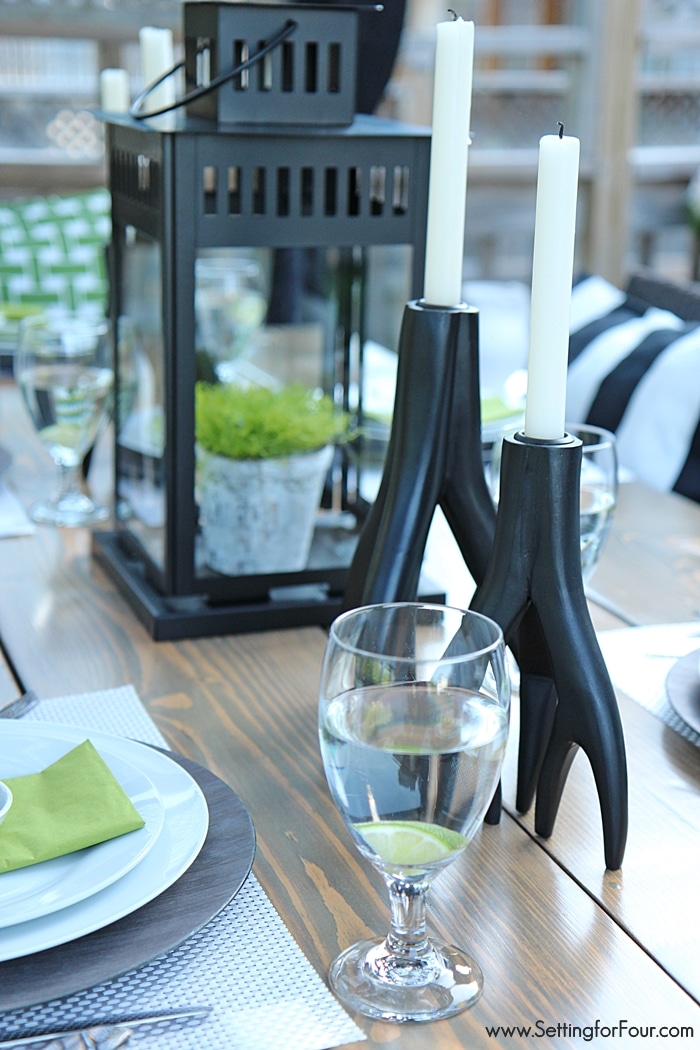 See how amazing a lantern looks as a centerpiece on our DIY Restoration Hardware trestle dining table? I put a little pot of live Irish moss in this lantern for a pretty pop of green.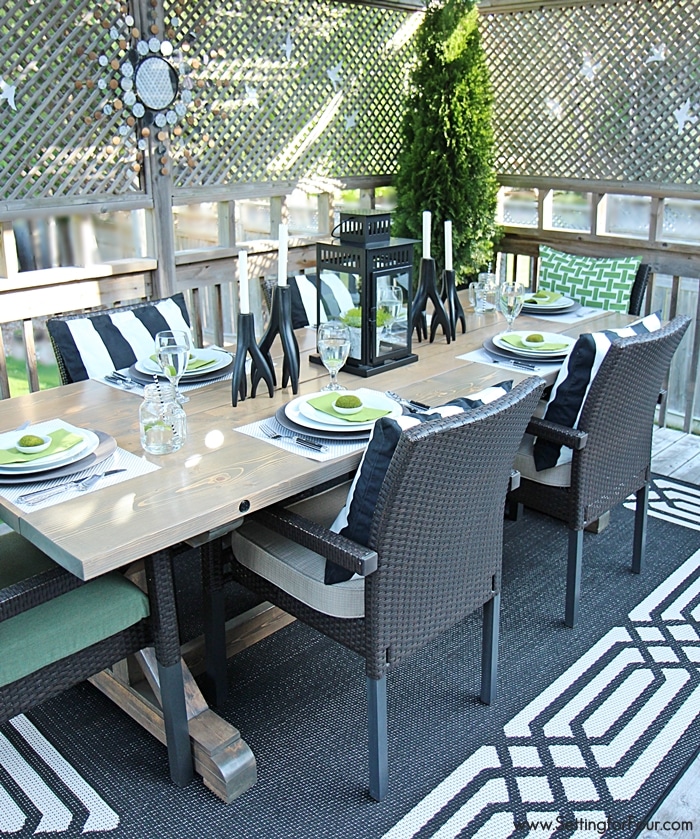 Sources: DIY trestle table, cedar tree planters, striped pillows, black lantern, mason jar glasses with handles
3. I add copper lanterns to our outdoor fire pit seating area. They are filled with flameless outdoor candles on timers. They add such a gorgeous layer of coziness and ambiance to a space!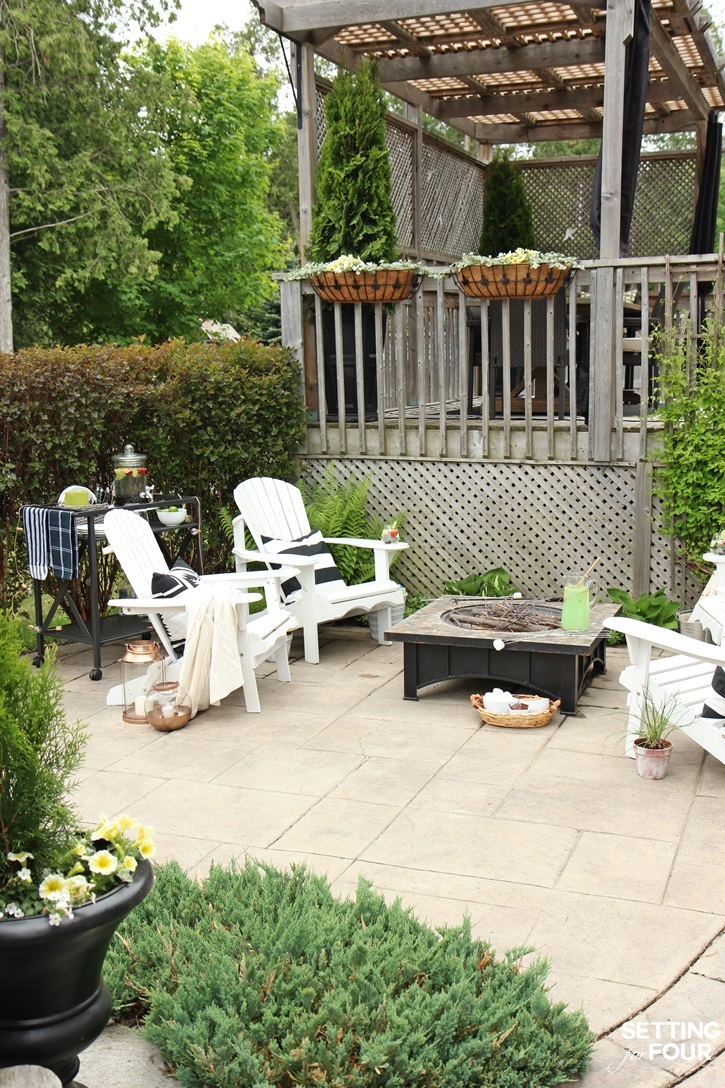 Sources: copper lanterns, DIY Adirondack chairs, striped pillows, black urn, hanging planters on deck railing
I love adding lanterns indoors and have them in most of our rooms.
4. I have two white metal lanterns that sit by the front door in our foyer. I use flameless candles in them and they are on timers so they come on at dusk – they are so pretty!
See my paint colors here!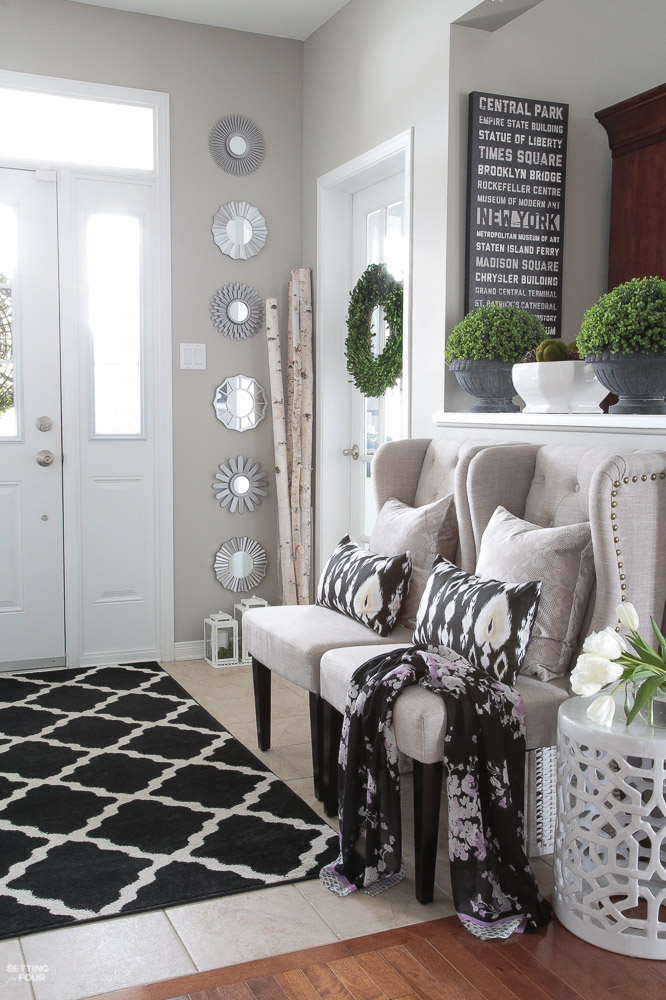 Sources: white lanterns, flameless candles on timers, trellis area rug, tufted wingback chairs, birch poles, boxwood wreath
5. In our living room I have white lanterns tucked beside our sofa.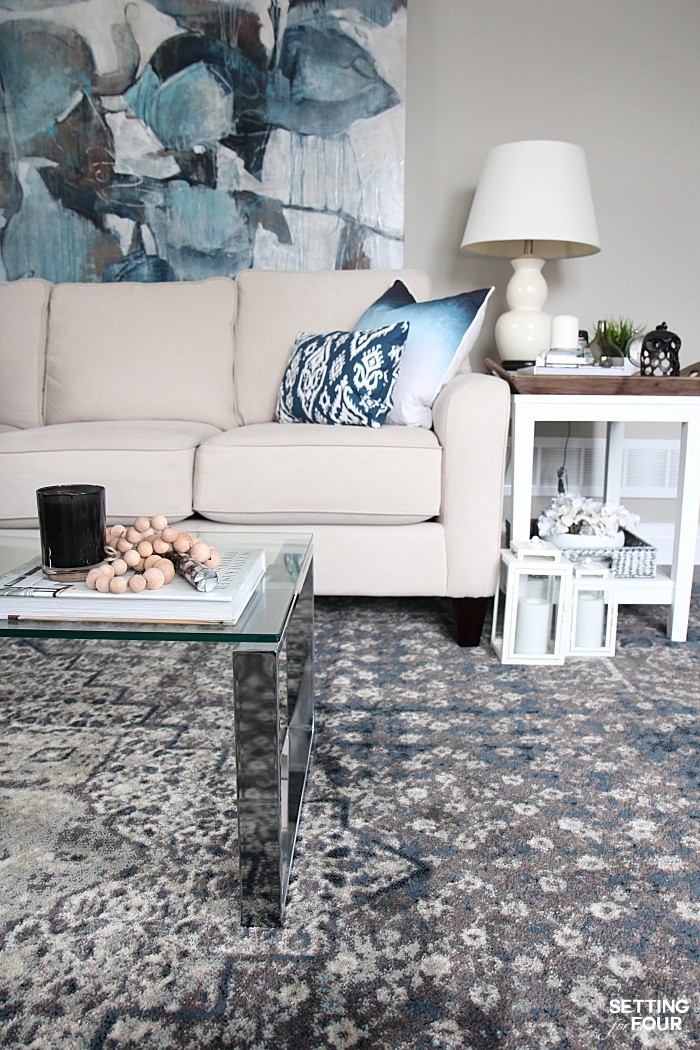 Sources:our sofa, white lanterns, indigo area rug, coffee table (similar), table lamp (similar)
6. Larger wood and metal lanterns look amazing beside a chair or at the base of a fireplace and are great for filling with shells!
How to Paint Fireplace Tile in 3 easy steps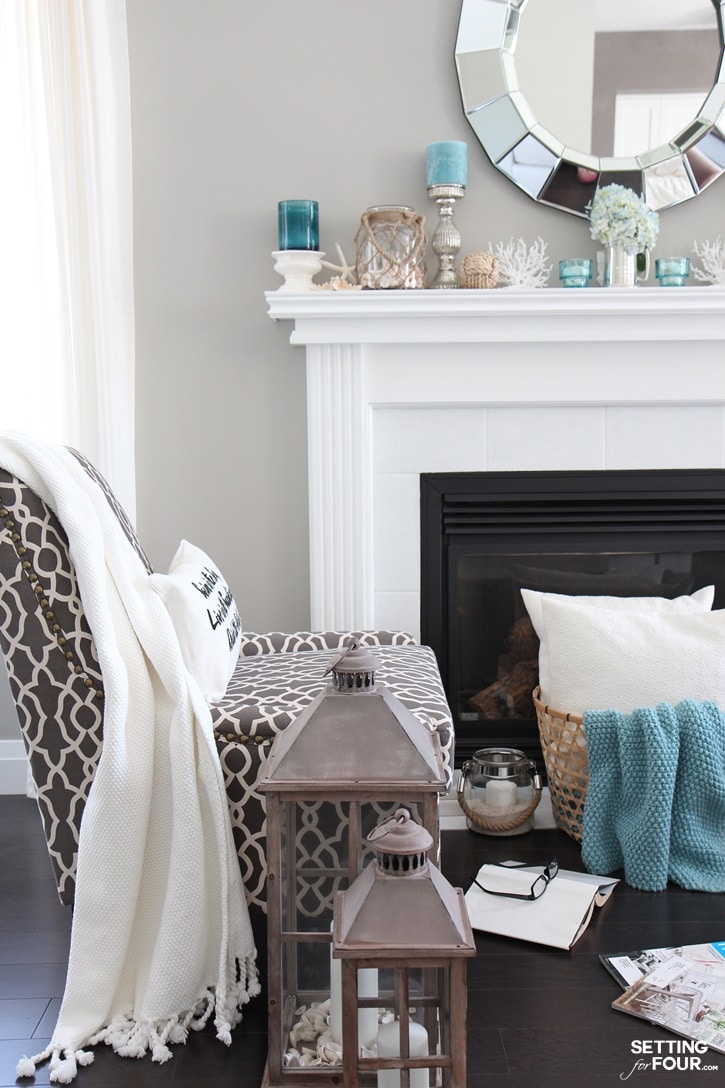 Sources:jute glass lantern on mantel, wood and metal lanterns by chair, shell lantern filler, faceted mirror, mercury glass candlesticks, DIY Pottery Barn Inspired Coral accents on mantel.
7. These jute glass lanterns add a coastal vibe to our guest bedroom. Decorating with lanterns is so fun!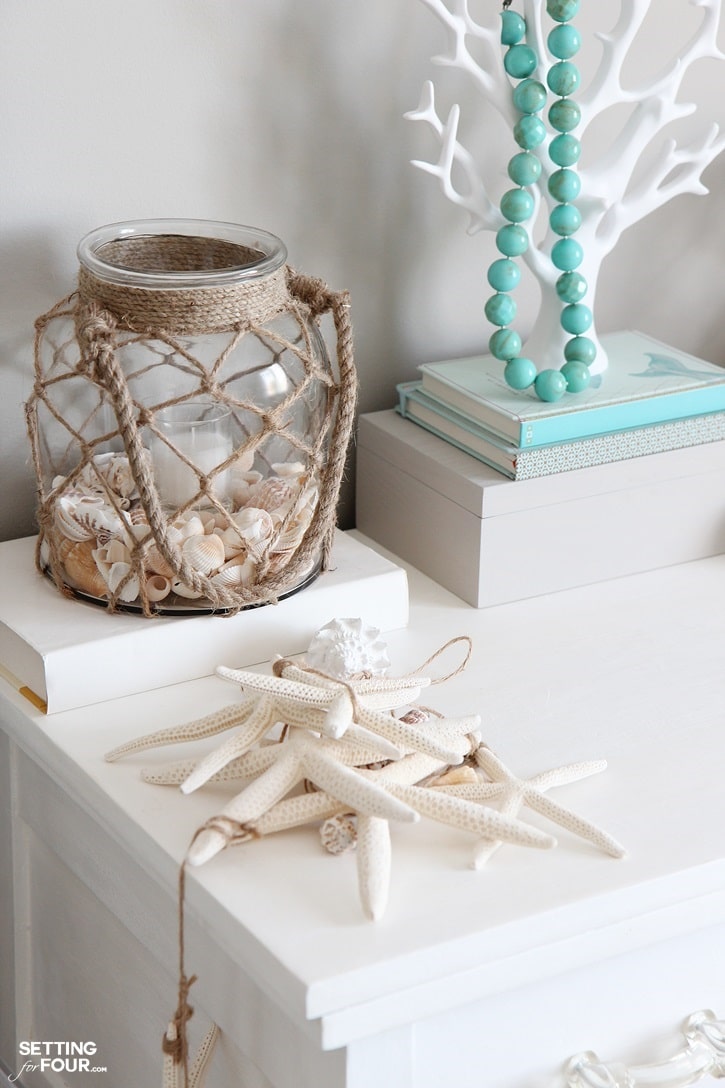 Sources: DIY chalk painted dresser, glass dresser handles, jute glass lantern, shell lantern filler, starfish and jute garland, jewelry display stand (similar)
8. I filled this glass lantern with white aquarium stones and a candle. It sits on a chalk painted and stenciled dresser in our guest bedroom.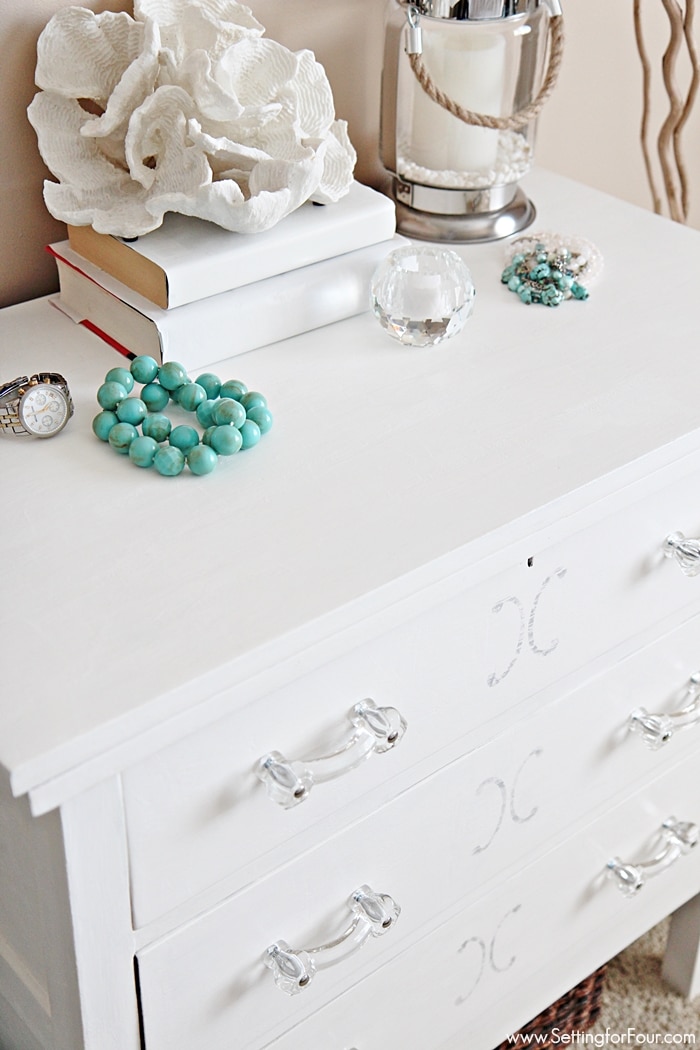 Sources: DIY chalk painted dresser, glass dresser handles, rope and glass lantern, large coral accent
9. Lanterns look amazing in a wall niche!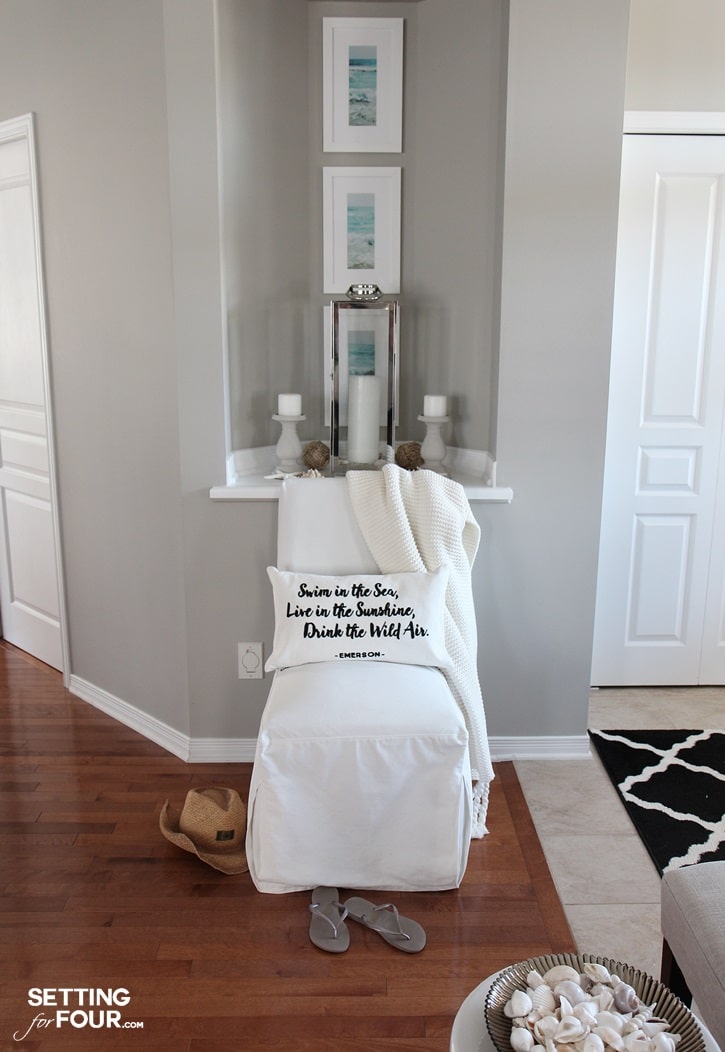 Sources: silver lantern, white pillar candle, slipcovered parson chair, trellis area rug
10. I love how these lanterns look on our console table. I fill them with boxwood garland for Spring.
Sources: console table, rope and glass lantern, boxwood vase filler, striped pillows
11. I have four black lanterns displayed in our covered entryway and fill them with various types of filler for the seasons.
I LOVE the beautiful black color of them! The black picks up the black color of the urns, the black and white striped cushions and our black outdoor lights by our front door.
Porch decor ideas and curb appeal tips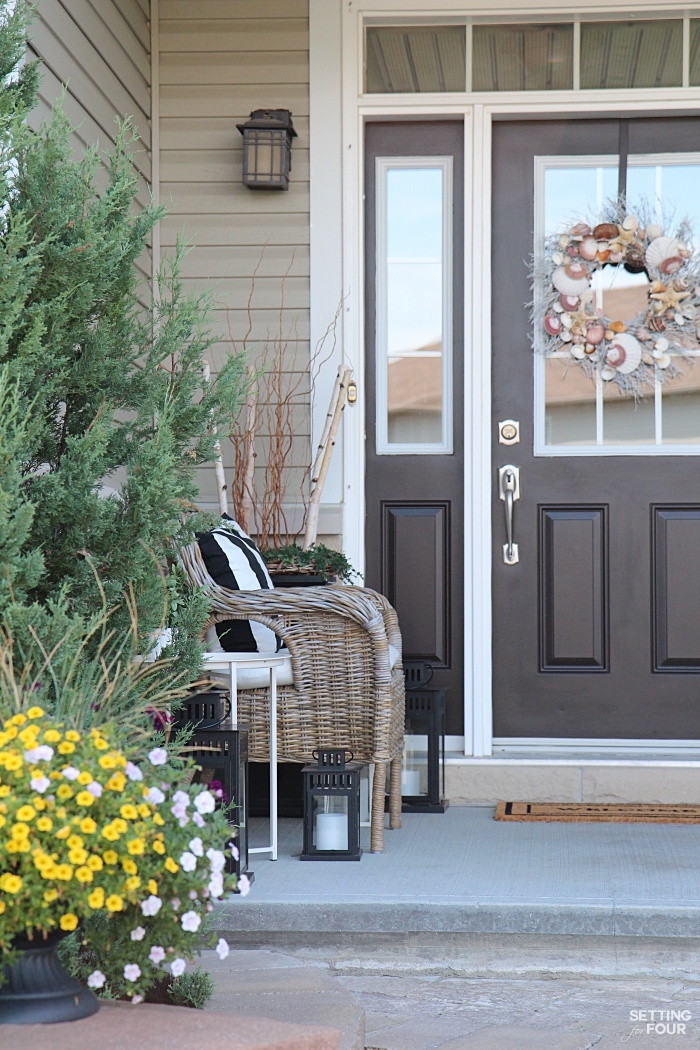 Sources:black lanterns, wicker chairs, welcome mat, white side table, front door color
I hope you like my decorating with lanterns article and learned how you can decorate your home with them like a pro!
Do you love lanterns too? How do you use them in your home?
You may also like:
Curb appeal ideas and porch decor tips