The daughter of a friend of mine is getting married and we are thrilled for her! My friend Krista was telling me how hard it is to pick a wedding registry so I thought I'd round up The 12 Best Wedding Registry Stores and a Comparison of Their Benefit Programs. Let's see how they compare for reward programs, discounts, shipping and return policies.
Once you know which benefits you prefer, you can pick the best registry for you and your husband to be!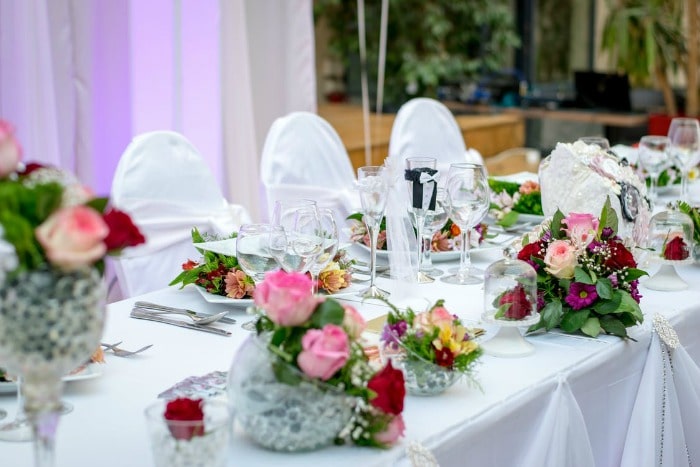 12 Best Wedding Registry Stores and a Comparison of Their Benefit Programs
Share this with any of your friends that are involved in planning a wedding!
Benefits:
The world's largest selection! Amazon's registry gives you access to EVERYTHING on Amazon.com because you may want outdoor patio seating instead of a set of white dishes!
You can also personalize this registry with a picture of you and the groom and share the registry link via email and social media.
PLUS after the wedding the bride and groom will receive a one time coupon code for 20% off (Prime members) or 10% off (non-Prime members) on items across Amazon.com.
You'll have and extended 180 days to return an item and registry purchases get free shipping too!
A helpful print-off list of gift purchasing items – who bought what – is offered to help you with your Thank You cards!
Benefits:
All gifts are shipped to the couple for FREE!
The registrant gets a 10% DISCOUNT for 60 DAYS after the event! Wow!
There's a fabulous Group Gifting option where multiple guests can chip in on a bigger purchase.
Easy 90 day return.
Registrants and their guests get personalized support from Wayfair's specialists! If you need advice on how many items to add to your registry to what types of items, Wayfair's specialists are at your service.
Benefits:
Free announcement cards that you can send to your wedding guests announcing you are registered at Bed Bath and Beyond.
Start to Finish Incentive program where the registrant gets bonus gifts!
You can request a FREE Howbook filled with tips and advice.
Expert consultants will help you register for brand name, great quality bedding, bath, glassware and kitchen items.
Hassle free returns.
Free online and phone support.
Benefits:
You can register for gift cards!
You can make changes to your registry at any time,
Add or delete items online in case you change your mind.
You can have multiple ship to addresses for both before and after the event
. You can select seasonal items as long as they are in stock.
No Rush returns for 90 days after the event.
Offer a Completion Program – a 10% discount on all purchases to registrants for 60 days after the wedding.
Benefits:
VIP service.
Offer a Completion Program – a 10% discount on all purchases to registrants for 6 months after the wedding!
Bonus gifts – get free gifts when your guests purchase from your registry.
Gift cards can be purchased and used at Pottery Barn and West Elm.
Monthly sweepstakes to WIN YOUR REGISTRY! One winner is selected each month.
Benefits:
Free gift packaging.
Free shipping and free returns
Gift cards are eligible and can be used at Horchow.com and Bergdorfgoodman.com
Registry Completion discount – 10% off your registry items for one year after your wedding date!
10% off Neiman Marcus restaurant catering or dine in purchases for your showers and rehearsal dinner.
Expert in store alterations.
Benefits:
10% off all purchases for 6 months after the wedding.
Free shipping on registry purchases of $99 or more.
A special gift just for the bride and groom.
Private Registry Events and expert advice.
Benefits:
Gift cards are eligible.
Colorful tissue and personalized gift message are included.
Registry is updated constantly. 90 day return policy, credit is offered with original gift receipt and exchange is offered for gift receipts.
Share your registry with email messages.
Benefits:
Completion Discount – 15% off one purchase of your remaining registry items after your wedding.
One year gift exchange time frame!
Free shipping on orders $25 and more.
Price match – Target will match the price if you find the same item at select online competitors.
Helpful tools like gift tracking and a registry app for managing your registry.
Group gifting is available.
Bonus gifts from selected brands are available.
Benefits:
Registry star rewards – get 5$ reward dollars on a gift card for every gift purchased so you can shop after the big day!
You'll also get $10 reward dollars for items you purchase – like your rehearsal dinner outfit.
Registry advisors are available for advice.
You'll receive a packet of perks and discounts that can be used in store.
Newlywed Discount – Extra 20% off for 6 months after the wedding PLUS extra 10% off furniture, kitchen electronics, mattresses and rugs!
Benefits:
Monogram shop is available to monogram all registry items.
Gift cards are eligible.
Completion Discount – Get 15% off everything left on your registry after your wedding.
Expert help is available.
Items purchased help artisan communities across the world – so these are gifts that do good to others.
Benefits:
Gift cards and e-gift cards can be registered.
All items online can in store can be registered! No exceptions! Even back ordered items can be purchased then shipped when they are available.
Two shipping addresses can be specified – one prior to the wedding and one after.
Registry can be shared via email or social media.
Gift wrapping is available, even on online orders.
12 Best Wedding Registry Stores and a Comparison of Their Benefit Programs
PIN THIS AND SHARE WITH YOUR FRIENDS!

I hope you like my post on the 12 Best Wedding Registry Stores!
Did it help you narrow down which store is the best fit for your big day?
xo Heather
You may also like:
The Easiest Way to Tint Mason Jars Blue
These are easy to make and budget friendly flower arrangements you can make for the rehearsal dinner, shower and wedding reception!

DIY Chocolate Favor Boxes For Gifts – yummy takeaway gift idea for guests at the wedding reception, rehearsal dinner and wedding shower!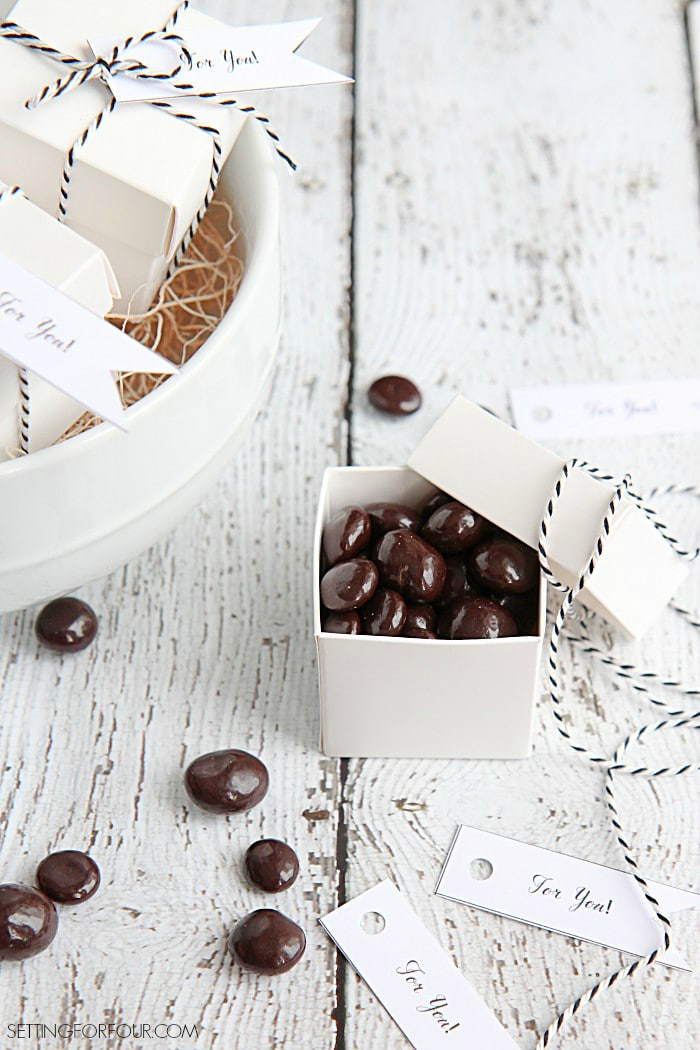 How to Make Outdoor Hanging Mason Jar Bouquets
Gorgeous way to decorate outdoor weddings, wedding photo shoots or the front of the church. Hang from a wedding arbor, shepherd's hooks or tree.