Make this easy outdoor hanging flower mason jar project!
Do I have a big treat for your today! 6 of my blogger friends are sharing our outdoor spaces, decor ideas and diy projects in a 3 week long OUTDOOR EXTRAVAGANZA to kick off the start of summer! You'll be super inspired I just know it! At the end of the third week we are also throwing a link party – we want to see and show off your gorgeous outdoor projects and spaces! My super talented friend Shauna from Satori Design for Living is hosting this fun outdoor party!

This week's theme is Outdoor Gardening Projects!
I've been working hard on setting up and decorating our outdoor deck and patio the past week – since our weather here has FINALLY started to warm up! We love to squeeze every bit of outdoor time here, with our summer being so short! Today I'm showing you my outdoor lounge and reading nook and some fun outdoor hanging flower mason jars!

Here's my reading and lounging nook on our back patio. We are lucky to have a big back yard with lots of cedars and birch trees!
The flowering plants in our flower beds haven't begun to bloom yet with the weather being so cold this Spring – so I love how these hanging flower mason jars bring the garden over to my lounge spot!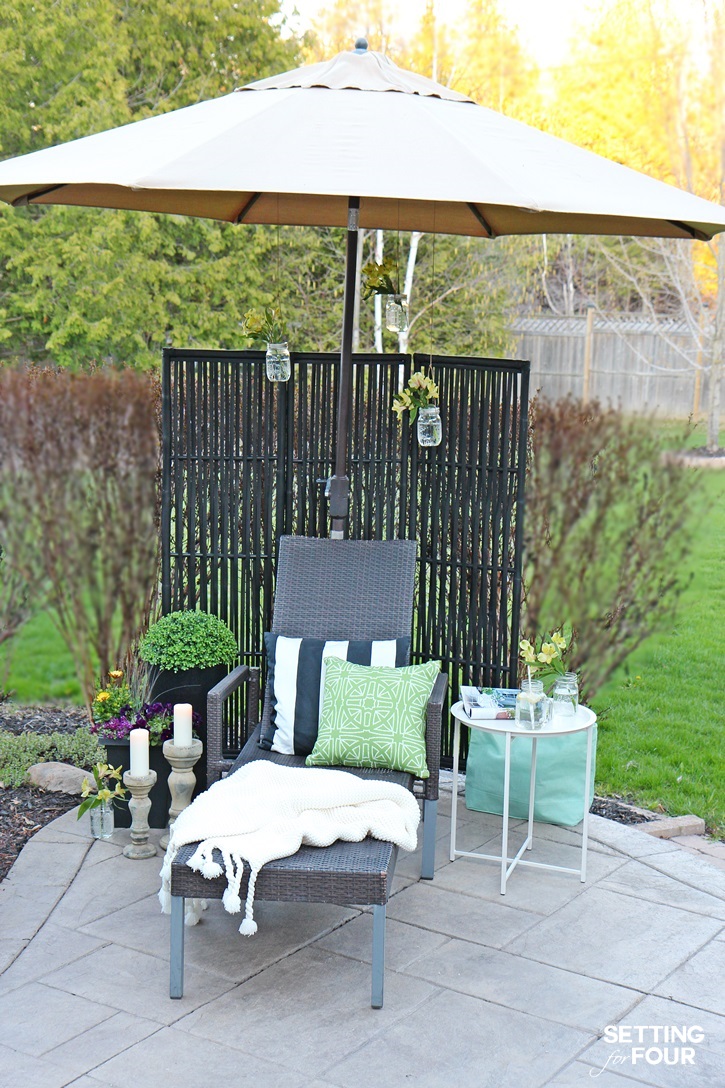 I hung three of these mason jars at different heights to give a staggered look: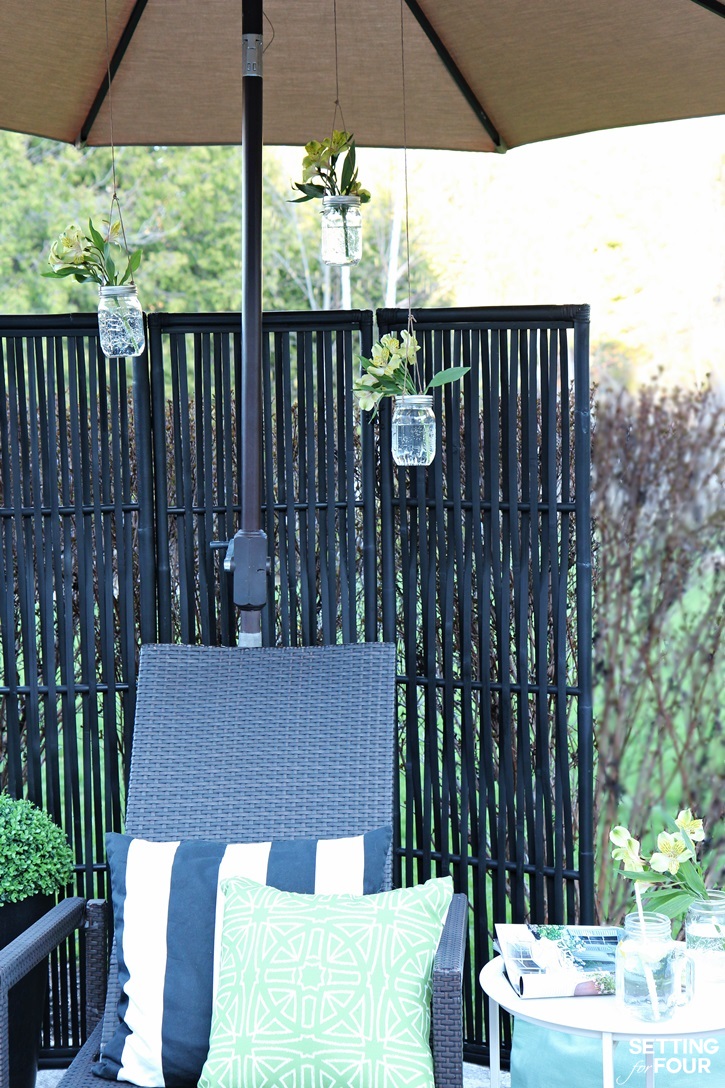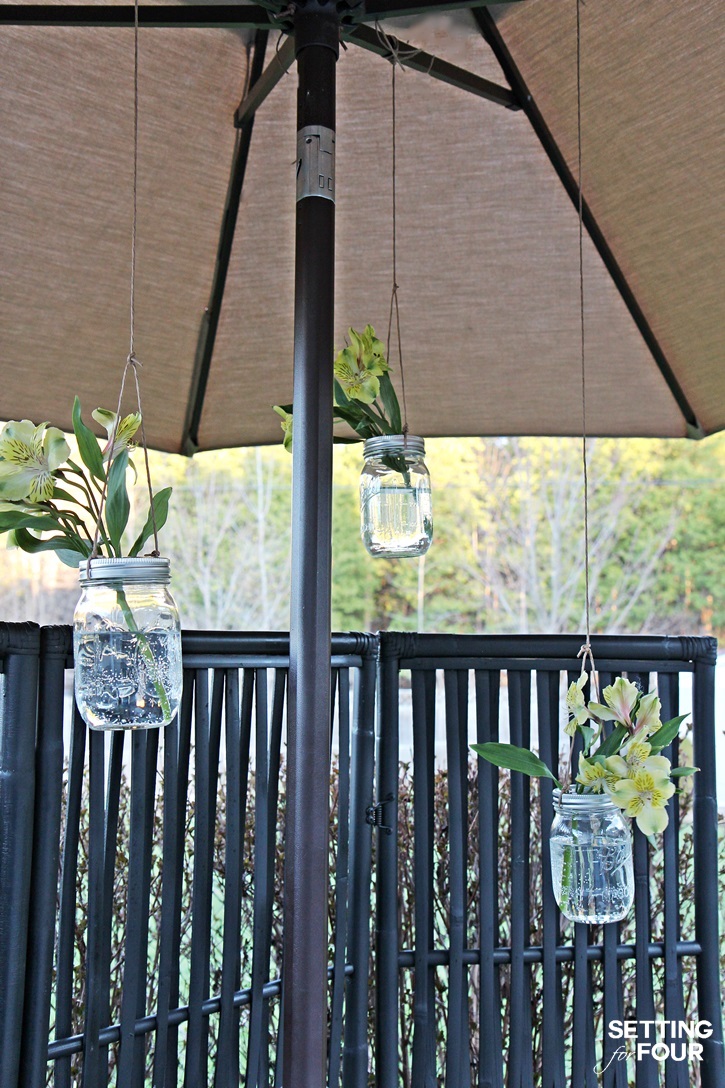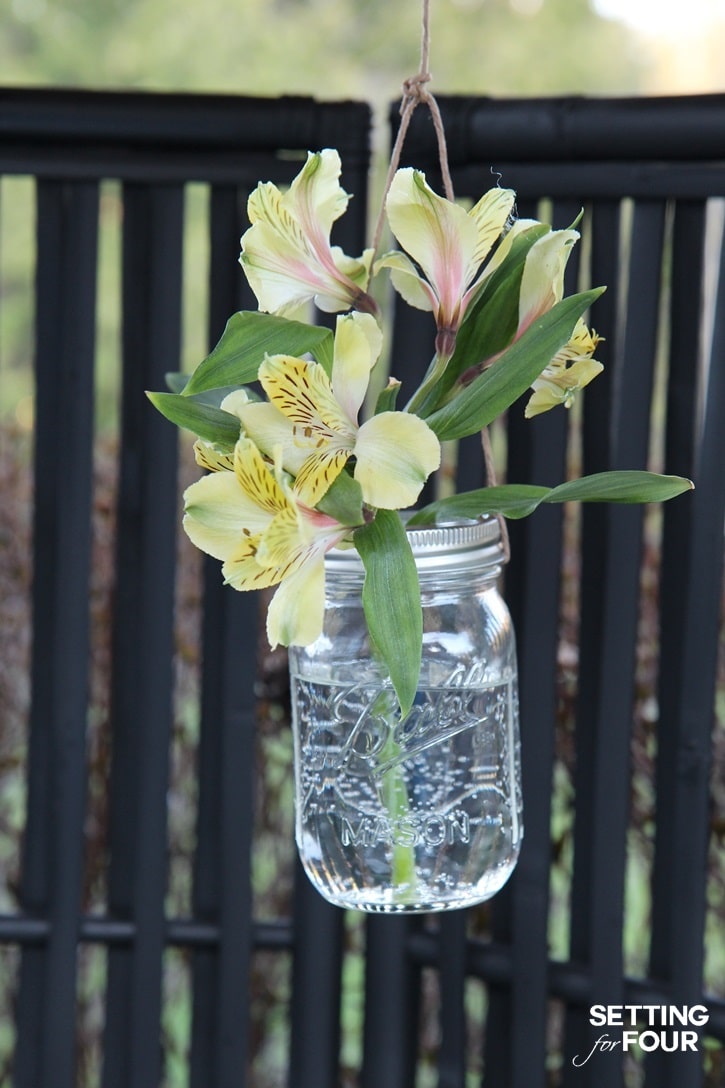 How to make do it yourself Hanging Flower Mason Jars:
Mason Jars – 1 pint size
Water
Flowers – I used yellow Alstroemeria flowers – also called Peruvian lily- that I bought at the grocery store;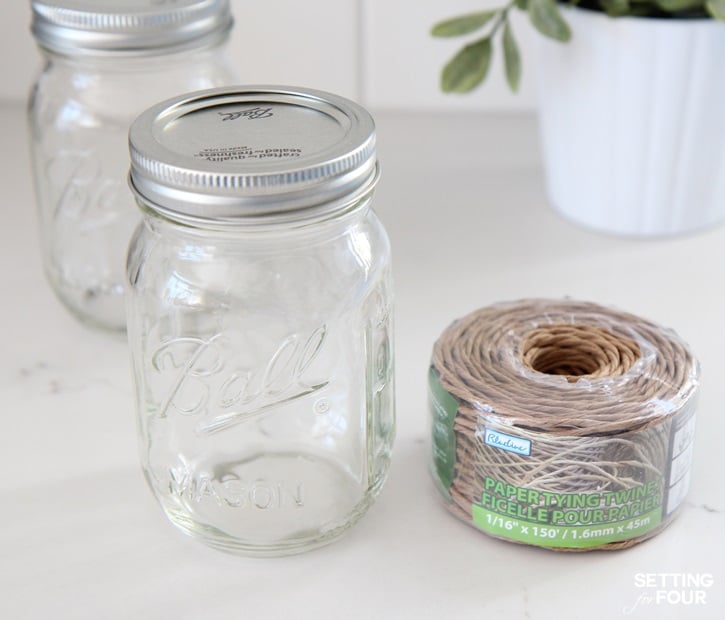 First step is to remove the lid and ring from the mason jars.
Snip a 12 – 16 inch length of paper twine and tie one end of the twine around a mason jar ring. Make sure it's knotted and secure.
Tie the other end of the twine on the mason jar ring on the opposite side and knot.
This makes the hanger!
Thread the ring onto the mason jar – hold the twine in place when you do this step or the twine will shift and your hanger will be lop-sided!
Fill each mason jar with water and the flowers
Snip off 2 feet and 3 feet lengths of twine to tie the mason jars to a patio umbrella or gazebo roof. Just tie one end to the middle of the hanging loop and tie the opposite end to a patio umbrella or gazebo and hang a few of them for a hanging outdoor flower garden!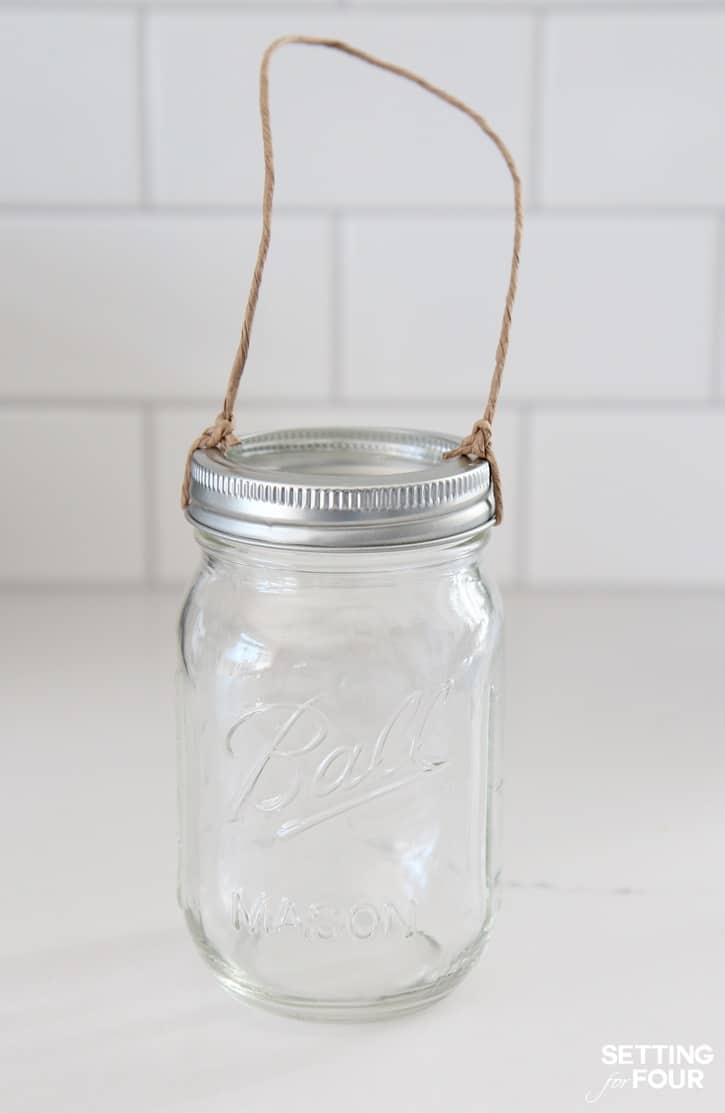 Such a pretty way to dress up your outdoor space this time of year with flowers in full bloom!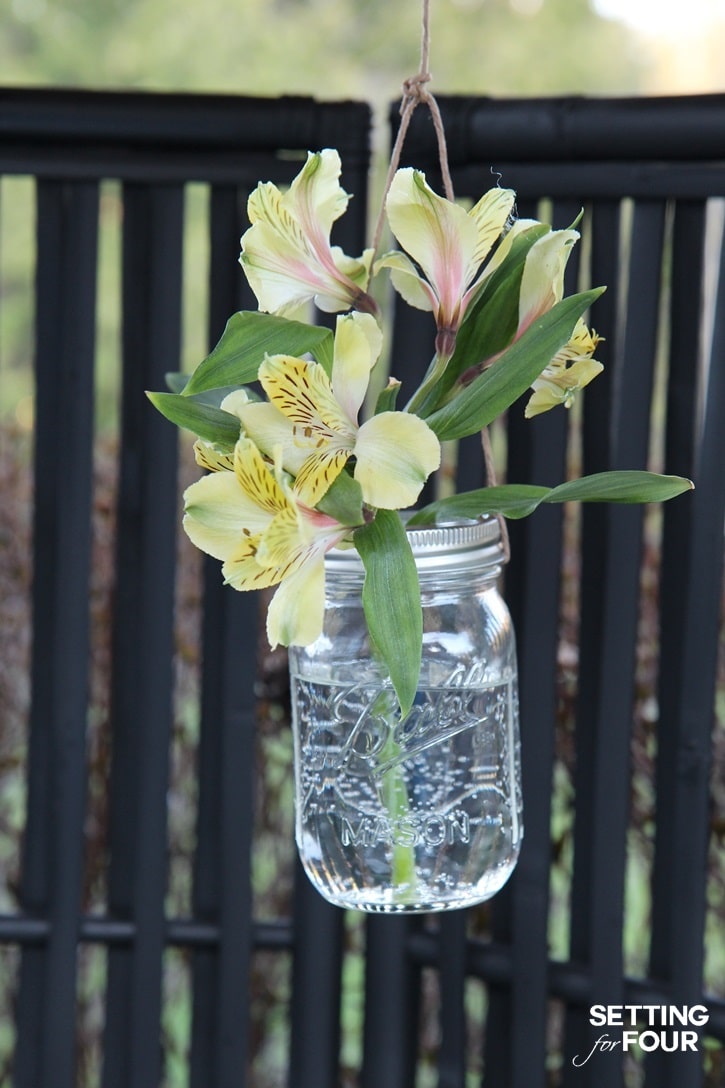 Every summer I love to add flowering containers to our patio and create a garden landscape where we sit and relax. We have lots of flowers in our flower beds and gardens but it's so nice to have containers to add color and texture to the hard surfaces of our patio stone. Plus they attract hummingbirds and butterflies!
This container showcases purple pansies, purple creeping phlox and some yellow daisy like flowers. I love the punch of color from these beautiful flowers!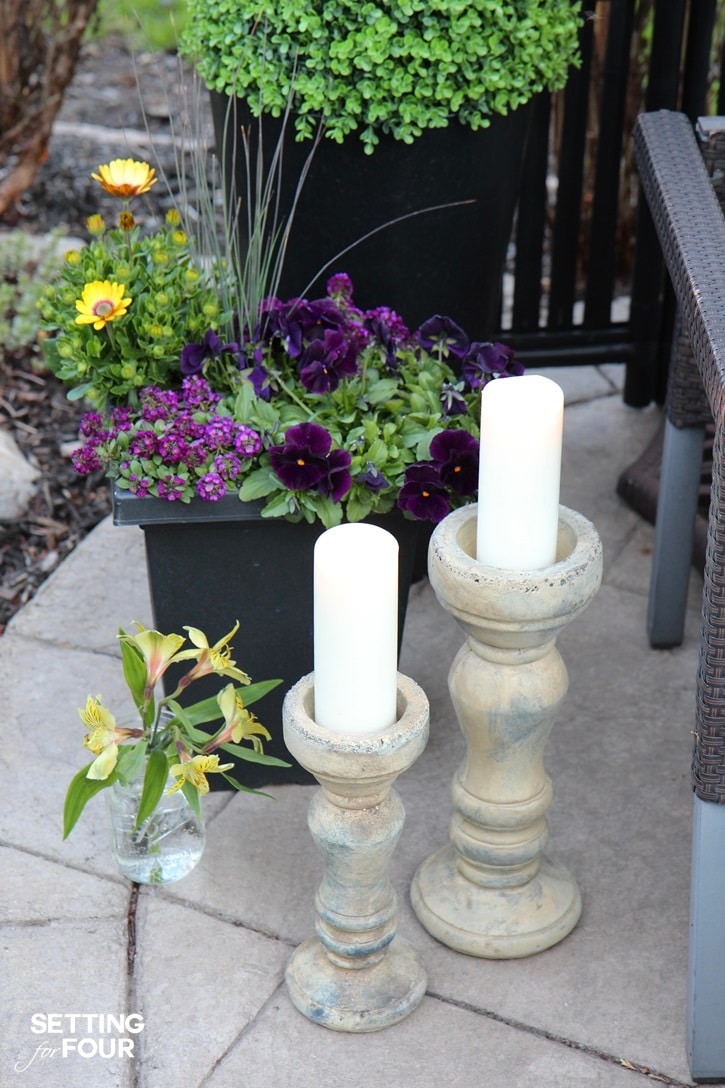 This little table is actually a tray and table in one! The top comes off to use as a tray. I love decor that works double duty!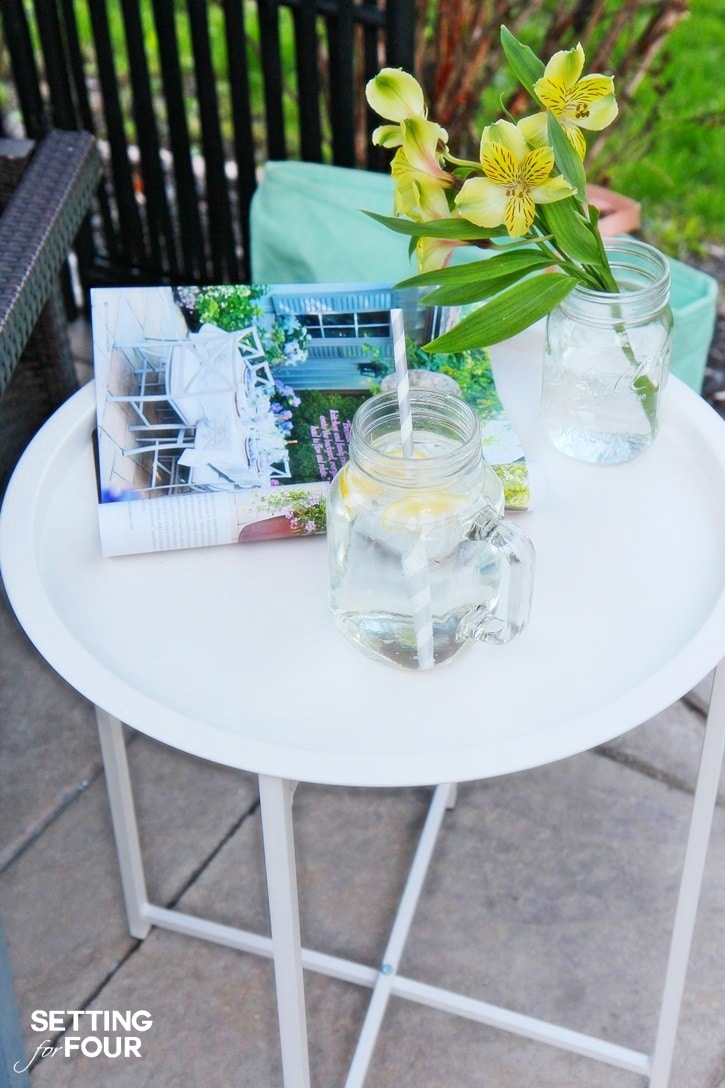 My lounge spot is all ready for some summer relaxation with my hanging flower bouquets, a magazine, candles and some cushions and a throw to make it cozy!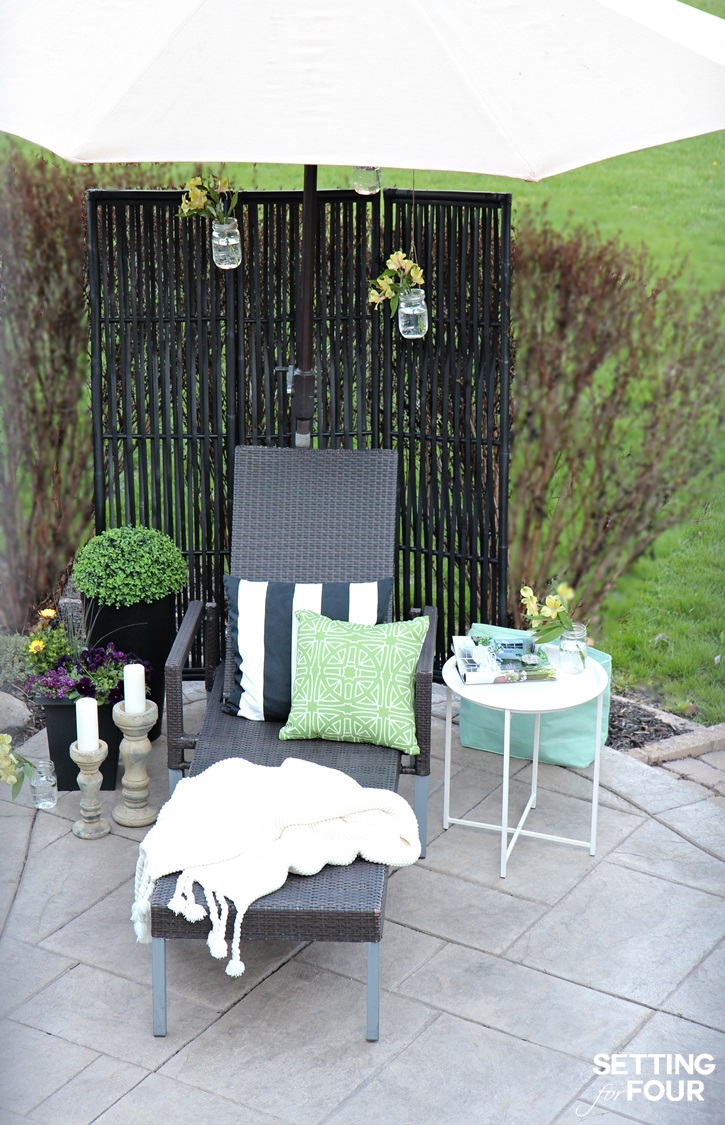 I hope you are getting your outdoor spaces ready for some fun in the sun too! Be sure to check back next Thursday for another OUTDOOR EXTRAVAGANZA post – we'll be sharing ideas and tips for summer decorating and entertaining!
Now check out the stunning gardening diy projects my friends made!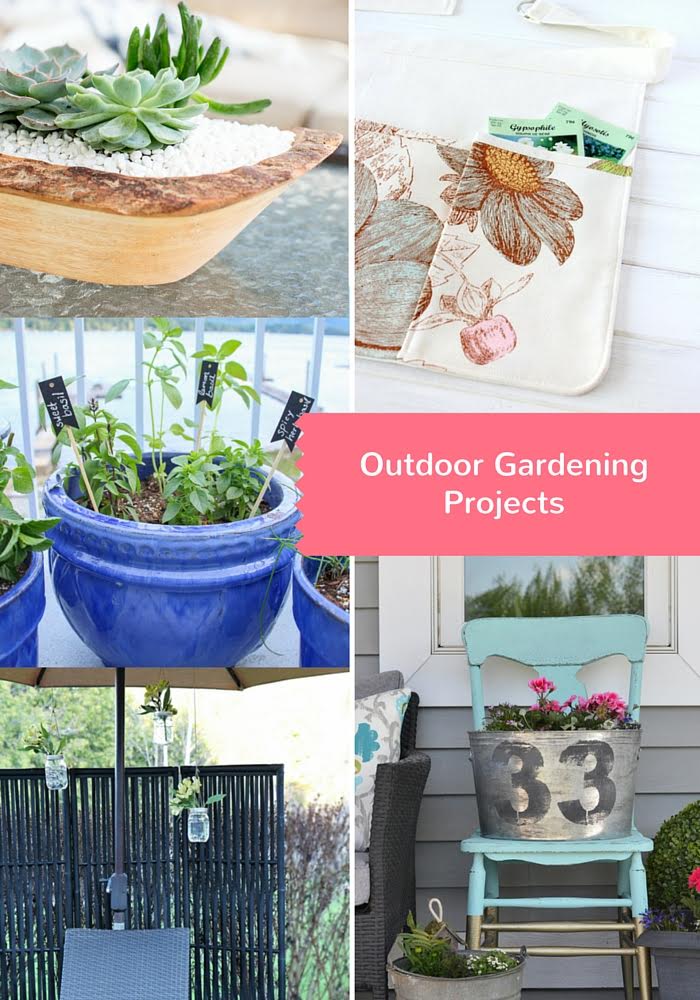 Wooden Bowl Succulent Planter by Craftberry Bush
Sew a Gardening Apron by Satori Design for Living
Kitchen Herb Garden in Deck Pots by The Happy Housie
Hanging Flower Mason Jars by Setting for Four
Make a Faux Vintage Galvanized Planter by The DIY Mommy