DIY Chocolatey Favor Boxes are such a sweet and thoughtful way to show appreciation to the loved ones in your life over the holidays and everyday! Learn how to make these quick and easy little gift boxes filled with delicious chocolate – they are so fun to make and give! Keep a bowlful of these adorable mini DIY gifts on hand over the holidays to give to friends that pop by unexpectedly as table top place setting ideas, thank you gifts or for quick and easy hostess gifts! They also make fabulous budget friendly wedding favors and party favors too!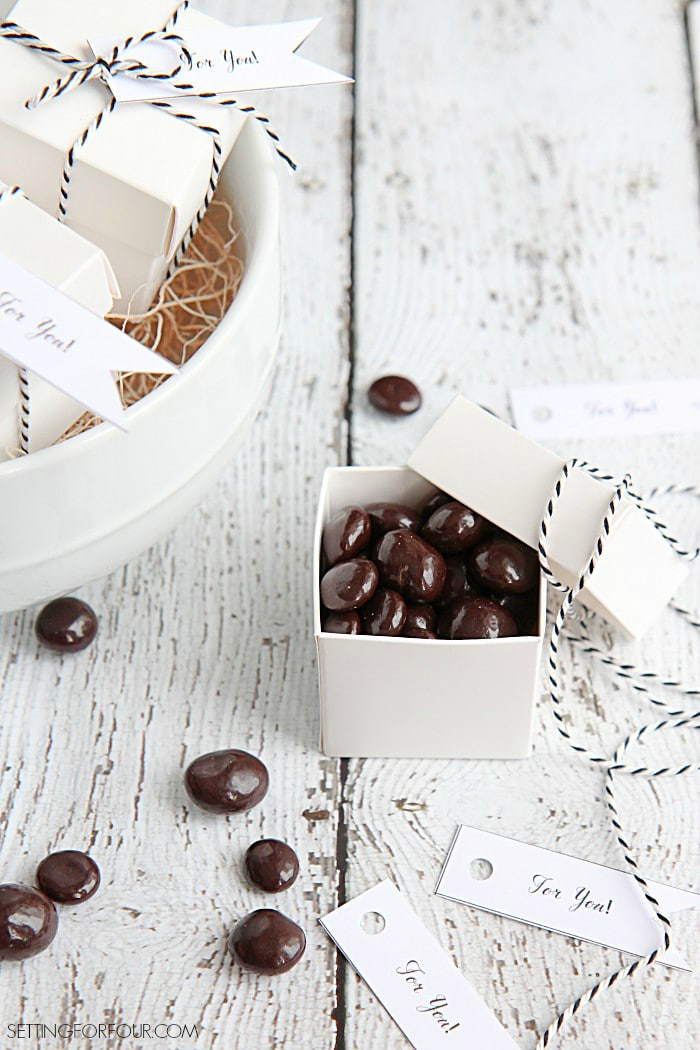 Have you tried Brookside Dark Chocolate Candy? They are so delicious! I've been a longtime fan of these yummy smooth dark chocolate treats that have centers filled with real, exotic fruit juices and flavors!
I absolutely love the Dark Chocolate Acai and Blueberry Flavor and the Dark Chocolate Pomegranate flavor.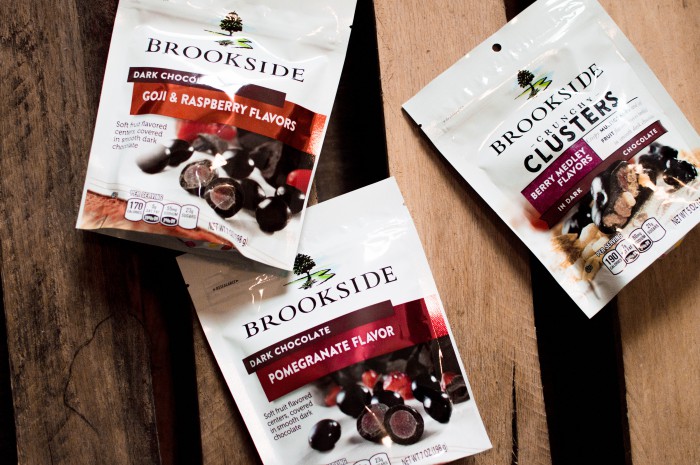 Sometimes there is nothing more satisfying than the taste of rich dark chocolate! Pair that with exotic fruit flavors and the explosion of flavor in your mouth is sensational!
These chocolates create the ultimate chocolate experience for any chocolate lover. Perfect for your sweet side and your wild side.
Not only do they make a great gift idea but they are just plain delicious for snacks and dessert – our whole family loves them! Their resealable bag make them the perfect on-the-go treat.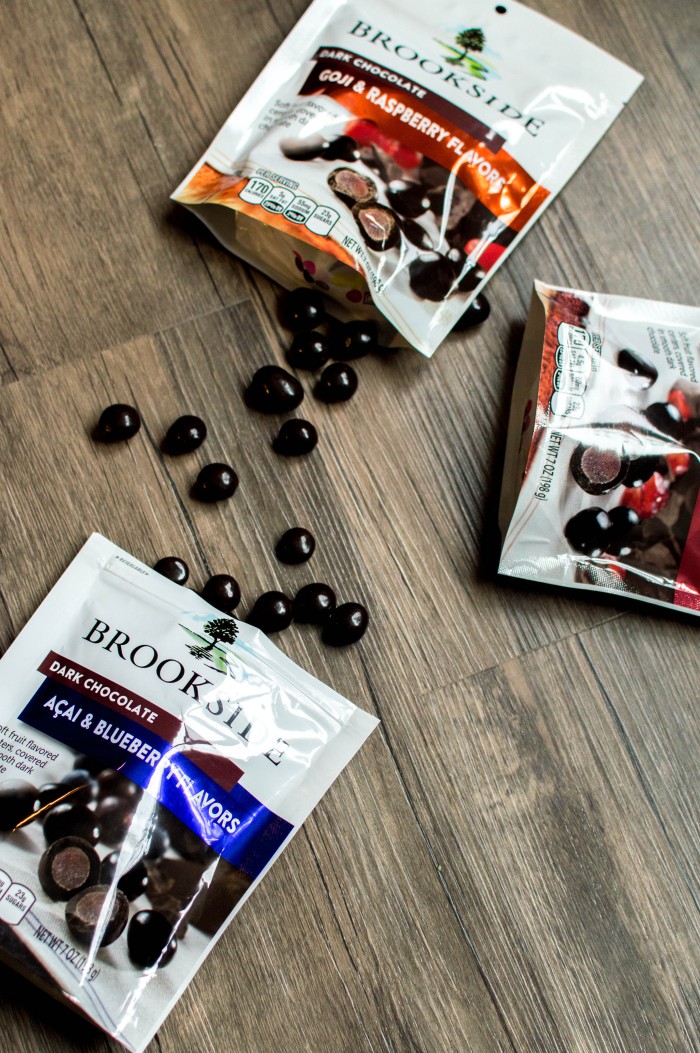 My favorite way to enjoy Brookside Chocolate is to gift it as these adorable mini gift box favors!
affiliate links are added for your shopping convenience
How to make Chocolate Favor Boxes for wedding favors, party favors or holiday gifts:
Directions:
Fold these adorable mini favor boxes and fill with Brookside chocolates.
Tie with bakers twine or ribbon and add a tag.
Aren't they adorable?????
They are super quick to make up!
DIY Chocolatey Filled Favor Boxes For Gifts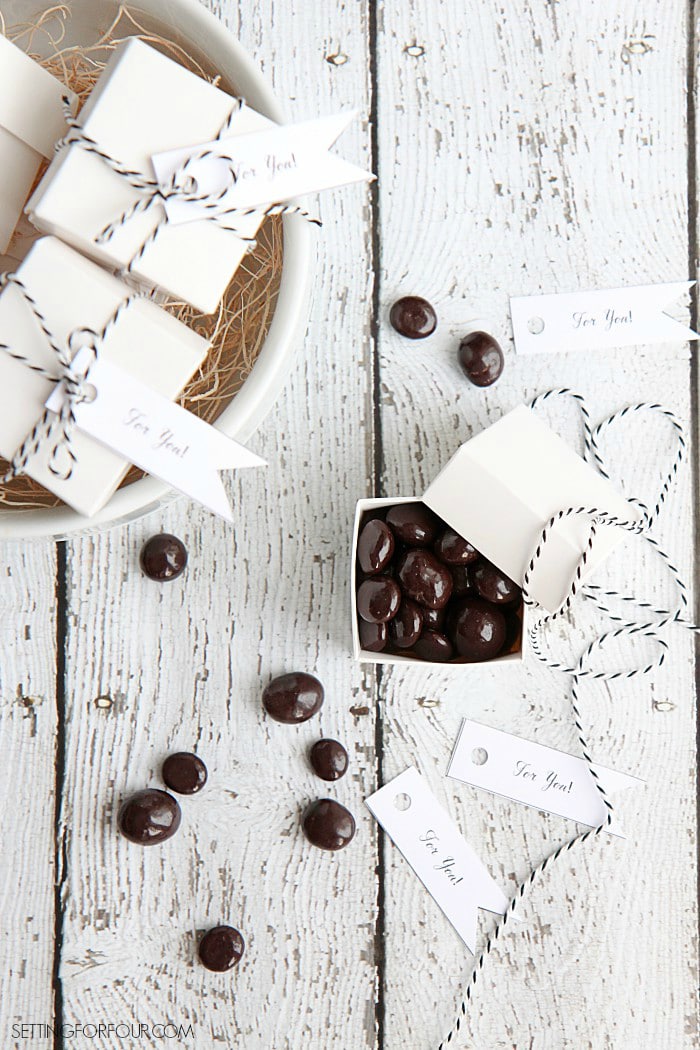 These bite sized chocolates are the perfect size to fill up mini favor gift boxes!
Buy mini party favor gift boxes with lids that you fold (or pre-folded ones!), fill them up with Brookside Chocolate, then add some bakers twine or ribbon around the outside to secure – add a gift tag and you're done!!
Make a bunch up to have on hand for the holidays! I guarantee you'll create lots of smiles and joy when you pass them out or set them at each place setting at your next dinner party!

I hope you enjoyed my chocolatey DIY Favor Boxes idea today! Now that you've seen my favorite way to enjoy this delicious chocolate- tell me what's your favorite way to enjoy Brookside Chocolate?
You may also like:
Easy DIY Hostess Gift Mason Jar Of Flowers
DIY Mason Jar Gift: Snowflake Hot Chocolate
15 Plus Easy Chocolate Dessert Recipes
I am participating in a campaign for Brookside Chocolate. I am receiving a fee for posting; however, the opinions expressed in this post are my own. I am in no way affiliated with Brookside Chocolate and do not earn a commission or percent of sales. This post is written by me and sponsored by the Hershey Company. All opinions are 100% mine.