Get your FREE November Home Checklist and see which important home improvements you need to make this month.
Includes a FREE To-Do Checklist that you can print!
Helpful tips on what to do the entire month of November, home maintenance checks, cleaning tips and more!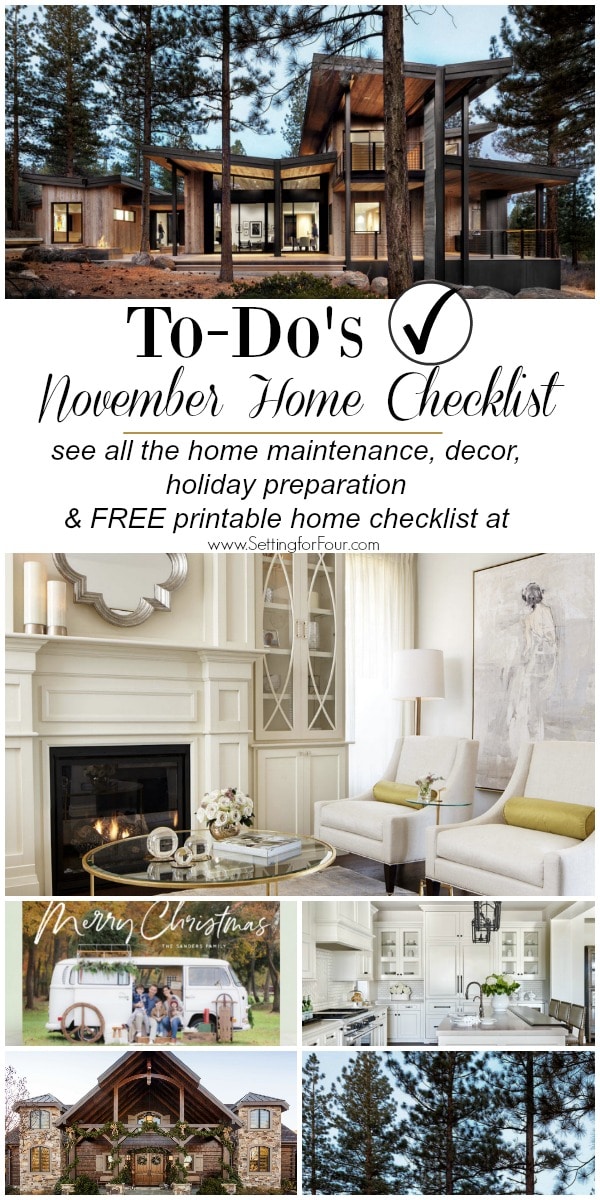 November Home Checklist – Home Improvement & Home Decor Ideas
With Thanksgiving around the corner and Christmas fast approaching there is so much to do and prepare for around the house this month!
Prepare your home for colder winter weather and get a jump on holiday hosting preparation so you can enjoy Christmas with family and friends!
I have 21 checklist items for you this month – don't forget to get your FREE printable November Home Checklist here!
Things to accomplish in an Hour or Less
1. Survey walkways, paths, railings for safety
When the snow arrives you want all your paths, steps and railings to be secure and safe to prevent slips and falls! Take a walk around your house with a notepad and pen and inspect all steps, railings and paths for safety concerns and make repairs as needed.
2. Ice Melter
Buy a couple of bags or jugs of ice melter and store in your garage with a spreader so that you're ready to de-ice your steps and paths. This ice melter is safe for pet's paws!
3. Bird Feeders
If you love watching winter birds buy a feeder or two, birdseed and a feeder pole and set them up in your backyard! We love watching the chickadees and bluejays at our winter feeders!
4. Sump Pump
Check your sump pump to make sure it's in working order! With more rain and ice melt you don't want your sump pump to fail and cause water build up in your basement!
November Home Checklist – Tackle These Tasks Over a Weekend
5. Shovels and Snowblower
Get out all of your shovels and snowblower if they've been in storage! If you own a snowblower make sure it's in working order and if not schedule a maintenance appointment. Buy fuel for it. Be ready for the first snowfall with solid shovels and a snowblower that works!
6. Remove last of fall leaves
Remove as many leaves as you can now before the snow arrives!
7. Inspect Exterior of your home
Look for loose shingles, siding, downspouts, and windows. If you see that repairs are needed schedule an appointment.
8. Deep Clean Bathroom and Kitchen
November is a great time to deep clean your kitchen for guests and parties with this Kitchen Cleaning checklist, clean your hardwood floors as well as clean tile floors (foyer, bathroom, kitchen) and get the rest of your home clean for guests.
9. Replace Bathroom and Kitchen Caulk
With your kitchen and bathroom being used frequently this month and next it's important to replace any loose and damaged tile caulk. You can add it yourself or call a handyman.
10. Emergency Kit For Your Car
Add a winter emergency kit for your car so that if your car breaks down you can stay warm!
11. Get a head start on Holiday Prep.
If you're hosting Christmas meals or parties make sure you are organized!
Get your FREE Printable Holiday Planner here – 27 gorgeous pages to keep you on track with checklists, gift lists, menu planners  and tracking sheets so you won't miss a thing during this crazy time of year!
Make sure your table linens and guest towels are freshly laundered and ironed if necessary.
Prepare your guest bedroom with supplies if needed.
Get your knives sharpened, polish silver if needed.
Take stock of your cutlery and serving ware and purchase any dishes, bowls, serving utensils and casserole dishes you may need.
Get out extra hangers for your front closet for guests.
Buy paper napkins for appetizers, desserts, buffets.
12. Purchase Holiday Greeting Cards
I order our holiday cards from Minted and they usually have great sales on their cards at this time of year. They have such gorgeous designs!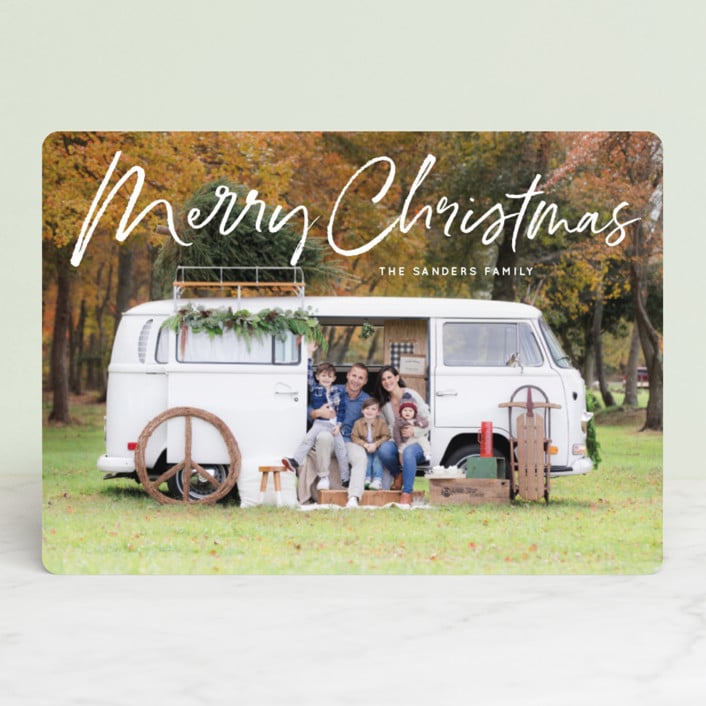 13. Buy and /or make Gift Wrap and Gift Tags
Save money and make your own pretty holiday gift tags!
Go here to print them off on your computer. Cut them out, add some baker's twine and attach to your holiday gifts!
14. Decorate Your Front Porch For The Holidays
Take a look at one of my Holiday Porch's for decorating ideas.
I love adding festive curb appeal to my front entryway at Christmas with a front door wreath, garland for my door and DIY pine and birch urns decorated with natural elements!
15. Pick up a faux Christmas tree if you need one!
Now's the time to pick up a new tree if you need one – while they are in stock! Don't wait because you may not get the one you want.
I LOVE my flocked Christmas tree! Do you have a flocked tree? They are absolutely magical! Here are my favorite Christmas trees this year!
16. Make a few DIY gifts in advance
I have a ton of DIY gift ideas for you to make for friends and family! Browse my DIY Gift Ideas section to see them all!
26 DIY Sugar Scrubs to Hydrate Your Skin!
Turn Children's Art Into Tea Towels- Great gift idea for family members
See all my gift guides for her, for him, for kids here!
17. Bake Holiday Cookies That Can Be Frozen!
Make these yummy make ahead and freeze Apple and Cranberry Icebox Cookies – makes a great food gift idea too!
Package them in mason jars with the free gift tags below for quick and easy gifts!
Maintenance and Other Things for This Month
18. Force Bulbs
Start forcing your bulbs now so they are in bloom for the holidays.
19. Order firewood
If you have wood burning fireplaces take stock of your firewood and purchase more.
Here's a Clever Wood Storage Idea! How to Keep Firewood Dry
20. Fix Plumbing
Check all toilets, faucets and shower fittings to make sure they are working properly and not leaking so your home is ready for guests next month!
21. Paint a room and /or fireplace surround
Now's the time to paint that room that you've been wanting to refresh! Guests and family soon visiting is a great incentive!
See my home's paint colors here for inspiration.
These are helpful painting ideas: How to Pick the perfect paint sheen with FREE printable chart and How to Prepare a Room For Painting with Free printable!
Makeover your fireplace  surround to showcase your holiday decor! See how to paint fireplace tile and paint a wood mantel fresh bright white.
I hope you enjoyed this November Home Checklist – Home Improvement & Home Decor Ideas!
(don't forget to get your FREE printable checklist!)
You may also like:
Guest Preparation Ideas To Host Friends & Family
20 Delicious Thanksgiving Desserts For A Crowd, For Two and Kids
Budget Friendly Elegant Table For Thanksgiving – Decor Tips!