See these Inspiring DIY Home Decor Ideas and Office Mood Board Design: How to Decorate a Coastal Glam Home Office with beachy casual elegance!
Sources for the bookcases, rugs, lighting, furniture and decor are included so you can copy this interior design!
Links are listed at the end of the post!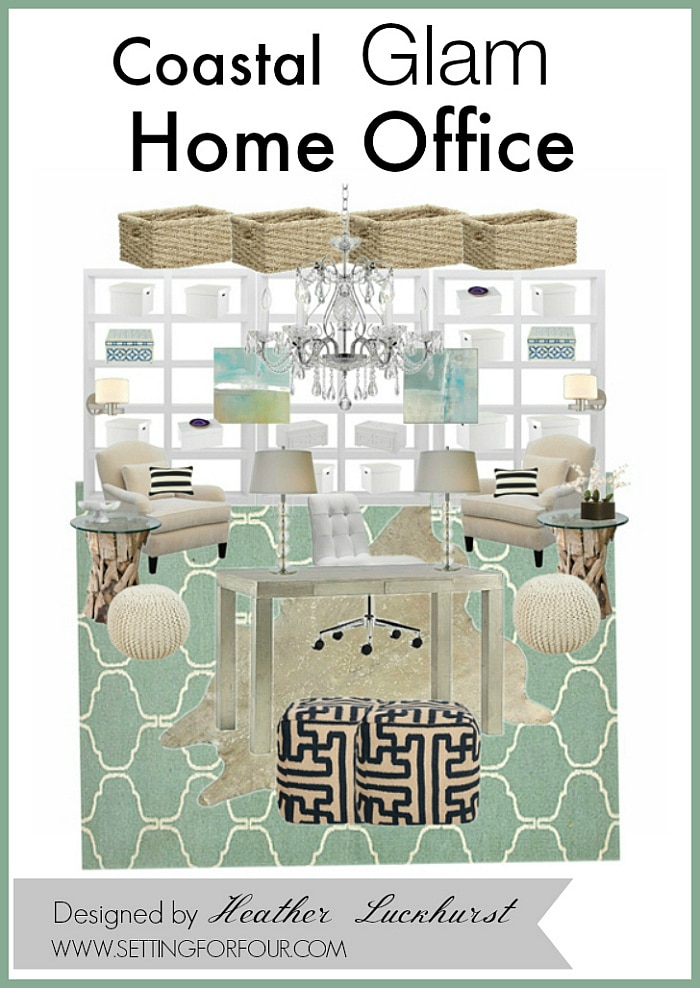 As you hopefully know my blog is all about inspiring you through decorating and design tips, ideas  and DIY projects.  To further inspire you, I thought it would be fun to share my creative vision boards / mood boards designed for different rooms of a home!
Today I am sharing a Home Office Mood Board Design that I created embracing coastal glam style.
I'll explain how I created this home office design and how you can create a similar decorated office for your home!
If you love this room and would like some help creating a similar home office for your home we can work together through my Online Decorating Services.
---
Do you need help with furniture layout, room design, selecting furniture or choosing paint colors?
See my e-design & paint color services info – and client reviews! 
Email me at [email protected] for more info!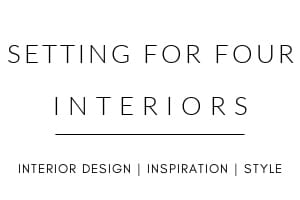 ---
In all of my interior decorating my priority is to balance color, pattern, texture and style. Let's start with….
Color
Coastal interiors embrace watery blues and sandy taupes.
For this room I started with the focal point which is this GORGEOUS area rug in a beautiful eye-catching geometric pattern and watery blue color with a touch of cream .
It's flat weave design is perfect for use in a home office.
click here to see this Silver Sea Flatweave Area Rug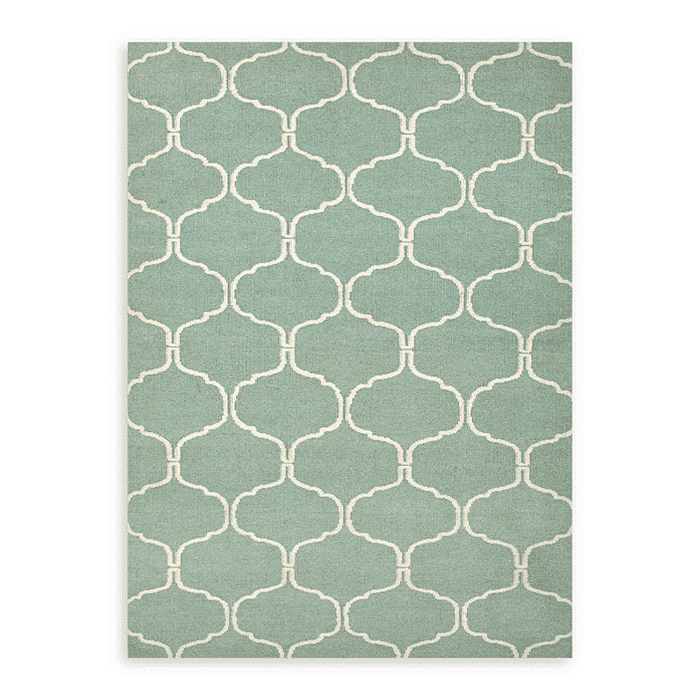 Because this sea blue color is so striking I downplayed the other colors in the space and added soft shades of cream and sandy taupe.
I also introduced contrast with a touch of black in these stunning black and cream pouf ottomans.
The design adage of adding a touch of black to every room is timeless advice.
A touch of black will add visual weight, contrast (which creates interest to the eye) and a youthful, more modern point of view.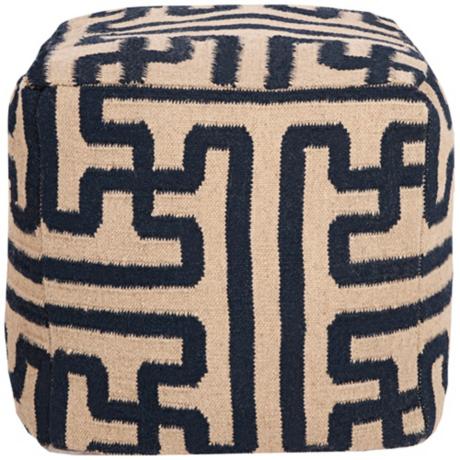 For this mood board design I repeated the watery blue in artwork and accessories.
See this 60-30-10  Color Rule post for more color tips.
Texture
Adding varying textures to a room – smooth and rough – adds life and interest to a space.
The wicker baskets on the built in bookshelves, knitted poufs and end tables along with smooth metal finishes all add texture and interest: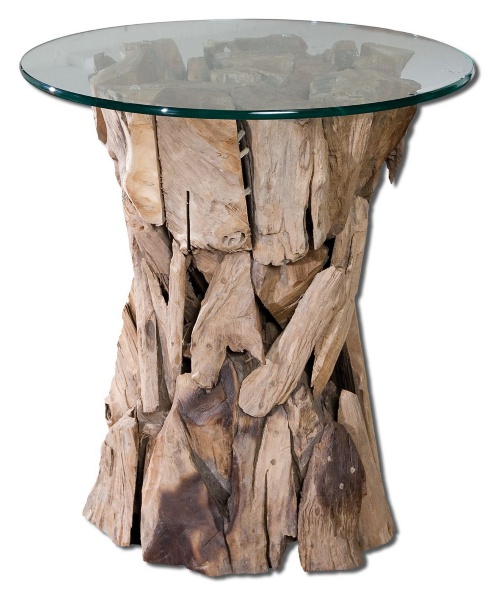 desk: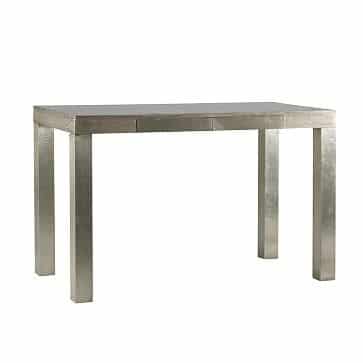 Pattern:
This room includes various geometric patterns in the rug, inlaid boxes, striped pillows and contemporary Greek Key poufs.
All of these patterns are balanced with lots of solid, non patterned surfaces and accessories.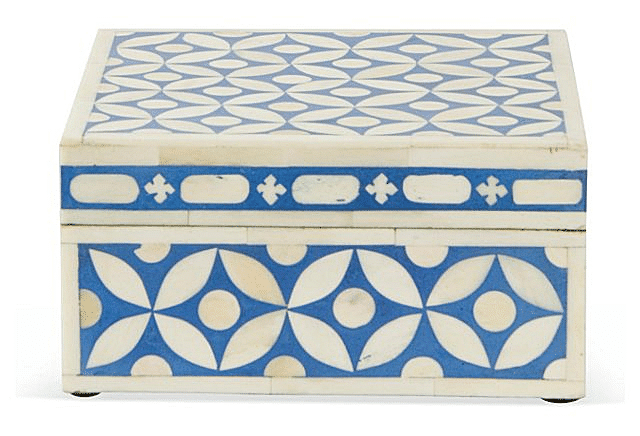 Style 
As I mentioned this Mood Board Design has Coastal Glam style.
Glam metallic finishes in the desk, chandelier and table lamps add a gorgeous glam touch to this space.
The relaxed beachy colors and natural materials of wicker and bark ooze Coastal charm.
See my decor tips on How to  Pick the Perfect Chandelier Size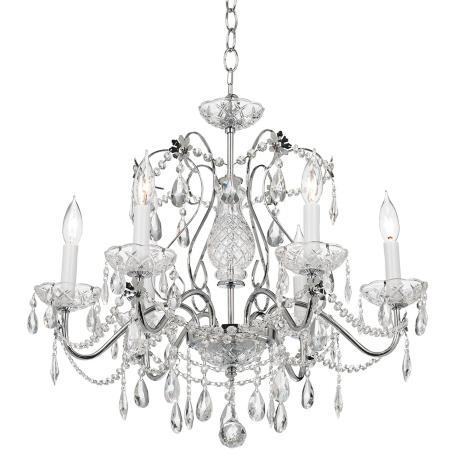 My Advice to decorate a room like this is to:
Begin with one eye-catching element as the focal point (here it's the area rug) and decorate around it bringing in the colors, textures, pattern and style that you love!
I hope you enjoy my Coastal Glam Home Office Design and Mood Board Design! Happy Decorating!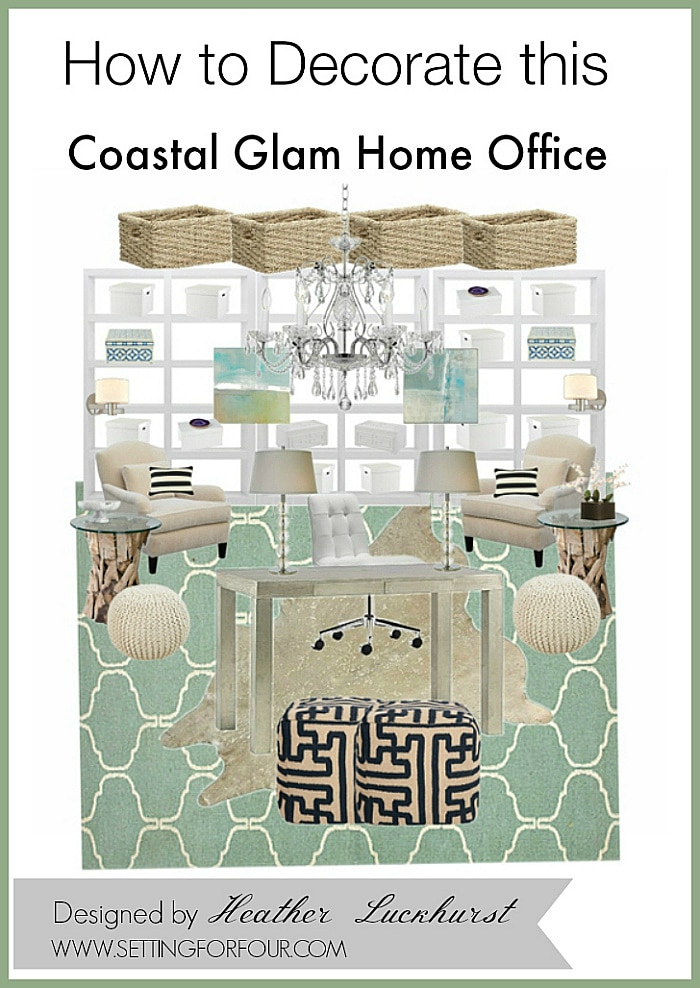 Coastal Glam Home Office Sources – click the links below to see more about each item:
office chair  |  desk  |  table lamps  |  hide rug  |  trellis area rug  |  square poufs  |  cream knit poufs   |  end tables |  armchairs  |  bookcases  |  chandelier  |  baskets on top of bookcase  |  art here and here  |  sconce lights (on bookcase) 
More Design and Decor Ideas: