Looking to decorate your space and make a huge impact without breaking the bank? See these 12 gorgeous DIY decor projects that will make your home look amazing!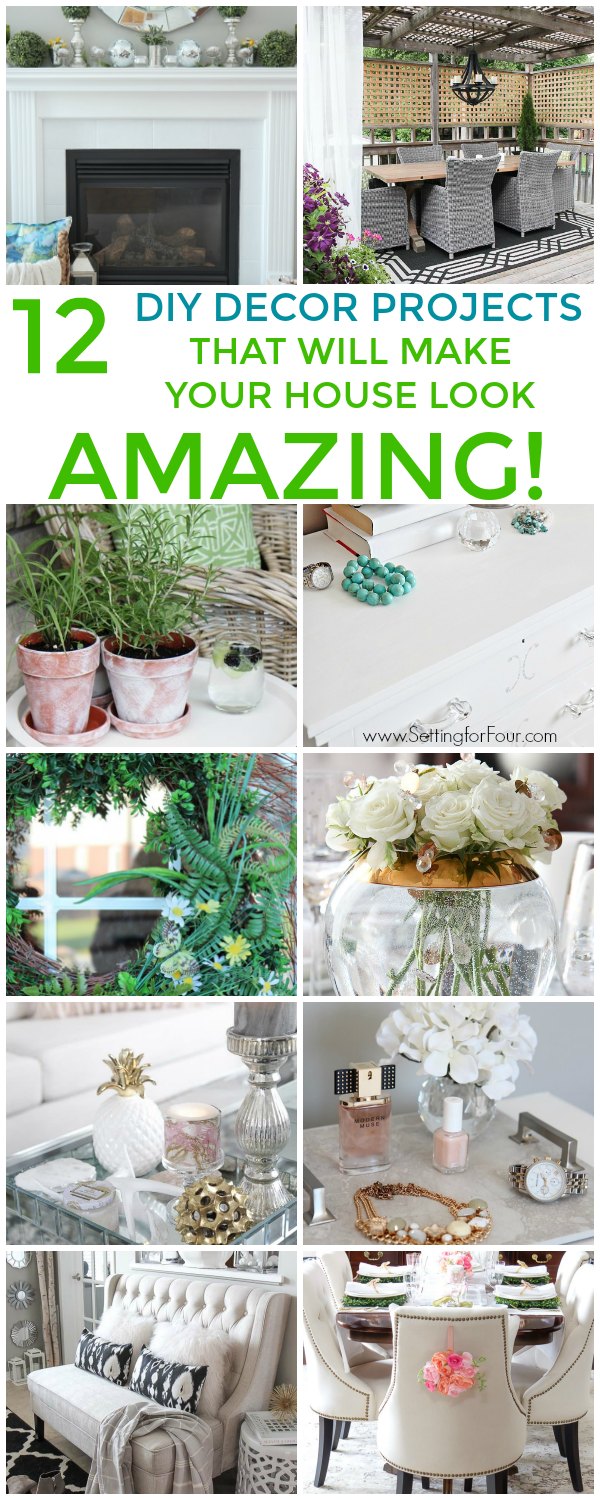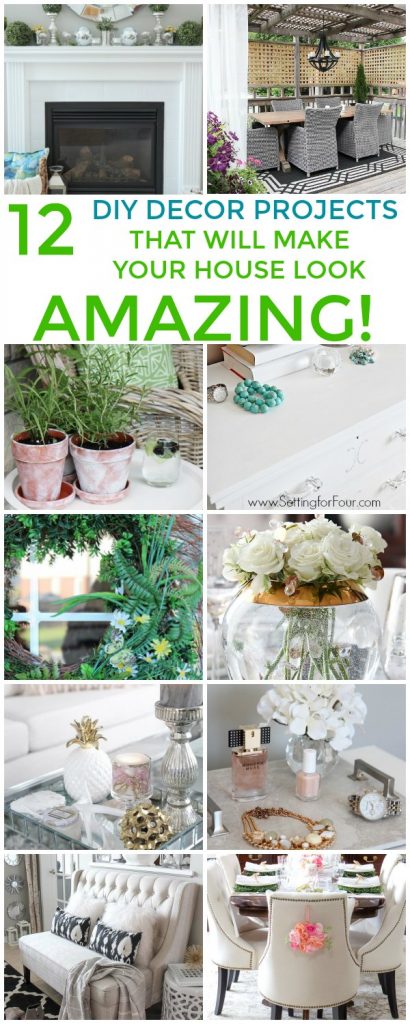 Decorating your home isn't about buying everything new – it's about giving new life to what you have! By implementing a few simple DIY decor projects you can personalize your space, remove wood and tile colors you don't like and make decor accents that will give your home a cozy feel!
12 DIY Decor Projects That Will Make Your Home Look Amazing!
Make DIY art
You don't have to be an artist to make gorgeous art! Buy an inexpensive frame or reuse one you have and frame a postcard, concert ticket, magazine photo, a gorgeous scarf, pillow cover, tea towel, placemat, some fun kids art, wallpaper, wrapping paper… or do like I did to create this stunning DIY marbled art that I have hung in our dining room!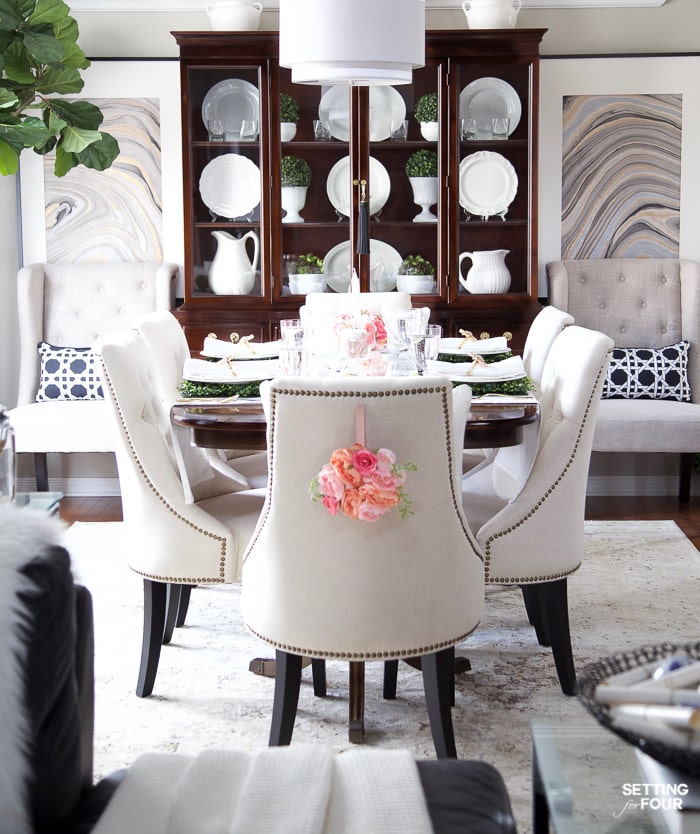 You can create and hang a stunning DIY art piece in one afternoon and give your home a personalized one of a kind look!
2. Paint a dresser or end table
Give a blah dresser or end table a fresh new look with just a coat of paint! You won't believe the difference it makes in your room! I used white and gray chalk paint to paint and stencil this dresser and give it a whole new look! Use any color you like to give your accent furniture pieces new life.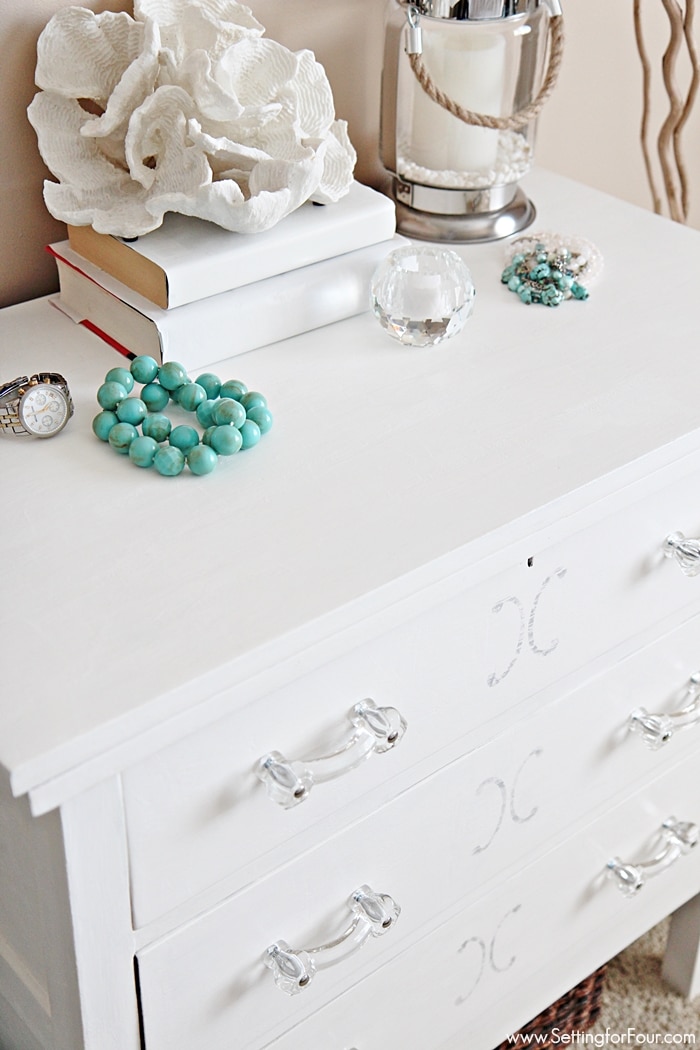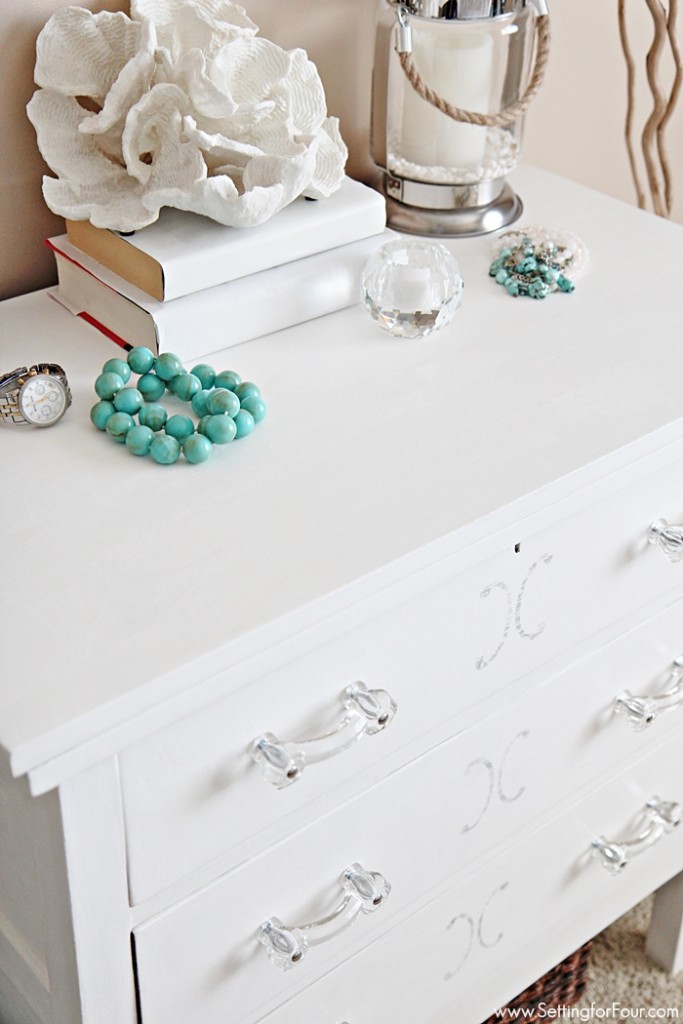 3. White wash terra cotta pots to display plants or herbs in your home
Terra cotta pots are super inexpensive but the terra cotta color can be easily changed! Clean some terra cotta pots you probably already have or pick up some new ones and give them a whitewash coat of paint that can be done in less than 5 minutes! Plant up your favorite plants or herbs and display them in your kitchen windowsill, on a tray on your kitchen island, on a foyer console table, on a bookshelf or on a tray on your coffee table! The effect is stunning and really gives you home a welcoming vibe.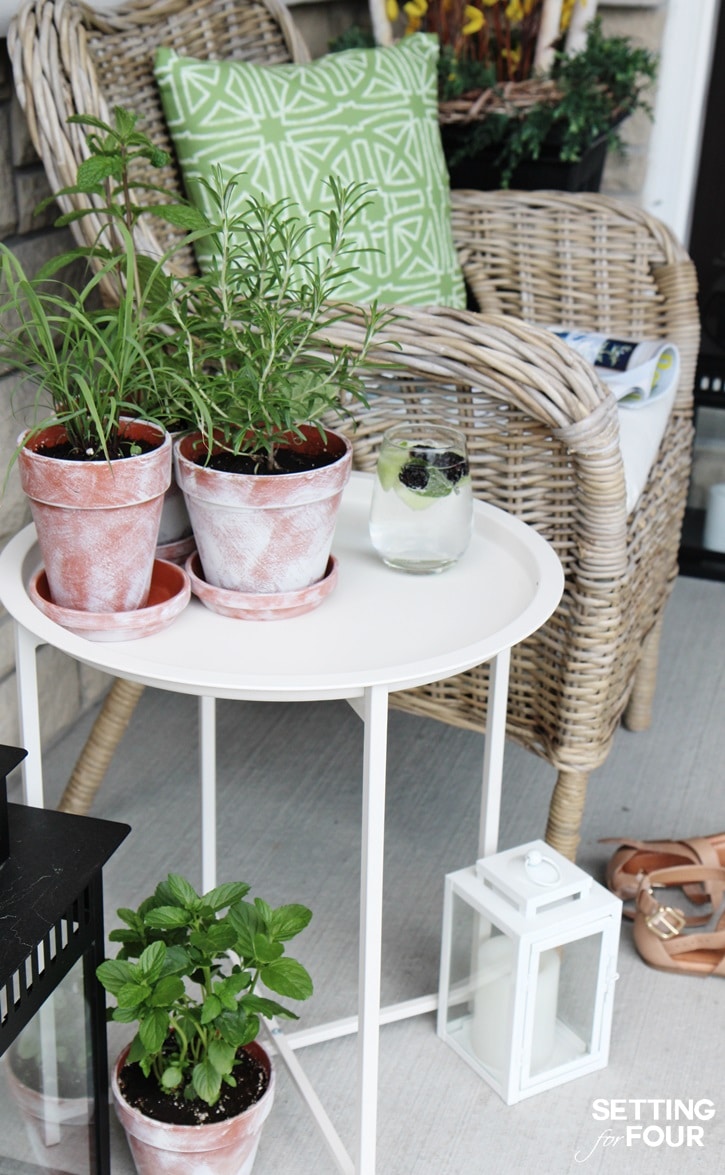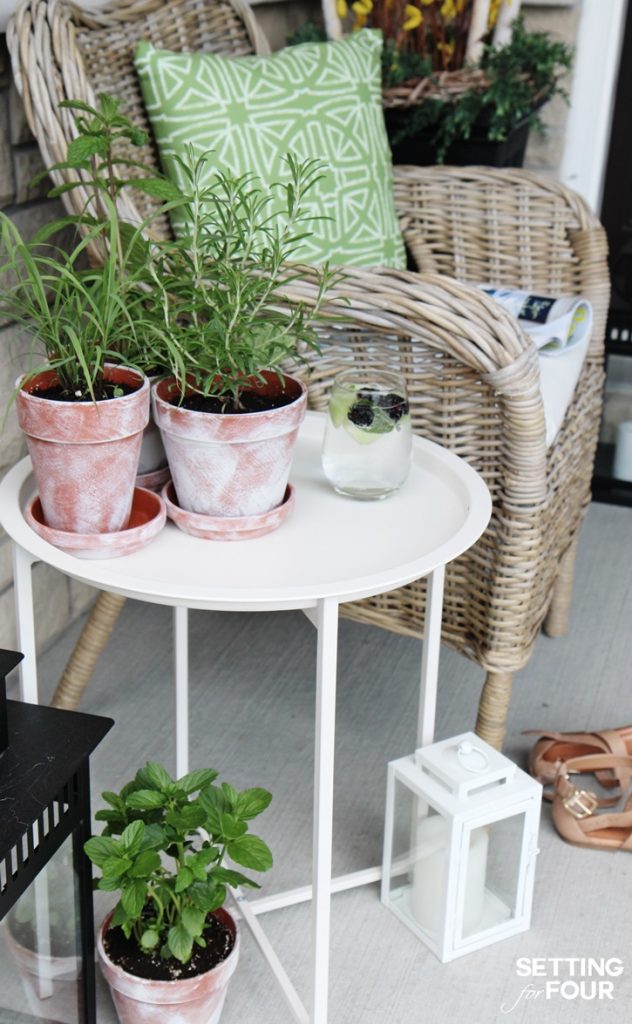 4. Create a diy tile tray
Trays can be expensive but did you know you can easily make your own! This DIY tile tray that I made took me less than 30 minutes to make! Reuse tile you already have from a bathroom or kitchen reno or purchase a gorgeous piece of marble or designer stone tile to use! If you are just buying one pack of tiles the cost of this is incredibly low. Add some gorgeous cabinet handles to complete the look. You'll have a tray that is perfect for displaying decor and serving food and drinks that you can leave out on your kitchen island, dining table or coffee table.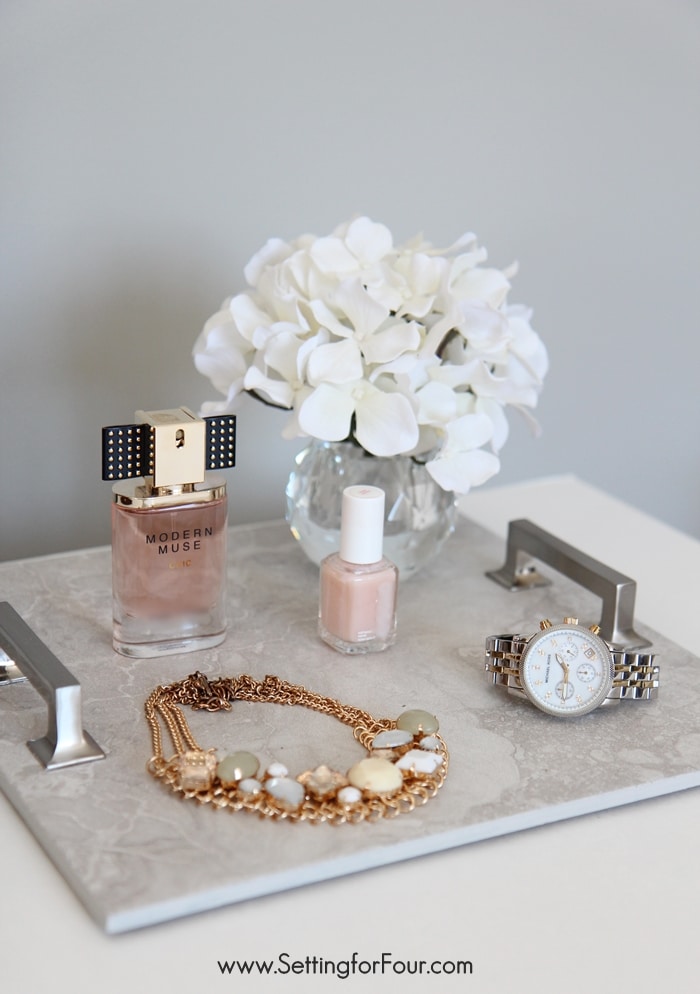 5. Paint your fireplace mantel
One of the best things I did to improve our home was to paint our brown wood fireplace mantel white! You can see how I did it (so easy anyone can do this!) plus the before and after pictures here!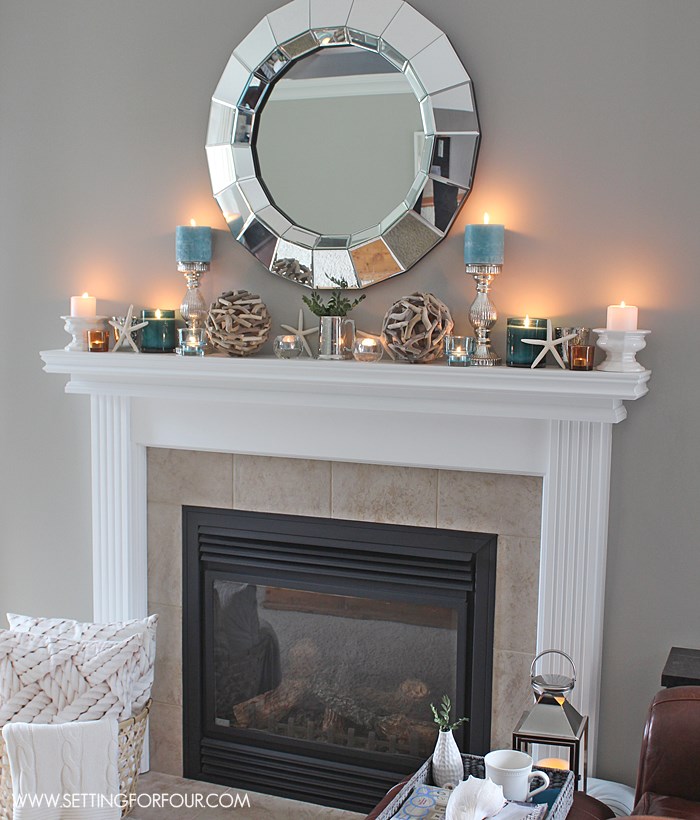 6. Paint your fireplace tile
The second best thing I've ever done to improve the looks of our home is to paint our fireplace tile! It was a blah beige color to begin with and I painted it fresh bright white in just 3 steps! It only took me one weekend to do it including drying time! What a difference it makes to our living
room!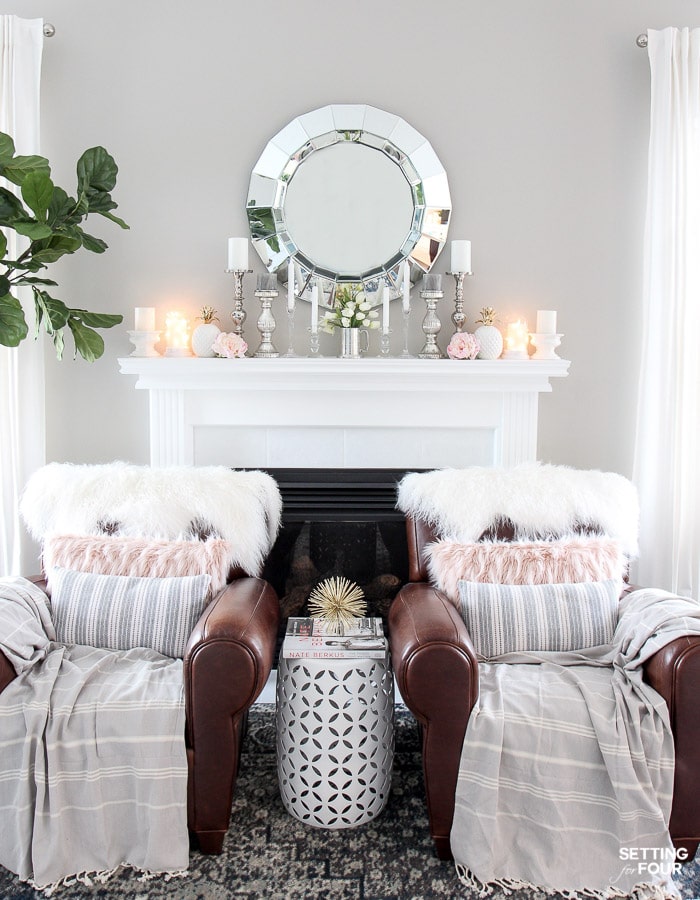 You can also see these 9 amazing ideas to refresh your tile here: Painting Fireplace Tile – 9 Ways to Update Your Fireplace
7. Hang outdoor curtain rods and curtains
Hang outdoor curtains on your gazebo or porch with this quick and easy DIY tutorial! It took me just 10 minutes to create these rods and hang these pretty white curtains! Outdoor curtains blowing in the breeze and filtering the sun is so heavenly in the Spring and Summer!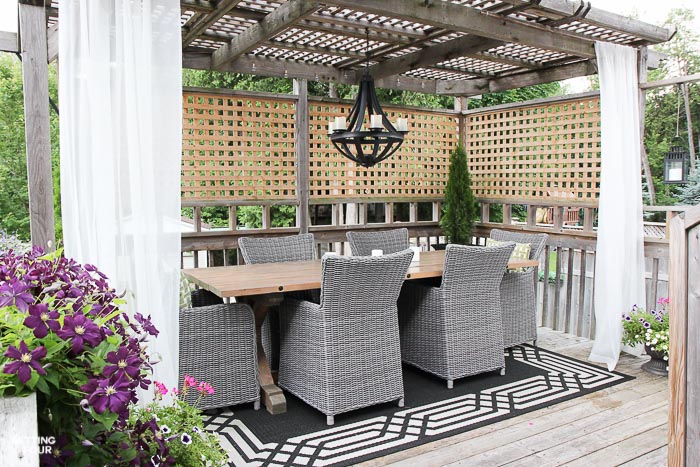 8. Hang art in the bathroom
Hang a piece of art or two above your toilet to add color and pattern to your bathroom! I show you how to easily hang art evenly on the wall and the perfect measurements to hang art above the toilet.
Height Measurements and How To Hang Pictures In A Bathroom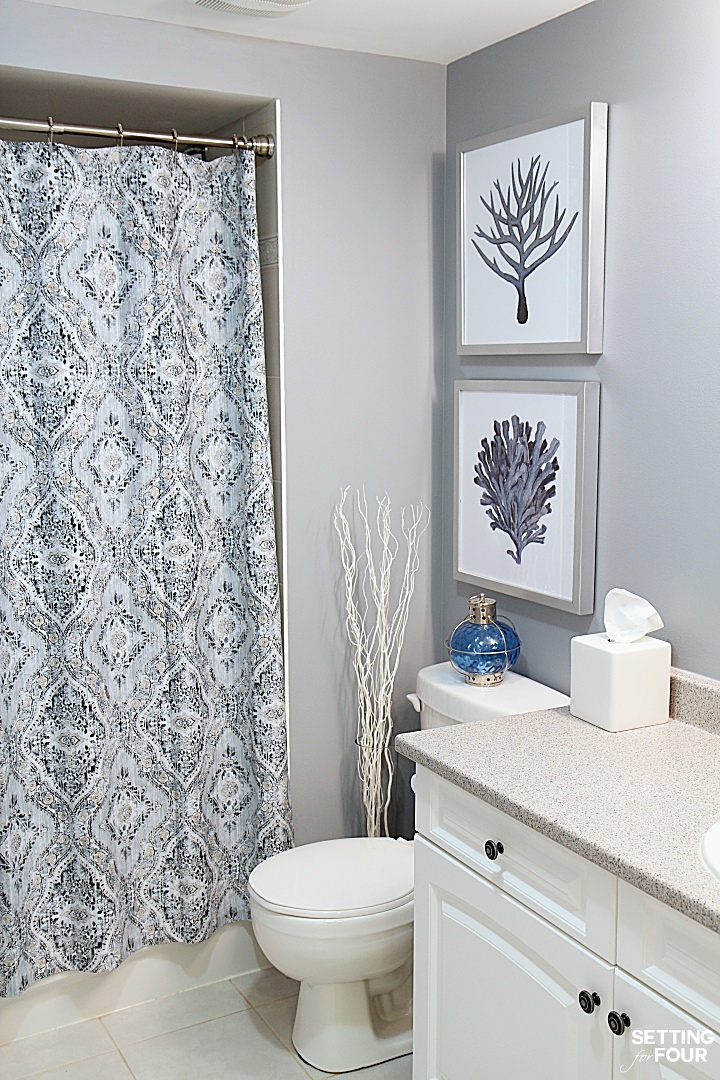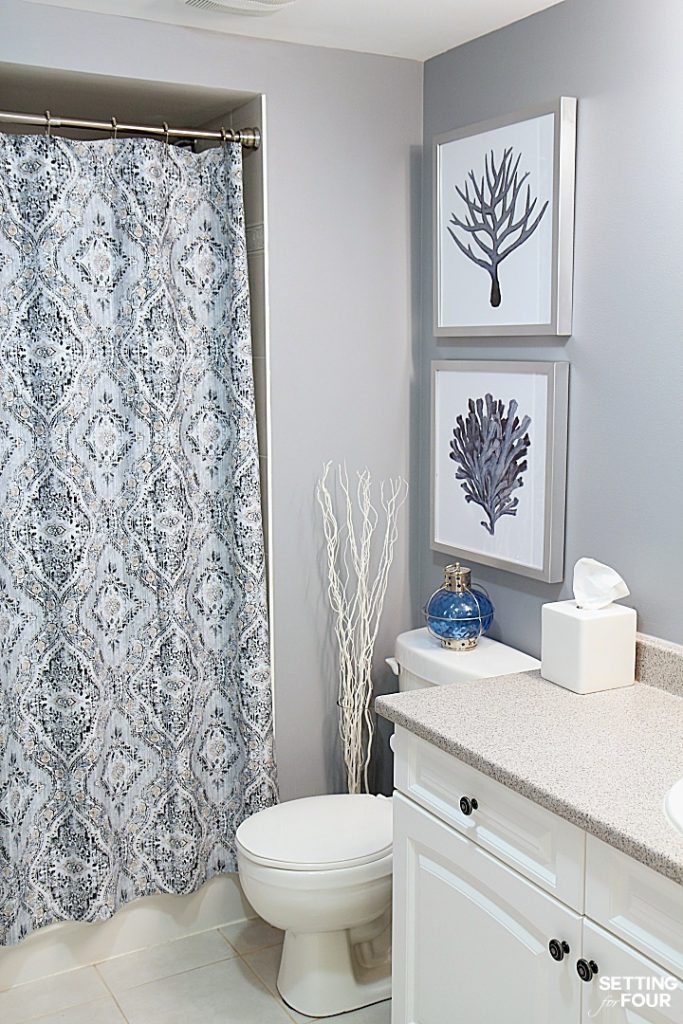 9. Make a centerpiece
A pretty centerpiece for your dining table will add instant style to your dining room!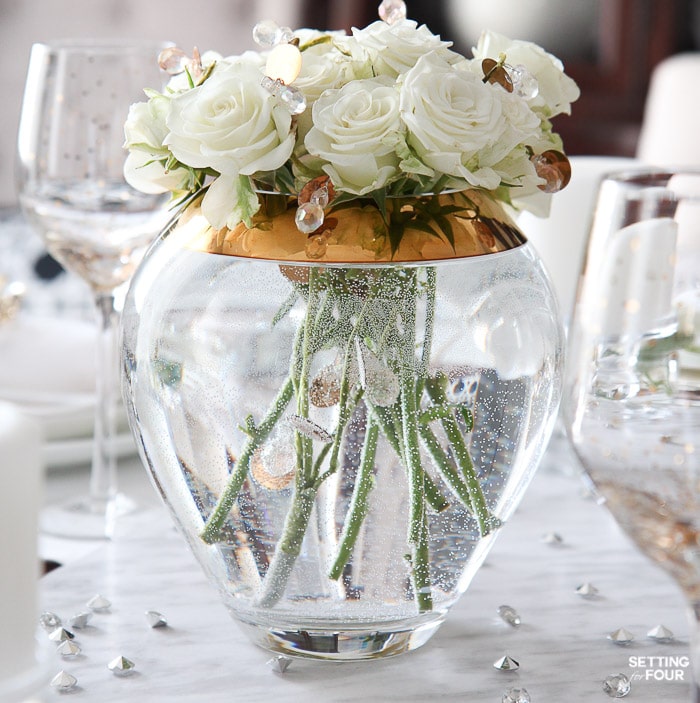 10. Make some chair wreaths
My DIY miniature floral chair wreaths are a big hit on my blog and with my friends and family! I love them! You can vary the plants and flowers for each season and for the holidays. See how I made them here!
Easy Faux Floral Wreath DIY Tutorial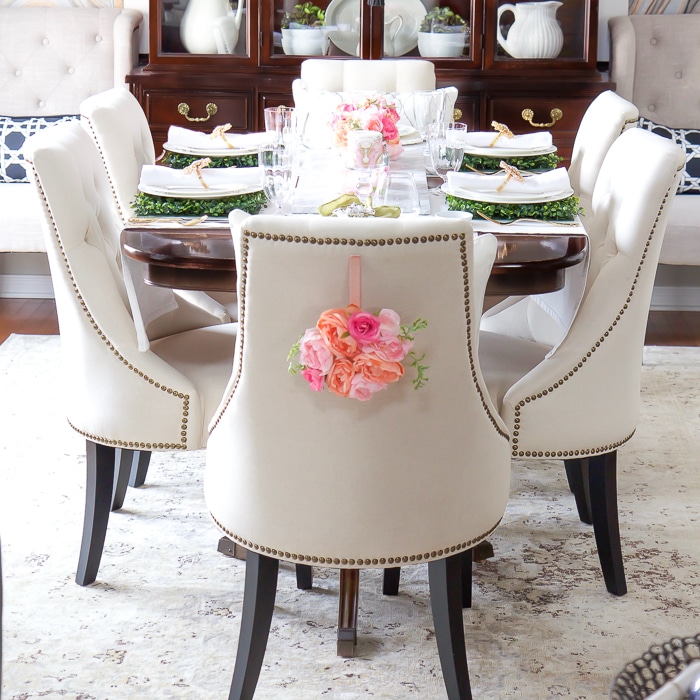 11. Make pillow covers
Yes I do make my own pillow covers and you can too! Save money and get the look you want by making your own! Pillow covers take up little space to store and can be easily cleaned. These 5 minute pillow covers are so easy to make even if you are new to sewing!
DIY Pillow Cover – 5 Minutes to Make!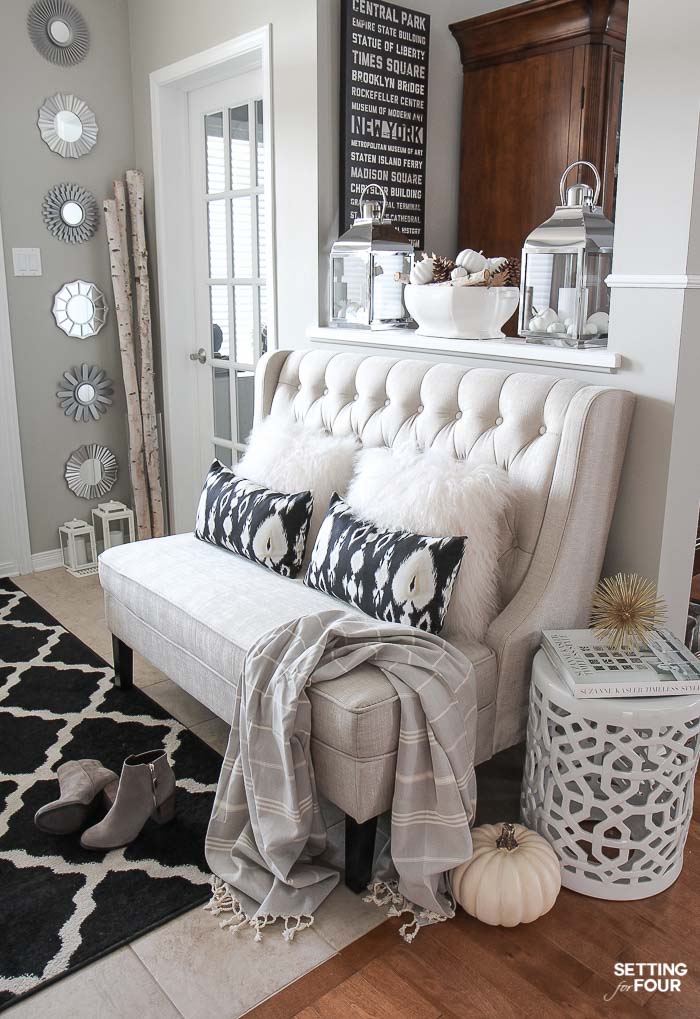 12. Make a wreath for your front door.
I've made many a wreath in my day – I love the custom look you can get by making one yourself! See my Fern and Butterfly Wreath that's perfect for Spring and Summer!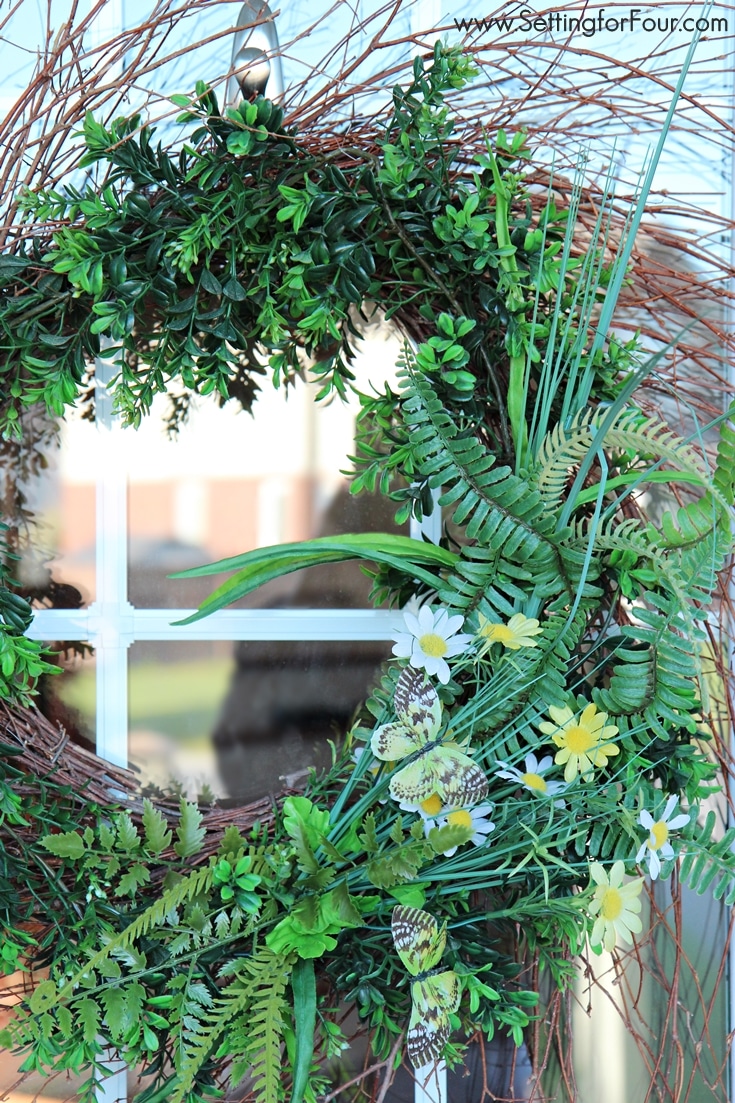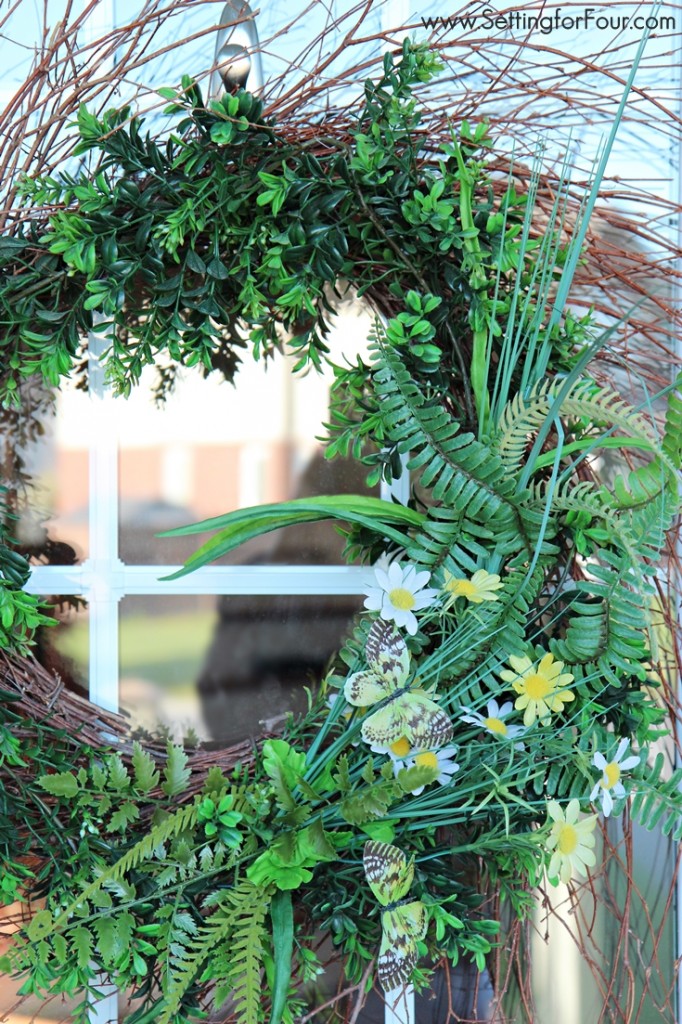 13. Bonus DIY Project: Style a coffee table
Use a tray, candle, plant or flowers and coffee table books to create a beautiful coffee table vignette that will add interest and style to your living room!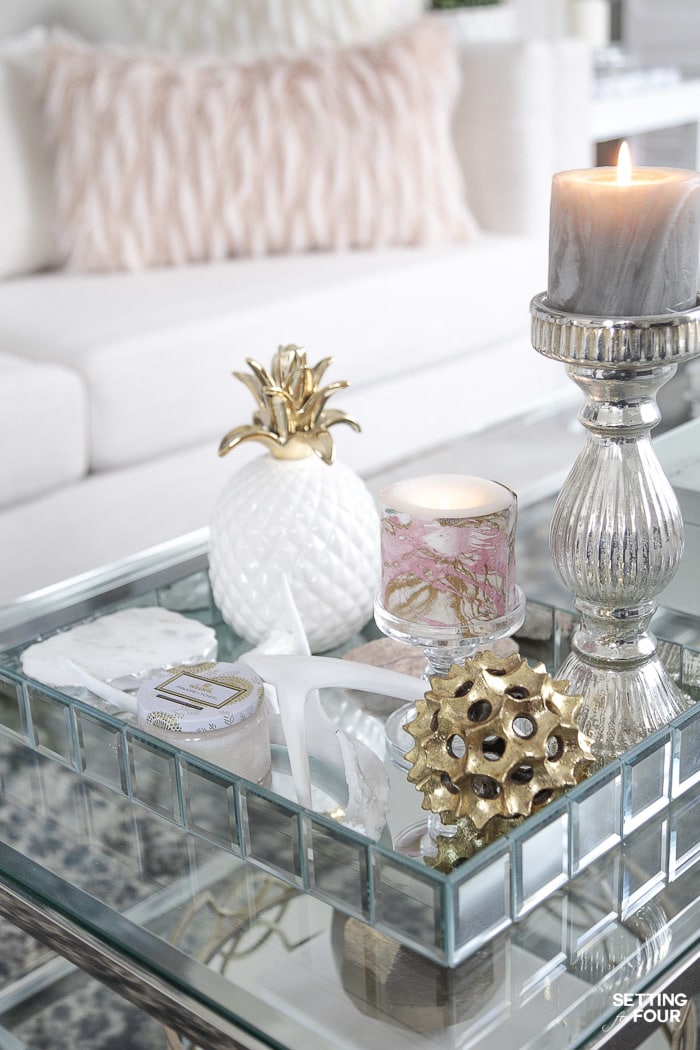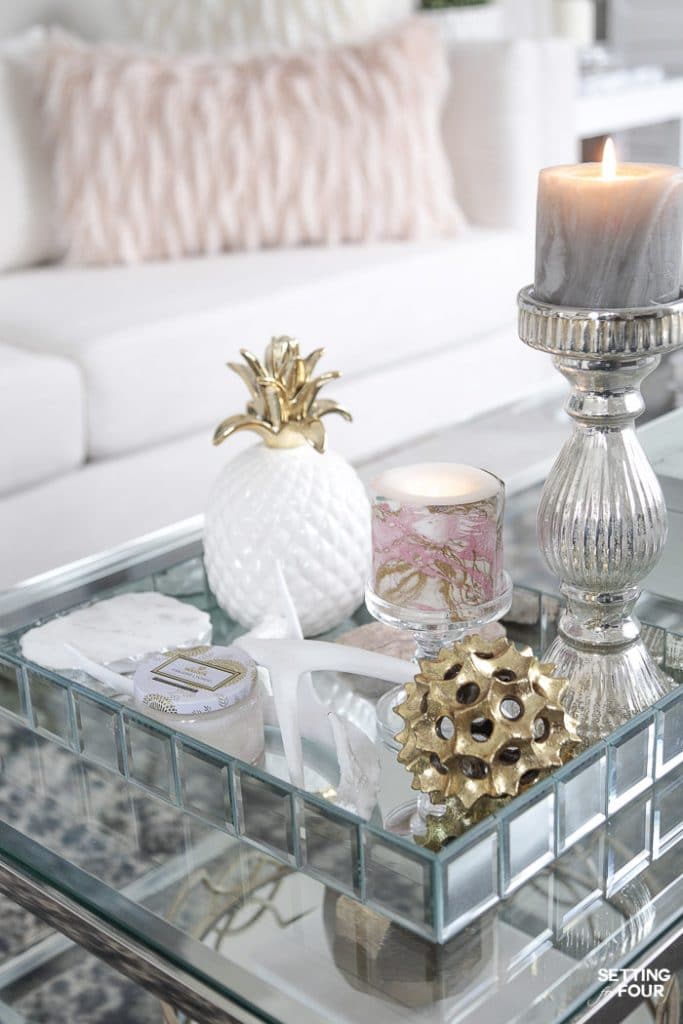 I hope you liked my post on 12 DIY Decor Projects That Will Make Your Home Look Amazing!
You may also like:
5 Decorating Mistakes That Make Your Home Look Cluttered
Design Tip // The 60-30-10 Color Rule
Easy Tabletop Decorations You Can Do In Five Minutes