A moist and delicious hazelnut and Nutella pumpkin bread with crunchy hazelnuts and creamy Nutella filling.
Bonus – it uses canned pumpkin and is really easy to make!
This yummy sweet bread is a fabulous idea for breakfast, a snack or dessert! 
Plus it's perfect for fall as the weather begins to cool down.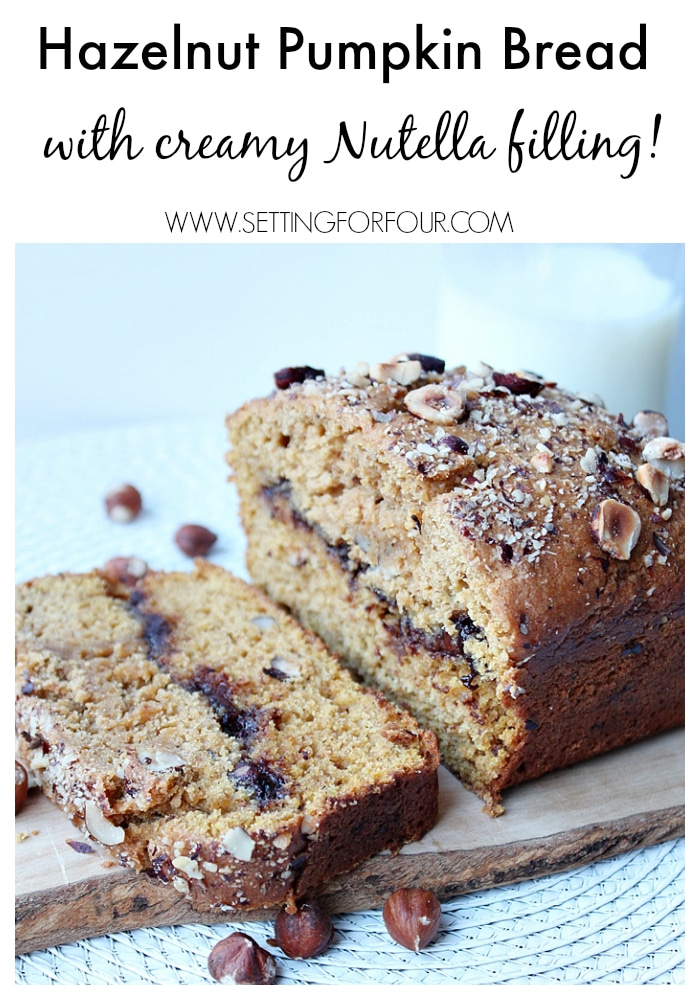 Hazelnut and Nutella Pumpkin Bread Recipe 
This isn't just your average, run-of-the-mill pumpkin bread (although that's delicious too!)!!
This is a 'coffee-shop style' pumpkin bread which is so tasty and  super easy to make!
If you're a chocolate lover like me – you will LOVE this recipe!!
Make it this weekend – your family will love it, like mine does!
 
Do you love Nutella? We do!!
There is always a jar  of this chocolaty, nutty goodness in my pantry – my boys love it on toast and bagels!
I thought I'd try it with my standard pumpkin bread recipe…then thought, what the heck….. Nutella is made from hazelnuts, so I'll add some hazelnuts as a crunchy topping!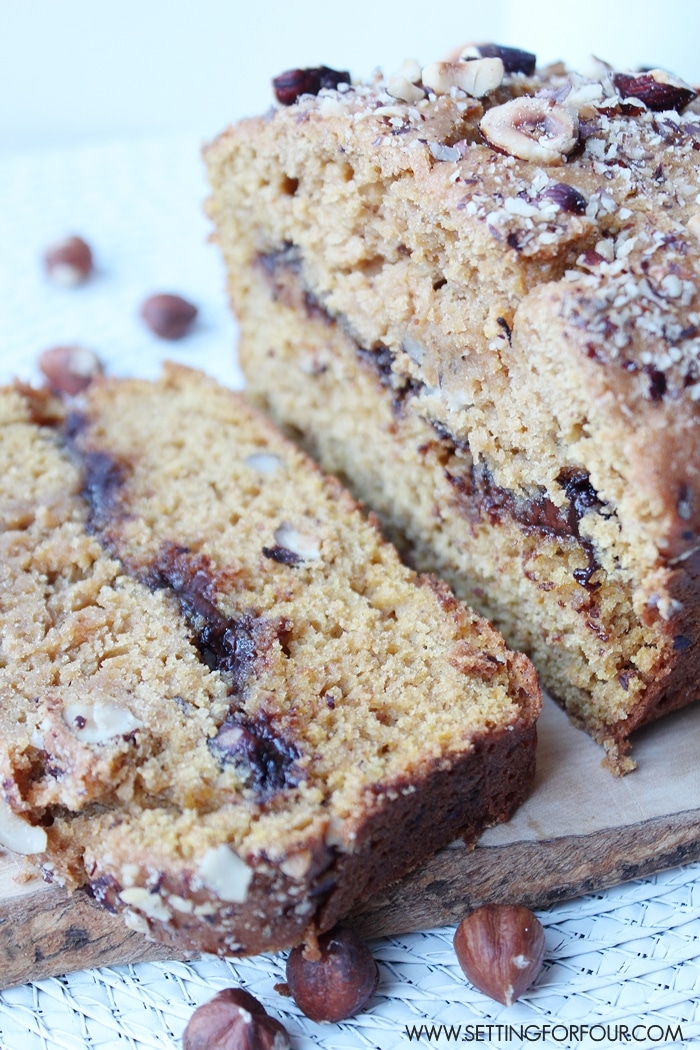 This Pumpkin bread is the perfect 'slice-to go breakfast' for those busy mornings! Yummy with a hot cup of coffee!
If you have a mid-afternoon snack attack, this bread will curb your hunger!
Need a little after dinner dessert?  ……A piece of this Nutella hazelnut bread will be delicious with a cup of tea!
Recipe for Hazelnut Pumpkin Bread with Nutella Cream Filling:
Ingredients:
2 cups All Purpose flour
2 tsp baking powder
1/2 tsp salt
1/2 tsp ground ginger
1/4 tsp baking soda
1/4 tsp ground cloves
1 cup packed brown sugar
1/3 cup shortening
2 eggs
1 cup canned pumpkin
1/4 cup milk
1/2 cup coarsely chopped hazelnuts
Nutella spread
Directions:
1. In mixing bowl add flour, baking powder, salt, ground ginger, baking soda and cloves. Mix together and set aside.
2. In large mixing bowl beat together brown sugar and shortening until well combined.
3. Beat in eggs.
4. Add pumpkin and milk. Mix well.
5. Add wet ingredients to dry ingredients stirring until just mixed together.
6. Pour half of pumpkin bread batter into a greased loaf pan.
7. Add a layer of Nutella – just enough to cover the pumpkin bread mixture.
8. Sprinkle on 1/4 of the chopped hazelnuts.
9. Add the rest of the pumpkin bread batter on top.
10. Top with remaining chopped hazelnuts.
11. Bake at 350 degrees Fahrenheit for 55-60 minutes.
12. Remove from pan and let cool before slicing.
I hope you enjoy this recipe!
PIN IT TO SAVE IT FOR LATER!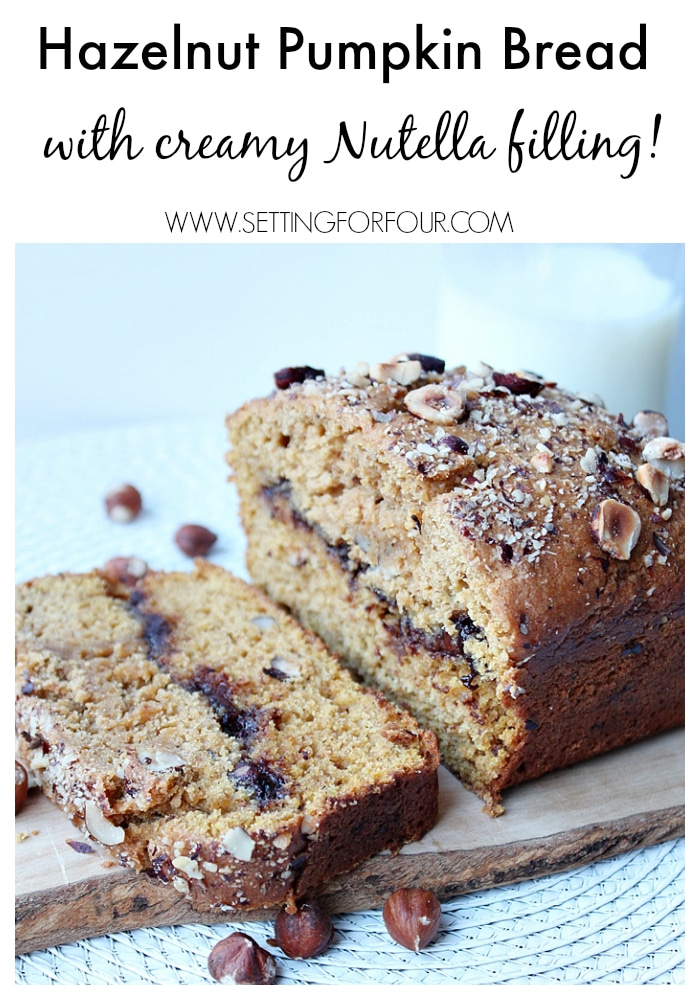 More Fall Ideas: