This homemade, one pot leek and potato soup recipe is simply delicious! It's the ultimate comfort food for lunch or dinner!
Add pumpkin seeds and sour cream toppings for added flavor – this soup is so hearty and filling. Your whole family will love it!
The weather is turning cooler in our area, so this past weekend I decided it was a perfect time to make homemade delicious Leek and Potato Soup!

Homemade Leek and Potato Soup Recipe
This delicious recipe is perfect for fall, winter and as a starter for Thanksgiving!
This is a family favorite recipe and very easy to make with only 6 ingredients!
If you're not familiar with leeks – they are vegetables that look like oversize green onions… and if you have never cooked with them you will be in for a yummy surprise at how delicious they are!
Especially when cooked in a bit of butter, simmered with potatoes and chicken broth and served with a dollop of sour cream. Mmmmm!
So what the heck are Leeks you may be asking??? Leeks belong to the same family as onions and have a mild onion-like taste, but have a very subtle flavor. But unlike onions, they don't make your eyes tear when you cut them or cook with them!
To serve: garnish each serving with a dollop of sour cream or plain yogurt and top with pumpkin seeds.
Kitchen Supplies:
Food Processor – this one is recommended #1 by Americas Test Kitchen!
Large Non Stick Stockpot with lid
White Soup Bowls – I love these beautiful white, stackable porcelain bowls
Pumpkin shaped stoneware soup bowls with lids – perfect for Thanksgiving and fall!
Homemade Creamy Leek and Potato Soup
Ingredients
1/4

cup

butter

2

large leeks

cleaned and chopped

4

potatoes

peeled and diced

4

cups

chicken broth

sour cream or plain yogurt

pumpkin seeds to garnish
Instructions
In medium saucepan over medium heat, melt butter. Add leeks.

Cook for about 5 minutes until leeks are tender.

Add potatoes and cook 5 minutes longer, stirring constantly.

Add chicken broth.

Over high heat continue cooking until soup is boiling.

Reduce heat to low. Cover and simmer for 15 minutes or until potatoes are tender.

In food processor or blender, puree 2/3rd of the soup.

Stir the puree into the rest of the soup.

Serve.

Add a dollop of sour cream and pumpkin seeds to garnish if desired.
Notes
Serve with a warm roll - so yummy!
Setting for Four
https://www.settingforfour.com
Creamy Leek and Potato Soup Recipe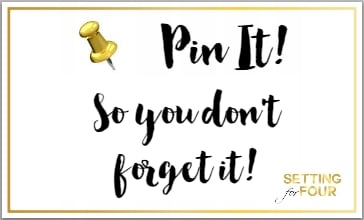 You may also like:
Snowball Cookie Recipe