Looking for summer decor ideas for your entryway and family room? See my home decorating tips and ideas on how you can add a fresh summery look to your spaces including beautiful summer color, decor accents, greenery, textiles and textures!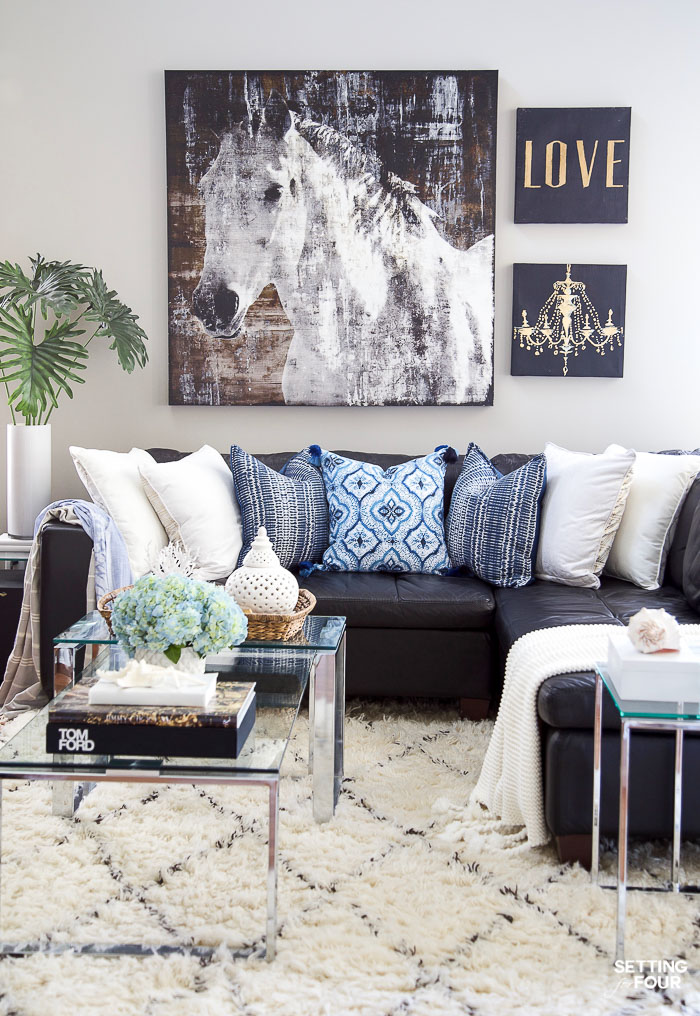 Today's decorating post is part of the Summer Home Tours hosted by my talented friend Marty from A Stroll Thru Life!
This week we are sharing with you 30 gorgeous summer homes over 5 days – lots of summer decorating ideas for all your indoor and outdoor spaces!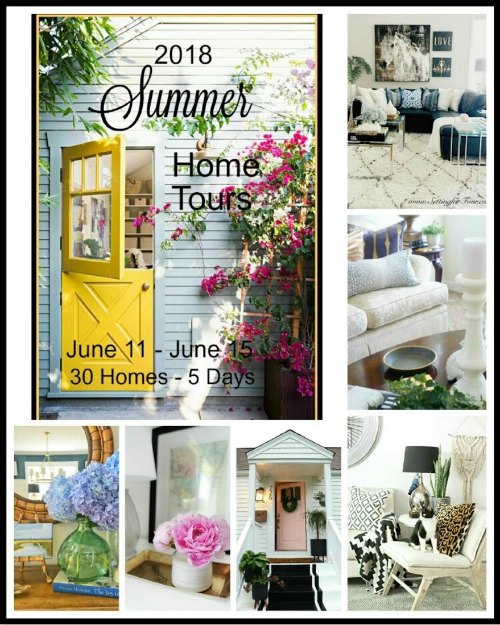 If you're visiting from Tammy at Pink Peppermint Design – hello! I'm so glad you're here and welcome! Isn't Tammy's summer home gorgeous?
If you're new to Setting for Four I'd love for you to hop over to my about me section where you can learn about my background as a proud military wife and how I moved from an exciting career as an Research and Development Microbiologist working for Fortune 500 companies to a full time Interior Decorator and Blogger with my own business!
Being my own boss is just amazing and even though my path to this new career of mine was a REAL personal challenge and struggle (read all about that here!) I'm so glad that it led me to where I am today as a full time influencer and Interior Decorator!
You can read all of my DIY home decor projects here and my Design and Decor Tips here.
…and if you need some decor advice I offer online decorating services and e-design where we can work together through emails to solve a paint color problem or design a complete room!
My most popular service is the one question design advice….where I'll answer one question you have on paint color, room layout and more to get that nagging problem solved! Check out my design services here!
Summer Decor Ideas For Your Entryway And Family Room
Summer Entryway Decor Ideas:
It doesn't take a lot of effort to give your entryway a summer look!
1. Color Palette Use a color palette that has a summery feel.
You can use a light, fresh color palette or a bright, colorful one for summer….it's your home, your choice! Since we spend more time outdoors why not use colors from mother nature? Choose colors from the garden, from the ocean or from your favorite summer destination….pick a color palette you love and use it in your entryway! Since we are beach babies and love to spend as much time as we can beachside by the water I used a beachy color palette with blues mixed with neutral summer gold and white colors.
2. Seating
Add some seating to your entryway to make the space more functional and cozy! It can be a bench, chair, ottoman or a garden stool!
I love my neutral tufted, high backed bench so much! It's a great place for our family to sit down and put our shoes on and a place to set the mail on.
3. Pillow Patterns
Ikat patterns, shibori prints, floral prints, trellis patterns, and stripes mixed with solid color pillows are a great addition to a bench or stool you may have in your entryway. I replaced the faux fur pillows that I had on my upholstered bench with these navy and white ikat pillows.
4. Fabrics
Replace heavier velvets and faux fur fabrics with linen and cotton. My blue throw blanket is a very light cotton and my pillows are cotton as well.
5. Decor Accents
This is where you can inject natural materials like mother of pearl, shells, sisal and wicker to your entryway for a summery vibe. I filled my ironstone bowl that you see on the shelf with shell orbs and abaca rope decorative spheres, but you can add displays of shells in a bowl or jar. Last summer I made a DIY starfish and faux coral coastal summer centerpiece that I displayed here. Adding wicker baskets and wicker lanterns to your entryway is another beautiful way to add summer style to an entryway.
6. Terrariums
Terrariums are fun to use for summer since they can be filled with so many things! Add shells to them, succulents. little fern plants or simple add summery white candles like I did with my gold terrariums.
7. Rugs
I kept my black and ivory trellis area rug in our entryways since it adds beautiful contrast to the space, hides dirt from shoes really well and it's a classic, timeless trellis pattern that I love…. but you could add a gorgeous sisal rug to your entryway to create a summery feeling!
See my entryway and family room go-to gray wall color that I absolutely love and all my paint colors here!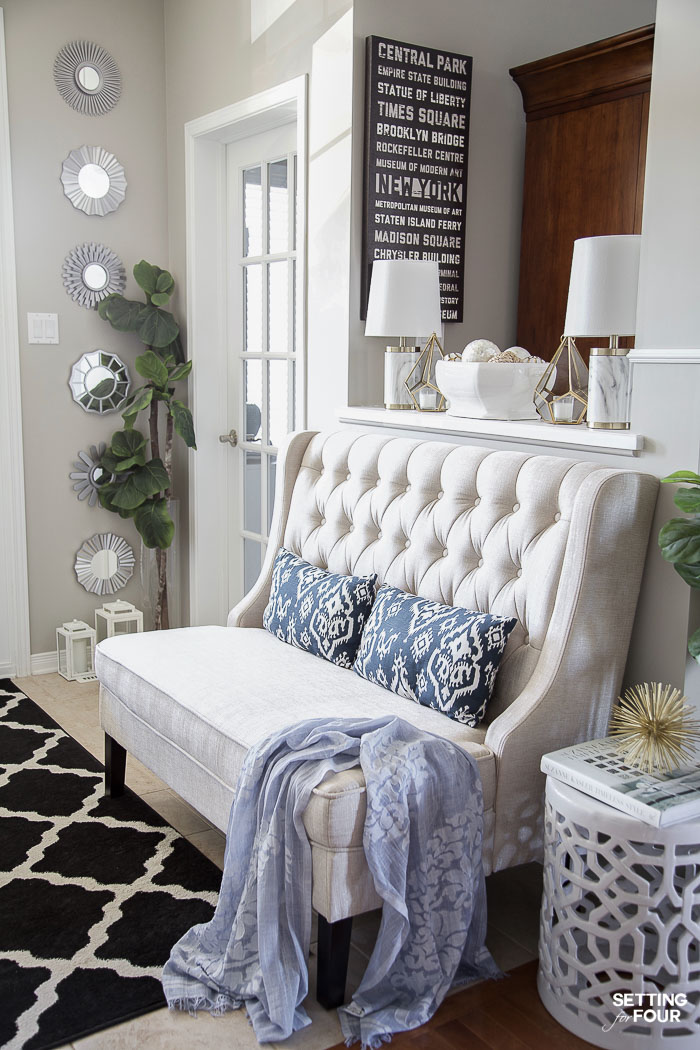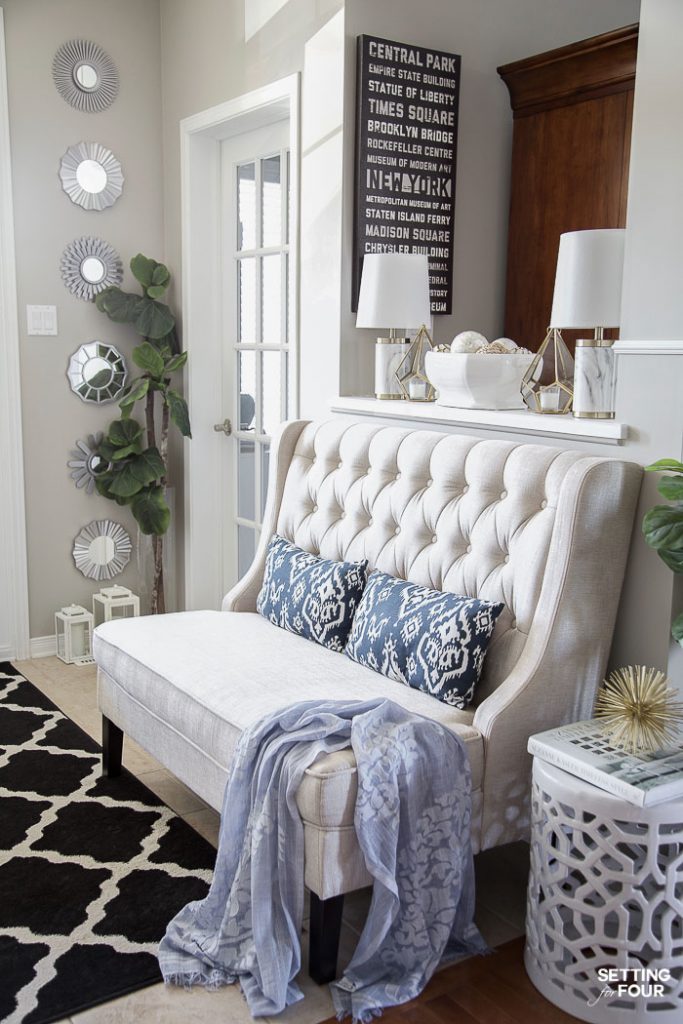 Entryway Source List
high back upholstered bench in oatmeal | black and ivory trellis area rug | navy and white ikat pillow covers | marble lamps – similar | gold terrariums |
subway art | garden stool – similar | gold sea urchin sphere | Suzanne Kasler Timeless Style Coffee Table Book | sunburst mirror set and here | abaca rope decorative spheres
I decorated the wall niche by our entryway with beachy art, and summery faux florals including white blossomy branches and blue hydrangeas.
I love using fresh flowers but honestly, I think that faux flowers today look so life-like and are so gorgeous that I'm using more and more of them in my home!
Case in point – the faux fig trees that I have in our foyer for a pop of greenery!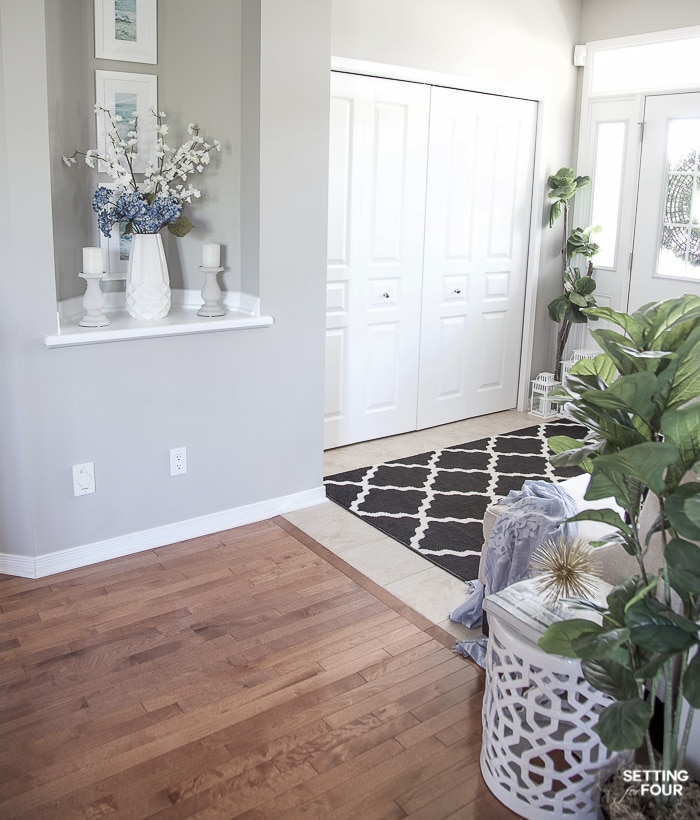 Here's another view of my summer entryway!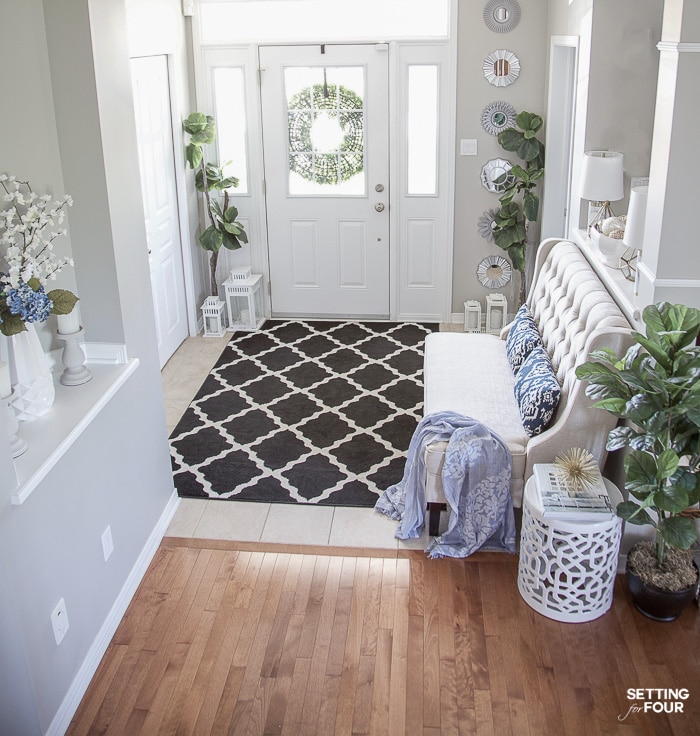 Summer Family Room Decor Ideas:
1. Unified Color Palette
Continue the color palette that you used in your entryway and add it to your family room to give a unified look to your home!
I continued the blue and neutral color palette from my entryway by replacing the faux fur pillows I had here with my indigo blue shibori print pillows ( similar here ). I mixed them with my white cotton pillows.
I have a ton of pillows and rotate them for the different seasons. The pillows I'm not using I store in these genius storage bags which shrinks them flat. Then I store them in our guest bedroom closet!
2. Pillow Patterns
Again use shibori, ikat, florals and stripes to add a summery vibe to your family room. Awning stripes and pin stripes are classic summer looks and widely available in the summer.
3. Fabrics
Linen and cotton fabrics are cool and breathable making them perfect for summer! They are also visually light and airy. My pillows are all cotton and I recently added these gorgeous Belgian flax white linen curtains ( they come in ivory and slate gray too! I bought them with lining for a bit more structure) and these beautiful antique brass curtain rods to our family room!
4. Decor Accents
Use succulents, sisal and natural grass baskets, coral, shells and driftwood to your family room for summer style. I placed a large shell on the side table. I also added coral and starfish to our coffee table. This faux coral is actually a DIY Pottery Barn knockoff that's a cinch to make and fun to add to mantels and bookshelves too!
5. Summer Florals:
Bring in some summer flowers from your garden or seasonal flowers from the grocery store! I love blue hydrangeas so I added them to my family room to repeat the blue color palette. Sometimes I add arrangements of summer wildflowers that I pick up from our local trail.
6. Rugs
Adding a gorgeous sisal rug or a striped rug will instantly inject a summer feel to your family room.
I kept our beautiful Moroccan shag area rug the same for summer because it's classic ivory and black color palette works really well with the white and indigo pillows I used!
I've had a lot of questions about this Moroccan shag rug and how it holds up to a family's use – it's very durable and we love it!
I spilled a big cup of black tea on it once but it came right out with this rug stain remover and cleaning trick that by trial and error I discovered works perfectly for removing dark stains!
See my entryway and family room go-to gray wall color that I absolutely love and all my paint colors here!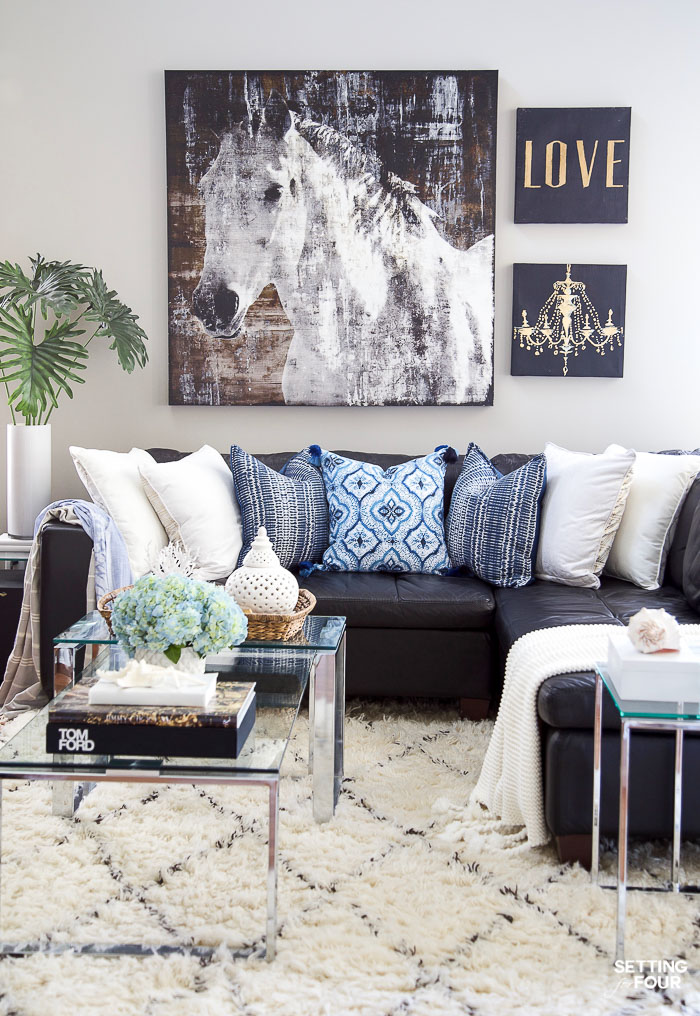 Horse Art Decor: 20 Stunning Looks!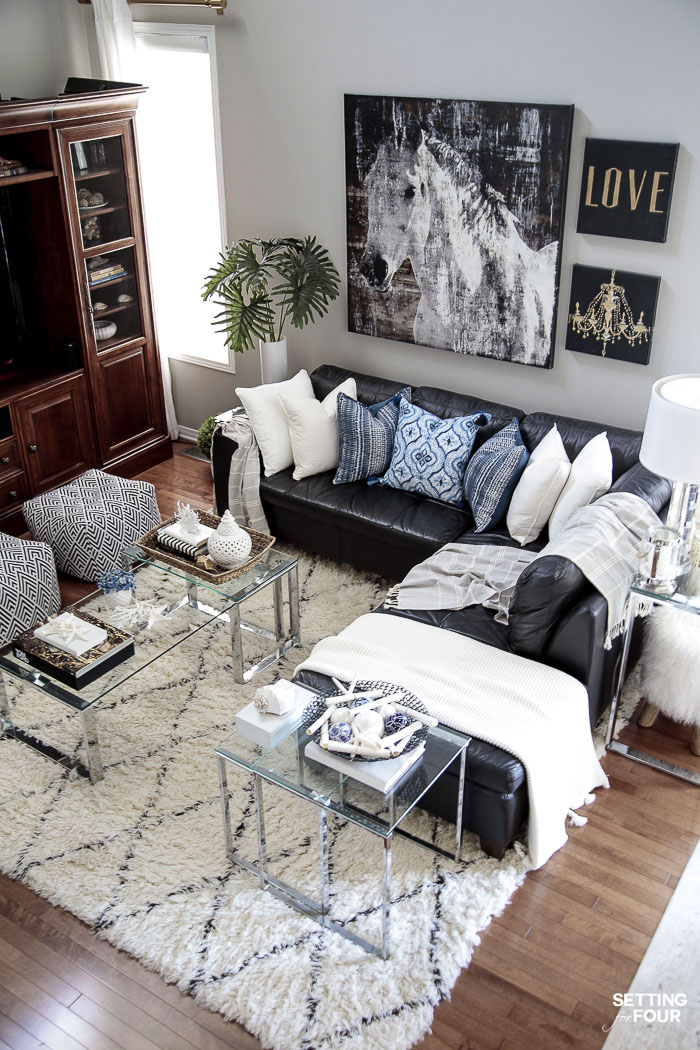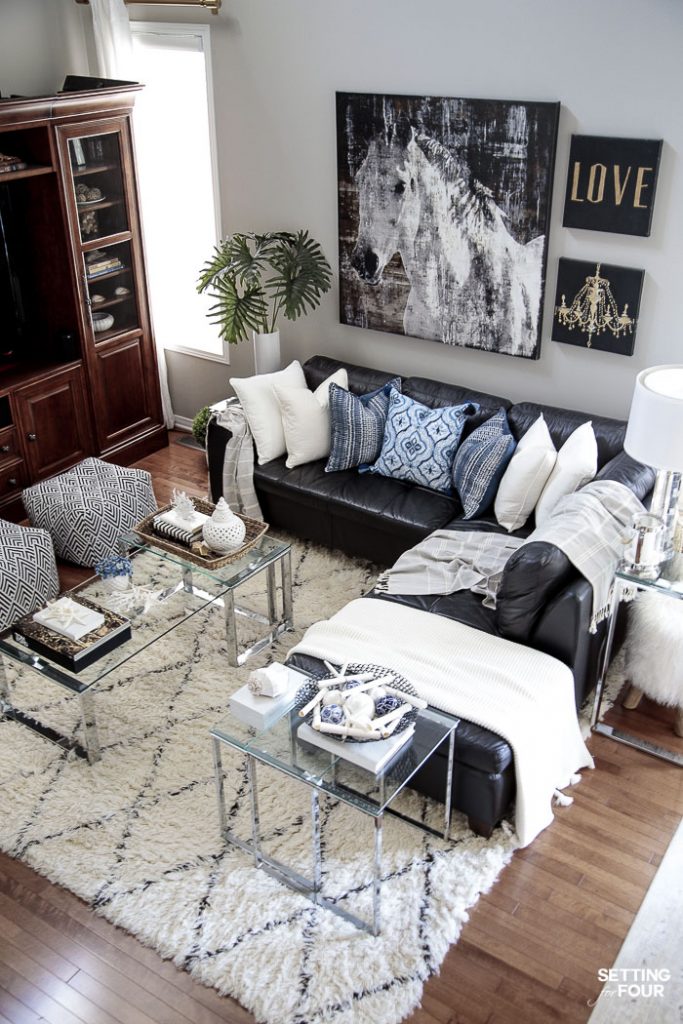 Here's a wide angle view of our open concept family room and dining room. Our entryway opens onto this space as well, so it's important to use a unified color palette that flows and connects all these rooms.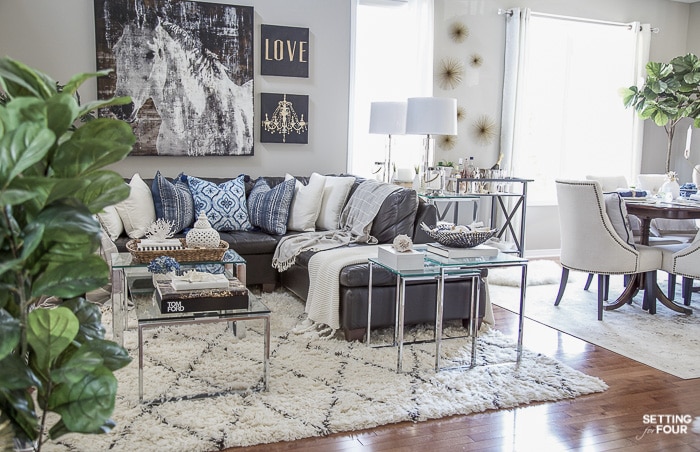 Family Room Source List
Area rug | horse art from HomeGoods similar here |Belgian flax white linen curtains |antique brass curtain rods | striped throw blanket with tassels – similar here | blue and white porcelain decorative spheres in wire basket on end table
ivory knit throw blanket with tassels | faux fiddle leaf fig tree | dining room chairs | bar cart from Walmart years ago – similar one here | tropical leaves in vase – similar here
….and for more summer decorating tips check out my 7 Simple Summer Bedroom Decor Ideas and Refresh that I recently shared!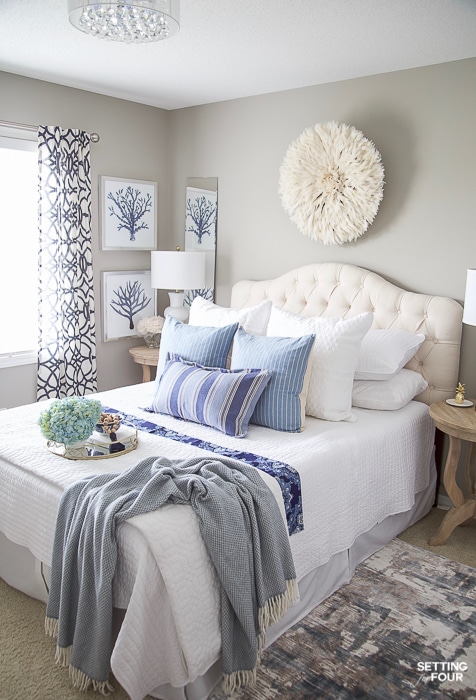 I hope you enjoyed my Summer Decor Ideas For Your Entryway And Family Room!
Now grab a cup of coffee and head to Brooke's Summer home tour at Nesting With Grace for more gorgeous summer home decorating ideas!
Here is the complete Summer Home Tour lineup: