Browse my Fall Home tour: part two! Come see cozy vignettes and fall DIY home decor ideas!
Plus see my DIY Bling Rhinestone Pumpkins!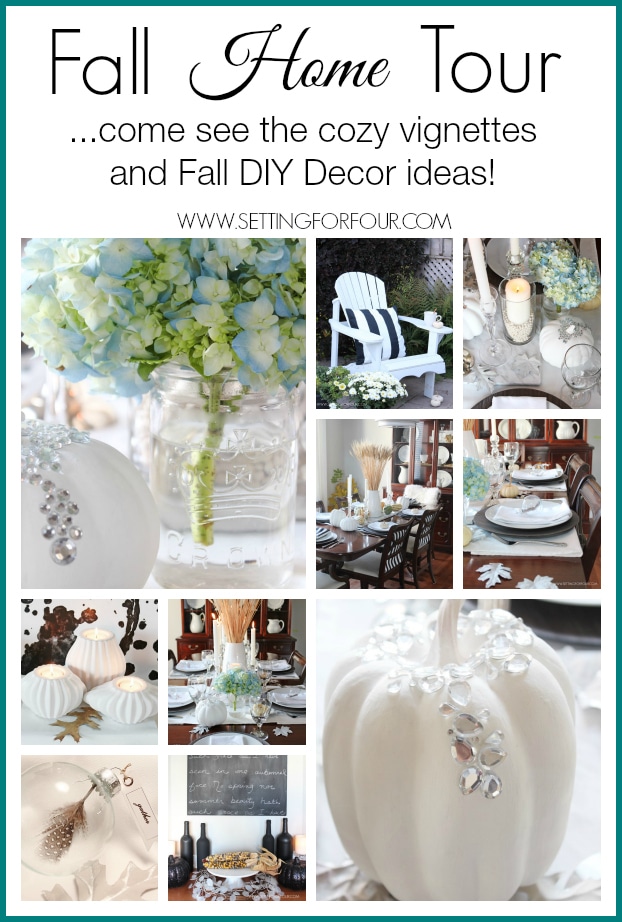 Fall Home Tour Part Two- Dining Room Decor and Centerpiece Ideas
Fall Centerpiece:
I added a big bunch of wheat to a white vase as my centerpiece – so easy to make and I love the height and impact!
For fall I love to bring out heavier textiles like these two cozy sheepskins that I just draped over two of our dining room chairs.
Mini baby boo pumpkins and my DIY crystal pumpkins add more fall texture to our table.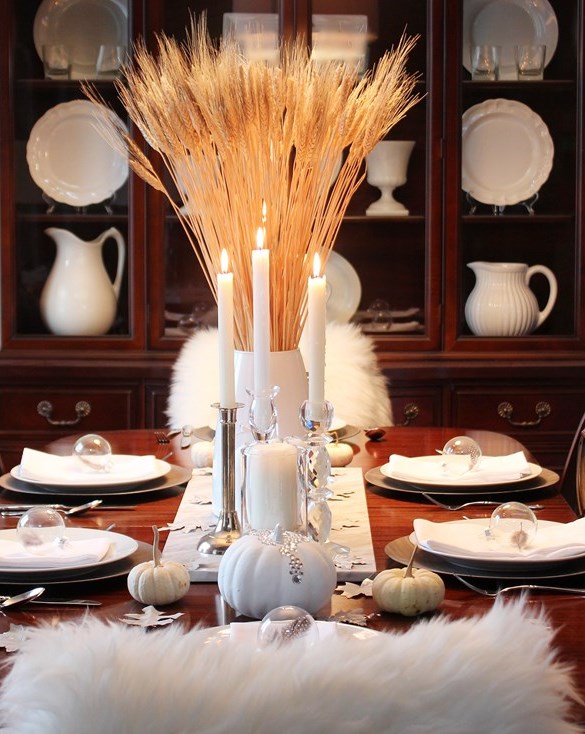 Place Card Holders for Fall
I made these easy DIY Feather Place Card Ornaments to each place setting.
These DIY Fall place card ornaments are a great gift idea and present topper idea too!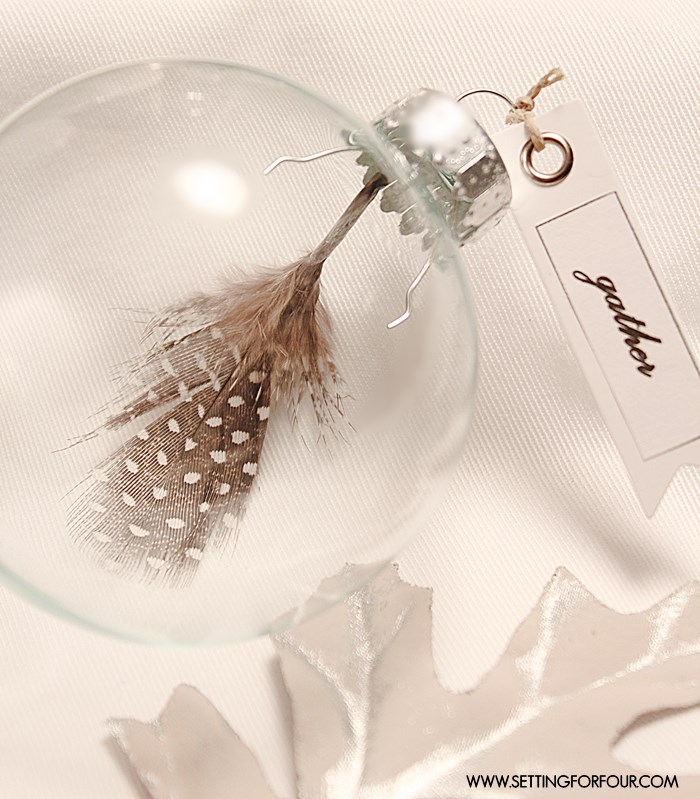 Fall Home Tour Part Two: Candles and Fall Vase Filler Idea
Here's a simple and budget friendly votive filler idea using white navy beans!
I just filled up a hurricane vase partway with white beans and nestled a big white candle in the middle.
I love the white, neutral color of these navy beans!
They are a great way to add a fall touch to a room!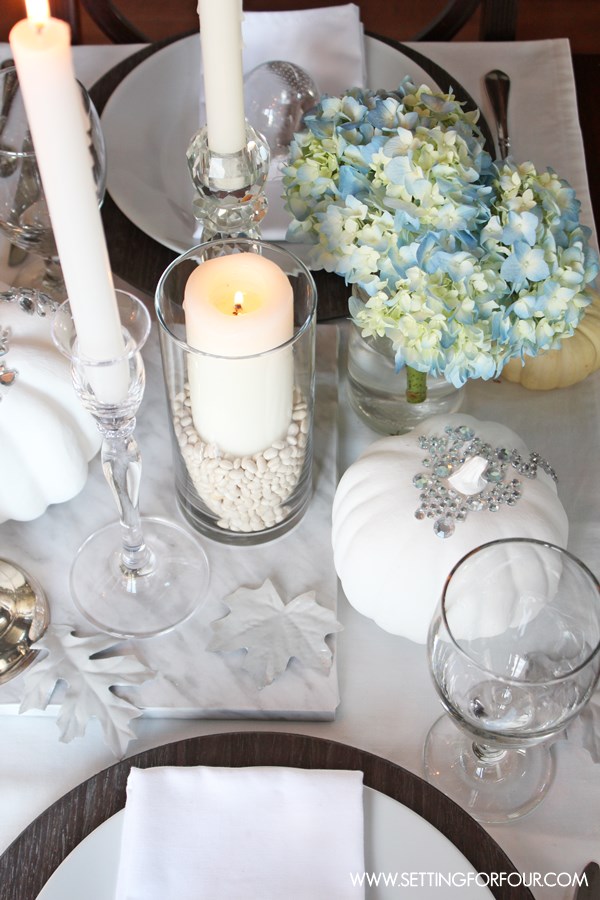 DIY Bling Rhinestone Pumpkins
These DIY Bling Rhinestone Pumpkins using gem stickers are one of my all time favorite Fall Decor projects!
Read HERE on how to make them!
These DIY gem pumpkins are so easy to whip up and look gorgeous on table tops, on bookcase shelves, on a mantel and on a kitchen island tray!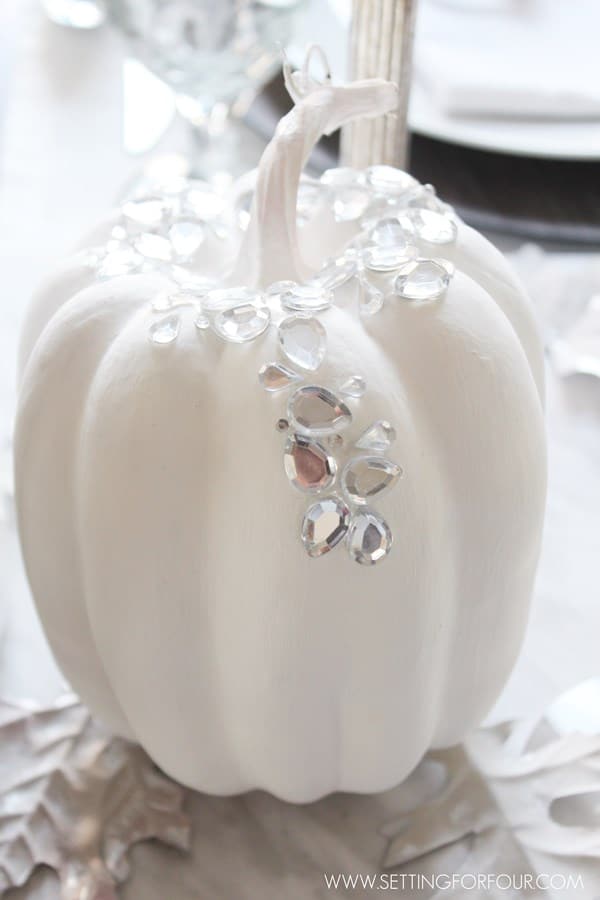 Fall Flowers
 These gorgeous blue hydrangeas add a pop of color and elegance to our table.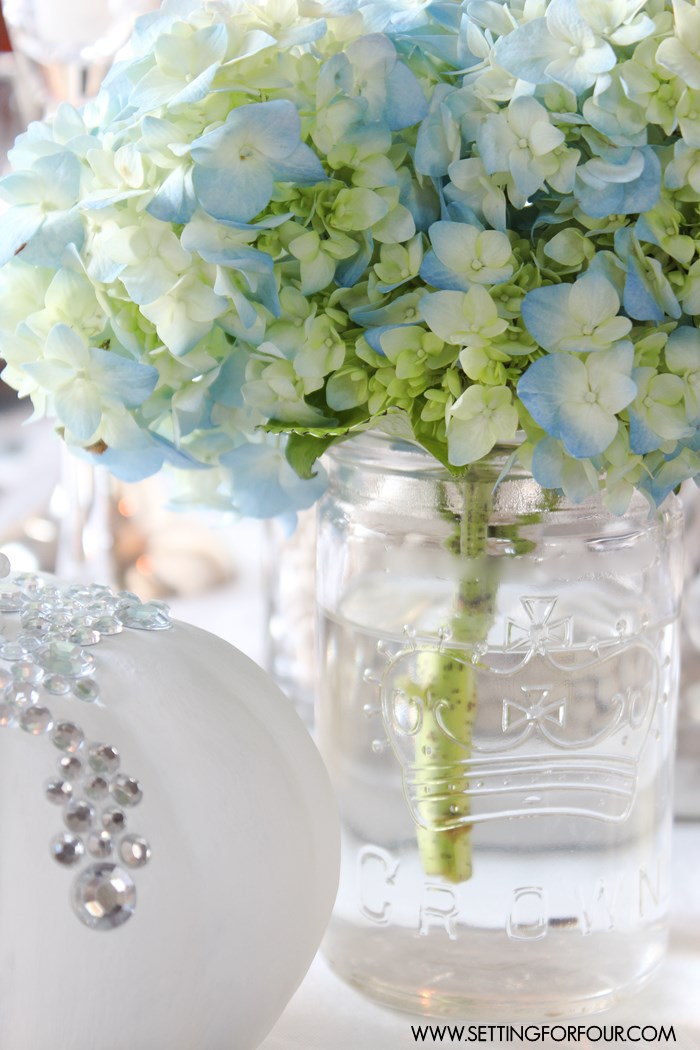 Fall Living Room Coffee Table Styling Ideas
I decorated our living room coffee table with some more wheat, a couple of pewter antler candle holders and some leaves. Some of these leaves I painted with white chalk paint and some I dipped in plaster of Paris!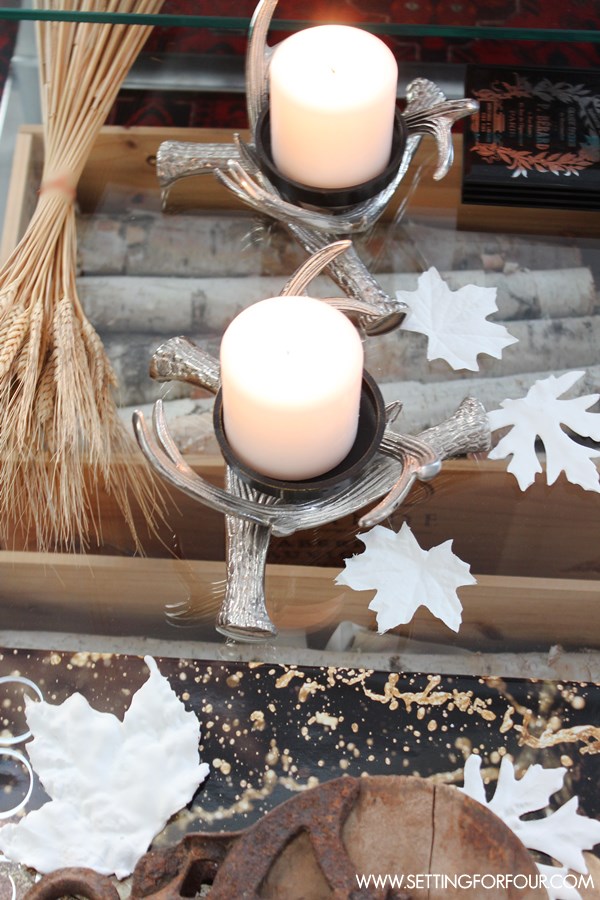 Fall Console Table Styling Ideas
A simple fall vignette on our console table…..a trio of Johnathan Adler votives sitting on a stack of books and a gold spray painted oak leaf.
I have to admit I'm pretty much addicted to spray paint – especially gold spray paint!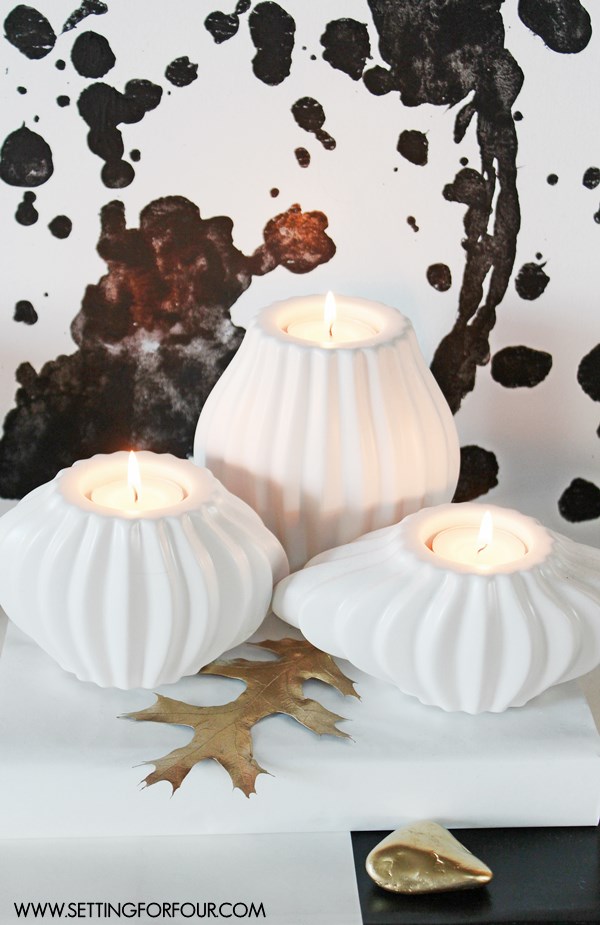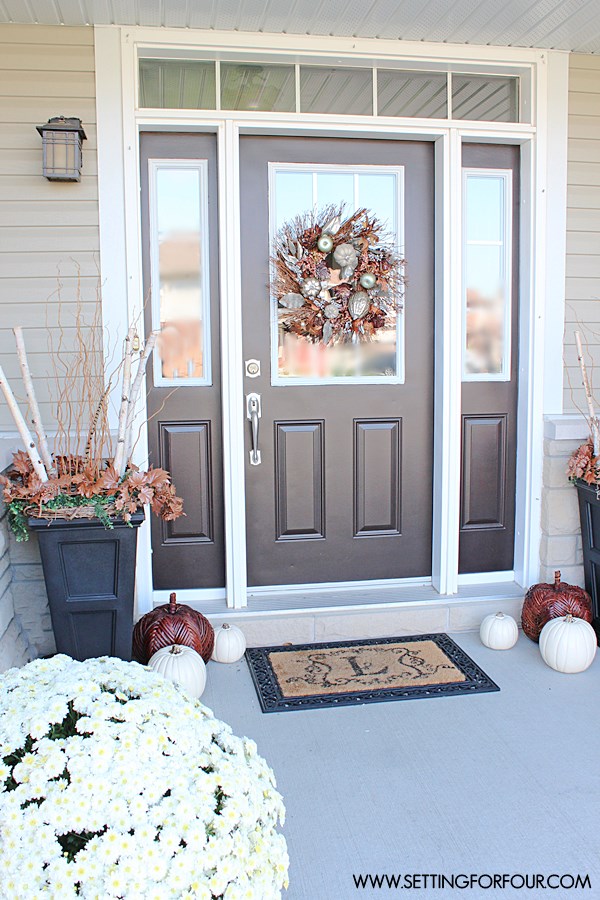 Our outdoor seating area with our DIY Adirondack Chairs:
I love sitting out here with a mug of delicious hot apple cider!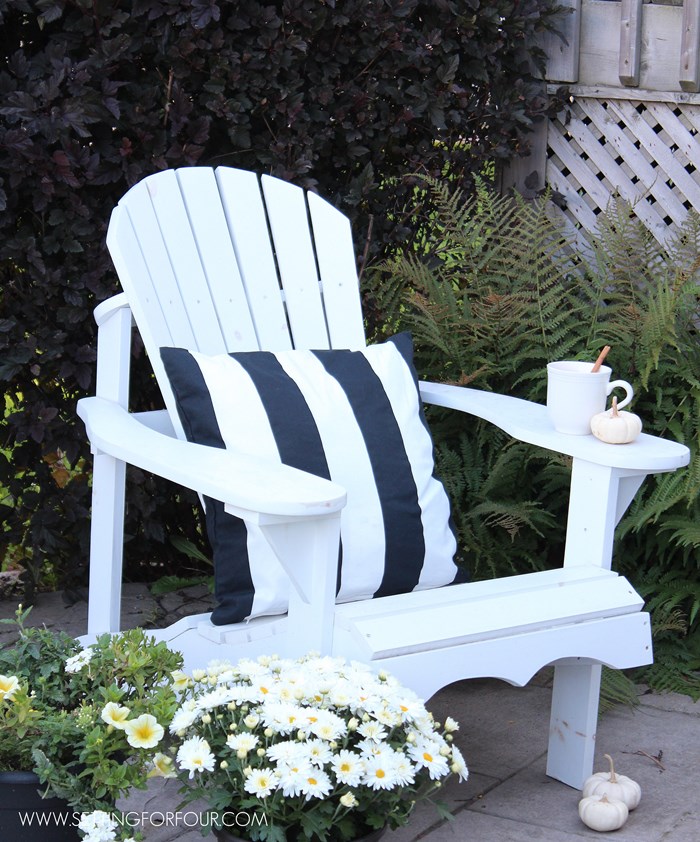 More Fall Design Ideas: