Welcome to my Fall Porch! I'm sharing my Fall front porch ideas and tips, so let's get our Fall on!
 Fall Front Porch Ideas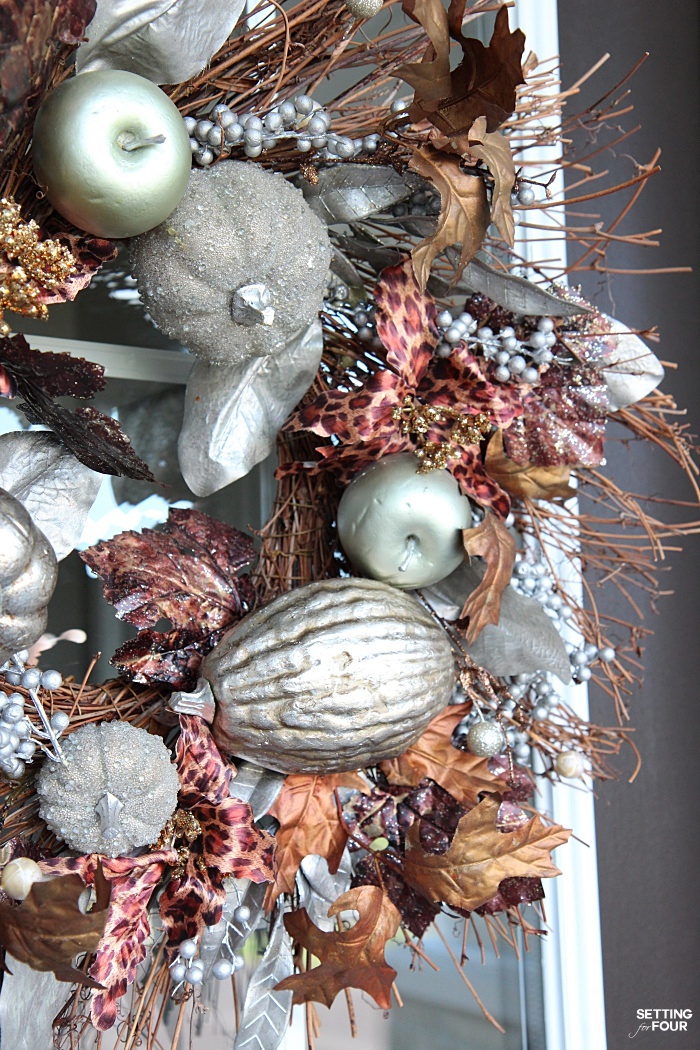 As a military wife who has moved 8 times as well as having been separated from my handsome husband during countless military deployments and military exercises our home means so much more to me and my family than just been a place to live.
In each and every home we have lived in it's been our oasis, our shelter from the craziness and unpredictability, the stresses and worry that comes with military life.
It's also been
our place of joy that

ALSO

 comes with military life
:  the joyful reunions after 10 month long deployments, the joy and pride of serving our country, the joy of watching our boys grow up to be incredible young men despite having had to move time and time again.
Our current house means all of this and more!
We looked at 30 houses in 2 days on our house hunting trip! I'm not joking!  This house was  the 30th house we saw – it was a diamond in the rough, great bones, needed some updated painting…. but our home has been so much fun and joy for me to shine and polish into the beauty it has become today.
One of the first things I do when I move into a home is to decorate our entryway to welcome friends and family to our new home even when on the inside there is the havoc of moving boxes and bubble wrap!
Having my front porch decorated makes me and our family feel connected to our new home and our new community and gives us a sense of having at least one part of the house 'moved in' a sense of being settled.
So for each season decorating my front porch is a ritual I love!
I'll show you how I decorated our entryway this year focusing on fall blooms and containers, botanicals, lanterns, white pumpkins, decorated urns and rich fall metallics. I hope you enjoy it!: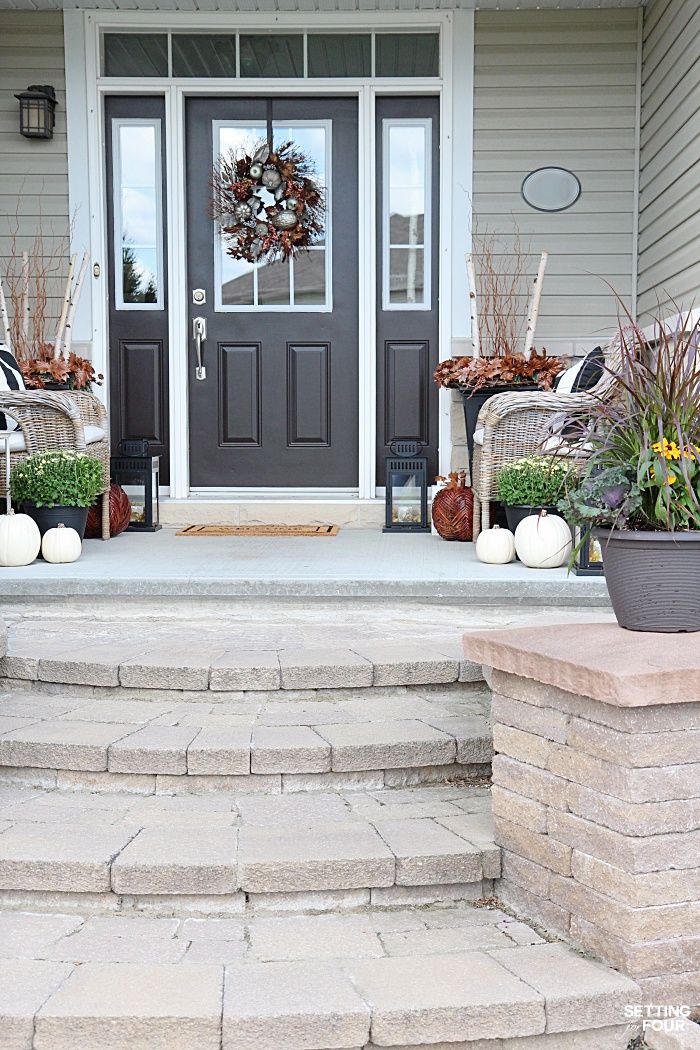 Just like I did with my summer front porch – for fall I added two big planters filled with decorative grasses and flowers to the stone pillars flanking our stone steps.
These beautiful pots feature purple fountain grass, pansies and black eyed Susan's. I love the pops of rich purple and gold at the front of our house!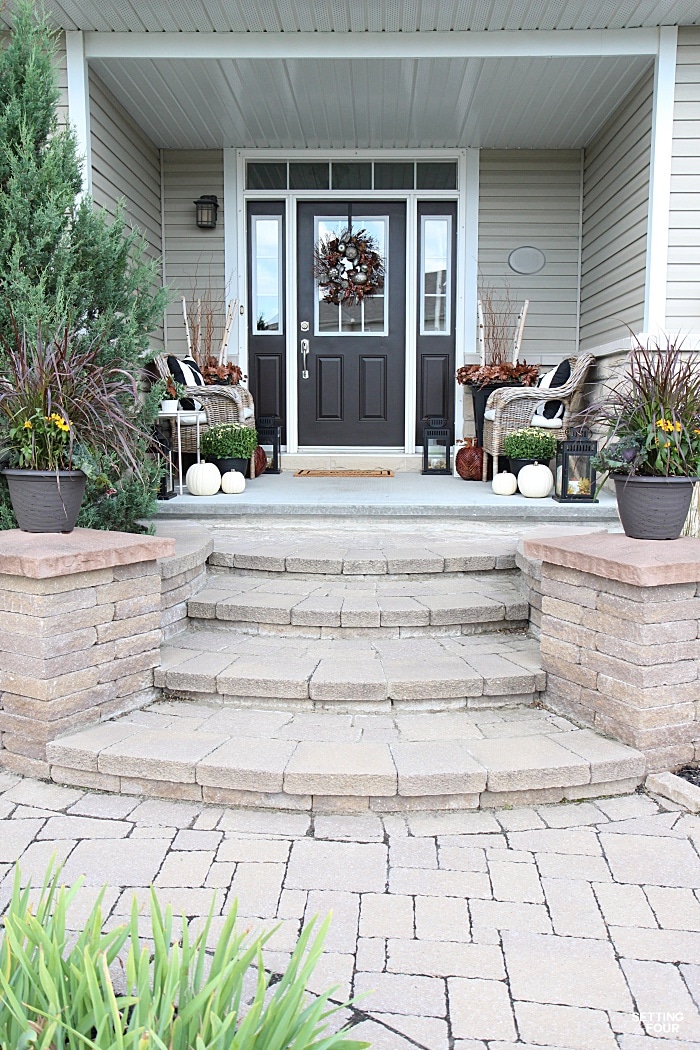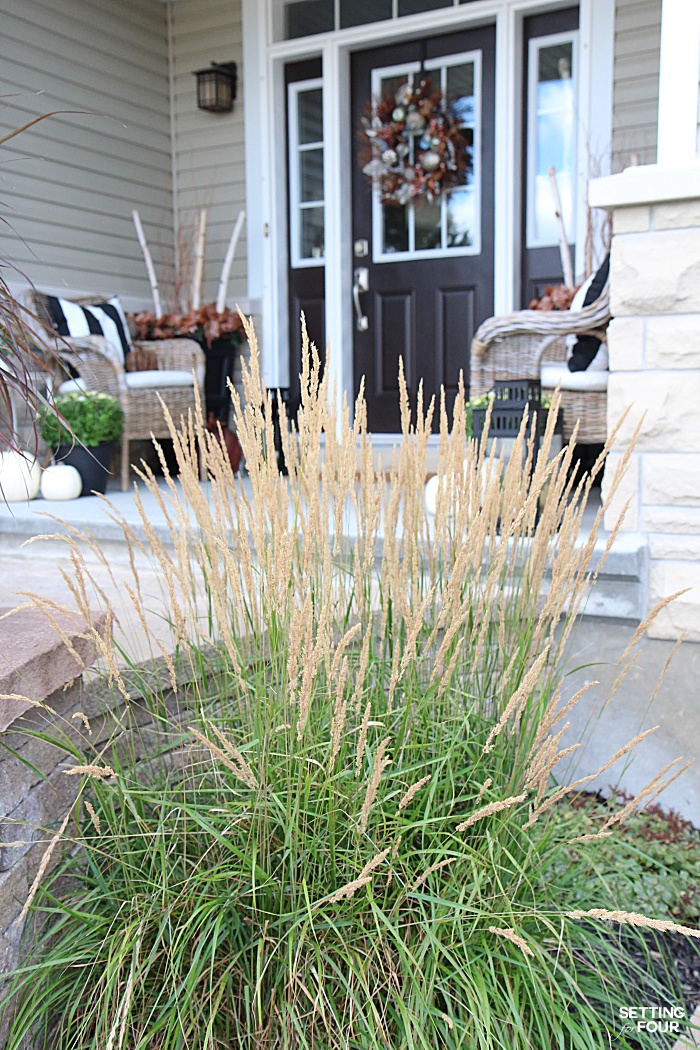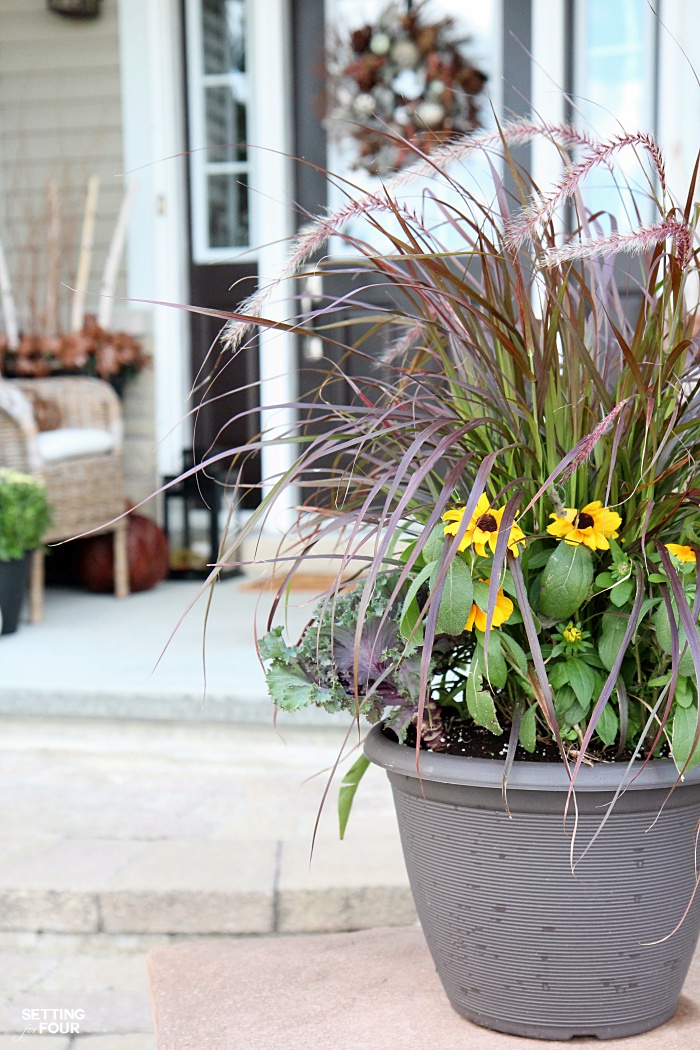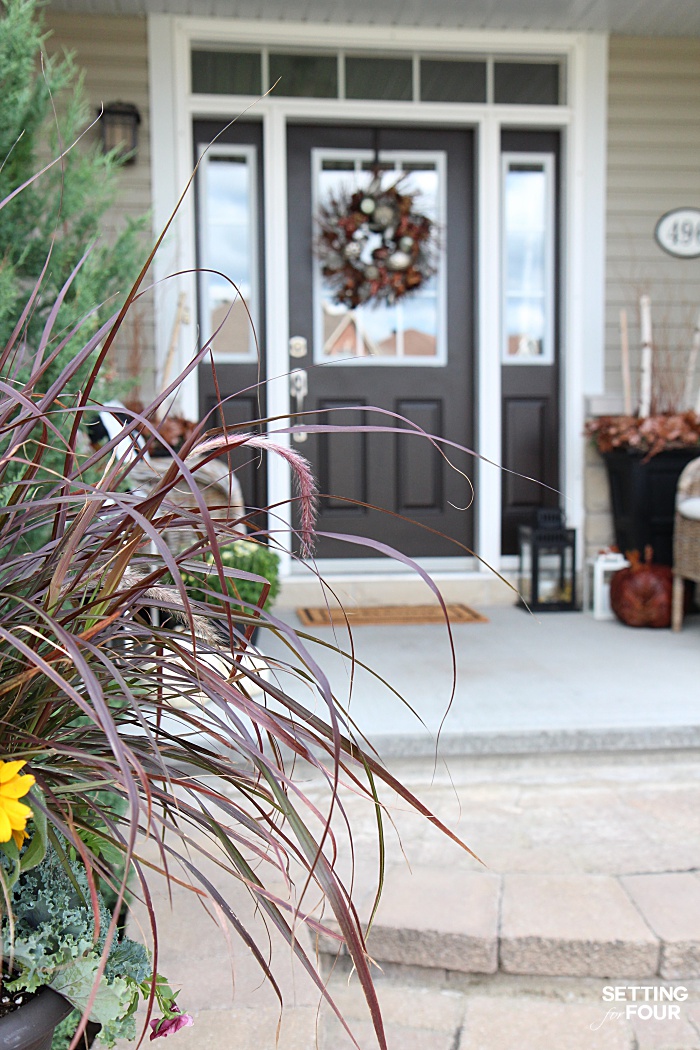 On the porch landing the first thing I did was switch out the seashell wreath to my metallic fall leaf and gourd wreath.
I am smitten with the soft meat tailor colors of champagne, gold, bronze and copper. It's so pretty and shimmers at night when the lights are on.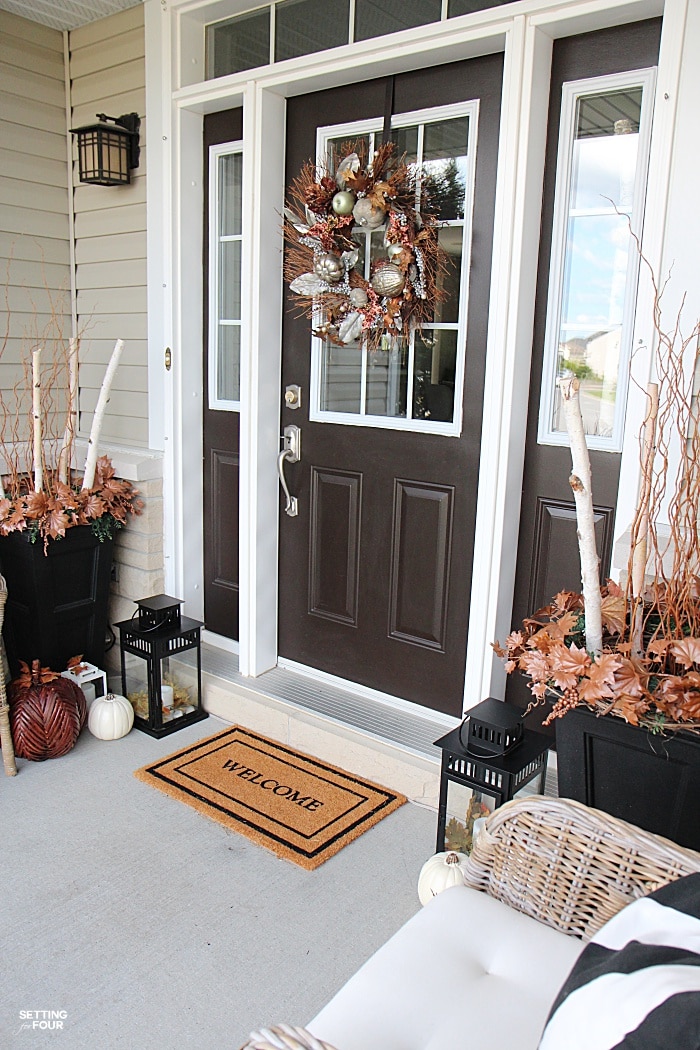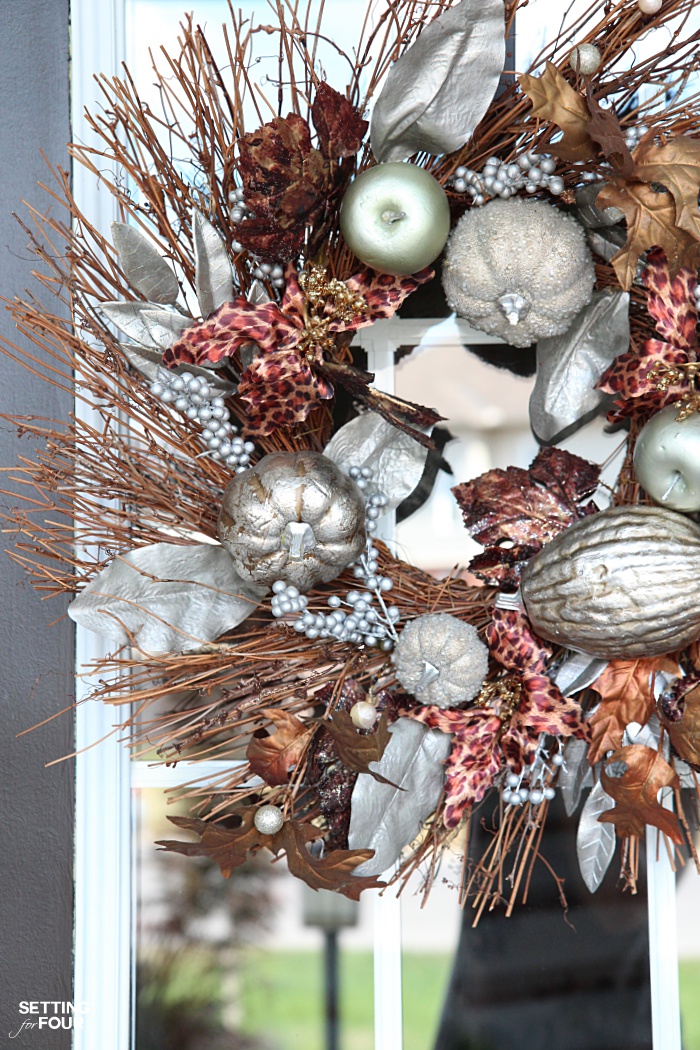 Speaking of lights – I love to add extra lighting to our porch to brighten it at night and create a soft inviting glow.
Our urns hold a garden spotlight that I point upwards so that it lights up the curly willow and birch branches- a stunning effect!
I added a copper fall leaf garland to the top of each urn for some rich color and sparkle.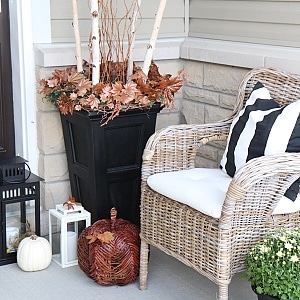 I love my black and white striped pillows so much I left them out for fall. I love mixing my fall decor with my everyday things so that my porch doesn't look overdone.
For me it's all about mixing in a bit of seasonal decor with the every day look!
And that decorating philosophy saves us money because I don't go overboard on buying a ton of seasonal decor.
( Plus everything I buy we have to include in our next military move… so keeping my seasonal decor interesting and pretty yet pared down is a top priority at our house! )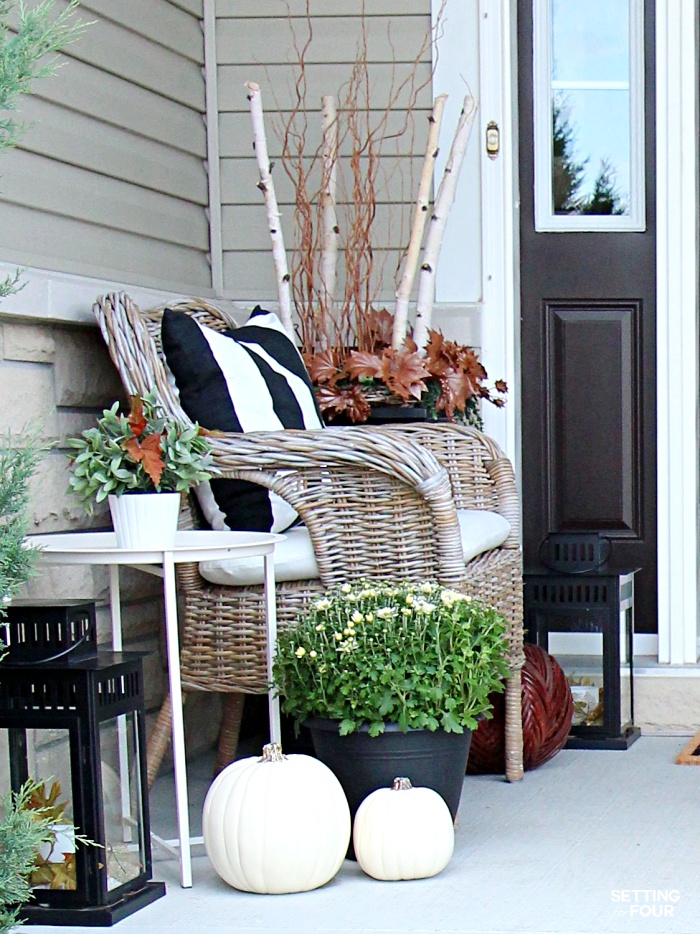 Black lanterns filled with flames candles (for safety!) and white river rock and fall leaves are another pretty and easy  way to decorate and light up your entryway.
This year real pumpkins have been really hard to get because of the drought we had this summer- but no worries! I have a few white
faux pumpkins
and copper colored  wicker pumpkins I pulled out of my fall decor stash and sprinkled them around our urns and wicker chairs.
Two pots of my Favorite fall mums in white with yellow centers adds a fall natural touch.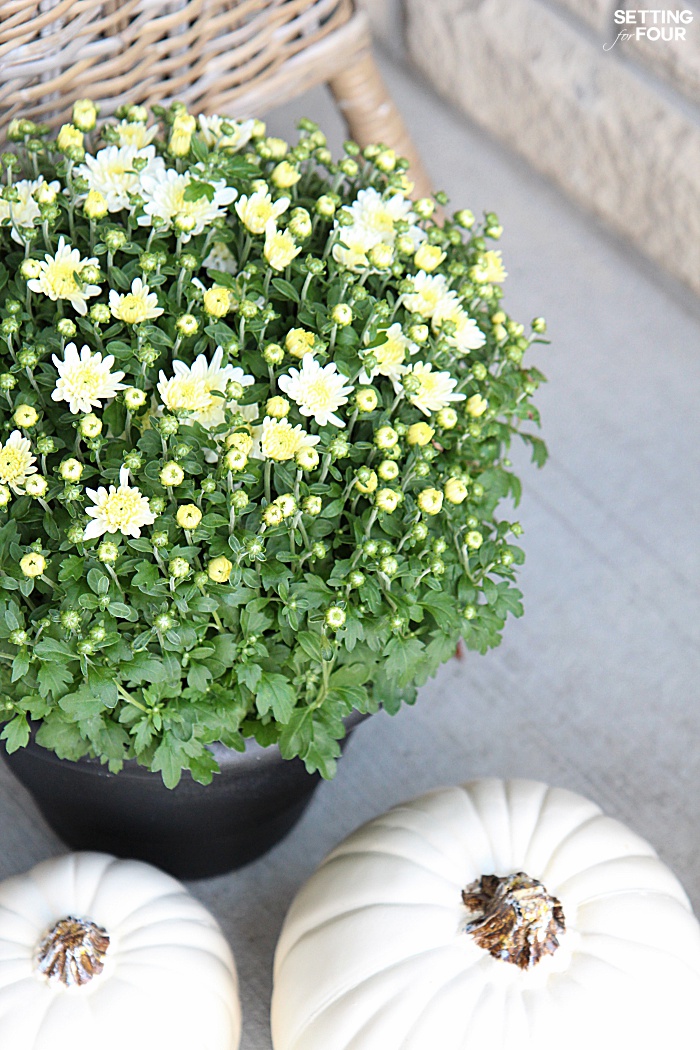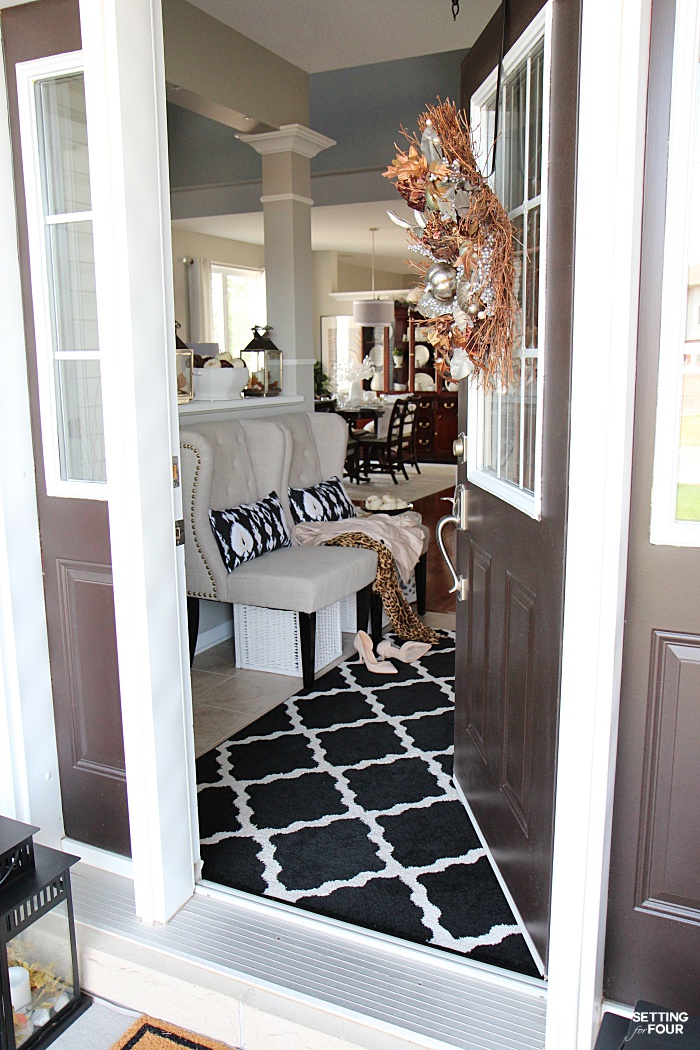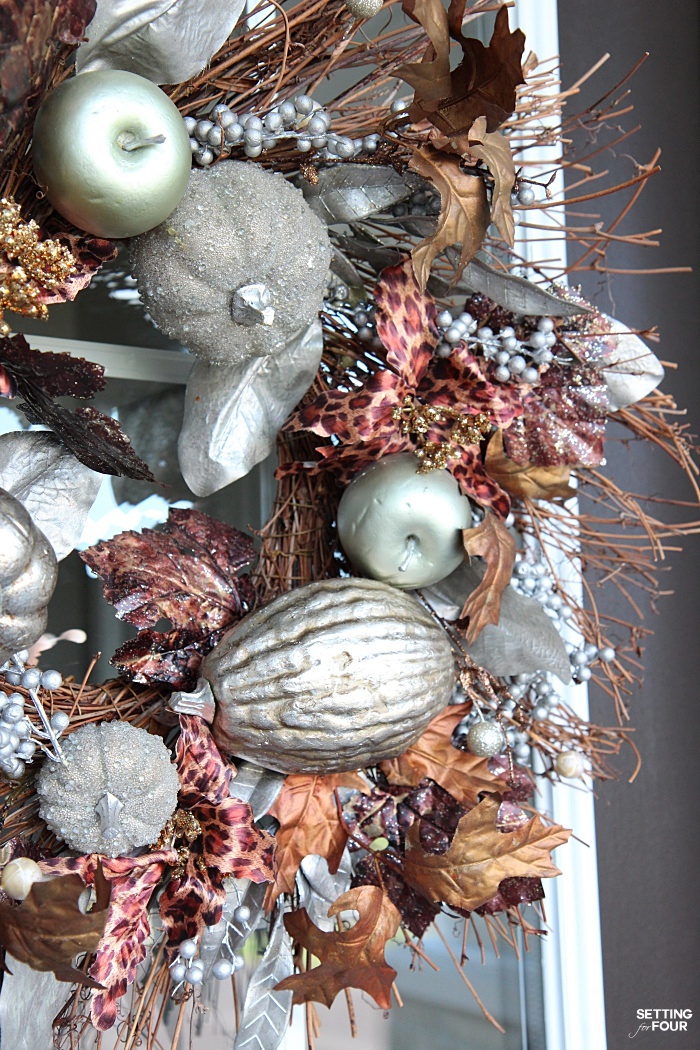 This post may contain affiliate links.  There is no additional charge to you, you just get to check out some beautiful things I love!
 I hope you enjoyed my Fall front porch ideas!
I hope you find lots of fresh inspirational decorating ideas here and from the 30 talented bHome bloggers as well!
Happy fall decorating! 
Shop the look and Fall front porch ideas! Click on each image to see more details: