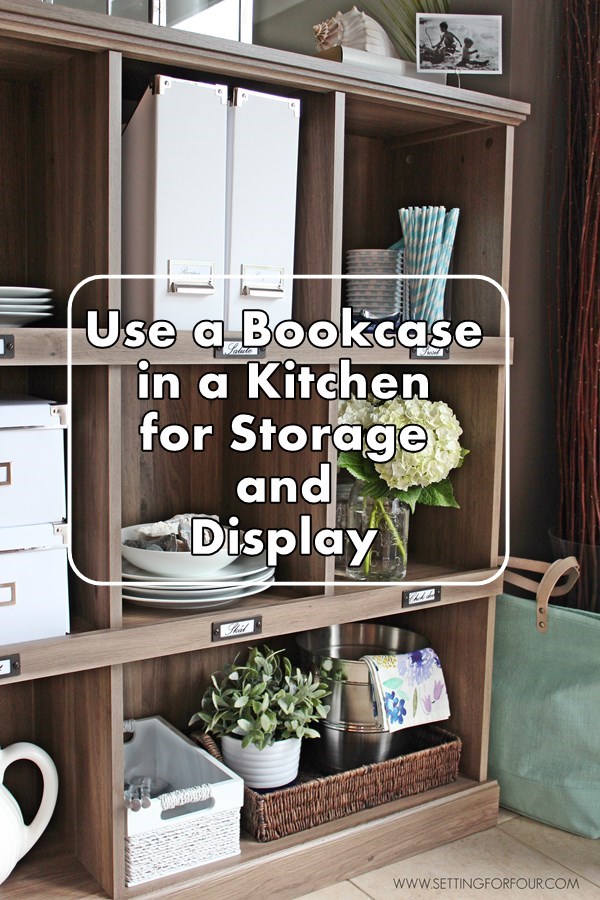 One of the things that I love about our kitchen is the amount of cabinets and storage. I've filled every square inch of drawer and cupboard space! But what it does lack is a display area and an area to store everyday entertaining supplies that we like to use on our back deck and at our kitchen table (we love to entertain – especially in the summer!).
But my kitchen does have one big ugly problem (which I hope to fix this fall!). It has a weird, unfortunate looking half railing that separates our kitchen and living room.
Why oh why 'dear builder' and 'dear first-owner' did you add this railing to the kitchen?? Why??? Why?? (shaking fist in air!)
This is what it looks like: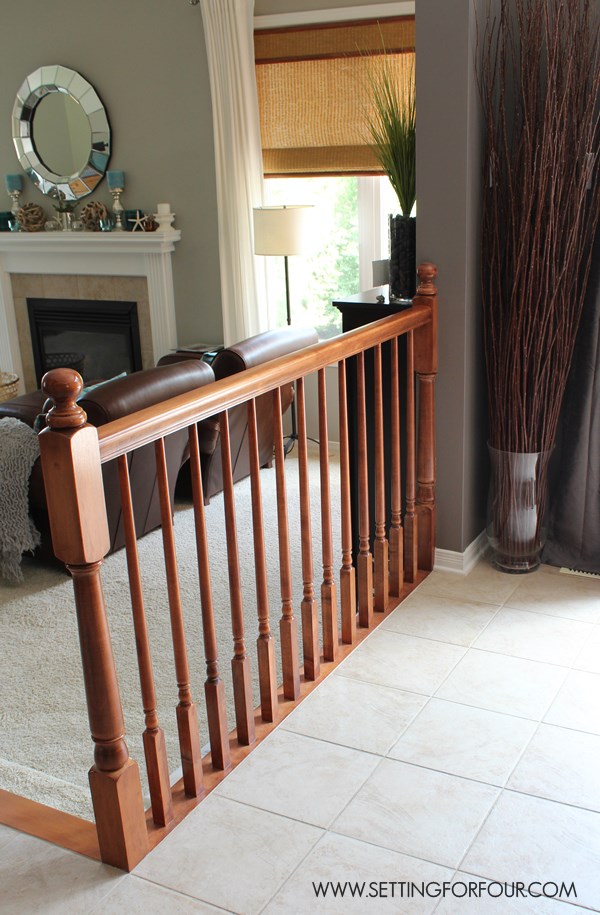 That needs a makeover stat!
When I saw this Urban Classic bookcase at Sauder I immediately fell in love with it's style and storage capacity… and I knew it'd be the perfect way to help disguise the railing until we can remove it permanently. As it happens, it fit's perfectly here and it's in a spot where I can easily grab items on the way out to the deck for mojito and BBQ party time! The Urban Classic look is just my style – a sophisticated look for a laid back lifestyle.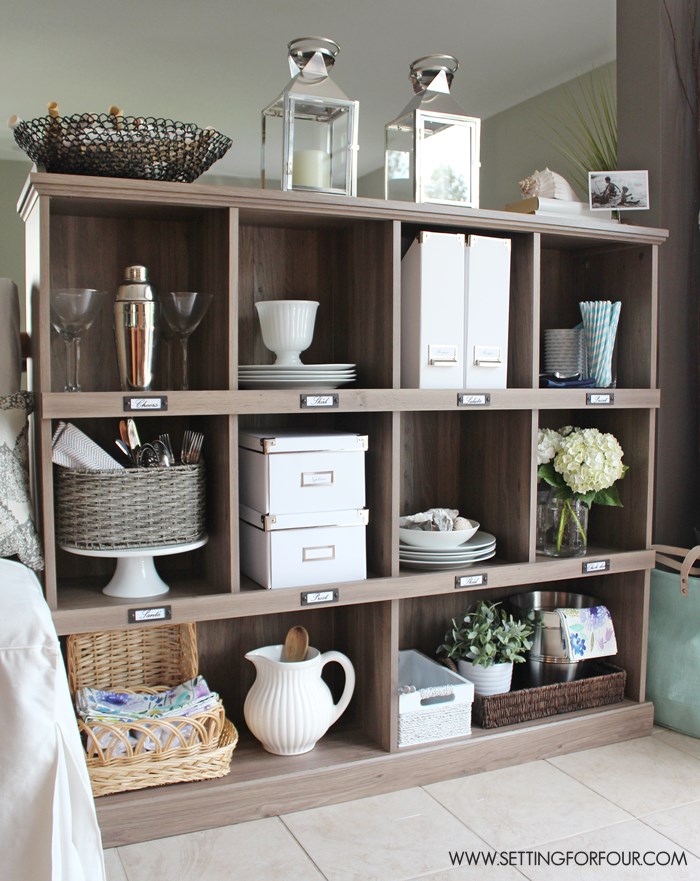 Selecting the piece was super easy – Sauder has it's products divided into 3 categories: by product, space and by collection! The storage unit I chose is this gorgeous Barrister Lane Bookcase in Salt Oak finish. I love the apothecary, vintage style and this gorgeous grey wood grain finish – it goes beautifully with our mink grey kitchen wall color and beige tile. It's part of their Urban Classic Style Collection – if you're not sure what decor style you like check out the Expedition Design tool to help you explore the 3 styles in Sauder's collections.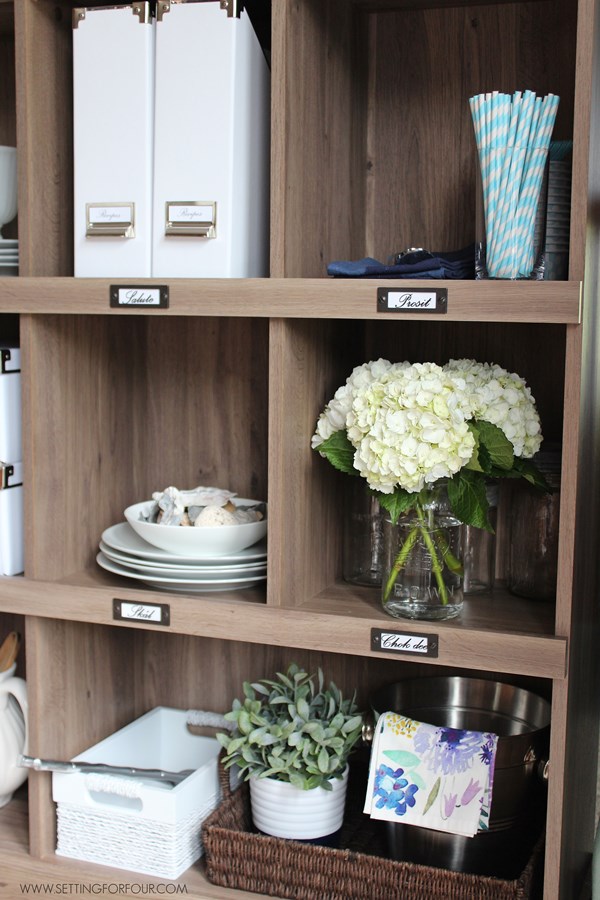 This bookase was so easy to put together! The detailed, step by step directions were included in the package and easy to follow. I built it right on our kitchen floor then stood it up and slid it into place!
My bookcase has arrived! One box and well packaged!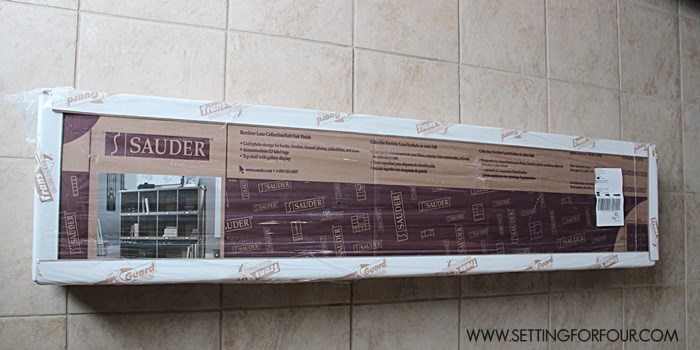 It's well padded: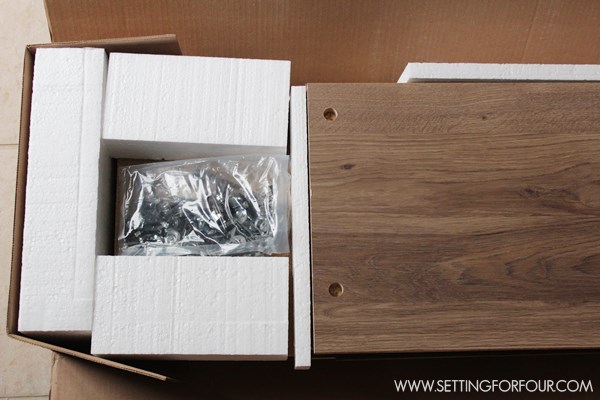 Instructions: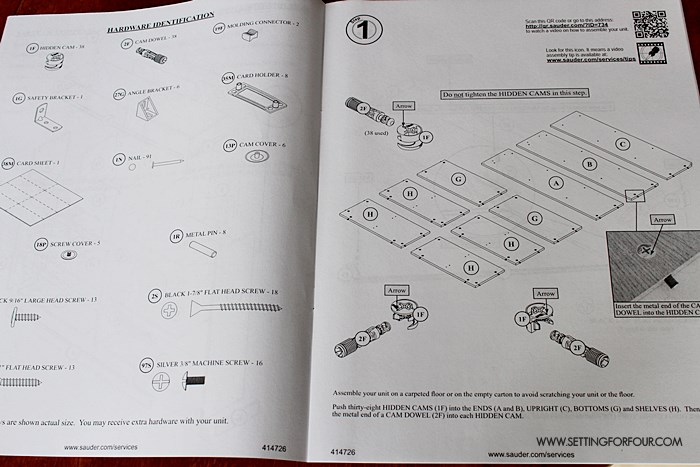 Using a screwdriver: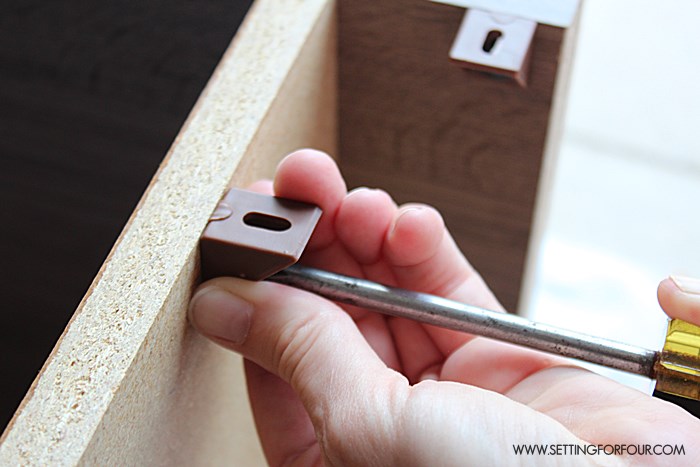 Using a hammer: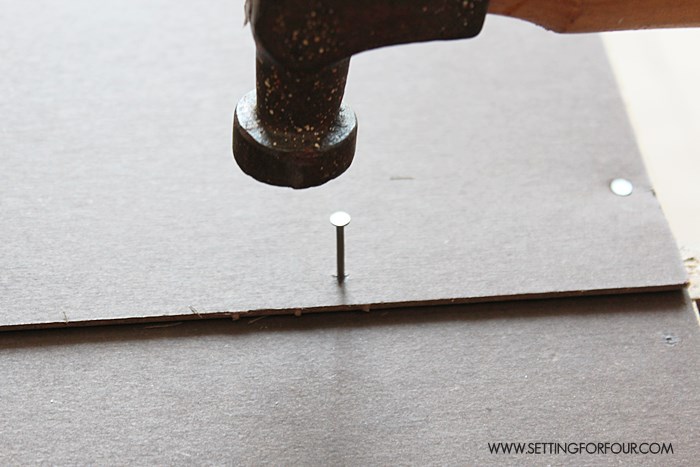 Assembled Bookcase: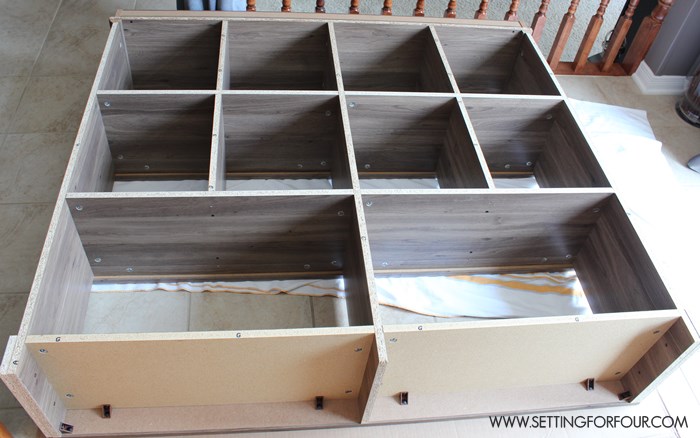 The only snag I ran into was a crack in one of the top shelves, but Sauder's amazing customer service came to the rescue!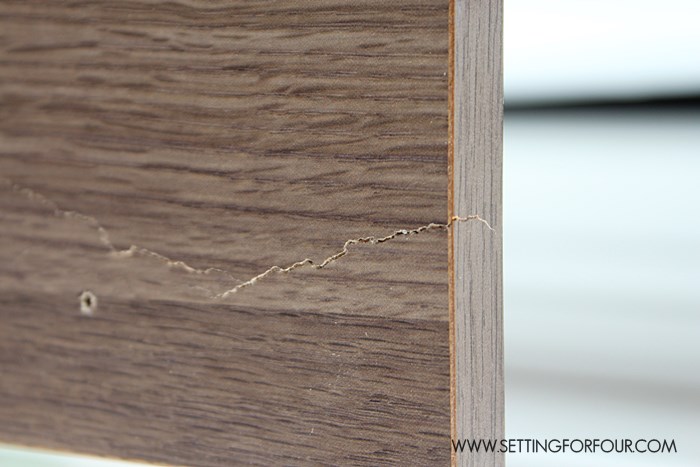 I phoned Sauder's toll-free help line and spoke to Sandy who was so incredibly sweet and understanding. She asked for the model number, the lot number (which are printed right on the instruction booklet conveniently!) and the part number to be replaced, confirmed my email and shipping address and arranged for the part to be shipped to me at no cost! The new piece arrived super quickly in just 6 days…such fabulous turn around and service!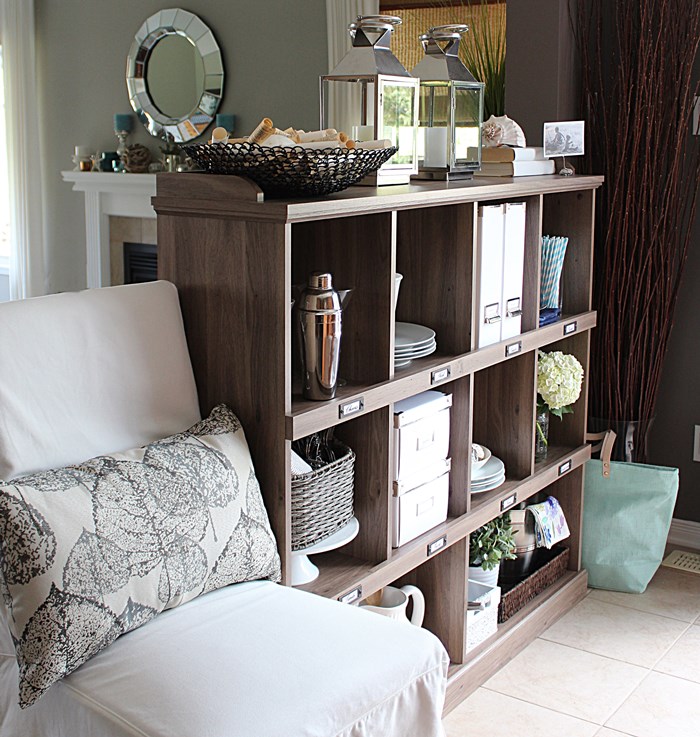 Here are a few of the things I love about this bookcase:
At 12.5 inches deep this bookcase is big enough to fit plates, ice buckets, storage baskets and glassware, yet not so bulky as to take up much of a foot print in the room.
The bookcase is super sturdy! The shelves are held solidly together with dowels, pins and screws which all get hidden, so you don't see the hardware at all!
The molding at the top adn bottom give such a finished, high end look.
I love the metal ID tags too – cabinet hardware is like jewelry to me. Since this is storage for entertaining supplies, I've added labels that say 'Cheers' in 8 languages!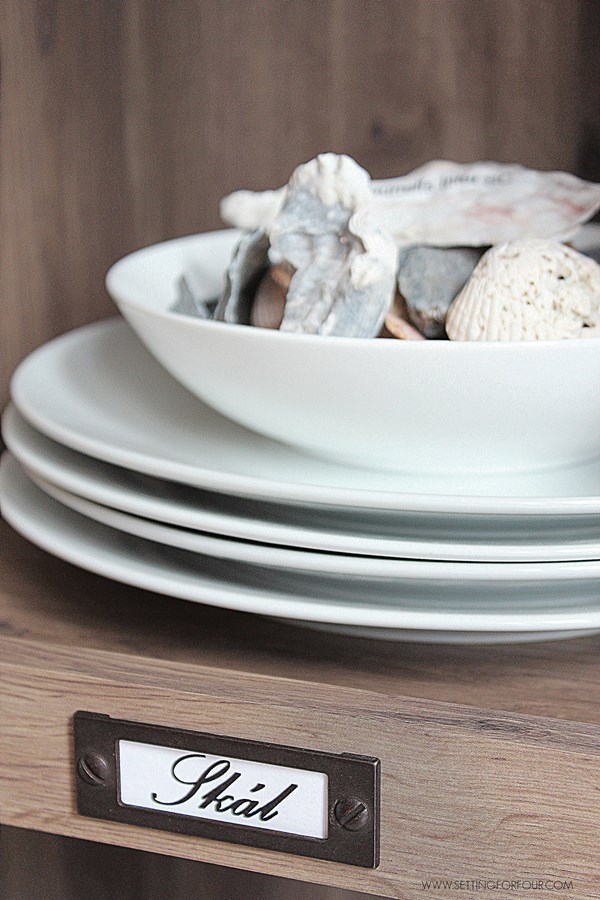 Now I have a spot for extra dishes, straws, ice bucket and glasses, napkins and serving baskets, our ice cream dessert supplies, recipe magazines and still room to decorate too! The top shelf is the perfect spot to keep photos, a large summer shell, a basket of my DIY bookpage scrolls and the silver battery operated lanterns that I like to bring out onto our back deck when we eat outside.
This bookcase is fabulous for serving multiple functions – display, storage, disguising a part of my kitchen I don't particularly love and adding style and beauty to my home!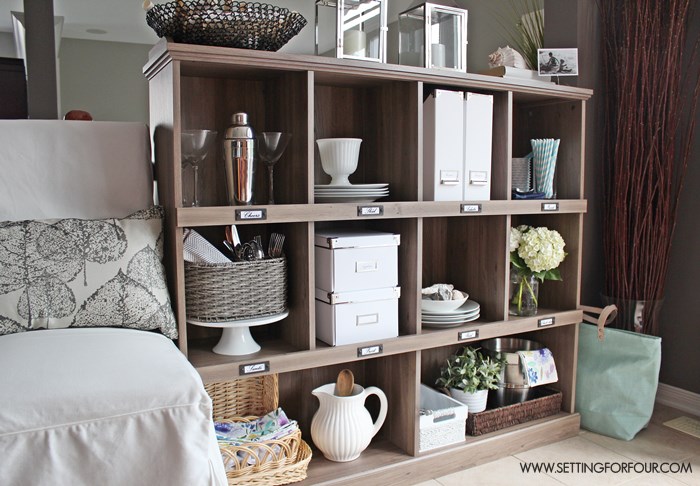 If you don't have the time or money to invest in tearing out something you don't love in your home and would love to disguise- consider using a bookcase or other piece of furniture like I did! It looks much better now doesn't it?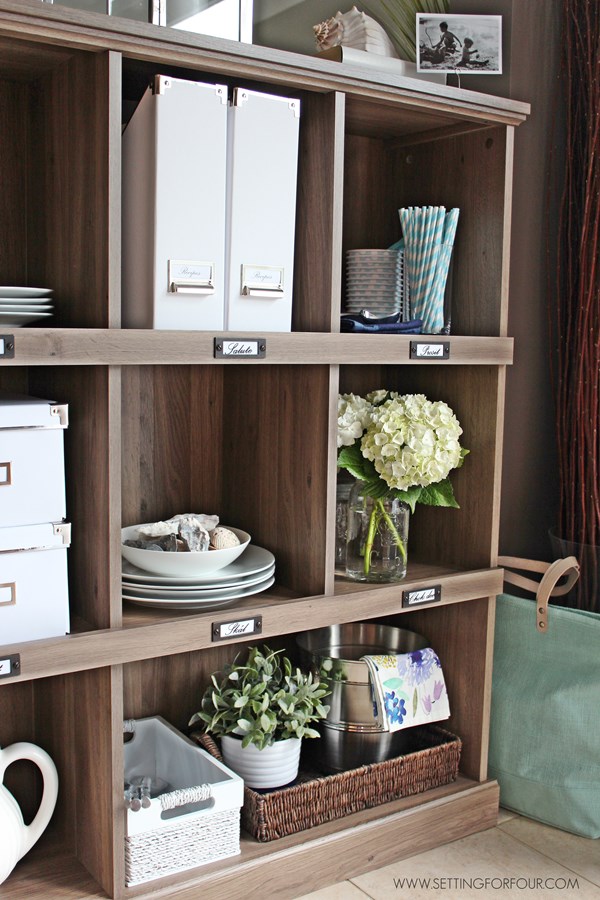 Love fabulous customer service and great looking, quality furniture mailed right to your door? Visit Sauder and take a look at the amazing selection they offer!
This is a sponsored conversation written by me on behalf of Sauder. The opinions and text are all mine.

Sharing at:
Between Naps on the Porch Savvy Southern Style Live Laugh Rowe Play Party Pin French Country Cottage Design, Dining and Diapers Tidy Mom
36th Avenue Liz Marie Blog Classy Clutter Tatertots and Jello DIY Showoff My Uncommon Slice of Suburbia House on the Way Carolyn's Homework
Savvy Southern Style DIY Dreamer