Learn how to arrange tulips in a vase in 5 easy steps to create a stunning flower arrangement in minutes to encourage them to droop in a beautiful way! The secret is the stem height and the type of vase to use that will make you look like your a professional florist!
Most tulip arranging tutorials talk about how to prevent tulips from drooping but I say EMBRACE it!! I just love how tulips droop and lean over a vase for a simple, carefree look! Don't fight the way tulips droop – encourage it! I'll show you tips on how to create a gorgeous, simple tulip bouquet in minutes!
This post contains some affiliate links for your convenience. Click here to read my full disclosure policy
shop the post: click on each image to see more info
– scroll with the arrows to see more items –

How To Arrange Tulips In A Vase In 5 Easy Steps!
The secret to a gorgeous tulip arrangement is the vase! My go to vase for tulips is an 8 inch round clear bubble bowl vase because the round shape of the vase compliments the curves of the tulip petals and it also allows tulips to bend and 'flop' in a stunning way.
Supplies:
fresh tulips – buy the freshest you can! Discount tulips will NOT last long at all.
garden shears – I keep a set of garden shears in my kitchen drawer for cutting all of my flowers for flower arrangements. I don't use my kitchen shears, I find that they often can't cut through woody stems, but garden shears can!
water
my tulips came with a few long skinny grass like leaves, which look amazing – but you don't need to use them if you can't find them at your florist or grocery store.
Instructions:
1. Fill the vase 3/4 to the top with cold water.
2. Cut the tulip stems with sharp garden shears. You can cut straight across or at an angle. Cut the stems so that the height of the tulips is twice as tall as the height of the bowl. This will allow the tulips to relax and curve over the sides of the bowl! If they are cut short they won't curve.
3. Place the tulips immediately in the vase of water, allowing some of the leaves to lean over the sides of the glass as well as the flowers.
4. Don't be too perfect when arranging your tulips – it's absolutely okay if there are more blooms on one side…it makes the arrangement look more natural!
The tulips will curve and bend more with time – giving you a 'new' look every day!
5. Check the water level every day. If the water looks cloudy, dump the water out and refill the vase with fresh cold water.
Isn't this arrangement gorgeous? I really really love it! Look at how the bubble vase allows the tulip stems to bend!
See all of my paint colors here.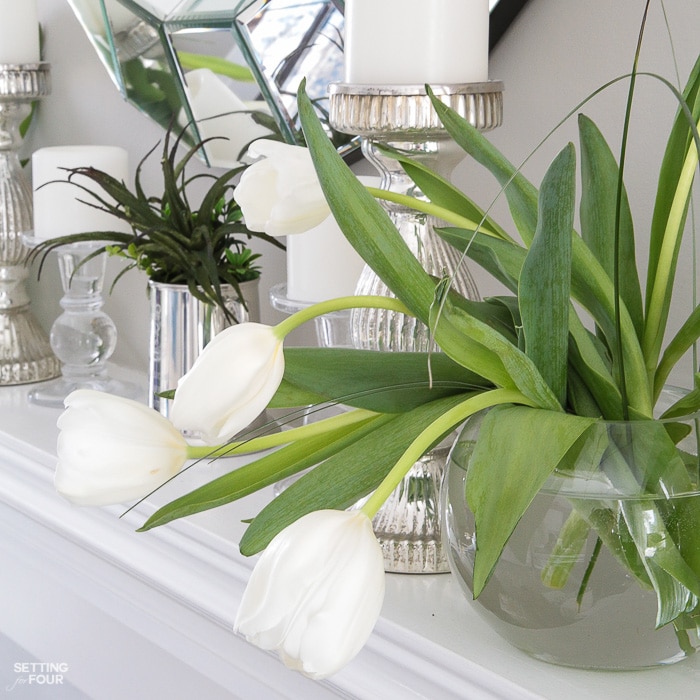 I love placing my Spring tulip arrangements on my mantel:
My Fireplace Mantel Reveal -A Makeover with Paint!

…and in my entryway on a garden stool.
A Burst of Spring House Tour and Home Decor Ideas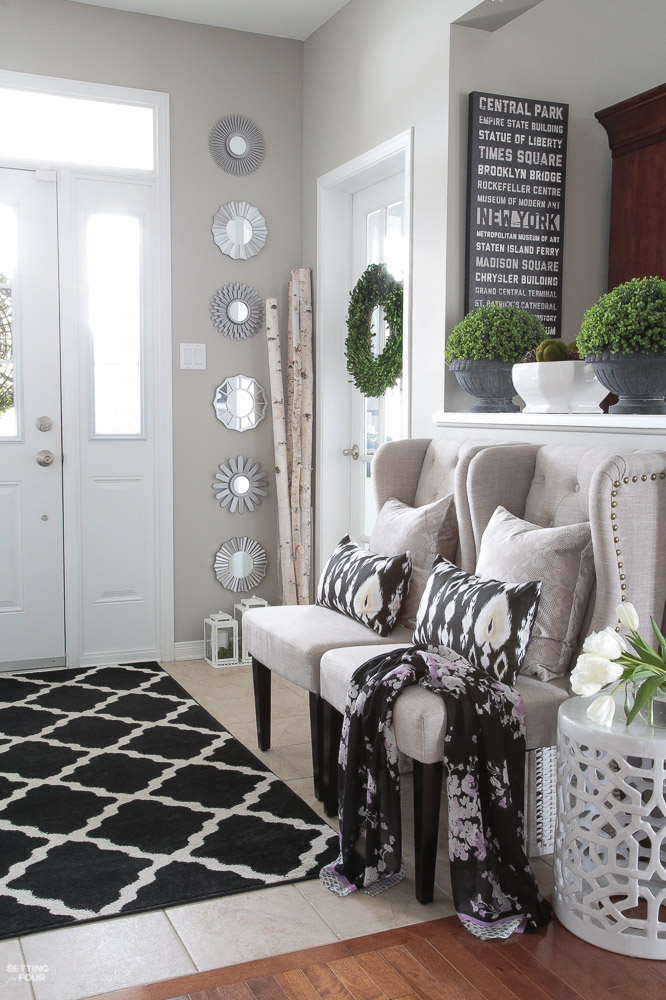 I love how the stems bend and swoop over the sides of the bowl:


I hope you liked my lesson on How To Arrange Tulips In A Vase In 5 Easy Steps!
Do you have any tips for arranging tulips?
You may also like:
How to Make Cheap Grocery Store Flowers Look Expensive
How To Grow A Cut Flower Garden
7 Ways To Make A Small Room Feel Larger Instantly!