5 EASY freezer organizing ideas to simplify your life and meal prep!
Hello everyone! Today I'm sharing a little secret that I can finally let you all in on! I've had to keep it up my sleeve since December, but now I can fill you all in! Whew!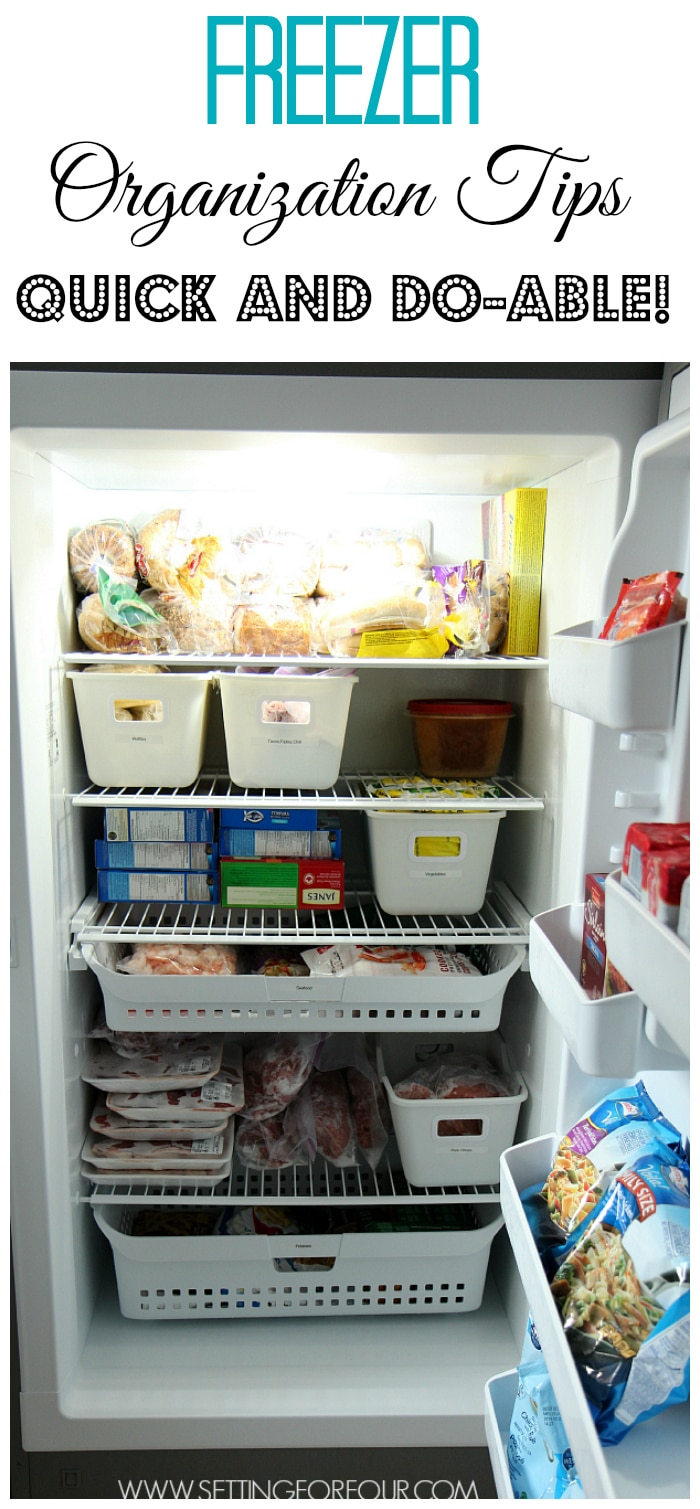 Today I'm reviewing a gorgeous upright Frigidaire Gallery Classic Slate Freezer and sharing with you my experience with it!
If you're in the market for a new freezer this post will be so helpful to give you an inside look at a stand up freezer loaded with style and organization from top to bottom. I'll also be sharing some helpful freezer organization ideas too.
Affiliate links have been added to this post for your convenience
Five Easy Freezer Organizing Ideas
I've never owned a stand alone freezer myself until now. My hubby and I always just used the freezer in our refrigerator and now I wished I had bought one ages ago! It's fabulous to save money and buy meat on sale and have a frozen stock of beef and hamburger for chilis and stews. Now I can start whipping up batches of pre-made crock pot meals and casseroles to have in the freezer in the go position for those busy weekday nights!
Also if your a new Mom and love to make and freeze your own baby food, a large freezer is a must-have!
Growing up we had a chest style freezer…it was a monster and really big since my Mom used to grow a huge garden and freeze all kinds of fresh vegetables, fruit and berries that we grew in our vegetable garden. Eating 'from-your-own-garden' fresh food was delicious….but trying to get a bag of corn or beans or even a package of meat out of that freezer was a huge challenge. We practically had to climb right into it to find anything, there were no compartments, just one big pit of piled up food!
This upright freezer is the complete opposite!! The SpaceWise® Organization System is so convenient and accessible. The large trays on the door can be taken out and moved around to fit exactly what you are storing. There are two large pull out baskets in the main compartment and lots of shelves too!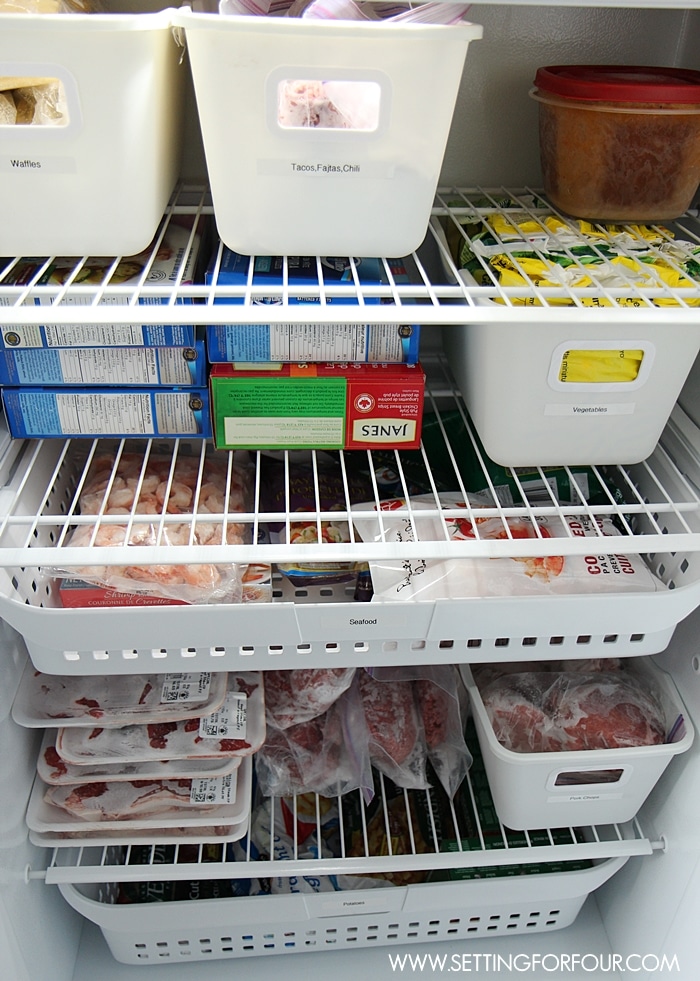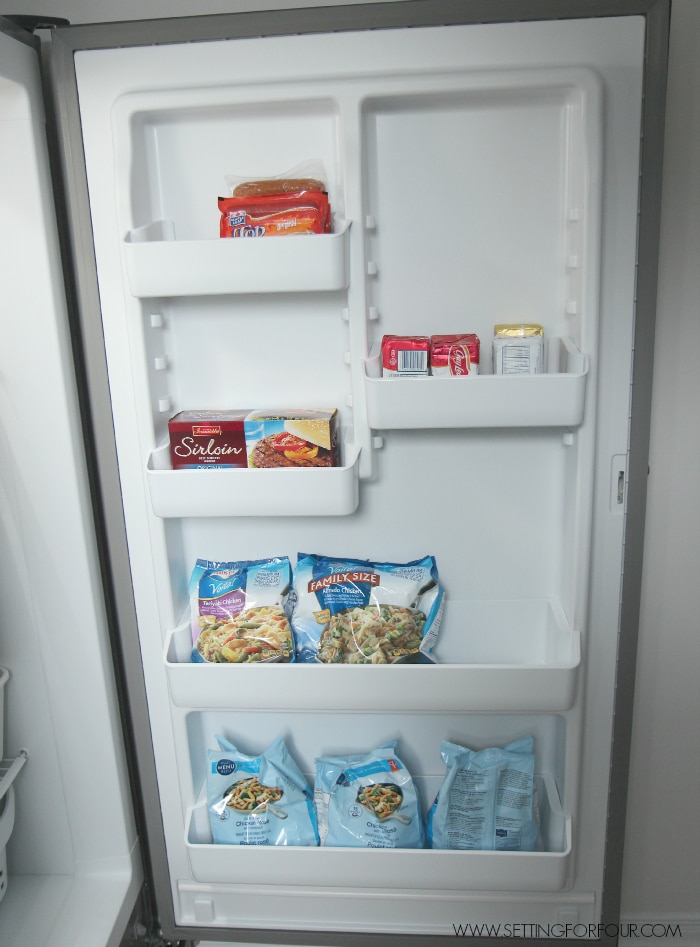 Everything is so easy to see and find!
And I also have to mention the beautiful style and color of this freezer – the decorator in me just loves the gorgeous grey slate color! So stylish!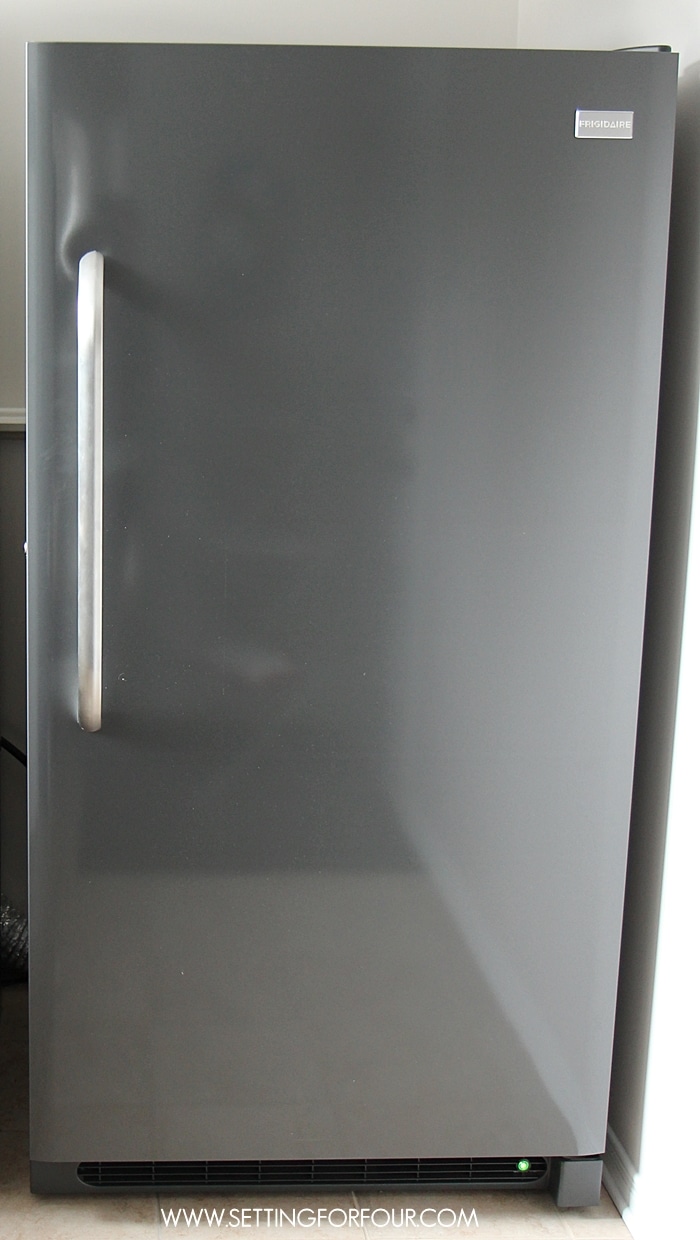 Here are my 5 easy and do-able freezer organizing ideas:
1. Store lightest to heaviest items from top to bottom. I store our bread, bagels, hot dog and hamburger buns on the top drawer and meat near the bottom. I find this makes it easier to see them and if you happen to drop a frozen package of meat – it doesn't have too far to fall to the floor, or on your toes…not that that has happened to anyone I know! 😉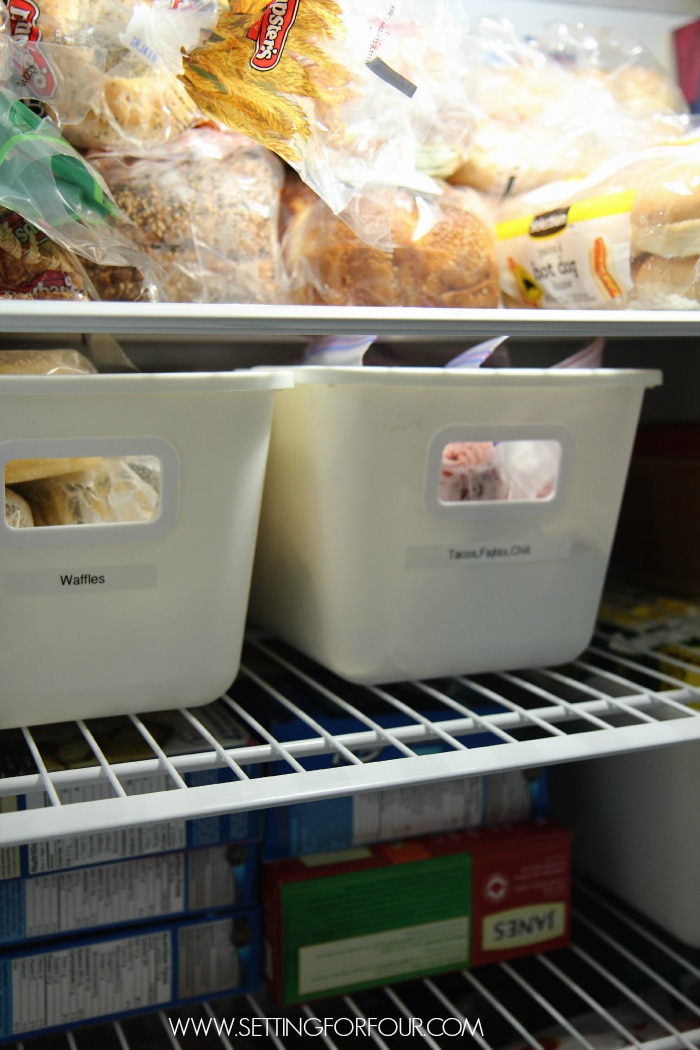 2. Use plastic baskets to separate and contain your food: I use plastic baskets that fit the shelves and size to fit quite a lot of frozen packages. I use one to hold our waffles, one for vegetables, one for skillet meals and one for packaged hamburger and beef for tacos, fajitas, stews and chilis. It's all so easy to find and pull out what I want to make for supper!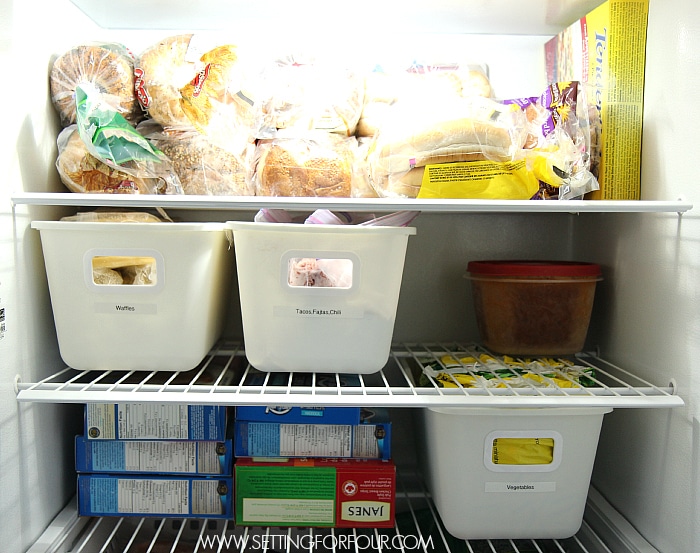 3. Label!: I use this handy labeler to make labels for the baskets to make everything easy for me, hubby and our boys to see at a glance. I also use these freezer markers (they use water resistant ink and are smudge proof!) to label freezer bags of hamburger and beef that make up from bulk amounts that I buy. I pre-weigh meat into the amounts required for the recipe. So if I'm making taco's I can find a bag of hamburger exactly the right amount for tacos!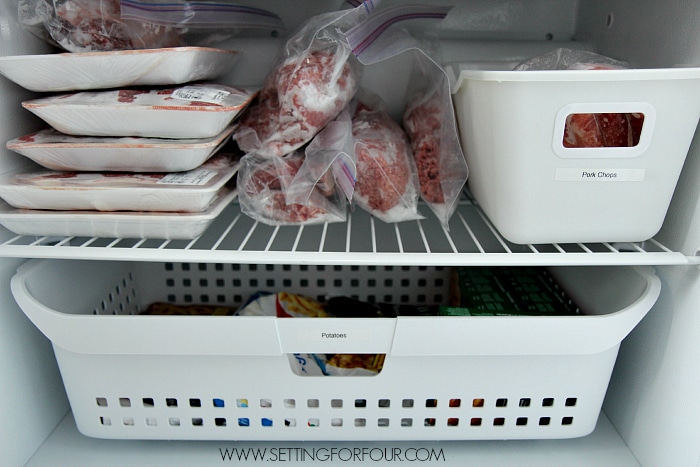 4. Store items flat and stack them rather than stuffing them in willy nilly: Stacking frozen food flat will not only save space but once again, it makes it all so much easier to see.
5. Keep an inventory of freezer contents: I use a small dry erase board and dry erase marker that I keep on a shelf in the door. This inventory is a handy way to let me know when certain items are getting lo in stock and so I can keep my eye out for sales.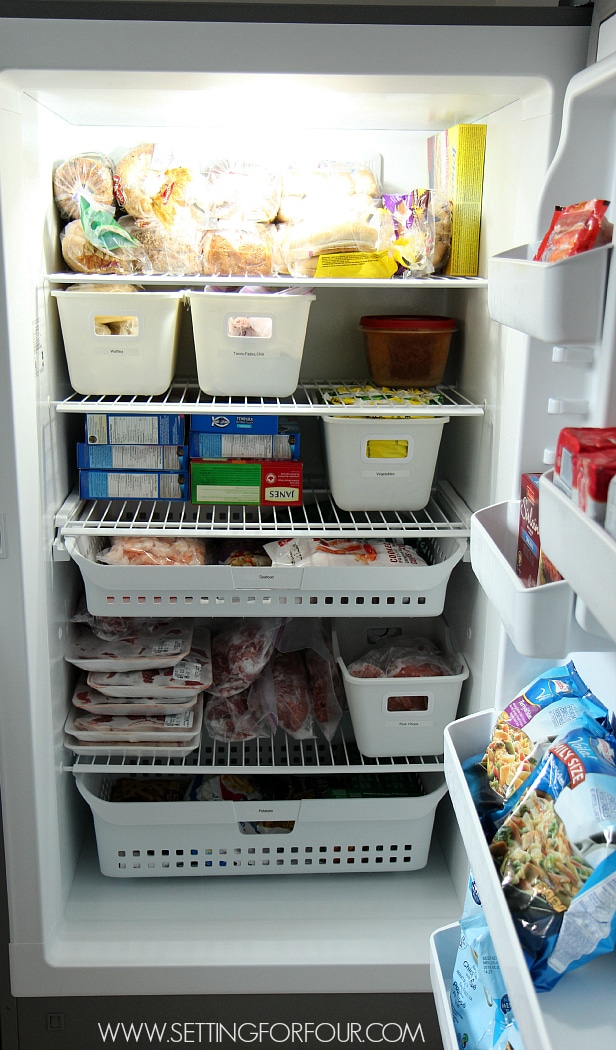 I hope you found this inside peek at the Frigidaire Gallery Classic Slate Upright Freezer and my freezer organization tips helpful!
Do you have any helpful freezer organizing ideas? If you do – please share, I'd love to know!
You may also like:
Ten Clever Kitchen Organization and Storage Tips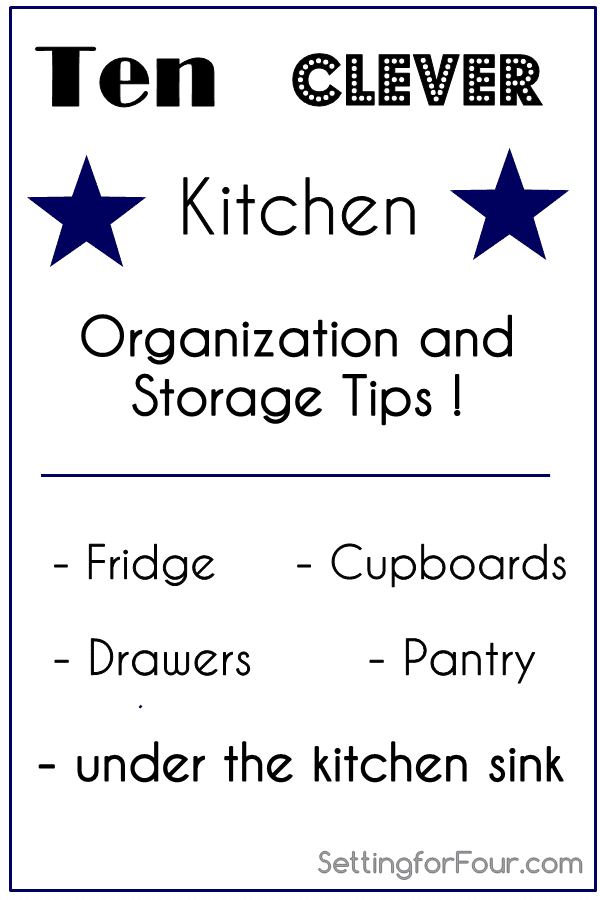 70 Plus Organization and Storage Tips for Your Home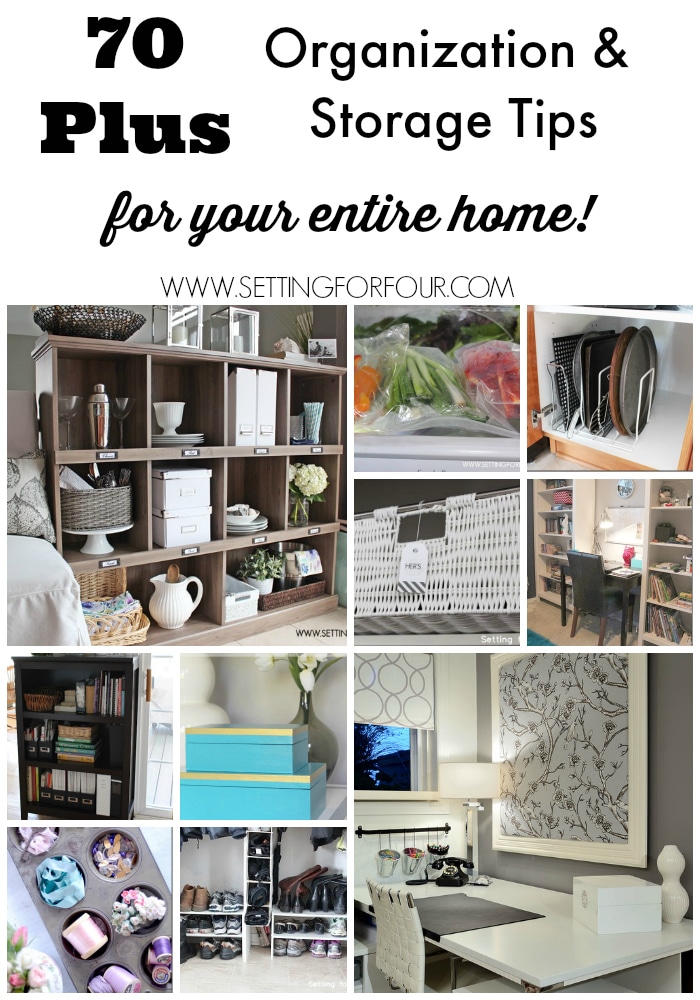 Love these ideas! Organizing Your Pantry – Tips for Real Homes with Small Pantries!