A Christmas Home Tour – home for the holidays Christmas decor theme! 
Welcome friends!
I'm so excited about today's post!  I'm sharing my Christmas Home tour today!
29 Bloggers and myself are opening our doors all week to show you some Christmas decorating inspiration! How fun!
Christmas is my hands-down-favourite holiday of the year…maybe it's because I can fill every room with sparkle and shine!…maybe it's because I love to see the joy on my boys faces as they open up their Christmas presents…….maybe it's because I can catch my handsome hubby standing under the mistletoe!….maybe it's because I love to cuddle on the sofa with my family, a cup of hot chocolate in hand, listening to Bing Crosby's "I'm Dreaming of a White Christmas' (my favorite Christmas song ever!!) playing softly in the background, admiring our Christmas tree together…
…but one of the most favourite reasons I love Christmas is to open my house to friends and show them some welcoming hospitality, have a few good laughs and make some festive memories!
…so welcome friends to my Christmas Home Tour!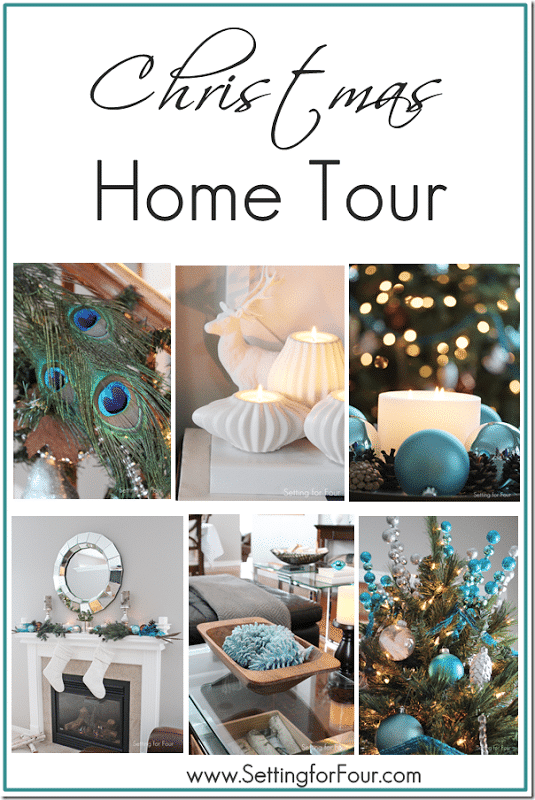 ---
Before I talk about these decor ideas – check out how you can get completely organized for the holidays with this gorgeous Ultimate Holiday Planner!
You won't forget a place to be at, a card to send, a gift to get or groceries to buy with these 27 printable pages including:
Dated calendars, menu planners, gift tracker and Christmas organization! It's saving my sanity this year prepping for the holidays!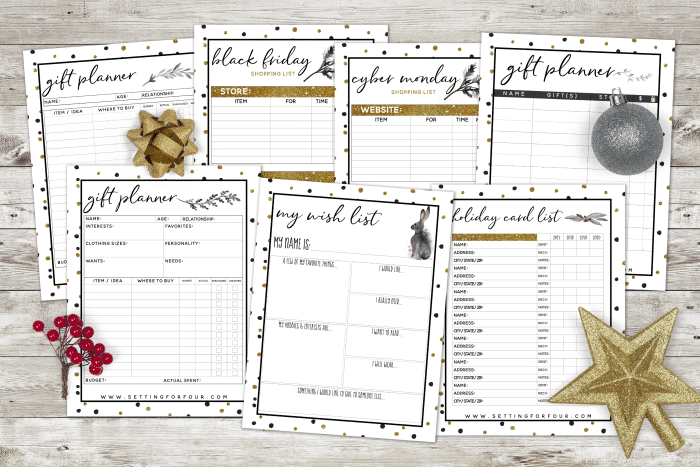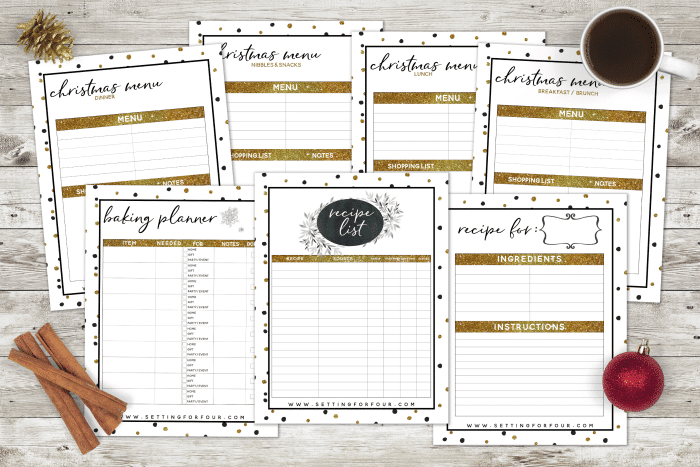 ---
Let's start the tour at the front of my home, the entryway!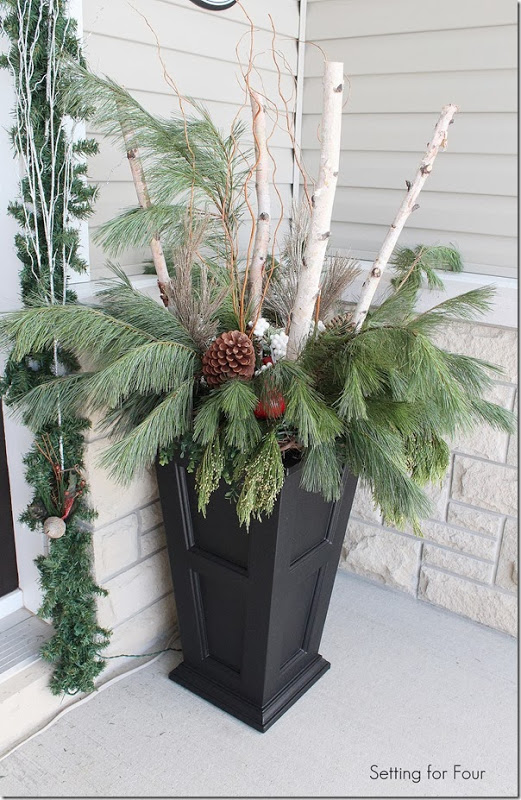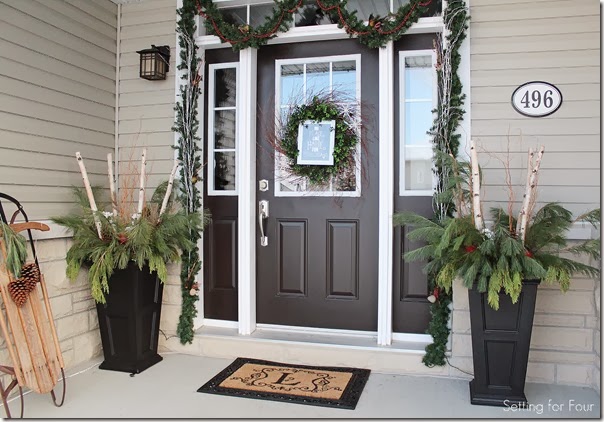 I love decorating my entryway and front door for the holidays!
I topped two large black urns  with a grapevine wreath, a boxwood garland then filled the urns with fresh pine, birch branches from our back yard, fresh pomegranates for a pop of red, large Virginian pine cones and white sparkly faux berries.
I used the same 'thriller, filler, spiller' method that I used to make my fall urns!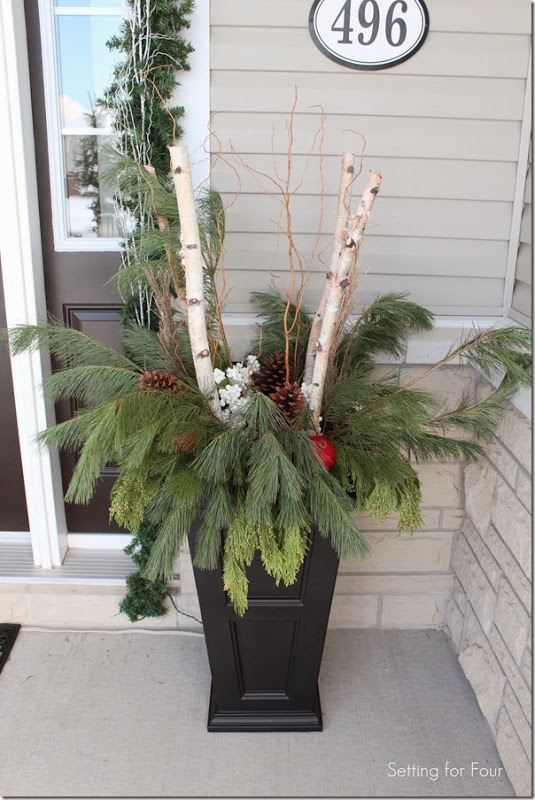 Jack Frost has visited the fresh Pomegranates!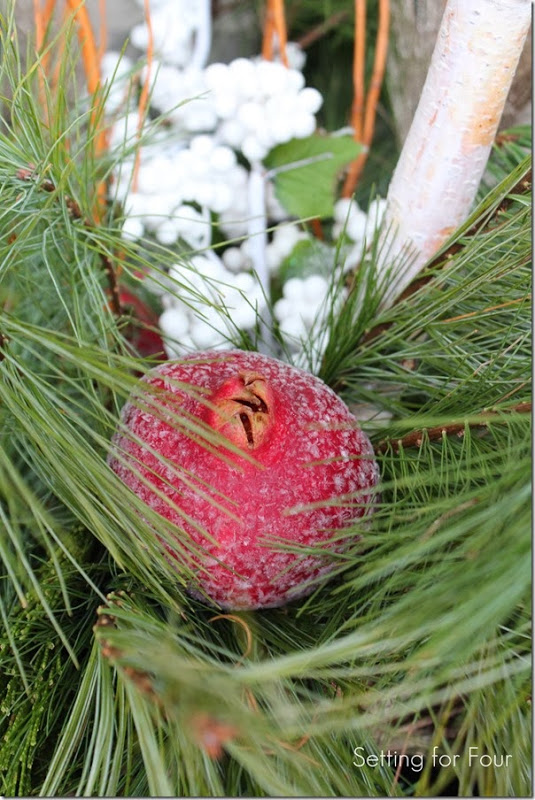 I hung pine garland around the doorway and added silver sparkly branches and red beads that look like little disco balls! The red beads pick up the red pomegranate color – we get a lot of snow in the winter here and red outdoor decorations really pop off the white snow!
Here's my entryway aglow at night! So pretty I think!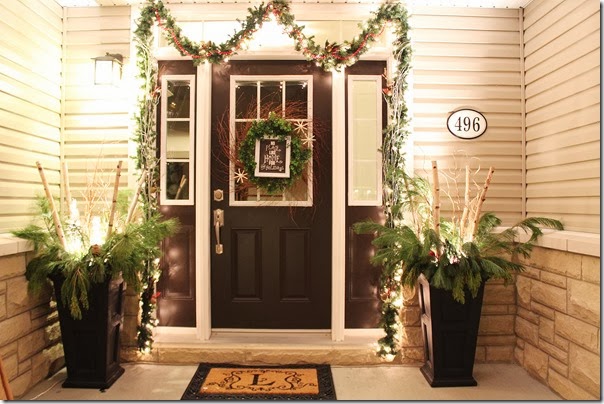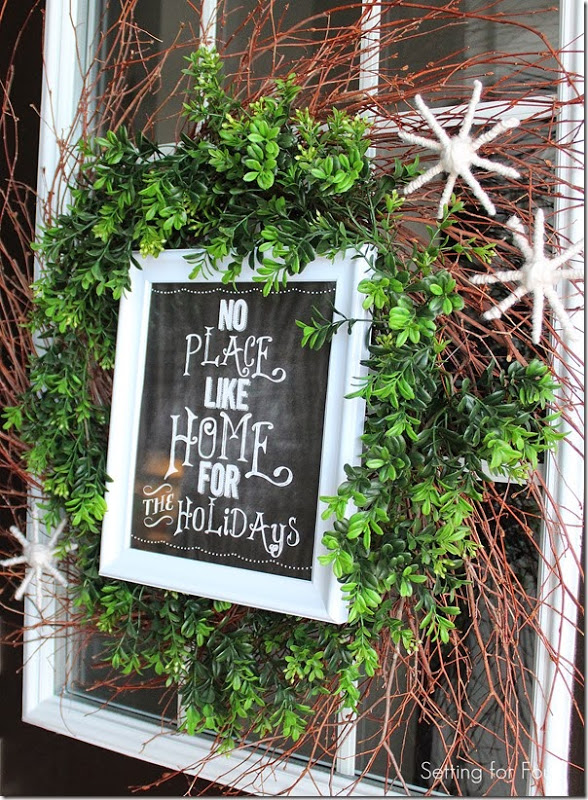 Last but not least is this vintage sled I found at a thrift store years ago for just a couple of dollars! I just propped it up too the side and hung fresh pine and two large Virginian pinecones on it – It looks ready for a tobogganing hill!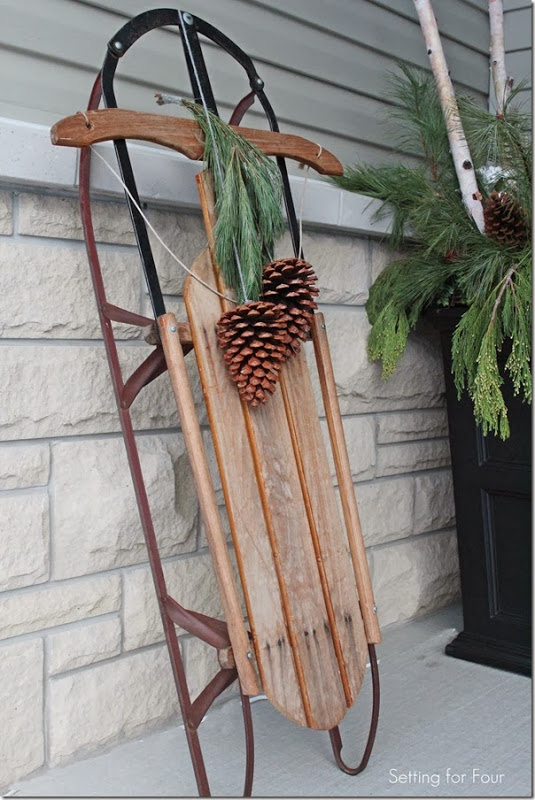 …now let's go inside!
Sit down and take your boots off! I'll take your coat and make us a cup of hot chocolate!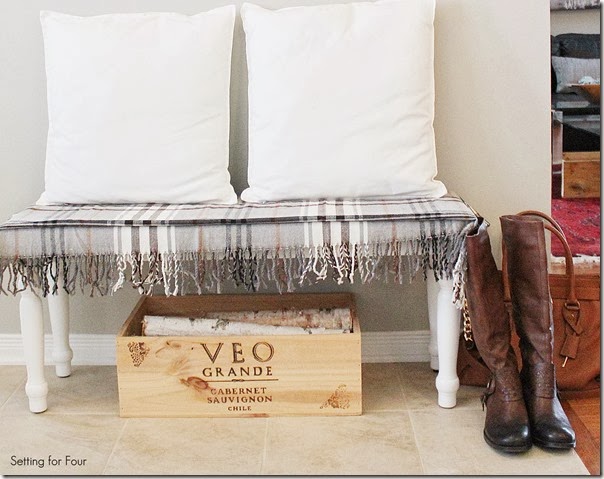 I cozied up my entryway with a plaid wool throw on the bench and added a couple of white pillows.
Under the bench I added a wine crate filled with birch logs.
I love decorating with birch and it's colors- silvery grays, soft whites and black!
I love adding an elegant festive garland to my railing at Christmas!
I added silver sparkly pears, silver pinecones, vintage hand-blown glass birds, silver beads and pressed Oak leaves tucked here and there to give the garland more fullness!
When the lights are plugged in this garland gives such a beautiful soft sparkle and shine!
This year I changed up my indoor holiday colors from traditional red and white to blue so I added two large peacock feathers to the garland to bring in some rich blue and teal tones!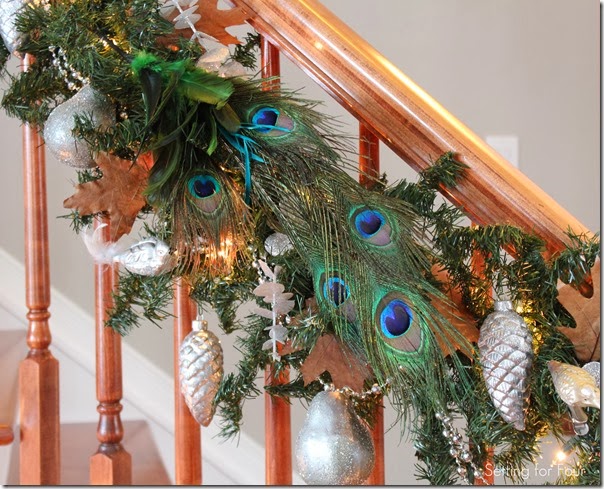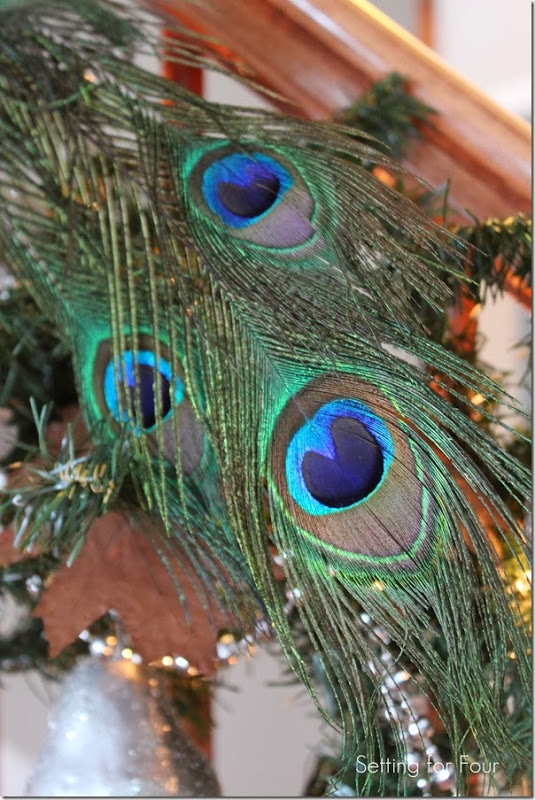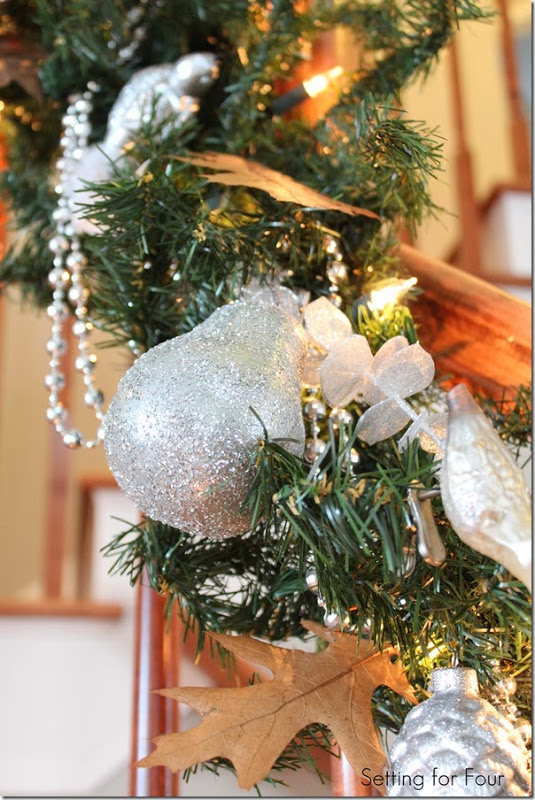 This little area of our home is the perfect spot for a console table.
I created a holiday vignette by adding a single large white branch to a Jonathan Adler vase and decorating it with DIY Christmas Ornaments I made myself.
If you'd like to make these you can find the tutorials here:
DIY Jewel and Feather Ornament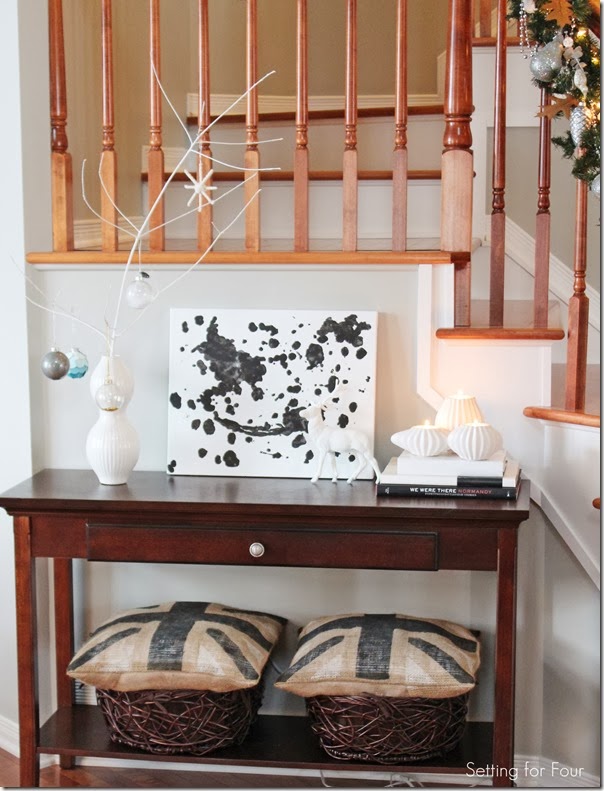 This piece of abstract art is one that my son made a while back – just a white painted canvas with black paint smooshed on it!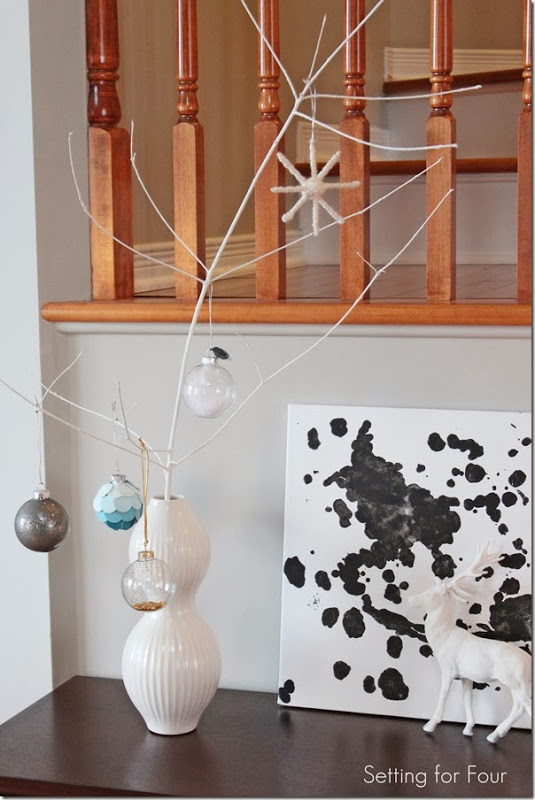 A stack of books topped with white Jonathan Adler candle votives and a vintage reindeer complete the wintery look!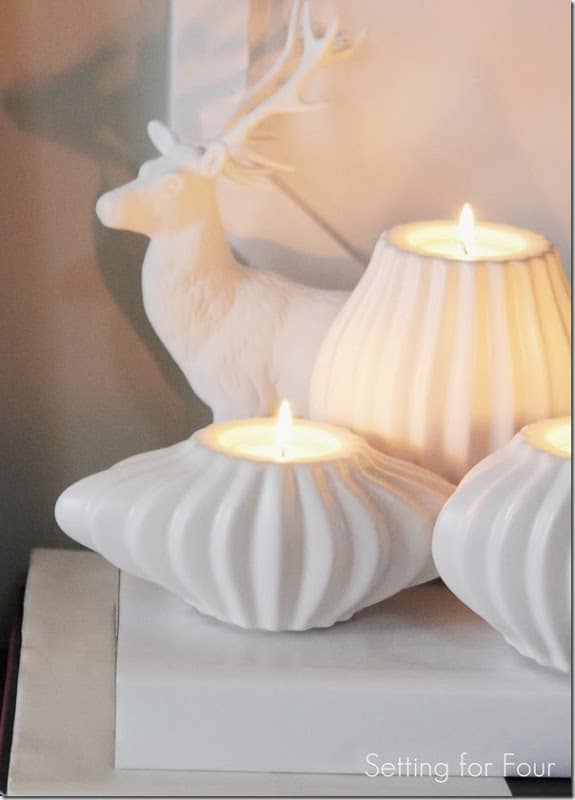 I showed you back in the fall how I refinished this 'antiqued' wooden dough bowl; I love decorating with it for the seasons.
I added these pretty frosty blue pinecones (they are actually ornaments you can hang on your tree – but they are also great bowl fillers!).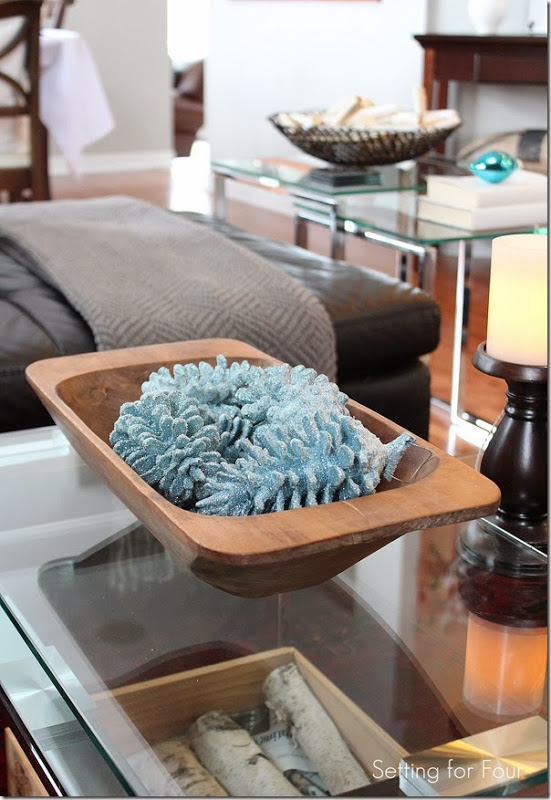 A turquoise blue ornament tops a stack of books on my end tables. Just a simple easy vignette that you can create anywhere in your home!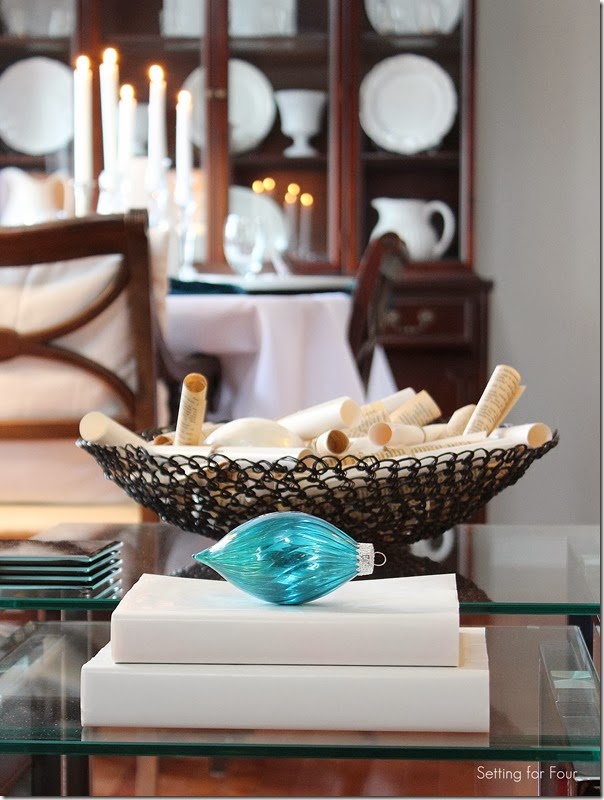 Here's my Blue Christmas Dining Room: (See all the ways I created this pretty blue Holiday tablescape in that post!)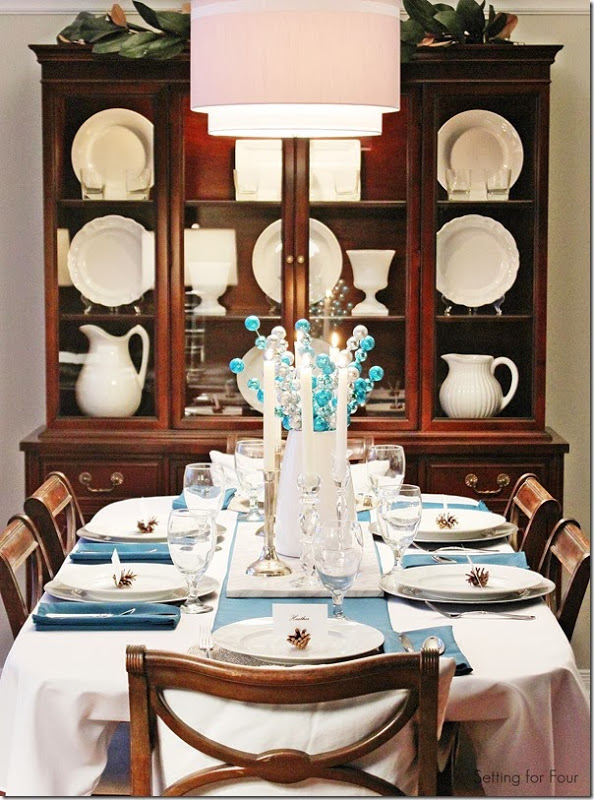 Now onto the living room!
My fireplace and this gorgeous mirror are the focal points in my living room.
I love adding lots of  festive cheer to it and lighting the candles at night!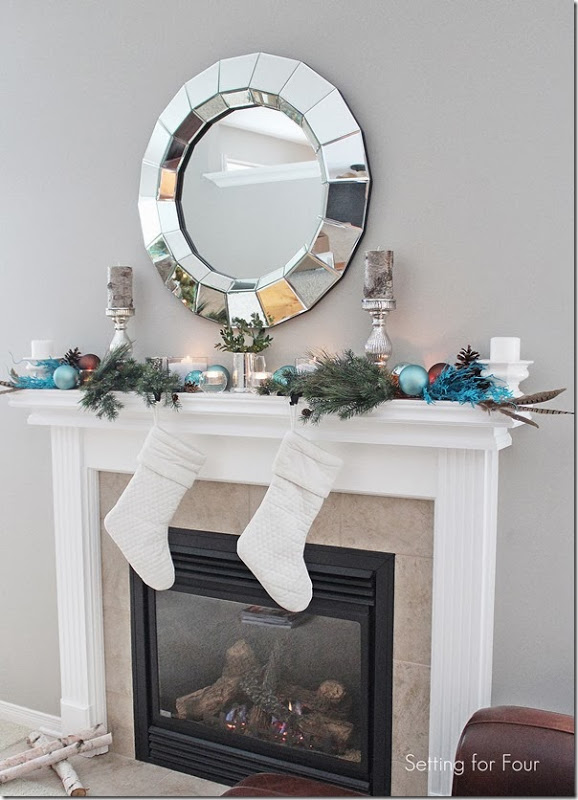 I love to give my mantel interest and texture by using accessories with different heights and positioning some elements to the back and some to the front.
I used my husband's military pewter mug filled with fresh boxwood clippings from our yard, crystal votives and birch candles on mercury glass candlesticks for a mix of materials and finishes.
Faux pine branches and  pheasant feathers add a rustic touch.
The blue and brown holiday ornaments, pick up the same colors I used for my Christmas tree…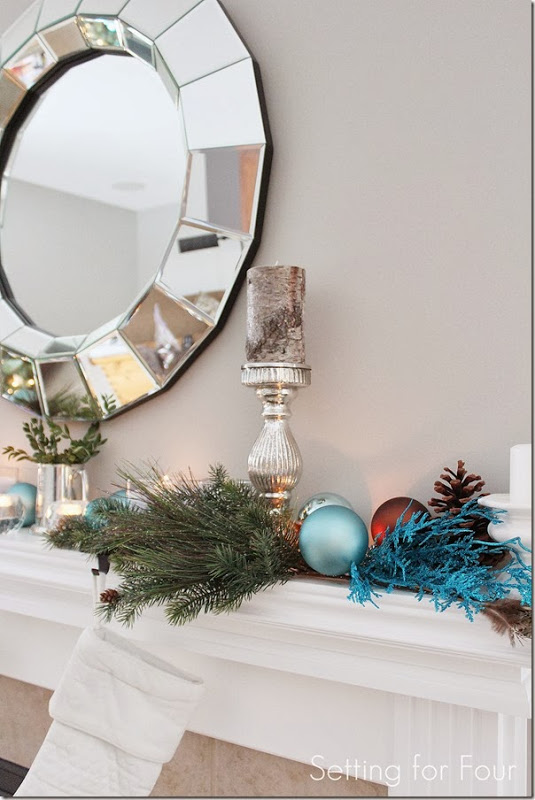 ….and here's my 'I'll have a Blue Christmas' holiday tree!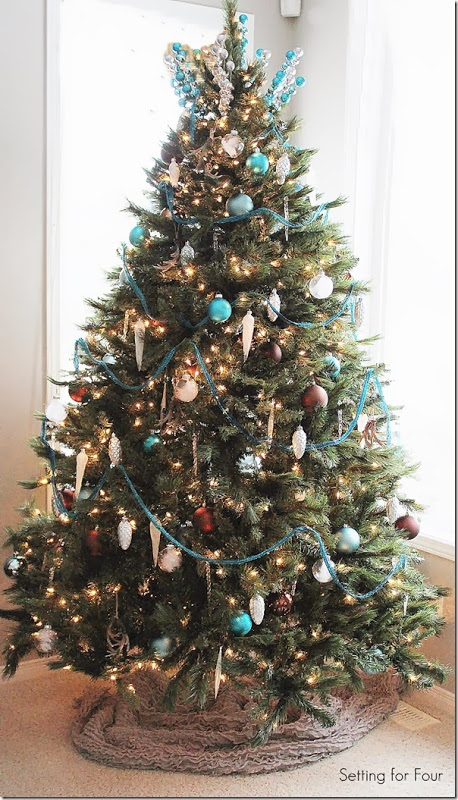 I'm so happy with my switch from traditional red and white colors that I've decorated my tree with in the past! The blues and browns look so pretty together.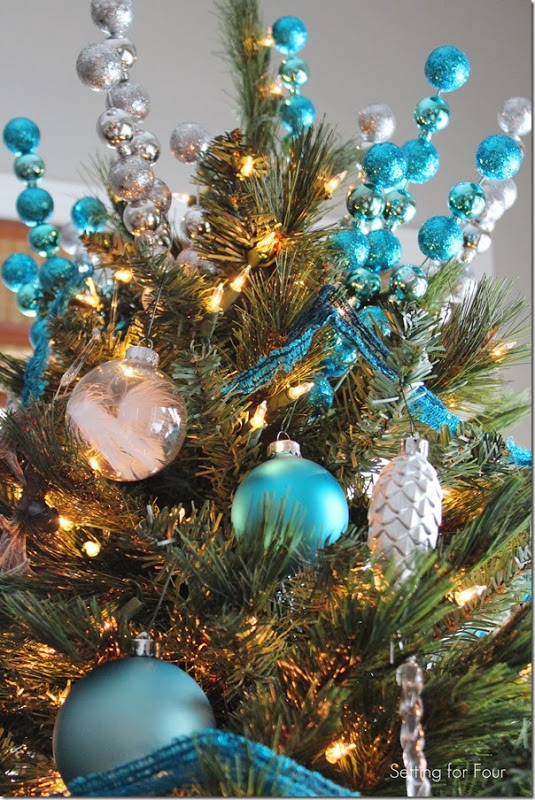 Light blue, turquoise and brown Christmas balls are mixed with brown antler ornaments, white DIY Feather and Jewel  Ornaments and white icicles to give a lovely winter wonderland look!
I wrapped the blue sparkly yarn around my tree for another pop of color and texture…I love how the sequins in the yarn twinkle and catch the lights at night.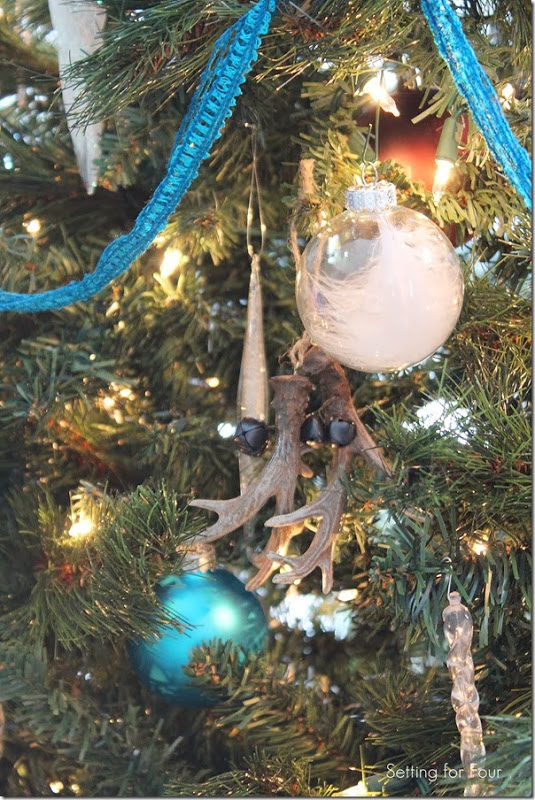 Now let's head outside!
We really love using our hot tub!  Jump in and relax for a while!   The tiki torch is lit… it's Christmas party time! I added a cheery red plaid throw and a holiday candle to give our hot tub a festive look!
I even made a little snowman on the edge of the hot tub to keep us company!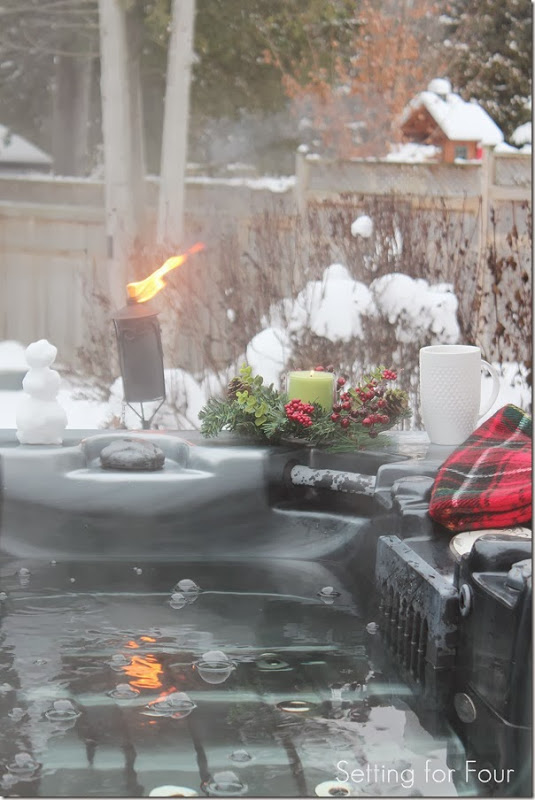 I really hope you enjoyed my Christmas Home tour!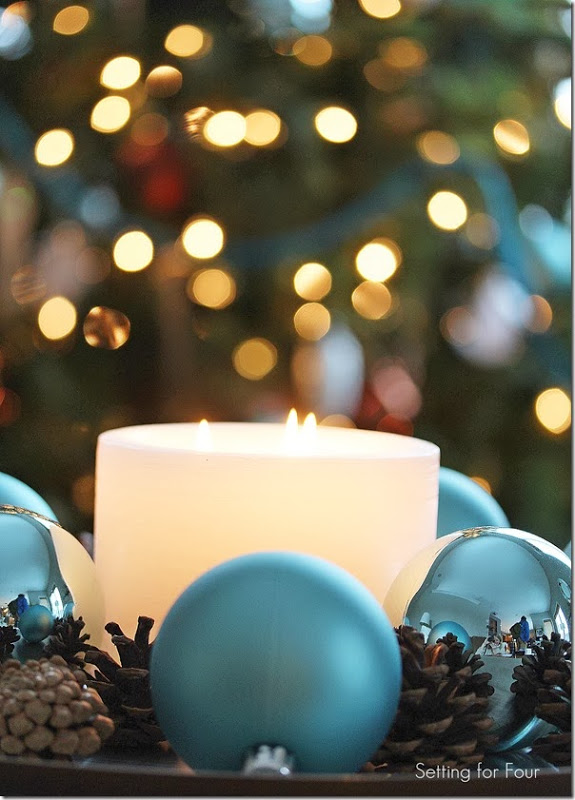 Thanks for visiting! Wishing you and your family a Happy Holiday!!
Follow me on Instagram for more holiday design and decor ideas!
More Christmas Design and Decor Ideas: