4. Urns: I L-O-V-E our tall black urns! If you love to decorate adding an urn or two is a great way to add seasonal decor to your front porch! To celebrate summer I added a grapevine wreath topped with faux boxwood as an urn 'topper' – then I filled our urns with birch poles and curly willow. 4 birch poles for each urn. I added a bunch of curly willow to the middle.
Some potting soil in the urns keeps the branches put so they don't flop over.
I add an outdoor floodlight into the center of our urns – they are on timers and turn on at night. The effect is stunning – the floodlight shines up into the branches and creates a gorgeous soft glow.
5. Herbs and Flowers: As I mentioned we love to sit here at the end of the day – usually with a beverage or two! We love having potted herbs here on hand: mint, rosemary and lemon grass to add to our drinks! We pinch off a few leaves to add to our summer sippers – it's like a mini herb bar! I added two flowering containers to our pillars to add a pop of color as well!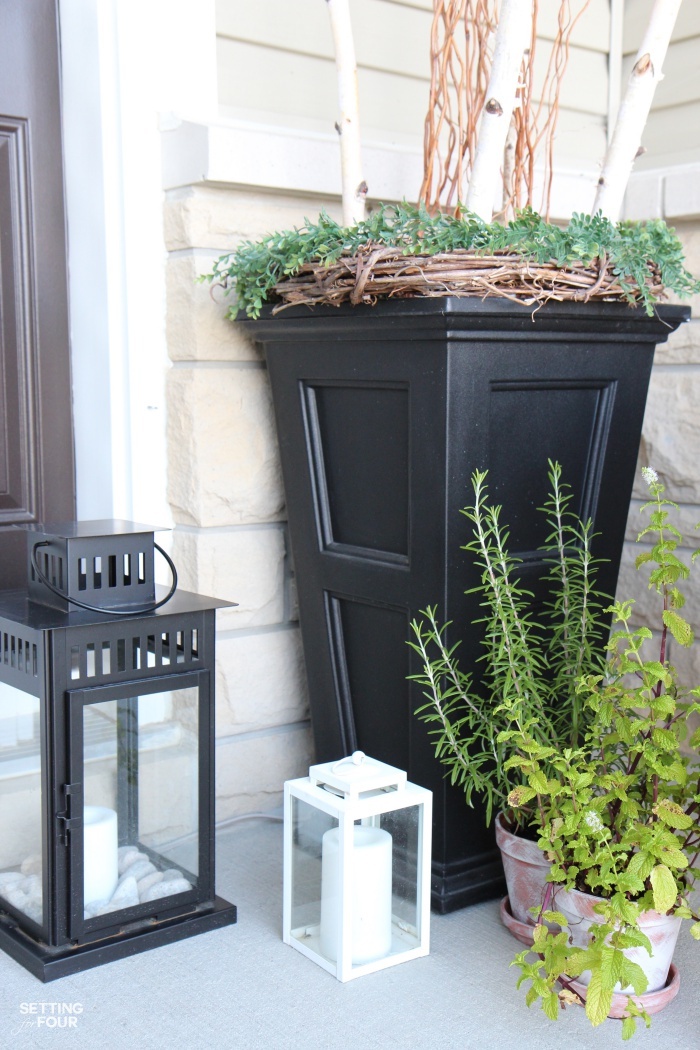 6. Lanterns and outdoor lighting: Lanterns add a gorgeous glow at night! I love to fill them up with big gray and white river stones for summer, pinecones for fall, mini ornaments for winter and boxwood garland for spring! (As I mentioned above, adding floodlights to your urns is a fabulous way to add ambiance and curb appeal at night. It also helps to brighten up the front porch and add extra light for safety.)
I use black and white lanterns – because I love black and white! You could choose colored lanterns if you'd like to add some more color to your home.
7. Outdoor battery operated candles: I use outdoor flameless candles that are on timers – they turn on and begin to twinkle as the sun is setting. So pretty! They are super safe too since they are battery operated and don't have a real flame.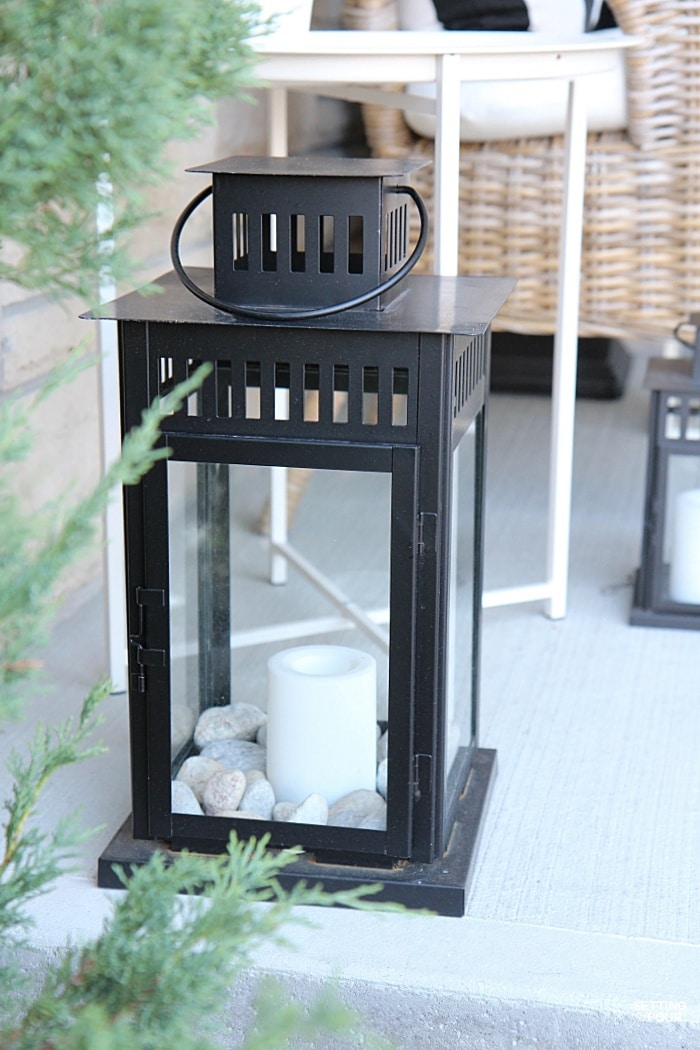 Here's another look of our wicker chairs. They are super comfy!
8. Small table: Adding a small table to your porch provides a perfect spot to set a drink on and plop a plant or two on or put your mail down on as you sit a spell! Our table is white metal and weatherproof for the summer showers we get.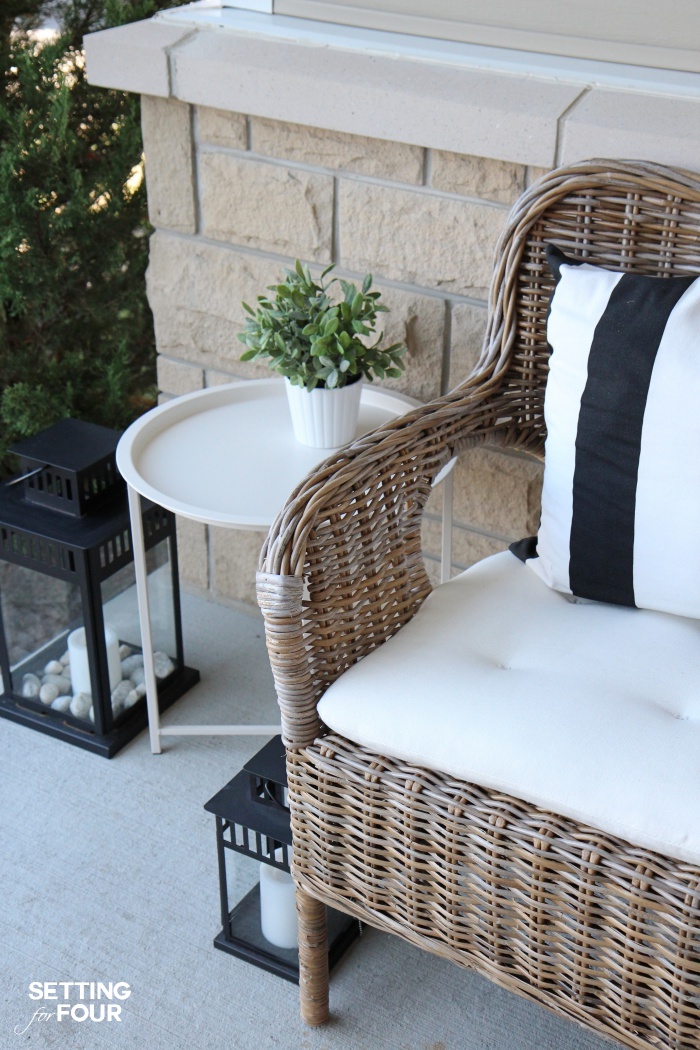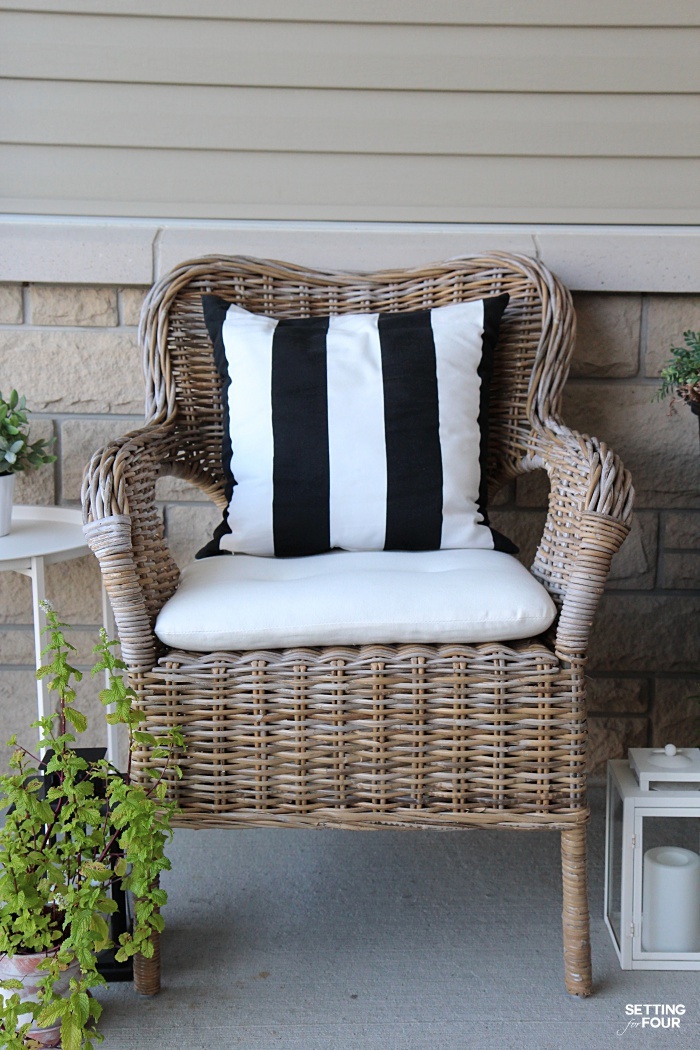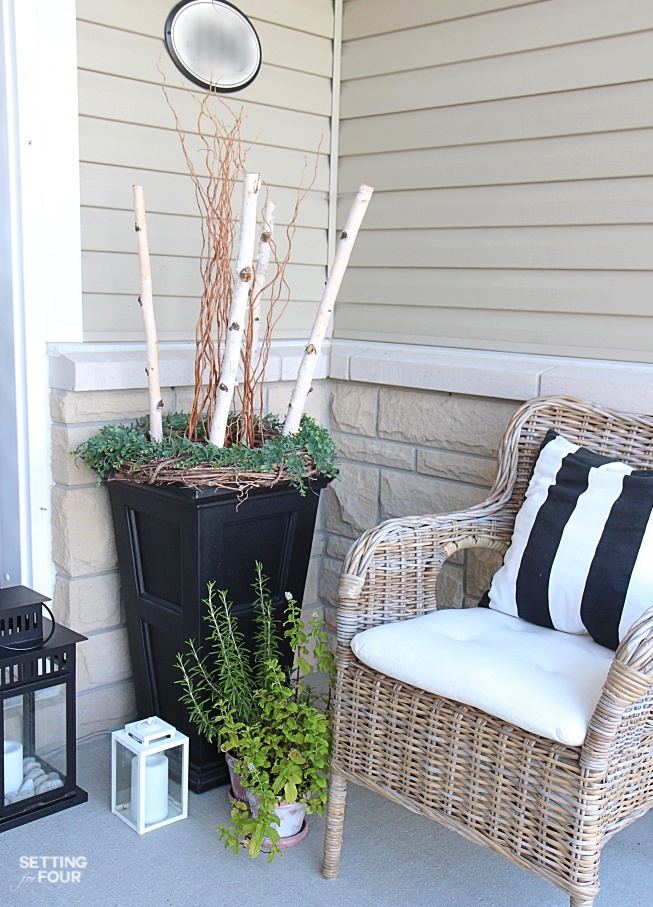 9. Front door wreath: I always have a wreath on our front door! I love to change them up each season. I bought this shell wreath but it would be easy to DIY if you have a collection of shells! We are beach babies so we love shells and all things coastal and beachy.
A wreath will add tons of texture and personality to your home!
10. Outdoor wreath hanger: I've hung my wreaths on the glass insert of our door using this gizmo that secures wreaths on glass. This year I hung our wreath using a bronze metal over the door wreath hanger. My wreaths never fall off our door using either of these hangers…even when my boys slam the door on their way in and out! 😉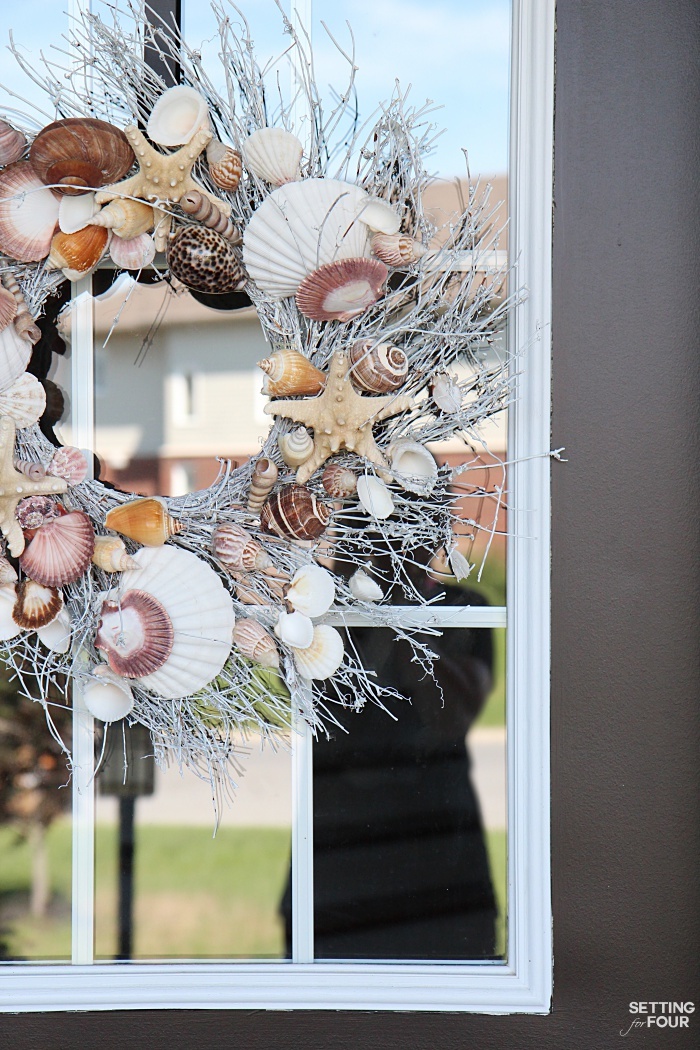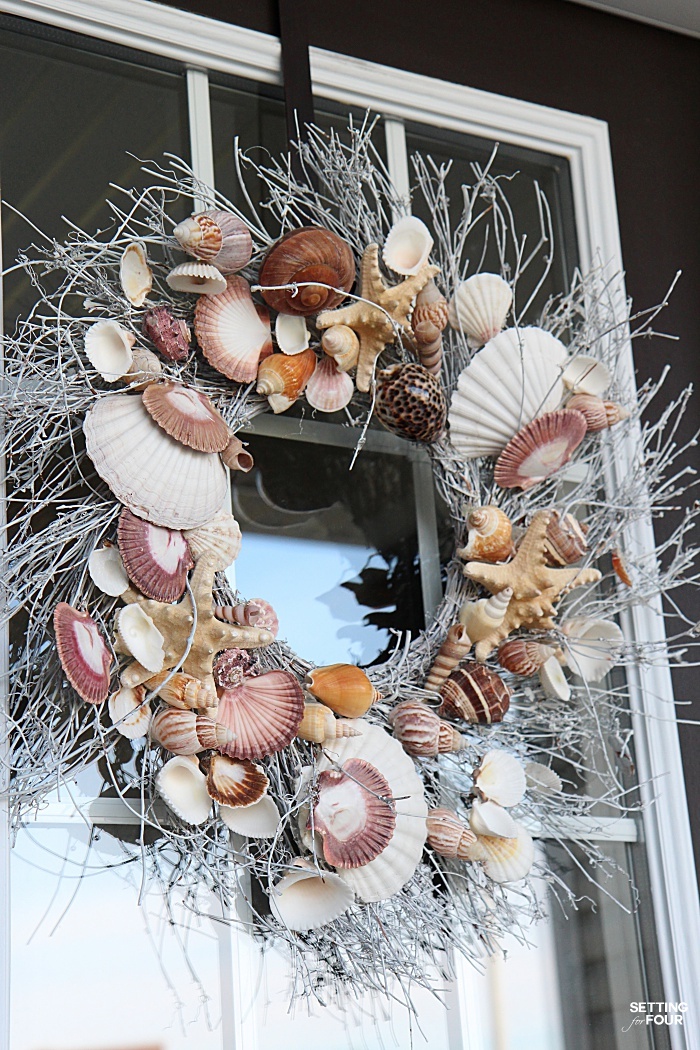 Thanks for visiting our home – I hope you enjoyed my 10 Front Porch Decor Ideas To Add Beauty To Your Home! Did you find some ideas you want to copy for your home? I hope so! 🙂
I'll be back soon with lots of Fall decor ideas – stay tuned!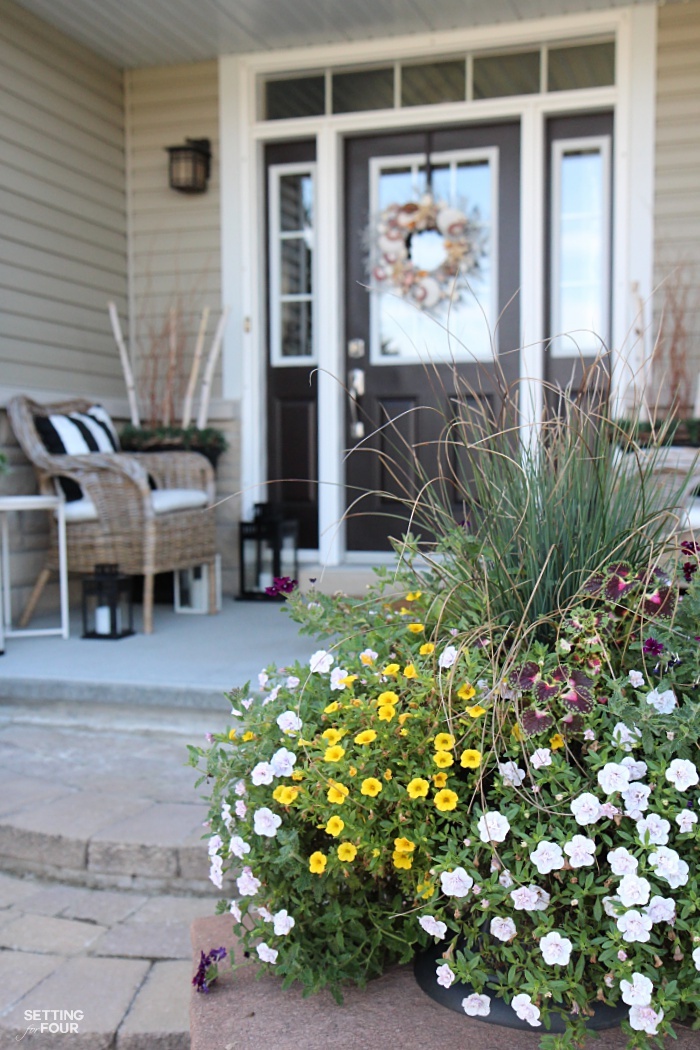 DIY Projects used for my front porch:
DIY Whitewashed Terra Cotta Pots
How to Weatherproof and Stain Proof Fabric
Bring the look home! Click on each picture to see more details!

You may also like these porch decor ideas:
Curb Appeal and Porch Decor