Hang this gorgeous DIY Boxwood Wreath on your front door for Fall! DIY Boxwood Twig Wreath with Framed Welcome Printable – easy to make and budget friendly!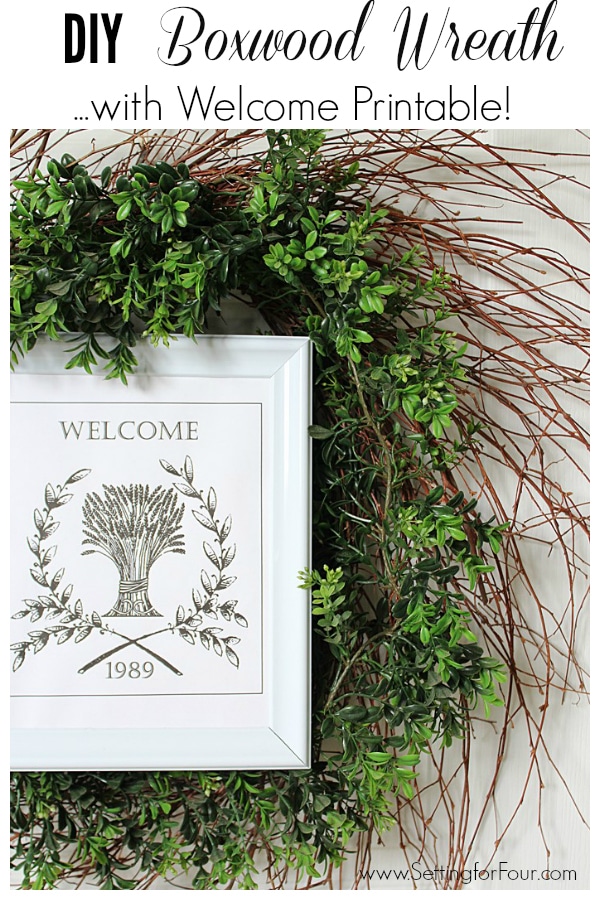 Hang this beautiful DIY boxwood and framed printable wreath on your front door to welcome guests and family into your home for Fall!
This is such an easy elegant handmade wreath to make …with lots of green faux boxwood layered over a twiggy wreath base and a framed wheat printable added on top! I'm showing you today how to make it!
DIY Boxwood Wreath with Framed 'Welcome' Printable
Now that Halloween is over I'm ready to hang a new wreath on my front door to celebrate Thanksgiving! 
Just like the winter wreath I  made last year – this wreath is topped off with an framed Welcome printable.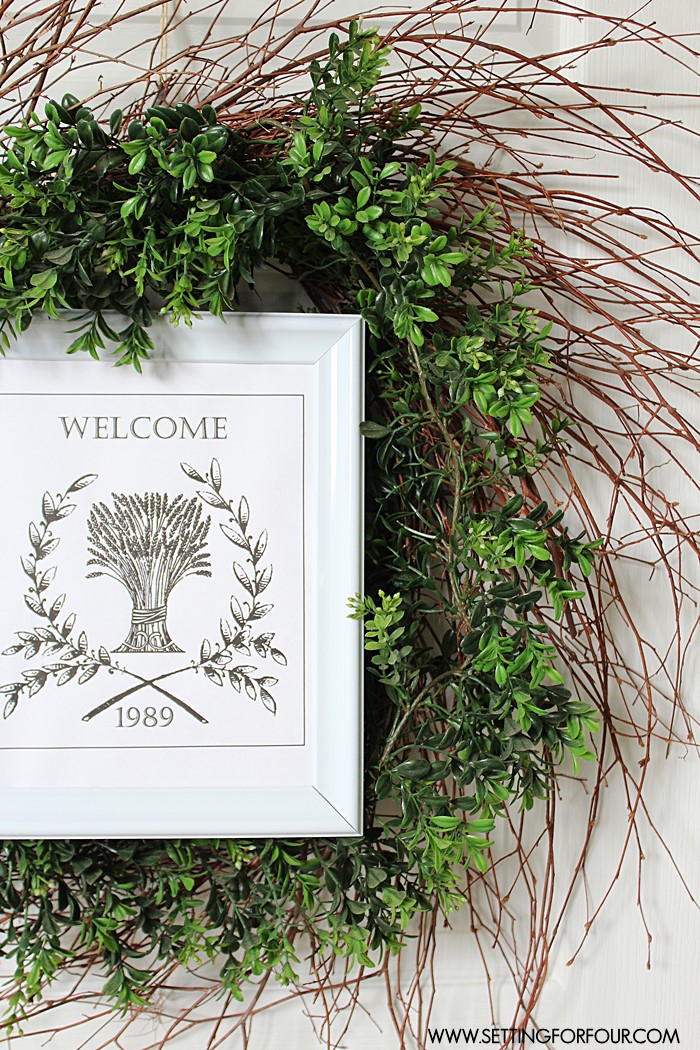 Supplies for DIY Boxwood Wreath with Framed Printable:
– Grapevine or twig wreath
– Welcome Printable – I added the world 'Welcome' on top and at the bottom I added the year we were married, 1989…. but you could use any year that has special meaning to you!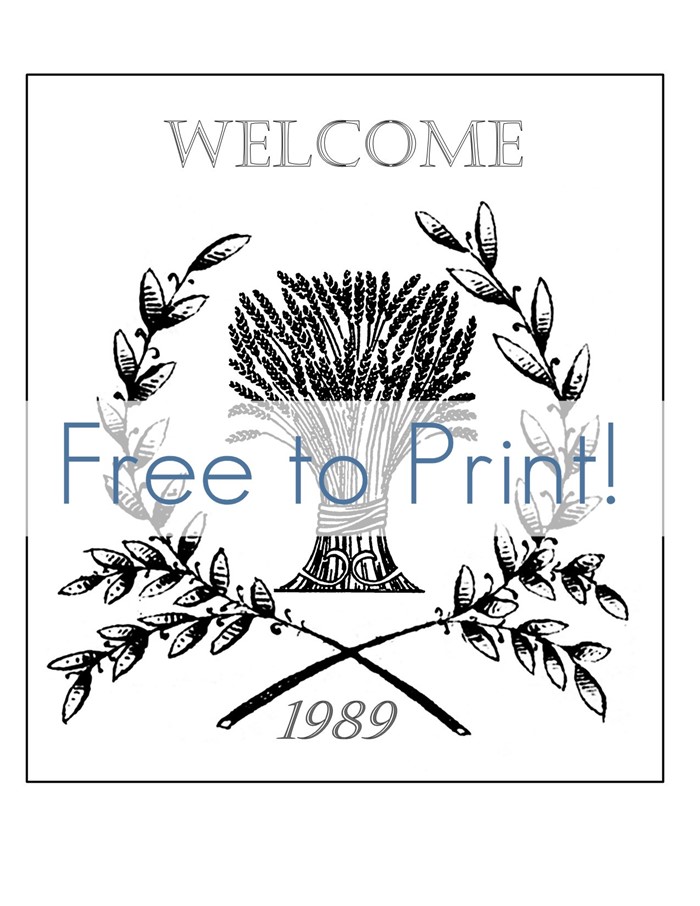 Tutorial:
1. Secure the two faux boxwood garlands to the wreath with fishing line.
2. Add a piece of ribbon to the frame's back to hang.
3. Print out this Welcome Printable to add to the frame.
4. Hang the boxwood wreath on a hook on your door. Hang the framed printable on top of the wreath using the ribbon on the back of the frame to hang it on the hook.
Isn't it pretty? I love it! My hear melts for boxwood!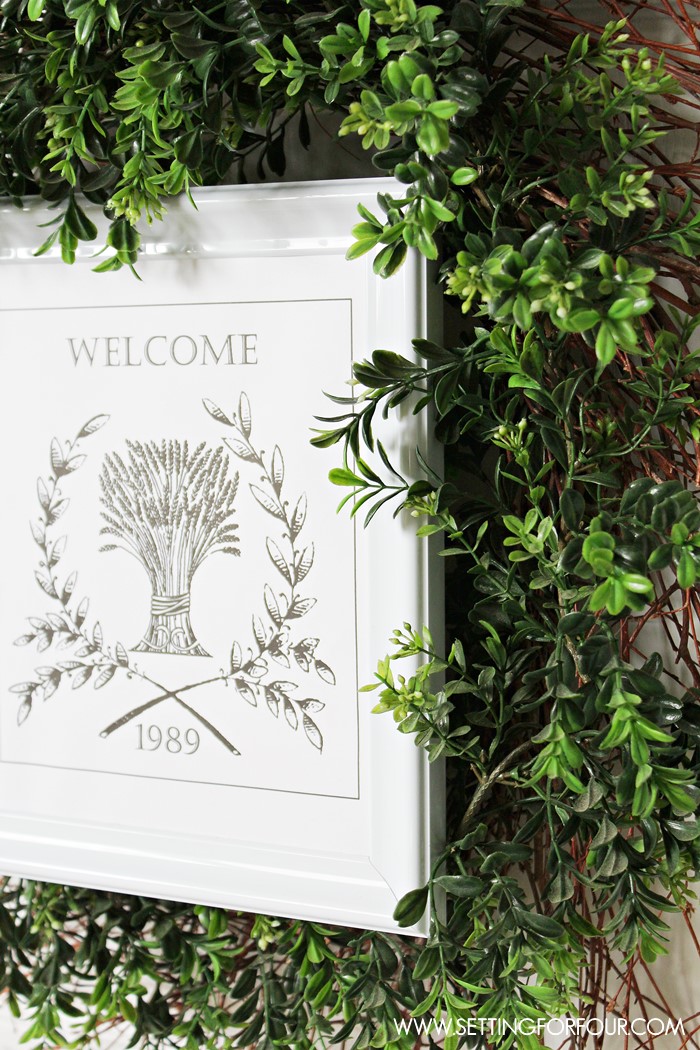 I hope you like my 'Welcome' Boxwood wreath and Printable too! (You could even frame the printable and hang it inside!)
I'll show it to you hanging  on my front door in an upcoming post, coming soon!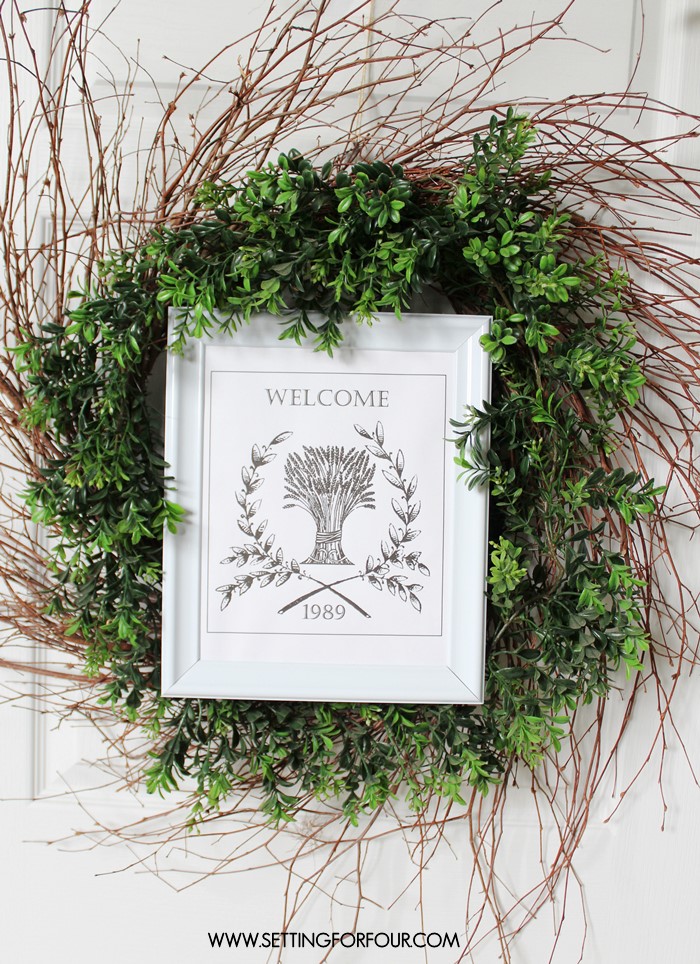 This post contains some affiliate links for your convenience.  Click here to read my full disclosure policy.
~ ~ ~ 
More Beautiful Fall Ideas: