See these Five Gorgeous Fall Porch Decorating Tips To Add Curb Appeal along with a tour of my Fall Porch! Ideas for urn decor, wreath, pumpkins and more!
I love decorating my entryway for the seasons and creating attractive curb appeal for my home!
I always love to look at decorated entryways in my neighborhood as I'm walking or driving by – do you?
A home with a pretty wreath or flowering containers by the doorway always tells me there is a loving family inside!
As an interior decorator I'm often asked how to decorate an entryway for dramatic curb appeal.
Here are Five Fall Porch Decorating Tips to enhance your home's appearance and make memorable first impressions!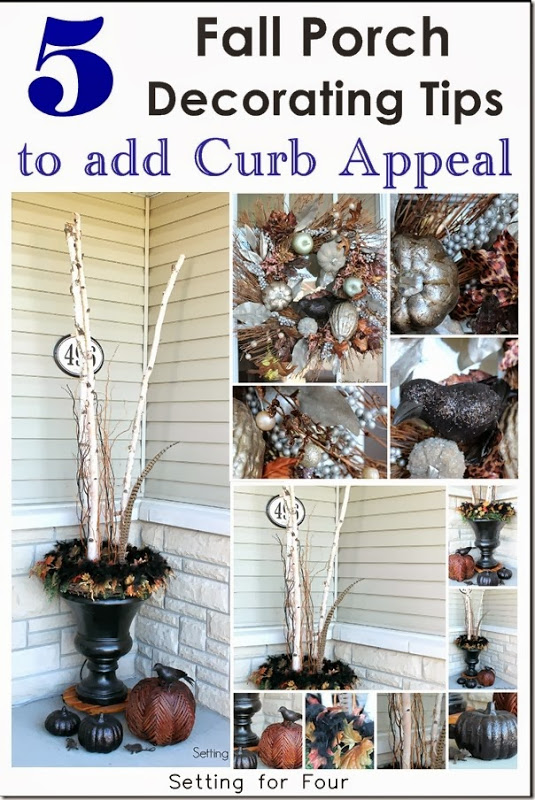 1. A Fall Wreath is the first of my fall porch decorating tips:
Choose a wreath that's large enough to see from the street, the bigger the better! Hang it with a wreath hanger that fits over the top of your door, or like I did, use a Brushed Nickel Command Metal Hook to attach to the glass. There are lots of inexpensive wreaths at big box stores; I bought this one at HomeSense last year, when I saw it I just fell in love! You could also DIY this wreath too!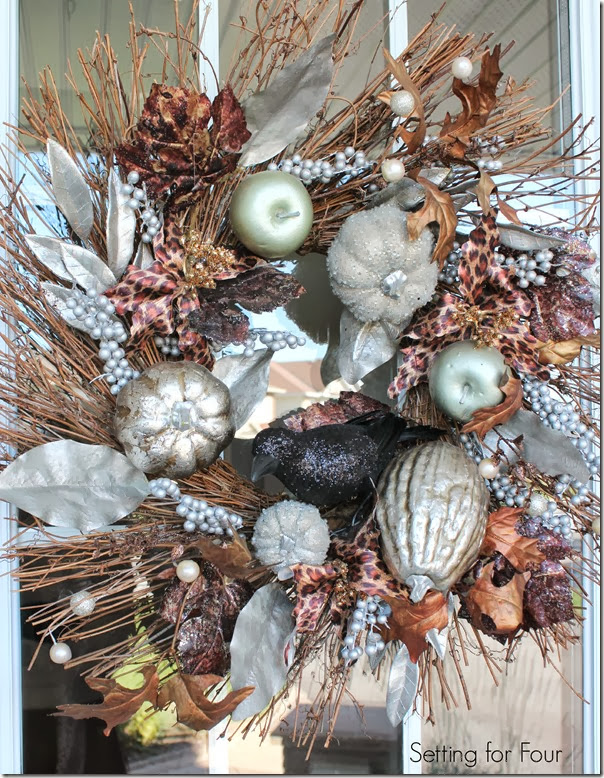 Fall is the perfect time to hang a harvest themed wreath on your door! This Rustic Glam fall wreath has touches of autumn metallic shine in tones of pewter, bronze, metallic black and champagne layered over a large twig base. Apples, pumpkins, gourds, leaves and berries are scattered over the large twig base. And let's not forget the animal print accents! Every girl needs some animal print and sparkle in her life, right???
Since we are getting close to Halloween I tucked in a large black sparkly crow as well! He ties in perfectly with the touches of black in the wreath and with my black urns!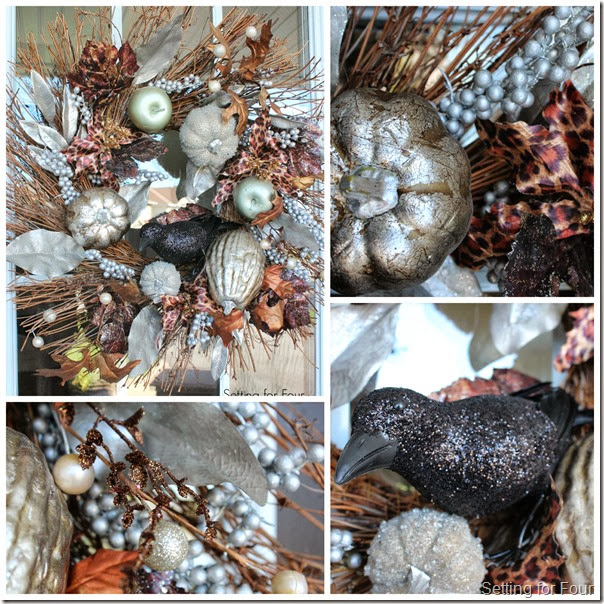 2. Decorated Urns:
I decorate my black urns with seasonal items for a punch of curb appeal using a container gardening technique called "thriller, filler and spiller"!
This application creates height, drama and interest.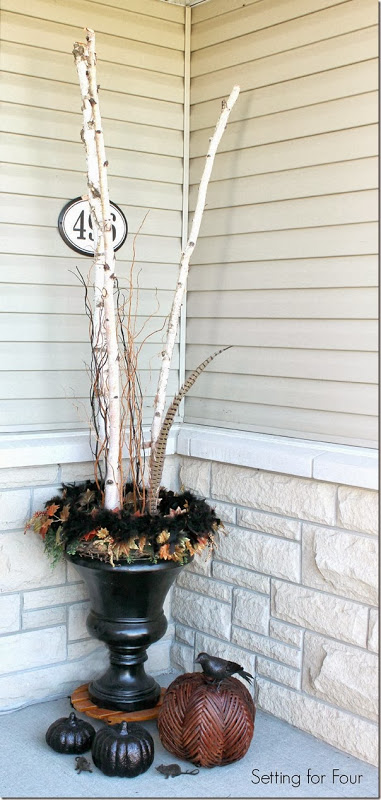 First I added the 'thriller' which is the showy centerpiece of the urn. This is a good starting point when creating an outdoor container since this will be the attention grabbing focal point! 'Thrillers are usually the tallest items'. I used three tall birch branches that we cut from our back yard placed them in the center in the urn. I love their texture and colors!
Next up, the 'filler': I added several bronze and black curly willow branches and pheasant feathers to fill in between the birch branches.
The last step is to add the 'spiller'. This is what is going to drape on and over the sides of your fall container. I layered a twig wreath on top of the urn's rim, followed by a faux fall leaf garland and a black feather boa for a touch of Halloween on top.
So pretty!
3. Decorate the floor of your porch.
This is the perfect place to add pumpkins!
I placed black glitter pumpkins and wicker pumpkins around the base of the urns. See the fun little mice peeking out? More black glitter crows keep watch over them!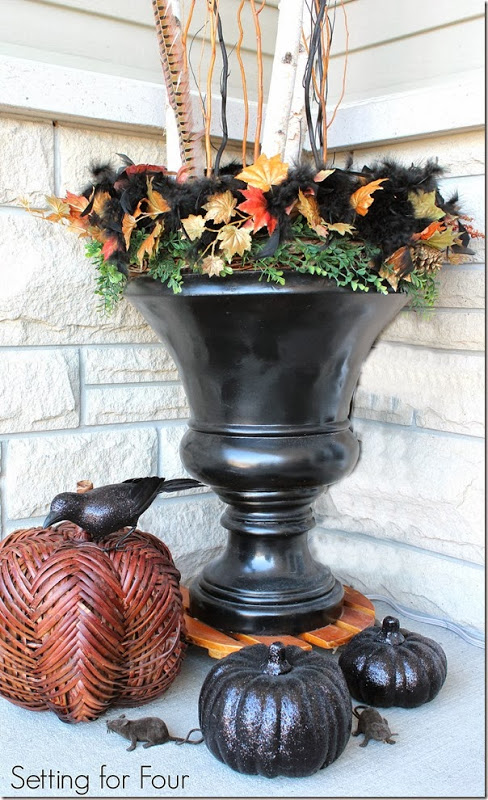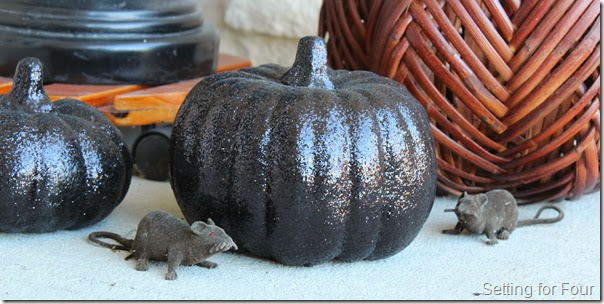 4. Repeat at least 3 coordinating colors in your porch décor:
Repetition of black, brown and gold in my fall entryway creates rhythm and flow for a harmonious look!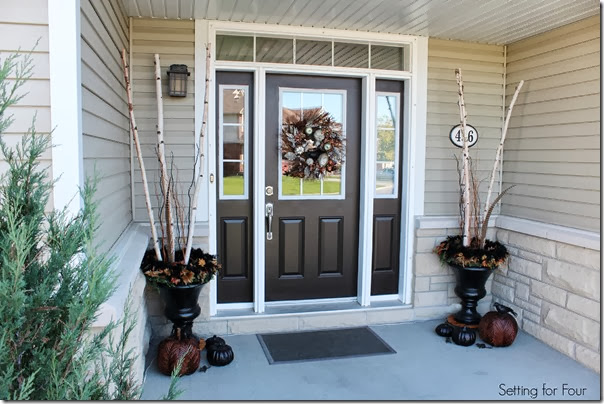 5. Add spotlights to the urns:
To give your fall porch a pretty glow at night add a white spotlight to each urn. I love how the spotlights showcase the birch branches and curly willow and create shadows at dusk. This is such a welcoming look from the street!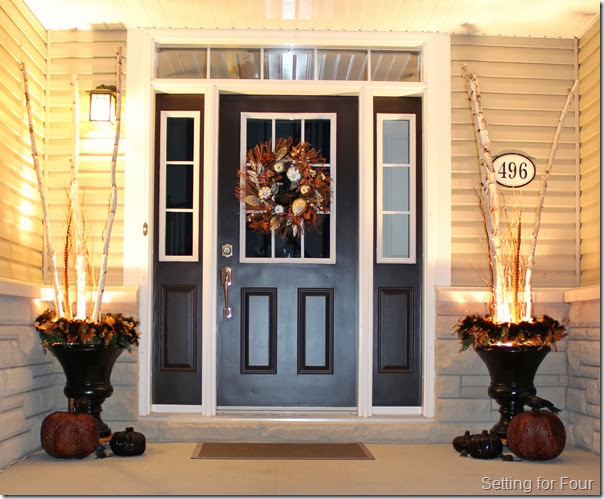 A fall wreath, harvest decorated urns and entryway floor, repeating 3 coordinating colors and adding spotlights are 5 tips and tricks that will give your home fabulous curb appeal!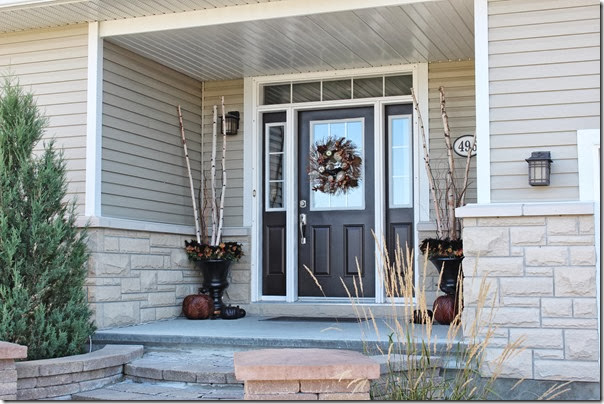 I hope you enjoyed my Fall Entryway Tour and Fall Porch Decorating tips!