It's time for the Saturday Social No. 3 Twitter Party!!!
New to Social Media, want to make new friends or grow your etsy business/blog/other small business?
Then come and link up here and Get Social!
What is the Saturday Social?
On the last Saturday of every month we will each host a different Social Followers party.
Each month we will also rotate, who holds which social party, so you will be able to meet lots of new friends.
I have the honor of working with a great group of ladies on the Saturday Social party.
This month I am hosting the TWITTER party!
Here's a tip for using Twitter: Did you know you can make Twitter lists to create groups of people? You can make a list for family members, your volunteer group, your bookclub ect.
How to Organize and Create a Twitter List: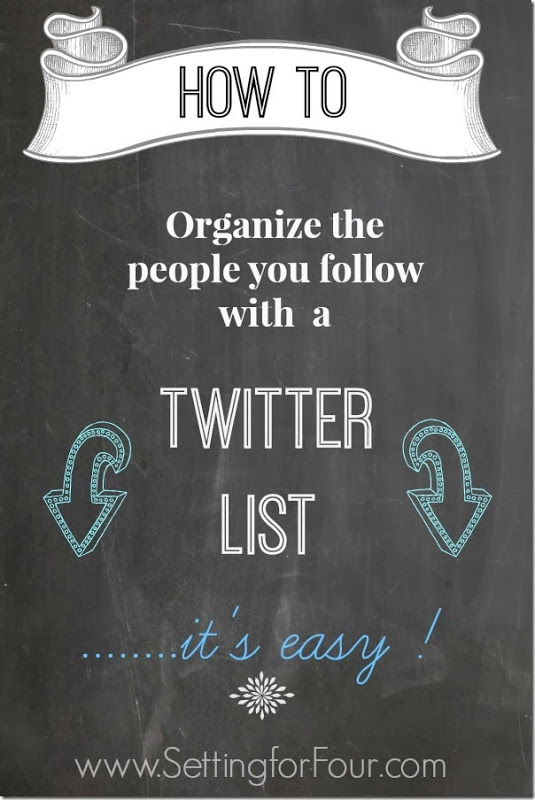 This is how you create a Twitter list:
Go to your Twitter Lists page. This can be done via the gear icon drop down menu in the top right navigation bar or by going to your profile page and clicking on Lists.

Click Create list.
Enter the name of your list, a short description of the list, and select if you want the list to be private (only accessible to you) or public (anyone can subscribe to the list).
Click Save list.
To add or remove people from your lists:
Click the gear icon drop down menu on a user's profile.
Select Add or remove from lists. (You don't need to be following a user to add them to your list.)
A pop-up will appear displaying your created lists. Check the lists you would like to add the user to, or uncheck the lists you'd like to remove the user from.
To check to see if the user you wanted to add was successfully included in that list, navigate to the Lists tab on your profile page. Click the desired list, then click Members. The person will appear in the list of members.
** If you haven't set up a Twitter account, now is the time to sign up and GET SOCIAL. **
Just add the link to your Twitter account below so others can find you and follow you, (and your photo or blog button) and then follow others.
The parties will start at 8am EST and close at 11:59 PST
Let's Get SOCIAL!!
Once you have entered my party, head over to the other parties and get SOCIAL:
Maryann from Domestically Speaking is hosting the Hometalk Followers party,
Jade from Jader Bomb is hosting the Facebook Followers party
and Cheri from Its So Very Cheri is hosting the Pinterest Followers party.
****
~ ~ ~ ~
Have you just discovered Setting for Four?
If so, I'd love for you to follow me by email so you never miss an update! Click below!
Or follow along with me here !:
* Thank you SO much for coming by for a visit! I love to hear all of your comments! *
Heather
Written by Heather at Setting for Four
Setting for Four is a home design, décor and lifestyle blog. Focus is on home renovations, crafts, DIYs, tutorials, recipes, as well as family friendly design and decorating ideas that won't break the bank or sacrifice style.

You can find Setting for Four on Google+