Here are 10 Kids Back to School Favorites from Etsy to help get you and your kiddos prepared for another year of learning and growing: For young kids or older kids and teachers too!
Happy hump day! Well although we don't like to think of it (or maybe you do!) 'Back to School' is creeping up on us fast!
For my Back to School Shopping – and a lot of my other shopping needs!- I head to Etsy! Etsy is a great place to shop online, save time and get unique things without leaving your home! I love that!

This post contains some affiliate links for your convenience. Click here to read my full disclosure policy.
Kids Back to School Ideas – Etsy Favorites

Dark Teal Cotton Book Bag Waterproof Drawstring Bag Shark Minky Fabric Nap Mat Cover Set Arrows Pencil Case Monogrammed Lunch Bag
Here are some more FUN back to school ideas from Etsy – an easy, quick place to shop online!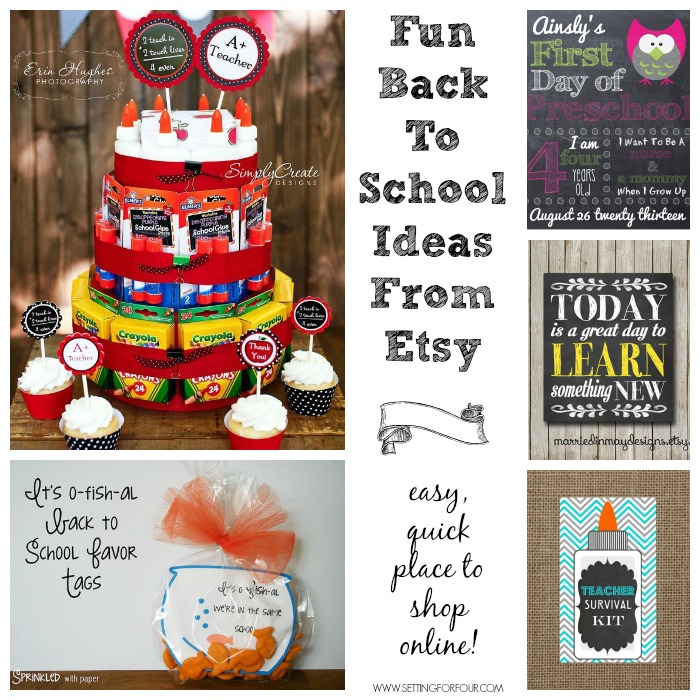 Teacher Appreciation Thank You Package with Banners and Toppers
Learn Something New Teacher Art Print
Aren't these fabulous and fun kids back to school ideas?
You may also like these ideas for the kids:
Turn Kids Art Into Tea Towels: Kids Craft
Healthy Vegetable Snack in a Jar for Kids