Make your NYE party the best one on the block with these fun and fabulous New Year's Eve Party supplies & decor!
These party hats and blowers, balloon decor, banners, photo backdrops for the best selfies, dinnerware are an easy way to make your gathering party perfect!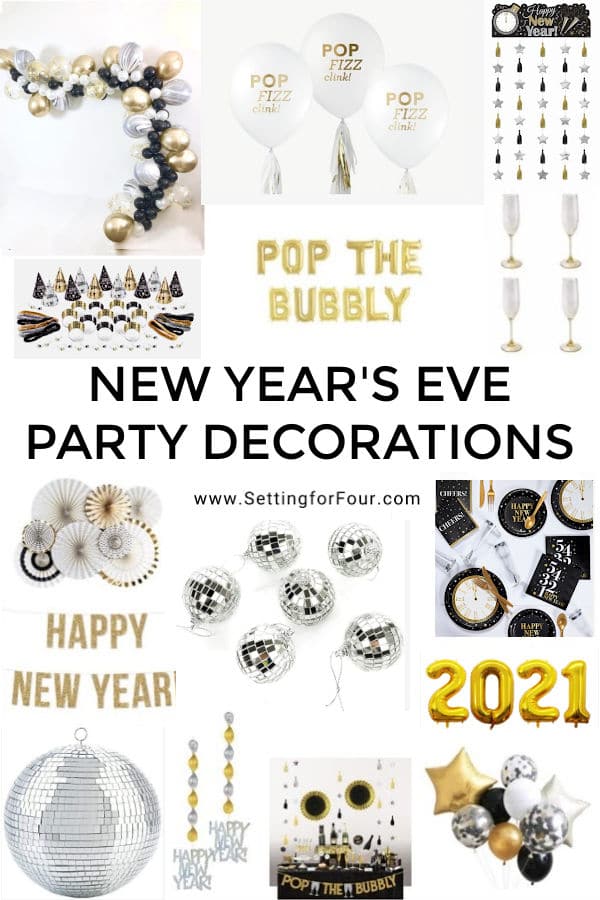 GORGEOUS NEW YEAR'S EVE PARTY SUPPLIES & DECOR
Wow! Was this ever a yearrr!! It's certainly cause to celebrate the end of 2020! We've all been impacted so deeply by it,  dealing with and adapting to a world wide pandemic!
This is definitely a year to say goodbye to – pop the bubbly, spin the disco balls and put on a party hat!
I've rounded up some gorgeous black and white, silver and gold table decorations so you can create a sparkly NYE tablescape!
I've also included essential New Year's Eve party supplies like disco balls, balloons, party hats and favors to ring in 2021!
We typically hunker down at home for NYE with some delicious appetizers like my Jalapeno Chicken Spirals and snacks like Pumpkin Pie Spiced Nuts , watch Christmas movies, and listen to Christmas music.
I hope you have a very Happy New Year friends and an amazing year filled with joy, laughter and happiness in 2021!!
Click on the images to shop these New Year's Eve Party Supplies and Decorations:

I hope you like these New Year's Eve Party Supplies and Decor Ideas!
More holiday decor and NYE Party Ideas!
Follow me on Instagram for more holiday decorating tips and sales alerts!