Jalapeno Chicken Spirals – a yummy appetizer recipe perfect for game night, Super Bowl parties, Cinqo de Mayo parties or anytime!
Do you love watching the Super Bowl on TV??
We do!! It's a tradition in our family to watch it every year!
What's not to like? Pro athletes competing to be theNational Football League Champions, big blingy rings for the winners, a highly entertaining half time show and of course the best part…
…..yummy appetizers for the big game!!!
Jalapeno Chicken Spirals Recipe: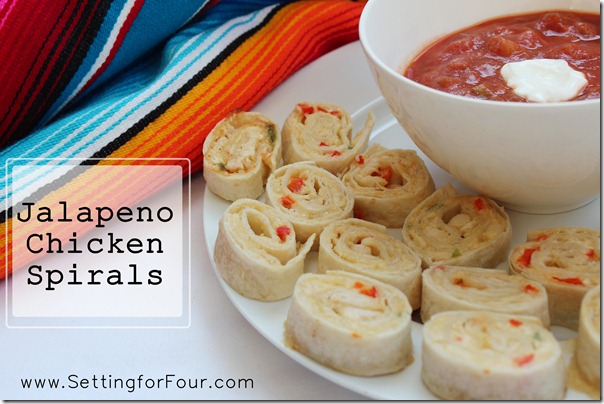 This is an easy recipe that is baked and served warm with salsa and sour cream! Mmmm..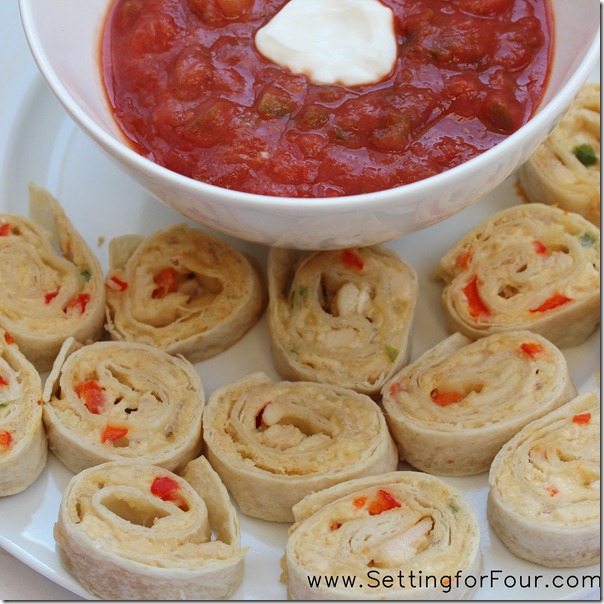 1 package (250 g) Philadelphia cream cheese, softened

1 cup finely chopped cooked chicken

1 cup grated Monterey Jack Cheese

1/3 cup Finely Chopped Red peppers

2 Tbsp. finely chopped fresh or canned jalapeno peppers

2tsp ground cumin

4 (10 inch) flour tortillas

vegetable oil

salsa and sour cream to serve
In large bowl combine cream cheese, chicken, Monterey Jack, red pepper, jalapeno peppers, cumin and salt to taste.

Spread mixture evenly over tortillas.

Roll up each tortilla tightly around chicken mixture.

Wrap in plastic wrap and refrigerate at least 2 hours or up to 24 hours. Heat oven to 350 degrees Fahrenheit.

Cut each tortilla roll into 1/2 inch slices.

Arrange on greased baking sheet; brush with oil.

Bake for 12-15 minutes or until lightly browned.

Serve hot with salsa and sour cream for dipping.

Makes 60 appetizers.
(Note: Appetizers may be made ahead. Freeze cut, uncooked slices for up to 3 months. Bake as needed.)

If you like Mexican food you will love this appetizer!
Some of my bloggy friends are offering their favorite Super Bowl party appetizers today too!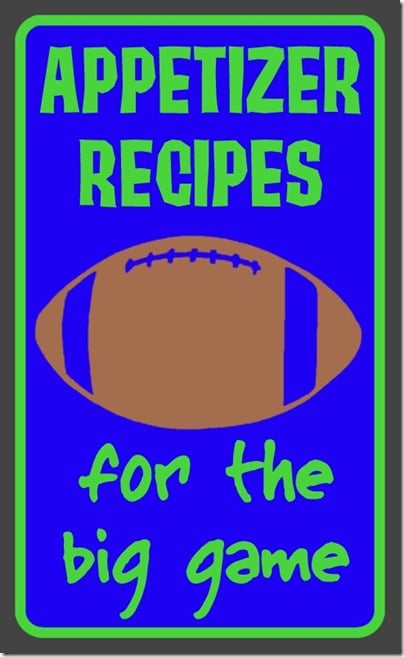 Check out these other yummy appetizer ideas for the big game here!
Twice Baked Potatoes from The Country Chic Cottage
Assorted Appetizers from Mural Maker
Sausage and Cream Cheese Pockets from Mom 4 Real
Bacon and Cheese Fries from A Step in the Journey
Charleston Cheese Dip from Unskinny Boppy
Greek Veggie Pizza from Mrs. Greene
Creamy Pizza Dip from Just Shaken Together
Grilled Jalapeno Poppers from Mad in Crafts
Appetizer Recipe from Dreaming In Color
Meatloaf Bites from The Shabby Creek Cottage
Ham and Cheese Roll Ups from Mom Endeavors
Thank you so much Angie from The Country Chic Cottage for creating the awesome button graphic and organizing this Super Bowl appetizer party!
Do you have a favorite appetizer recipe? Let me know what it is!!
Sharing at:
Be Different Act Normal Twigg Studios It's Overflowing 36th Avenue