Wow!
I'm honored!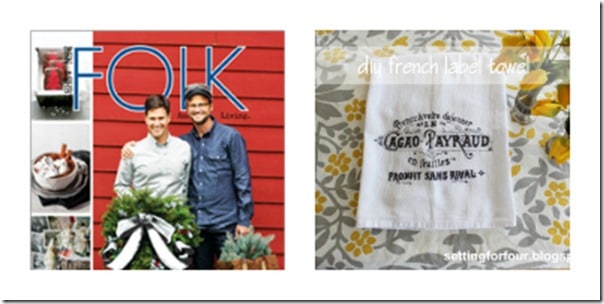 Thank you so very much Folk Lifestyle Magazine+Blog for featuring my DIY Vintage French Tea Towels today in your DIY Christmas Gift Ideas post!
** Update!!! I am now accepting orders for these towels! Email me at [email protected] for more information and I will make your own custom tea towels! I am also accepting orders for custom Children's Artwork towels too! **
Want to make Handmade gifts for Christmas? Check out the Folk post here to see stunning gift ideas to make beautiful gifts like salt scrub, a table runner,jewelry, soap and more!
~ ~ ~ ~
Don't want to miss a post? It's easy to stay in touch with me!:
~ ~ ~ ~
* Thank you SO much for coming by for a visit! I love to hear all of your comments! *
Heather
Written by Heather at Setting for Four
Setting for Four is a DIY, lifestyle blog where you will find craft and DIY tutorials, recipes, and family friendly design and decorating ideas that won't break the bank or sacrifice style.

You can find Setting for Four on Google+