Do you have a bucket list? A list of experiences or accomplishments that you want to have achieved in your lifetime?
I have one! On my bucket list are places I want to travel and fun exciting challenges I want to experience. Everyone has a bucket list – whether it's a long list or a short one, they're always filled with big hopes and big dreams.
Of course crossing off some of those "bucket list" items is all about living life to the fullest and feeling great! We can't let those everyday life's little aches and pains get in the way of accomplishing our bucket list of aspirations, so Bufferin is here to help!
I was thrilled when Bufferin contacted me to share my own bucket list with you today (as well as a big surprise which I'll share at the end of my post!)
Here are some of the dreams and hopes on my bucket list: A few I've actually checked off!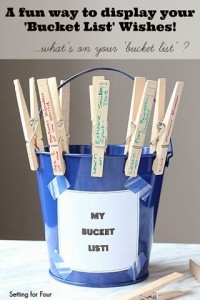 This is a quick and fun way to display your bucket list!!:
Write each of your wishes on a clothespin with marker.
Pin each clothespin to the top of a small plastic pail.
As you accomplish an item take the clothespin down and put it in the center of the bucket!
This is a great activity to do with the whole family – the kids will love this!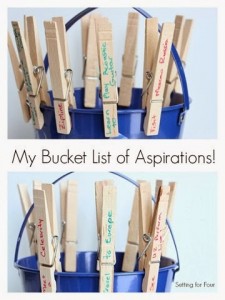 1. Learn an extreme sport:
I obtained my open-water scuba diving certification 6 years ago. It is by far, the most fun activity I've ever done. It's a whole other world under the sea. I received my scuba diving certification in Belize at the Great Barrier reef. To see coral reefs, tropical fish, sea turtles and 7 foot wide eagle rays was truly spectacular and so exciting!
2. See one of the natural wonders of the world:
Luckily I've seen two: The Aurora Borealis which we often see here where I live and the Grand Canyon. We made a family trip the the Grand Canyon 3 years ago – so amazingly beautiful!
3. Meet a celebrity:
I met Tommy Smythe the talented, amazing HGTV Interior Designer who works with Sarah Richardson! He is so talented and funny! I'd love to meet a movie celebrity some day too.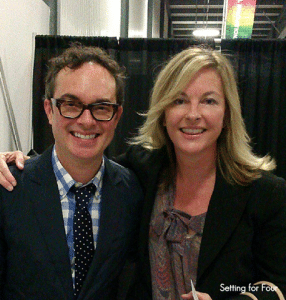 4. Travel to Europe:
I spent a day and a half in Germany on my way to the island of Cyprus. But I don't really count that as 'travelling to Europe'! I'd love to travel for a month around Europe to see France, the Netherlands, Austria and other parts of the Eastern Europe.
5. Learn to play acoustic guitar. Someday I'll learn!
6. Zipline: This looks like so much fun! I'd love to try it someday!
7. See U2: I'd love to see this rock band live in concert!
8. Visit Moscow Russia: The history and the architecture would be so amazing to experience in real life!
Here are the ones I've checked off my Bucket List!: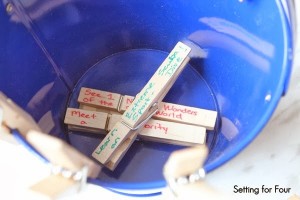 So what makes Bufferin buffered pain relief tablets so great? I've personally used Bufferin for many years for headaches and muscle pains. It's been my go-to pain reliever. The reasons I love this non- prescription buffered aspirin is that it's extremely tough on pain and gentler on my stomach than plain aspirin. No upset stomachs but quick results!
I used Bufferin on our trip to the Grand Canyon…I had injured my foot a few weeks before the trip and we did a lot of walking around the Canyon rim; thankfully I had Bufferin to give me pain relief and it allowed me to enjoy one of my bucket list dreams!!
Bufferin can be purchased at Walgreens and Walmart stores nationwide so I was able to get refills on my trip as well. So convenient!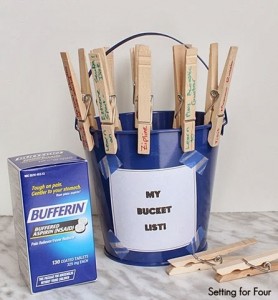 Now hold onto your seats everyone because I'm so excited to share some fun news with you!!
~~~
Right now Bufferin is running a Bufferin® Bucket List Sweepstakes!! #bufferinbucklist
~~~
Enter for a chance to win $1,000 to put towards crossing off a bucket list item…or two! Three winners!:
Enter the Bufferin Bucket List Sweepstakes on the Bufferin Facebook page from February 18 to March 14, 2014.
Entry is done via an official entry form, which includes a required field in which the entrants will need to enter their own personal "bucket list" item.
Bufferin is giving away a $1,000 Amex Gift Card and a full-sized bottle of Bufferin to three (3) randomly selected entrants who share their bucket list items. Winners will be chosen February 28, March 7 and March 14, 2014.
Winners will be announced on the Bufferin Facebook page along with their bucket list item(s).
Isn't this amazing??!!!!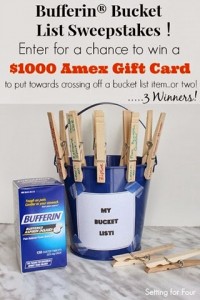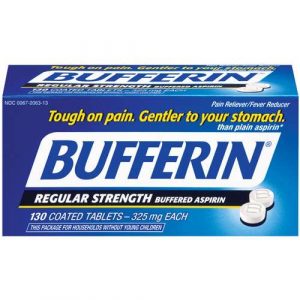 What a fabulous prize to put towards crossing off one of your own bucket list items!
So share!! What is your top bucket list item?
Disclaimer: This is a product-provided, sponsored conversation that contains affiliate links. I received a full-sized bottle of Bufferin Buffered Aspirin for my own personal use. All opinions, text and experiences are my own.
Get the latest information on Bufferin at www.bufferin.com.
This is a product-provided, sponsored conversation that contains affiliate links. I received a full-sized bottle of Bufferin® Buffered Aspirin and the craft supplies for my own personal use. All opinions, text and experiences are my own.