Home decorating ideas and tips: Learn how to decorate a Summer Beach Inspired Mantel with coastal colors and beach style accessories! Add pretty summer decor to your living room mantel with aqua blue candles, starfish, driftwood and capiz shell accents and a statement mirror.
Don't miss the resource list of decor items at the bottom of the post to create the same look for your mantel!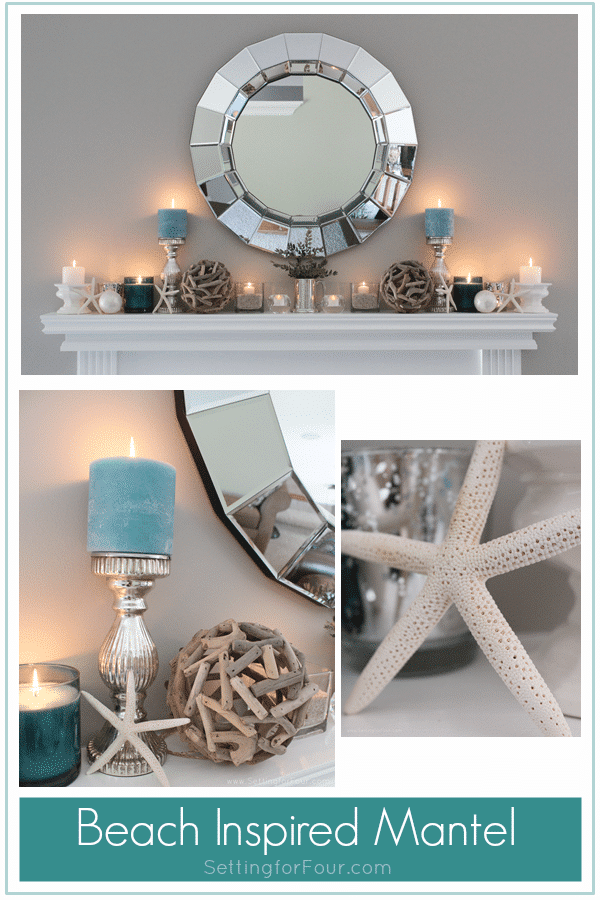 Well summer is officially here and to celebrate I've decorated my mantel with a beach inspired, coastal theme!
I grew up near the beautiful sandy beaches of a sparkling clear northern lake and we used to live near Virginia Beach, so I have a huge love for sand and sea, shells and driftwood!
A Beach Inspired Mantel Summer Decor Ideas
Everyone in our family is a 'beach baby'!  Every summer since my boys were babies we spent days on the beach making sand castles, splashing and swimming, chasing minnows and collecting beach glass….we've even camped once on a beach for a week, that was so much fun!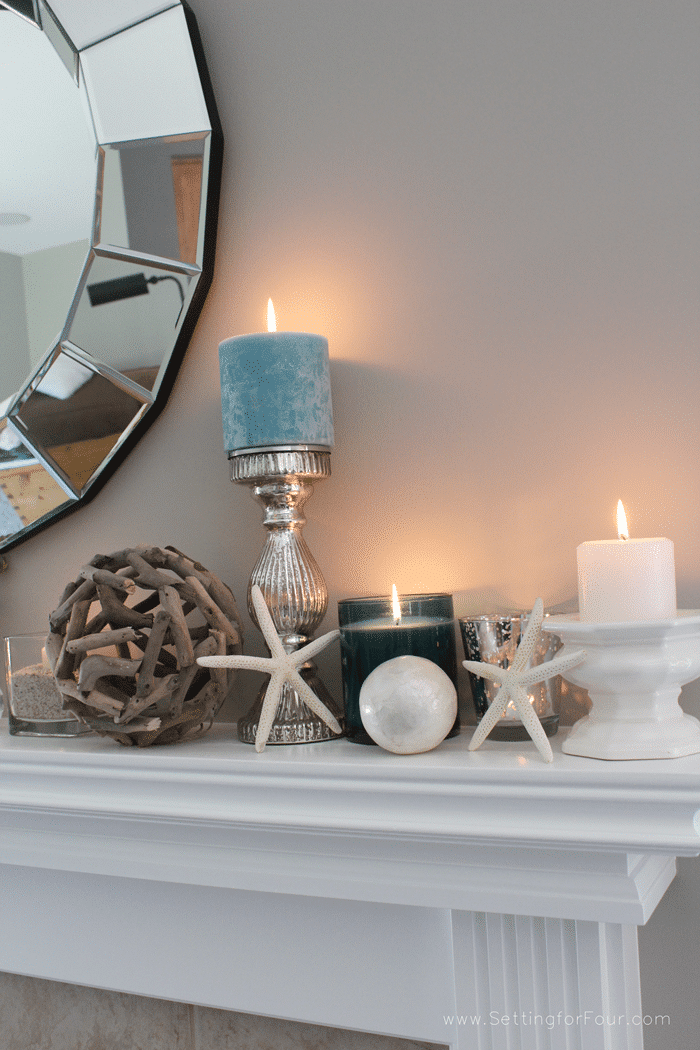 Having a beach inspired mantel brings back all of those fun family summertime memories !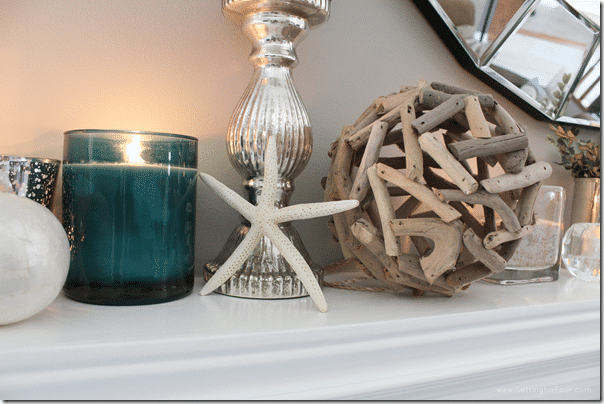 Some of my mantel decor you'll recognize from my Spring Mantel and my Winter Mantel too!
Changing up just a few items is an easy way to create a whole new look, so 'shop' your home first!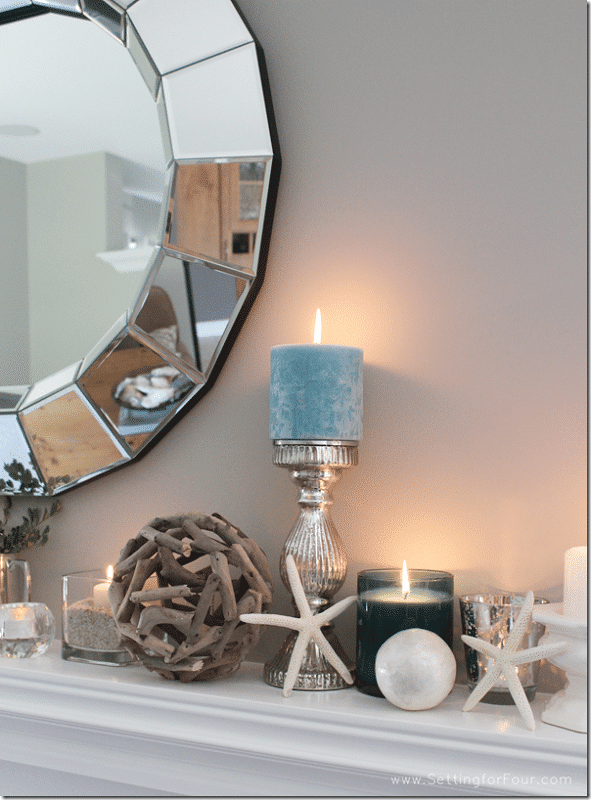 I kept several items from my spring mantel: the crystal votives, the white pillar candles and  candlesticks, the mercury glass candlesticks and the mercury glass votives….my husband's military pewter mug filled with dried boxwood clippings from our yard is staying too!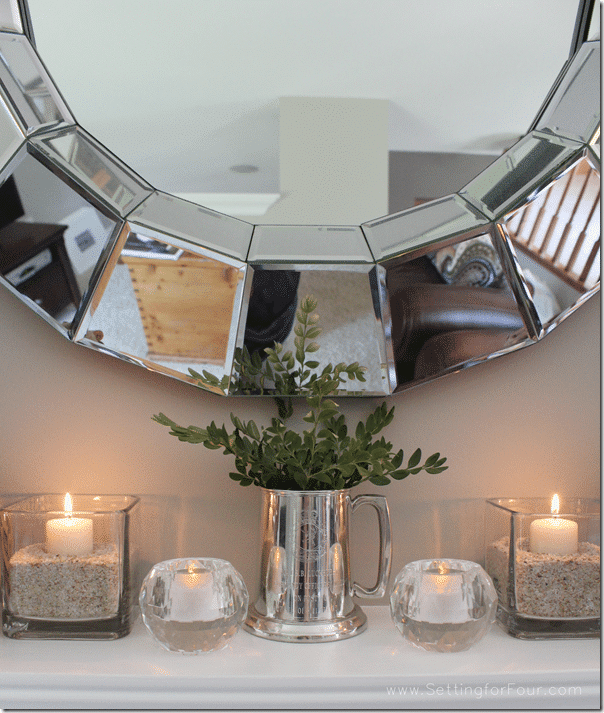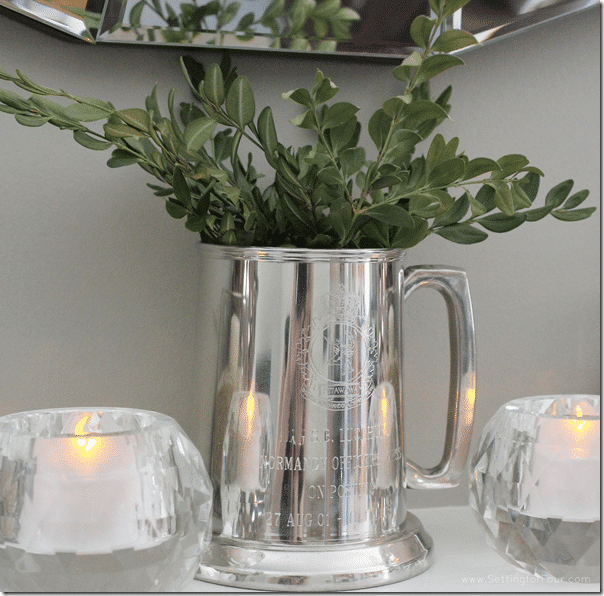 To add a touch of beach decor I 'shopped my home' and added some starfish, capiz shell spheres, some aqua blue and teal colored candles and sand filled candle votives.  The only items I purchased were these beautiful driftwood spheres – I think they are pretty fabulous!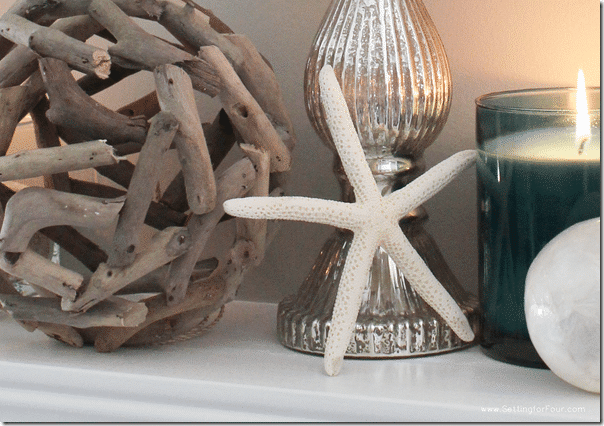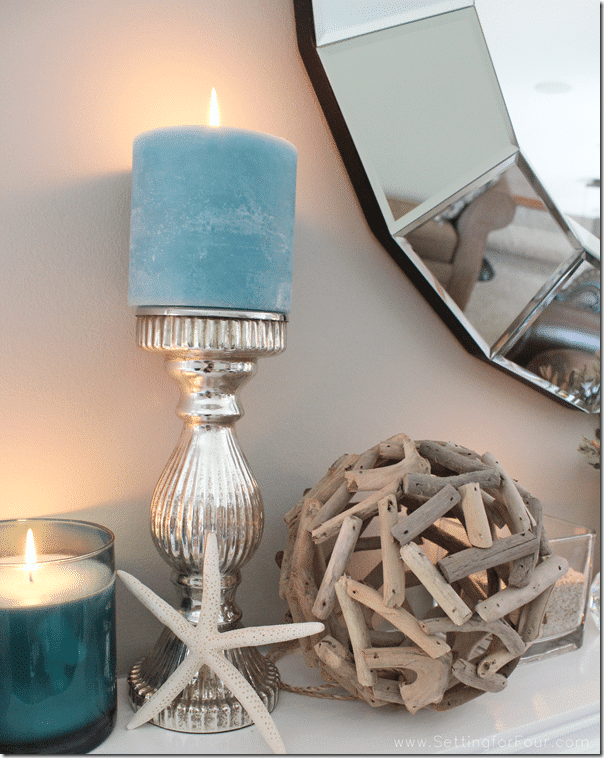 I love lighting the candles to give my beach side mantel a soft calm glow….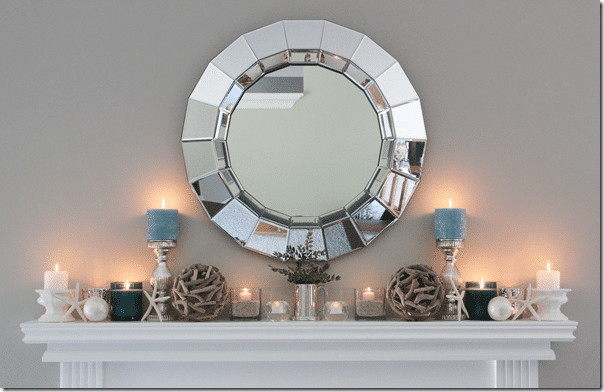 Decorating my mantel for summer has me dreaming of the beach and the sound of waves lapping at the shore!  I hope it has you dreaming of the sand and sea too!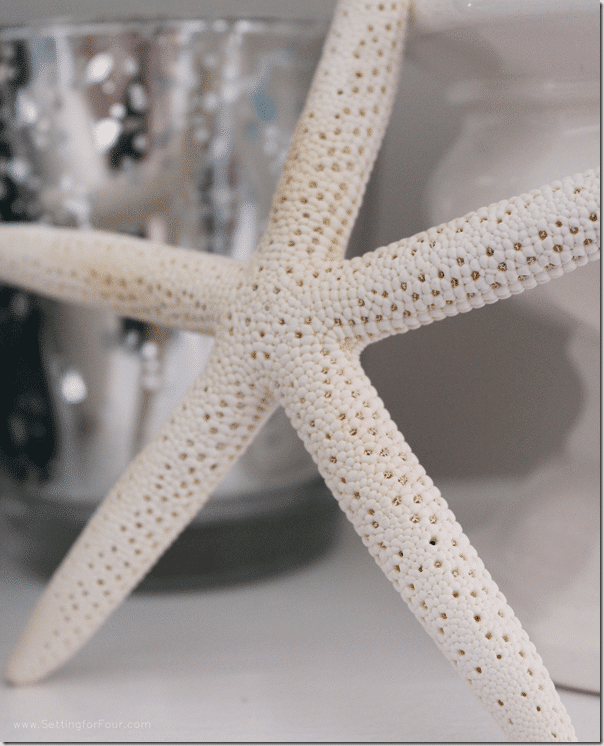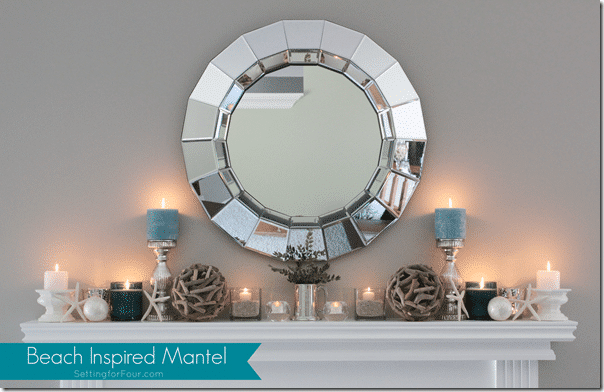 this post contains affiliate links 
Get the look of my Summer mantel! Click on the links below to see more about each item:
mercury glass pillar candle holders
How I painted my brown wood fireplace mantel to beautiful white
How I painted my beige fireplace tile to white
Wouldn't it be fun to relax by the pool or on the beach reading the latest summer book release?
You may also like:
12 Delicious Summer Drinks for Kids and Adults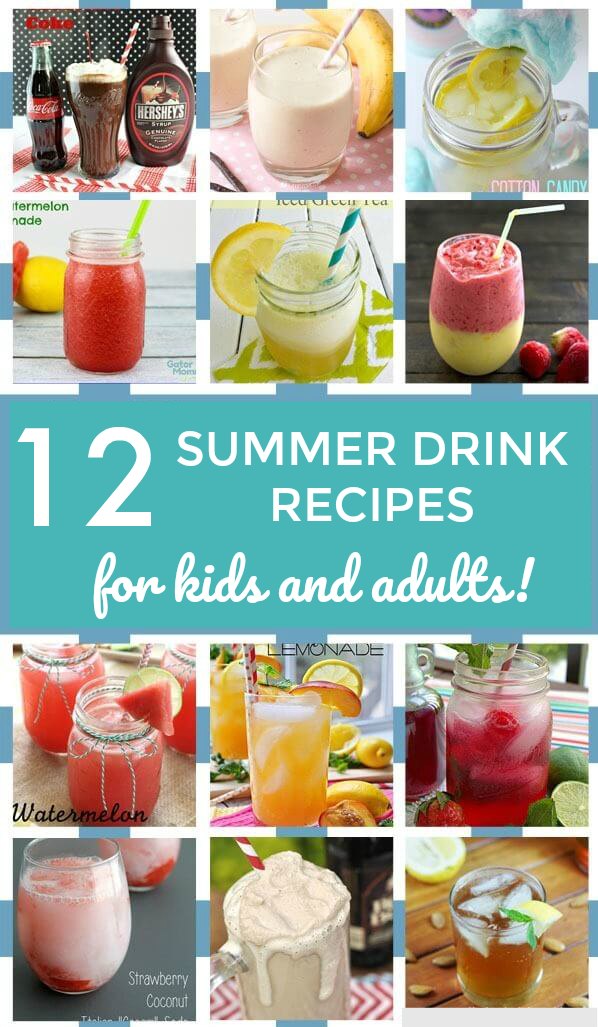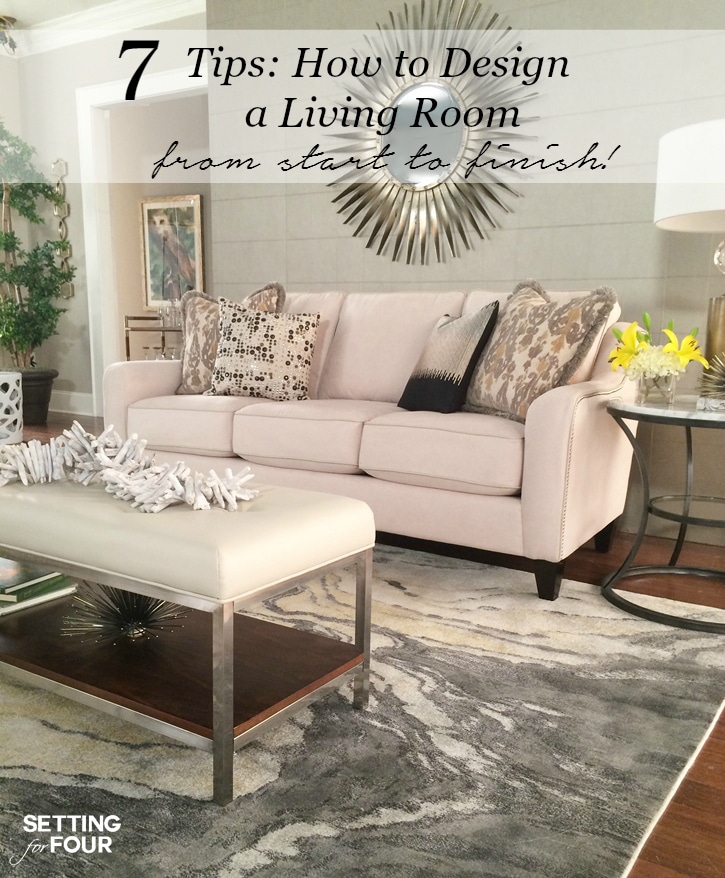 7 Ways To Make A Small Room Feel Larger Instantly!