How to make a gorgeous, guest worthy centerpiece in just 10 minutes using vegetables, fruit and fresh herbs for a unique take on a floral arrangement – that doesn't use flowers! This isn't about throwing a bunch of vegetables in a bowl – it's all in the way you arrange and style it! I'll show you how to make it gorgeous and oh so guest worthy – perfect for dinner parties or every day! Use produce that's in season to add a bountiful look to your kitchen island or dining table. This is a fabulous idea for a bountiful Thanksgiving table, fall dinner party or buffet table. Pick up a few more vegetables and herbs on your next trip to your grocery store or farmer's market to make this beautiful centerpiece or gather them from your own vegetable and herb garden! Bonus – you get to eat the delicious, healthy produce instead of throwing out wilted flowers. This is a centerpiece that really stretches your dollar!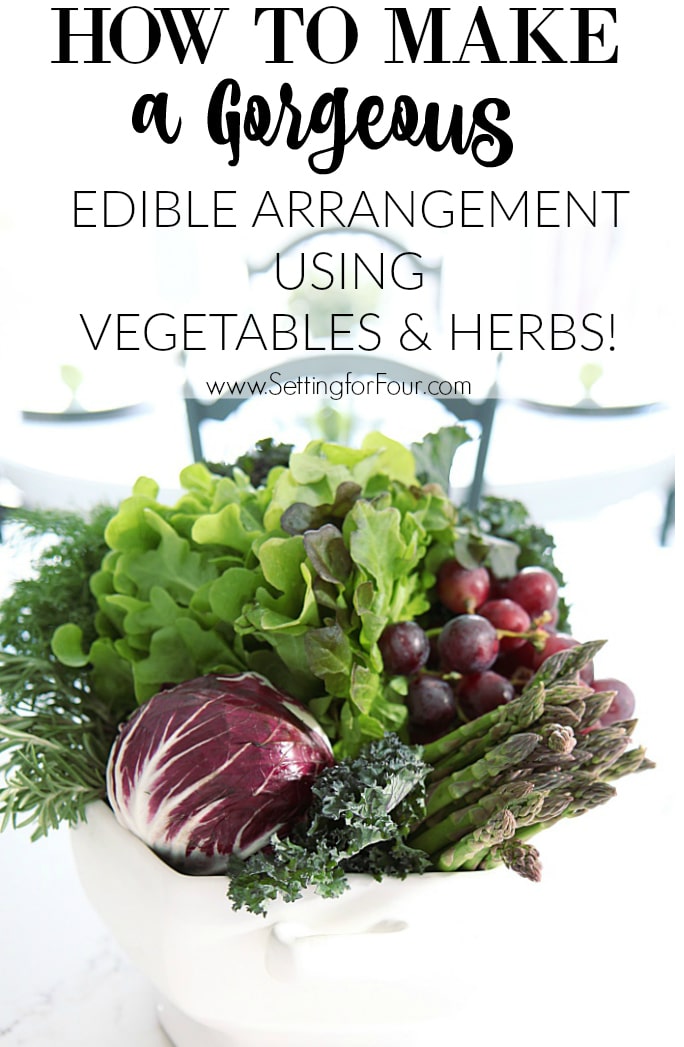 Enter my Reader Appreciation $100 Amazon Gift Card Giveaway:
Just leave a comment on any post at Setting for Four for a chance to win! Open to USA and Canada!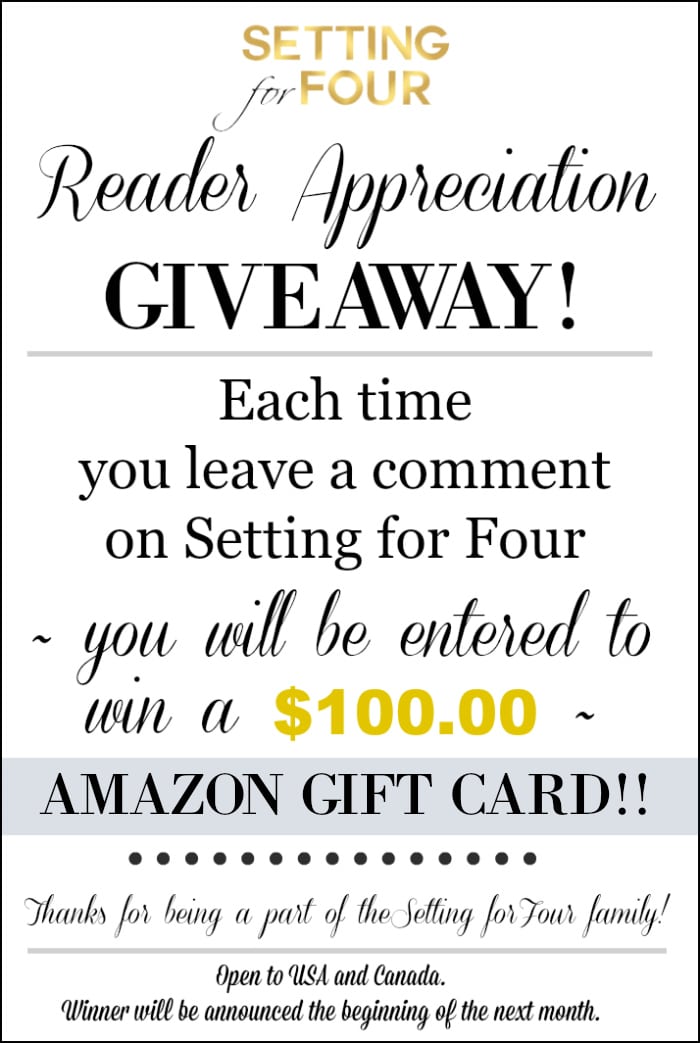 Also don't forget to enter the $250 Amazon Gift Card Giveaway in this post!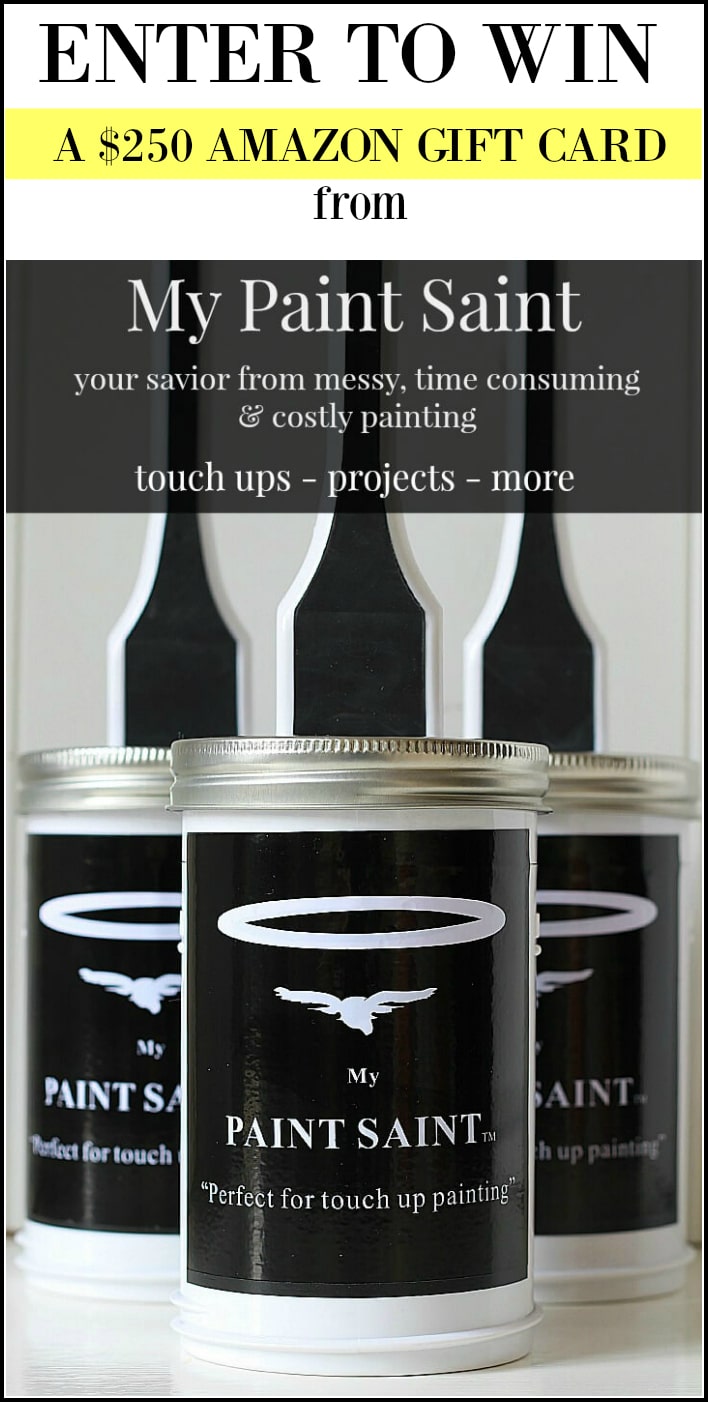 Hello friends! It's time for another series of 10 Minute Decorating – fall edition! My cohosts and I have 10 gorgeous quick and easy summer decor projects to share with you today, so you can create a fabulous home in just 10 minutes!
This is the place to get fast and fabulous 10 minute decorating tips to give your home a fresh look in record time. Copy our looks to decorate your home – quick and easy!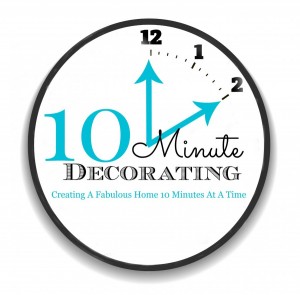 How to Make a Gorgeous, Guest Worthy, Edible Arrangement Using Vegetables, Fruit and Herbs In Just 10 minutes!
Since the holidays are right around the corner, (Thanksgiving and Christmas) for today's 10 minute decorating idea I wanted to share with you a beautiful entertaining idea, something simple and 'bountiful' for your Thanksgiving holiday table…. that you can tweak and recreate for any time of the year!
I also wanted to make something that doesn't use fall leaves, gourds or pumpkins (although I love those too!) but still has a harvest look…. because I know some of you don't do a lot of decorating for Fall.
This is an non-floral arrangement that you can make any time of the year using vegetables, fruits and fresh herbs that are in season from your grocery store or farmer's market… or from your own garden!
Supplies:
1 soup tureen – just use the base of it.
1 or 2 heads of leaf lettuce – I used one head of green and one of purple leaf lettuce.
1 head of radicchio (a type of chicory) or 1 small head of red cabbage.
1 head of frilly purple kale.
1 bunch of asparagus – mine have pretty purple tips.
1 bunch of dill.
1 bunch of rosemary.
1 bunch of purple globe grapes.
(You can use other vegetables and fruit that are in season if you can't find all of these)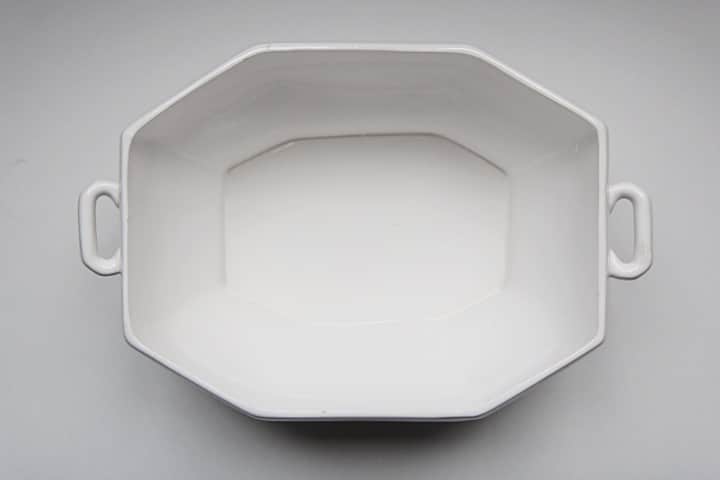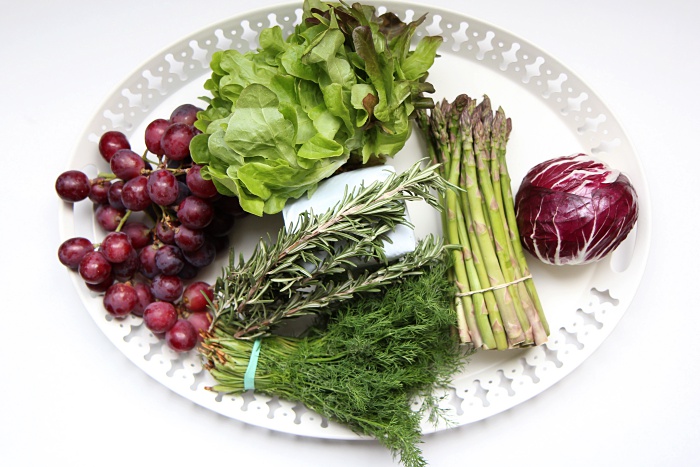 Refer to the pictures below:
Start with the leaf lettuce and add it to the center of the bowl so that it's standing up. Put it on a small tupperware container turned upside down to prop it up if you need to.
Next add the head of frilly purple kale beside the leaf lettuce.
These should take up most of the room of your container.
Add the dill and the rosemary on one side so that the ends are hanging over the edge of the bowl as pictured.
Add the asparagus to the other side so that the ends are hanging over the container edge as well.
Tuck in the grapes beside the asparagus as pictured below. Have some of the grapes slightly hanging over the edge of the tureen.
Tuck in the small head of radicchio as pictured.
Add some water to the container to keep the arrangement fresh. (You can also make this arrangement last longer by placing it in your refrigerator at night if you have the space.)
Your centerpiece is finished in JUST 10 MINUTES!
Doesn't it look delicious and bountiful? The herbs make this arrangement smell divine too!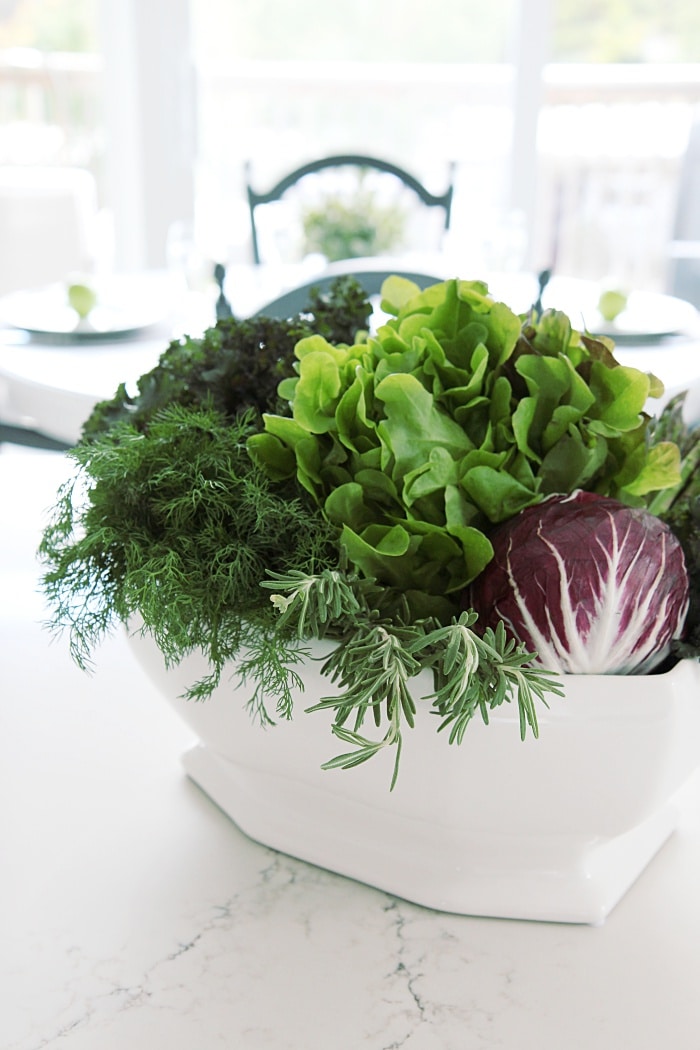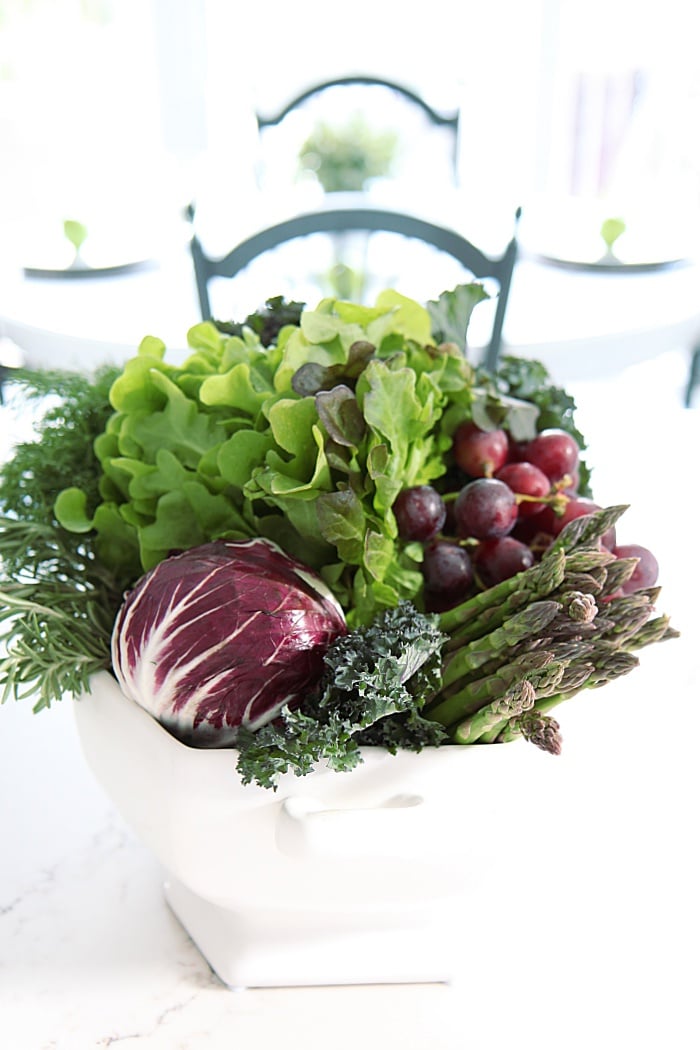 The trick to making this vegetable and herb arrangement look spectacular and not like a bunch of vegetables randomly thrown in a bowl is:
1. The shape and size of the container. Use a container with a standout shape and a large size like a soup tureen, vintage or antique bowl.
2. Styling the herbs, fruit and veggies so that they lay over the edge of the container to give it that 'bountiful' and 'floral' look!
3. Using fruits , herbs and vegetables with a variety of interesting leave shapes
4. Using various shades of green and purple.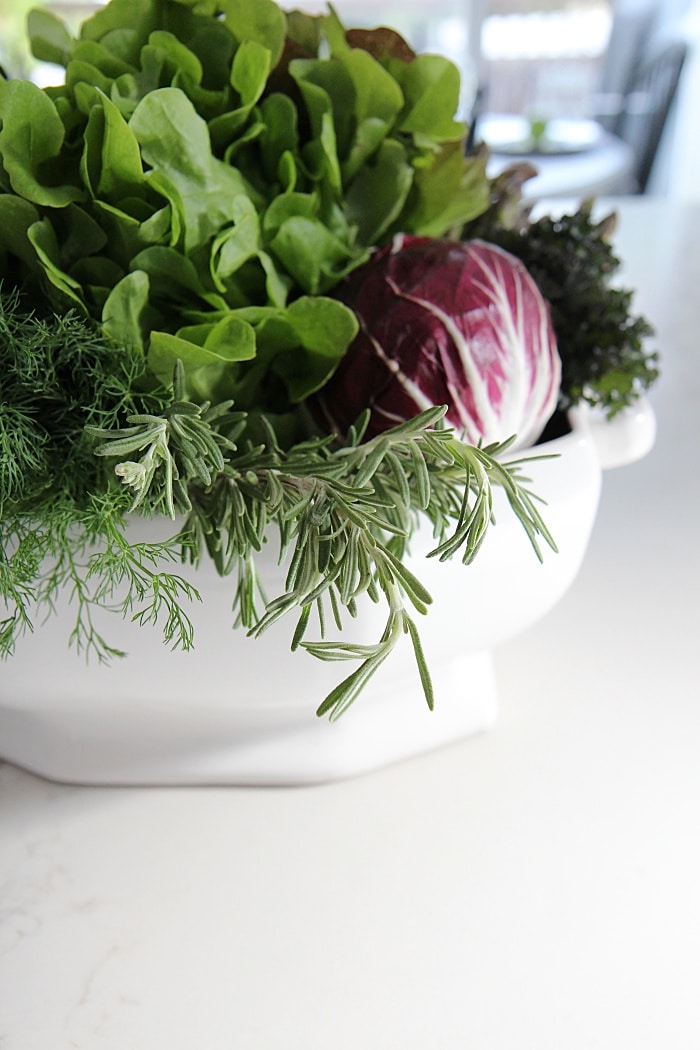 Isn't this color of purple tinged asparagus beautiful?!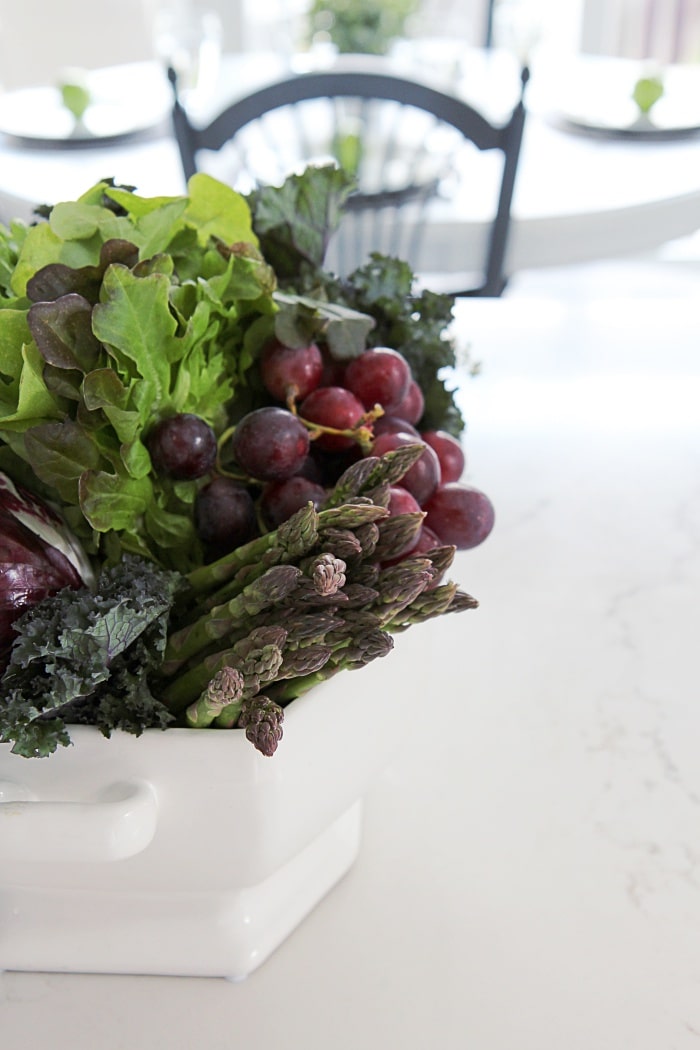 How to Make a Gorgeous, Guest Worthy, Edible Arrangement Using Vegetables, Fruit and Herbs In Just 10 minutes!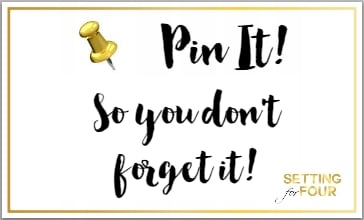 Shop for tureens and gardening books! Click on each image to get more details:

See my other 10 minute decorating ideas!
Fall Decor: 10 Minute Fall Bouquet and Tray Decor
Christmas: 10 Minute Christmas Centerpiece Tray
Plants and Flowers: Easy Gallery Wall of Botanical Prints
Plant Pots: DIY White Washed Terra Cotta Pots
Kitchen Decor: 10 Minute Kitchen Decor Idea
Mason Jars: Mason Jar Centerpiece in 10 Minutes
Summer Decor: Make Faux Coral Pottery Barn Inspired by Pottery Barn
Easter: Easter Egg Centerpiece
Visit all 10 blogs for these amazing 10 minute fall decor ideas: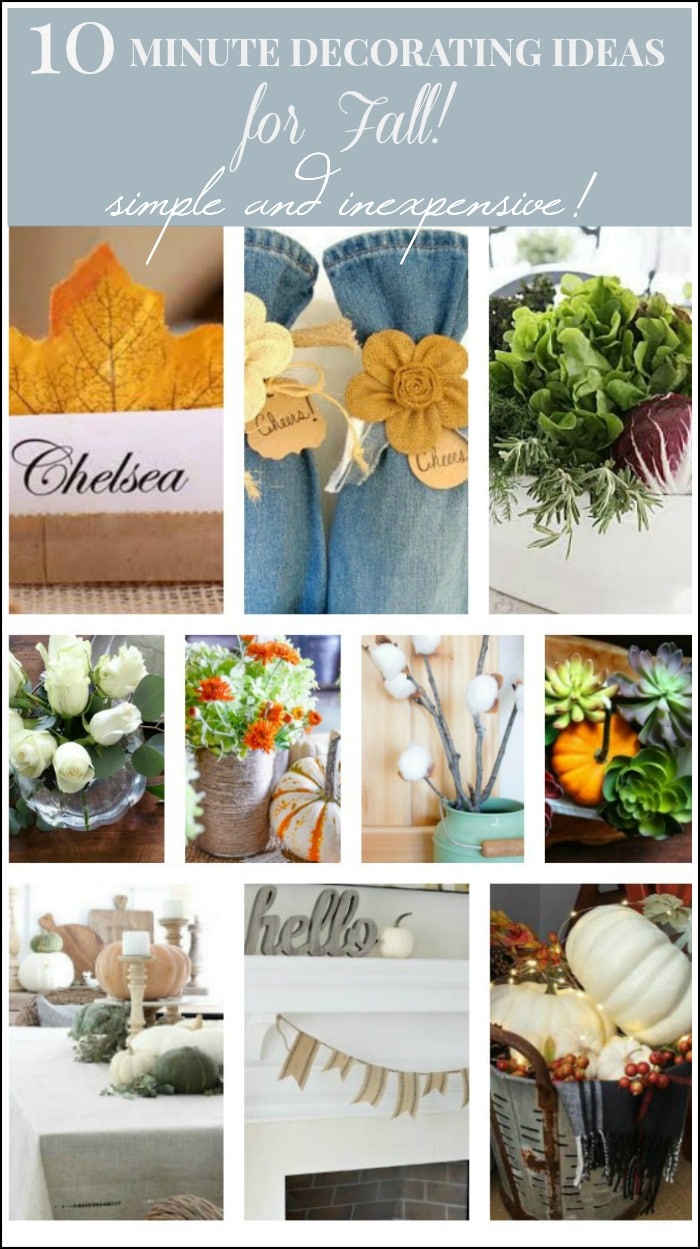 SETTING FOR FOUR – that's me!